Making a CV that stands out to UK employers in 2023 can be hard — even our CV-obsessed experts will admit that. So before you start writing, it's a good move to get CV ideas from successful applicants.
Below are CV ideas for specific types of applicants, situations, and roles. If you don't see one that works for you, then just take the best ideas from each one to learn how to make a CV that gets you the job you deserve.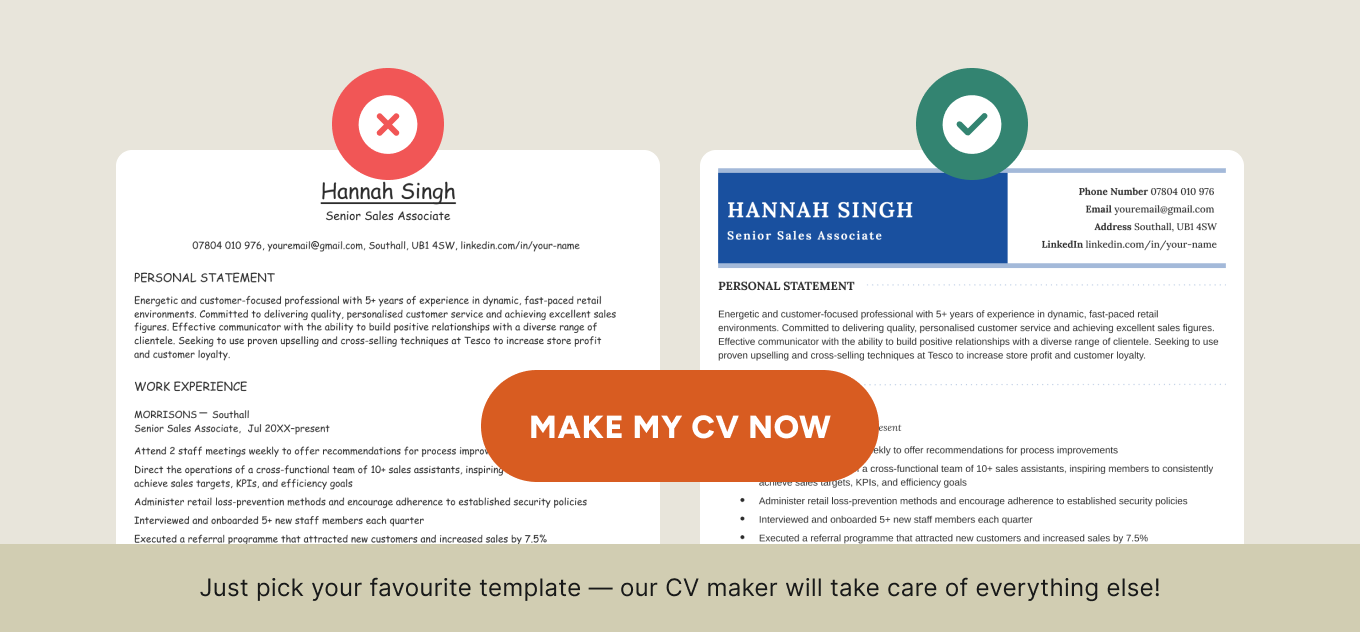 1. Showcase relevant experience if you've got no formal work history
How to apply this CV idea
Are you a student or recent graduate writing a CV with no working experience? Here are some ideas you can copy from the above CV to convince employers to hire you over more experienced applicants:
Emphasise your skills: This CV starts with a list of skills to show employers that the applicant's abilities match the job's requirements.
Describe your relevant educational qualifications: You may not have professional experience, but you can market your recent studies as an advantage over applicants whose industry knowledge may not be as up-to-date as yours is.
Highlight voluntary work: If you've picked up any job-relevant skills from volunteering opportunities, student union positions, or internships, let employers know how that experience connects to your target role.
2. Highlight your work experience (if you have it)
How to apply this CV idea
When you have work experience that's relevant to the job you're applying for, follow these ideas from the CV example above:
Put your work experience at the top: Employers are most interested in your relevant history, so make sure they don't have to search for it by placing your work experience section at the top.
Bold your years of experience: The applicant who wrote this CV bolded their years of experience in their personal statement — a great idea if you want to highlight that you meet the experience requirement listed in the job description.
Include hard numbers: The work experience section on this CV is filled with data that shows what the applicant is capable of doing if hired. Copy that idea to impress your target employer with achievements on your CV.
3. Use a skills-based CV if you're changing careers
How to apply this CV idea
Use these ideas from the above example when you're writing a career change CV:
Explain why you're switching careers: You should summarise why you're ready to make the leap from one career to another in your personal statement — and then provide further details in a career change cover letter.
List your certifications first: If you have them, lead with your industry-relevant certifications and training to show that you're serious about making the change.
Make a robust skills section: Write your CV skills section like it's a work experience section, listing your most transferable skills as headers and giving examples of how you've applied those skills in bulleted lists (this CV format is called a skills-based CV).
4. Use a creative CV design for certain industries
How to apply this CV idea
If you're applying to a company with a laid-back culture or work in a creative role (e.g., graphic design or fashion), take these cues from our CV design example:
Use bold colours and patterns: If you're a designer, consider adding creative elements to your CV to make it stand out — or use a creative CV template.
Feature your portfolio: When you apply for a creative role, employers will need to see examples of your work. Help them out by putting your portfolio URL in your CV header.
Include standard CV sections: Creative design is only a small part of your CV. The most important information is still your professional details, set out in CV sections employers are accustomed to seeing.
5. Focus on your education when writing a CV for a 16-year-old
How to apply this CV idea
There are many ways to make a CV for a teenager stand out to employers. Here are a few ideas from the CV example above that you can apply to yours:
Lead with an educational achievement: The applicant gets the reader's attention right away by noting an educational award they received in their personal statement.
Connect your extracurriculars to the role: If you've been a volunteer or learnt skills outside of school, highlight that information near the top of your CV to show the recruiting manager that you'll work hard for them.
Add data for impact: Whenever possible, include numbers — amounts of money you handled, numbers of customers you helped, etc. — to make your application stand out from others that only list activities and job duties.
6. Look at job-specific CV ideas
Looking at CV examples from your industry helps you learn how to best write your own CV. Here's a range of job-specific examples as a starting point:
More CV ideas
Here are some additional CV ideas to help you make the right impression on recruiting managers:
1. Write a new CV for every job you target
Searching for meaningful employment can be a full-time job in itself. So it's understandable that you might want to write one CV and then attach it to every application you submit. But sending a generic CV hurts your chances of getting hired.
Instead, rewrite your CV for every job you apply for. Doing so takes a little extra time, but the effort is worthwhile because employers will view you as a legitimately interested candidate because you've tailored your application to them specifically.
Here's how to customise your CV for a role:
use keywords and phrases from the job advert
research the company
include your target role title and the company name in your personal statement
2. Present your CV in a unique way
If you have the time and resources, you can get the employer's attention by using an unusual (but appropriate) method to give your CV to them. Here are some cool ideas applicants have used to inspire you:
4. Use a professionally designed CV template
A good way to make your CV stand out is to use a modern CV with a unique layout. For example, using multiple columns or tables to present your information. But if you don't have the design expertise, implementing your CV design ideas can be time-consuming.
Luckily, you can quickly find a free CV template that uses a layout like the one you're envisioning.
Expert answers to frequently asked questions about CVs
Still need ideas for your CV? Here are answers to three common queries for good CV ideas:
1. What are good CV personal statement ideas?
Here are some good ideas for optimising your CV's personal statement:
Keep it short to avoid taking up too much space and giving the recruiting manager too much text to read.
Include your most job-relevant information to get the reader's attention and encourage them to look closely at the rest of your CV.
Put it at the top of your CV so employers see your most marketable details first.
Use keywords from the job description to show that you fit the requirements.
Here are three personal statement examples to give you ideas for writing your own:
Social media manager with 3+ years' experience increasing engagement and follower counts for official corporate profiles. Launched new LinkedIn, Tik Tok, X, and Threads accounts within the past year, growing audiences from 0 to more than 100K on each platform. Excited to achieve even better results as Tencent UK's next social media manager.

Marketing specialist known for translating brand messaging for diverse demographics in 4 years of experience on the job. Specialise in market research and creating engaging newsletters that increase brand awareness and revenue. Eager to apply these skills as an Assistant Marketing Manager at Ten & Fox.

Sales associate with 2+ years' experience generating revenue in retail environments. Skilled at arranging product displays in unique and aesthetically pleasing ways, and comfortable learning new POS systems. Seeking a Senior Sales Associate position at Lucy's.
2. What are good CV title ideas?
The term 'CV title' can refer to the job title you put under your name in your CV header or the filename you choose when you attach it to an email. Below are good ideas for both types.
Ideas for the CV title in your header:
use the position title from the job advert to tailor it to your target employer
apply title case capitalisation — it's easier to read this way
CV filename ideas:
Include your name so the employer can differentiate it from other applications
Add the role name so the recruiter knows which of their open positions you're targeting
Use title case capitalisation (most of the words you'll use require capital letters anyway)
Separate each word with hyphens and/or underscores to follow filename conventions
2 effective CV filename examples
Anne-Smith-CV-for-Tesco-Cashier-Job-Application
Ben-Jones-CV_Marketing-Assistant
Some companies give specific instructions for naming your CV file, either for organisational purposes or to see if you can follow instructions. So always follow filename instructions in the job advert.
3. What are good CV skills ideas?
Here are some good ideas for putting skills on your CV:
Only include skills that are relevant to the job you want
Give examples of how you've used your skills to produce good results
Highlight both hard skills (learnt abilities like maths) and soft skills (innate qualities such as being a good listener) to show you're well-rounded
More CV FAQs