A well-written CV not only highlights your professional achievements and qualifications but also provides a clear skills section. This combination helps employers quickly determine if you have the personal qualities that make you a good fit for the role.
To stand out among other candidates, it's essential to learn how to write a good CV that showcases a balanced skill set that demonstrates both hard skills and soft skills. Let's explore the difference between hard skills and soft skills.
Hard skills: definition and list for a CV
Hard skills are skills you learn by:
studying specific courses (for example, by getting an NVQ in hairdressing or a driving licence)
through experience (like learning how to use WordPress at work).
Often, hard skills relate to technical expertise and are job specific. For example, you can't effectively act as a taxi driver without learning to drive, so driving is a necessary hard skill for taxi drivers.
Below are 114 common hard skills you can add to your CV depending on the field you work in. We've also provided links to related CV examples so you can see how to add these skills to your CV.
Administration and office support
Scheduling
Data protection/GDPR compliance
Budgeting
Filing
Technology skills (specify software packages you can use like Microsoft Access)
Making travel arrangements
Related CV samples: Administrator CV, Personal assistant CV, Receptionist CV, Civil service CV
Business & finance
Financial modelling
Money handling
Data visualisation
Maths
Accounting skills
Financial reporting
Cash flow management
Auditing
Comptrolling
Budget management
Bookkeeping
Data structure (for example, SQL)
Related CV samples: Business analyst CV, Finance CV, Accountancy CV, Estate agent CV
Customer service
CRM software (for example, LiveChat and Blazedesk)
Research skills
Upselling
Conflict resolution skills
Negotiation skills
Product/service knowledge
Related CV examples: Customer service CV, Hospitality CV, Hairdressing CV
Delivery
Clean driving licence (specify which category of driving licence you have)
Lifting ability (for heavy items)
Vehicle maintenance
Route planning
Time management skills
Sat Nav system operation
Safety-first approach (for example, you could mention you've completed the Pass Plus programme)
Recording mileage
Maintaining delivery records
Tracking deliveries
Defensive driving
Related CV examples: Delivery driver CV, Driver CV, Mechanic CV
Design
Sketching
Design theory
Colour theory
UI/UX design
Mockups
Branding
Interactive media
Related CV samples: Architect CV, Graphic design CV, Interior design CV
Engineering
Manufacturing processes
Quality control
Structural analysis
Robotics
Debugging
Data modelling
CAD
Process development
Documentation procedures
Related CV samples: Civil engineering CV, Design engineer CV, Technical CV
IT
Data mining
AI
Problem reporting/ticket creation
Diagnostics
Technical support
Cloud computing
Programming languages (for example, Python, JavaScript, C, Ruby)
Quality assurance
Server maintenance
Related CV examples: Web developer CV, Cyber security CV, Software engineer CV
Marketing
Related CV samples: Marketing CV, Marketing manager CV, Social media CV
Nursing and healthcare
Bedside manner
Medicine administration
Performing diagnostic tests
Charting and familiarity with Electronic Medical Records (EMR)
Preventative care
Medical confidentiality and data protection
IV administration
Related CV samples: Nursing CV, Health care assistant CV, Pharmacy CV, Support worker CV
Sales
Public speaking
Presentation skills
Computer skills
Point of sales (POS) systems
Product knowledge
Related CV samples: Sales CV, Retail assistant CV, Tesco CV
Teaching
Storytelling skills
Marking work
Disciplinary skills
Bunsen burners
Soldering
Lesson planning
Related CV examples: Teacher CV, Librarian CV, Academic CV, Tutor CV
Waiter/barista
Point of sale (POS) system operation
Bean grinding
Latte art
Batch brewing
Foreign language skills
Cleaning
Maths skills
Hygiene/HACCP
Wine pairing
Related CV samples: Barista CV, Waiter CV, Restaurant manager CV
How to showcase hard skills on a CV
The best place to add hard skills is your CV's skills section because employers can quickly see if you have the required skills for the role.
You can also specify how you used your hard skills in your work history bullet points to give employers insight into how well you've applied them while working.
In your skills section
You should list all of the hard skills you see in the job advert in your skills section — if you have them.
Here's an example job advert with the hard skills underlined: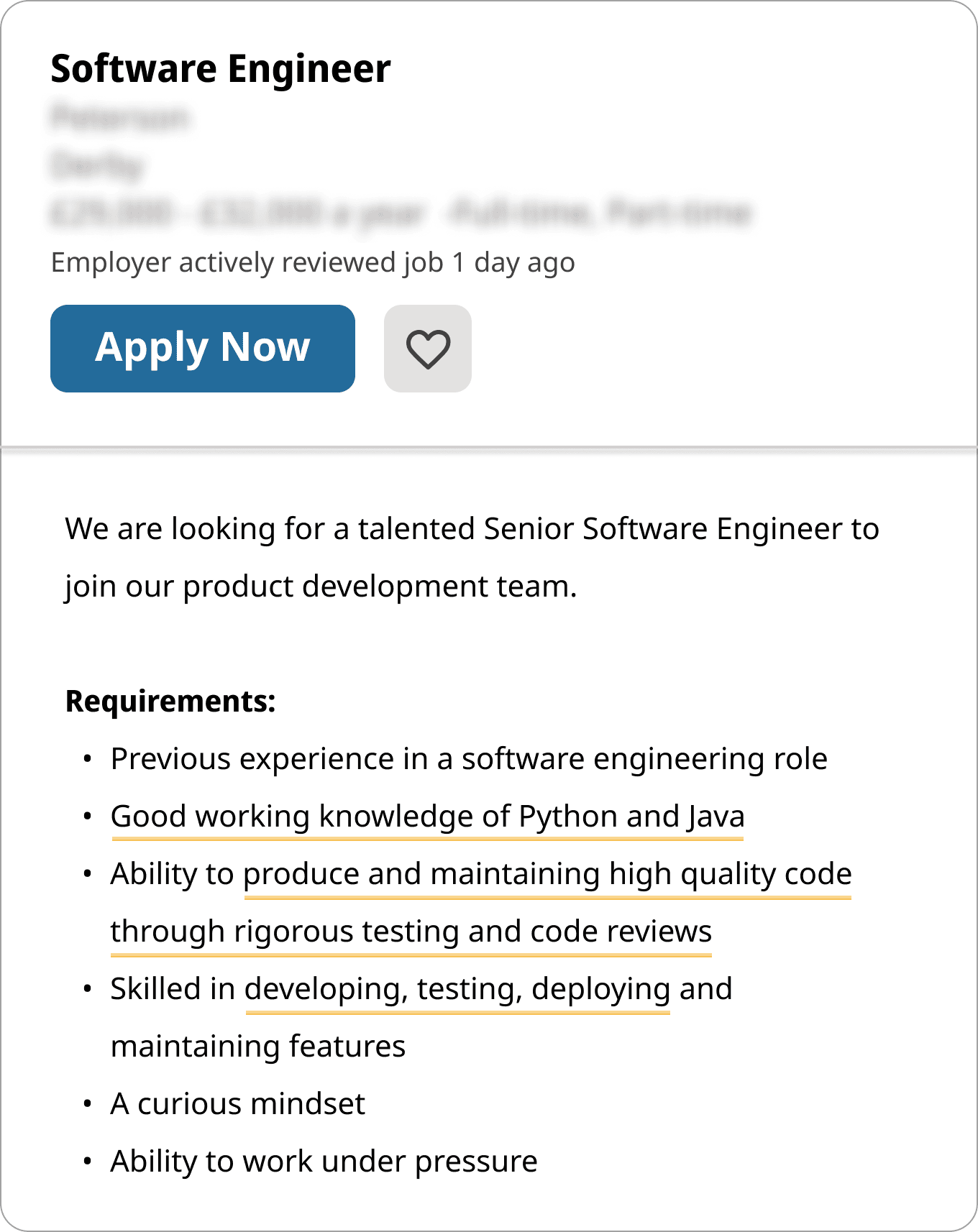 If you were writing a CV to apply for this position, here's what your skills list might look like: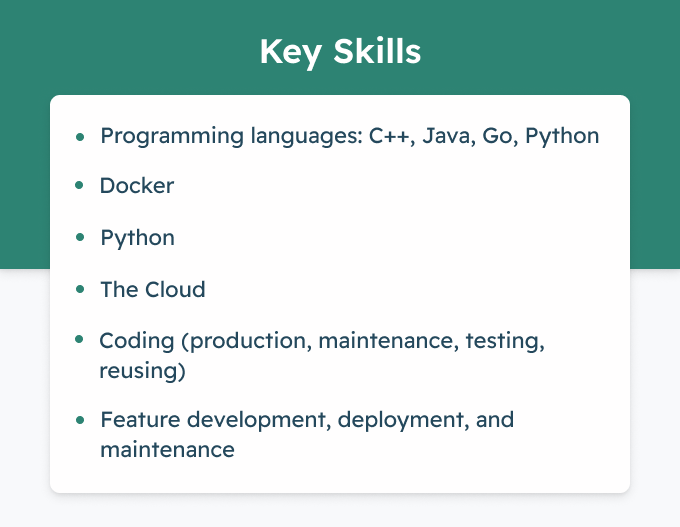 As you can see, all of the hard skills mentioned in the job advert appear in the candidate's list of CV skills.
Adding them in this section exactly as they appear in the job advert helps the recruiting manager:
see you're a perfect fit for the job
notice you've targeted your CV to their specific job advert, making it clear you've put effort into your application and want to work for that company specifically
In your work history section
It's also a good idea to back up the hard skills you've listed with examples in your work history section. Doing so gives the recruiting manager a chance to measure your skill levels by seeing a CV achievement in a work context.
For example, say you've listed 'Medicine administration' as a hard skill on your nursing CV. Give employers an insight into your ability by writing a CV bullet point like:
Administer medicine to 11-patient ward on a daily basis, carefully following institutional protocols, doctors' and pharmacists' directions, and prescription instructions
From this example, a recruiting manager can see you:
use your hard skill in a clinical setting
apply this hard skill on a daily basis
provide care using this skill to 11 patients
All of this information provides insight into how often and how well you use this skill at work.
Soft skills: definition & list of examples
Soft skills are commonly known as personal skills. Everyone has soft skills to some degree because you pick them up as you get older. Specifically, your soft skills improve when you interact with people, deal with work (or homework), and prioritise tasks in your everyday life.
Soft skills are vital in every industry. They're also transferable skills because once learnt, they can be used in all kinds of jobs. Here are some soft skills employers are seeking in 2023:
Communication skills help you explain concepts to people and handle requests. Employers want to check that you have good communication skills, because they'll help you interact with your colleagues and customers if hired.
People skills help you get on well with people from all backgrounds. Employers value good people skills because they show you can put clients at ease.
Flexibility allows you to adapt to changing circumstances and work effectively in a dynamic environment. Flexibility is vital in the constantly changing world we live in (thanks, AI).
Growth mindset enables you to learn from your mistakes and embrace challenges, resulting in continuous personal and professional development.
Critical thinking skills allows you to analyse information, make informed decisions, and solve complex problems.
Leadership skills enable you to inspire and motivate others towards a common goal, driving team success.
Interpersonal skills enable you to communicate effectively, build relationships, and work collaboratively with colleagues and clients.
Management skills let you plan, delegate, and organise tasks, ensuring an efficient and effective use of company resources.
Customer service skills help you provide excellent service to customers by addressing their needs and concerns promptly and professionally and helping retain them.
Creativity allows you to think outside the box and generate innovative solutions to problems, resulting in new products or services that build a customer base.
Networking skills enable you to build and maintain a professional network, leading to new opportunities and potential collaborations between your company and others.
Problem-solving skills ​​enable you to identify issues, assess options, and implement solutions, resulting in improved processes or outcomes.
Teamwork skills enable you to effectively work with others, leveraging their strengths to achieve company goals.
Organisational skills enable you to manage multiple tasks and deadlines, ensuring that projects are completed on time and within budget.
Time management skills let you prioritise tasks, manage your workload, and meet deadlines, resulting in increased productivity and efficiency for the company overall.
How to demonstrate soft skills on a CV
You should primarily showcase your soft skills in your work experience section. You can also mention them in your CV summary, and indirectly hint at them by the hobbies you choose to add to your hobbies and interests section.
Add soft skills to your work experience section and CV summary
Showcase your personal strengths on your CV through examples (with numbers if possible) in your work experience section and CV summary.
Here are five examples of descriptive work history bullets that highlight some of the soft skills listed above:
Responded to 100+ customer queries per week, maintaining a 90%+ customer satisfaction rating.
Managed a 4-member team, providing direction through weekly team meetings and feedback through monthly one-on-one discussions.
Wrote 7 articles per week for online student newspaper, attracting an average of 2,470 clicks and 125 links on social media per week.
Audited monthly payments to identify expensive subscriptions and researched competitor pricing to lower monthly expenses by £470.
Campaigned door-to-door for the Royal Society for the Protection of Birds as a volunteer, signing up 47 new Direct Debit donors within my first fortnight.
You can also highlight important soft skills in your CV's personal statement.
For example, if a receptionist job advert is looking for someone friendly, approachable, and welcoming, consider writing a personal statement that emphasises your people skills while integrating hard numbers. Something like this works:
Add related hobbies to your hobbies and interests section
You can also add hobbies associated with various soft skills to your hobbies and interests section.
Here's an example: you're applying for a graphic design job and you want to emphasise your creativity. Adding hobbies like dance, playing a musical instrument, gardening, or cooking to your CV will make you come off as more creative.
Even though these hobbies don't explicitly involve graphic design, they show recruiters you're a creative person, so they're worth putting on your CV.
How to find more skills for your CV
Unsure what skills you can put on your own CV? Follow these tips to identify relevant hard and soft skills:
Look at the job advert — Employers usually list the necessary skills the role requires in the job description. Simply add the hard skills from the job advert to the skills section on your CV (assuming you have those skills).
Research the skills required for similar jobs — If you still need other skills to put on your CV, look at job descriptions for similar job openings. Similar job descriptions will likely reveal skills applicable to the position you're applying for.
For example, if you're applying for a barista role at Coffee Republic, check out job descriptions for server roles at Costa Coffee and Pret A Manger.
Think about your previous experiences —Think of any other skills you've developed in previous jobs or university or school clubs that seem like a good fit for the position you're going for.
For example, an entry-level position may not require presentation skills, but if you get the impression it's a company that rapidly promotes talent, they could come in handy. You might want to add presentation skills to your CV in that case.
Frequently asked questions about skills
Here are answers to three of the most common questions asked about adding skills to your CV:
1. What are employability skills?
Employability skills are the set of skills, knowledge, and personal attributes that individuals need to be successful in the workplace.
They include foundational, personal, and professional skills, and are important for individuals to find and maintain employment, as well as advance their careers.
Developing and refining employability skills is essential for remaining competitive in the job market.
2. How do I talk about my skills in an interview?
When talking about your skills in an interview, showcase how your skills and experience align with the job requirements and demonstrate how you can add value to the organisation.
Here are some tips to help you talk about your skills effectively in an interview:
Research the company and the job description to understand the skills required for the role. This will help you to highlight your relevant skills during the interview.
Provide specific examples of how you have used your skills in past jobs or experiences. Use the STAR method (Situation, Task, Action, Result) to structure your responses and provide concrete examples.
Focus on the skills that are most relevant to the job and the company culture. Highlight how your skills can help the company achieve its goals and add value to the organisation.
Use language that is positive and confident. Avoid using negative language or underselling your skills.
Be prepared to answer questions about your strengths and weaknesses. Use your skills to frame your weaknesses as areas for growth and development.
3. What are five examples of personal skills?
Personal skills (also known as soft skills) are character traits that you develop throughout your life rather than learn in a classroom or on the job.
Here are five examples of personal skills, or soft skills, that employers value in every industry:
Communication – or the ability to clearly and effectively communicate ideas and information, both orally and in writing.
Analytical skills – which enable you to understand problems and identify potential solutions.
Organisational skills – or the capacity to manage your time well and coordinate with other members of your team.
Adaptability – so you can effectively respond to change and adapt to new technologies, environments, and SOPs.
Interpersonal skills – such as the abilities to listen, empathise, and collaborate.
Still overwhelmed by the idea of choosing skills and building your CV? To save you time and hard graft, use an online CV maker with pre-written lists of skills for every industry.