Looking for skills for your CV? We have a long list and tips on how to find more on the web as well as a guide to adding them to your CV.
What are the types of skills to put on a CV?
The two types of skills to put on a CV are:
soft skills
hard skills
Soft skills are also known as personal skills. You pick up these skills in everyday life. For example, your soft skills improve when you interact with people, deal with homework, and prioritise tasks.
Hard skills are also sometimes called technical skills. You learn hard skills by studying specific courses (for example, by getting an NVQ in hairdressing or a driving licence), or through experience (like learning how to use WordPress at work).
When you write your CV, include a balance of hard and soft skills to show you're a well-rounded candidate.
Even if you're applying for a technical position like a web developer role, employers want to see you have a range of both hard and soft skills. Soft skills like communication, organisation, and prioritisation show employers they can trust you to interact well with customers and your coworkers in addition to handling your workload.
Here are some of the most sought-after hard and soft CV skills for 2022:
List of hard skills to include on a CV by industry
Here are some common hard skills you can add to your CV depending on the field you work in.
Administration and Office Support
Related CV samples: Administrator CV, Personal assistant CV, Receptionist CV
Business & Finance
Financial modelling
Money handling
Maths
Accounting skills
Financial reporting
Cash flow management
Auditing
Comptrolling
Budget management
Bookkeeping
Related CV samples: Business analyst CV, Finance CV, Accountancy CV
Customer Service
CRM software (for example, LiveChat and Blazedesk)
Research skills
Negotiation skills
Product/service knowledge
Related CV examples: Customer service CV, Hospitality CV, Hairdressing CV
Delivery
Clean driving licence (remember to include which category of driving licence you have)
Lifting ability (for heavy items)
Vehicle maintenance
Route planning
Sat Nav system operation
Safety-first approach (for example, you could mention you've completed the Pass Plus programme)
Recording mileage
Maintaining delivery records
Defensive driving
Design
Sketching
Design theory
Colour theory
UI/UX design
Branding
Interactive media
Related CV samples: Architect CV, Graphic design CV
Engineering
Manufacturing processes
Quality control
Structural analysis
Robotics
Data modelling
CAD
Process development
Documentation procedures
IT
Data mining
AI
Problem reporting/ticket creation
Diagnostics
Technical support
Cloud computing
Programming languages (for example, Python, JavaScript, C)
Quality assurance
Related CV example: Web developer CV
Marketing
Related CV samples: Marketing CV, Marketing manager CV
Nursing and Healthcare
Bedside manner
Medicine administration
Performing diagnostic tests
Preventative care
IV administration
Related CV samples: Nursing CV, Health care assistant CV, Pharmacy CV
Sales
Public speaking
Presentation skills
Computer skills
Point of sales (POS) systems
Product knowledge
Related CV samples: Sales CV, Retail assistant CV
Teaching
Storytelling skills
Marking work
Disciplinary skills
Bunsen burners
Soldering
Lesson planning
Related CV examples: Teacher CV, Librarian CV, Academic CV
Waiter/Barista
Point of sale (POS) system operation
Bean grinding
Latte art
Batch brewing
Foreign language skills
Cleaning
Maths skills
Hygiene/HACCP
Wine pairing
Related CV samples: Barista CV, Waiter CV
Examples of soft skills to add to your CV
Soft skills are vital in every industry. They're all transferable skills because once learnt, they can be used in all kinds of jobs. Here are some commonly sought-after soft skills:
Communication skills
People skills
Flexibility
Leadership skills
Management skills
Customer service skills
Creativity
Networking skills
Problem-solving skills
Teamwork skills
Organisational skills
Time management skills
How to find more skills for your CV
Unsure what skills you can put on your own CV? Follow these tips to identify relevant hard and soft skills:
Look at the job advert
Identifying skills for your CV is straightforward. Employers list the skills they're looking for in the job description, so you can simply add the skills from the job advert to your CV skills section (assuming you have those skills).
Here's an example of a job advert with the employer's desired skills highlighted: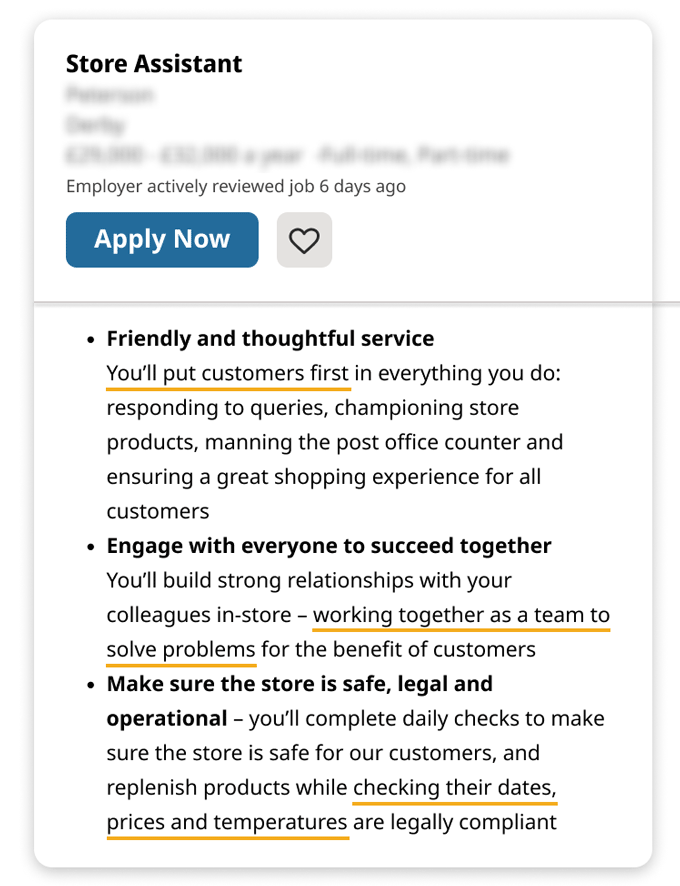 If you were applying for this job, you'd ideally add some of these skills to your CV:
Research the skills required for similar jobs
If you still need other skills to put on your CV, look at job descriptions for similar job openings. Similar job descriptions will likely reveal skills valuable to the position you're applying for.
For example, if you're applying for a barista role at Coffee Republic, check out job descriptions for server roles at Costa Coffee and Pret A Manger.
Or if you're not sure where to find similar roles, use an online tool like ONET, which is an online skills database.
Think about your previous experiences
In addition to the skills mentioned in the job advert and for similar roles, you should add any other key skills you think would make you a good fit for the position you're applying for.
For example, the job listing might not mention communication skills, but these skills are key to interacting with colleagues and clients.
To identify skills you've picked up throughout your life, reflect on your past experiences.
If you're writing a CV as a 16-year-old or never had a proper job, you can think about volunteer roles or extracurricular activities. For example, if you've completed Duke of Edinburgh's award, you can list some of the skills you learnt, like leadership skills and public speaking.
You might have also mastered valuable skills at a university society, particularly if you were an elected committee member. If not, even being a regular member of a society like St John Ambulance or the RSPCA teaches you valuable teamwork skills that you can list on your CV.
How to add skills to your CV
You can add skills to your CV in four different ways:
CV skills section
The skills section of your CV is the most logical place to add your skills. Add a mix of soft skills and hard skills to your list of skills here to show employers you're a well-rounded applicant. Here's what a typical CV skills section looks like:
Personal statement
You should also list some of your key transferable skills in your personal statement. Add skills you've learnt in other roles and at university or school to your CV introduction so that employers immediately know you're qualified for the role.
Here's what a personal statement looks like with skills for a CV added to it:
Work history entries
Have a long list of skills in your skills section? Prove to employers you really do have those listed skills by showcasing how you've applied them in your work experience section.
In this example, yellow represents skills employed, and orange highlights achievements:
Hobbies and interests
Think strategically when you add content to your hobbies and interests section. Don't just add Mongolian throat singing or other random unrelated interests. Instead, think about the skills the job description is calling for and think of hobbies that involve that skill.
For example, does a job advert ask you to have collaboration skills? If you're into pub quizzes, put down that fact in your hobbies and interests section because collaboration is vital to winning trivia and quiz competitions.