5 Google Docs CV templates you can use for free
If you're wondering how to write a CV that uses a Google Docs CV template, the best place to start is at the source. Google offers five CV templates you can use to impress recruiters. Scroll down to view and access each one — or you can find them in the templates gallery at the top of your Google Docs page.
These Google Docs CV templates are designed as one-page resumes, but we've adapted them for CV formatting by copying and pasting sections onto a second page.
1. Serif Google Docs CV template
Here's our customer service CV example laid out in Google's Serif CV template: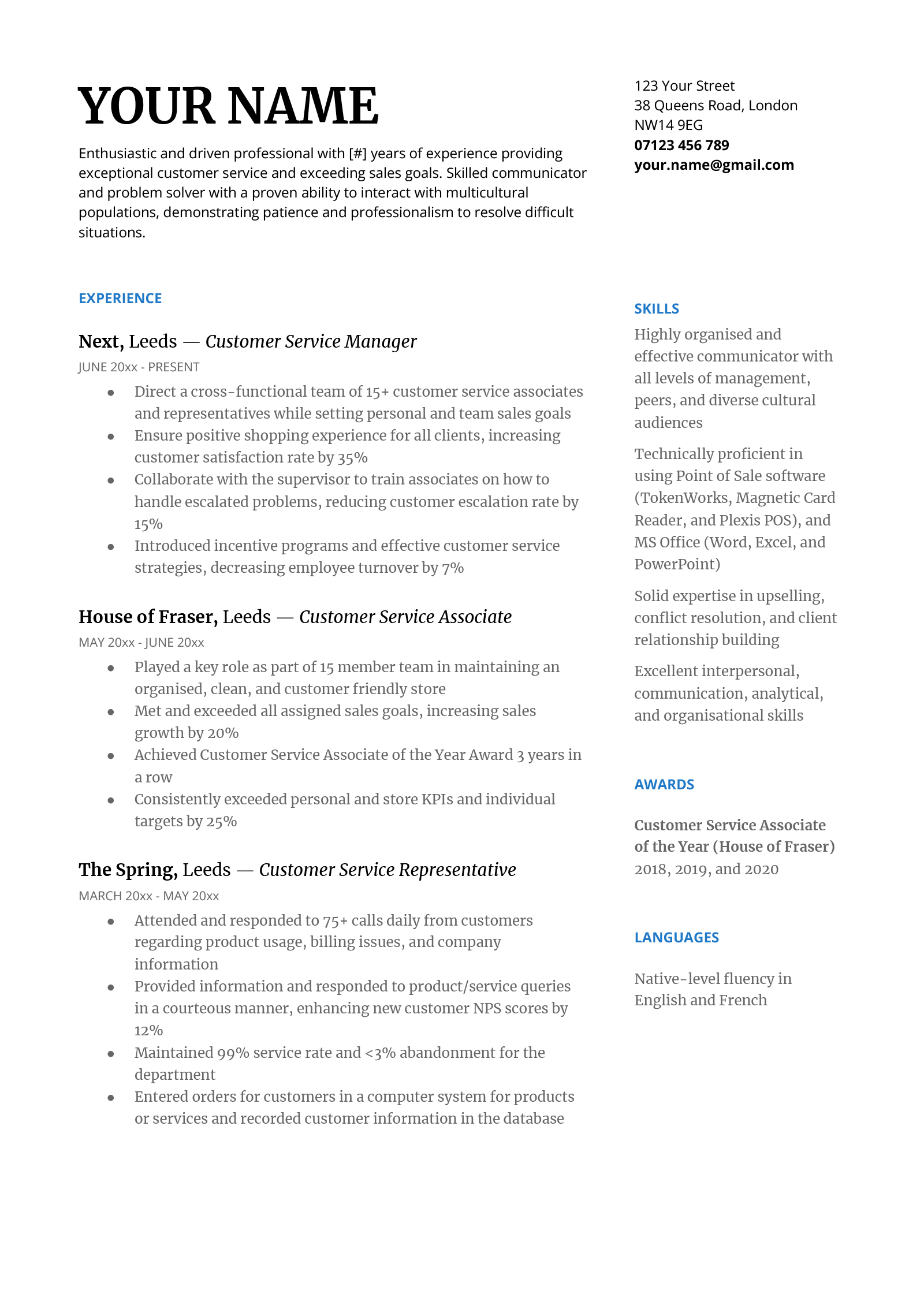 Edit Serif CV in Your Google Drive
The Serif template lets you show both your skills and work experience on the first page of your CV. Doing so is a good idea if you're a recent graduate or are changing careers and don't have work experience that's 100% relevant to the job you want.
This template also includes a dedicated CV section for your foreign language skills. But if you don't speak multiple languages, you can change that section to highlight other job-specific information, such as your certifications or publications.
Serif is the most difficult of Google's CV templates to customise — but you can follow these steps to add a second page if you want to use the original template:
copy everything from the experience and skills down
click the bottom of the first page, and hit enter until a second page appears
paste the information you copied onto the section page
select all the information on the second page
right click and choose 'Merge cells' from the drop-down menu to eliminate the sidebar on the right
delete and/or rename the sections as needed
2. Swiss Google Docs CV template
Google's Swiss CV template is great for just about any type of job application, so we put our waitress CV example in it: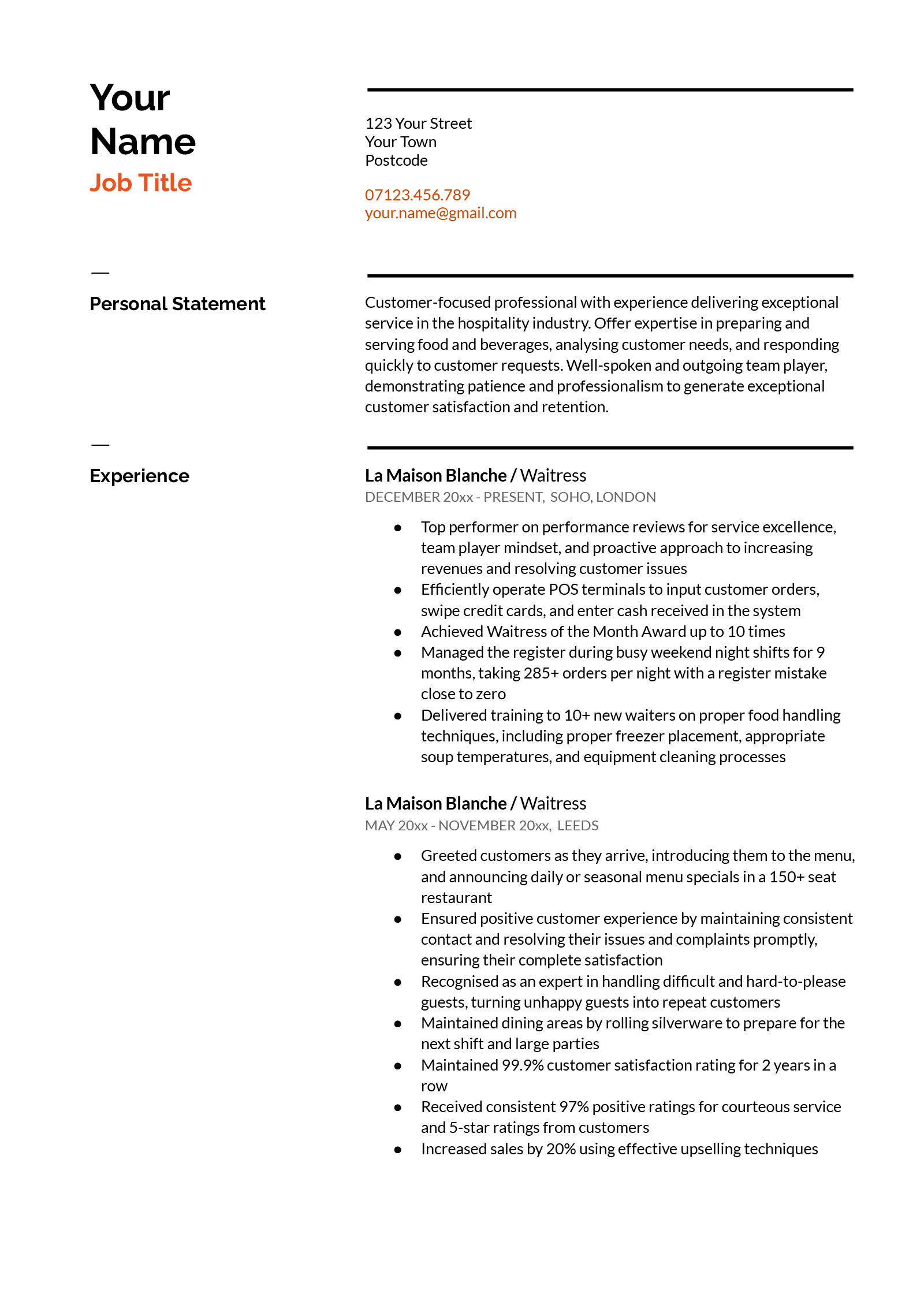 Edit Swiss CV in Your Google Drive
If you'd like to customise the original template yourself, all you need to do is cut and paste the sections per your requirements.
We suggest you change the skills section at the top to a CV personal statement like we did. A personal statement summarises your CV so the recruiter knows you're qualified at first glance.
You can then create a skills section on your CV right below your personal statement or near the end of the last page, depending on your situation.
3. Spearmint Google Docs CV template
The Google Docs Spearmint CV template is easy to use. Just fill in your information and change the sections however you like, and the template will naturally move to a second page. Here's an example of how this template works with information taken from our receptionist CV sample:
Edit Spearmint CV in Your Google Drive
The original Spearmint template features a CV skills section at the top, but we replaced it with a CV summary. We suggest you do the same when you write your CV to immediately grab the employer's attention with your top selling points.
4. Modern Writer Google Docs CV template
The Modern Writer CV template uses a typewriter-style serif font, which is a good kind of CV font to use for printing your CV or applying for a job in a traditional industry, such as banking or business. We tested out this template with our business analyst CV example below: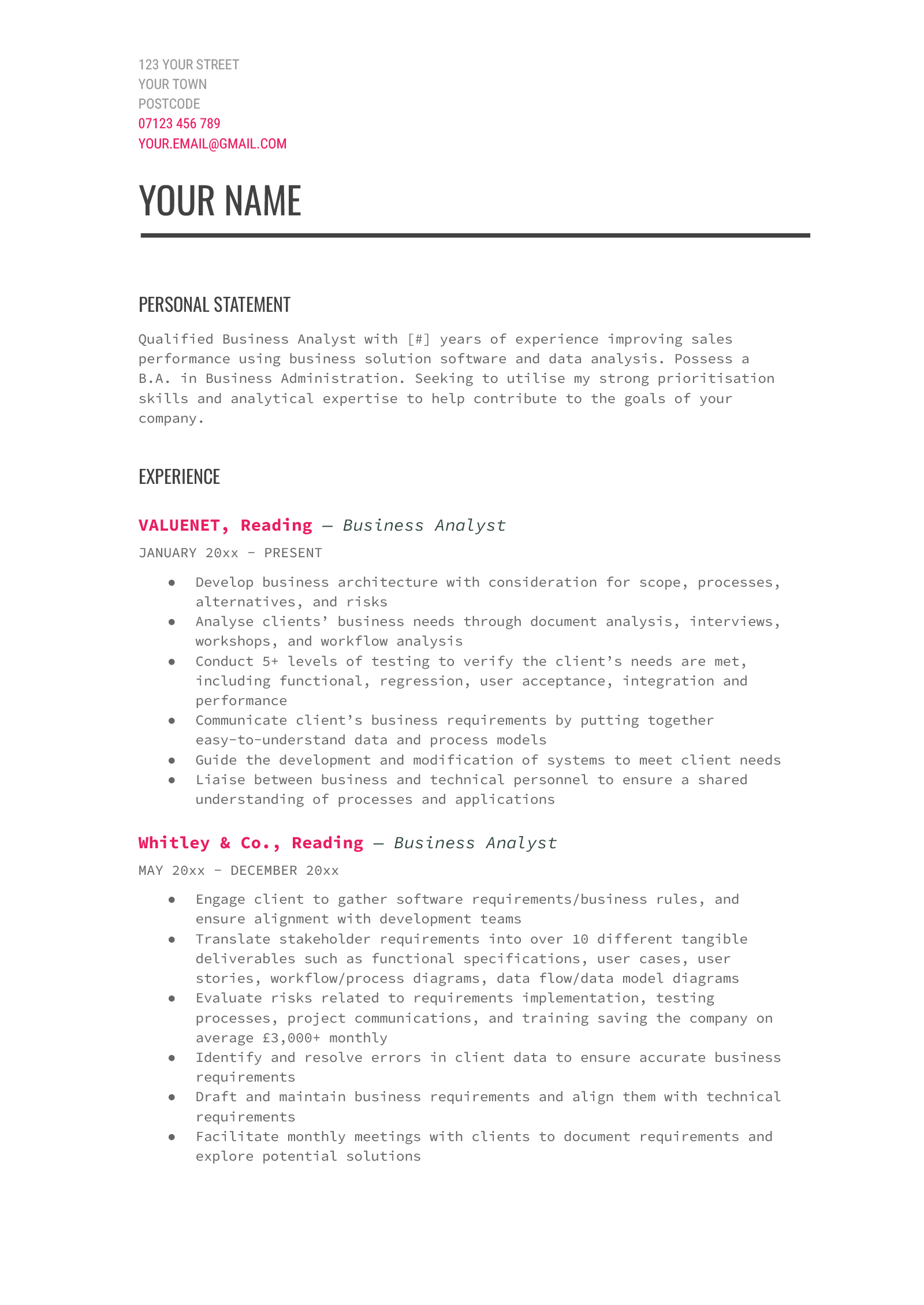 Edit Modern Writer CV in Your Google Drive
You can either copy our template by clicking the button above, or edit the original yourself — rearranging the sections is as simple as copying and pasting.
5. Coral Google Docs CV template
The Coral CV template is unique because it starts with a cheerful 'Hello, I'm [Your Name]' as a title. This is what it looks like with information from our graduate CV template:
Edit Coral CV in Your Google Drive
When we customised this sample, we added a personal statement at the top. However, we kept the original template's order of skills, education section, and then work history to show how to organise a skills-based CV that emphasises abilities over experience.
You can do the same by copying any section, pasting it below the title, and renaming it.
3 free CV templates that work with Google Docs
Google isn't the only source of free Google Docs CV templates. Here are three of the best third-party CV templates that you can open and edit in Google Docs without spending a single penny:
1. Bloomsbury
Below is the Bloomsbury Google Docs CV template, which features a two-toned CV header to make your name and contact information stand out: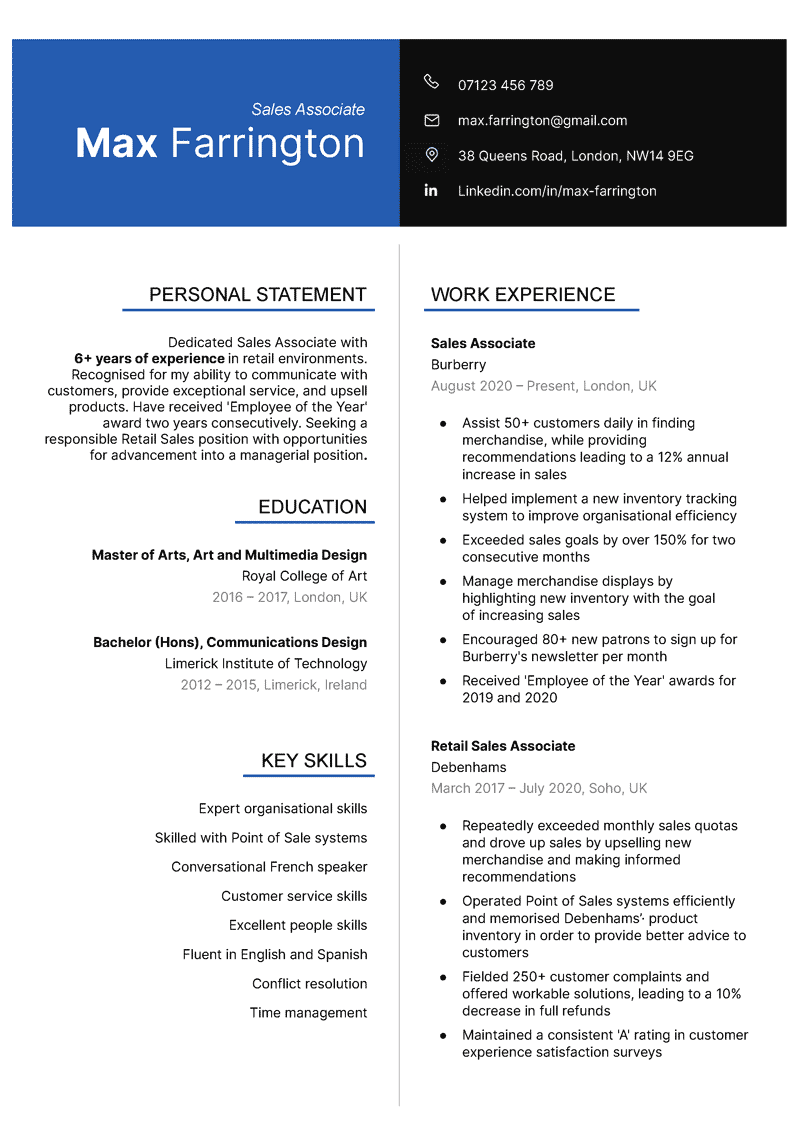 Edit Bloomsbury CV in Your Google Drive
You can fully customise the Bloomsbury template to better fit your skills, experience, and personality. For instance, you can click on the header and change the background colour:
If you use this CV, write your cover letter in the matching Bloomsbury Google Docs cover letter template to help the recruiter keep your application in order.
2. Basic
When you're searching for a free Google Docs CV template, you'll find many options — but not many will be easy to use. The Basic template from Process Street below is one of the more user-friendly options we've found: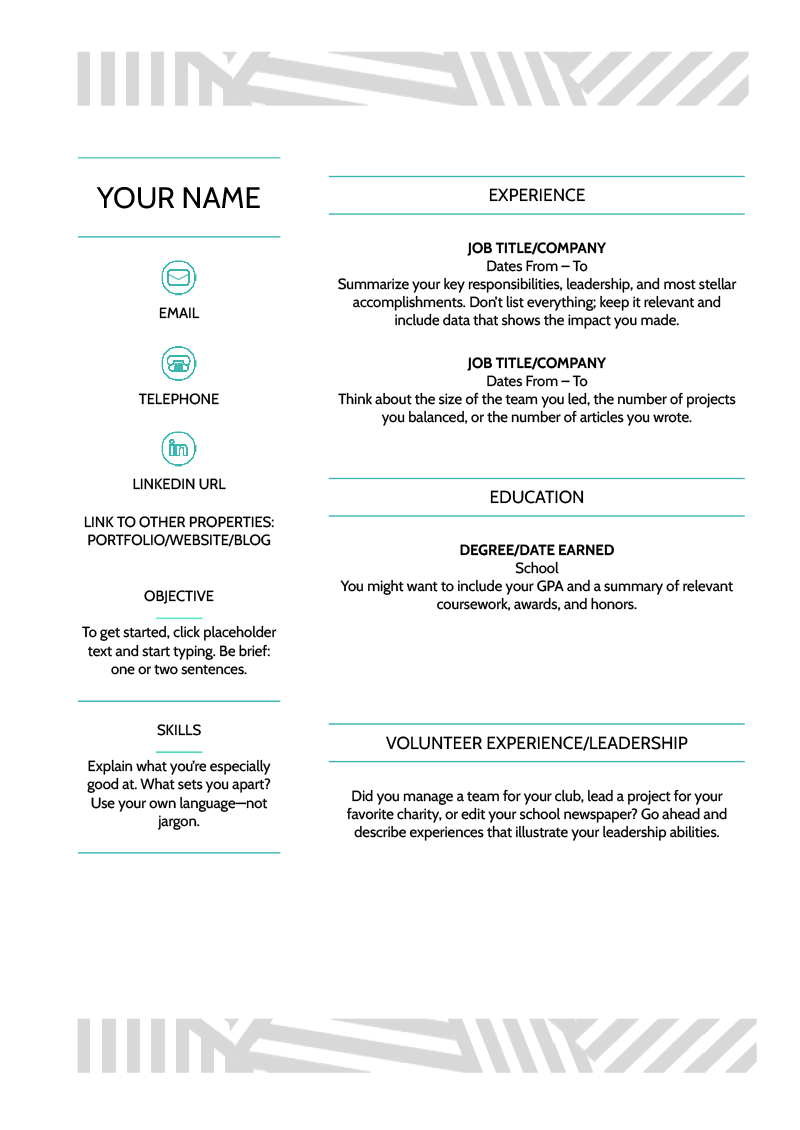 Edit Basic CV Template in Your Google Drive
This template opens in Google Docs as one page, but you can easily copy and paste the work experience section onto a second page to make your CV as long as it should be. Also, if you want to remove any of the sections completely, just:
select it along with all the other sections in its column
right-click and choose 'Merge cells' from the drop-down menu
delete the section you don't need
Following that process helps you avoid having a blank cell push onto your second page and messing up your formatting.
3. Stirling
This free Google Docs CV template literally makes your CV stand out with a creative border that provides a 3D illusion: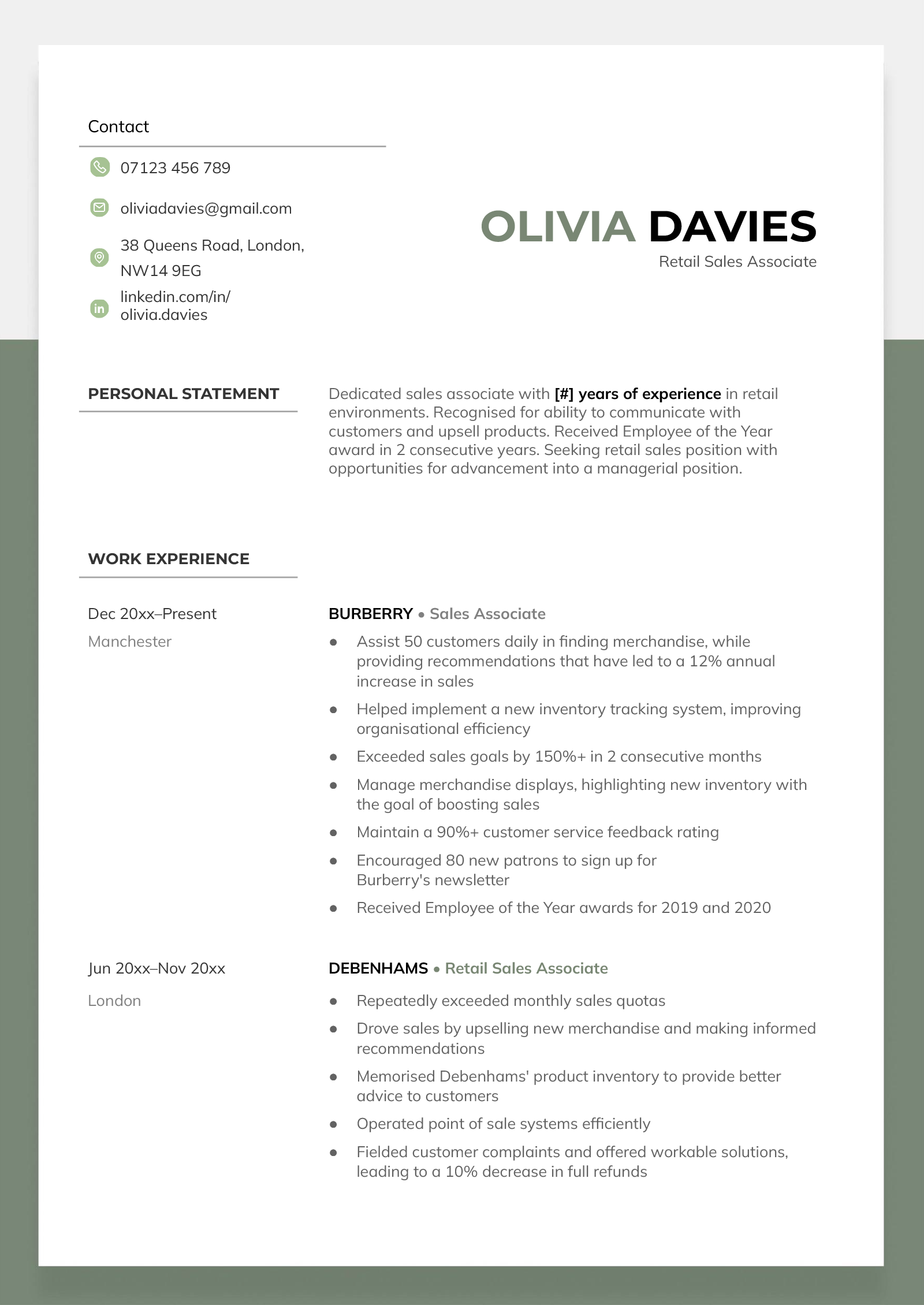 Edit Stirling CV Template in Your Google Drive
The Stirling template is a great example of standard CV formatting, but you can reorder the sections however you need to. For instance, if you're targeting a job that you have the skills for, but your experience doesn't quite fit, write a detailed skills section and move it to the first page.
3 Google Docs CV templates you can buy
If you're willing to pay for a Google Docs CV template, there are many affordable designs available online. Below are three great options.
1. The Emerson Finance CV
This is the Emerson Finance CV, which you can purchase as a Google Docs file from Get Landed: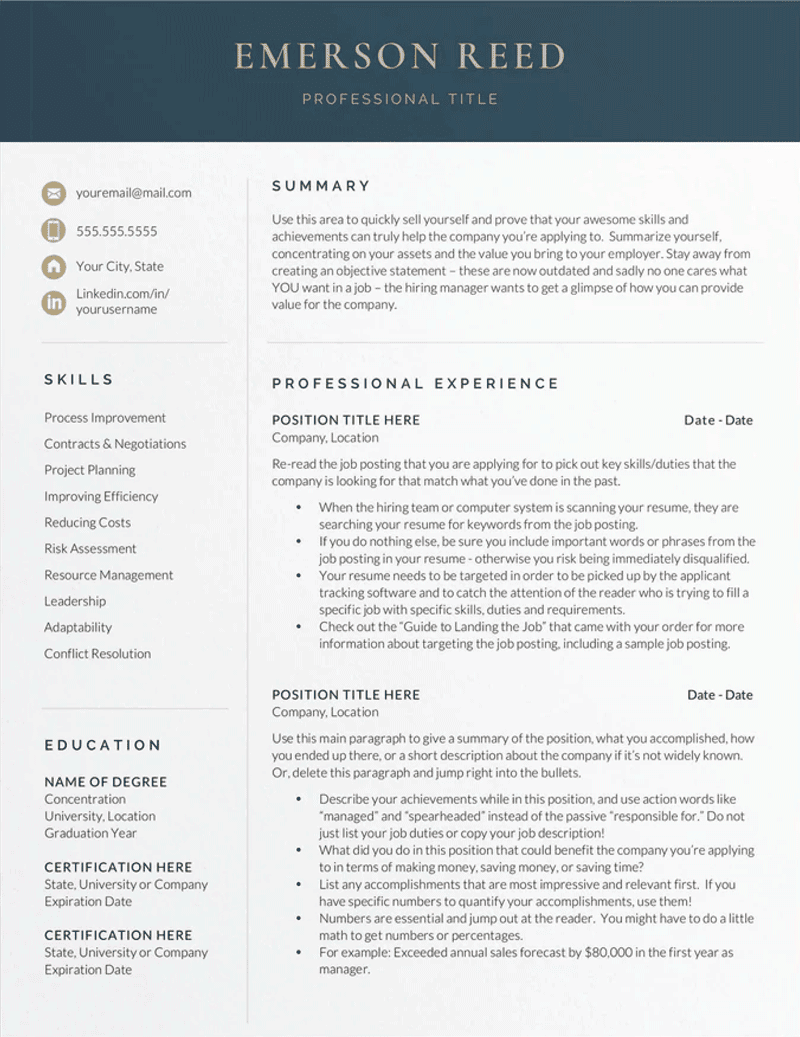 Buy Emerson Finance Google Docs CV Template
There's some CV-versus-resume confusion between the title and template description, and the contact information is formatted for the US. But the template includes up to five pages and is fully customisable, so you can easily use it to make your CV.
2. NewLondonStudio's Google Docs CV
Here's a well-designed Google Docs CV template from NewLondonStudio: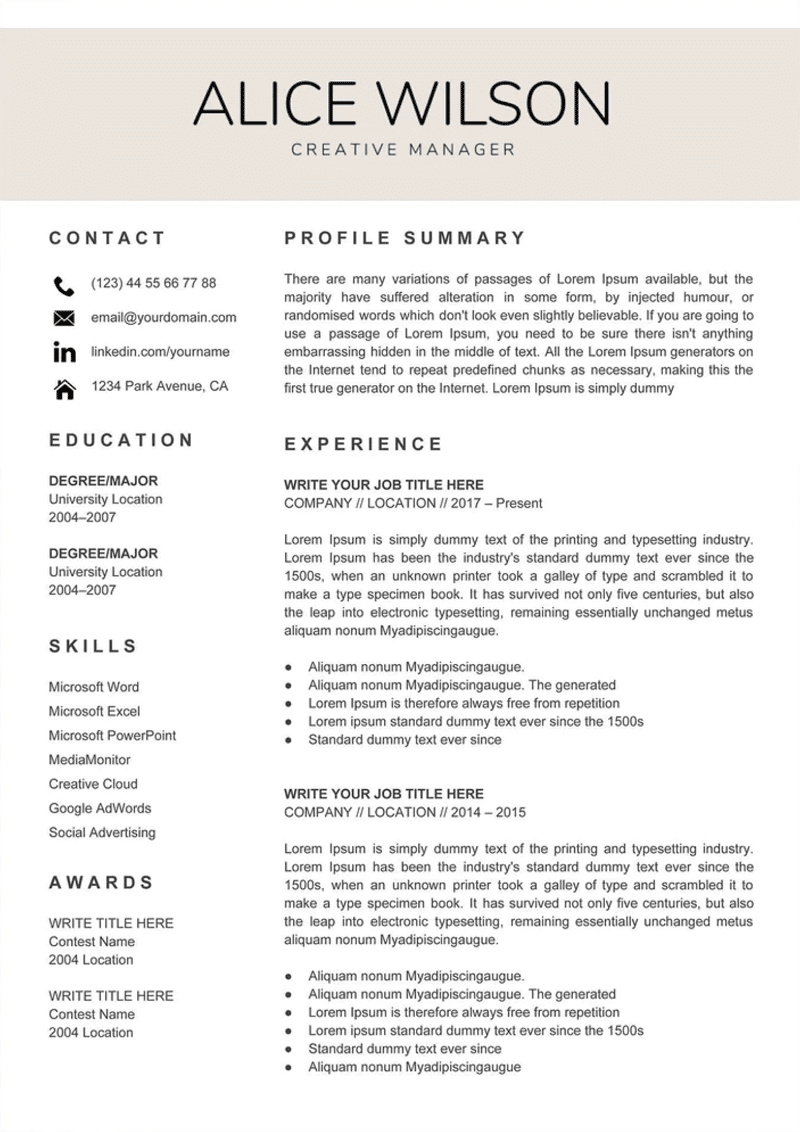 Buy NewLondonStudio's Google Docs CV Template
If you use this template, remember to use UK address formatting, and choose the multi-page option to add every section of a traditional CV.
3. The Clean Template from Michael Neuhauser
Below is a simple but effective Google Docs CV Template designed by Michael Neuhauser:
Buy Michael Neuhauser's Google Docs CV template
The above template is labelled as a resume, but it includes a second page for CVs. And it also features a matching cover letter template and references page.