Google Docs is one of the most popular word processors out there for its simple interface and easy functionality. For the same reasons, it's a great platform for polishing off your CV — especially if you don't have access to Microsoft Word.
In this article, we'll show you 12 of our favourite Google Docs CV templates that can help you find a job in any industry, including: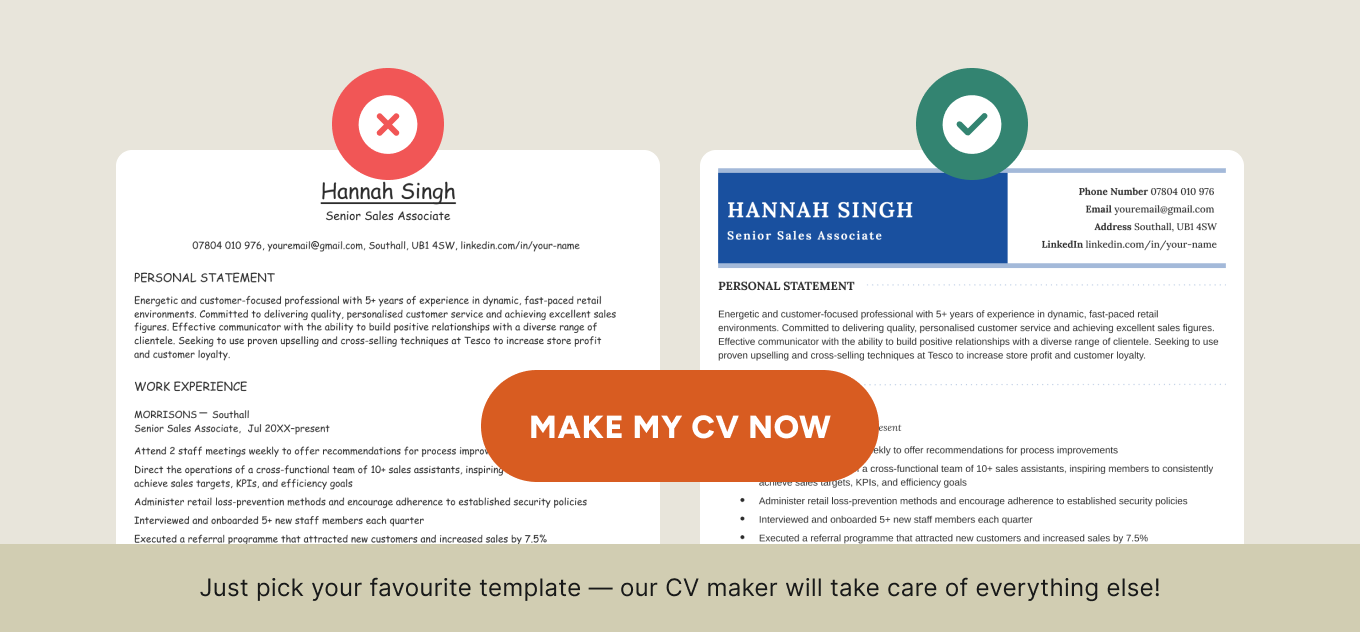 5 Google Docs CV templates you can use for free
If you're wondering how to write a great CV that uses a Google Docs CV template, the best place to start is at the source. Google offers five CV templates you can use to impress recruiters. Scroll down to view and access each one — or you can find them in the templates gallery at the top of your Google Docs page.
These Google Docs CV templates are designed as one-page resumes, but we've adapted them for CV formatting by copying and pasting sections onto a second page.
1. Serif Google Docs CV template
Here's our customer service CV example laid out in Google's Serif CV template: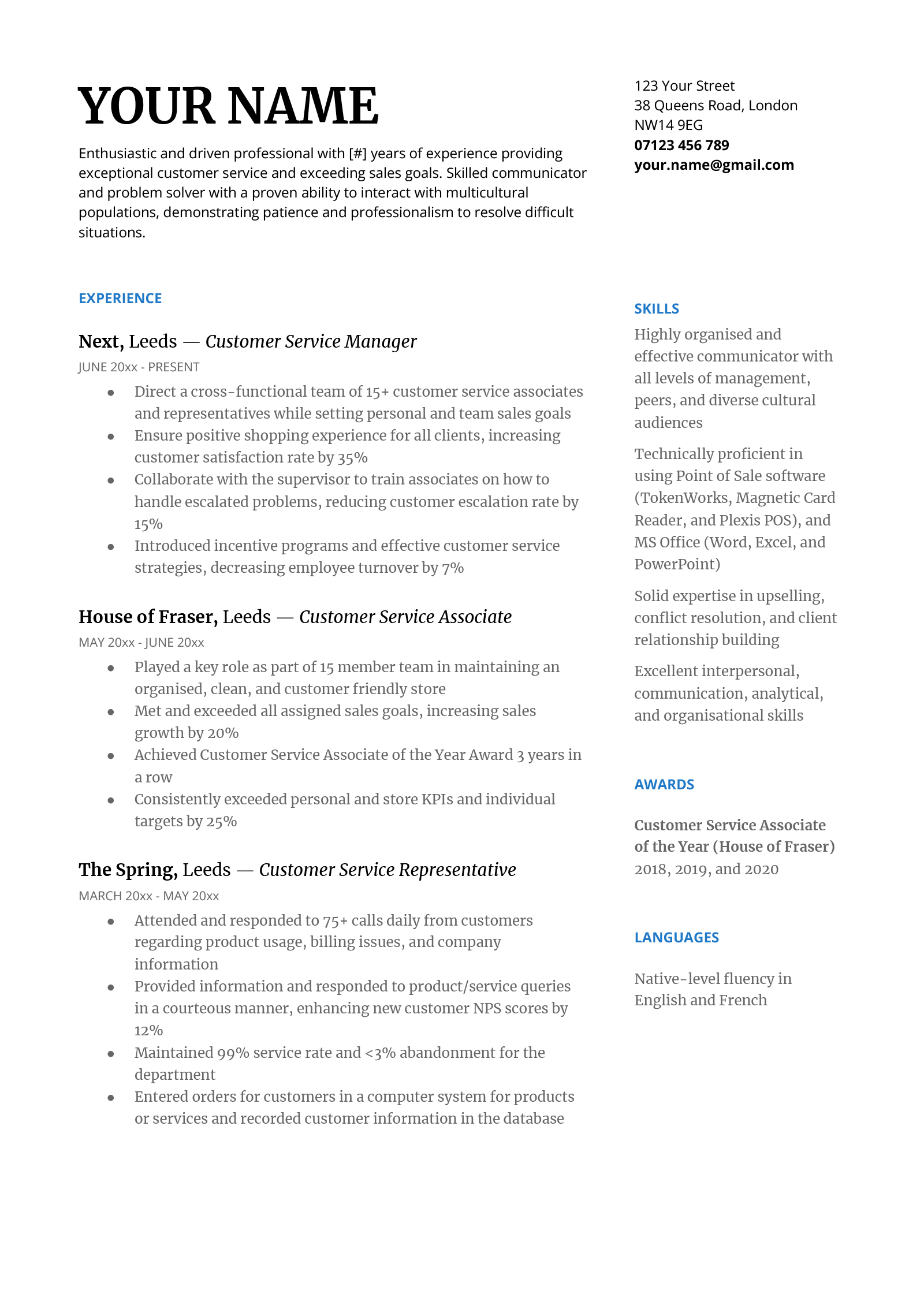 Edit Serif CV in Your Google Drive
The Serif template lets you show both your skills and work experience on the first page of your CV. Doing so is a good idea if you're a recent graduate or are changing careers and don't have work experience that's 100% relevant to the job you want.
This template is the most difficult of Google's CV templates to customise — but you can follow these steps to add a second page if you want to use the original template.
To turn a one-page Google Docs resume into a two-page CV:
copy everything from the experience and skills down
click the bottom of the first page, and hit enter until a second page appears
paste the information you copied onto the section page
select all the information on the second page
right click and choose 'Merge cells' from the drop-down menu to eliminate the sidebar on the right
delete and/or rename the sections as needed
Additionally, Serif includes a dedicated CV section for your foreign language skills. But if you don't speak multiple languages, you can change that section to highlight other job-specific information, such as your qualifications or publications.
2. Swiss Google Docs CV template
Google's Swiss CV template is great for just about any type of job application, so we put our waitress CV example in it: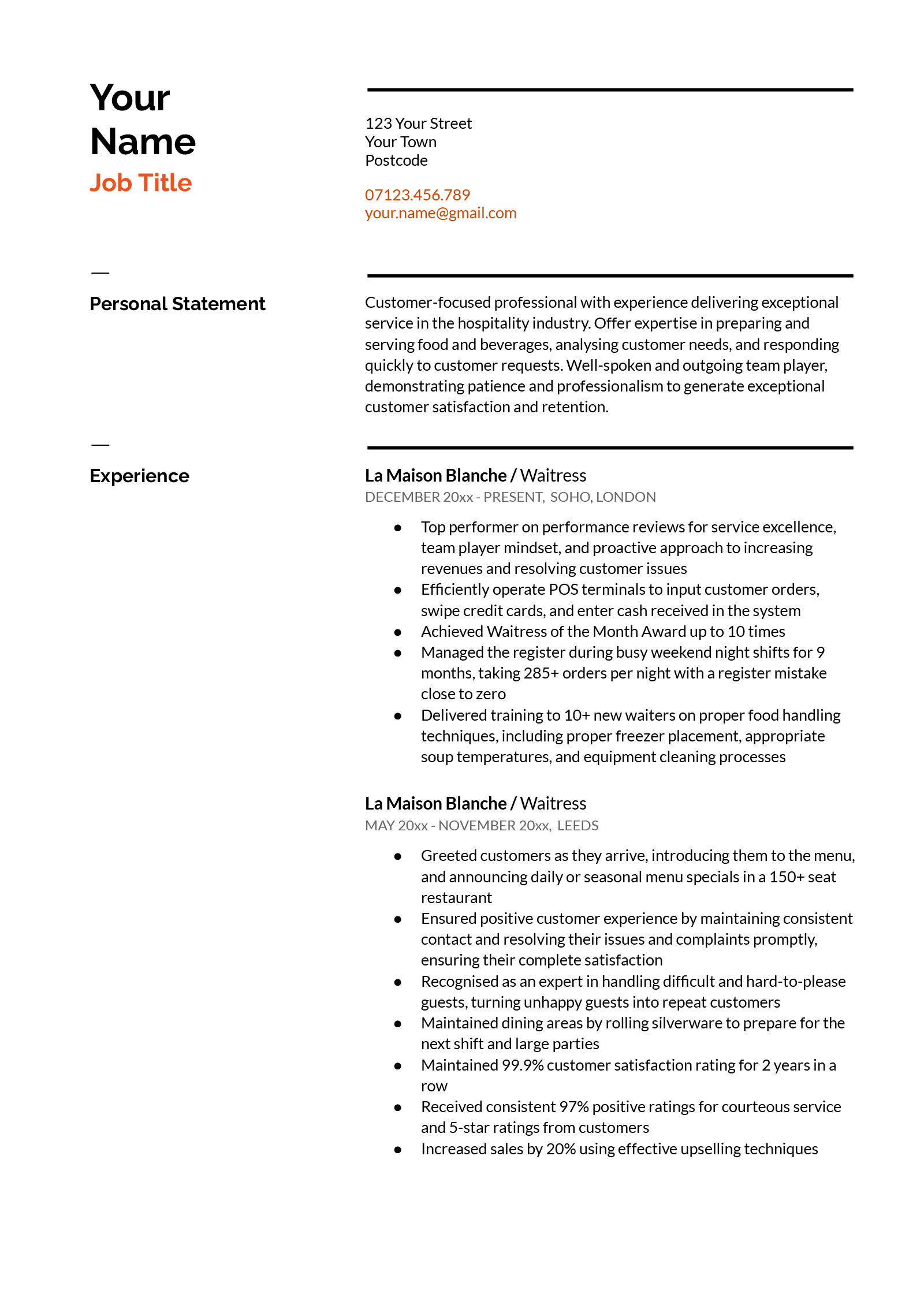 Edit Swiss CV in Your Google Drive
If you'd like to customise the original template yourself, all you need to do is cut and paste the sections per your requirements.
We suggest you change the skills section at the top to a personal statement like we did. A personal statement summarises your CV so the recruiter knows you're qualified at first glance.
You can then create a key skills section right below your personal statement or near the end of the last page, depending on your situation.
3. Spearmint Google Docs CV template
The Google Docs Spearmint CV template is easy to use. Just fill in your information and change the sections however you like, and the template will naturally move to a second page. Here's an example of how this template works with information taken from our receptionist CV sample:
Edit Spearmint CV in Your Google Drive
The original Spearmint template features a CV skills section at the top, but we replaced it with a CV summary. We suggest you do the same when you write your CV to immediately grab the employer's attention with your top selling points.
4. Modern Writer Google Docs CV template
The Modern Writer CV template uses a typewriter-style serif font, which is a CV-appropriate font with a little more personality, yet still polished enough for more serious industries. We tested out this template with our business analyst CV example below: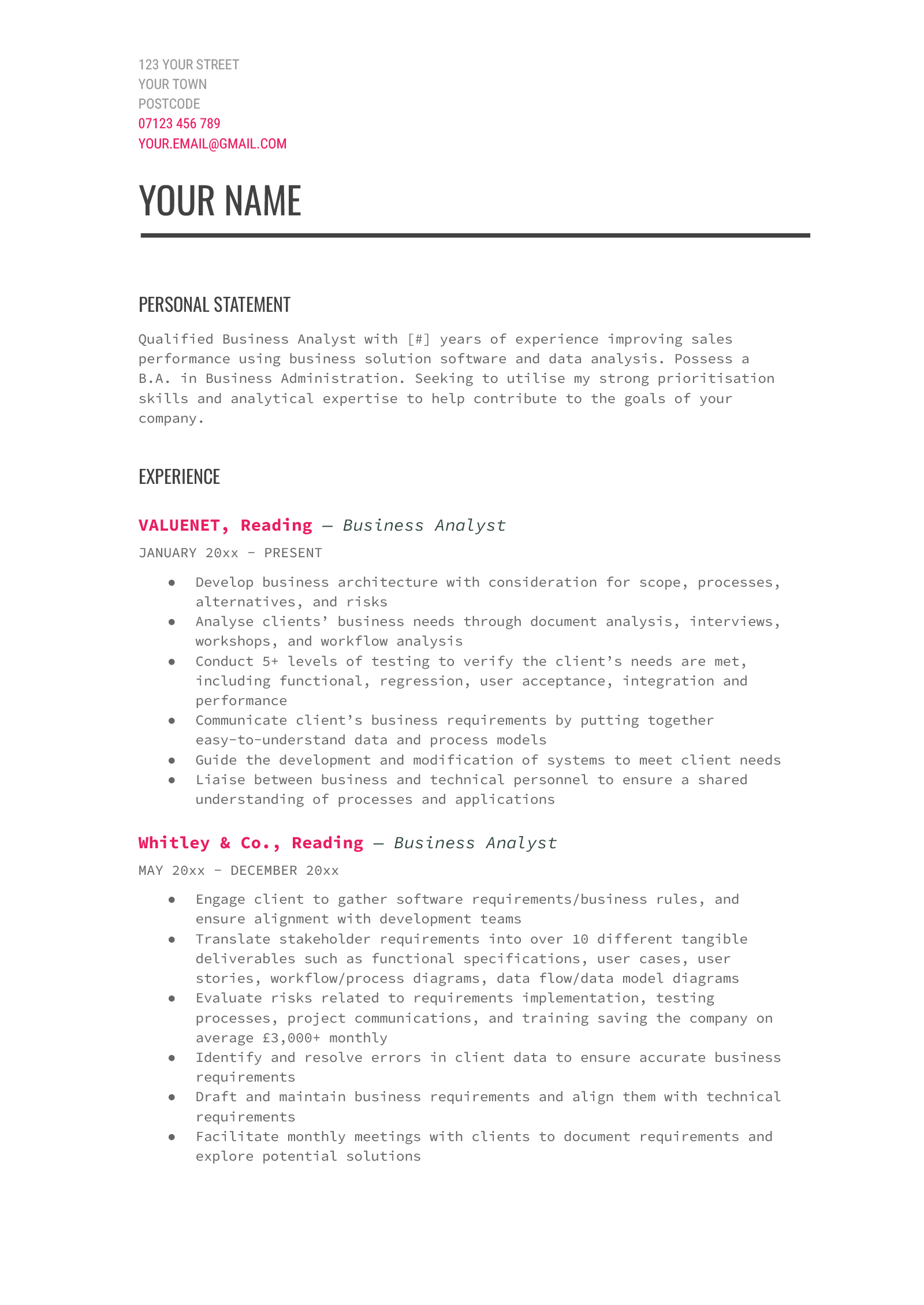 Edit Modern Writer CV in Your Google Drive
You can either copy our template by clicking the button above, or edit the original yourself — rearranging the sections is as simple as copying and pasting.
5. Coral Google Docs CV template
The Coral CV template is unique because it starts with a cheerful 'Hello, I'm [Your Name]' as a title. This is what it looks like with information from our graduate CV template:
Edit Coral CV in Your Google Drive
When we customised this sample, we added a personal statement at the top. However, we kept the original template's order of skills, education section, and then work history to show how to organise a CV using the skills-based format, which emphasises abilities over experience.
You can do the same by copying any section, pasting it below the title, and renaming it.
4 free CV templates that work with Google Docs
Google isn't the only source of free Google Docs CV templates. Here are three of the best third-party CV templates that you can open and edit in Google Docs without spending a single penny. We'll also show you how to add a third-party template to Google Docs so you can customise it for your application.
1. Bloomsbury
Below is the Bloomsbury Google Docs CV template, which features a two-toned CV header to make your name and contact information stand out: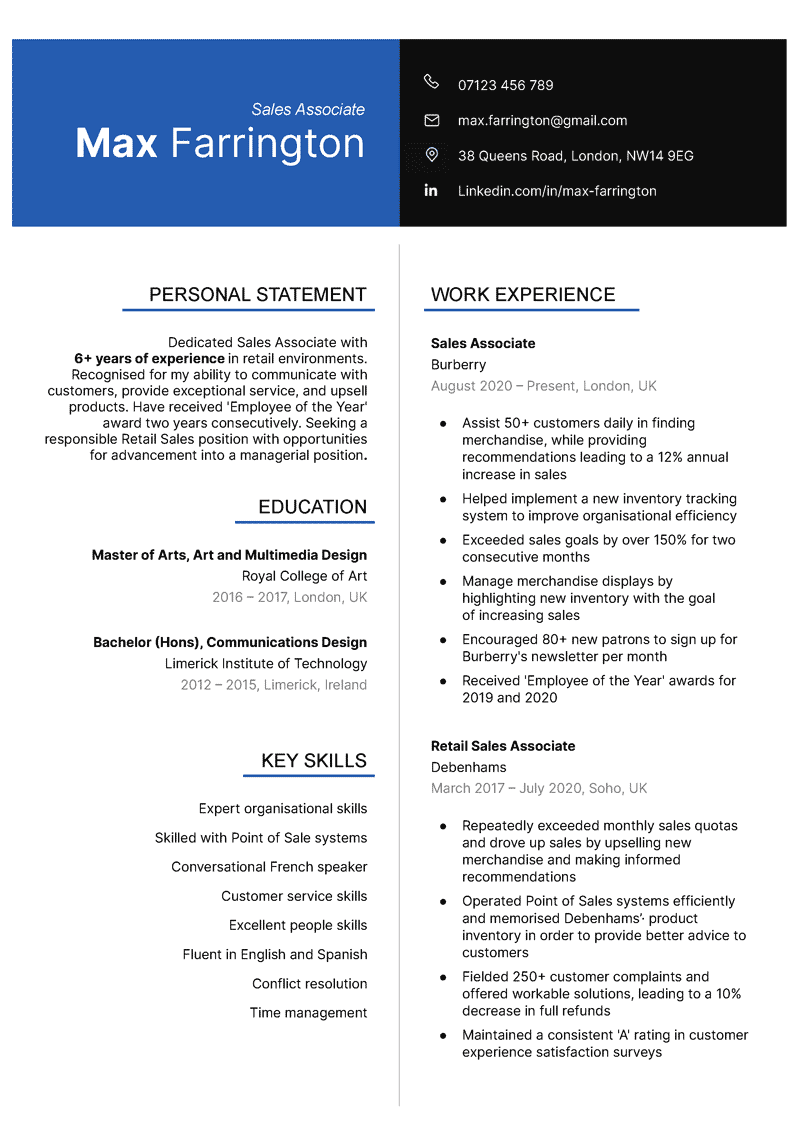 Edit Bloomsbury CV in Your Google Drive
You can fully customise the Bloomsbury template to better fit your skills, experience, and personality. For instance, you can click on the header and change the background colour:
If you use this CV, write your cover letter in the matching Bloomsbury Google Docs cover letter template to help the recruiter keep your application in order.
2. Basic
When you're searching for a free Google Docs CV template, you'll find many options — but not many will be easy to use. The Basic template from Process Street below is one of the more user-friendly options we've found: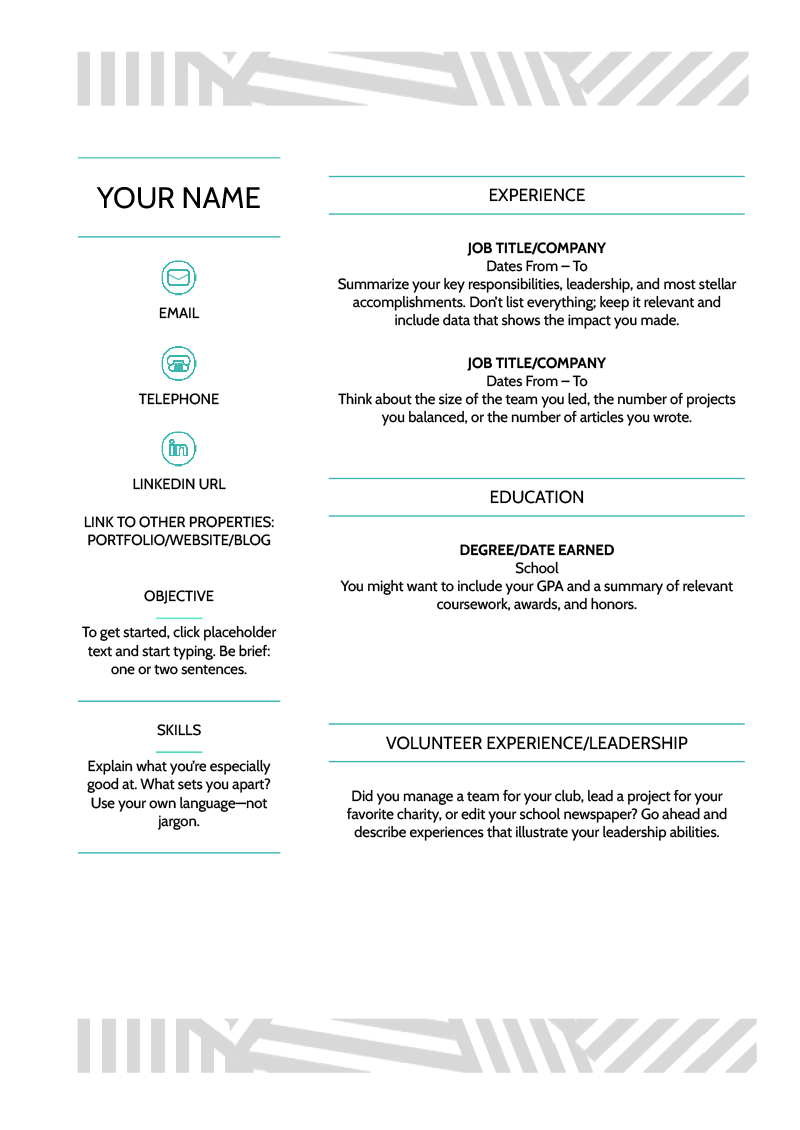 Edit Basic CV Template in Your Google Drive
This template opens in Google Docs as one page, but you can easily copy and paste the work experience section onto a second page to make your CV the right length. Also, if you want to remove any of the sections completely, just:
select it along with all the other sections in its column
right-click and choose 'Merge cells' from the drop-down menu
delete the section you don't need
Following that process helps you avoid having a blank cell push onto your second page and mess up your formatting.
3. Stirling
This free Google Docs CV template literally makes your CV stand out with a creative border that provides a 3D illusion: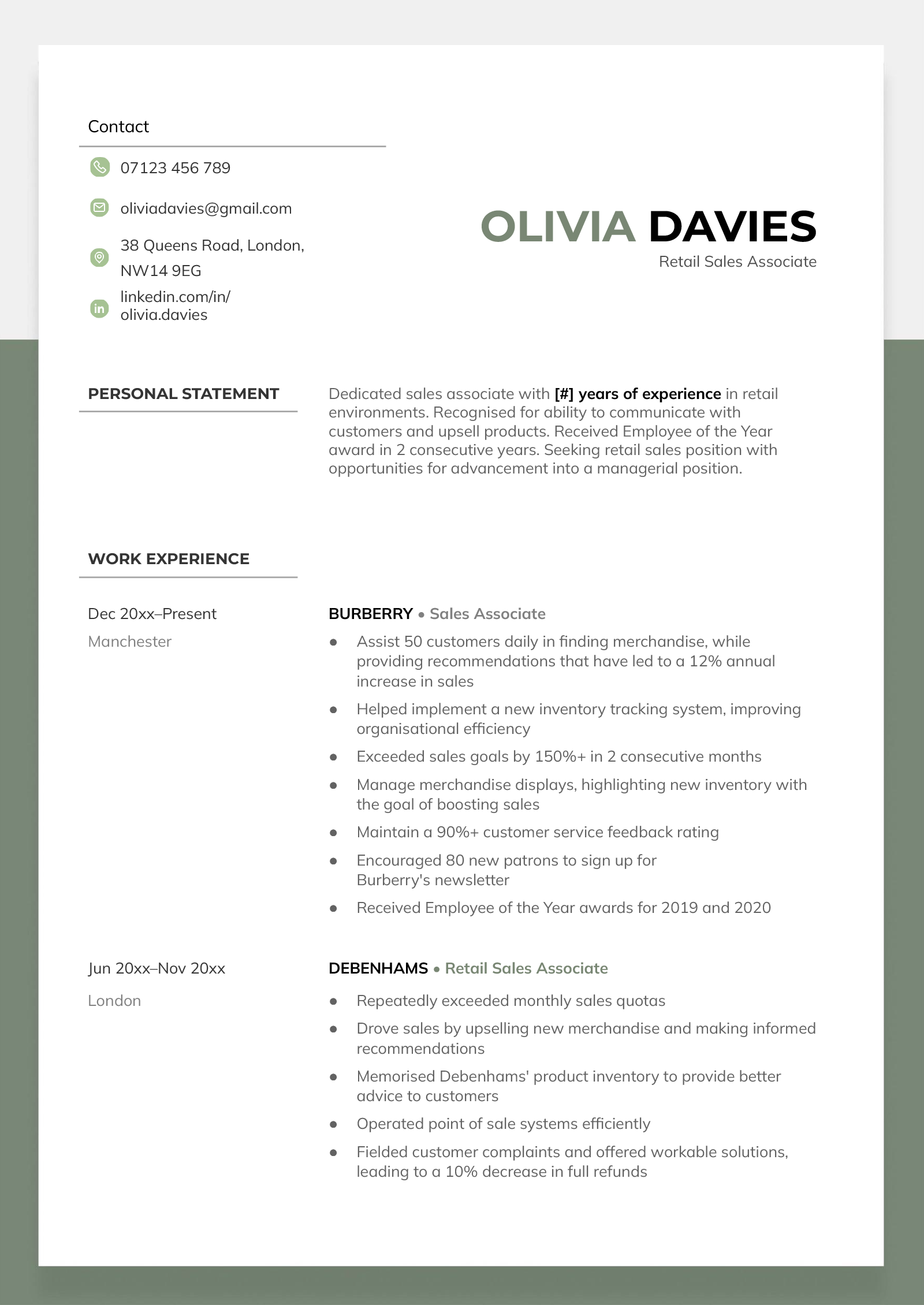 Edit Stirling CV Template in Your Google Drive
The Stirling template is a great example of standard CV formatting, but you can reorder the sections however you need to. For instance, if you're targeting a job that you have the skills for, but your experience doesn't quite fit, write a detailed skills section and move it to the first page.
4. Tyneside
With its professional look and clean design elements, the Tyneside is suited to both casual and buttoned-up professions.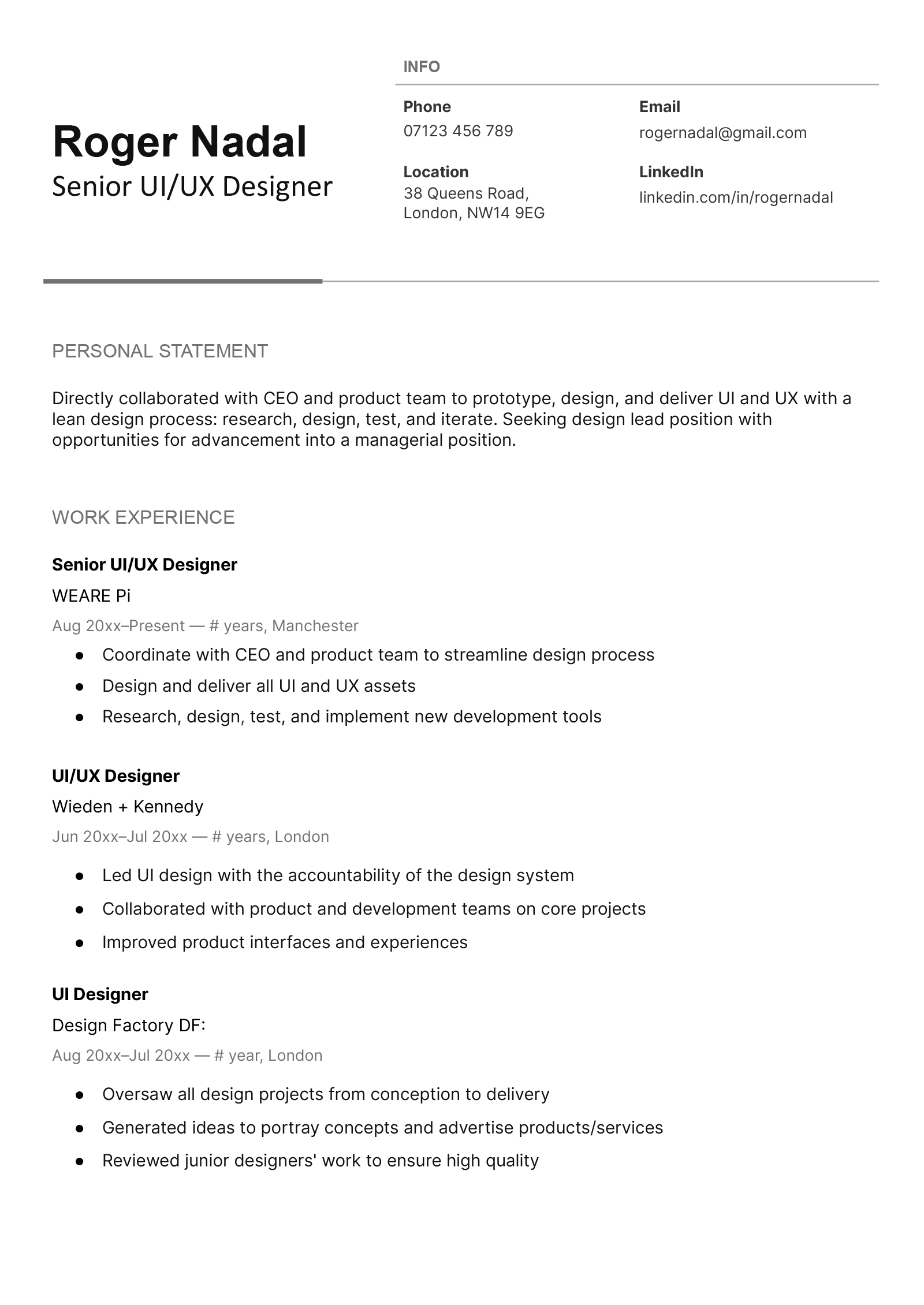 Edit Tyneside CV Template in Your Google Drive
The Tyneside's minimalist style makes it easy to personalise on Google Docs. The template uses a traditional format, with work experience preceding the education section. But recent graduates and school leavers can easily swap the headers to compensate for a lack of formal work experience.
3 Google Docs CV templates you can buy
If you're willing to pay for a Google Docs CV template, there are many affordable designs available online. Below are three great options.
1. The Emerson Finance CV
This is the Emerson Finance CV, which you can purchase as a Google Docs file from Get Landed: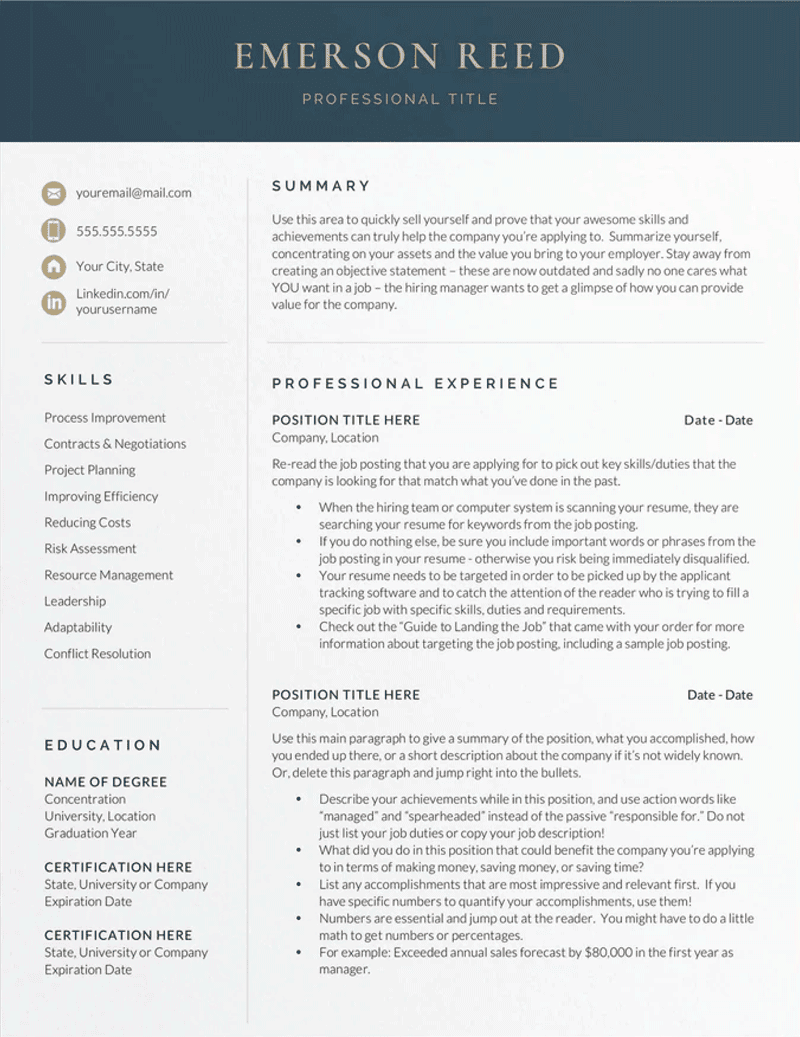 Buy Emerson Finance Google Docs CV Template
There's some CV-versus-resume confusion between the title and template description, and the contact information is formatted for the US. But the template includes up to five pages and is fully customisable, so you can easily use it to make your CV.
2. NewLondonStudio's Google Docs CV
Here's a well-designed Google Docs CV template from NewLondonStudio: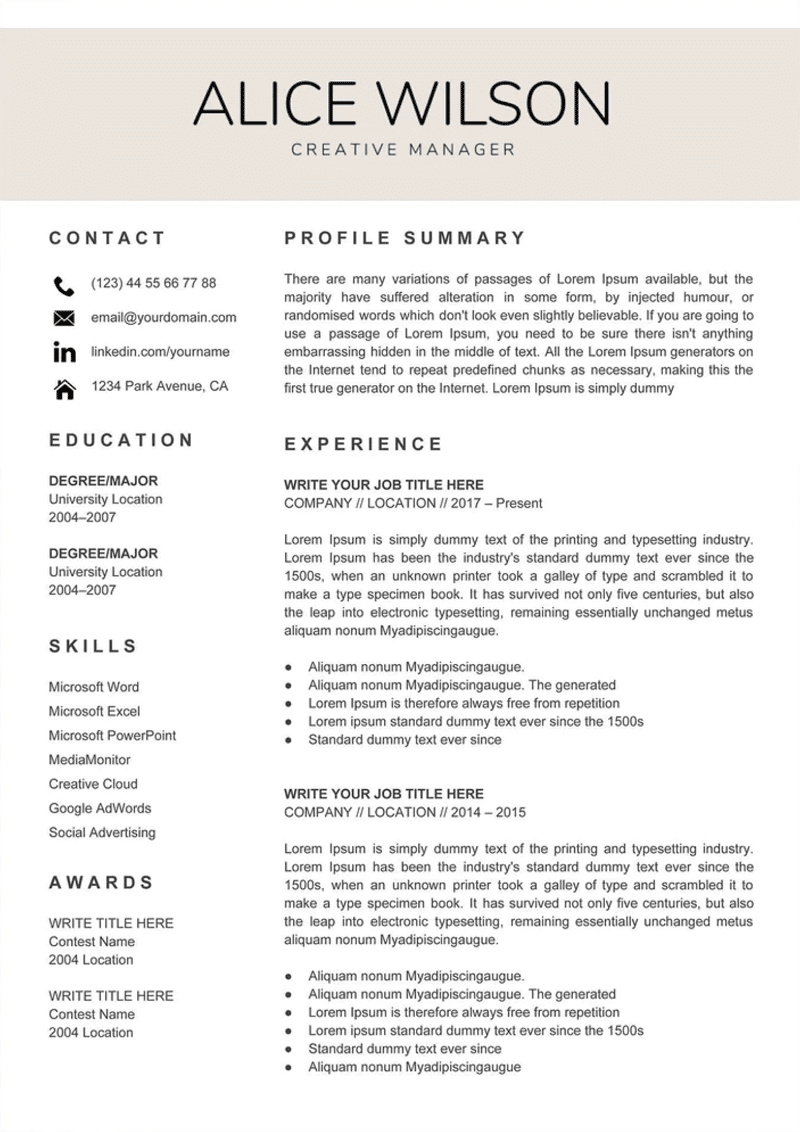 Buy NewLondonStudio's Google Docs CV Template
If you use this template, remember to use UK address formatting, and choose the multi-page option to add every section of a traditional CV.
3. The Amber from CreativeLandStudio
Below is a simple but elegant Google Docs CV Template designed by CreativeLandStudio and available for purchase on Etsy: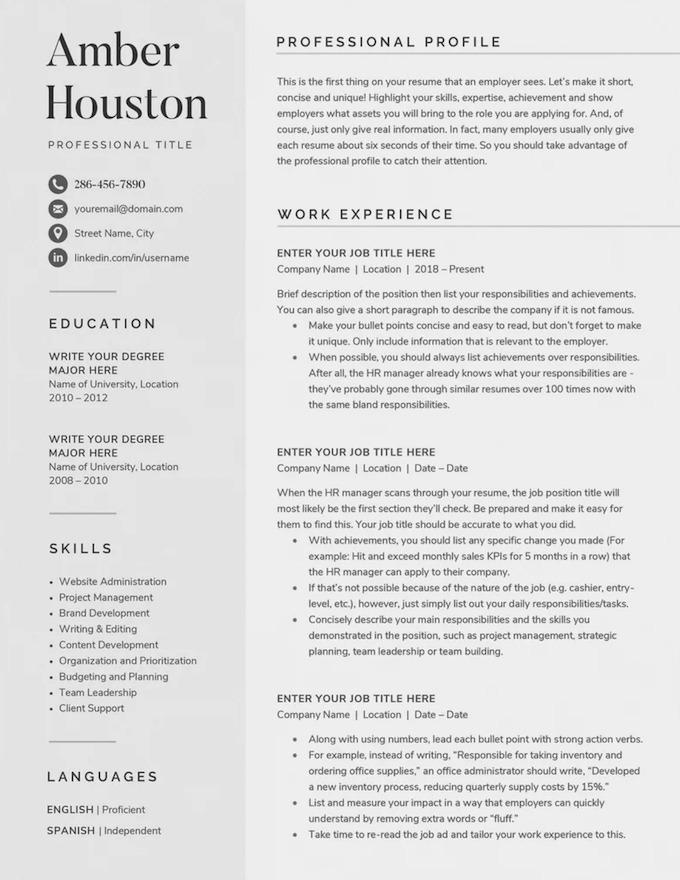 Buy CreativeLandStudio's Google Docs CV template
The above template bundle is labelled as a resume, but it includes two-page and three-page files as well as A4-sized documents that fit the CV formatting standards in the UK. It also features a matching cover letter template and references page.
How to add a CV template to Google Docs
If you've chosen a third-party Google Docs CV template, you'll need to upload it to the platform. Here's how to do so:
1. Download your template to your desktop.
2. Sign into Google Drive and select 'File upload' from the 'My Drive' drop-down menu at the top of the page.
3. Select the CV template file and then click 'Upload.' It'll then upload to your Drive.
4. Double click the template on your Drive to open it in Google Docs.
5. You can now edit your Google Docs CV template.
Frequently asked questions about using Google Docs to make your CV
Here are answers to three of the most common questions asked about Google Docs CVs:
1. What is the best Google Docs CV template for a student?
Which of the Google Docs CV templates is best for you as a student will depend on your experience and the type of job you're applying for. However, if you have minimal experience and are seeking part-time student work or a graduate job, then Serif is a great choice.
Serif features three additional CV sections (Projects, Awards, and Languages) that you won't find on every CV template. These are great for padding out your CV early on in your career and will divert the recruiters attention away from your lack of formal work experience.
You can also customise these additional section headings to highlight other relevant qualifications so far. For example, you could switch 'Languages' with a 'Volunteer Experience' or 'Certifications' section.
If you're really concerned about your lack of work experience, you can also consider switching the Experience and Education sections, so that your Education section comes first. This approach will be particularly useful if you've just completed a degree that is highly relevant to your field (E.g., a BA in Journalism for a PR role).
2. Will my Google Docs CV template pass an application tracking system?
A Google Docs CV template should pass an ATS scan in most cases.
ATSs work by scanning your CV for job-specific keywords that suggest you're qualified for the open position. Therefore, it's important to use a clean, widely supported font that the ATS will recognise.
The main fonts used in Google Docs CV templates are Lato, Merriweather, Playfair Display, Proxima Source Code Pro, Oswald, Roboto. Though these fonts are less widely used than standard fonts like Arial, Times New Roman, and Verdana, they are widely supported and highly likely to pass an ATS scan.
Even so you should remember to make your CV ATS friendly, by writing in plain, scannable English and using straightforward section headers that the system can recognise with ease (e.g., call it 'Work Experience' or 'Work History' not 'The Notches in my Belt').
3. Is it unprofessional to send my CV as a Google Doc?
Google Workspace is a popular alternative to Microsoft Word that most, if not all, employers will be familiar with. Therefore, it's both acceptable and professional to send your CV as a Google Docs link.
This said, there are a couple of things you should consider before submitting your CV as a Google Docs link:
1. Submitting your CV as a .doc or PDF file is standard practice
Employers will generally expect you to submit your CV as a Word or PDF file, and some may be surprised to see that you've sent them a link to a Google Docs file.
The employer will still be able to download your CV as a .doc or a PDF to read it offline or upload it to an ATS. However, you're creating more work for them at their end, which some employers might not appreciate.
2. Make sure they have permission to view the document
Nothing will undermine the hard work you put into your CV like sending the employer a dead link. Busy employers might not even have the time to email you and request access, and your job application will hit a dead end.
When you share your Google Docs CV link with the employer, make sure you've checked 'Anyone with the link' under General Access. This'll allow the employer to open your Google link and share it with their colleagues if they need to discuss your application.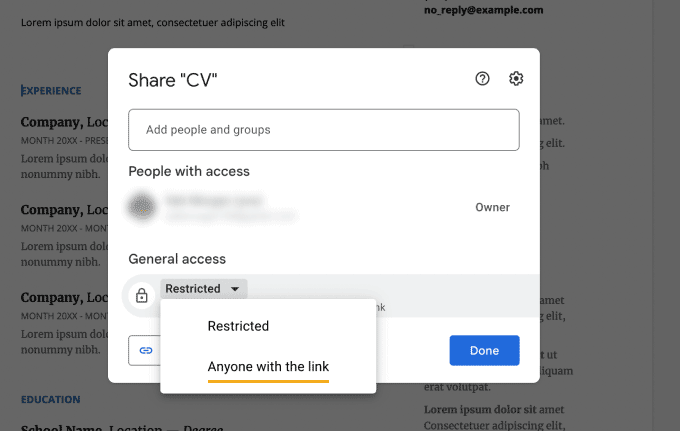 By the way, 'Anyone with the link' means exactly what it says — anyone the employer shares the link with will be able to see your CV. If you're concerned about your privacy, you can also give the employer access by adding their email.
More FAQs to help you with your CV
Here are the answers to a few more common CV-making questions you might have: