If you're completely new to the job-hunting world, check out our video on writing a cover letter with no experience:
Whether you were asked to provide one or not, including a cover letter with your CV can add significant value to your job application.
A cover letter is a formal letter highlighting why you want the job you're applying for and what makes you especially qualified. Because you write your cover letter in your own words, it's your chance to add some personality to your application and demonstrate why you'd be a great addition to the hiring team.
Ready to persuade the employer of your unique skills and boost your chances of getting hired? In this article, we'll show you how to write a cover letter in eight steps: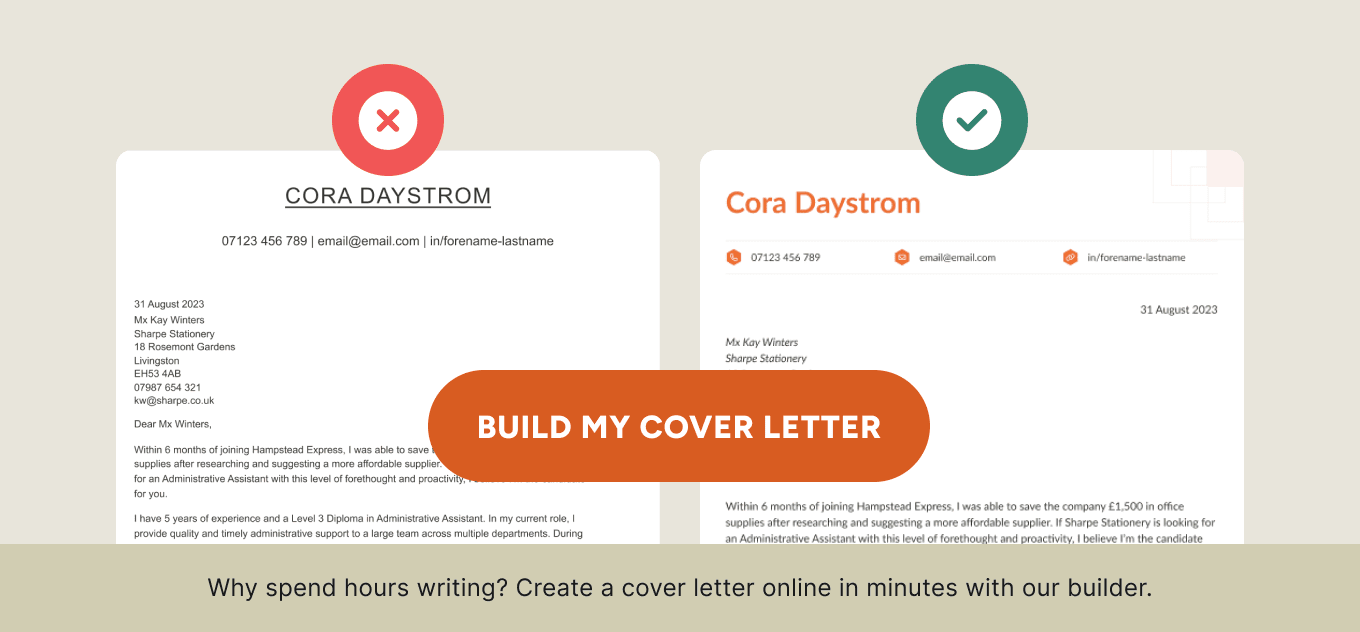 How to write a cover letter in eight steps
Writing the perfect cover letter is all about effective self-marketing. You identify the employer's needs, values and company culture, then relate how your skills and experience make you an excellent fit.
Here's how to make a job application letter that'll impress even the pickiest HR manager:
Step 1: Research the employer
Before you start writing you cover letter, it's important to understand who you're sending it to and what they look for in the ideal job applicant.
Start your research by carefully reading the job description.
You should already have a good idea of the job's central responsibilities and skills from when you wrote your CV. This time, pay careful attention to how the employer talks about the job and company culture.
Is their description casual or serious? Sober or enthusiastic? Developing a profile of the employer will help you determine which personal qualities will be the best fit for their organisation.
Other ways to research the employer
In addition to the job description, check these resources to deepen your understanding of the employer:
The company's 'About Us' page
Their social media handles
Company review sites like Glassdoor
Thoroughly researching the employer before you apply will enable you to align your cover letter more closely to their needs and preferences.
Step 2: Understand what a cover letter should include
Though your cover letter is the most personalised part of your job application, using the right cover letter structure will help you address key interest points and convey your expertise effectively.
Here's what a cover letter should include:
Step 3: List your name and contact details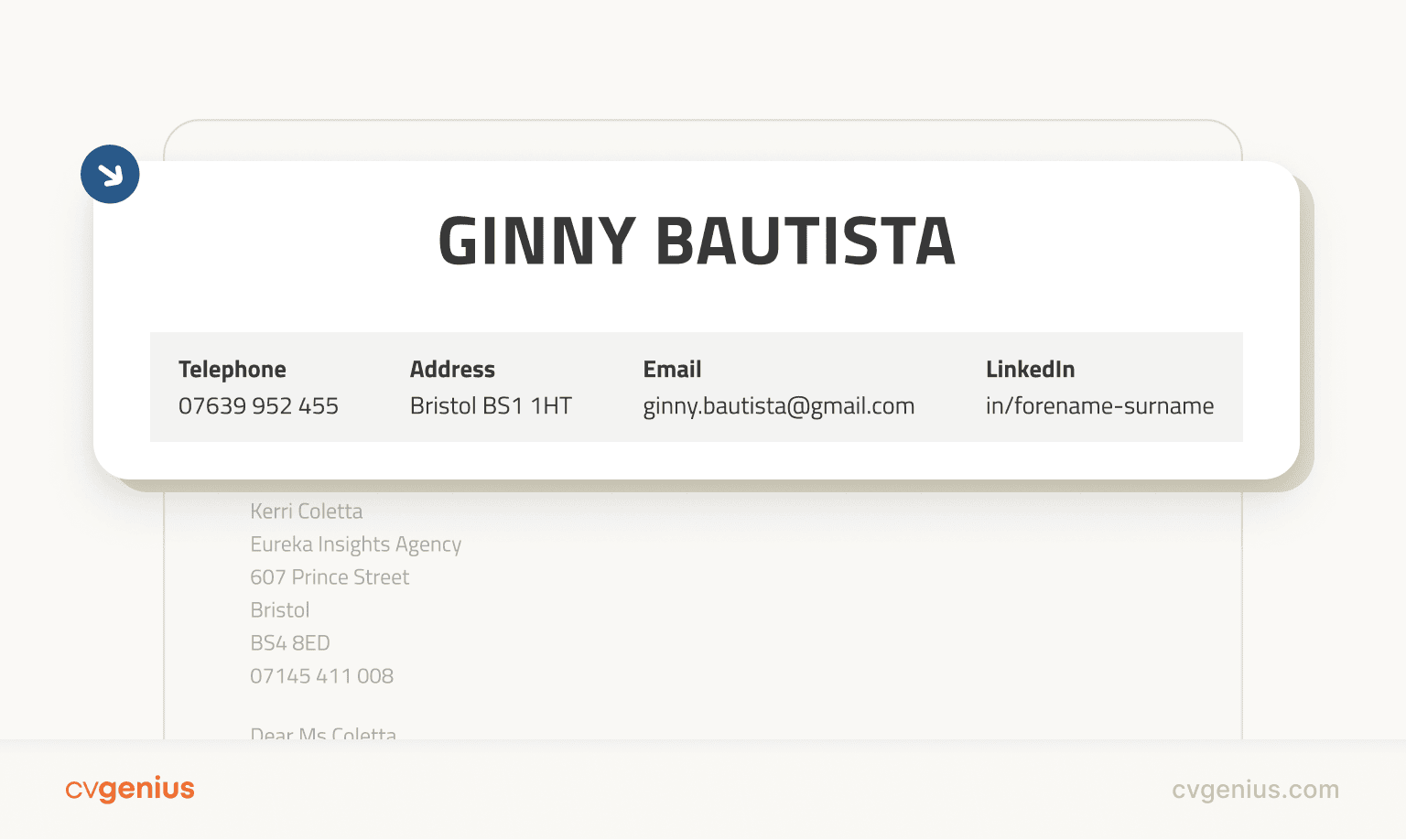 The top of your cover letter is where the reader will look first. Place your contact details in this area using an eye-catching cover letter header so they easily remember your name.
List the following contact details at the top of your cover letter:
Name: first and last name (middle name optional)
Phone number: mobile is best (never use your work number to avoid letting your current employer know you're thinking of leaving)
Email address: something with your name in it is professional and makes your application easier for employers to find in their inboxes
You can also add links to relevant web pages, such as your LinkedIn profile, online portfolio (for graphic artists), or blog (for writers and journalists).
Adding your postal address to your cover letter is optional in 2023 because the employer will contact you by email or phone. And you definitely don't need to add it to an email cover letter!
Step 4: Address the employer by name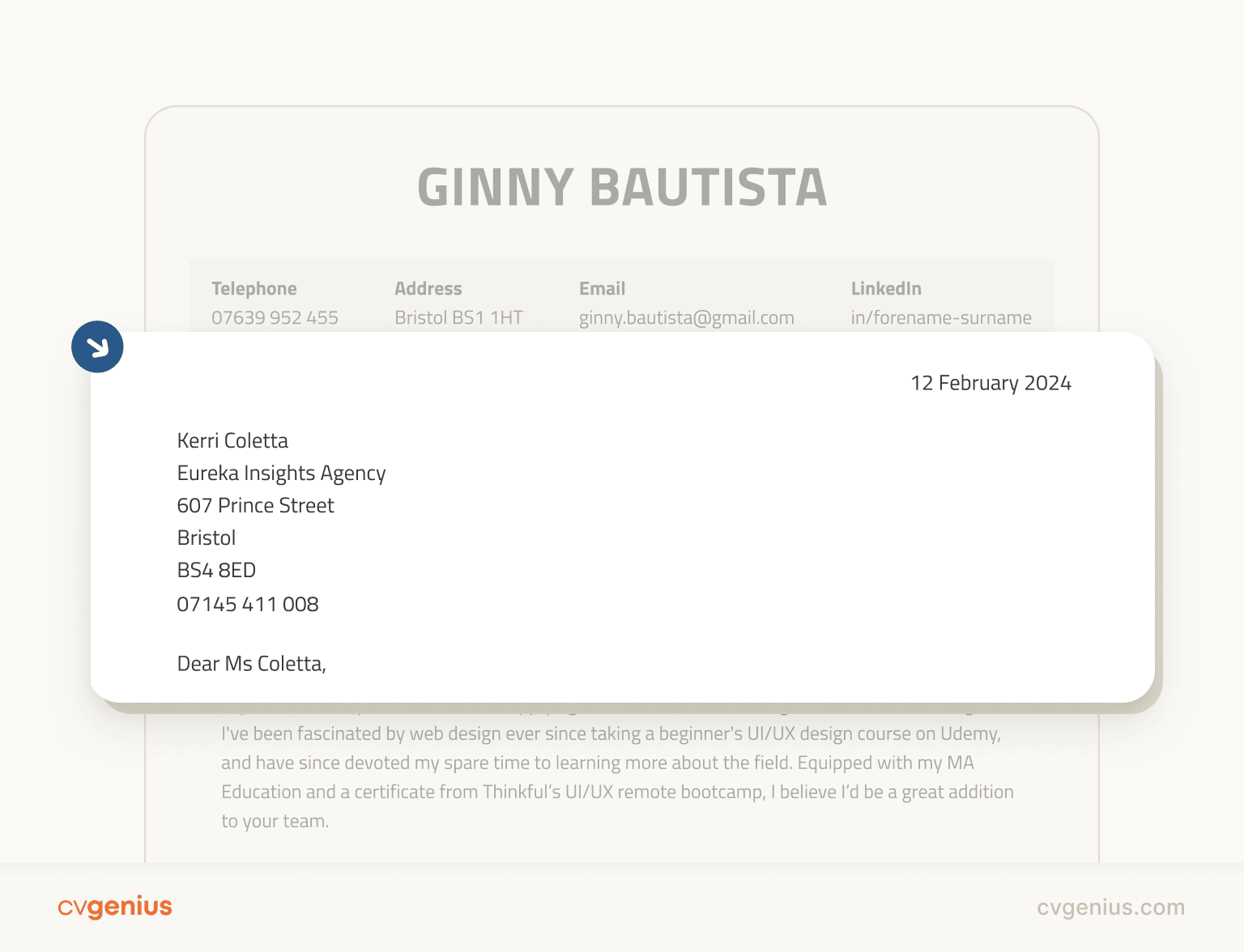 Underneath your name and contact information, right-align the date and then switch to left alignment for your contact person's information, including their:
name (if you have it)
company name
company address
company phone number
email
Then, you formally start your cover letter by addressing the employer by name, like so:
Dear Mr/Ms/Mx [Contact Person's Surname],
If you can't find a contact person's name in the job advert, you may need to do a little research. In this situation, you should:
check the company's website or LinkedIn to see who's the department head for the role
ring the company and ask who you should address your specific job application to
If all else fails, you can address your cover letter using a position title or department name:
Cover letter salutations with job title and department name
Dear Sales Director,
Dear Engineering Team,
Unable to find a common cover letter greeting that works for your application? Use 'To Whom It May Concern,'. It's not perfect, but it does the job.
Step 5: Write a direct, personalised opening paragraph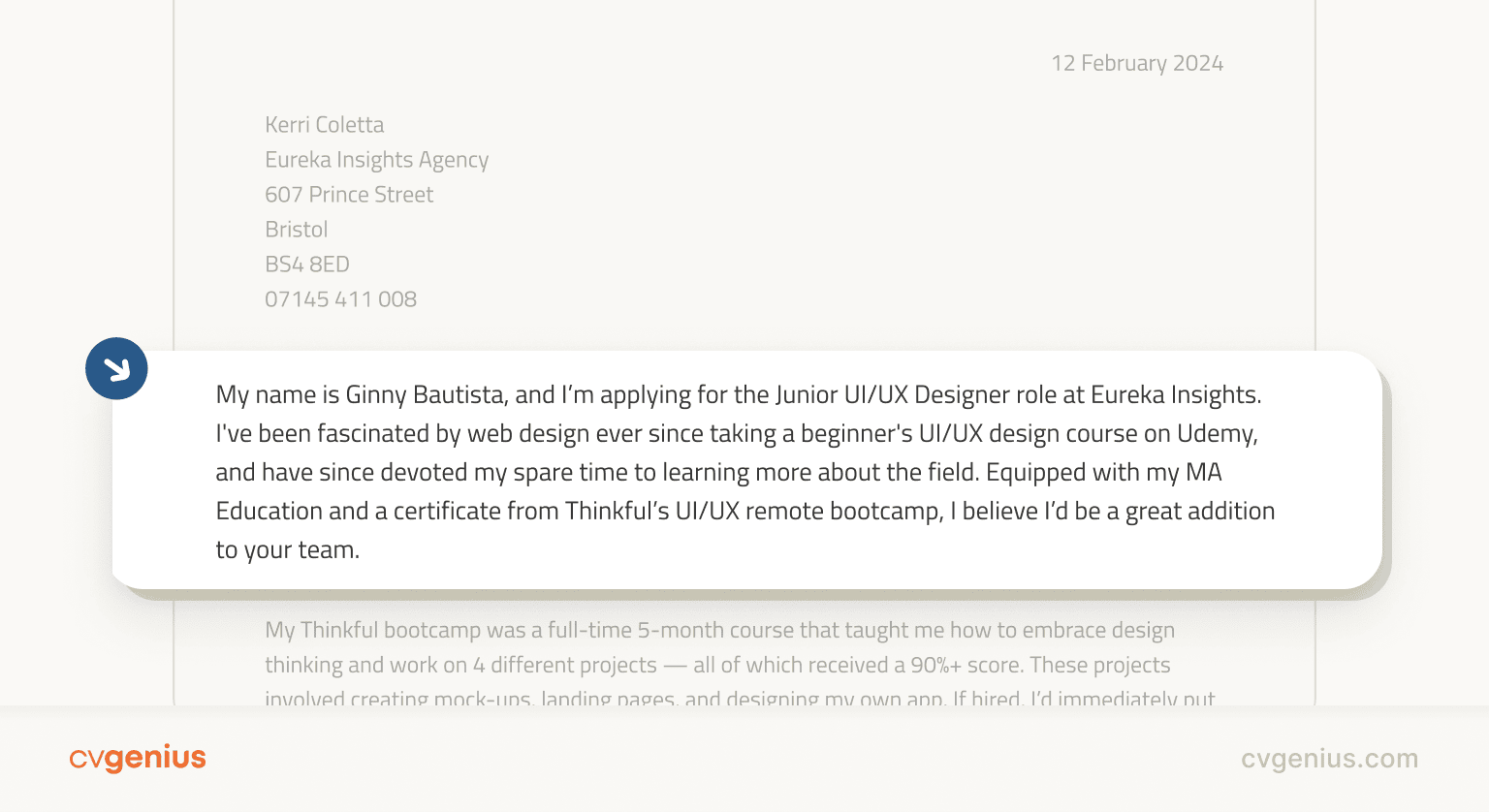 Make sure employers read your entire cover letter by speaking to their interests right from the start.
You can get the employer's interest by starting your cover letter with a concise yet targeted first paragraph that includes the following information:
Who you are: your professional background
The job title: name of the company and the position you want
How you discovered the opening: where you saw the job advert (employers appreciate having this information so they can track their success on different hiring platforms)
Your interest in the position: your enthusiasm for the role and what drove you to apply (especially if you're writing a career change cover letter)
Your notable accomplishments: one or two of your most important achievements to show that you're qualified
Here's an example of an opening paragraph that includes all the important details: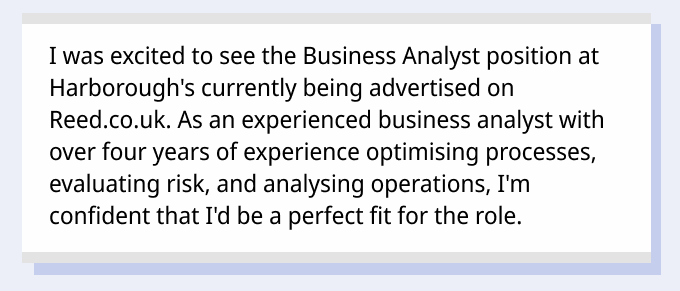 If you were referred to the job by someone working there, clearly state that referral in your cover letter introduction. Mentioning a referral can significantly increase your chances of landing an interview.
Step 6: Explain why you're qualified for the job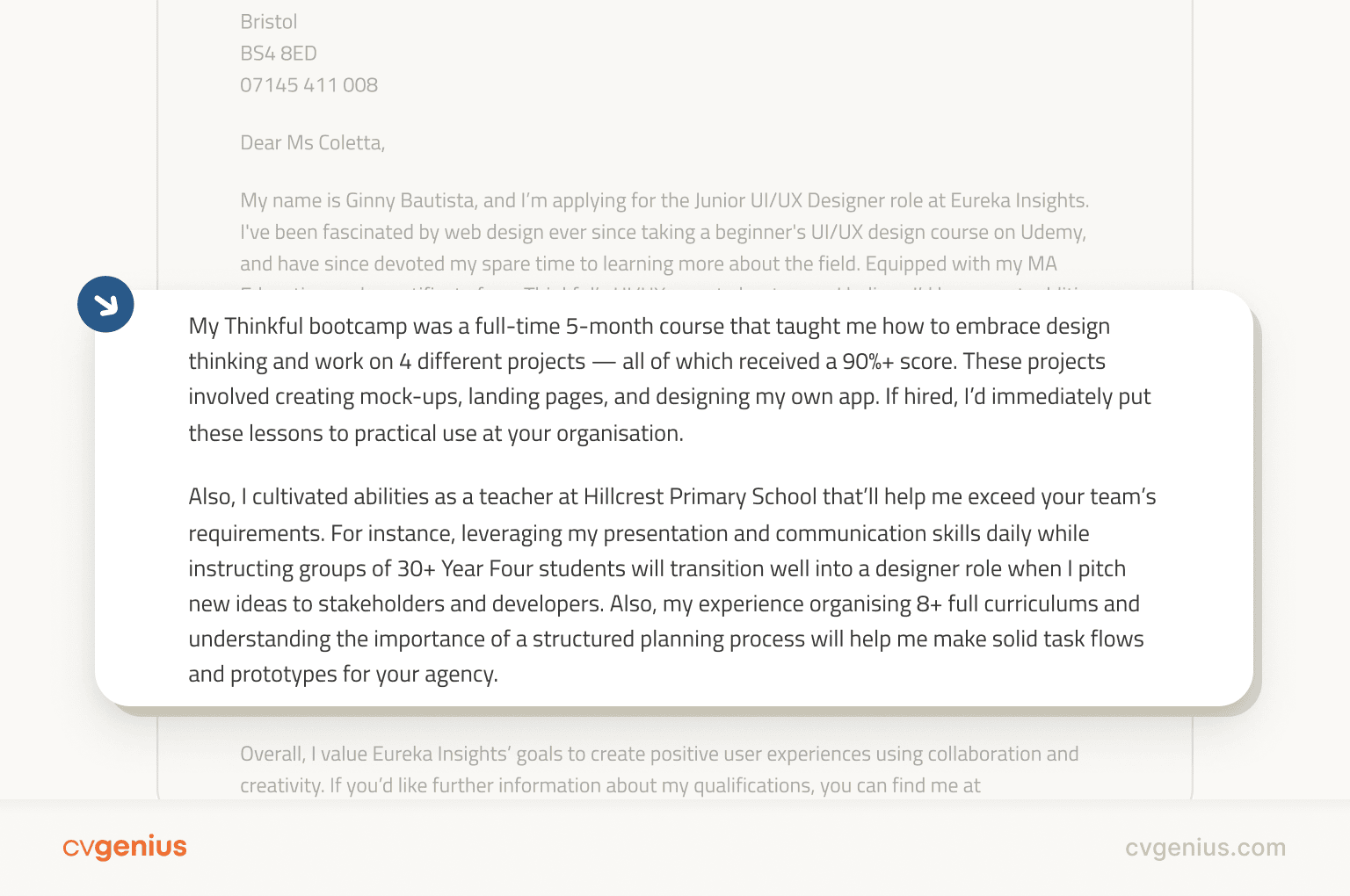 Your second and third paragraphs should provide a compelling case for your suitability for the job by highlighting your relevant experience, skills, and/or qualifications.
Here are some details you can discuss in your body paragraphs to show that you're a great fit for the job:
Achievements: If you exceeded your sales goals at work or finished a major project at university, highlight your accomplishments in your cover letter.
Awards: Mention any awards you received at school, university, or work.
Praise: Have your employers praised you for your work? Use your cover letter to showcase moments your contributions were applauded.
Any accomplishments on your cover letter should be directly relevant to the job you want or demonstrate transferable skills that would be useful for the position.
To make it clear that your achievements are relevant, add a short third paragraph towards the end of your cover letter. In this paragraph, emphasise why you're confident your achievements would help you succeed in the new role.
Here's an example of how to effectively demonstrate your achievements and relate them back to the job requirements in the body of your cover letter: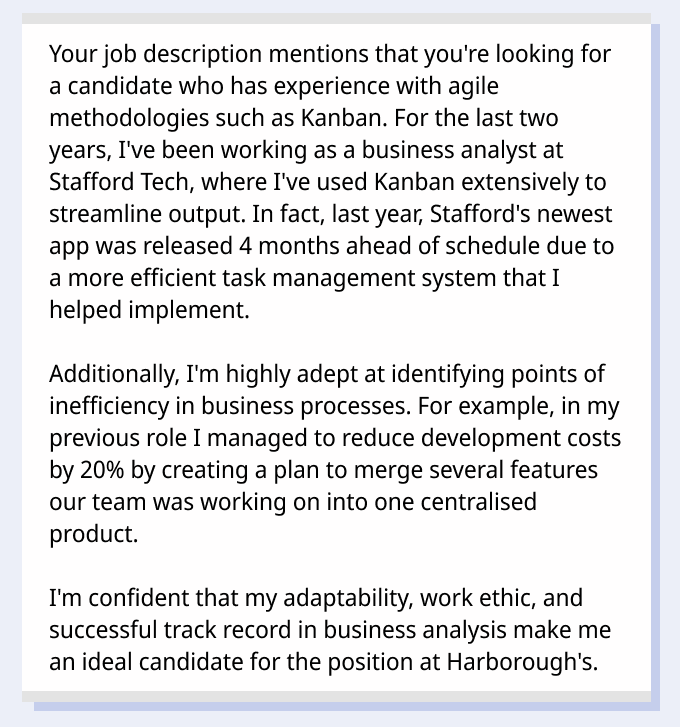 Step 7: Recap with a confident final paragraph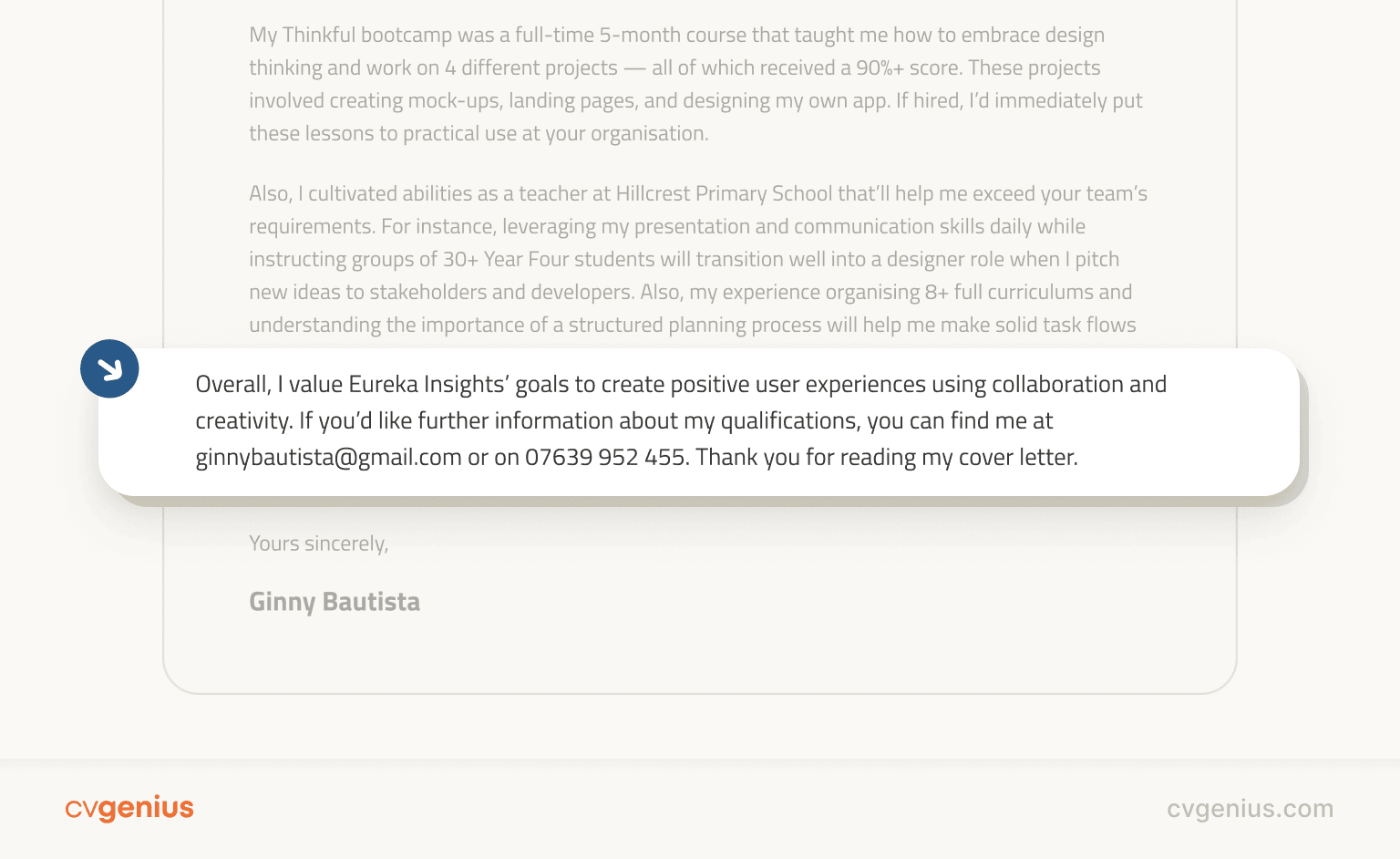 To write a good closing for your cover letter, all you need to do is politely request an interview.
Additionally, you can repeat your phone number and email address to make it easier for the interviewer to get in touch.
Here's what the correctly formatted final paragraph of a cover letter should look like: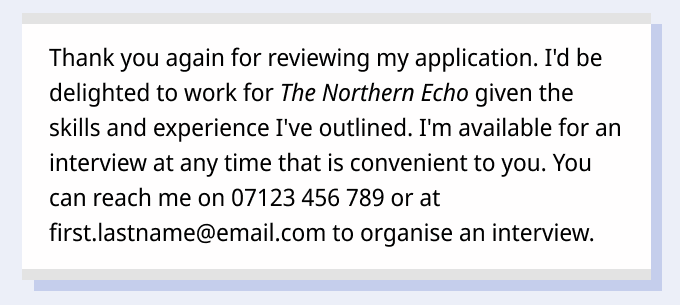 Make sure the phone number and email address you provide at the bottom of your cover letter match the ones you put in your header and CV. Otherwise, you risk confusing the recruiter.
Step 8: Use a formal closing and sign your name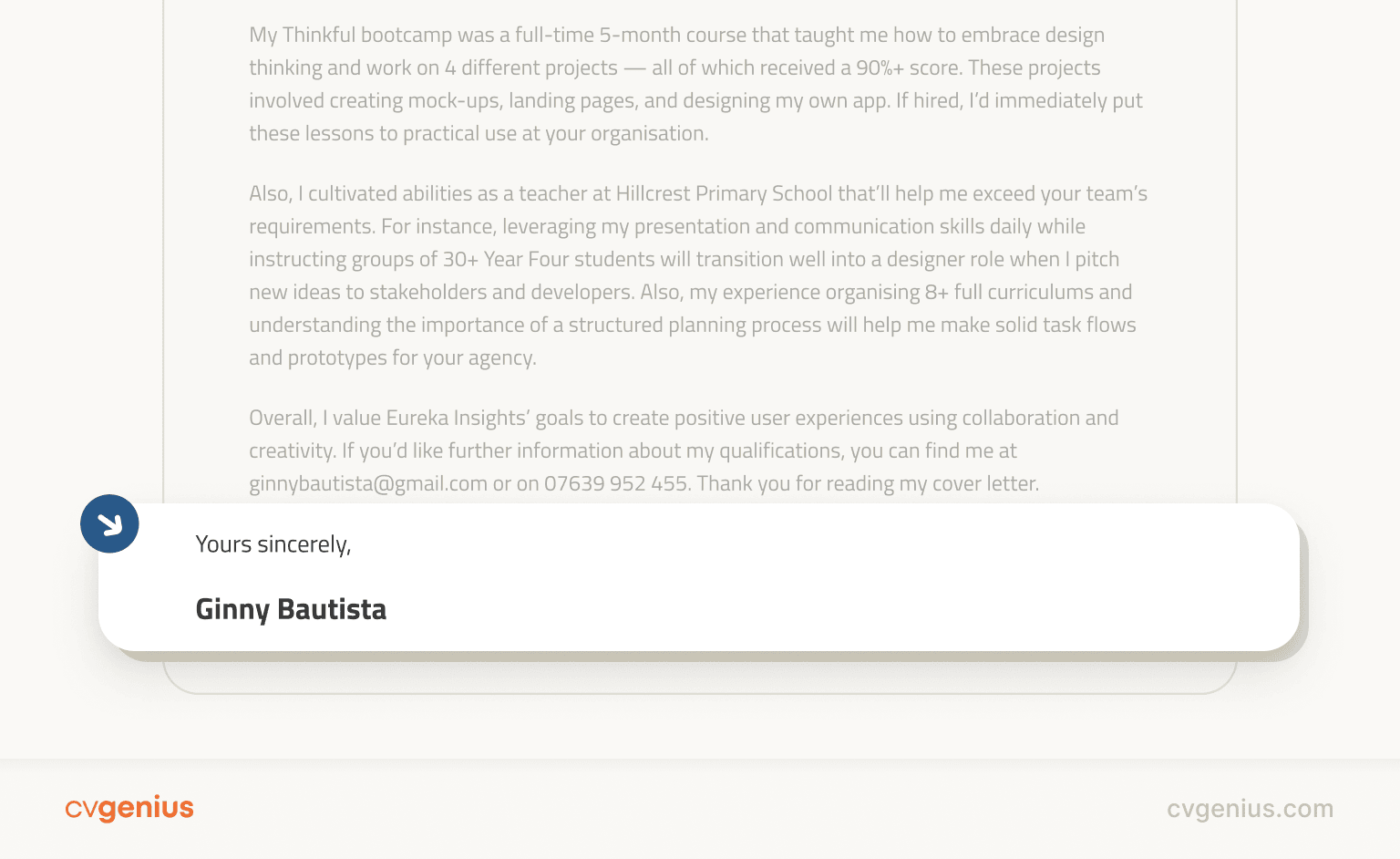 Finally, close your cover letter by writing a polite sign-off and writing your name.
The rules for sign-offs for a cover letter are simple:
If you addressed the reader by name (for example, 'Dear Ms Stephanopolous,'), then end with 'Yours sincerely,'
If you used a job title ('Dear Sales Manager,') or generic greeting ('Dear Sir or Madam,'), then end with 'Yours faithfully,'
This distinction might seem minor, but applying proper letter-writing etiquette when ending your cover letter shows the reader that you're a professional.
Cover letter tips and examples for various industries and situations
Now that you know the basics of how to write a good cover letter, here are seven examples that demonstrate how to put these lessons into practice:
1. How to write a cover letter with no experience
Even if you don't have any full-time work experience, you can still write a compelling cover letter by emphasising your job-related education and volunteer or internship experience.
This cover letter for an entry-level job highlights the applicant's independent study experience to show how they are prepared for the responsibilities of a professional role:
Download No-Experience Cover Letter Example
No-Experience Cover Letter Example (Text Version)
Ginny Bautista
31 Cross Street
Bristol
BS1 1HT
07639 952 455
ginny.bautista@gmail.com
linkedin.com/in/ginny.bautista
12 February 2023
Kerri Coletta
Eureka Insights Agency
607 Prince Street
Bristol
BS4 8ED
07145 411 008
Dear Ms Coletta,
My name is Gina Bautista, and I'm applying for the Junior UI/UX Designer role at Eureka Insights. I've been fascinated by web design ever since taking a beginner's UI/UX design course on Udemy, and have since devoted my spare time to learning more about the field. Equipped with my MA Education and a certificate from Thinkful's UI/UX remote bootcamp, I believe I'd be a great addition to your team.
My Thinkful bootcamp was a full-time 5-month course that taught me how to embrace design thinking and work on 4 different projects — all of which received a 90%+ score. These projects involved sketching out wireframes and mock-ups on Figma, creating landing pages, and designing my own app. If hired, I'd immediately put these lessons to practical use at your organisation.
Also, I cultivated abilities as a teacher at Hillcrest Primary School that'll help me exceed your team's requirements. For instance, leveraging my presentation and communication skills daily while instructing groups of 30+ Year Four students will transition well into a designer role when I pitch new ideas to stakeholders and developers. Also, my experience organising 8+ full curriculums and understanding the importance of a structured planning process will help me make solid task flows and prototypes for your agency.
Overall, I value Eureka Insights' goals to create positive user experiences using collaboration and creativity. If you'd like further information about my qualifications, you can find me at ginnybautista@gmail.com or on 07639 952 455. Thank you for reading my cover letter.
Yours sincerely,
Ginny Bautista
2. How to write a cover letter for a management position
Here's an example of a cover letter written by a candidate with four years of work experience: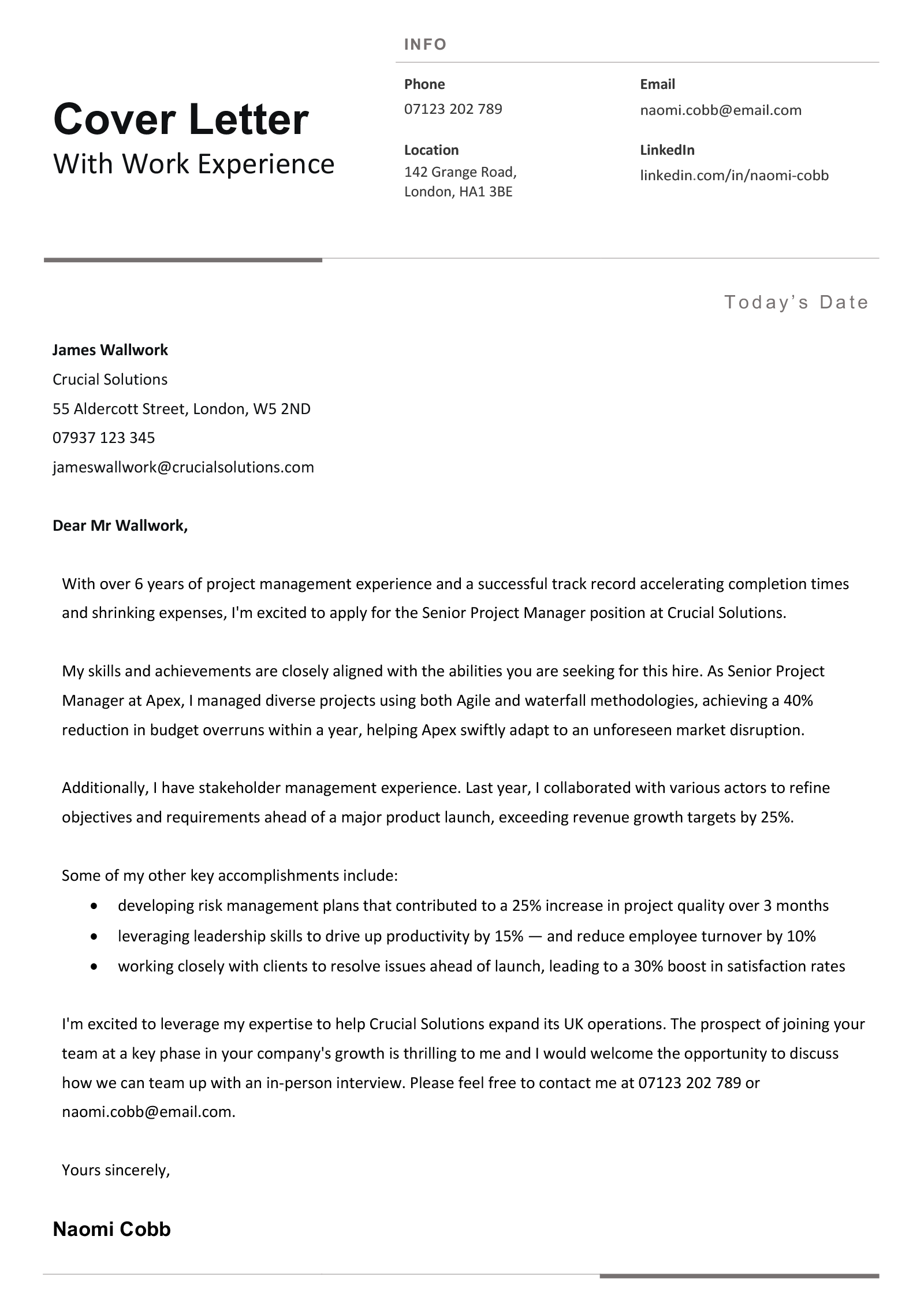 Download Management Cover Letter Example
Management Cover Letter Example (Text Version)
Naomi Cobb
142 Grange Road
London
HA1 3BE
07123 202 789
naomi.cobb@email.com
linkedin.com/in/naomi-cobb
3 June 2023
James Wallwork
Crucial Solutions
55 Aldercott Street
London
W5 2ND
07937 123 345
jameswallwork@crucialsolutions.com
Dear James Wallwork,
With over 6 years of project management experience and a successful track record accelerating project completion times and shrinking expenses, I'm excited to apply for the Senior Project Manager position at Crucial Solutions.
I've spent the past few years fostering an impressive portfolio of skills and achievements that are closely aligned with the abilities you are seeking with this hire.
For example, as Senior Project Manager at Apex, I managed diverse projects using both Agile and waterfall methodologies, achieving a 40% reduction in budget overruns within a year, helping Apex swiftly adapt to an unforeseen market disruption.
Additionally, I have proven expertise in stakeholder management. Last year, I collaborated closely with various actors to refine objectives and requirements ahead of a major product launch, leading to revenue growth that exceeded targets by 25%.
Some of my other key accomplishments that will be of interest to you include:
developing risk management plans and identifying dependencies that contributed to a 25% increase in project quality over 3 months
leveraging leadership and motivational skills to drive up productivity by 15% — and reduce employee turnover by 10%
working closely with key clients to anticipate and resolve issues ahead of launch, leading to a 30% boost in satisfaction rates
I'm excited to apply my expertise in these areas to help Crucial Solutions expand its UK operations. The prospect of collaborating with your team at a key phase in your company's growth is thrilling to me and I would welcome the opportunity to discuss how we can team up with an in-person interview.
Please feel free to contact me at 07123 202 789 or naomi.cobb@email.com to set something up at a time that suits you.
Yours sincerely,
Naomi Cobb
3. How to write a cover letter for an internship
Need to write a cover letter for an internship application? Here's an example of how to discuss your relevant education and summer job experience in your cover letter:
Download Internship Cover Letter Example
Internship Cover Letter Example (Text Version)
Therese Lim
07163 436 749
Birmingham
t-lim@gmail.com
Linkedin.com/in/therese-lim
30 March 2023
Benjamin Higglesby
Goldman Sachs
14 Earl Grey Road
Birmingham
B3 2AA
07123 456 789
ben.higglesby@gmail.com
Dear Mr Higglesby,
I'm a second-year student at The London Institute of Banking & Finance. I recently spoke to Ms Henchworth from Asset Management at Goldman Sachs at a campus event. My admiration for your firm grew as I learnt about your commitment to providing excellent client services. More specifically, I'm impressed with your initiative to bring Goldman Sachs to small businesses. Therefore, I'm excited to apply for your asset management Summer Analyst Intern Programme.
Having attended your recent Asset Management 101 session, I find the prospect of developing long-term relationships with clients particularly appealing. Additionally, the people within asset management whom I've met at other networking events came across as professional, interesting, and inspiring. I've previously worked as a waiter at a high-end restaurant, where I provided service to celebrities and VIPs. Through this experience, I've cultivated strong interpersonal, communication, and teamwork skills, which I'd like to apply in the banking sector.
Given my genuine interest in asset management and experience in a client-facing role, I'm confident I'd be a great fit for your summer analyst intern position. I'm keen on experiencing your culture of supporting continuous development and building an innovative, diverse, and inclusive work environment. I look forward to gaining further insight into your career opportunities and learning more about your financial services functions while job shadowing your professionals.
My CV is enclosed for your reference. I relish the opportunity to discuss the role and learn more about your firm at your earliest convenience. You may contact me at 07163 436 749 or via email at t.lim@gmail.com to schedule an interview.
Thank you for taking the time to review my application.
Yours sincerely,
Therese Lim
4. How to write a speculative cover letter
You write a speculative cover letter when you want to connect with an employer that isn't advertising a job vacancy. A great speculative cover letter emphasises your interest in the target company and highlights your relevant skills and interests. Here's an example:
Download Speculative Cover Letter Example
Speculative Cover Letter Example (Text Version)
Aisha Khan
07911 135 476
38 Queens Road
London
NW14 9EG
aisha.khan@gmail.com
25 March 2023
Caelan Lewis
Westerfield Recording
274 Cotham Road
Bristol
BS6 6SJ
07117 123 567
Caelan.Lewis@gmail.com
Dear Mr Lewis,
I'm a recent graduate with a BSc in Sound Design (Hons) from Staffordshire University, and I've been producing music for successful indie bands for 3+ years. Although I didn't see any job listings on the Westerfeld Recording website, I'm a huge fan of your music releases, and it would be a dream come true if you could find a role for me on your team.
I'm fully prepared to start with low-level work like cleaning facilities and maintaining equipment. However, I'm confident you'll quickly find a use for my audio engineering skills, which include the following:
Have used Avid Pro Tools and Ableton Live to produce music since I was in Year 10, and became a true expert at using these tools as an undergraduate
Interned for 4+ years at Venombase Studios in Stoke-on-Trent, becoming an expert equipment tech and honing my mixing and mastering skills by helping produce 10 albums for local artists
Produced two full-length albums for my friends' band Agent Purple, both of which have received extensive local radio play
I believe my experience, proven sound-design talent, and passion for quality music can benefit [Studio Name]. If you're intrigued by the qualifications listed above and in my attached CV, please contact me on 07911 135 476 or at youremail@email.com when you get a moment's break from creating beautiful music.
Yours sincerely,
Aisha Khan
5. How to write a cover letter for a creative role
Employers in creative industries appreciate job applications that show uniqueness and personality because these traits are a sign you'll help the employer stand out from their competitors.
Show your enthusiasm for the job and highlight key personal qualities to show employers why you're a perfect match for their vacancy, as the applicant does in this example:
Here's a creative cover letter example from a candidate in the podcast industry:
Download Creative Cover Letter Example
Creative Cover Letter Example (Text Version)
Caleb Aaron
07896 135 476
38 Queens Road
London
NW14 9EG
caleb.aaron@gmail.com
29/06/2022
Aditi Khatri
Footy Matters
204 Old Kent Rd
London
SE1 5TY
07555 555 555
Aditi-Khatri@gmail.com
Dear Mrs Khatri,
You've no doubt heard of the world-renowned Whack Jitehall podcast. Well, I'm the person who runs it! Now I'm interested in using everything I've learned in my 5+ years of production experience to take your hilarious programme to the top of the podcast charts.
Why would I leave such a cushy job at a famous podcast? The answer is simple: I'm a massive fan of your content, and I'm looking for a new production challenge. When I heard on episode #214 of Footy Matters that you're looking for a new producer, I did a double take and immediately began penning this cover letter.
Here's some of the relevant experience I'll bring with me to your programme:
At Whack Jitehall, I conceptualised and led our on-air talent to implement our most popular bits, including the Jack Whitehall impersonator jokes that have garnered 10 million+ listens.
I was also the booker for Whack Jitehall, developing a global network of comedians and other celebrities who'd be perfect guests on your show.
I'm an expert at editing and tracking video/audio content in Adobe Premiere and Audition, Logic Pro, and Buzzsprout.
As you can tell, I possess well-honed comedy production skills and am ready to improve your already hysterical content. I'm passionate about handling behind-the-scenes organisation so talented performers such as you are free to focus on entertaining.
If you're interested in learning more about me and my podcast-producing skills, feel free to contact me on 07896 135 476 or at caleb.aaron@gmail.com. I'm eagerly anticipating the opportunity to meet with you.
Yours sincerely,
Caleb Aaron
6. How to write a cover letter for a retail job
Customer service skills and product knowledge are essential qualities in any shop-floor position, so you should demonstrate both in your retail cover letter.
Curious what that looks like? This sample cover letter makes a strong case for the applicant by outlining their knowledge of the employer's industry and illustrating what great customer service looks like:
Download Retail Cover Letter Example
Retail Cover Letter Example (Text Version)
Callum Copperson
07298 346 505
28 Emmerson Street
Hull
HU3 5IA
callum.copperson@email.com
12/08/2023
Ryan Bullock
Farmfoods
York
YO23 1FA
07394 123 908
ryan-bullock@gmail.com
Dear Mr Bullock,
I'm an Assistant Sales Manager with 3 years of supermarket experience. I saw that you are hiring for the role of Store Manager at your Southgate location. As a long-time customer with a track record of excellent customer service, I'm the perfect fit for this role.
Quality customer service is one of the most important qualities in any successful supermarket, but how do you ensure quality customer service? By actively listening to customers, using your initiative to solve problems, and above all, being patient and friendly whenever addressing a customer problem.
That's what I learned during my 3 years on the shop floor in Iceland, where I was a Assistant Manager at one of the chain's busiest locations. Despite the high customer footfall, I was able to ensure a customer satisfaction rate of over 95% by giving fast and friendly service at the tills and maintaining a positive attitude even during peak periods and late night shifts:
Additionally, my excellent approach to customer support helped me accomplish the following:
Promoted to Assistant Manager after 1 year for my efficiency at the tills, stocking and inventory, and manning the customer support desk
Spearheaded a visual merchandising overhaul, leading to a 30% increase in product visibility and a 15% rise in impulse purchases
Trained 20+ new hires, ensuring they were familiar with our customer support guidelines, food handling policies, and other frameworks.
Given my reliability as both an employee and a helping hand to valued shoppers, I am well-positioned to improve customer experiences at Farmfoods Southgate. I'm eager to take this next step in my retail career and believe that with your function-focused approach to store management, you would be an excellent supermarket to grow with.
I would welcome the opportunity to talk more about this opportunity and how I can contribute to your team moving forward. Please feel free to contact me on 07298 346 505 or at callum.copperson@email.com. I look forward to meeting with you in person.
Yours sincerely,
Callum Copperson
7. How to write a cover letter for a teaching job
Writing a cover letter for a teaching vacancy? School employers will appreciate it if you can highlight any specific teaching experiences that align your expertise with their specific needs as a learning centre.
Additionally, outlining any share values will further help you demonstrate why you're the right person to help students get the most out of their education:
Download Teaching Cover Letter Example
Teaching Cover Letter Example (Text Version)
Daisy Wang
07109 473 239
14 Holborn Road
Newcastle
NE5 7LE
daisy.wang@email.com
29/06/2023
Georgia Jameson
Veritas Education
2 Highgate Street
Newcastle
NE1 8MP
07477 149 958
g-jameson@veritas.com
Dear Georgia Jameson,
I am writing to express my interest in the Primary Teacher position at Ripple Valley Primary School as advertised on JobScreen. With a passion for Early Years education and 2 years of experience providing a nurturing environment for young learners, I am excited about the opportunity to join your staff.
Ripple Valley Primary School needs a teacher with the right Early Years experience to foster fun and inspiring experience for young learners. As a Reception and Year One teacher at St Mary's Primary School, I created an enabling learning environment through games and supervised play, used the EYFS Curriculum to support child development, and helped children develop emotional skills by being a friend, carer, and educator.
Some of my key achievements include:
Ensured that 95%+ of students developed target literacy and numeracy skills by the end of the school year, providing after-school and parental support to those who needed extra assistance
Praised by the headmaster for achieving a notable increase in students' enthusiasm for learning by creating engaging games and activities
Organised regular parent workshops and communication sessions to provide parents with insights into Early Years development and strategies for continued learning at home
At this stage in my career I'm looking to work with a primary school that values creating tailored learning environments that cater to every student — which is precisely what drew me to Ripple Valley.
I'm eager to meet for an in-person interview and discuss how I can contribute to the growth of your little learners moving forwards. Please feel free to contact me at 07109 473 239 or daisy.wang@email.com so we can set something up at your convenience.
Yours sincerely,
Daisy Wang
Frequently asked questions about cover letter writing
Below are expert answers to four of the most common questions asked about how to write a cover letter:
1. How do I write a simple cover letter?
Here's how to write a simple cover letter:
Write your name at the top (left, centre, or right alignments are all fine)
Right align your contact information and today's date
Left align the contact person's name, company name, and contact information
Address the contact person by name in a salutation (e.g., 'Dear Ms Jackson,')
Write 2–4 paragraphs explaining what job you want and why you're qualified for it
Sign off with 'Yours sincerely,' followed by your name
2. Do cover letters have a template?
Yes, there's a standard template to follow when you write a cover letter:
Standard Cover Letter Template
Your Name
Street Address
Town
Postcode
xxxxx xxx xxx
your.email@gmail.com
Today's Date (day/month/year)
Contact Person's Name
Company Name
Company Address
Town
Postcode
xxxxx xxx xxx
contact.person@gmail.com
Dear [Mr/Ms/Mx] [Contact Person's Name],
The first paragraph should contain a self-introduction. You should write who you are, where your expertise lies, where you found the job advert, and why you want to apply for the job.
The second paragraph should respond directly to the job advert. Describe how your previous job experiences, skills, and abilities allow you to meet the company's needs. To make that easier, you can (and should) include words and phrases from the job advert in your cover letter.
You can include a bulleted list of your accomplishments
Make sure you quantify (add numbers to) these bullet points
A cover letter with numbers is 100% better than one without
To go the extra mile, research the company and find out what they're doing — and why — given the current state of their industry. Then in the third paragraph explain how you can fit into that schema and help push the company forward and achieve any goals you suspect they may have.
The final paragraph is called the "call to action" portion of your cover letter. Inform the employer that you'd love to have an interview. Give them your contact information. Thank them for taking the time to read your cover letter.
Yours sincerely,
[Your Name]
You can also find a preformatted cover letter template online.
3. Should my cover letter match my CV?
Yes, your cover letter should match your CV. So make sure you use the same formatting and contact information as your cover letter when you write your CV. And if you're using a cover letter template, make sure you find one that has a matching CV template.
4. What is a cover letter for university?
A cover letter for university is also known as a personal statement.
Though professional cover letters and university personal statements are both formal self-introduction letters, they are written differently because they have different purposes.
A cover letter for a job is a brief job application letter that outlines your main skills and experiences, explaining why you are the best candidate for a specific job.
Meanwhile, a university personal statement tells an admissions tutor why you want to enroll on a specific university course and why you are a good fit for it.