Writing your first CV and getting a job can be overwhelming — especially if you lack formal work experience.
To help you write a good student CV, we've got three examples of student CV templates below, followed by screenshots showing how each section of your CV should look. We wrap everything up at the end with some CV writing help for students.
Copy-and-Paste CV Template for Students
This is a simple blank CV template for students that you can copy and paste into your word processor. Use this template as a guide when making your CV:
YOUR FIRST NAME AND SURNAME
Email | Phone | Address | Social Media (LinkedIn, etc.)
---
Personal Statement
Motivated student studying for a [degree or diploma] at [university or secondary school name] with [# years] of experience in [occupation]. /OR/ Dedicated and hard-working student studying for a [degree or diploma] at [university or secondary school name] with excellent [academic record, GCSE scores, A-Levels, academic awards, etc.]. Seeking to leverage my [relevant skills and/or academic background] to fill [position name] at [Company name].
---
Key Skills
Include a bulleted list of key skills that are relevant to the job you're applying to
Be as specific as possible — for example, mention the names of software or tools you've used, or Google the standard or specialised name in your industry for the skill you want to list so it's clear to the employer
If you have little or no professional work experience, use relevant skills that you gained from volunteering, extracurricular activities, studying at university, or even from your hobbies and interests
---
Education
Bachelor or Master's degree:
University Name, (Dates of study, or expected graduation date)
Degree Name
Relevant Modules: List modules that are relevant to the job you're applying for here
Secondary School:
Secondary School or Sixth Form College Name, (Dates of study)
A-Levels: List your A-Levels that are relevant to the job or that you think the employer will most care about here
GCSEs: Employers only care about the basics, such as knowing you passed Maths and English
---
Work/Volunteer Experience
Most recent title or position
Employer/Company Name, Location
Dates of employment/volunteering
Include a bulleted list of key responsibilities and achievements
Quantify your experience by adding numbers to give employers a better grasp of how you contributed to the organisation
Be as specific as possible, giving examples of how you used and/or developed skills during the experience
Previous title or position
Employer/Company Name, Location
Dates of employment/volunteering
Use the past tense of verbs if you're no longer working/volunteering in this position
Begin each bullet with unique action verbs, instead of cliched phrases such as 'responsible for' and 'duties included'
Include at least three bullet points when detailing your experience
---
Hobbies & Interests
Make a bulleted list of hobbies and interests to give employers an idea of what your personality is like
If you're a student with little or no work experience, this is an excellent space to include examples of key skills (such as leadership and teamwork) that employers will want to see on your CV
University Student CV Template (No Experience)
Here's an example of a CV for a university student who has no professional work experience: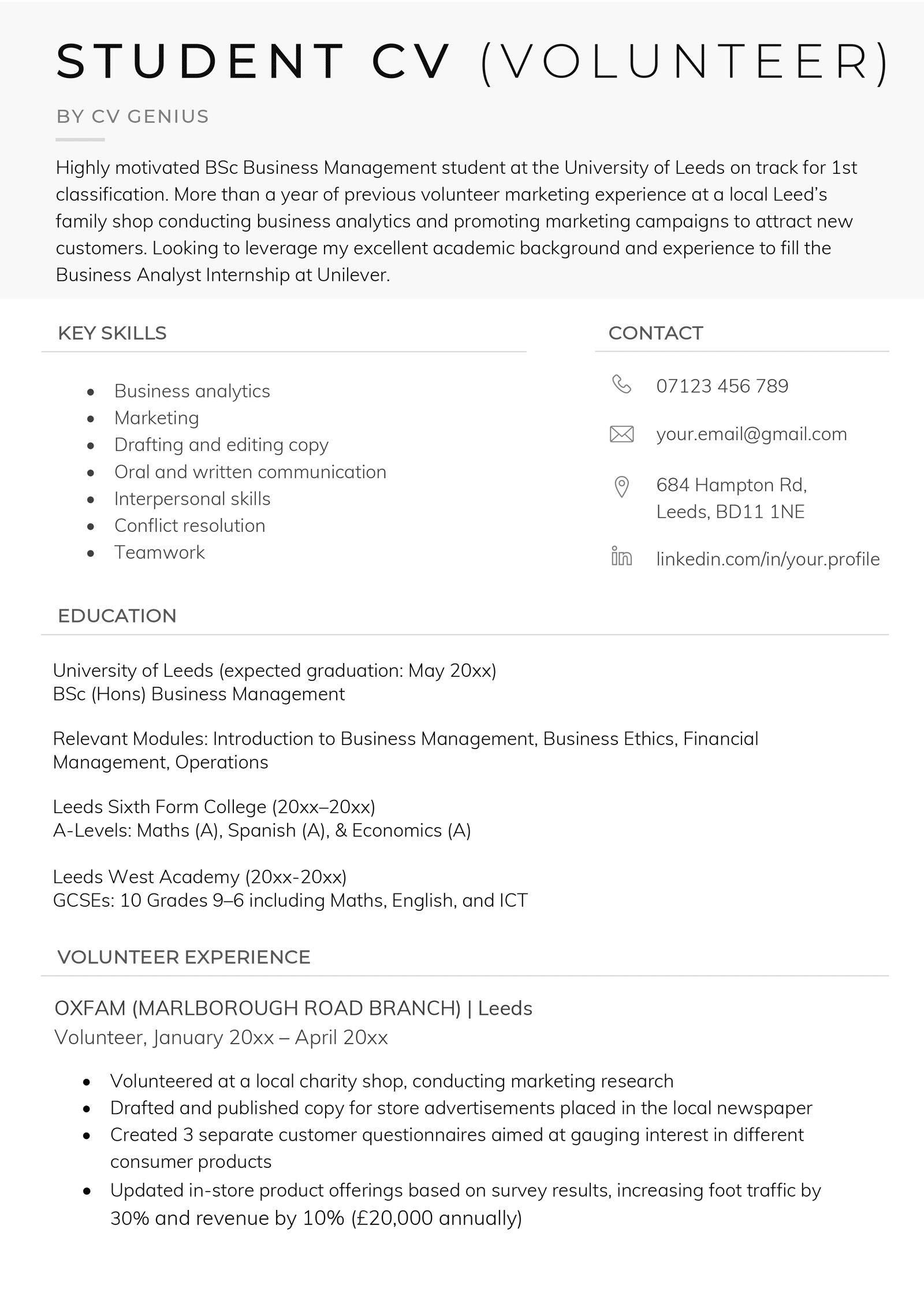 Download No-Experience Student CV Example
No-Experience Student CV Template (Text Version)
YOUR FIRST NAME AND SURNAME
Email | Phone | Address | Social Media (LinkedIn, etc.)
Personal Statement
Highly motivated BSc Business Management student at the University of Leeds on track for 1st classification. More than a year of previous volunteer marketing experience at a local Leed's family shop conducting business analytics and promoting marketing campaigns to attract new customers. Looking to leverage my excellent academic background and experience to fill the business analyst internship position at Unilever.
Key Skills
Business analytics
Marketing
Drafting and editing copy
Oral and written communication
Interpersonal skills
Conflict resolution
Teamwork
Education
University of Leeds (expected graduation May 2023)
BSc (Hons) Business Management
Relevant Modules: Introduction to Business Management, Business Ethics, Financial Management, Operations
Leeds Sixth Form College (2018–2020)
A-Levels: Maths (A), Spanish (A), Economics (A)
Leeds West Academy (2011-2018)
GCSEs: 10 A*–C including Maths, English, Statistics, & Business
Volunteer Experience
DISCOUNT FAMILY SHOPPE | Leeds, UK
Volunteer, January 2017 – April 2018
Volunteered at a local family business, conducting marketing research and business analytics
Drafted and published copy for store advertisements placed in the local newspaper
Created 3 separate customer questionnaires aimed at gauging interest in different consumer products
Updated in-store product offerings based on survey results, increasing foot traffic by 30% and revenue by 10% (£20,000 annually)
Hobbies & Interests
Tech enthusiast: Built 10+ gaming PCs for friends and family, and have experience troubleshooting technical and software problems
Avid gamer: Regularly participate in gaming contests
Student CV Example (Work Experience)
Here's a good student CV template from a candidate with work experience (in this case, some office-based experience):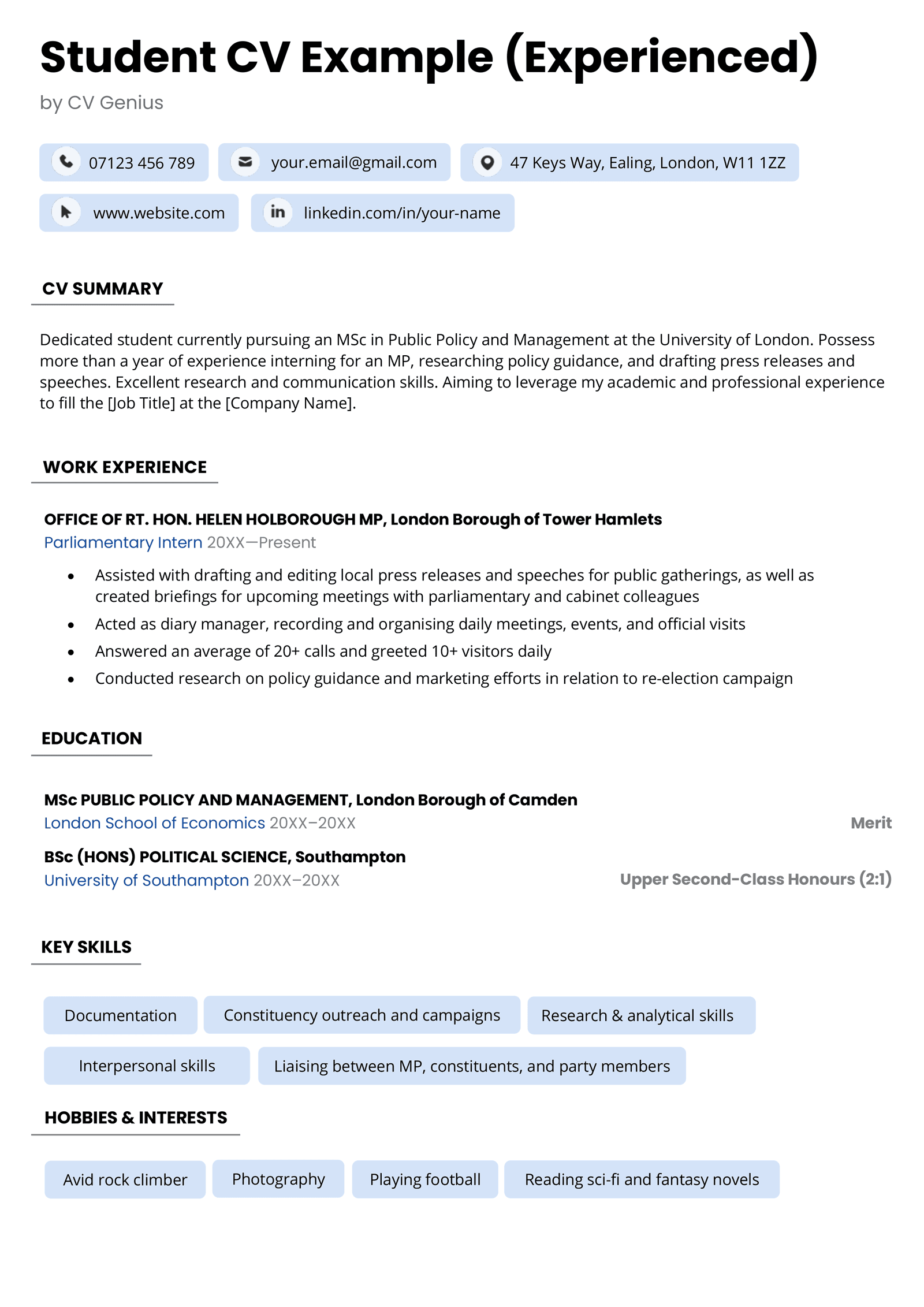 Download Student CV Example
Student CV Example Template (Text Version)
YOUR FIRST NAME AND SURNAME
Email | Phone | Address | Social Media (LinkedIn, etc.)
Personal Profile
Dedicated student currently pursuing an MSc in Public Policy and Management at the University of London. Possess more than a year of experience interning for an MP, researching policy guidance, and drafting press releases and speeches. Excellent research and communication skills. Aiming to leverage my academic and professional experience to fill the Committee Assistant role at the London Assembly.
Key Skills
Oral and written communication
Research and analytical skills
Critical thinking
Interpersonal skills
Marketing
Documentation
Conflict resolution
Time management
Education
LONDON SCHOOL OF ECONOMICS (expected graduation date May 2022)
MSc Public Policy and Management
UNIVERSITY OF SOUTHAMPTON (2017-2020)
BSc (Hons) Political Science
Relevant Modules: European Political Theory, Public Policy, Introduction to Political Science, EU & UK Law
NEWHAM COLLEGIATE SIXTH FORM COLLEGE (2015-2017)
A-levels: Maths (A), German (A), Political Science (A)
Work Experience
OFFICE OF HELEN HOLBOROUGH MP | London, UK
Parliamentary Intern, October 2020 – June 2021
Assisted with drafting and editing local press releases and speeches for public gatherings, as well as created briefings for upcoming meetings with fellow parliamentary and cabinet members
Acted as diary manager, recording and organising daily meetings, events, and official visits
Answered an average of 20+ calls and greeted 10+ visitors daily
Conducted research on policy guidance and marketing efforts in relation to re-election campaign
TESCO | London, UK
Cashier, January 2015 – May 2017
Completed 300+ check-out transactions with customers daily at Tesco location in South London
Greeted and served 500+ customers daily with a polite and friendly attitude, addressing their concerns and directing them to products they need
Consistently promoted in-store credit cards and Tesco Clubcard programmes
Personally added 100+ customers to Tesco's Clubcard programme, and sold 40+ credit cards during my employment period
Hobbies & Interests
Amateur guitar player: Currently playing in a local London band
Avid swimmer: Participated in 3 local competitions, placing 2nd place twice
Secondary School Student CV Example
Here's an example of a CV written by a secondary school student to apply for a part-time customer service job. Use this example to get ideas while writing your own CV.

Download Secondary School Student CV Example
Secondary School Student CV Template (Text Version)
YOUR FIRST NAME AND SURNAME
Email | Phone | Address | Social Media (LinkedIn, etc.)
Personal Statement
Personable and hardworking student, recently receiving excellent GCSE scores in Maths (A), Geography (B), English (A), and ICT (A). Highly adept at teamwork and communication due to experience working with PETA and serving as secondary school football captain. Awarded Duke of Edinburgh Silver Award. Aiming to leverage communication and interpersonal skills to fill the Part-Time Customer Service position at DVLA Swansea.
Education
COWBRIDGE COMPREHENSIVE SCHOOL (2016-Present)
A-Levels: Welsh (A), Maths (A), Geology (B), Government (B)
GCSEs: English (A), Welsh (A), Maths (A), ICT (A), Geography (B)
Extracurricular Activities
COWBRIDGE COMPREHENSIVE SCHOOL | Cowbridge, UK
Captain, Football Club Sales Associate, Dec 2019 – Present
Lead and mentored 12+ member football team, using leadership and teaching skills to coach them on proper plays and manoeuvers
Under my leadership and guidance as captain, the team has won 12 consecutive matches against opposing schools and achieved a Burton House's House Cup victory
DUKE OF EDINBURGH AWARD (SILVER)
Participated in a local community project to relocate a nursing home in Cowbridge, personally assisting 100+ elderly patients during a 6-month period in packing and moving
Helped 20+ OAPs in the local community with gardening
Fundraised £200 for PETA, 40% higher than previous DofE participants
Collaborated with a 6-person team to navigate Gwendraeth valley, helping pitch tents, and cook food for a 3-day, 2-night trek
Key Skills
Teamwork
Leadership
Interpersonal skills
Excellent communication
Bilingual: English & Welsh
Driving licence (category B)
Time management
Conflict resolution
Hobbies & Interests
Orienteering
Cooking (Jam making)
Gardening
Cars
Football
More Student CV Examples & Templates
We've got even more CV templates for students specific to areas of study, job types, and life situations that you can view by clicking on the links below:
How to write a good student CV
Even if you're a student with limited or no experience, you can still make a great CV. For visual learners, this video contains the essential elements of a strong CV and provides tips on how to make yours stand out:
To build on this video's advice, here are four steps to help you write an excellent student CV that'll boost your chances of finding work quickly.
1. Start with a compelling personal statement
Writing a good CV personal statement is the first step to making your student CV engaging and immediately convincing employers to read your full CV.
Placed at the top of your CV, your personal statement (sometimes labelled "About Me") is a quick summary of the most marketable skills, experience, and qualifications you've developed so far in your educational journey. This summary is designed to get employers interested in you quickly.
When you write your personal statement, outline your job-specific:
experience (if you don't have professional experience, volunteer or internship experience will do)
academic experience
skills and accomplishments
reason for applying
Here's a template of a well-written student personal statement that concisely advertises the candidate's relevant abilities:
2. Showcase your relevant skills
Employers want to know what kind of skills you can offer. To show recruiters what you're capable of, include a list of skills on your CV in a dedicated section.
As a student, you'll likely have little or no professional work experience on your CV. But you can still make an impressive CV by including transferable skills from other aspects of your life, such as education, extracurricular activities, volunteer experience, or your hobbies and leisure activities.
Here's an example CV key skills section for a business analyst internship applicant:
3. Display your academic background
No good student CV is complete without a detailed, thorough education (or "qualifications") section. Your academic background is likely the biggest factor in your employability if you're studying at university, so highlight your achievements and high marks for employers to see.
When you're describing your university degree on your CV, include the:
university name and location (town/city)
dates (if still studying, state your expected graduation date)
degree and classification (e.g., 2:1)
relevant modules (classes that are directly relevant to the position you're applying for)
Here's an example of how to list your bachelor's or master's degree on your student CV. This candidate is applying for market research positions (note their relevant modules):
University of the West of England, Bristol (expected graduation: May 2024)
BSc (Hons) Business Management
Relevant Modules: Research Methods for Business, Market Analysis for Private Investors, Introductory Research Project
For your secondary education, list your:
secondary school or sixth form name
dates attended
GCSEs grades A* to C (or 9 to 4 after 2017)
A-Levels
For your GCSEs, employers will want to know you've got at least a C grade (a 4 since 2017) in  English, Maths, and ICT to prove you have basic literacy, numeracy, and computer skills.
However, when you list your A-Levels, you should include any that are relevant to the job you're seeking. Here's a template you can use to see how to list your  secondary school education on your student CV:
Peterborough Science Academy & Sixth Form Centre (2015–2023)
A-Levels: English Literature (A), Politics & Government (A), History (B)
GCSEs: 10 9–4 including Maths, English, & ICT
4. Highlight your relevant experience
Even if you don't have any professional work experience on your CV, make a section that details similar relevant information, such as your:
volunteer work
extracurricular activities
internship experience
For each experience you list, include the:
company/organisation name
position title
dates
2–4 bullets starting with action verbs and describing how you used your skills to get results
Here's an example of how to show your volunteer experience on your student CV:
SAVE THE CHILDREN | Leeds
Volunteer, January 2022 – June 2022

Drafted and published copy for charity shop's advertisements placed in the local newspaper
Created 3 separate donor questionnaires aimed at gauging interest in various projects seeking to cut child homelessness
Updated charity shop's in-store layout based on market research, increasing foot traffic by 17% and revenue by 5% (£30,000 annually)
26