What is a skills based CV?
A skills based CV (also known as a functional CV or competency based CV) is a CV format that highlights your transferable job skills.
Whereas a standard CV showcases your experience and career progression, a skills based CV has a large skills section — much larger than your work history section.
Learn how to write a strong skills based CV by looking at our skills based CV templates and writing tips.
When can I use a skill based CV?
You can use a skill based CV if you think the employer wants a breakdown of your skills instead of your work history. Skills based CVs focus on 4–5 key CV skills rather than listing your prior work experience.
So targeting your CV to job adverts is easier compared with writing a traditional CV if you know which skills employers want you to have.
Consider using a skill-based CV if you:
are looking to switch industries
have a highly developed skill set
are returning to employment after a work gap
are a recent graduate
lack relevant job experience
work in creative or freelance industries
are turning a hobby or passion into a career
Structure of a skills based CV
Here's how a skills based CV looks:
Skills based CV template and examples
And here's a skills based CV template that you can copy, paste, and customise using your own information:
1. CV Title
FIRST AND LAST NAME
Email: youremail@gmail.com | Phone: 07123 456 789 | Address: 47 Cotham Road, Bristol, BS9 6SJ | Linkedin: linkedin.com/in/yourprofile
2. CV Personal Statement
Knowledgeable [industry] professional with [number of years] years of experience. Aiming to utilise my [relevant skills] to fill your [position name] position. A skilled worker looking to contribute positively and achieve [Company's Name]'s goals.
3. Key Skills
First Skill
Include a bulleted list of accomplishments related to this skill

Quantify your experiences by adding hard numbers and details to your bullet points
Second Skill
List any accomplishments or responsibilities that demonstrate this skill

Use past tense verbs to describe the experience if you're no longer working in that role

Provide context by being as specific as possible (e.g., mentioning the actual names of software or tools you've used
4. Education
Degree Name 
University, Location | Start Date – End Date
5. Work History
Most Recent Job Title
Employer Name / Location / Start Year – End Year
Earlier Job Title
Employer Name / Location / Start Year – End Year
(Writing the start and end dates of your work history is optional)
6. Additional Experience
Add other relevant sections such as your hobbies and interests, languages, volunteer experiences, or publications
Here are some skills based CV examples for you to view and download as a reference when writing your own CV:
Example 1: waitress skills based CV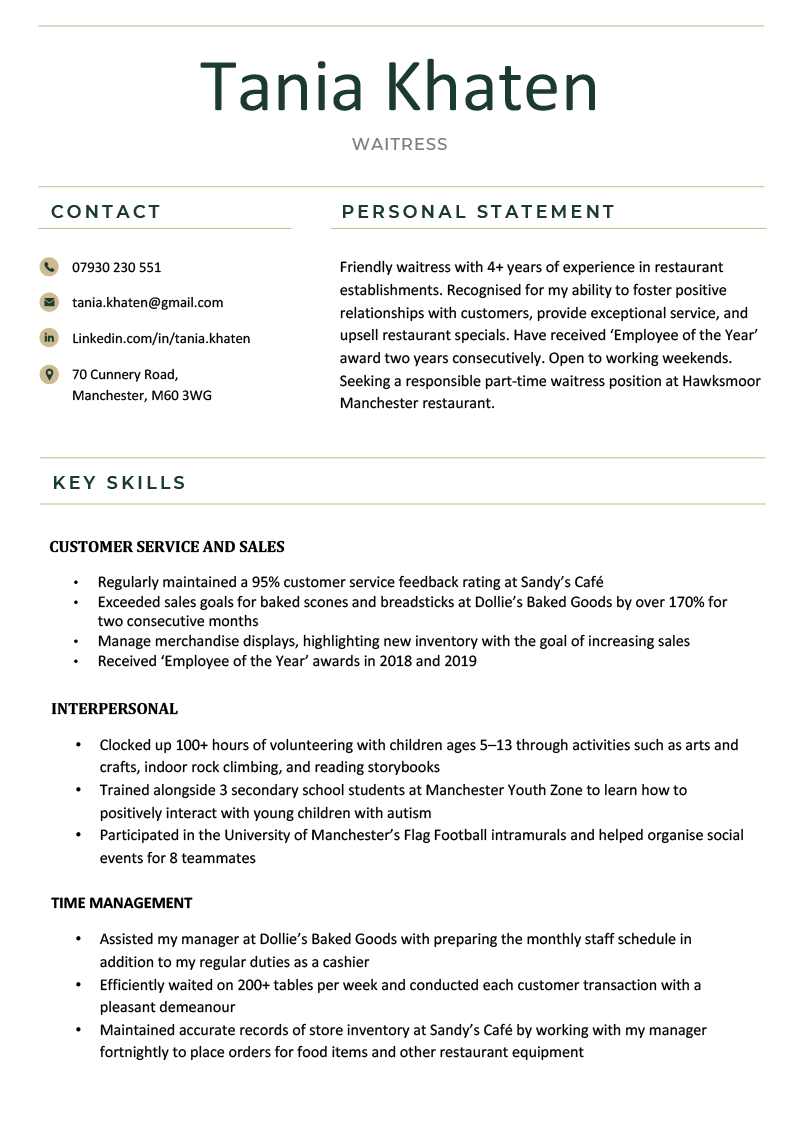 Waitress skills based CV (Text Version)
PERSONAL STATEMENT
Friendly waitress with 4+ years of experience in restaurant establishments. Recognised for my ability to foster positive relationships with customers, provide exceptional service, and upsell restaurant specials. Have received 'Employee of the Year' award two years consecutively. Open to working weekends. Seeking a responsible part-time waitress position at Hawksmoor Manchester restaurant.
KEY SKILLS
CUSTOMER SERVICE AND SALES
Regularly maintained a 95% customer service feedback rating at Sandy's Café
Exceeded sales goals for baked scones and breadsticks at Dollie's Baked Goods by over 170% for two consecutive months
Manage merchandise displays, highlighting new inventory with the goal of increasing sales
Received 'Employee of the Year' awards in 2018 and 2019
INTERPERSONAL
Clocked up 100+ hours of volunteering with children ages 5–13 through activities such as arts and crafts, indoor rock climbing, and reading storybooks
Trained alongside 3 secondary school students at Manchester Youth Zone to learn how to positively interact with young children with autism
Participated in the University of Manchester's Flag Football intramurals and helped organise social events for 8 teammates
TIME MANAGEMENT
Assisted my manager at Dollie's Baked Goods with preparing the monthly staff schedule in addition to my regular duties as a cashier
Efficiently waited on 200+ tables per week and conducted each customer transaction with a pleasant demeanour
Maintained accurate records of store inventory at Sandy's Café by working with my manager fortnightly to place orders for food items and other restaurant equipment
EDUCATION
UNIVERSITY OF MANCHESTER (2019–Present)
BSc (Hons) Nutritional Sciences — upper second class honours (2:1)
Relevant Modules: Principles of Food and Nutrition, Physiology and Health, The Chemistry of Food
MANCHESTER HIGH SCHOOL FOR GIRLS, MANCHESTER (2012–2019)
A-levels: Maths (A), French (A), English Literature (A)
GCSEs: 10 A-C including Maths, English, Combined Science, and Geography
WORK EXPERIENCE
Waitress (2017–2019)
Sandy's Café, Manchester
Cashier (2019–2020)
Dollie's Baked Goods, Manchester
Young Leader Volunteer (2018–Present)
Manchester Youth Zone, Manchester
HOBBIES AND INTERESTS
Cooking and baking
Mixology
Volunteering
Example 2: content writer skills based CV
Content writer skills based CV (Text Version)
PERSONAL STATEMENT
Professional Content Writer with 5+ years of experience working as a freelancer translator, editor, writer, and proofreader. Fluent in English and Spanish. Recognised for my ability to communicate clearly with audiences of all ages and drive traffic using SEO tactics. Seeking a content writing position for topics regarding sports, finance, technology, lifestyle, and current events.
KEY SKILLS
WRITING
Efficiently wrote 25+ articles for Top Dog agency with a turnaround time of 1 day per assignment
Conducted keyword research using SEMrush, Keyword Surfer, and AnswerThePublic before writing SEO articles
Comfortable using WordPress, Square Space, and Drupal to edit and publish articles while working at Rocket Launch
TRANSLATION
Translated 60+ documents from Spanish to English including voice overs, instruction manuals, blog posts, and legal contracts
Experienced with the latest versions of translation software including iTranslate Translator 4, Microsoft Office, memoQ, and Capterra
Used localisation knowledge to translate online lifestyle and culture newsletters from English to French, altering writing style to suit audiences of ages 13–30
DIGITAL MARKETING
Worked closely with Demand Generation and Product teams through emails and video call meetings to keep them up-to-date and ensure they're aligned with campaign efforts
Designed marketing tactics and promotional strategies to improve university website and address the needs of English Literature faculty and students
Managed the Pinterest, Instagram, and Twitter for Footlocker, resulting in a 50% increase in clicks and an 85% increase in conversions
EDUCATION
UNIVERSITY OF LEEDS (2015–2018)
BA (Hons) English Literature
Upper second class honours (2:1)
KING EDWARD VII – UPPER SCHOOL, SHEFFIELD (2008–2015)
A-levels: Maths (A), French (A), English Literature (A)
GCSEs: 10 A-C including Maths, English, Combined Science, and Geography
WORK EXPERIENCE
Writer
Top Dog, Remote
Digital Marketing Coordinator
Rocket Launch, Remote
Bartender
The Queen's Head, Sheffield, UK
Retail Sales Associate
Footlocker, Sheffield, UK
HOBBIES AND INTERESTS
Digital photography
Video creation and editing
Outdoor rock climbing
Learning languages (Spanish, Chinese, French)
How to write a skills based CV
Have a look at these seven CV writing hacks to learn how to write a high-quality skills based CV. We've included examples so you can see what we mean.
1. List your contact information
Include the following information at the top of your CV:
Contact information on a skills based CV
First and last name
Target job title
Mobile phone number
Email address
Link to a professional profile or LinkedIn page
Avoid writing 'Curriculum Vitӕ' in your header because it takes up valuable space.
Instead, your name should be the largest text on the page — under your name, add an appropriate email address like firstname.lastname@gmail.com, your mobile number, and any professional social media links you have, like your LinkedIn.
Writing your postal address on your CV is no longer useful because companies will email or ring you to schedule an interview.
2. Write an effective personal profile
A CV personal profile sits at the top of your CV (in paragraph format or a bulleted list). Your profile should include 2–4 sentences that summarise your most relevant responsibilities, qualifications, and accomplishments.
It's vital to use keywords from the job advert to ensure your CV makes it past applicant tracking systems (ATS) and to show recruiters you've paid attention to their requirements.
Here's an example of a convincing CV personal profile:
Personal statement on a skills based CV
Capable and professional AAMA certified medical assistant with 6+ years of experience providing administrative and clerical support. Highly proficient in MS Office Suite and Electronic Health Records (EHS) software. Passionate about helping patients and seeking to leverage my experience into a responsible position at DNA Hospital Centre.
3. Group your CV skills by type
Your skills based CV highlights your skills section more than other CV sections, so listing the right skills on your CV is important. Follow these steps to find out which skills to include and how to list them correctly:
Before writing your CV, think of any transferable skills you've gained in your previous roles
Then, read each job advert carefully to find the skills employers are looking for
Next, write down 3–4 skills in your CV skills section that relate to the job you're applying for
Under each skill, write 3–4 bullet points highlighting what you've achieved by using this skill
Start each bullet point with a strong CV action verb like 'created', 'coached', or 'discovered' to convey what you've accomplished in each task and set a confident tone in your application.
Also, use hard numbers and specific details in your bullet points to provide context to employers.
This is an example of a CV skills section for a community coordinator role at a tech company:
Transferable skills section on a skills based CV
TECHNICAL 
Utilised Adobe Photoshop, Illustrator, Figma, and InDesign to create personalised graphics and infographics for businesses as a freelancer

Created 2+ new websites for small businesses using JavaScript, React, and Ruby on Rails

Taught HTML and CSS to online audiences of 50+ using Zoom
INTERPERSONAL
Coached 10+ young entrepreneurs through 1–1 video calls on topics including self-confidence, overcoming failure, and goal setting 

Volunteered at Hybrid Career Centre from 2017–2018, mentoring 20 recent graduates on designing their online portfolios and personal websites

Acted as a confidant and teacher for 5 secondary school pupils interested in tech through Meet-a-Mentor programme
CUSTOMER SERVICE
Actively supporting existing and former members of the London Innovation Tech Group as a Facebook moderator

Answered questions regarding UI/UX, graphic design, and mentorship opportunities from new members through Facebook Messenger

Discovered new ways of engaging group members through relevant prompts, questions, and short videos
4. Include your employment history
A skills based CV emphasises your transferable skills more than your work history, so keep your CV work experience section short.
Add your prior job titles and the names of the companies you've worked for to your employment history section. Writing the start and end date for each job on a skills based CV is optional.
To make the best out of this section, try listing your jobs from most to least relevant.
For instance, have a look at this applicant's work history for a teaching position:
Employment history on a skills based CV
Teaching Assistant
Leeds Arts University, Leeds
Makeup Artist
Sephora, Brixton, London
Sales Clerk
Topshop, Brixton, London
5. Outline your qualifications
Skills based CVs have a short qualifications section that includes the title of your degree, your uni or educational institution, and the town where it's located.
Unless you're writing a graduate CV or your company requires more information about your education, there's no need to list your GCSEs or A-Levels on a skills based CV.
Here's an example of a skills based CV education section:
Education section on a skills based CV
MA Computer Games Art and Design, Goldsmiths, University of London, 2019–2021
6. Mention your relevant hobbies and leisure activities
Listing your hobbies and leisure activities on your CV is a great way to highlight your personality and skill set, especially if you're writing a CV as a 16-year-old or lack work experience.
Try to include hobbies and interests that relate to the job you want because it shows recruiters you've targeted your CV to their job advert.
For instance, 'photography' and 'website design' are valuable additions for a graphic designer CV, but 'watching animal YouTube videos' or 'knitting' aren't.
7. Prepare your references
Your job references are a key part of the job search. However, leave your references off of your CV because employers will ask for them later as part of the hiring process.
So don't write 'References Provided Upon Request'; instead, use that space to add other important details to your CV.
Also, you should ask your supervisors or colleagues for permission before you use them as referees.
Aim to have three or four referees ready, and provide their contact information on a separate page or in an email.
List your references like this:
Appropriate way to list a reference
First and last name
Professional title
Company or organisation your reference works at
Full address of your reference's company or organisation
Phone number
Email address
Finally, complement your skills based CV with an effective cover letter. Knowing how to write a cover letter helps employers see you're a self-motivated applicant and increase your chances of getting an interview.