Unsure how to write a good CV that uses an effective font? A 10–12 point font that's professional and easy to read is perfect for your CV.
But to save you hours sifting through different options in your word processor, we've compiled the 10 most-recommended CV fonts that work for any job application, along with a guide on the best CV font size to use and FAQs.
The 10 best CV fonts in 2023 (serif and sans serif)
With so many fonts to choose from, the CV-making process can feel overwhelming.
But don't worry. We're here to explain the differences so you can master your job application:
Standard and well-established serif fonts for your CV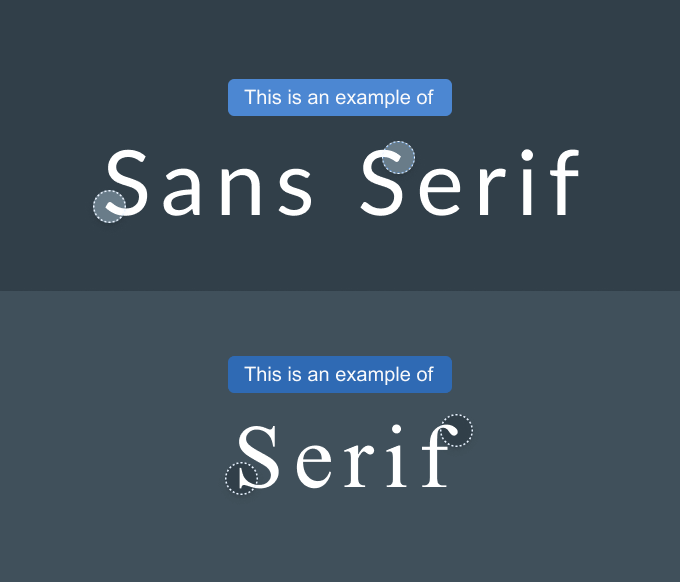 Serif fonts are classic fonts that feature small flourishes or 'tails' at the ends of letters.
You'll often find serif fonts (like Times New Roman, Garamond, and Georgia) in printed materials such as books, business letters, and newspapers.
These traditional fonts are your best bet if you're applying for a company in a formal industry such as business and finance, academia, or healthcare.
Here's a list of five HR-approved serif fonts with examples for your CV:
1. Cambria
Cambria is a serif font that Microsoft released in 2004.
This versatile font can be used in both body text and headers. Cambria has a classic, small serif design that makes it easy to read, even on small screens.
This example shows what Cambria looks like on a CV:
2. Didot
Designed in the 18th century, Didot is still widely used today in high-end publications such as books, magazines and newspapers.
Didot can give an elegant and polished touch to a CV, which is especially useful for applicants in fashion, art, and design industries. Didot is also comfortable to read, making it suitable for CVs.
Here's an example of Didot font in the work experience section of a CV:
3. Georgia
Named after the Canadian newspaper The Georgia Straight and made for newspaper prints, Georgia later became a core font for Microsoft.
Georgia comes as a default font on many computers, so applying this font to your CV means employers can scan your documents with no issues.
Interested in seeing what Georgia font looks like? Have a look at this example:
4. Garamond
Garamond has a long history of being used in printed materials and books since the 16th century, making it suitable for fields (e.g., law, finance, education and research) where credibility and readability are important.
Here's an example of this classic serif font:
5. Times New Roman
Times New Roman is a serif font that was designed in 1931 for The Times newspaper in London. It's now one of the most widely used fonts in the world.
Considered one of the standard fonts for CVs and cover letter writing, Times New Roman is highly legible in small sizes so it'll help you save space as you're making your CV.
Below is a sample of this timeless serif typeface:
Professional and modern sans serif CV fonts
Sans serif fonts (such as Arial and Verdana) don't have a curl at the end of letters, giving them a clean, modern look.
You'll usually see these fonts in digital media (e.g., online documents and presentations) as many people consider them to be easier to read on screens.
Try using a sans serif font if you're applying for a job in a modern industry like tech, design, or entertainment.
These are our favorite sans serif fonts, along with visual examples:
6. Arial
Arial is one of the most popular choices for CV writing in the UK. One of the first fonts to appear in Google Docs and Microsoft Word, Arial is suitable for a wide range of industries, from marketing to hospitality.
Here's what the Arial sans serif font looks like on a CV:
7. Calibri
Calibri is another modern font that's highly readable on screen and in print. Calibri was introduced in 2007 as the default font for Microsoft Office, so it's a popular choice for business and finance roles.
Calibri has clean lines and a simple design, as shown by this example:
8. Helvetica
Used in several logos and branding campaigns (including BMW and even NASA), Helvetica is one of the most widely used typefaces in the UK.
Helvetica is a good CV font to use because of its simple and minimalistic design, straight lines, and rounded shapes that make your text appear neat and legible.
Here's an example of what Helvetica font looks like on a CV:
9. Lato
Lato is a sans serif font that was designed in 2010. This typeface has rounded shapes and slightly curved lines, making it suitable for both headings and long-form text.
Lato's elegant and professional look can help you create a polished CV that employers will enjoy reading. See for yourself using this example:
10. Trebuchet MS
Trebuchet MS was designed in 1996 for use on the web. Trebuchet MS is known for its slightly wider letters, which makes it more legible on lower-resolution screens.
This sans serif font has been optimised for both digital and print use, making it a great font choice for your CV.
Take a look at this Trebuchet MS font example:
What's the best CV font size?
The best CV font size should be between 10 and 12 points.
However, the header of your CV is an exception. Use a larger font size (28–35 points) for your header so it stands out, and then use a regular body text size for your contact details.
Also, remember that fonts vary in width and spacing, which means that some fonts will take up more space on your CV even if they're the same font size.
These are the recommended font sizes from our list of top 10 CV fonts:
| Font Name | Font Size |
| --- | --- |
| Cambria | 11–12 |
| Didot | 10.5–12 |
| Georgia | 10.5–11 |
| Garamond | 12–12.5 |
| Times New Roman | 11–12 |
| Arial | 10.5–11 |
| Calibri | 11–12 |
| Helvetica | 10.5–11 |
| Lato | 10.5–11 |
| Trebuchet MS | 10–11 |
By following these guidelines, your CV will be visually appealing to prospective employers and fit the ideal CV page length.
Frequently asked questions about the best fonts to use on a CV
Still have fonts on your mind? We've got you covered. Here are some answers to commonly asked questions about using good CV fonts:
1. How can I optimise my font choice for my CV in the UK?
When making your CV, knowing how you'll send it is important. Will it be by email, on a website, or on paper? Your delivery method may require a specific font type to ensure your CV remains eye-catching and readable.
These are some tips for optimising your font choice for digital and hard-copy CVs in the UK:
For CVs attached to emails, use Georgia for traditional industries and a sans serif font like Calibri for non-traditional industries.
When uploading a CV to an online application portal, use Arial or Times New Roman to ensure your document is easily readable by an applicant tracking system (ATS).
For printed CVs, use a serif font such as Cambria, Garamond, or Times New Roman for easy readability on paper.
To make more room on your CV, use a space-saving font such as Cambria, Garamond, Arial Narrow, or Calibri.
Also, ask a friend or family member to review your CV and give you feedback on the font you've chosen.
2. Can I use bold, underlines, or italics on my CV?
Yes, using font styles effectively can help highlight important information and make your CV look well-designed. Just remember not to go overboard with too many font styles!
We suggest using a simple, minimalistic design for your CV with only a few elements of bold and italic styles for emphasis, like so:
Here are three tips to follow when it comes to using font styles:
When to use underlines, bolded text, and italics on a CV
1. Use underlining sparingly as it can be confusing for the reader and make your CV's overall design appear cluttered.
Instead, use bold or italic font styles on your CV to highlight specific words or phrases.
2. Include bolded text to emphasise your CV's headings and important information, such as your job titles, company names, and dates of employment.
Bolding these areas helps make these items stand out and makes it easier for employers to quickly find the information they're looking for.
3. Apply italics for subheadings to create a clear hierarchy in your CV layout and break up the text throughout each of your CV sections.
3. Is it okay to use more than one font if I'm writing a CV?
Yes, it's okay to use than one font if you're writing a CV.
Using different CV fonts can be a great way to add visual interest and make your application stand out.
However, choose font pairings that are easy to read and complement each other well.
One rule that we recommend is to use one serif font for headings and titles, and then a sans serif font for the body text. This combination of font styles creates a clear hierarchy and it makes easy for employers to quickly scan through your CV's contents.
Also, remember to consider the tone of your CV. For example, a more traditional serif font might be a good choice for a formal, conservative industry, while a modern sans serif font might be a better fit for a creative field or a startup.
If you're unsure about choosing fonts, using a professional template for your CV can be a great resource. These pre-formatted templates include font pairings chosen by career professionals that'll help your CV look clear and well put together.