Best fonts for any CV
Any font that's professional and easy to read is good to use for writing your CV. But to save you hours sifting through the acceptable options in your word processor, here's a list of the 10 most-recommended CV fonts that work for any job application: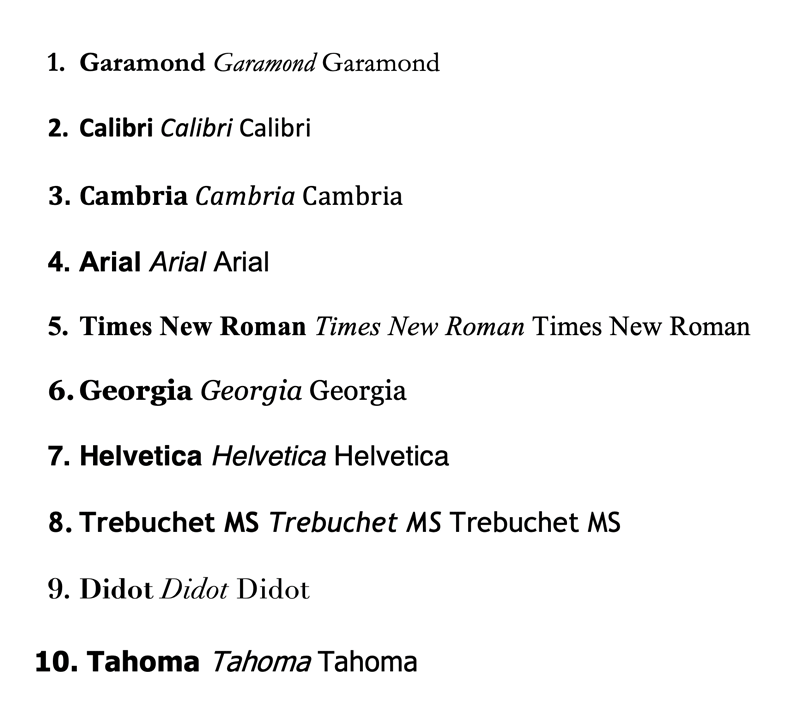 How to choose the best font for your CV
Optimise your CV font choice based on whether your CV is:
Good fonts for traditional CVs
Serif fonts (like Georgia and Garamond) feature small flourishes at the ends of the letters. These traditional fonts are your best bet if you're applying to a company in a formal industry such as business and finance, academia, or health care.
Below are the five best serif fonts for your CV, illustrated by a CV hobbies and interests section:
1. Garamond
2. Cambria
3. Times New Roman
4. Georgia
5. Didot
Great fonts for creative or modern CVs
If you're applying for a job in a modern industry, such as a tech, entertainment, or creative position, use a sans serif font.
Sans serif fonts don't have a curl at the end of letters, giving them a clean, modern look. Here are the top five sans serif fonts applied to a CV work experience section:
1. Calibri

2. Arial
3. Helvetica
4. Trebuchet MS
5. Tahoma
Optimised fonts for digital and hard-copy CVs
Here are the best fonts for four types of digital and hard-copy CVs:
1. Best fonts for a CV attached to an email
Sans serif fonts are easier to read on a screen than serif fonts are. However, it's still best to use serif fonts on CVs sent for jobs in traditional industries, and sans serif fonts for modern CVs.
If you're emailing a CV to a traditional company, we recommend using Georgia, which was 'tailored for on-screen display,' per Microsoft.
For emailed non-traditional CVs, pick your favourite sans serif font.
2. Good fonts for a CV uploaded to an online application
When you upload your CV to an online application portal, assume it will go through an applicant tracking system (ATS). An ATS automatically filters applications, and it has a difficult time reading non-traditional fonts.
The best fonts for getting your application past an ATS are Arial and Times New Roman — a serif font (Times New Roman) for formal applications and a sans serif font (Arial) for CVs for less traditional firms.
3. Easy-to-read fonts for printed CVs
When you print your CV, use a serif font. Serif fonts are easier to read on paper than sans serif fonts are.
Cambria is especially printer-friendly because it's easy to read at small sizes. Such size flexibility is important if you're trying to trim your CV length so the employer doesn't have to shuffle through multiple pages.
If your CV easily fits on one page, Georgia, Times New Roman, Didot, and Garamond are also good printing options.
4. Efficient fonts for CVs with excess white space
The font you choose can help you remove unwanted blank space that appears when your CV is too short or too long.
If your CV spills onto the top of a new page, use one of these space-saving fonts to pull the extra text back onto the previous page:
Serif fonts for traditional and printed CVs: Cambria, Garamond, or Times New Roman
Sans serif fonts for creative CVs: Arial Narrow or Calibri
However, if you don't have enough experience to fill a one-page CV, pad it with these large fonts:
Serif fonts for traditional and printed CVs: Georgia or Didot
Sans serif fonts for creative CVs: Trebuchet MS or Tahoma
What font size to use for your CV
The standard font size for the headings and body text of your CV is between 10.5 and 12.
However, your CV's header is an exception to the rule. Your header should include your name in extra-large text so it stands out to the employer. Also, you can use a sub-10.5 font size for your contact information to ensure your header isn't too bulky.
Here's an example of a CV header with proper font sizing:
CV font formatting do's and don'ts
When you format your CV, keep these font style tips in mind:
Do use bold text to make headers and important data stand out.
Do consider using italics for subheadings to create a clear hierarchy in your CV layout.
Do remember to proofread your CV every time you change the font to meet different submission needs. You may need to fix off-kilter formatting caused by variations in font types.
Don't try to make your CV stand out with crazy colours. If you want to add a splash of colour to your application, find a CV template with hues chosen by a professional designer to maintain readability.
Don't worry about finding a good font pairing. If you want to use different font types on your CV, find a template that does so professionally.
More good CV fonts
If the fonts we've discussed don't catch your eye, here are more great options:
Sans serif
Quicksand
Verdana
Gill Sans
Lato
Avenir Next
Serif
Book Antiqua
Constantia
Dante
Lora
PT Serif