If you're looking for a job in the UK, you need to know how to write a CV that convinces employers that they should hire you.
A CV (aka curriculum vitae) is an overview of your experience, education, and skills — and an essential document for job applicants in any industry.
Employers use CVs to quickly assess your qualifications and how you compare to the other people who applied for the job. So it's important to include the right information and format that information in an appropriate way — even if you think you've found the perfect CV template for the job.
To give you the best chance of success with your current job application, we simplify the CV writing process with: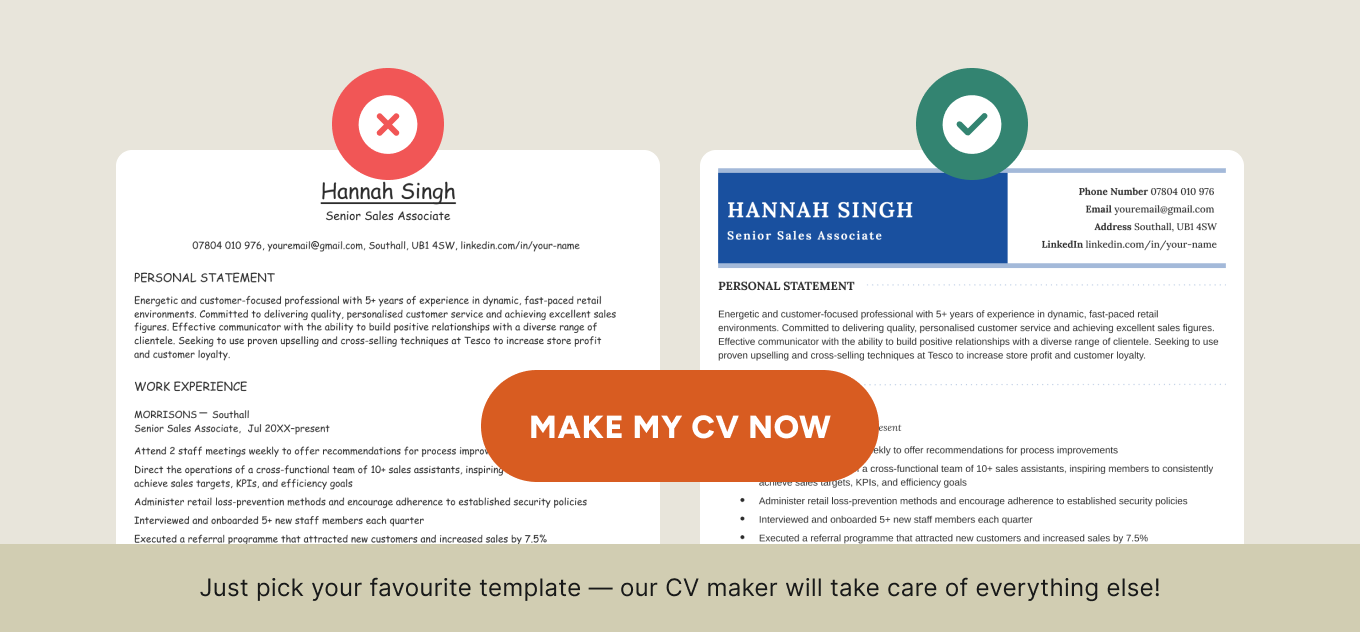 How to make a CV from scratch (7 steps)
Writing a CV is straightforward — once you know how to go about it. Follow these seven steps for a well-structured CV that compels the employer to call you in for an interview:
And if you need a little extra help with writing, we have a comprehensive video guide that can walk you through the entire process:
Now here's how to write a CV in seven speedy steps:
1. Start with your header and contact information
Your CV header sits at the top of the first page and includes your:
First and last name (don't use 'Curriculum Vitae' as your title)
Target job title
Email address (use a professional email address like your.name@gmail.com)
Mobile phone number
Link to a professional profile or LinkedIn page
Location
You don't need to put your full postal address on your CV because most companies will contact you by email or phone. However, putting your town or city is a good idea because it gives employers a rough idea of where you're based. You can add the first half of your postcode if you want to give a more specific location:
London SW6
Additionally, you shouldn't give too many personal details on your CV to maintain your privacy.
Leave these details off your CV
Race
Nationality
Political affiliation
Religion
Marital status
2. Craft a compelling CV personal statement
Summarise your skills and qualifications for the employer by writing a job-specific personal statement at the top of your CV.
Also known as a personal profile, CV summary, or 'About Me' section, your personal statement outlines your most relevant accomplishments, qualifications, and skills in 3–4 sentences or bullet points.
How to write a personal statement for a CV
specify your professional title or area of expertise (e.g., Retail Advisor)
state how much experience you have in years or months
outline 2–3 key achievements, skills, or qualifications
highlight a relevant career goal or benefit you'll bring to the company
Remember that personal statements only work if they address the employer's needs, so only include information that qualifies you for the job or offers a notable benefit to the hiring company.
Here's an example from a nursing CV that shows what a personal statement should look like when it's employer-ready: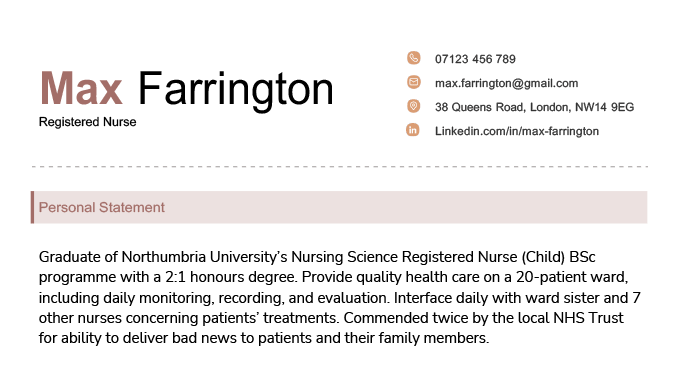 3. Present your relevant work experience
Your work experience section tells the employer what jobs you've done that have prepared you for the current opportunity.
List each relevant job you've done, starting with the most recent and working backwards. For each entry include:
Your job title
Employment dates
Name of the company
Job location
3–5 bullet points outlining your relevant achievements and responsibilities
Here's a copy-and-paste template to show you how your work experience entries should look when formatted correctly:
Work experience entry (formatted template)
Your Job Title, Start Date–End Date
Company, Town/City
Outline the main functions of your job and who you worked with
Use your remaining bullet points to highlight key achievements or responsibilities that the employer will be interested in
Include bullet points with action verbs that show enthusiasm and how you did things
Use hard numbers so your achievements are 10 times more likely to get the employer's attention
If this is your first application and you're writing a CV with no experience, don't fret. You can also add volunteering roles, internships, and work experience placements you did during secondary school instead.
4. Detail your educational background
Your CV education section is the place to showcase your uni degrees, schooling, and professional certifications.
List your highest qualification first. Qualifications should be listed in this order:
Doctorates
Master's degrees
Bachelor's degrees
16–18 qualifications (e.g., A-Levels, Scottish Highers, T Levels)
GCSEs (or N5 in Scotland) or vocational equivalents
You don't need to list all of your GCSEs if you have a university degree or A-Levels. However, many employers require candidates to have at least Grades A*–C (or Grades 9–4 under the 2017 reform) in English, Maths, and IT or other subjects, so you should mention these details. For example:
11 GCSEs Grades 9–4, including English, Maths, and IT
5. Highlight your key skills
Employers often only spend a few seconds skimming each CV for important details. Listing your key skills in a dedicated section helps draw their attention to what you can offer the company.
Most job applicants set their skills section after their education section, which helps emphasise work experience.
However, if you're early in your career or applying for a job that requires specific technical knowledge, position your skills section above your work experience so the employer sees it immediately.
What skills should you include in a key skills section?
List your main professional skills on your CV in a dedicated section. Make sure you include technical skills as well as personal traits, or soft skills, that show how you work effectively as part of a team.
Here are some examples of technical skills you can list on a CV:
And here are some soft skills that people often add:
For each of your skills, include an example of when you used that skill for work in your experience section. For example:
Honed strong customer service skills by closing sales for an average of 47 clients per week, earning £740 per week more in commission than colleagues.
6. Include a hobbies and interests section
Adding a hobbies and interests section helps employers understand who you are when you're not working. In some cases, giving your CV this extra dimension can encourage the employer to call you in for an interview.
List up to five hobbies or interests that reflect well on your personality and demonstrate positive traits that would make you a good fit for the job.
What your hobbies and interests say about you
When you add hobbies and interests to your CV, you tell employers about your personal traits and work ethic. Here's how certain hobbies and interests are interpreted:
Being on your local football team shows you're capable of teamwork
Duke of Edinburgh's Award shows your independence, interpersonal skills, and problem-solving abilities
Being a regular gym-goer shows your commitment to reaching personal goals
Playing a musical instrument shows dedication and creativity
7. Add any additional sections you might need
Depending on the type of job you're applying for, you might need to add additional sections to your CV.
For example, it's advisable to include a projects section if you're applying for a software engineer job or a web developer role.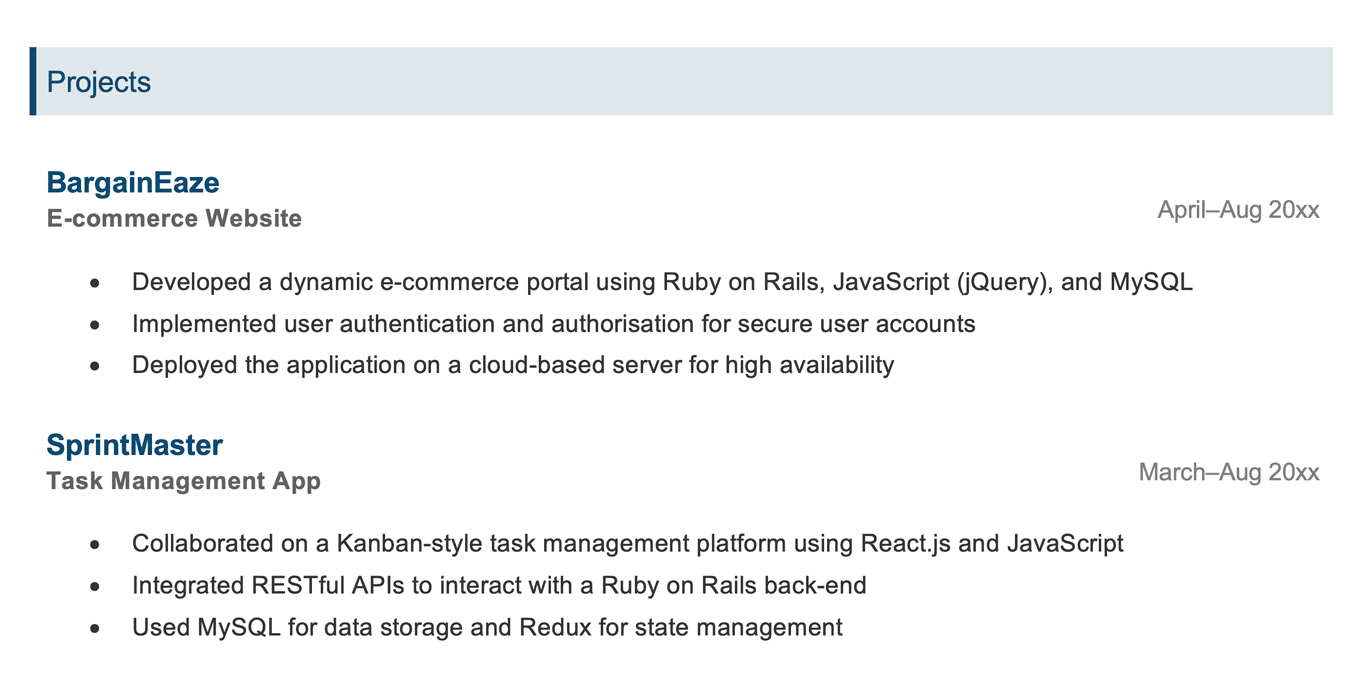 Here are some useful additional sections — as well as when and how you should add them to your CV:
Example of great CV writing
Here's a completed CV sample that shows what your job application document should look like once it's employer-ready: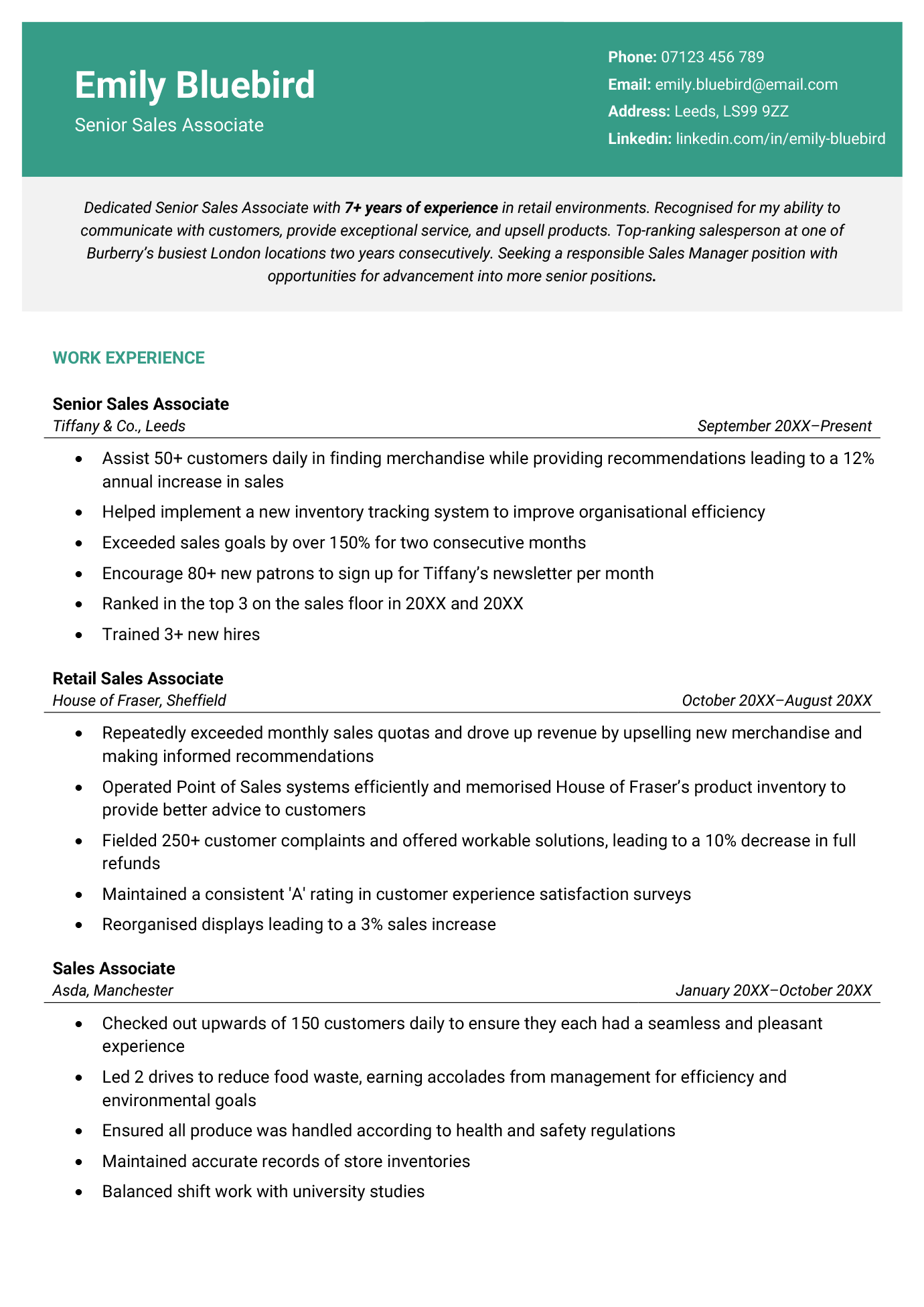 Sample of How to Write a CV (Text Version)
PERSONAL STATEMENT
Dedicated Senior Sales Associate with 7+ years of experience in retail environments. Recognised for my ability to communicate with customers, provide exceptional service, and upsell products. Top-ranking salesperson at one of Burberry's busiest London locations 2 years consecutively. Seeking a responsible Sales Manager position with opportunities for advancement into more senior positions.
WORK EXPERIENCE
Senior Sales Associate, Aug 2021–Present
Burberry, Soho
Assist 50+ customers daily in finding merchandise, while providing recommendations leading to a 12% annual increase in sales
Helped implement a new inventory tracking system to improve organisational efficiency
Exceeded sales goals by over 150% for two consecutive months
Encouraged 80+ new patrons to sign up for Burberry's newsletter per month
Ranked in the top 3 on the sales floor in 2022 and 2023
Retail Sales Associate, May 2019–July 2021
Debehams, Soho
Repeatedly exceeded monthly sales quotas and drove up sales by upselling new merchandise and making informed recommendations
Operated Point of Sales systems efficiently and memorised Debenhams'· product inventory to provide better advice to customers
Fielded 250+ customer complaints and offered workable solutions, leading to a 10% decrease in full refunds
Maintained a consistent 'A' rating in customer experience satisfaction surveys
Sales Associate, Sep 2016–April 2019
Tesco, Leeds
Checked out upwards of 150 customers daily to ensure they each had a seamless and pleasant experience
Led 2+ drives to reduce food waste, earning accolades from management for efficiency and environmental concern
Ensured all produce was handled according to health and safety regulations
Maintained 100+ accurate records of store inventories
EDUCATION
Nottingham Trent University, Sep 2014–Jul 2017
BA (Hons) Modern Languages and Linguistics (2:1)
Relevant Modules: Business Communication, Consumer Psychology, Spanish, French
Gladwell Sixth Form College, Sep 2012–Jun 2014
A Levels
Spanish (A)
French (B)
Business Studies (A)
Geography (C)
KEY SKILLS
Expert organisational skills
Skilled with point-of-sale systems
Time management
Customer service skills
Excellent people skills
Fluent in Spanish and French
Conflict resolution skills
HOBBIES & INTERESTS
Socialising with friends and family
Watching TV (BBC news and documentaries)
Playing football on a weekly basis
Reading non-fiction books
Solving puzzles
Fishing
Tips for creating the perfect CV
What you include in your CV is crucial to the success of your job hunt, but it's not the only element.
You'll also need to consider your CV format, design elements, and how you optimise your first draft so that it's suitable for popular recruiter tools, such as applicant tracking systems (ATS).
And in some cases, you might need to consider alternatives to writing a CV because you don't have time to write one yourself.
Here are a few tips to make your application even more persuasive:
Tip 1: Use a CV maker
Writing a unique, persuasive CV takes time.
But sometimes time just isn't on your side.
When you need to put together a professional CV quickly, the most reliable approach is to use an online CV maker.
CV makers help you build a CV with minimal effort. These tools work by asking you a few questions about your professional history, skills, and qualifications, and then suggesting content for your CV — they also format your CV perfectly.
Good CV makers will also produce ATS-compatible applications, which are more suitable for the software large companies use to screen applicants. By using a CV maker, you're increasing the odds your CV makes it into the hands of actual employers.
Tip 2: Choose your CV format carefully
The right CV format will highlight the most relevant and impressive parts of your experience while drawing the employer's attention away from your weaknesses.
If you have no major gaps in your employment or are still studying, use a traditional chronological CV. This CV format places your work experience section towards the top of the page, starting with your most recent work experience.
However, if you've had multiple long periods of unemployment, are writing a CV for a career change, or feel your skills are more impressive than your work experience, you should use a skills-based CV format.
The skills-based layout shifts the focus of your CV layout from your employment history to the skills you have to offer.
Tip 3: Tailor your CV design
While looks aren't everything, an eye-catching CV design helps get employers interested in you.
After all, a visually pleasing CV tells the employer that you're detail-oriented and likely to go beyond what's asked of you.
Still, it's important to consider what kind of CV is appropriate for your field or industry.
For example, if you're going after a digital marketing job or applying at a dynamic startup, then a sleek, professional CV is likely to make a strong first impression. Consider downloading a modern or creative CV template that helps you showcase your personality.
Or opt for a visual CV that uses design elements to highlight your skills and competencies. Visual CVs are perfect for jobs in a highly creative fields, such as UX/UI design or graphic design.
Tip 4: Use the right CV font
Use a businesslike font for your CV to show that you take the job seriously.
Any of these fonts are fine for a professional CV:
Times New Roman
Georgia
Arial
Cambria
Calibri
Helvetica
Lato
Avoid casual or arty fonts like Comic Sans, Courier New, and Papyrus because they're harder to read and make you look less professional to recruiters and employers.
Tip 5: Edit your first draft
It can be tempting to send your CV off to the employer as soon as you've written out all the sections.
But making a couple of easy edits to your first draft will vastly increase your chances of success.
Make these quick edits to improve your CV:
Add Action Verbs to Show Enthusiasm — Action verbs are engaging doing verbs that tell the employer how you accomplished wins in your previous jobs and present you as a self-starter, rather than just someone who follows orders.
Responsible for handling phone calls
Handled average of 47 inbound phone calls a day
Repeat Keywords From the Job Advert — Go back to the job description and check what specific skills, tools, and software the employer is looking for. Use the exact same terms in your CV (where accurate). This strategy will help you pass applicant tracking systems and make your experience stand out to human recruiters.
Deliver 10+ projects monthly using both Agile Software Development and waterfall project delivery methodologies, with a 40% reduction in budget overruns in 1 year
Cut Out Unnecessary Buzzwords — CV buzzwords can make your writing more enthusiastic (if you don't use too many). Look through your CV for sentences with too many buzzwords, replace unnecessary language with specific examples of your skills and achievements.
Drafted, edited, and published various coffee-related articles, ensuring quality of voice and exceeding expectations
Published 10+ blog posts monthly on a range of brand-related topics, including coffee culture, equipment, roasting, and coffee farming
Tip 6: Proofread your CV
One of the quickest ways to get your application rejected is by submitting a CV with typos or grammatical errors — even if excellent writing skills aren't a job requirement.
To avoid any potential mistakes, read your CV over again a couple of times before you send it out.
Additionally, run your spell-checker on your CV, or use proofreading apps like Grammarly or Hemmingway Editor.
Once you're done double-checking, give your CV to a friend, family member, or form tutor to look at. Often, a fresh pair of eyes will spot any problems you initially missed.
Tip 7: Choose an appropriate file format
You wouldn't want to put together a professional CV only to be rejected because employers couldn't open your file.
So save it as either a DOCX or PDF. These two file formats are the most common file types used for CVs. Because all companies have the right software to view these files, they'll be able to read your CV properly.
Sent out your CV? Keep the DOCX file to hand — you'll need it to update your CV next time because you can't modify a PDF file.
Tip 8: Leave your references off
There's no need to add references to your CV. You don't need to write 'References Upon Request', either.
Instead, use the space on your CV to talk about your skills, achievements, and qualifications. Send your references directly to the employer when they ask for them.
When your cover letter and CV are ready, you can print them out or email them to companies.
Tip 9: Pair your CV with a compelling cover letter
You also need to include a cover letter unless the job advert says not to include one.
While your CV lets recruiters and employers see your past successes, a cover letter links your accomplishments to the company you're applying to. For example, if you're applying to a pub that's opening in your village, you can use a cover letter to tell the landlord how you'll help them train new bar staff.
While your CV just touches upon such work experience, your cover letter makes you seem more like a person who can come in and do the work.
CV Writing FAQs
Here are the answers to some frequently asked questions about CV writing:
1. What does a good CV look like in 2023?
Here's what a good CV looks like in 2023: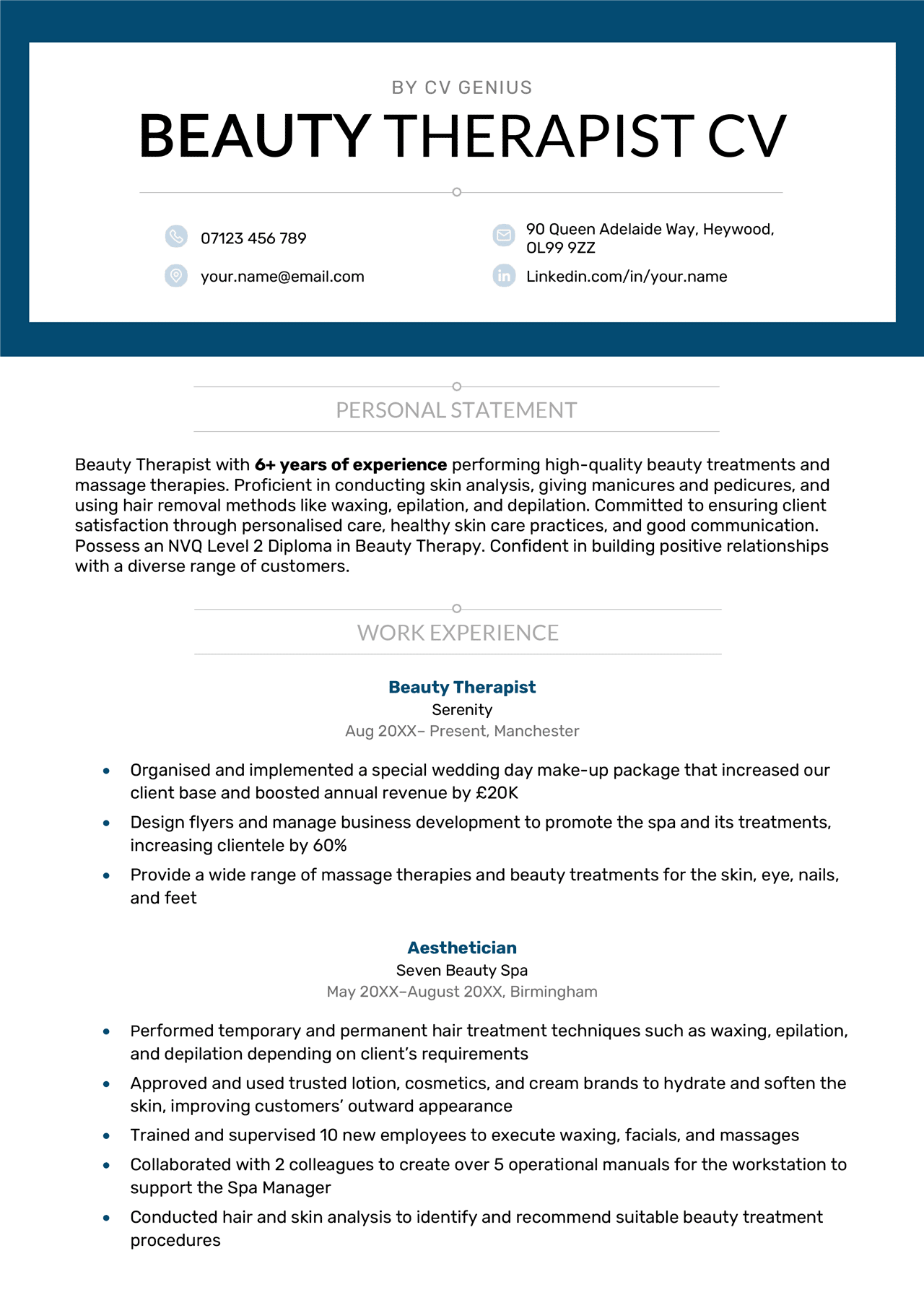 For more industry-specific ideas, look at occupation-based CV samples.
2. How do I write a simple CV?
To write a simple CV, download a simple CV template and fill it in. Simple CVs are ideal for newcomers to the job market and for applying for jobs where you're unsure whether your CV should be formal or not.
3. Should I put my face on my CV?
No, you should not put your face on your CV unless you're applying for a modelling or acting job. Putting your face on your CV could hurt your chances of getting the job. Companies are reluctant to hire candidates with face photos on their CVs because they could be accused of hiring you because of your ethnicity, gender, sex, or appearance.
More CV Writing FAQs