Check out our video guide below to learn the basics of creating an excellent CV for a first job that'll make employers pay attention:
Applying for your first job is an exciting time. But to apply for a job, you'll need to make a CV that tells employers you're a great hire, even if it's your first time writing one.
We provide 2 free CV examples, a template, and steps on how to create a standout CV so you can increase your chances of getting an interview and secure your first job.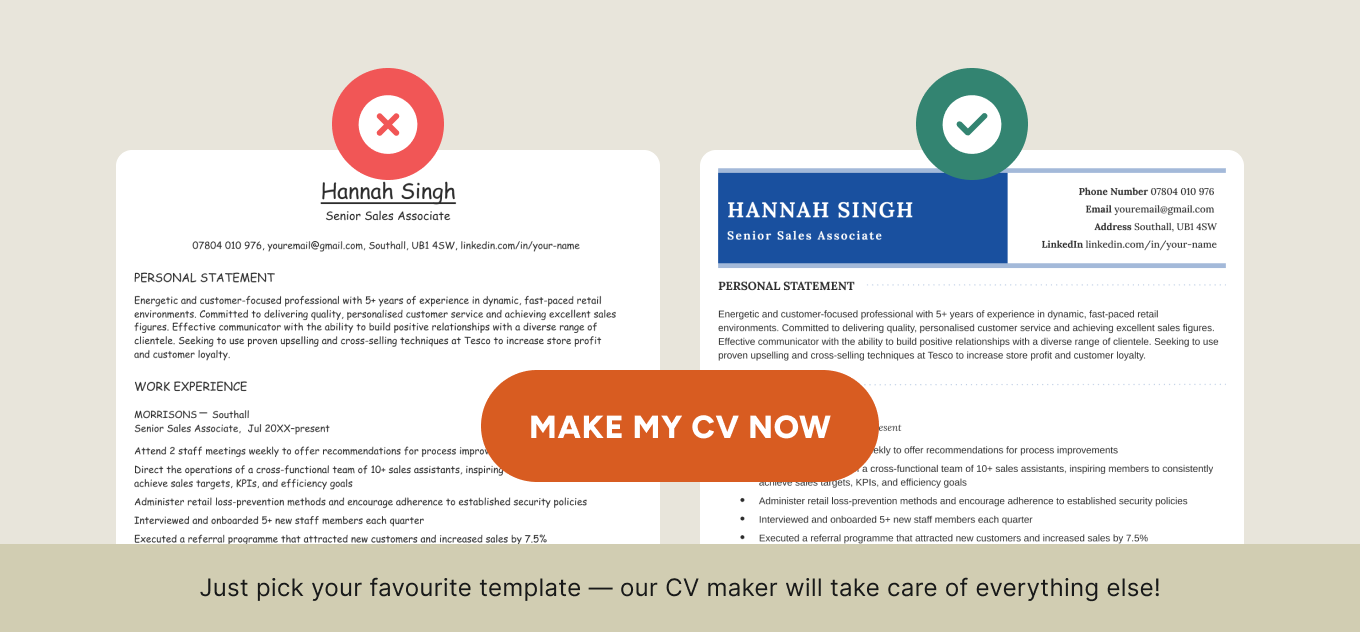 2 good CV templates for your first job
These two downloadable CV examples for a first job are your visual guide for preparing your own CV.
This simple CV example highlights a university student's social media expertise: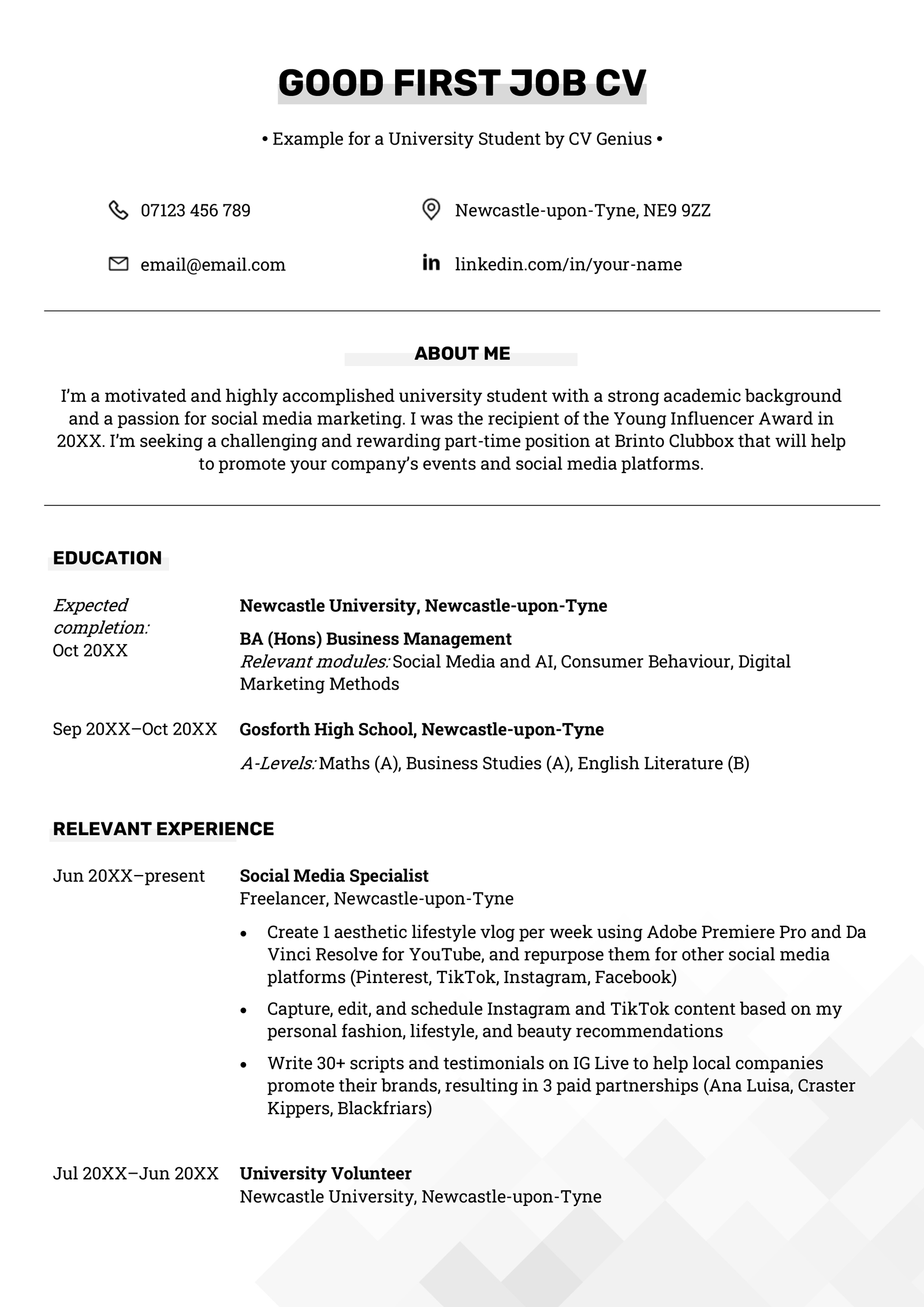 Have a look at this example from a CV for a 16 year old that showcases their volunteer experience: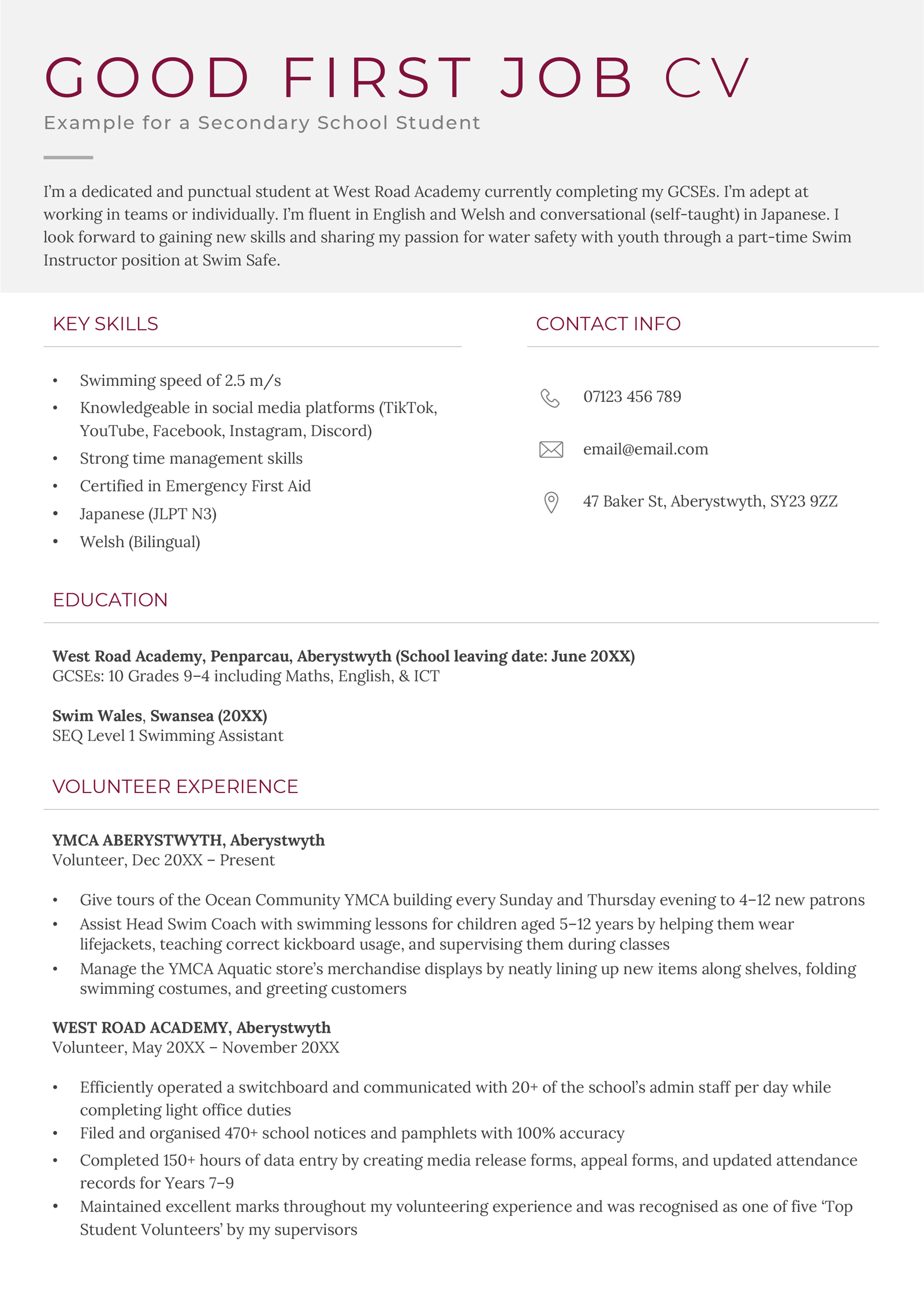 First CV template
Want a headstart with the writing process? Here's a CV template for a first job that you can copy, paste, and customise to suit your needs. This layout is an ideal choice for first-time applicants because it uses a CV format that emphasises your education and volunteering experience:
1. CV Header
YOUR FIRST NAME AND SURNAME
Email: youremail@gmail.com | Phone: 07123 456 789 | Address: 23 Elm Street, Manchester, M1 1EL | Professional social media platform (like a LinkedIn account)
2. Personal Statement
Enthusiastic individual with excellent [academic record, GCSE scores, A-Levels, academic awards, volunteering experience, etc.]. Completed qualifications at [Name of Secondary School or University] in [year]. Looking to build upon [relevant skills and/or academic background] and help [Company Name] achieve its goals as a [Position Name].
3. Education
Bachelor or Master's degree
University Name, (Dates of study or expected graduation date)
Degree Name
Relevant Modules or Coursework: List modules or coursework that are relevant to the position you're applying for
Secondary School
Secondary School or Sixth Form College Name, (Dates of study)
A-Levels: Include your A-Levels that you think are the most impressive or relevant to the role you want
GCSEs: Employers only want to know if you've passed the basics (such as Maths, English, and ICT), so list them by name here
4. Volunteer Experience or Academic Achievements
Most Recent Title or Position
Employer/Company Name, Location
Dates of volunteering
Prepare a bulleted list of your key responsibilities and achievements
Include numbers to quantify your experience and show the impact you had on your school or volunteer organisation (for example, 'Produced 2 visually appealing infographics about food scarcity and homelessness in London that received 500+ views on the school's official website')
Be specific and provide clear examples of how you used and developed your relevant skills during the experience
Previous Title or Position
Employer/Company Name, Location
Dates of volunteering
Use verbs in the past tense (e.g., led, completed) if you're no longer volunteering in the position
Begin each bullet with a dynamic action verb (e.g., created, improved) instead of overused phrases (for example, responsible for, duties included)
Make 3–6 bullet points when detailing your experience so employers can have a clearer understanding of what you did
5. Key Skills
Write specific abilities that are relevant to the job you're applying for, such as the names of software or tools you've used
Include relevant skills you've gained through volunteering, extracurricular activities, studying, or hobbies
Use industry-specific keywords from the job advert to demonstrate your understanding of your target role
6. Hobbies & Interests
Provide a bulleted list of hobbies and interests on your CV that showcase positive aspects of your personality
How to make a CV for your first job
Need some tips to help you figure out how to write a great CV? With us, you'll be in good shape.
Here are 7 essential steps to help first-time job applicants like yourself make a CV for a job:
1. Include your up-to-date contact details
Listing your contact information correctly on your CV is important if you want employers to contact you for an interview.
Your CV heading belongs at the top of the first page and includes your:
first and last name (and please don't use 'Curriculum Vitae' as your title)
target job title
email address (use a professional email address like danielle.wethers@gmail.com)
mobile phone number
postal address (optional)
2. Lay out your CV correctly
When looking for your first job, you should lay out your CV in a way that's concise and easy to read.
Here are some quick tips to assist you with making a professional CV:
Keep your font size between 10–12 points to ensure employers can read your CV without straining their eyes.
Use the standard margin size of 2.5 cm for UK CVs so your CV doesn't look too crowded or strangely spaced out.
Choose a professional font like Times New Roman, Arial, or Verdana that doesn't look informal and is easy to read.
Write a 1–2 page CV that accurately reflects your current skills and qualifications. Typically, a UK CV is two pages long, but you can write a one-page CV if you're a student, recent graduate, or lacking experience.
3. Write a clear personal statement
Your personal statement is a key part of your CV, as it gives you the opportunity to introduce yourself professionally to the employer and highlight your suitability for the role you want.
Keep your CV objective statement 3–4 sentences long by including:
your years of volunteer or internship experience (if you have any)
1–3 of your key skills (e.g., being punctual and organised)
your education level
a major award or achievement you've received
a reason why you're applying for the role
This is an example of how to start a CV with a personal statement from a first-time job applicant that showcases all of the above points:
A CV personal statement example for an applicant's first job
Highly motivated student with excellent attention to detail and 6 months of experience volunteering at Broadgreen Hospital's gift shop. Recipient of the RSPCA Young Photographer prize in 2022. Completing studies at Alsop High School in May 2023. Excited to give customers outstanding service as a part-time Retail Sales Assistant at the Lovlos Toy Shop.
4. Emphasise your education and relevant coursework
If you're applying for your first job, your education and coursework should be a key part of your CV.
Since you don't have much (or any) work experience yet, place your education section near the top of your CV so employers can quickly see where you studied and find out if you have the academic requirements they want.
Remember to include your highest level of education at the top of this section. Your education details should include:
the name of your degree (if you have one), along with the name of your university, city, degree classification, and graduation year
your GCSEs and A-Levels
your secondary school details (e.g., the name of your school, city, and the year you left)
relevant courses or qualifications you've received
Here's an example of what a good CV qualifications section looks like for a school leaver's CV as they apply for their first job:
A school leaver's CV education section example
Rushey Mead Academy, Leicester (2016–2023)
A-Levels: French (A), Politics and Government (A), Maths (B)
GSCEs: 10 A*–C including Maths, English, and ICT
And here's an example of an education section taken from a CV for a student in uni:
An example of a uni student's education details on their CV
University of Bristol
2020–2023
BA (Hons) Liberal Arts
Upper second class honours (2:1)
Key Modules: The Art of Writing, Evolution in Action, Kins, Friends, Lovers, and Others, Texts in a Global Context
5. Describe your hard and soft skills
The abilities you put on your CV give companies a better idea of your current skill set and how you can help them if they hire you.
Listing a mix of hard and soft skills will showcase what you can do for them, as well as how you'll go about doing it.
Hard skills are specific technical abilities that'll help you succeed in your first job, such as mastering a type of software (e.g., Microsoft Excel, Adobe PhotoShop) or being bilingual in another language. 
Soft skills are non-technical skills that showcase your personality and are important for any job, such as communication, time management, teamwork, and problem-solving.
After deciding what skills you'll include, place them in the 'Key Skills' section of your CV.
6. Proofread your CV before submitting it
Before you send off your application, ensure you proofread your CV carefully so there aren't any errors or typos.
Besides reading it again on your own, try asking a friend or family member to look through your finished CV so they can catch any mistakes and also give you suggestions on your CV's format or content.
7. Use a CV builder
If you're still unsure how to structure your CV or what to include on it, consider using a CV builder to help you create a professional and effective document that employers will approve of.
These online tools provide step-by-step instructions and give you with a choice of templates for your CV so you can make a customised CV in minutes.
Frequently asked questions about writing a CV for your first job
We provide answers to three commonly asked questions about making a CV for your first job application:
1. Why is your first job important?
Your first job is important because it provides you with the opportunity to get valuable work experience for your CV, gain new knowledge, and feel a sense of independence and financial stability.
Working in your first job also allows you to get a better understanding of your strengths and areas for improvement so you'll know what you want (or don't want) as you apply for future jobs.
In addition, you can even start building a network of professional references for your CV who'll support you in your career development and help you get hired at other places in the future.
2. Can I write a good CV even if I have no experience?
Yes, you can write a good CV even if you have no experience. Most employers understand that everyone has to start somewhere, so don't worry too much if you don't have any experience yet.
As long as you prove in your CV that you've done some research on your target company and are open to learning new skills, you'll have a higher chance of finding full-time work in the field you want.
If you don't have any paid work experience, consider including other areas that demonstrate your work ethic and transferable skills, such as:
paid or unpaid internships
academic awards
relevant coursework
hobbies and interests
3. Can I write my CV using Google Docs?
Yes, you can write your CV using Google Docs (using a predesigned Google Docs CV template if you want). Just remember to download your CV as a PDF file when you're done, as this'll make your application look complete and the employer won't have any problem opening it.
4. Should I also write a cover letter for a first job?
Yes, you should also write a cover letter that complements your CV if you're applying for a first job.
A cover letter is a written or typed document that:
introduces you to the employer and explains why you're interested in the position and the company
gives you an opportunity to showcase your skills and experiences in a more personal way
conveys your enthusiasm and motivation for the role you want
Additional FAQs related to making your first CV
These are more FAQs to help you write a CV that'll catch an employer's attention — even if you don't have any work experience yet: