Writing a cover letter (also known as a job application letter or covering letter) is required when you apply for most jobs.
The cover letter examples below can give you ideas of how to write a cover letter — no matter what sector of the economy you want to work in or your level of work experience.
Whether you need a situation-specific cover letter or just want to learn about cover letter formatting, we have the perfect examples for you.
Table of Contents
What to include in a cover letter
Here's what to include in a good cover letter to make the best first impression:
Salutation: a greeting to a specific person. If you can't find a specific person, then simply use 'Dear [Team] Director.'
Introduction: a summary of who you are, what role you're applying for, how you found the position, and what your most notable work experience is.
Body paragraphs: Two paragraphs detailing your relevant experience, accomplishments, and skills — explaining why your experience qualifies you for the job.
Closing paragraph: a paragraph thanking the employer for their time and urging them to invite you in for an interview.
Here's a cover letter template you can use to learn how to write your cover letter professionally:
A good copy-and-paste cover letter example
Salutation
Dear [Mr/Ms/Mx] [Recruiting Manager's Name],
Opening Paragraph (Introduction)
Your cover letter opening should contain a self introduction. Write about who you are, where your expertise lies, where you found the job posting, and why you want to apply for the job.
Body Paragraphs
Your cover letter's second and third paragraphs (it's up to you how many paragraphs to use) should respond directly to the job description. Describe how your previous job experiences, skills, and abilities will help you meet the company's needs. To make that easier, you should include exact words and phrases from the job descriptions in your cover letter.
You can include a bulleted list of your accomplishments
Make sure to use numbers or percentages to emphasise your bullet points (e.g. Increased online revenue by 13%)
Research the company and find out what their current activities and goals are. Explain how you can help them achieve those goals.
Closing Paragraph
Your cover letter's closing paragraph is the call-to-action portion of your cover letter. Inform the hiring manager that you'd love to go in for an interview. Provide your email address or other contact information. Thank them for spending their time reading your cover letter.
Yours sincerely,
Your Name
Types of cover letters (6 examples)
Here are six common types of cover letters:
1. Standard cover letter example
This standard cover letter was written by a mid-level candidate applying for a business analyst position.
What makes this cover letter a good general example is that it uses a traditional cover letter format that you can easily follow no matter your industry. Within the first paragraph, the candidate:
addresses the HR manager by name
establishes where they found the job
highlights some of their relevant experience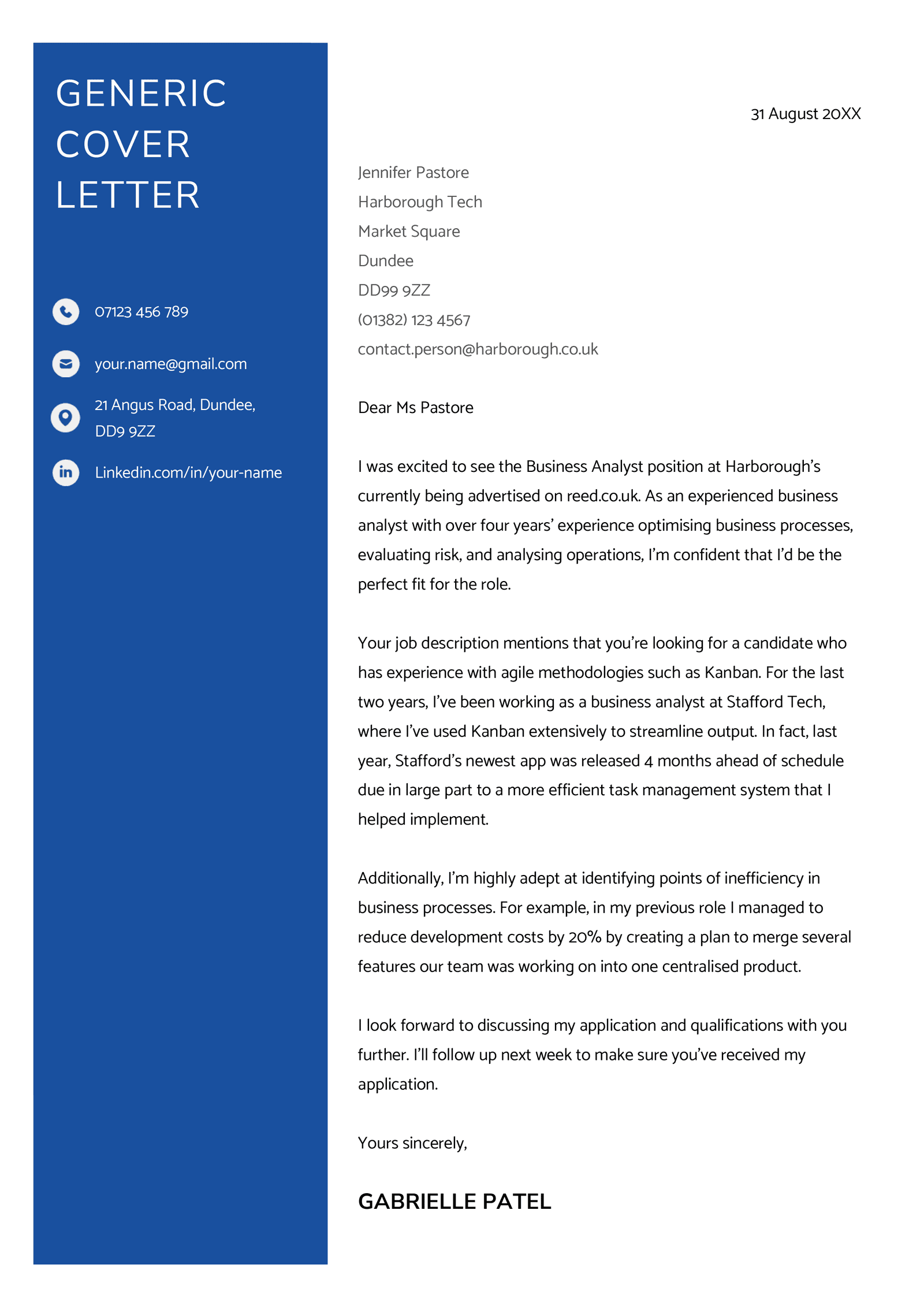 What makes this cover letter good
This cover letter is formal, to-the-point, and full of details.
Within the first couple of paragraphs, the candidate summarises their interest in the position and explains how their experience makes them a great fit.
Then, they mention a specific need that the company has and explain how their experience fills that need. Pointing back to the job advert shows the employer they're passionate about the position and have the skills they're looking for.
To follow up, the candidate highlights some impressive accomplishments, all backed up with hard numbers. This cover letter makes it clear what the candidate is capable of as a professional.
Finally, the applicant ends with a polite call to action, urging the employer to contact them for an interview.
Although this cover letter was written by a business analyst, the tone and format work well in nearly any industry, making it a good example of a general cover letter.
2. Career change cover letter example
Changing careers is intimidating. However, a well-written cover letter is perfect at highlighting the transferable skills you have and makes the process less of a challenge while showing employers why they should consider you.
This cover letter for a career change demonstrates how to effectively apply for a job in a new field. It features three key elements that should be included in any cover letter for a career change:
a show of passion for the new career
examples of transferable skills
evidence of commitment to your work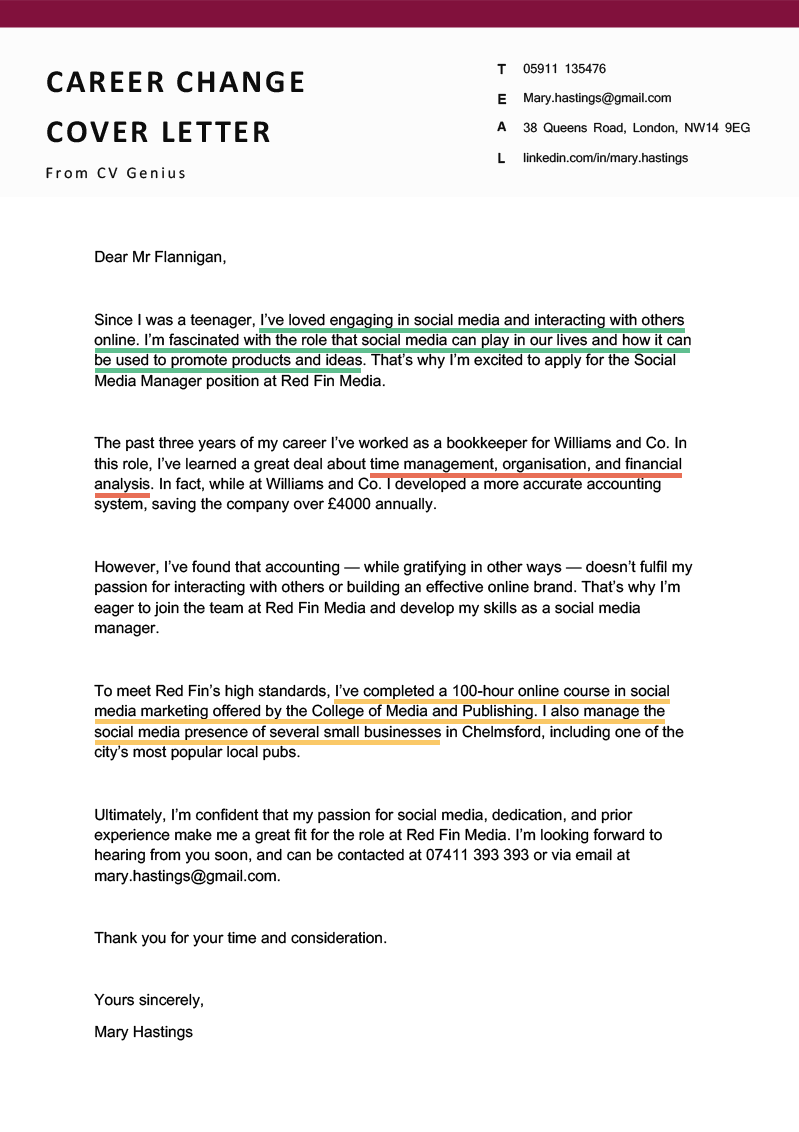 What makes this cover letter good
This cover letter works well because it's honest and direct. The candidate starts by explaining their passion for social media and why they want to apply that passion to a professional role.
Additionally, they state that they're suited for a career in social media management without any negativity about their current career in accounting. Most employers value candidates with a positive attitude, so never complain about your current job (even if you really don't like it) in a career change cover letter.
Finally, the candidate proves their commitment to their desired career path by mentioning that they've completed an independent study programme to help them develop relevant skills.
The independence shows the employer that the candidate is self-motivated and has already put in the time and effort to build a successful career in social media, even without having studied social media.
3. Short cover letter example
With so many applicants to evaluate, a lengthy, waffling cover letter can lose the attention of HR managers.
A short but effective cover letter packed full of information about your experience is the perfect way to get (and keep) their attention.
The following concise cover letter example was written by a professional driver with four years of experience. In just six short sentences, they clearly communicate their experience and qualifications.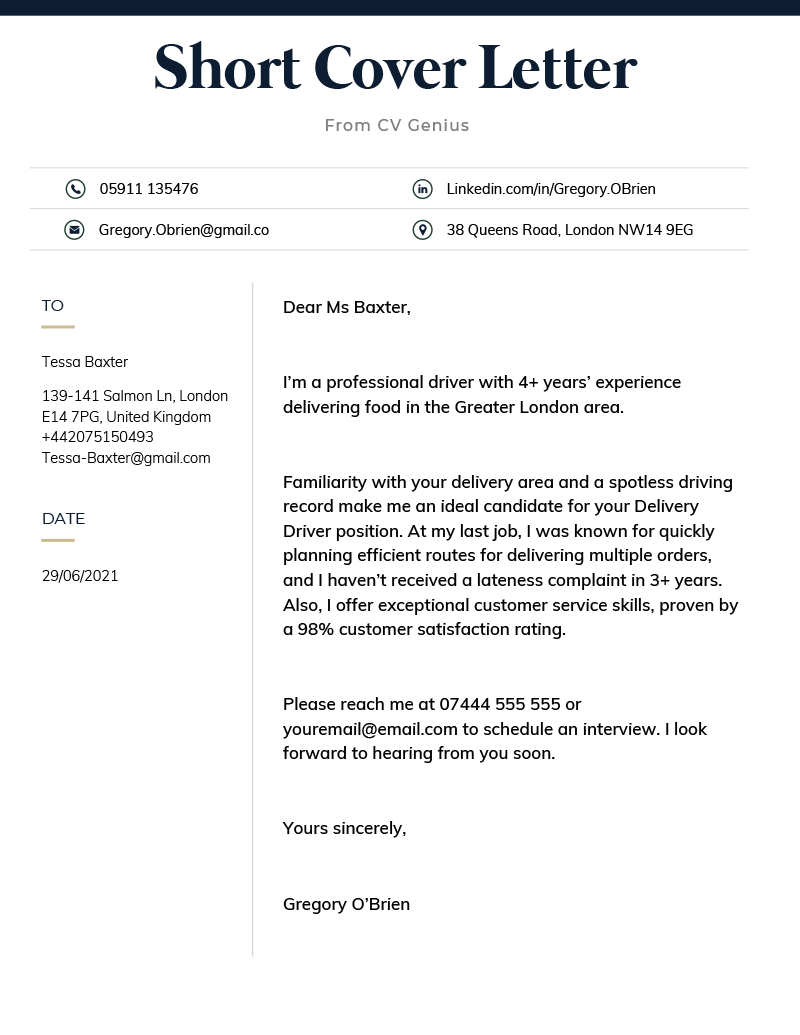 What makes this cover letter good
This cover letter may be short, but it contains a lot of valuable information.
In the opening, the candidate summarises their work experience and notes they're familiar with the company they're writing to, which indicates their interest in the sector.
Then, the candidate wastes no time highlighting some of their most impressive accomplishments as a driver.
Finally, they request an interview and list their contact information.
Ultimately, this candidate includes everything needed in a cover letter while maintaining a digestible length.
4. Speculative cover letter example
Writing a speculative cover letter is a great way to formally ask about job opportunities at companies you'd love to work for but that aren't currently advertising open positions.
Done well, a speculative cover letter shows employers you're willing to do anything to build a career at their company — a level of motivation they're not used to seeing while hiring.
This speculative cover letter example was written by a recent university graduate looking to start a career with a popular recording studio. From the start, they state what kind of role they're looking for and showcase their relevant skills: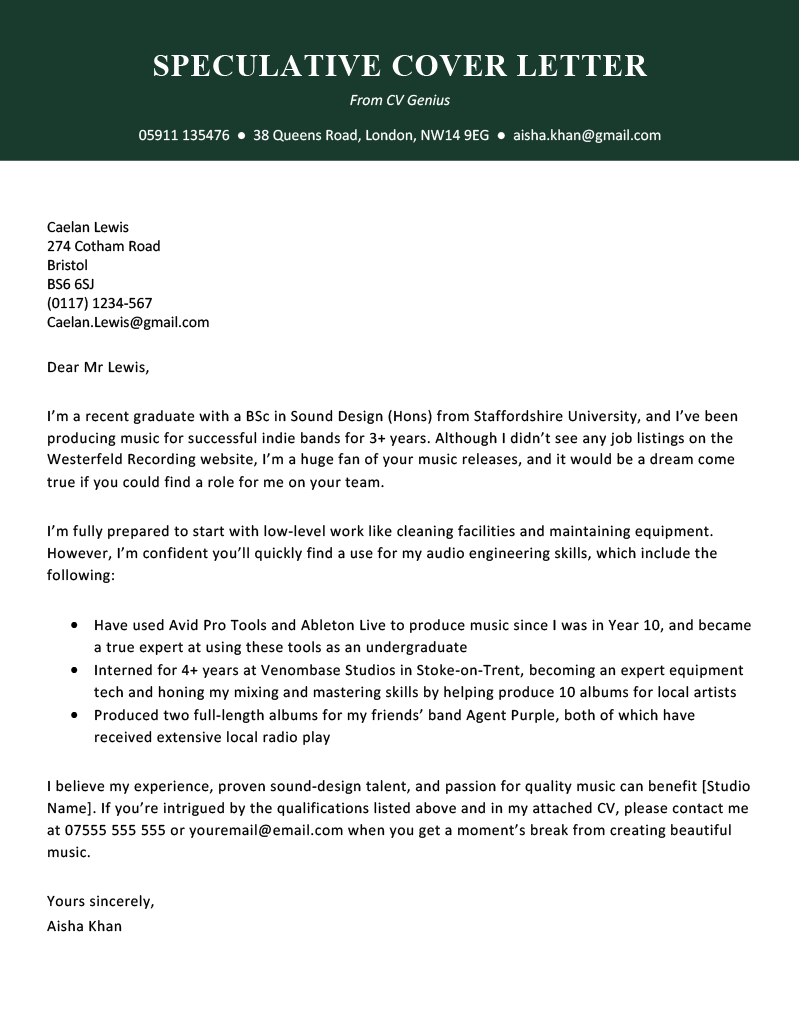 What makes this cover letter good
The letter starts off by highlighting that the candidate is passionate about working for Westerfeld Recording because they're a fan of their music. The candidate then explains what kind of positions they'd be interested in taking (in this case, any and all).
Communicating your range of skills is essential when writing a speculative cover letter because you need to show your skill set is flexible enough that you could fit into any role.
5. Creative cover letter example
In some situations, writing a creative cover letter is an effective way to stand out from other applicants and leave a lasting impression on employers.
This humorous cover letter example was written by an experienced candidate applying for a role at a popular podcast.
Right from the introduction, their unconventional tone and humour grab the reader's attention. Then, they outline their experience and qualifications.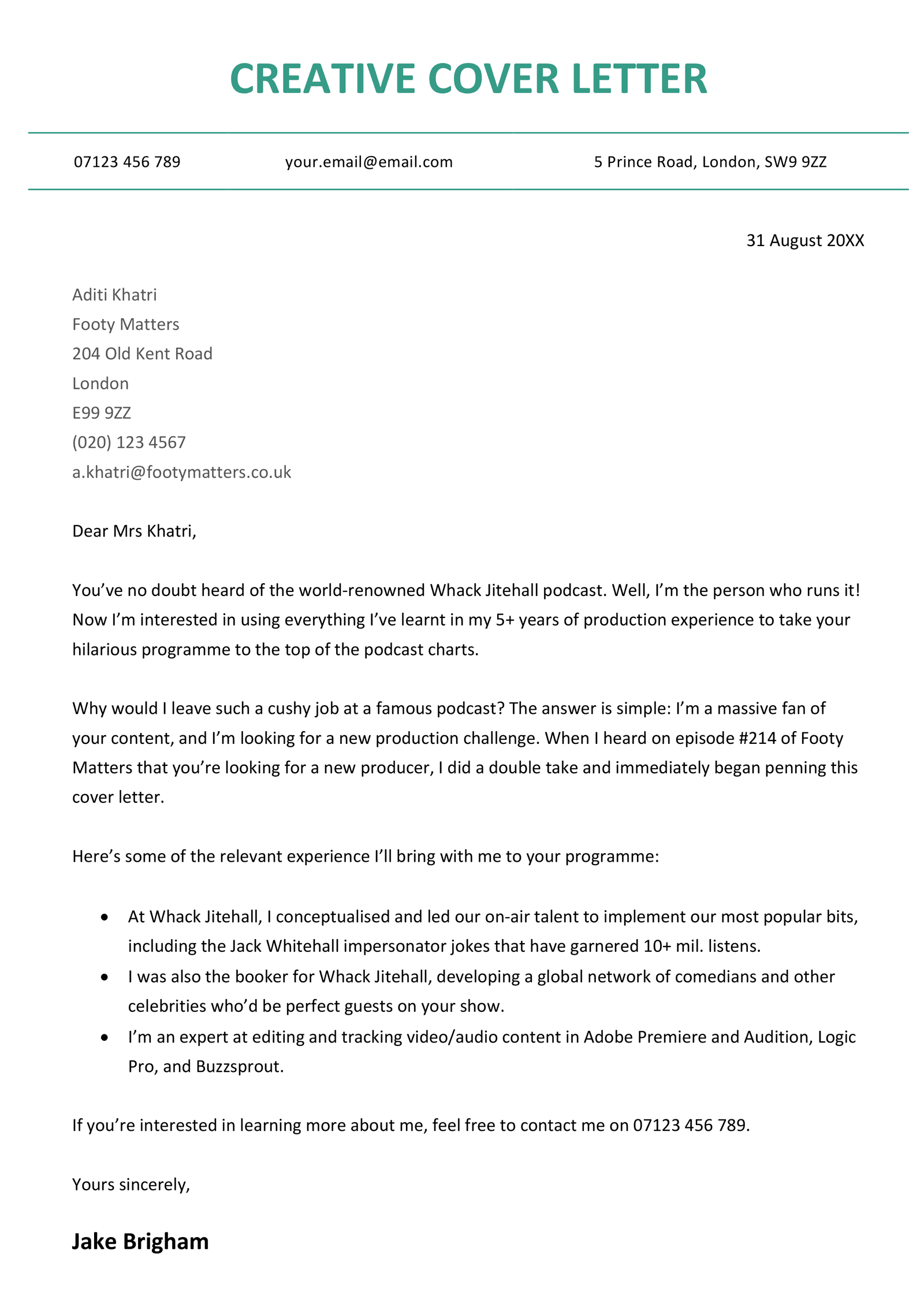 What makes this cover letter good
This cover letter is effective because it balances professionalism with a personable tone.
Adding some personality to your cover letter is a great way to stand out from the competition and present yourself as likeable and creative. Additionally, it helps your application leave a lasting impression on the employer (just make sure it's a positive one).
And although a creative flourish can be a nice addition to a cover letter, it's also important to focus on its substance and to maintain professionalism. This cover letter effectively achieves both goals.
After a unique introduction, the candidate immediately provides a series of brief, impressive examples of their relevant skills and accomplishments to prove they have the necessary hard skills to handle the work.
This style of cover letter is only appropriate when applying to companies with a casual office culture. If you're applying for work in a formal corporate environment, it's best to keep your tone buttoned up so employers take your application seriously.
6. Email cover letter example
It's much more common today to send cover letters by email rather than through Royal Mail.
One option to do just that is to attach your formal cover letter to your email cover letter as a PDF or Microsoft Word document.
Another option is to write your cover letter directly into the body of your email, which saves the recruiting manager having to redownload an attachment each time they refer to it.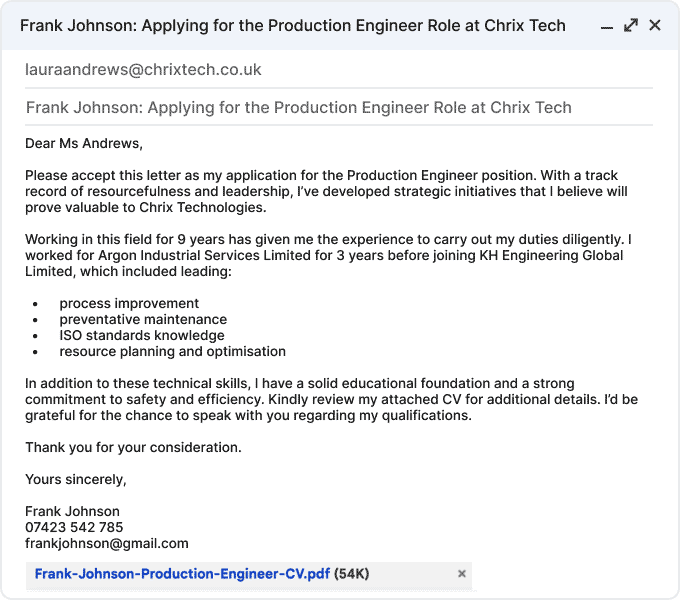 What makes this cover letter good
The writer of this email cover letter has written an effective document that makes life as easy for the recruiting manager as possible.
For a start, the writer uses a descriptive subject line with their name and the reason why they're writing to help the recruiting manager organise their inbox.
They've also addressed their cover letter to a contact person by name, which reassures the recruiting manager that this email is important and not spam.
In terms of content, the writer describes their long experience and achievements, and shortlists a handful of their key skills.
They've also attached their CV so that all of the application documents requested by the company are immediately accessible.
More great cover letter examples
Cover letter examples by industry
Looking for a cover letter sample for your industry? Here's a list of cover letter examples for different roles. Simply click on the field you work in to see all of our cover letter examples:
Administration & office support
Business & professional services
Creative & design
Customer support & retail
Education
Engineering & skilled trades
Food & hospitality
Health & social care
IT & marketing
News & media
Frequently asked questions about cover letter examples
Here are the answers to some commonly asked questions about cover letter examples:
How do you build a cover letter?
You build a cover letter either by downloading a quality cover letter template online and filling it in by yourself or by using an AI-powered cover letter builder that asks you a few simple questions and lets you pick from pre-written, ready-formatted cover letter sentences.
Each method has its own advantages, but a cover letter builder is quicker — you can finish and download your cover letter within about 12 minutes.
How can cover letter examples help me?
Cover letter examples help you by providing you with a look at cover letters from your own industry.
You can quickly see what you should include in your own cover letter, check your cover letter format is correct, and get some inspiration for how to word your achievements.
What should be avoided in a cover letter?
Here's what should be avoided in a cover letter:
typos
generic text (always target your cover letter to the company)
writing more than one page
too small or large font sizes (stay between 10 and 12)
negative comments about your current or previous employers