A cover letter (also known as a job application letter or covering letter) is required when you're applying for jobs in the UK.
The UK-specific cover letter examples below show you how to write a cover letter in general and help you tailor your covering letter to the role you want to work in.
Whether you need a situation-specific cover letter or just want to see examples of cover letter formats, we have the perfect cover letter examples for you.
Table of Contents
Types of cover letters (including a copy/paste sample)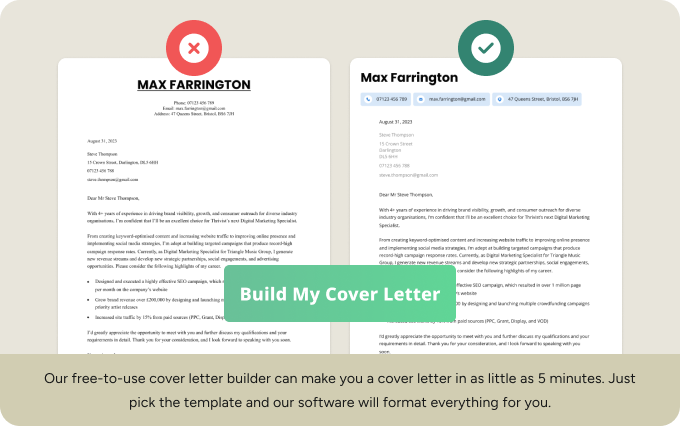 5 cover letter examples by type
Here are 5 common types of cover letters:
1. Copy-and-paste cover letter sample
Use this text copy-and-paste cover letter sample to begin writing your letter:
YOUR NAME

Phone: 07123-456-789  Email: your.name@gmail.com  Address: Your Town, Postcode  LinkedIn: linkedin.com/in/your-name
Today's Date
Contact Person's Name
Company Name
Street Address
Town
Postcode
07321-654-987
contact.person@gmail.com
Dear [Mr/Ms/Mx] [Contact Person's Name],
Your cover letter opening should contain a self-introduction. Write about who you are, where your expertise lies, which open job you're applying for, where you found the job posting, and why you want to apply for the job.
In 2–3 paragraphs, describe how your previous work experience, skills, and qualifications help you meet the company's needs. To make that easier, include exact words and phrases from the job advert in your cover letter.
Optionally, include a bulleted list of your most relevant accomplishments
Use hard numbers or percentages to provide context to your bullet points and achievements (for example, 'Increased online revenue by 13%')
Research the company and find out what their current activities and goals are. Explain how you can help them achieve those goals.
Your cover letter's closing paragraph is the 'call-to-action' portion of your cover letter. Inform the recruiting manager that you'd love to go in for an interview. Provide your email address and phone number again for the employer's convenience. Thank them for spending their time reading your cover letter.
Yours sincerely,
Your Name
2. Generic cover letter example with work experience
The standard cover letter below was written by a mid-level candidate applying for a business analyst position.
This cover letter example uses a traditional cover letter structure that recruiting managers can easily read no matter what industry they're working in. Within the first paragraph, the candidate:
addresses the HR manager by name
establishes where they found the job
highlights some of their relevant experience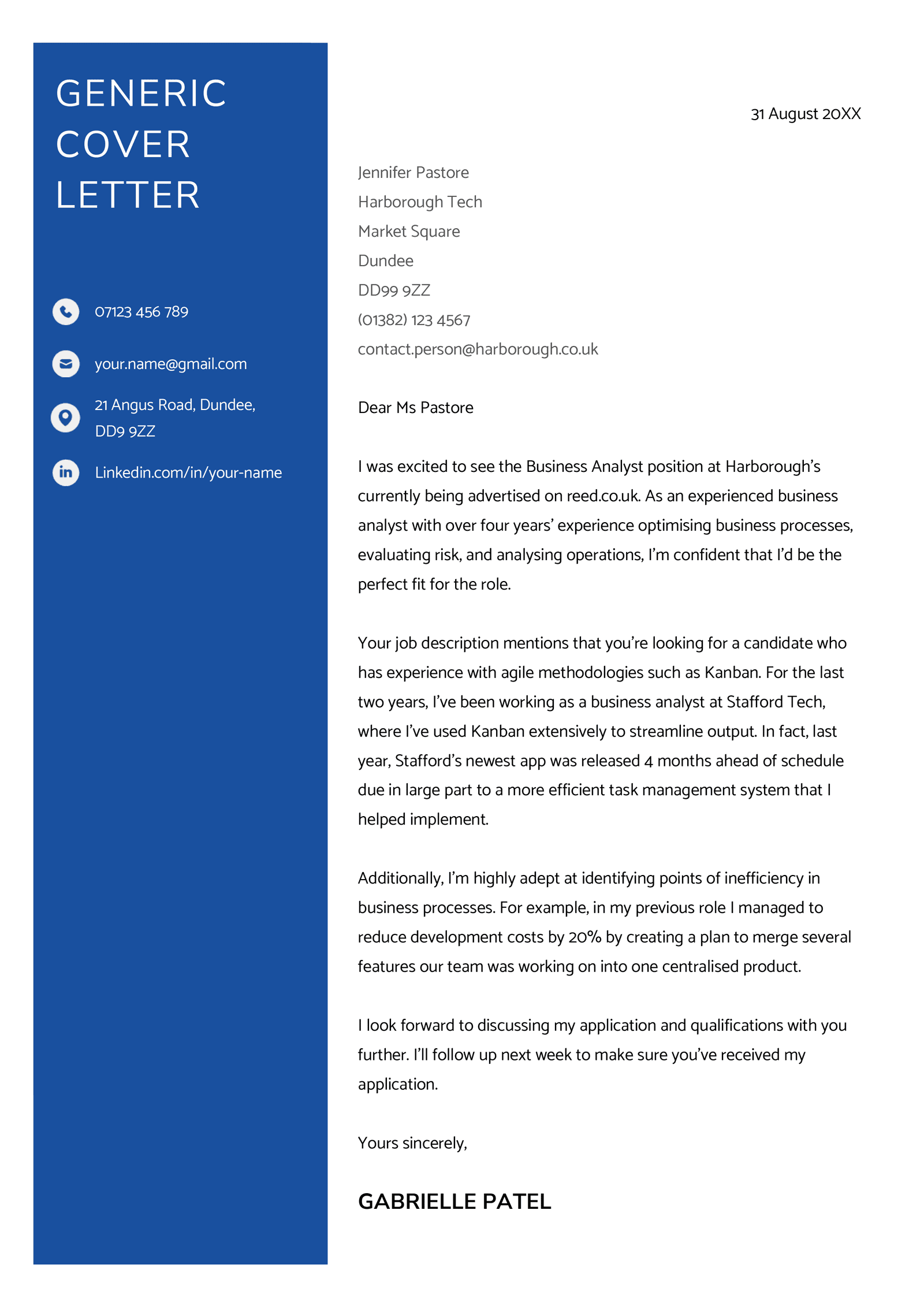 What makes this cover letter good
This cover letter is formal, to-the-point, and full of details.
Within the first couple of paragraphs, the candidate summarises:
their interest in the position
how their experience makes them a great fit for the open role
how their abilities fill a specific need the company has
Referring back to the job advert shows the employer they're passionate about the position and have the skills they're looking for.
To follow up, the candidate highlights some of their most impressive accomplishments, all backed up with hard numbers. By including data, the candidate makes it clear what they can achieve for the employer.
Finally, the applicant finishes with a professional call to action, requesting that the employer contact them for an interview.
Although this cover letter was written by a business analyst, the tone and format work well in any industry, making it a good general cover letter example.
3. Student cover letter example with no work experience
Are you a student looking for work while you're studying? Here's an example of a good cover letter written for a retail role by a student like you: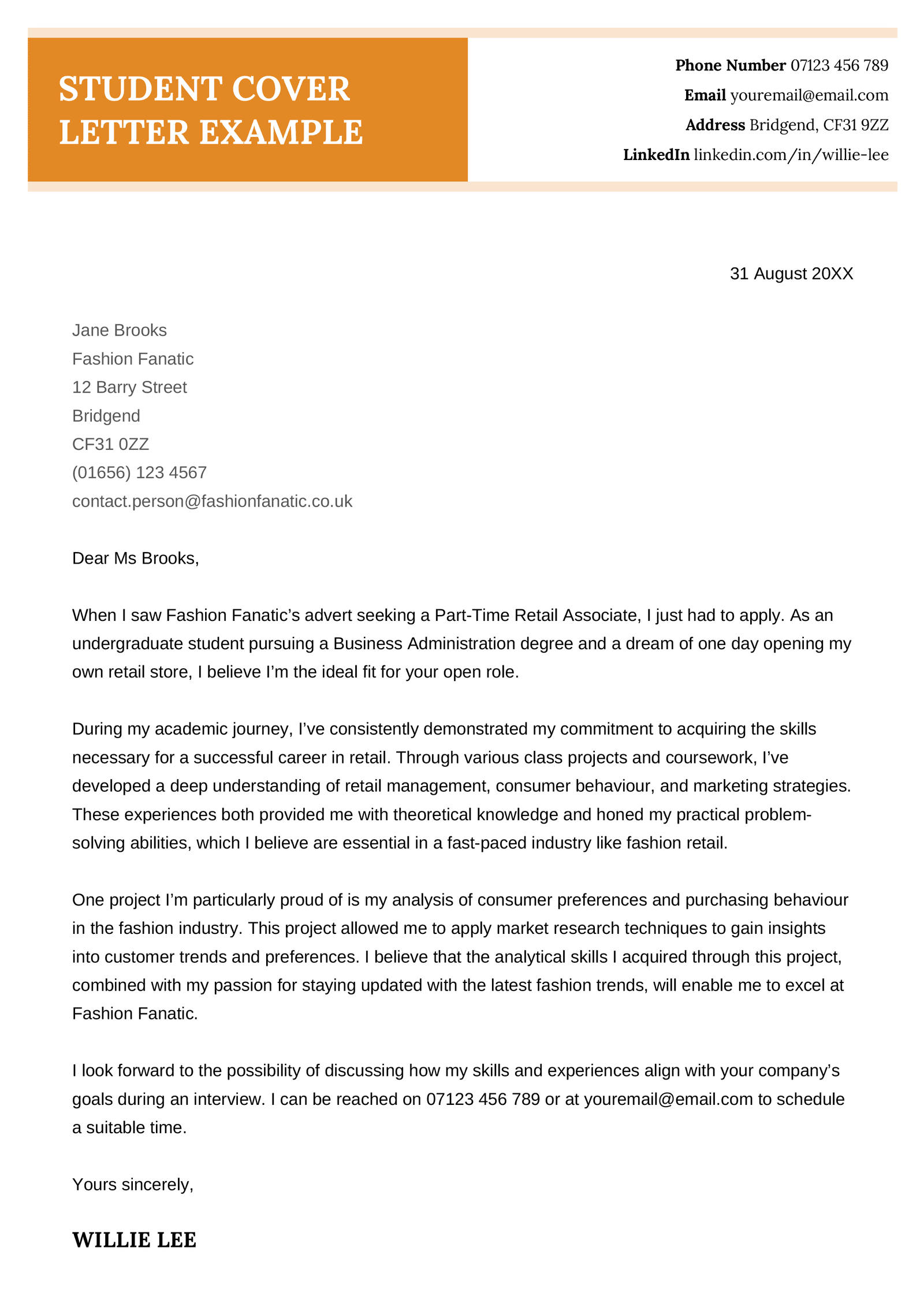 What makes this cover letter good
This is a great cover letter example because the student makes up for a lack of work experience by connecting their academic experience to their target job. They also emphasise a specific course project that developed skills they'd use if hired.
When you write your cover letter and CV as a student or recent graduate with no work experience, you should also highlight your job-relevant:
voluntary experience
internships
4. Cover letter example for a recent graduate
Writing a cover letter that gets employers' attention will help you smoothly transition from university to a rewarding career. Take a look at this graduate cover letter example to get ideas for writing your letter: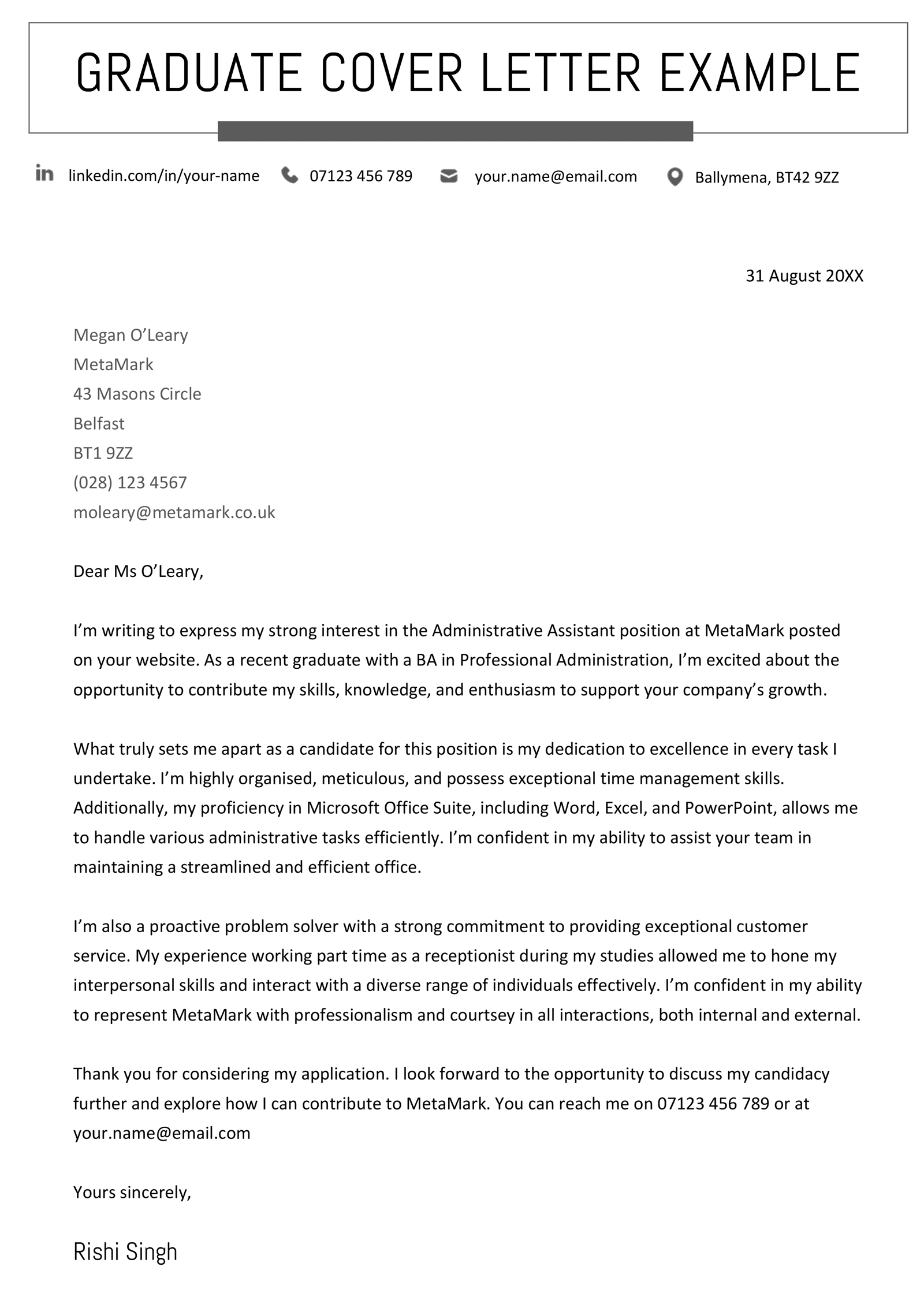 What makes this cover letter good
The applicant uses traditional business letter formatting and opens with a formal introduction that shows the employer their professionalism. Getting these details right is key to standing out as a recent graduate in applicant pools filled with more experienced job seekers.
Then, in the second paragraph, the candidate lists skills that match the requirements in the job advert.
Another great feature of this cover letter example is that it connects the candidate's part-time work to their target position. Although it's only a part-time job, mentioning this bit of experience lets the employer know the applicant isn't walking into their first real-world work situation.
5. Creative cover letter example
If you're applying for a role in the creative industries like graphic design or radio, writing a creative cover letter can really help you stand out from other applicants and leave a good impression on employers.
This humorous but professional cover letter example was written by an experienced candidate applying for a role at a popular UK podcast: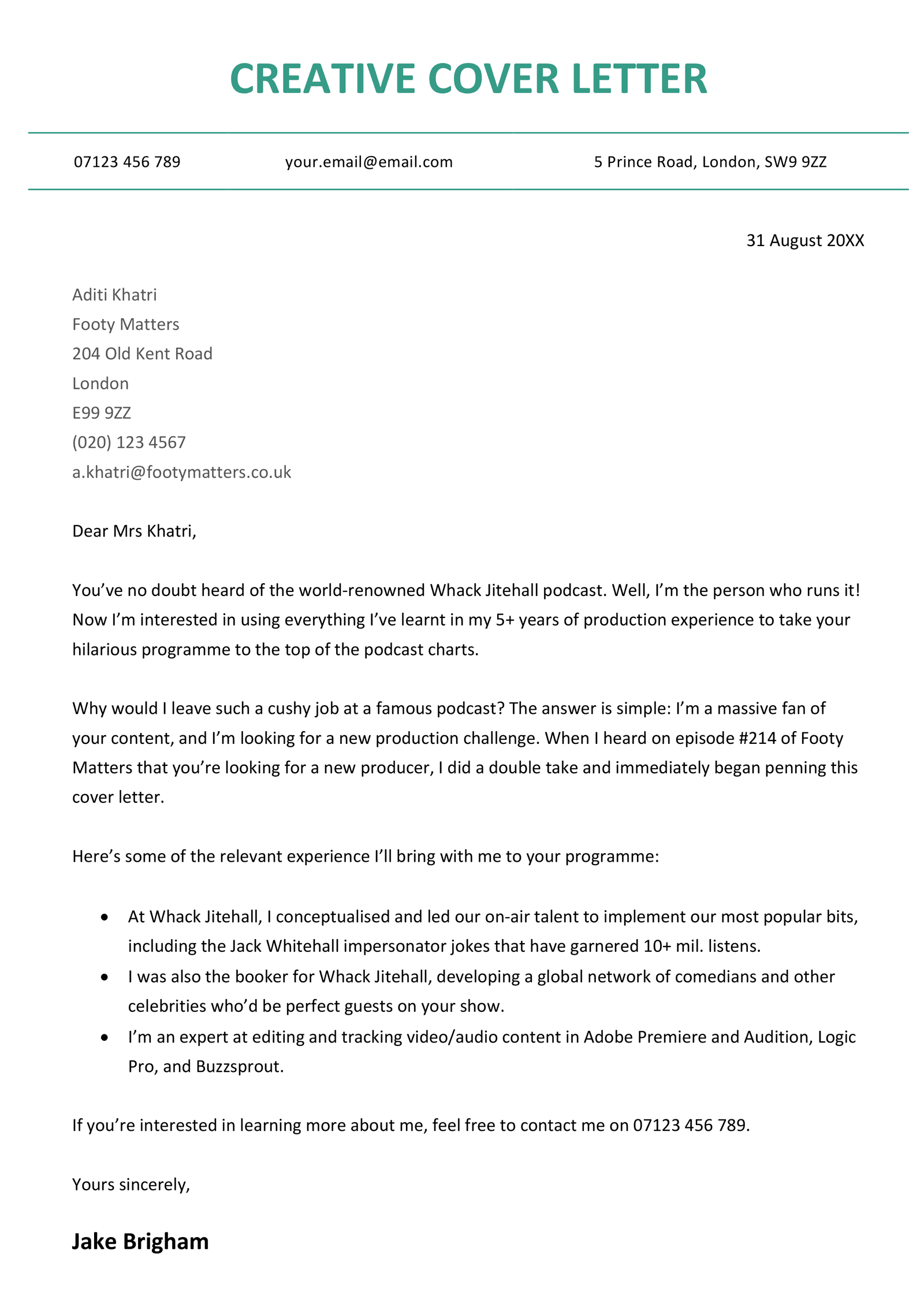 What makes this cover letter good
This cover letter is effective because it balances professionalism and personability.
Adding personality to your cover letter is an effective way to stand out from other candidates and come across as creative and likeable. But it's also important to maintain your professionalism. This cover letter offers a perfect mix of creativity and substance.
After a unique introduction, the candidate highlights some brief, impressive examples of their relevant abilities and achievements to prove they've got the required hard skills to handle the work.
More great cover letter examples
25 Covering letter examples by industry
Looking for a cover letter sample for the specific job you want? We've put together this list of our cover letter examples for different industries:
Administration & office support
Business & professional services
Creative & design
Customer support & retail
Education
Engineering & skilled trades
Food & hospitality
Health & social care
IT & marketing
News & media
Frequently asked questions about cover letter examples
Below, we answer three of the most commonly asked questions about cover letter examples:
1. How do you build a cover letter?
You build a cover letter either by:
Each method has its own advantages, but a cover letter builder is substantially quicker — you can finish and download your cover letter in minutes
2. How can cover letter examples help me?
The best cover letter examples will give you strategies you can use to write and format your own cover letter.
You'll quickly see what you should include in a cover letter for the job you want, and get some ideas for how to word your achievements.
3. What should be avoided in a cover letter?
Here's what should be avoided in a cover letter:
typos
generic writing (address your cover letter to a named person and tailor your cover letter to the specific role)
writing more than one page
too small or large font sizes (stay between 10 and 12 points)
unprofessional fonts like Comic Sans or Papyrus (use a good cover letter font like Arial or Cambria instead)
negative comments about your current or previous employers