Writing a cover letter (also known as a job application letter or covering letter) is a requirement when applying for most professional-level jobs. If you're struggling to write your cover letter, the best place to start is by looking at the best cover letter examples from experts in your industry for inspiration.
Our list of cover letter examples is ideal for applicants in any sector of the economy or level of work experience. Whether you need a situation-specific cover letter or just want to learn how to format your cover letter, we have the perfect example for you.
Table of Contents
What to include in a cover letter
Here's what to include in a cover letter to make a positive first impression:
Salutation: greet the HR manager or employer by name, if possible. If you can't find a specific person to address your cover letter to, then simply use 'Dear [Team] Director.'
Introduction: briefly summarise who you are, what role you're applying for, how you found the position, and what your most notable work experience is.
Body paragraphs: include two paragraphs detailing your relevant experience, accomplishments, and skills. Your body paragraphs should also explain why your experience qualifies you for the job at hand.
Closing paragraph: end your cover letter by thanking the employer for their time, and urge them to invite you in for an interview.
Cover letter examples by industry
Looking for a cover letter sample for your industry? Here's a list of cover letter examples for different roles:
Generic cover letter example
This generic cover letter was written by a mid-level candidate applying for a business analyst position.
What makes this cover letter a good general example is that it provides a perfect traditional format that can easily be followed by candidates in any industry. Within the first paragraph, the candidate:
Addresses the HR manager by name
Establishes where they found the job
Highlights some of their relevant experience
The cover letter example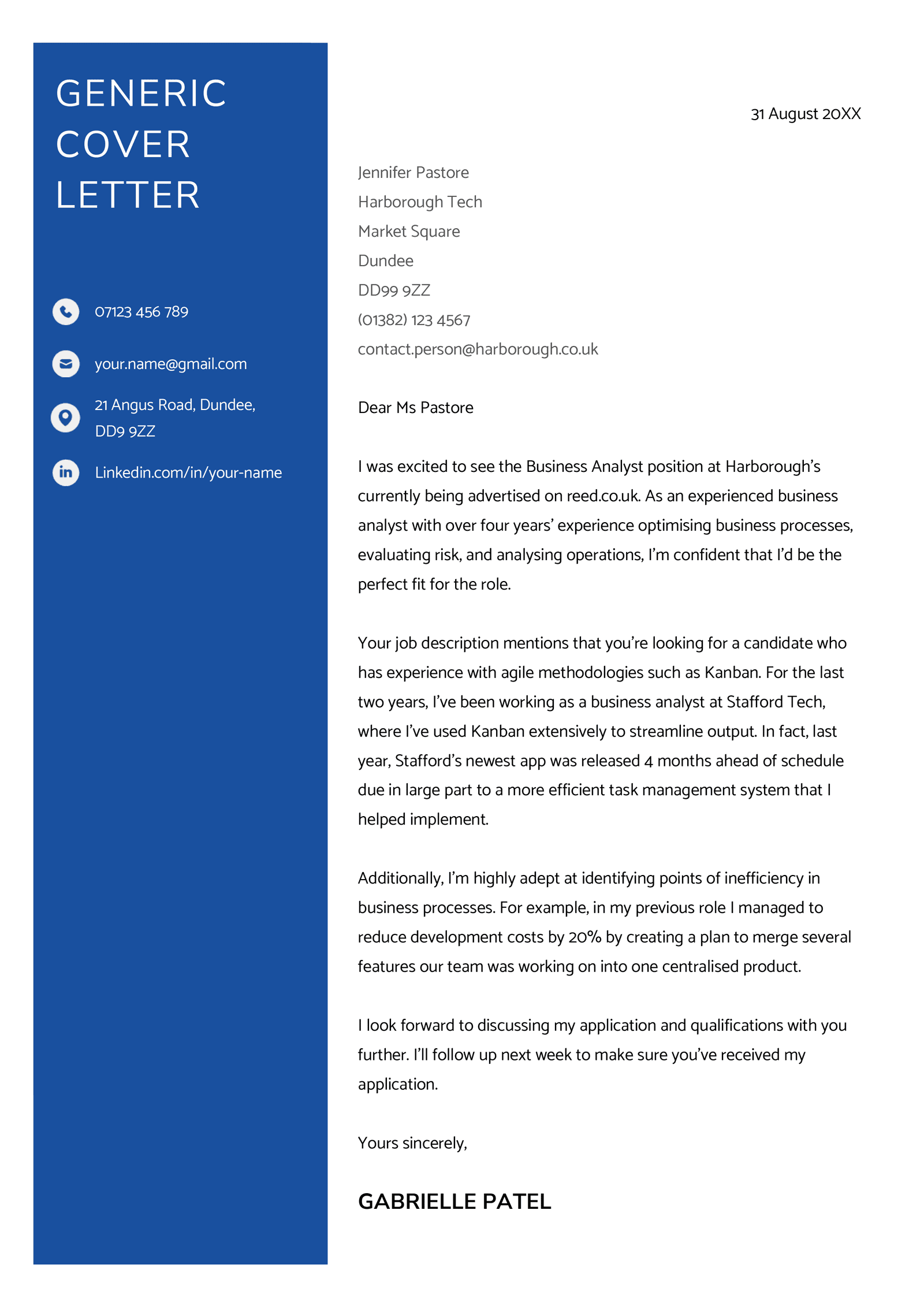 What makes this cover letter good
This cover letter is formal, to-the-point, and substantive.
Within the first couple paragraphs, the candidate summarises their interest in the position and explains how their experience makes them a great fit.
Then, they point to a specific need that the company has that's mentioned in the job advert and directly explain how their experience fills that need. Pointing back to the job advert shows the employer they're passionate about the position and have exactly the skills they want.
To follow up, the candidate highlights some of their most impressive accomplishments, all backed up with hard numbers. This gives employers clarity about what they're capable of.
Finally, they end with a courteous call to action and urge the employer to reach out to them for an interview.
While this specific cover letter was written by a business analyst, the tone and format are applicable to nearly any industry, making it an ideal general cover letter.
Career change cover letter example
Changing careers is intimidating, no matter what industry you're in. However, a well-written cover letter is the perfect opportunity to highlight your transferable skills and show employers why they should consider you for the open role.
This career change cover letter demonstrates exactly how to effectively apply for a job in a new field. It features three key elements that should be included in any cover letter for a career change:
A show of passion for the new career
Examples of transferable skills
Evidence of commitment to your work
The cover letter example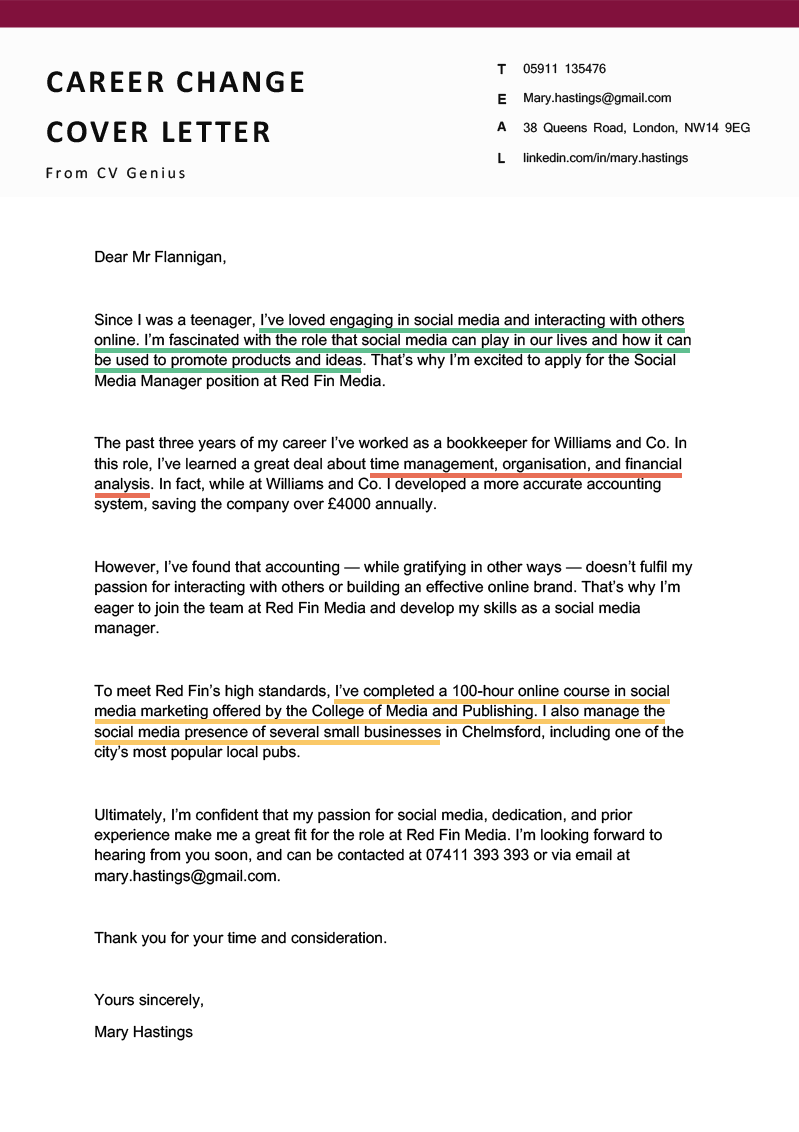 What makes this cover letter good
This cover letter works well because it's honest and direct. The candidate starts by explaining their passion for social media and what draws them to want to work in that field.
Additionally, they explain why they feel they're best suited for a career in social media management without coming across as negative about their current career in accounting. Most employers value candidates with a positive attitude, so it's important not to appear as if you're complaining about your current job (even if it's not your dream) in a career change cover letter.
Finally, the candidate proves their commitment to their desired career path by explaining that they've already completed an independent study programme to help them develop relevant skills. This shows the employer that they're self-motivated and have already put in the time and effort to build a successful career in a new field.
Short cover letter example
With so many applicants to look through, a lengthy, waffling cover letter can understandably lose the attention of many HR managers.
A short cover letter that's packed full of information about your experience is the perfect way to get (and keep) their attention.
This concise cover letter was written by a professional driver with four years of experience. In just six short sentences, they manage to clearly communicate their experience and qualifications.
The cover letter example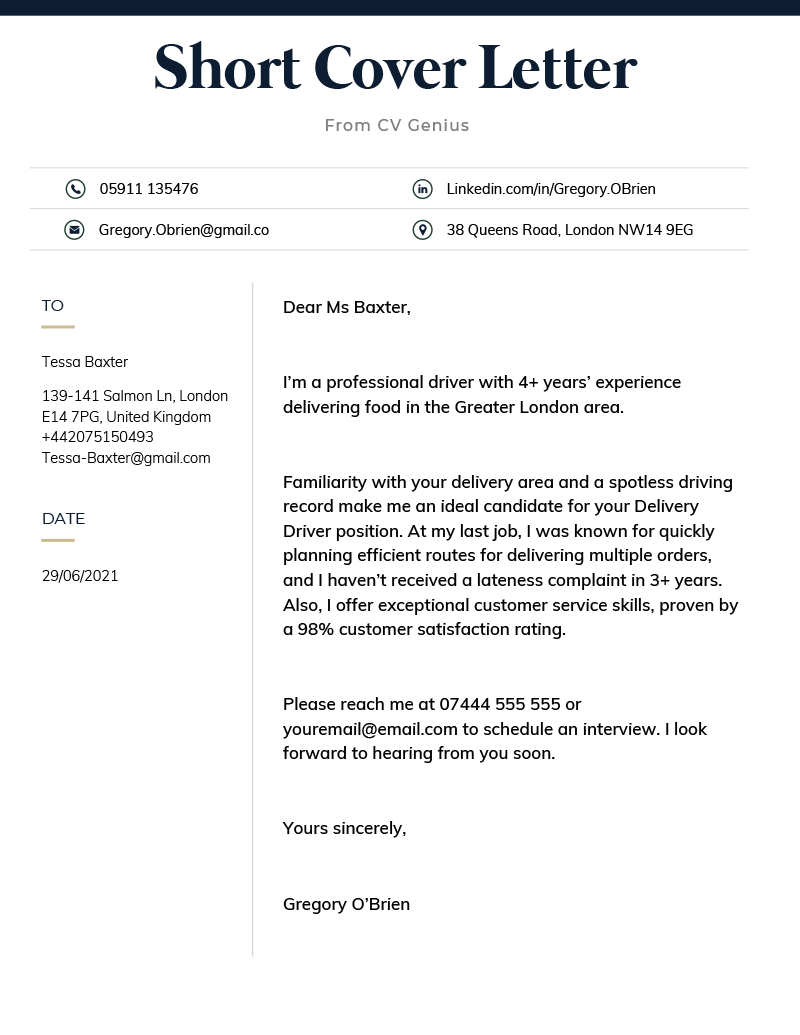 What makes this cover letter good
This cover letter may be short, but it's far from ineffective.
In the cover letter opening, the candidate summarises their work experience and establishes that they're familiar with the company they're writing to. This tells the employer that the candidate can easily transition into working for the company, and would require minimal training.
Then, the candidate wastes no time highlighting some of their most impressive accomplishments as a driver.
Finally, they end with a simple request for an interview and clearly list their contact information.
Ultimately, this candidate manages to include everything that needs to be included in a cover letter while maintaining an easily digestible length.
Speculative cover letter example
Sometimes you may want to apply to a company not currently advertising a job opening.
Writing a speculative cover letter is a great way to create a point of entry into a competitive industry and inquire about potential job opportunities.
Done well, a speculative cover letter shows employers that you're ambitious, proactive, and willing to do whatever it takes to build a career in an industry that you're passionate about.
This speculative cover letter was written by a recent university graduate who's looking to start a career with a popular recording studio. From the start, they state what kind of role they're looking for and showcase some of their relevant skills:
The cover letter example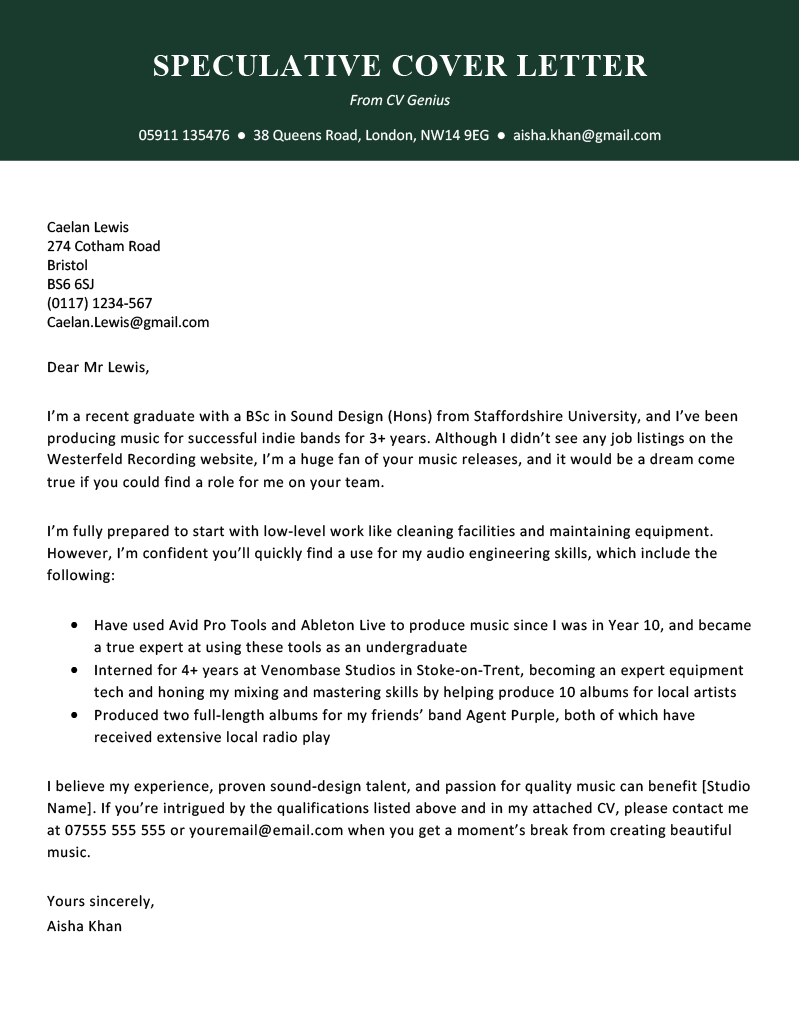 What makes this cover letter good
This cover letter stands out because it's simple and packed with substantive information about the candidate.
It starts off by highlighting that the candidate feels passionately about working for Westerfeld Recording because they're a fan of their music. Then they quickly explain what kind of positions they'd be interested in taking (in this case, any and all).
The most important part of this cover letter, however, is how clearly it communicates the candidate's strengths and qualifications. Not only does it summarise how many years of relevant work experience they have, it also highlights a broad range of their most notable accomplishments and skills.
Communicating that you have a range of skills is essential when writing a speculative cover letter because you need to show the company that your skill set is flexible enough that you could fit into any available role.
Creative cover letter example
In some situations, writing a creative cover letter is an effective way to stand out from other applicants and leave a lasting impression on employers.
This cheeky cover letter was written by an experienced candidate applying for a role at a popular podcast.
Right from the introduction, their unconventional tone and humour grab the reader's attention. Then, they move onto an explanation of their experience and qualifications.
The cover letter example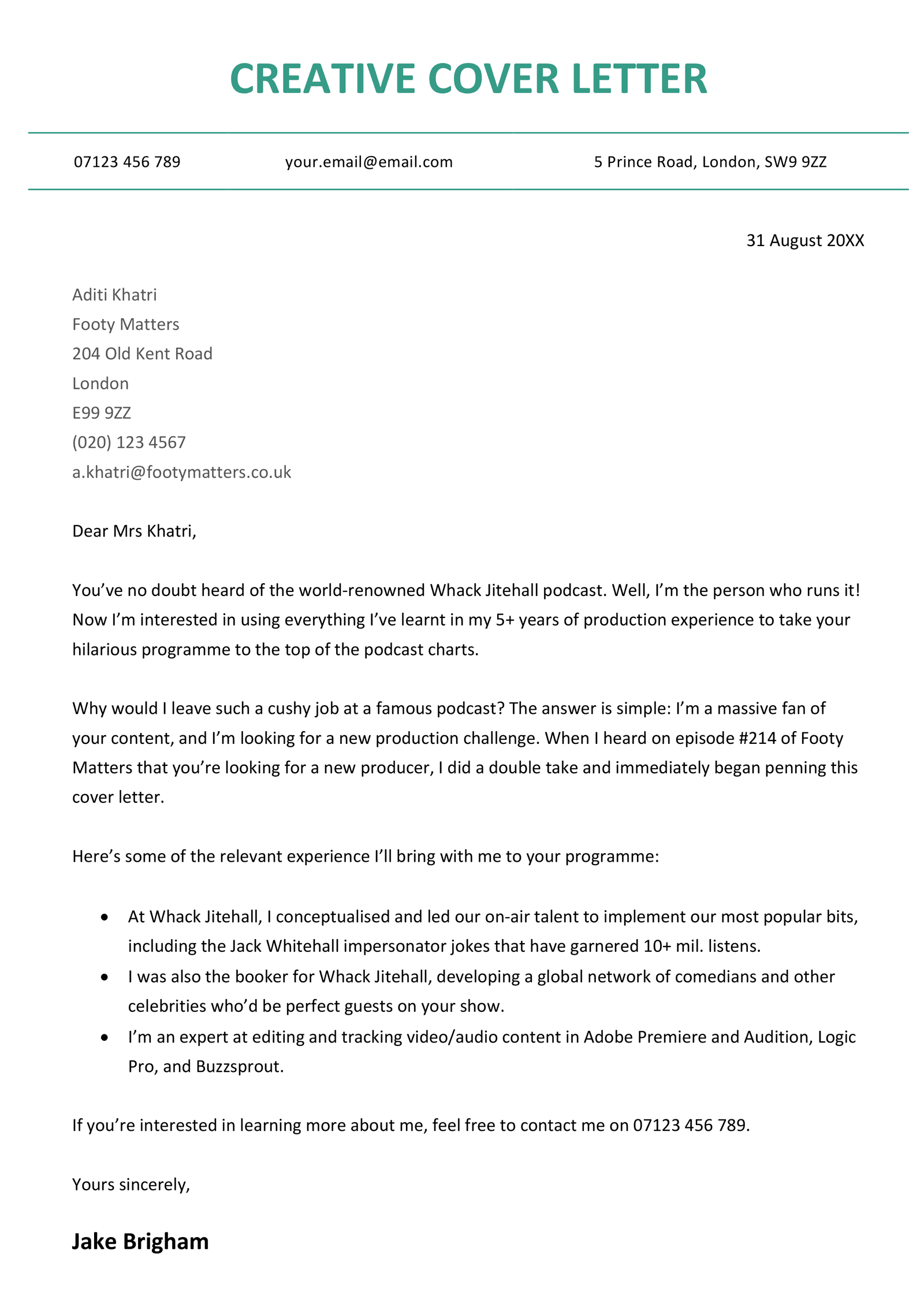 What makes this cover letter good
This cover letter is effective because it balances professionalism with a fun, personable tone.
Adding some personality to your cover letter is a great way to stand out from the competition and present yourself as a likeable, creative person. Additionally, it helps your application leave a lasting impression on the employer.
However, it's also important to focus on substance and maintain professionalism, which this cover letter does exceptionally well. After their unique introduction, the candidate immediately provides a series of brief, impressive examples of their relevant skills and accomplishments to show they have the necessary hard skills.
This style of cover letter is only appropriate when applying to companies with a more casual office culture. If you're applying for work in a formal corporate environment, it's best to keep your tone more buttoned up.
Free cover letter template
If you're still unsure what to include in your cover letter, here's a basic cover letter template that you can use to get started. Simply copy and paste it into Google Docs or Microsoft Word and fill it out with your information:
Salutation
Dear [Mr/Ms] [Contact Person's Name],
Introduction Paragraph
The beginning of your cover letter should provide a quick introduction of who you are. Explain who you are, where you found the job advert, what kind of experience you have, and why you're interested in the job.
Body Paragraphs
The second and third paragraphs of your cover letter should outline your work experience, qualifications, and skills. However, don't simply repeat the information listed on your CV. Instead, address the job advert directly, and explain how your talents align with the the company's needs.
You can also include a bulleted list of your accomplishments to clearly illustrate your skills, like so:
It's best to use hard numbers or percentages in your bullet points to show the real-world impact you made (e.g. 'Increased monthly sales by 12%.')
Research the company to find out what kind of skills they're looking for, and include bullet points that help highlight those skills
Closing Paragraph
The final paragraph of your cover letter should include a polite call-to-action. Tell the employer that you're eager to come in for an interview and further discuss your experience. Then, provide your contact information and politely suggest that you'll reach out shortly to make sure they received your application. Finally, thank them for their time and consideration.
Yours sincerely,
Your First and Last Name