Finding the right Canva CV template can be hard — we searched for CV templates on their website and got a staggering 131,127 results. To help you out, our CV-writing experts went through and picked five of the top Canva CVs for you below.
But because Canva CVs aren't designed for UK job searchers (and trust us, CV formatting matters), you may want to jump ahead to our discussion on whether you should use a Canva CV. Or save time by skipping to our list of free Canva CV template alternatives optimised for UK job applications.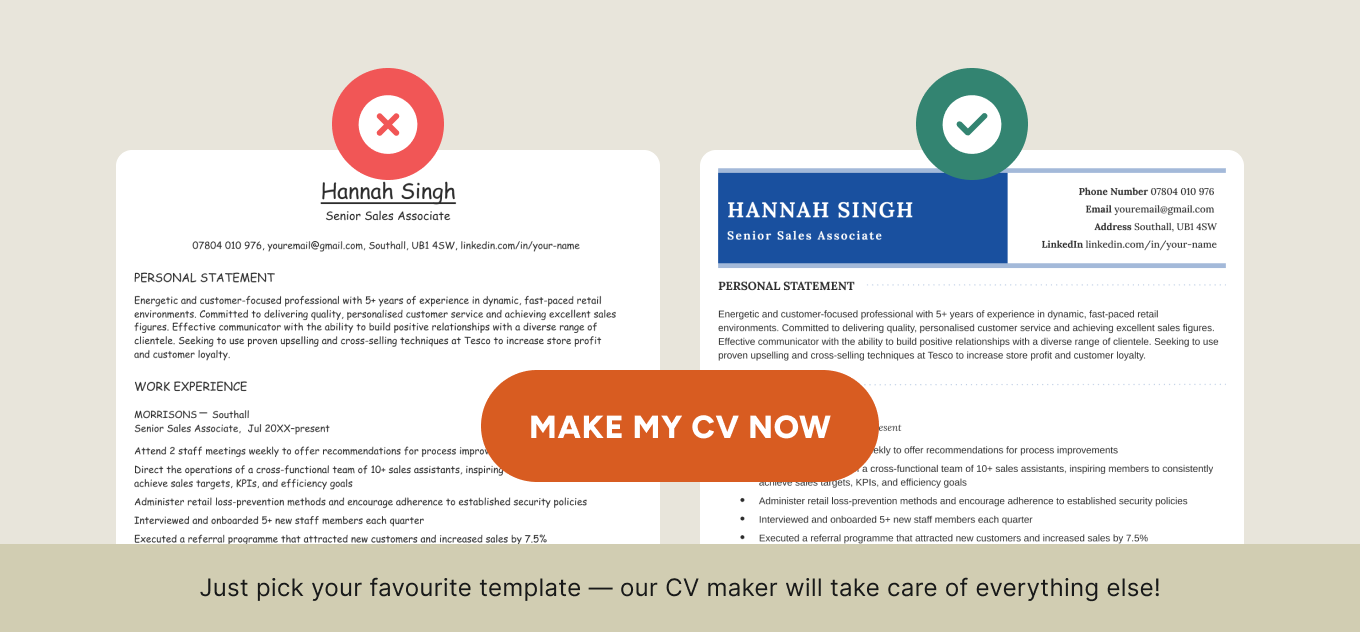 1. Clean and Minimal Graphic Design CV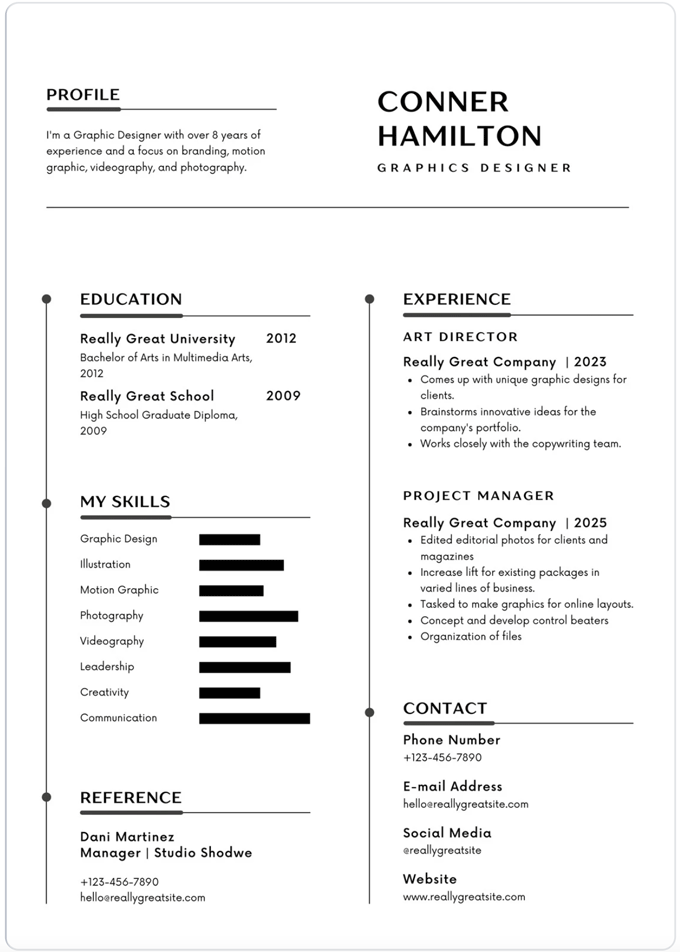 What's good about this free Canva CV
It's designed for easy skimming, with clear section headers and bars visually representing the applicant's skills.
2. White Blue Elegant Minimalist CV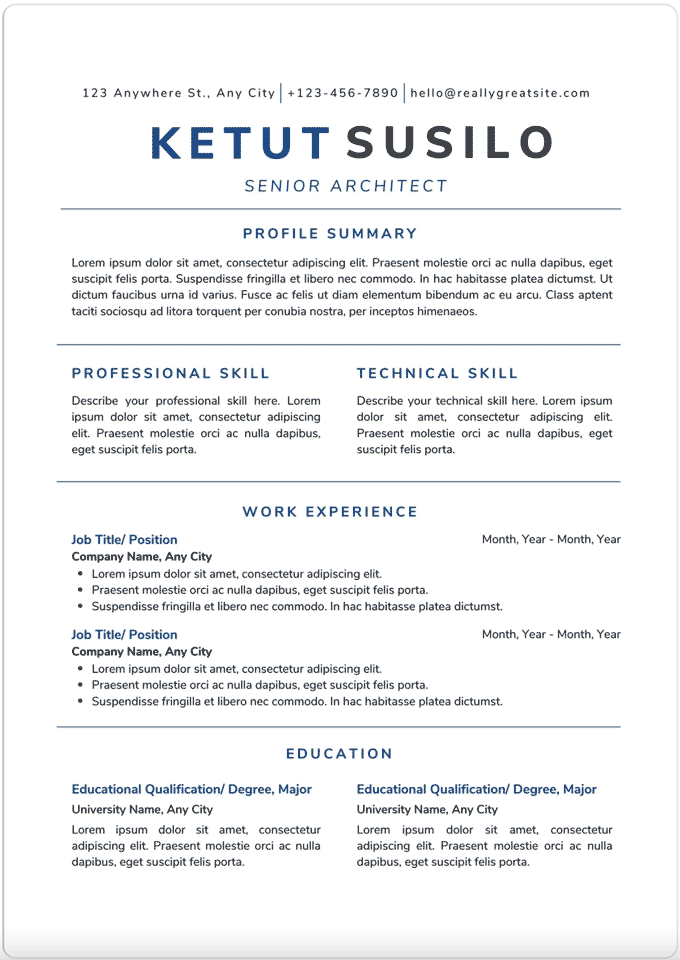 What's good about this Canva CV example
This Canva CV template helps you stand out by putting your name in bold, two-colour text. Also, your contact information is easy for employers to access at the top of the CV headline.
3. Blue Creative CV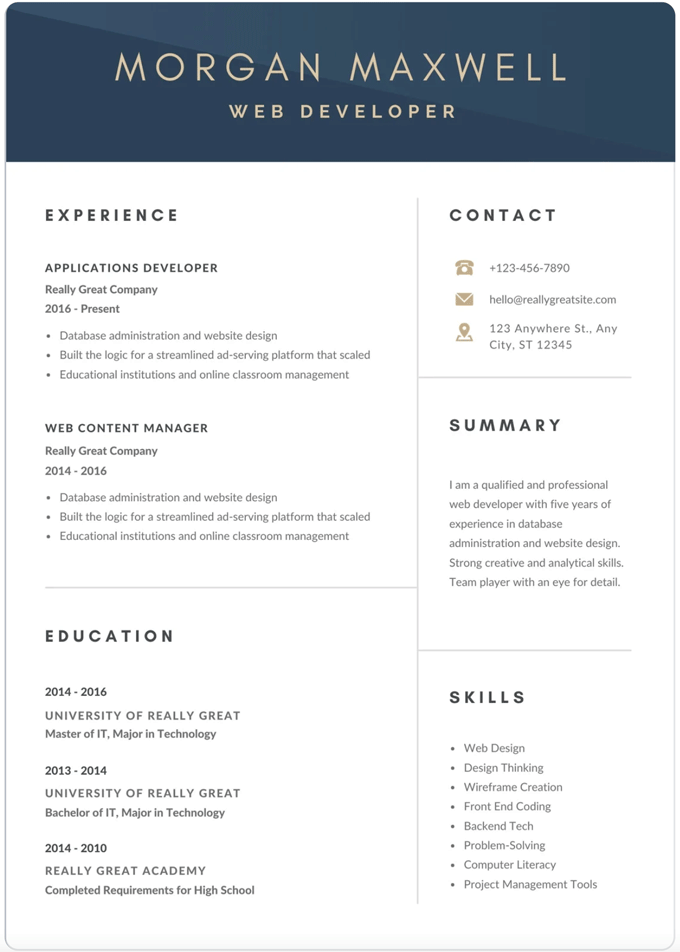 What's good about this Canva CV template
Each section gets its own box in this CV design, making it easy for employers to read. Also, this template's two-toned blue header adds a unique touch.
4. Professional Modern Photo CV
What's good about Canva's CV template with a photo
Bold colors and a large frame around the applicant's headshot make this an eye-catching CV.
5. Professional Modern CV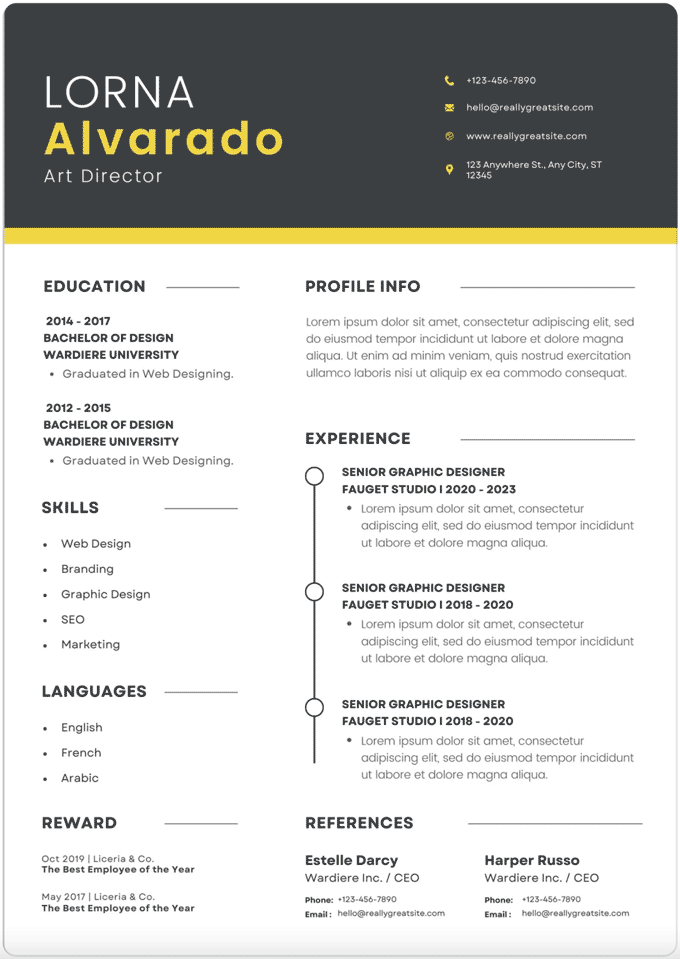 What's good about this Canva CV
We like how the CV header is clearly differentiated from the rest of the sections with a yellow line, making it easy for the recruiter to remember your name and find your contact details. And the large bullets do a good job of pulling the reader's eye to your work experience and education.
Are Canva's CV templates good for UK job applications?
Canva's CV templates may look great, but they're not ideal for UK job searchers. Here's why:
They're not formatted for the UK
Canva's CVs are only one page long, whereas the typical length of a CV in the UK is two pages. Plus, there's no hobbies and interests section, which you'll typically need on a UK CV to show employers youre a well-rounded applicant. Additionally, the education sections don't have slots for your A-levels, GCSEs, or T-levels.
They require some graphic design skills
Using a CV template should be as easy as replacing templated content with your own details. But to retool a Canva CV template for the UK, you'll have to add a second page, copy and paste elements, and line them up yourself. While there are snap-to guides that help you out, you'll likely spend loads of time customising Canva's CV templates for your UK job applications.
Unless you're applying for an acting or modelling role, you shouldn't put a photo on your CV for a UK job. Putting your picture on a CV opens you up to discrimination based on your appearance, and some UK employers immediately bin applications with photos to avoid unfair hiring practices. Canva includes photos on far too many of their templates.
You can still use a Canva CV template if you're confident in your graphic design skills and have time to make it work for your UK job application, or if you don't have much experience and are looking to use a one-page CV template. And if you're applying for a job abroad and need a resume instead of a CV, Canva could work for you.
But your best bet is to use one of these free CV templates already optimised for the UK:
Free Canva CV template alternatives
After looking at what Canva offers, do you prefer a professionally designed CV template with everything you need to make a CV for a UK job already built in? Here are five better alternatives to Canva's CV templates:
1. The basic CV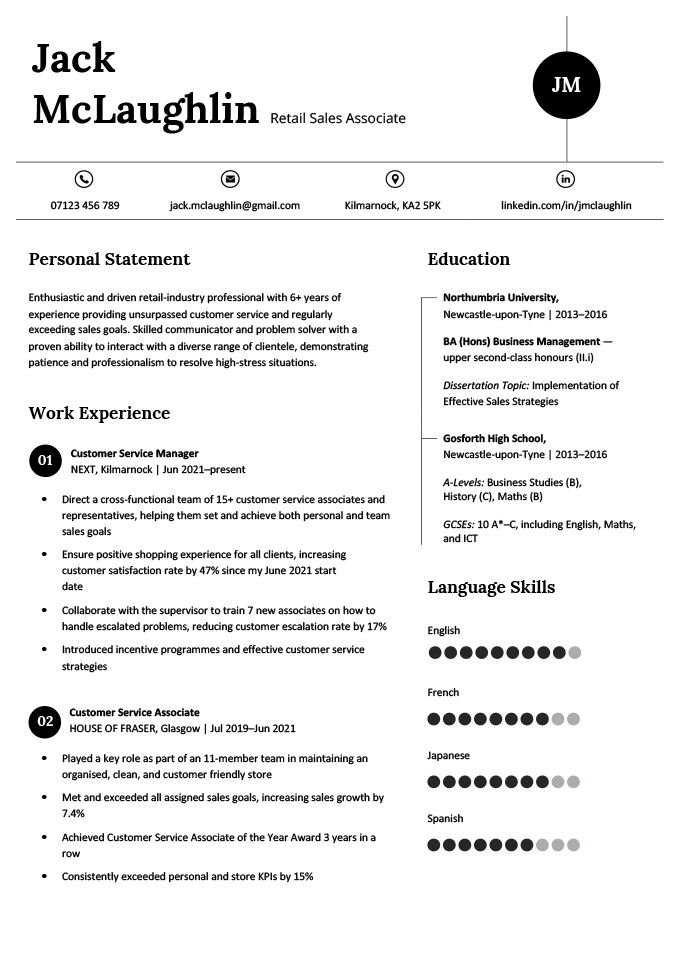 Download CV Template (2 Pages)
Why this is a great alternative to Canva's CV templates
It's designed for easy reading, from the bold header at the top to a numbered outline in the work experience section.
2. The modern CV
Download CV Template (2 Pages)
Why this is a great alternative to a Canva CV
An arrow at the very top of the first page points the reader's eyes in the direction of your job-relevant information. Additionally, this a good CV outline to use if you're changing careers or just graduated from university, as it leads with your skills and education over work experience.
3. The professional CV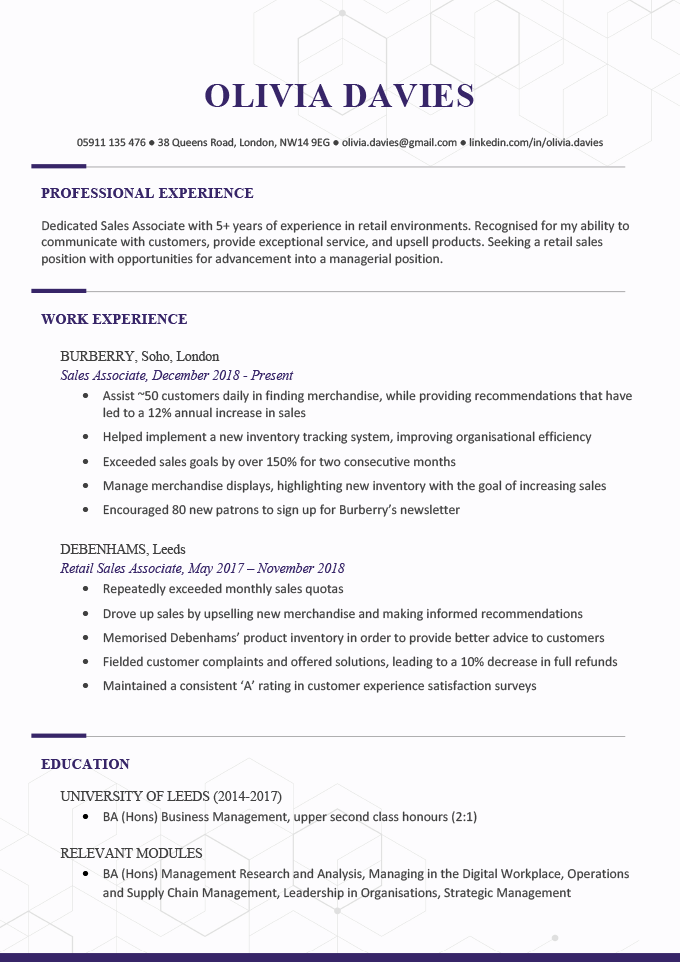 Download CV Template (2 Pages)
Why this is a great alternative to a Canva CV template
A futuristic design in the background causes this CV to stand out to employers and makes it perfect for applying to roles in modern industries, such as software engineer or DevOps.
4. The creative CV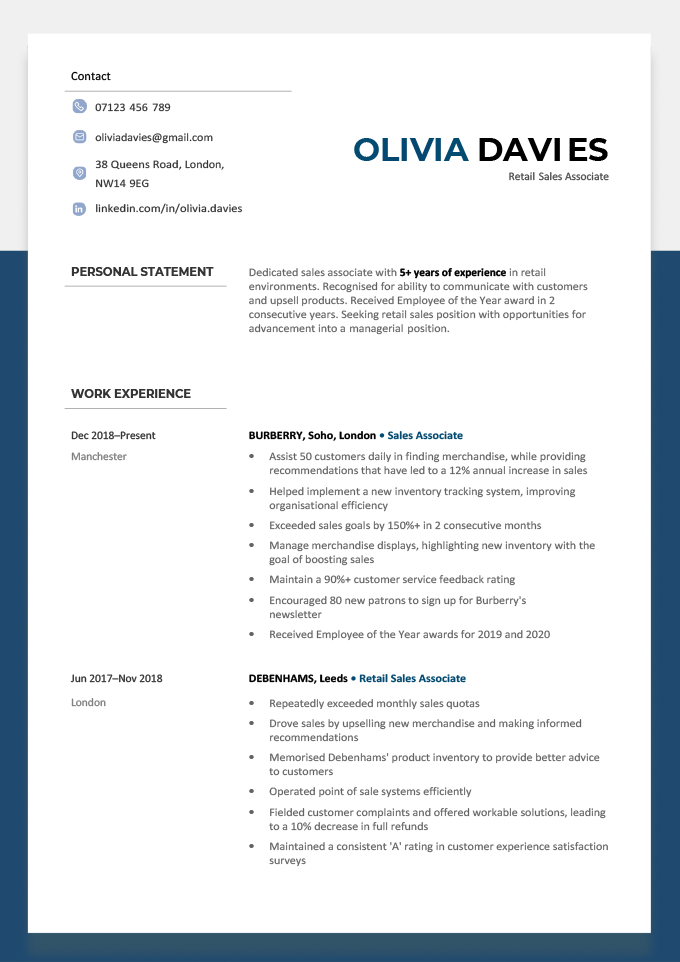 Download CV Template (2 Pages)
Why this is a great alternative to a Canva CV
This creative CV template uses drop-shadow shading to make your job qualifications jump off the page.
5. The photo CV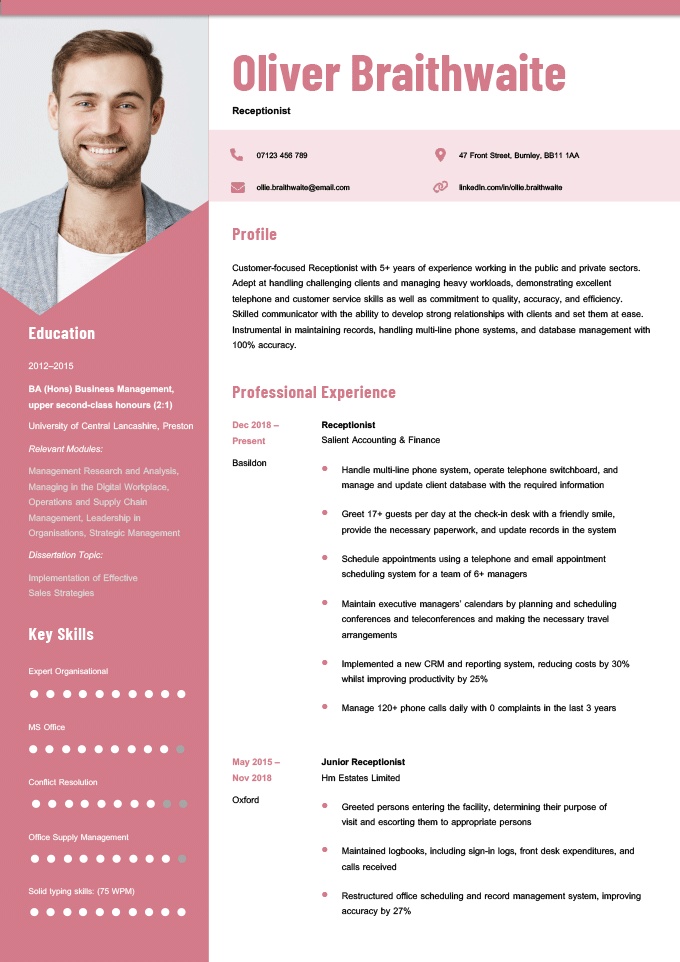 Download CV Template (2 Pages)
Why this is a great alternative to Canva CV templates
If you're one of the few UK job searchers who does need a photo CV — for instance, you're targeting a TV broadcasting role — this is a perfect CV template for your application. Its non-standard photo frame will help you appear unique to recruiters.
Frequently asked questions about Canva career resources
Have unanswered questions about Canva CVs? Here are answers to three of the most common questions asked about the career resources Canva has on offer:
1. Is the Canva resume builder good?
No, the Canva resume builder isn't good. Canva's builders (their CV maker and resume builder are the same thing) offer the interface you get when you click on any of their templates to edit them. So you have to do all of the building yourself.
You may as well learn how to write a CV from scratch yourself.
A good CV maker or (resume builder if you're applying for a job in the US) does all the building work for you. For example, it should ask you questions about your experience and skills, offer prewritten suggestions for bullets and your personal statement based on your answers, and then format everything neatly into a professional CV template for you.
2. Are Canva CVs free?
Only some Canva CVs are free. You'll have to buy a Canva Pro subscription for ~£95.69 to access every CV template in their library.
Canva does have some good free CVs, though. Here's how to easily find every free Canva CV template:
On Canva's homepage, search for 'CV':

On the results page, click 'All Filters':

Tick 'Free' in the Price menu, and then click 'Apply':
3. How do I save my Canva CV as a Word document?
You can't save your Canva CV as a Word document. But here's what you can do to get a Word version of your Canva CV:
Just remember to check carefully to make sure your Word file doesn't have any formatting issues caused by the conversion before you submit it for a job.