Writing an academic CV can be difficult because of the large number of sections this document includes and the amount of information needed to complete each part.
However, if you're applying for a teaching or research position, learning how to write an academic CV is well worth the effort, as submitting one will be required with your application.
To help you get started writing a great academic CV, below we've included an academic CV example and writing guide.
Academic CV Example
First, here's an example of the the first page of an academic CV: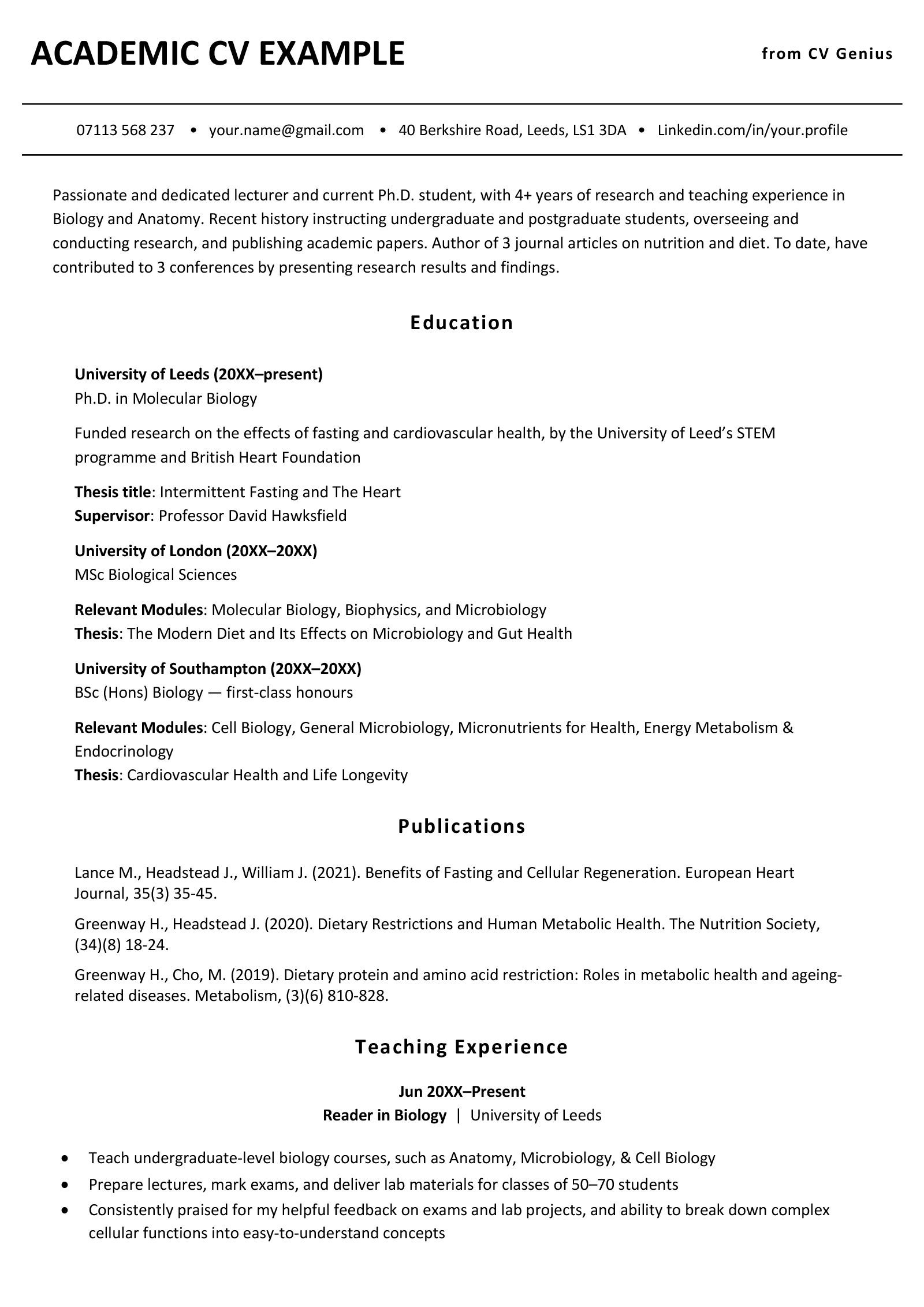 Download This Academic CV Example
How to write an academic CV
Now that you've seen how your academic CV should look when you're finished writing, let's take a look at each individual section.
Unfortunately, there isn't an exact CV layout to follow when writing an academic CV in the UK, and how you choose to write your CV will largely depend on your experience. For instance, you can omit certain CV sections like 'Publications' or 'Additional Qualifications' if they don't apply to you.
You can also disregard the 2-page rule when it comes to writing academic CVs. Due to the large amount of information needed on an academic CV, typically, there's no page length requirement unless the employer or institution states otherwise in the job description.
1. Contact Details
First, add your contact details to your academic CV. Ensure that you include the following five pieces of information about yourself:
full name
professional title (e.g., professor, reader, lecturer)
email
phone number
social media profile (e.g., LinkedIn)
Only put contact information on your academic CV that you check regularly; otherwise, it will be hard to get in contact with you, reducing your chances of getting called for an interview.
2. Personal statement
Your personal statement on your academic CV is your introduction to the employer about why your experience and qualifications make you a perfect candidate for the position you're applying to. In general, you'll need to answer the following:
What can you offer in terms of relevant experience, qualifications, and skills
What are your long-term career and research goals
Typically, you can find the most desirable experience and skills for the research or teaching position you're applying for in the job description. Highlight at least a few of these skills in your personal statement to capture the attention of the employer and encourage them to continue reading.
Here's an example of a personal statement for a biology lecturer applying for a teaching position:
Passionate and dedicated lecturer and current Ph.D. student, with 8+ years of experience in Biology and Anatomy. Experienced in teaching both undergraduate and graduate students, overseeing and conducting research, and publishing academic papers. Author of 3 academic articles on proper nutrition and its impact on individual health and longevity. To date, have contributed to 3 conferences by presenting research results and findings throughout Europe.
3. Education
When applying for research or teaching positions, employers want to learn about your academic background to ensure that you're qualified for the position.
Therefore, your education section should be detailed when writing an academic CV. Make sure that you include the following basic information:
university name
dates attended
expected graduation date (if still studying)
degree classification (if it's 2:1 and above)
information regarding relevant modules and research you conducted while attending
You'll want to include your most recent degree first using reverse chronological order, and from there, list all your other degrees from most current to oldest.
4. Teaching experience
If you're applying to be a lecturer, having previous relevant teaching experience makes all the difference when trying to convince an employer that you're the best candidate for the job.
So mention the following pieces of information in your teaching experience:
any relevant experience, whether it was training, mentoring, or facilitating, such as assistant teaching, lecturing, tutoring, conducting seminars, lab demonstrations, exam marking, or group work
teaching role, institution name, and dates
both part-time or full-time experience is acceptable, as well as paid or unpaid
Presenting your teaching experience in reverse chronological order helps an employer see your most relevant information first. Additionally, provide details about your responsibilities, such as the subject or topics taught, and the number of students or audience size so employers can understand the scope of your teaching expertise.
Be aware that unit codes don't translate from one institution to another, so omit them, and instead state the subject you were teaching to avoid confusing the reader.
5. Awards and funding
Receiving academic awards and funding adds to your overall academic prestige, making you more desirable to employers.
If you've been awarded or received scholarships during undergraduate or postgraduate education, ensure that you include them on your academic CV in your awards and funding section with the following bits of information:
name of scholarship, bursary, grant, fellowship, or other source of academic funding
issuing institution, government body, or organisation name
date of award or funding
why you received the award, and a basic description of it if the name isn't recognisable or descriptive
6. Research experience
Proper scientific research takes time and skill, so employers value candidates who have research experience when applying for academic-related positions.
Similar to your teaching experience, you'll want to include dates, the institution name (where the research took place), your supervisor's name, and a summary of the research.
Additionally, emphasise the following in your research experience:
What's your goal with your research? Where is your research going, or where would you like it to go?
If you're performing research in a group, bold or highlight your name to make it easier for the employer to find.
Highlight your research and technical skills, such as having great project and people management skills.
7. Publications
Publications are an important section on an academic CV because publishing research or scientific articles requires being reviewed by senior, more established professionals in your field.
If you've managed to get your works published, it means you've stuck to solid methodologies during your research, and you'll want to ensure you take credit for it on your academic CV by adding the following information:
list peer-reviewed journal articles first, followed by non-peer-reviewed articles, books, book chapters, forthcoming or future publications, reports, and patents
use proper citation style when listing each publication (following the institution's preferred style is best)
if you're a more senior candidate in your field and have many publications, only list a few that are either most relevant or prestigious
Here's an example of a publications section on an academic CV, using APA citation style:
8. Conferences and presentations
Attending and receiving invitations to conferences and presentations shows employers that you've been networking and exposing yourself to new concepts and ideas within your industry or field.
You'll want to include any conferences you've attended or presentations you've given on your research at seminars, conferences, or other big gatherings.
If you've attended several conferences, only include conferences that you presented at to avoid making this section repetitive and long.
Include the following four pieces of information about the conference:
conference name
date, and research or project title
full list of research presentation contributors or author(s)
context for whether research presentation was a paper, poster, or exhibition
9. Professional memberships
Being invited and accepted into a professional society or club adds credibility to your position as an academic, so include those societies in the professional membership section of your academic CV.
However, it's best to include only societies that are prestigious, well-known, and relevant to your field of research. For example, if your field is biology, listing your membership in the 'Royal Society of Biology' would be relevant and noteworthy.
Here's an example of professional memberships listed on a biology lecturer's academic CV:

10. Research and technical skills
Similar to other CVs, on your academic CV, you'll need to list your key skills, only this time they'll consist of your research and technical skills.
Align your research and technical skills with your teaching and research experience by connecting specific details between them.
For instance, you could verify your Microbiology research skills by including them in your skills section. Then, mention that you've taught courses in Microbiology, or completed a research paper on Microbiology in your other CV sections.
Start by listing your most relevant skills first, followed by less important abilities. The skills you choose to list will largely depend on your field, but, if they pertain to you, try to include:
IT skills, such as proficiency in programming languages, or necessary software and research equipment
research and data methodologies and analysis skills
11. Additional qualifications
Your additional qualifications section is optional and should only be used if you have other qualifications that are relevant in your field, but aren't mentioned elsewhere on your academic CV.
For example, if speaking a foreign language is needed for the academic position you're applying for, your additional qualifications section would be a great place to add your proficiency level.
Here, you can also choose to include research training that shows your progress academically, volunteering experience, or other interests and achievements (if they highlight relevant skills, such as leadership, management, or analysis skills).
12. References
It's worth writing out your CV references section correctly as your referees will be the ones vouching for you if your employer contacts them.
Typically, listing two academic referees and one non-academic referee is acceptable. You'll also want to ensure that your referees are relevant (e.g., work in your same field).
For each entry, make sure you include your referee's:
name and professional title
relationship with you (e.g., supervisor, colleague)
contact information, such as their email address and phone number
Ensure that all your referees have permitted you to use their name. It'd be terrible if an institution was considering you as a candidate, only to contact a referee you provided — who then conveyed you had used their name without permission.
Here's an example of a properly formatted reference section on an academic CV: