Preparing a well-written academic CV is essential if you want to apply for a job as a lecturer, researcher, or any other academic role.
However, academic CVs differ considerably from standard format CVs you use to apply for any other type of job. To write an excellent CV for an academic position, you'll need to highlight relevant areas of your expertise, such as your education, research employment, and publication history.
To help you make a CV that lands you your ideal post in academia, we've included an academic CV example, a template, and a detailed writing guide to take you from header to footer.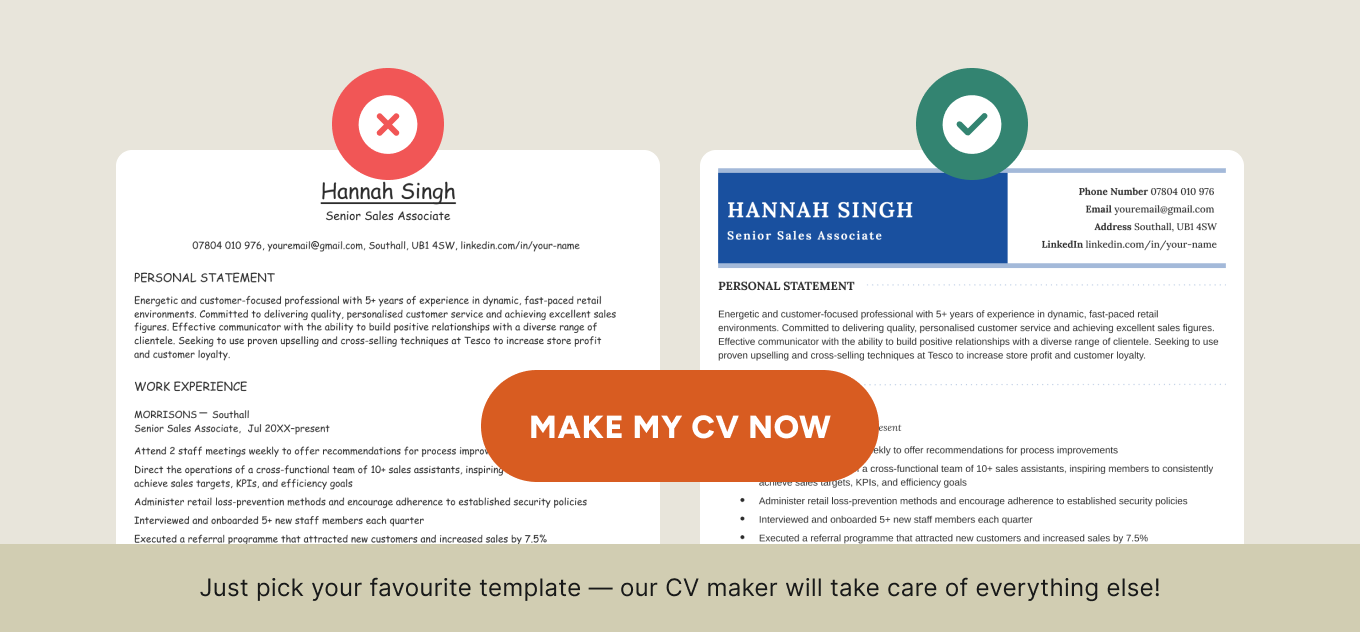 Academic CV Example
First, here's an example of the first page of an academic CV: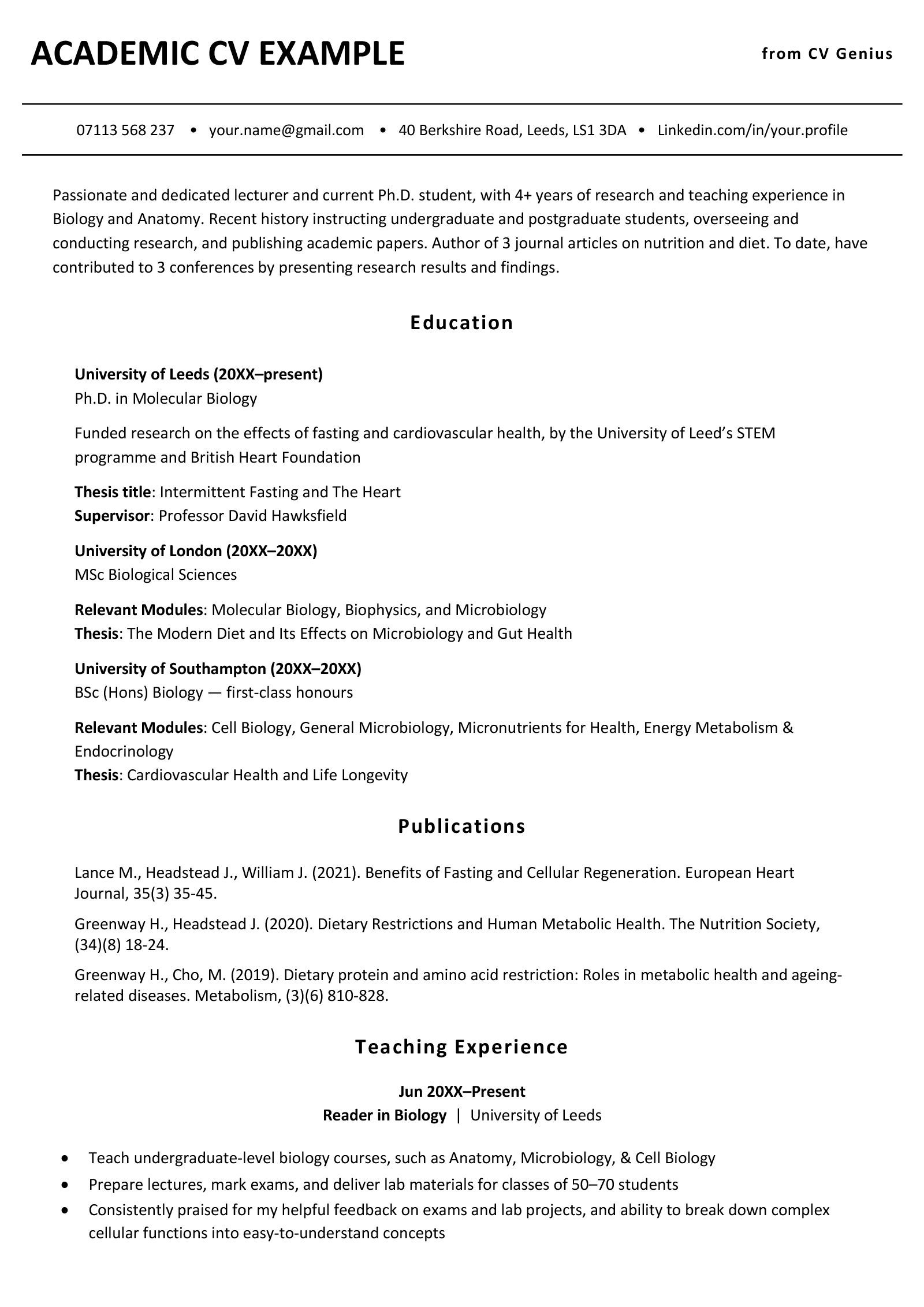 Download this Academic CV Example Template
Academic CV Template
Copy and paste this academic CV template into your word processor and replace the information with your own to quickly format your experience for academic recruiters:
Academic CV Template (Text Format)
1. CV Heading
FIRST AND LAST NAME
Email: youremail@gmail.com | Phone: 07123 456 789 | Address: 01 Drive Street, City, AB1 2CD | Linkedin: linkedin.com/in/yourprofile
2. Personal Statement
Summarise your expertise, key achievements, noteworthy findings, and publications in 5-7 sentences.
3. Education
List out your qualifications, starting with the most recent degree you obtained. You should include the following:
The name of the institution
The type of degree obtained
Start and end dates
Your thesis or dissertation title
4. Publications
Highlight your most reputable publications (journal articles, conference papers, books, book chapters etc.), including publisher names and dates.
5. Research
Indicate your research experiences, including methods you used, noteworthy findings, and research interests.
6. Awards and funding
Include prizes, honours, and other recognitions for your work, as well as the year they were awarded and the names of the bodies that awarded them. Do the same for any funding that your research was granted. It's also acceptable to split awards and funding into separate sections to make the information easier to read.
7. Teaching experience
List all your teaching experience, including lecturing, small group teaching, lab demonstration, and assessment roles. You may need to group these by institution or role to make it easier for the employer to read. Include start dates and end dates.
8. Conferences and presentations
Name recent conferences and seminars (within the last 7 years) that you presented at or sat on the panel at.
9. Professional memberships
List your affiliations or memberships that have been active in the past 5 years.
10. Research and technical skills
List the technical skills that enable you to do hands-on research. Group skills by category to make this section easier to read.
11. Additional qualifications
Add any noteworthy qualifications that you couldn't fit in the previous sections. Include the qualification title, date obtained, and awarding institution.
12. References
Give the names of 3 people who can vouch for your expertise and character.
13. Appendices (Optional)
Here's where you can include additional information that you weren't able to fit in the previous sections (full lists of publications, short research projects, excerpts).
What is the difference between an academic CV and regular CV?
If you've previously written a CV for a non-academic job — or have just been browsing traditional CV examples for inspiration — you'll notice that academic CVs are written in a unique way.
Length is one way that the approach to writing an academic CV differs from how to write a CV for a job outside of academia. Unlike standard CVs, which are normally about two pages, academic CVs are often much longer. There's no official guideline for how long an academic CV should be, though four pages is considered appropriate.
If your academic CV is excessively long, consider creating an appendix for any accomplishments that are relevant but not essential to the position.
Furthermore, you have a lot more flexibility in how you organise your academic CVs than you do with a standard CV format. Your contact information, personal statement, and education should be listed first, but you can order the other sections based on their relevance to the specific role.
How to write an academic CV — section-by-section guide
The list of sections you can include on an academic CV is long. Some sections must be included regardless of your experience or the position you're applying for (e.g., your education section).
You can omit other sections if they aren't relevant to the post (e.g., don't include a professional memberships section if your recent memberships aren't relevant to the post).
Still, you should consider all of the following areas of your experience when writing your academic CV, as they might be essential to your specific application. Here's a comprehensive list:
1. Contact details
First, add your contact details to your academic CV. Ensure that you include the following information about yourself:
full name
professional title (e.g., professor, reader, lecturer)
email
phone number
social media profile (e.g., LinkedIn)
Provide a phone number or email address that you check frequently. You don't want to miss out on an invitation to an interview.
For the same reason, be sure to use a professional-sounding email address — your.name@gmail.com is appropriate, crazybaby49@gmail.com isn't.
2. Personal statement
Your personal statement (also called a career summary) should emphasise your suitability for the role by outlining:
your disciplines
years of experience
any outstanding achievements or publications
Personal statements can be longer on academic CVs than personal statements on standard industry CVs, but you should still strive to be concise. Limit your personal statement to five to seven sentences and be selective about what you include. Any information that isn't essential to the post should be moved to an appropriate section below.
Here's an example of a personal statement for a teaching position: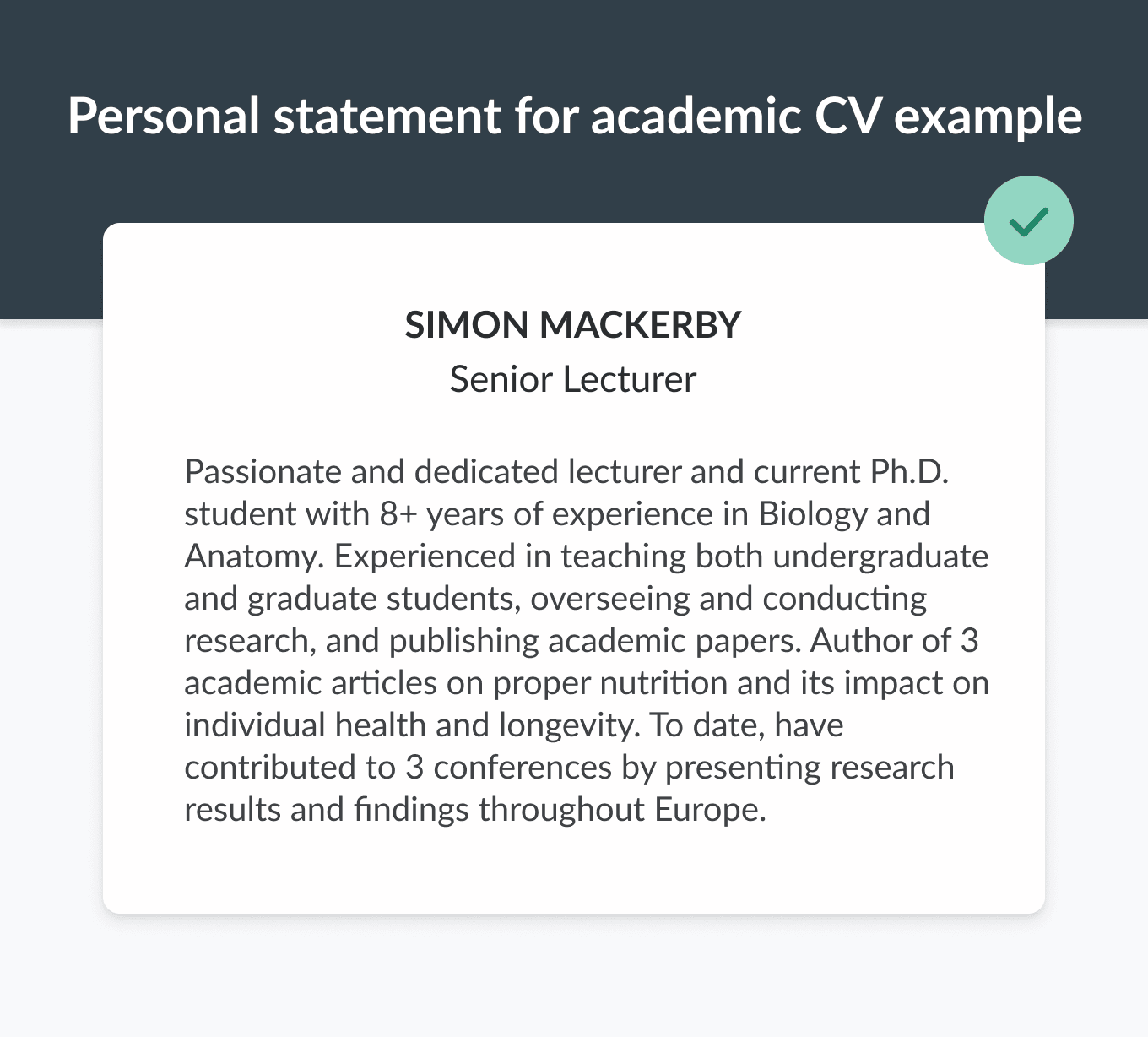 3. Education
When you apply for research or teaching positions, employers need to know about your academic background to ensure you're qualified for the position.
When writing an academic CV, order your qualifications starting with your most recent degree. You should include the following information:
Name of the institution
Dates attended (or expected graduation date if you're still studying)
Degree type (e.g., Ph.D., MA, BSc)
Your research area
Noteworthy publications
Relevant modules
You'll want to include your most recent degree first using reverse chronological order, and from there, list all your other degrees from most to least recent.
4. Publications
Your publications section is arguably the most important section on your academic CV, and it should feature early in your application.
List your publications by type in the following order:
peer-reviewed articles
non-peer-reviewed articles
books
book chapters
forthcoming or future publications
reports
patents
If you've been published numerous times, only include works that are the most relevant to the position you're applying for. You can create an appendix at the end of your CV for any additional works you want to include.
Cite your publications as you would in an academic paper, using the preferred citation style of the institution you're applying to.
Here's an example of a publications section on an academic CV, using APA citation style: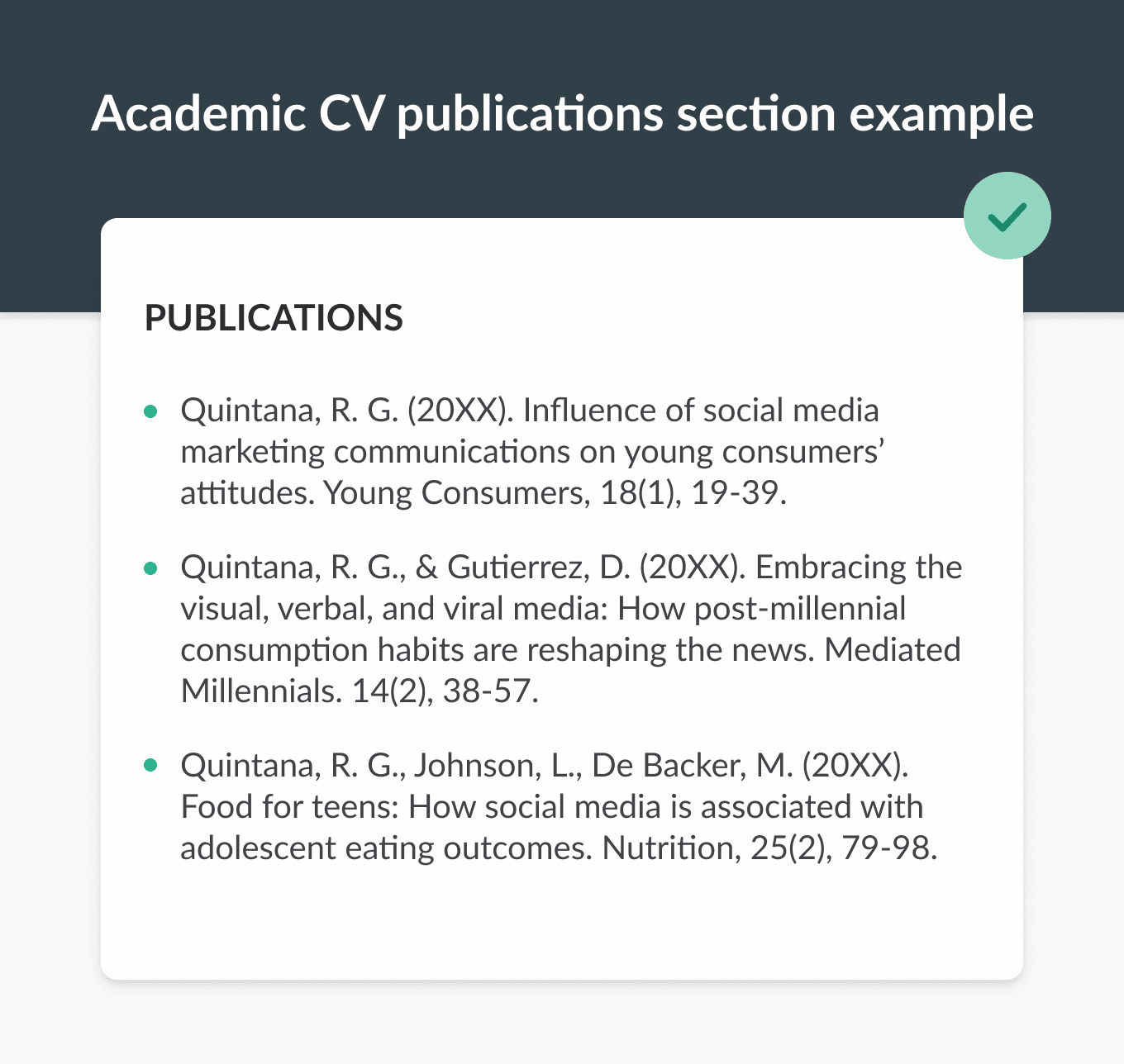 5. Teaching experience
If you're applying to be a lecturer, having previous teaching experience demonstrates that you're well-equipped for the lecture theatre.
Your teaching experience section can include any relevant experience, whether it was training, mentoring, or facilitating, such as assistant teaching, lecturing, tutoring, conducting seminars, lab demonstrations, exam marking, or group work.
Group your teaching experience by type if this section is long.
Make sure each entry includes:
your job title
the institution name
your dates of employment
subjects or modules taught
Additionally, you may include the class size and other relevant information, such as your individual responsibilities. Don't include course codes — they aren't the same across institutions and may confuse the reader.
Here's an example of a properly formatted teaching experience entry:
Order dates of employment from most recent experience to least recent.
6. Awards and funding
Academic awards and funding add to your academic prestige, making you more desirable to employers. You can include scholarships, bursaries, grants, fellowships, or any other source of academic funding in this section.
Each award and funding entry should include:
the award name
the name of the issuing institution, government body, or organisation name
the date awarded
7. Research employment
Employers will want to know about any researcher roles you have held throughout your academic career.
Similar to your teaching experience, include dates, the institution name, your supervisor's name, and a summary of the research.
Additionally, bullet the following under each entry in your research employment section:
Your research area and objective
Methods used
Noteworthy findings
Any relevant technical skills you used
8. Conferences and presentations
Attending and receiving invitations to conferences and presentations shows employers you've exposing yourself to new ideas and building connections in your industry.
Early in your academic career, this section will likely be a list of conferences you've attended.
If you've attended several conferences, be more selective about which you include.
Only list conferences you've attended in the last five to seven years. You can always include a complete list of the conferences you've attended in the appendix section.
For each conference you include in this section, be sure to mention:
the conference name
the date it was held
your research title (if applicable)
any contributors or author(s)
whether the research presentation was a paper, poster, or exhibition
9. Professional memberships
Being affiliated with a professional society or club adds prestige to your academic career, which is why you should include any noteworthy memberships in this academic CV section.
Limit your professional membership section to affiliations that are prestigious, well-known, and relevant to your field of research. For example, being a member of the Royal Society of Biology would be relevant and noteworthy for a biologist.
Here's an example of professional memberships listed on a biology lecturer's academic CV:
10. Technical skills
Your technical skills are the abilities that you need to do any specific job — e.g., qualitative data analysis for a sociology researcher.
As academic work is highly specialised, you will have already developed various technical skills by this point in your academic career. These skills will be particularly valuable if the position you're applying for involves hands-on research.
Make sure your research and technical skill section is readable by grouping skills by category and organising them by relevance to the position you're applying for.
A well-organised technical skills section might look like this:
Data collection: community outreach, survey design, snowball sampling, indexing

Analytical skills: statistical analysis (t-tests, ANOVA, chi-square), causal modelling, longitudinal data analysis

Project management: grant writing, program evaluation, academic administration
11. Additional qualifications
Use this optional section to include any notable qualifications that you didn't include in the previous sections. As with previous CV sections, you should include:
the qualification name
when you obtained it
the awarding institution
12. References
Though CV references for non-academic jobs are provided on a separate document, you should include a references section on your academic CV.
Include three references who can vouch for your character and expertise.
Ideally, your references should work in the same academic field as you. It's common in academic CVs to feature your Ph.D. supervisor as well as at least one other academic.
For each reference, you should include the person's:
name
professional title
relationship to you (e.g., supervisor, colleague)
contact information, such as their email address and phone number
Here's an example of a properly formatted reference section on an academic CV:
Always ask your references before adding them to your CV. Failing to check that a person is willing to be listed as a reference could make you appear dishonest and undermine your entire application.
Frequently asked questions about academic CVs
Here are answers to three of the most common CV questions asked about academic CVs:
1. How should I list my education on my academic CV?
When listing your education on your academic CV, you should order your degrees from the highest degree you obtained to the lowest. If you have two or more degrees at the same level (e.g., two Master's degrees), then list the most recent degree at that level first.
For each degree, include the name of the institution, the degree earned (Ph.D., MSc, BA), the field of study, and the dates you attended the institution:
Ph.D in Electronic and Computer Engineering, Brunel University London, 2018-2022.
MSc in Computer Science, University of Warwick, 2015-2018.
BSc (Hons) Computer Science, University of Hull, 2012-2015.
2. How should I list my publications on my academic CV?
When listing your publications, group them by type (e.g., journal articles, books, book chapters, conference papers) and order the entries in each group by date, starting with the most recent work you had published.
Write each entry as you would in a bibliography using the preferred citation style of the hiring institution. If you aren't clear which citation style the institution prefers, cite your works in a widely recognized format such as APA, MLA, or Chicago.
3. Do I need to put work experience on an academic CV?
Work experience is less important on academic CVs than standard industry CVs, but you should still include relevant work experience if you have it.
List teaching or lecturing experience in a separate teaching experience section. Group your teaching experience by category and order individual experiences by date, starting with the most recent experience.
You should include work experience outside of academia if it helps you explain gaps in your academic career and is relevant to the position you're applying for. Format non-academic work experience as you would in a standard CV. Don't go into detail about your responsibilities unless they help qualify you for the position you're applying for.
More resources for finding a job in your industry
Here are more resources to help you in your search for a rewarding new post: