The purpose of a resume is to describe your career and/or studies to employers in a way that convinces them to interview you.
Here's a copy-and-paste resume example that can help any job applicant impress their target employer:
Copy-and-paste resume example with writing tips
YOUR NAME
Job Title
07123 456 789 | Linked.com/in/your.name | email@email.com | Street, Town/City, AA1 1AA
RESUME SUMMARY
In the first sentence, highlight your current job title and your years of experience. In the next sentence, showcase one or two of your biggest achievements from your current or previous jobs. Finally, highlight some key skills and state you're looking to apply these skills in the position of [Job Title] at [Company Name].
WORK EXPERIENCE
Job Title
Company/Organisation
Month 20xx–present, Town/City
Include a bulleted list of your accomplishments
Add numbers to some of these bullet points to demonstrate your accomplishments
Use four or fewer bullet points for each position you include on your resume
Job Title
Company/Organisation
Month 20xx–Month 20xx, Town/City
List relevant accomplishments from a previously held position
If you no longer perform this job, make sure you use past tense verbs to describe the experience
Unless you lack work experience, all the positions you list on your resume should be relevant to the job you're applying for
EDUCATION
Name of University
20xx–20xx, Town/City
BA/BSc (Hons), Degree Title, Degree Classification (1st/2:1/2:2/3rd class honours)
Name of Secondary School
20xx–20xx, Town/City

A-Levels: Subject 1 (Grade), Subject 2 (Grade), Subject 3 (Grade)
GCSEs: 10 Grades 9–4/A*–C, including Maths, English, and ICT
KEY SKILLS
List your relevant skills and non-academic qualifications
Include technical skills, or soft skills if you're applying for an entry-level job
Be as specific as possible with your technical skills (i.e., mention the names of software or tools you can use)
HOBBIES & INTERESTS
List some of your notable hobbies, especially if they use skills in common with the job you want
Employers like to get to know the person they're hiring, and hobbies are a great way to show you have a life outside of work
Add any organisations or sport clubs you're involved in
Download Resume Example (Word)
If you're looking for something more specific to your situation, we also have:
5 resume examples for wherever you're at in your career
Your resume evolves throughout your career. So here are example resumes for when you:
1. No work experience resume sample (functional format)
If you haven't worked before, your resume should highlight skills from your education, internships, or voluntary work. Here's a good resume example with no work experience that still impresses employers:
Download Resume Example (Word)
No work experience resume sample (text version)
OBJECTIVE
Highly motivated and dedicated BSc (Honours) Accounting and Finance graduate, passionate about building a career in accounting and financial planning. Possess a strong foundation in theoretical aspects of accounting, enhanced by hands-on voluntary experience in data entry. Eager to demonstrate excellent analytical and financial planning skills as an Accountant at Xeal Pharma.
EDUCATION
Birmingham City University, Birmingham
2020–2023
BSc (Honours) Accounting and Finance — 2.1
SKILLS
Accountancy
Leveraged Excel and accounting software (QuickBooks, Sage 50) to manage and analyse datasets for a mock business, improving data accuracy by 20%
As a Data Entry Volunteer at Queen Elizabeth Hospital, ensured the precise and confidential handling of sensitive financial information, processing over 1,000 records
Conducted thorough audits of financial statements in 2 uni projects, identifying discrepancies and providing recommendations for improvement
Financial Planning
Crafted a financial plan in a uni assignment that optimised a hypothetical company's investment portfolio, projecting a 15% return on investment over 5 years
Applied strategic budgeting techniques to allocate resources efficiently, reducing unnecessary expenses by 25% for a friend's textbook reselling business
Awarded 1st place in university financial planning competition
Communication
Delivered clear and compelling class presentations on financial strategies and outcomes, effectively communicating complex concepts
Engaged in active listening and provided constructive feedback during group discussions and presentations, strengthening team outcomes and individual performances
Voluntary Experience
Data Entry Volunteer, May 2023–Present
Queen Elizabeth Hospital, Edgbaston, Birmingham 
Hobbies & Interests
Yoga and meditation
Horseback riding
Why this is a good resume sample: The applicant gives specific examples of their job-relevant skills from their university projects and voluntary experience. Details like these show your target employer that you have the necessary knowledge and training for their open position.
2. Resume example with work experience (reverse-chronological structure)
If you have relevant professional experience, present it in reverse-chronological order to show how you've progressed in your career, like so:
Download Resume Example (Word)
Work experience resume example (text version)
SUMMARY
A dynamic and results-driven Account Manager with extensive experience in managing and cultivating client relationships, enhancing customer satisfaction, and driving business growth. Proven track record of delivering exceptional client service, executing strategic account plans, and leading cross-functional teams. Adept at identifying client needs and delivering tailored business solutions to enhance profitability.
PROFESSIONAL EXPERIENCE
Account Manager
ASG International, Manchester
June 2021 – Present
Fostered and maintained strong relationships with key clients, ensuring high levels of satisfaction and loyalty
Collaborated with cross-functional teams to develop and implement strategic account plans, driving a 15% increase in account profitability
Conducted regular account reviews to identify growth opportunities and areas for improvement, resulting in a 20% increase in customer retention rates
Junior Account Manager
HH Global, Manchester
October 2018 – June 2021
Facilitated communications between clients and internal teams, ensuring that clients' needs were addressed promptly, improving project timelines by 25%
Implemented customer feedback into the enhancement of product and service offerings, contributing to a 20% improvement in product performance and client satisfaction
Developed and delivered comprehensive reports and presentations to clients
EDUCATION
BSc (Hons) Management (Marketing) — 2:1
(2015 – 2018)
University of Manchester, Manchester
SKILLS
Client Relationship Management: Expert at establishing and nurturing profitable relationships, understanding client needs, and delivering exceptional service
Strategic Planning: Proficient in developing and implementing comprehensive account strategies to drive business growth and success
Team Leadership: Skilled at leading and motivating cross-functional teams to exceed objectives and enhance client satisfaction
Communication: Strong verbal and written communication skills, able to convey complex information clearly and effectively
HOBBIES & INTERESTS
Hiking enthusiast
Boardgame expert
Amateur chef
What makes this a good example resume: The applicant who wrote this resume smartly emphasises their job-related work history by giving it the most prominent space on the page. Putting relevant experience on your resume shows employers that you can quickly become a contributing member of their team.
3. Career change resume sample (hybrid layout)
Here's a good example of a resume written by someone changing careers, going from customer service to sales: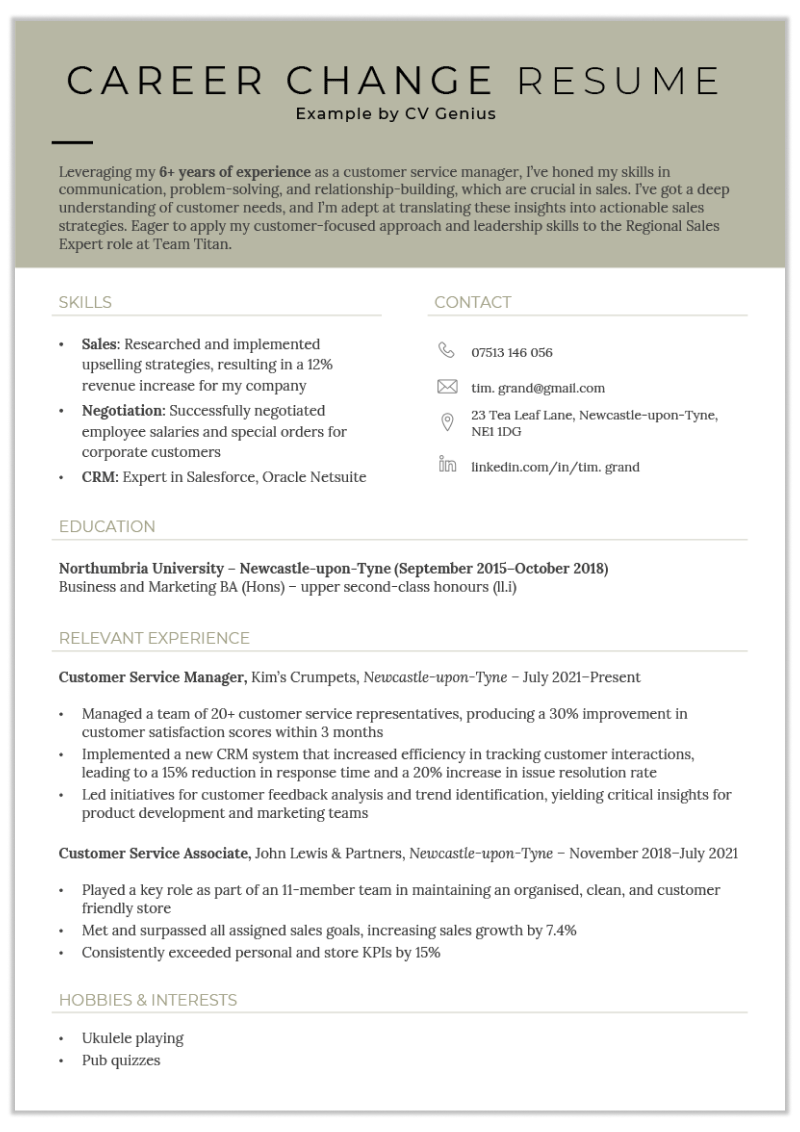 Download Resume Example (Word)
Career change resume sample (text version)
SUMMARY
Leveraging my 6+ years of experience as a customer service manager, I've honed my skills in communication, problem-solving, and relationship-building, which are crucial in sales. I've got a deep understanding of customer needs, and I'm adept at translating these insights into actionable sales strategies. Eager to apply my customer-focused approach and leadership skills to the Regional Sales Expert role at Team Titan.
SKILLS
Sales: Researched and implemented upselling strategies, resulting in a 12% revenue increase for my company
Negotiation: Successfully negotiated employee salaries and special orders for corporate customers
CRM: Expert in Salesforce, Oracle Netsuite
EDUCATION
Northumbria University – Newcastle-upon-Tyne (September 2015–October 2018)
Business and Marketing BA (Hons) – upper second-class honours (ll.i)
RELEVANT EXPERIENCE
Customer Service Manager, Kim's Crumpets, Newcastle-upon-Tyne – July 2021–Present
Managed a team of 20+ customer service representatives, producing a 30% improvement in customer satisfaction scores within 3 months
Implemented a new CRM system that increased efficiency in tracking customer interactions, leading to a 15% reduction in response time and a 20% increase in issue resolution rate
Led initiatives for customer feedback analysis and trend identification, yielding critical insights for product development and marketing teams
Customer Service Associate, John Lewis & Partners, Newcastle-upon-Tyne – November 2018–July 2021
Played a key role as part of an 11-member team in maintaining an organised, clean, and customer friendly store
Met and surpassed all assigned sales goals, increasing sales growth by 7.4%
Consistently exceeded personal and store KPIs by 15%
HOBBIES & INTERESTS
Ukulele playing
Pub quizzes
Why you should follow this resume sample: If you're exploring a new career path, you should emphasise your transferable skills — your abilities from your current industry that are also applicable in your target field — at the top of your resume. Additionally, describe how you used your transferable skills to produce results similar to the ones your new employer will expect.
4. Student or recent graduate resume example
Writing a student resume can be challenging. As a student, you likely don't have much work experience yet, so what exactly do you put on your resume to convince employers to interview you?
This student resume example shows you what to include in your job application document: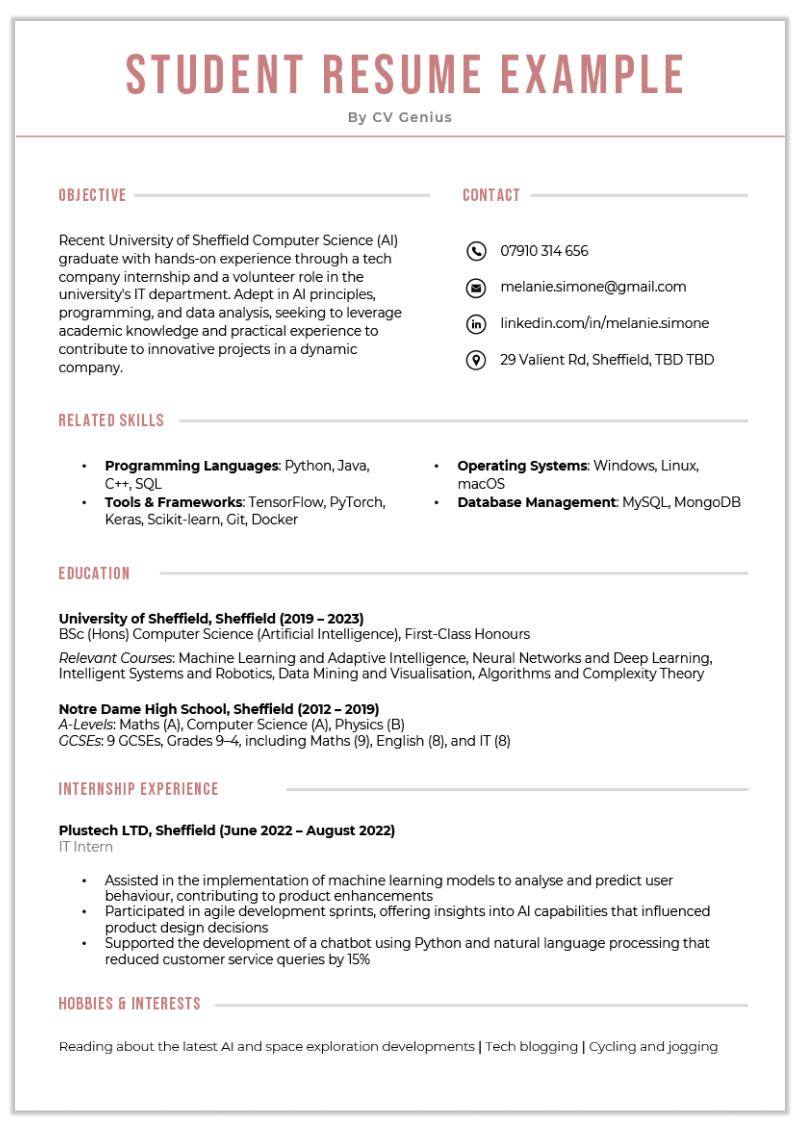 Download Resume Example (Word)
Student/recent graduate resume example (text version)
OBJECTIVE
Recent University of Sheffield Computer Science (AI) graduate with hands-on experience through a tech company internship and a volunteer role in the university's IT department. Adept in AI principles, programming, and data analysis, seeking to leverage academic knowledge and practical experience to contribute to innovative projects in a dynamic company.
RELATED SKILLS
Programming Languages: Python, Java, C++, SQL
Tools & Frameworks: TensorFlow, PyTorch, Keras, Scikit-learn, Git, Docker
Operating Systems: Windows, Linux, macOS
Database Management: MySQL, MongoDB
EDUCATION
University of Sheffield, Sheffield (2019 – 2023)
BSc (Hons) Computer Science (Artificial Intelligence), First-Class Honours
Relevant Courses: Machine Learning and Adaptive Intelligence, Neural Networks and Deep Learning, Intelligent Systems and Robotics, Data Mining and Visualisation, Algorithms and Complexity Theory
Notre Dame High School, Sheffield (2012 – 2019)
A-Levels: Maths (A), Computer Science (A), Physics (B)
GCSEs: 9 GCSEs, Grades 9–4, including Maths (9), English (8), and IT (8)
INTERNSHIP EXPERIENCE
Plustech LTD, Sheffield (June 2022 – August 2022)
IT Intern
Assisted in the implementation of machine learning models to analyse and predict user behaviour, contributing to product enhancements
Participated in agile development sprints, offering insights into AI capabilities that influenced product design decisions
Supported the development of a chatbot using Python and natural language processing that reduced customer service queries by 15%
HOBBIES & INTERESTS
Reading about the latest AI and space exploration developments | Tech blogging | Cycling and jogging
What makes this a good example of a resume for students: This resume features detailed skills and education sections at the top, followed by job-relevant internship experience. If you've been focused on your studies and haven't built up professional experience yet, highlight your education and applicable skills to make a great resume that helps you land your target role.
5. Resume sample for entry-level applicants
This is an excellent example of what to write in an entry-level resume: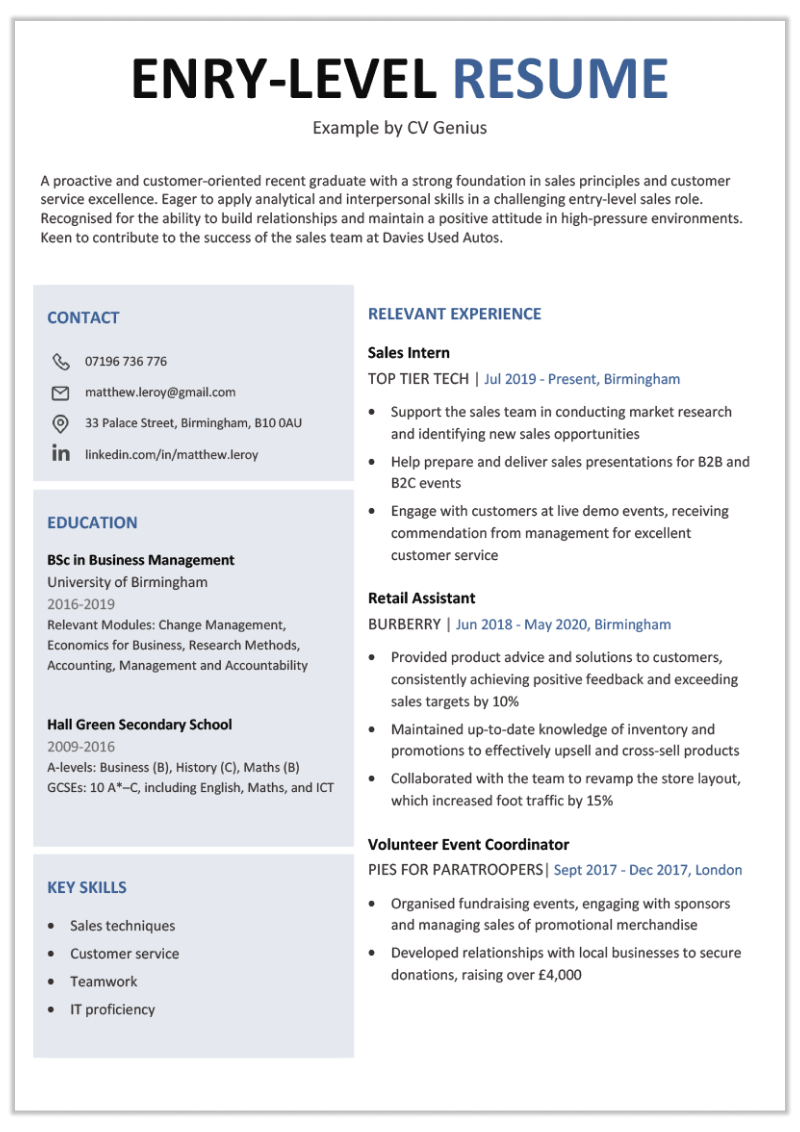 Download Resume Example (Word)
Entry-level resume sample (text version)
SUMMARY
A proactive and customer-oriented recent graduate with a strong foundation in sales principles and customer service excellence. Eager to apply analytical and interpersonal skills in a challenging entry-level sales role. Recognised for the ability to build relationships and maintain a positive attitude in high-pressure environments. Keen to contribute to the success of the sales team at Davies Used Autos.
RELEVANT EXPERIENCE
Sales Intern
TOP TIER TECH | Jul 2019 – Present, Birmingham
Support the sales team in conducting market research and identifying new sales opportunities
Help prepare and deliver sales presentations for B2B and B2C events
Engage with customers at live demo events, receiving commendation from management for excellent customer service
Retail Assistant
BURBERRY | Jun 2018 – May 2020, Birmingham
Provided product advice and solutions to customers, consistently achieving positive feedback and exceeding sales targets by 10%
Maintained up-to-date knowledge of inventory and promotions to effectively upsell and cross-sell products
Collaborated with the team to revamp the store layout, which increased foot traffic by 15%
Volunteer Event Coordinator
PIES FOR PARATROOPERS| Sept 2017 – Dec 2017, London
Organised fundraising events, engaging with sponsors and managing sales of promotional merchandise
Developed relationships with local businesses to secure donations, raising over £4,000
EDUCATION
BSc in Business Management
University of Birmingham
2016-2019
Relevant Modules: Change Management, Economics for Business, Research Methods, Accounting, Management and Accountability
Hall Green Secondary School
2009-2016
A-levels: Business (B), History (C), Maths (B)
GCSEs: 10 A*–C, including English, Maths, and ICT
KEY SKILLS
Sales techniques
Customer service
Teamwork
IT proficiency
What ideas you should take from this entry-level resume example: When you apply for an entry-level position, show how your experience — whether it's from a different industry, an internship, or a voluntary role — will help you quickly make a positive impact on the company. Also, you can list modules from your university degree (if you have one) to show that you've studied information relevant to the job you want.
More resume examples for different situations
You should adapt your resume to whatever your particular situation is, and the best way to do that is to study resume examples written by different types of job seekers. So, here are some more resume examples for various job-hunting scenarios:
133 job-specific resume examples
Want to learn how to make your resume stand out in a particular industry? Take a look at the resume examples below that are related to your field of work to get ideas:
1. Administration & office support
2. Business & professional services
3. Creative & design
4. Customer support & retail
5. Education
6. Engineering & skilled trades
7. Food & hospitality
8. Health & social care
9. IT & marketing
10. News & media
11. Security & public safety
Frequently asked questions about resume samples
Still have queries about resume examples? Here are thoughtful answers to some of the most common questions brought up about this topic:
1. What are good resume objective examples?
Here are two good resume objective examples, one written by a recent graduate without any professional experience and another by an applicant who has lots of work experience:
Good resume objective example for applicants with no work experience
Recent graduate with a BA (Hons) in Broadcast and Digital Journalism and a Best Interview award from the Student Radio Association for a sit-down with Hugh Laurie that reached 2.3K listeners. Having honed my skills in both traditional and digital media platforms, I'm committed to delivering compelling, accurate, and insightful content. My passion for storytelling, combined with my award-winning experience, positions me uniquely to contribute effectively to the BBC Radio team.
Good resume objective example for applicants with work experience
Accomplished journalist with over 10 years of experience in delivering high-impact investigative reporting and innovative multimedia content. Notably, my investigative series on environmental issues led to a 30% increase in public awareness and a new policy review, as evidenced by independent surveys and government statements. Seeking a dynamic role at Sky News where I can continue to uncover and share stories that drive significant societal impact and engage audiences worldwide.
These are good resume objective examples because they're:
concise, summarising the applicants' most job-relevant details in an easy-to-read paragraph
targeted, including keywords from the job advert and stating the company name
achievement-based, using hard numbers to illustrate impact
2. What are examples of skills for my resume?
Examples of skills for your resume include any that are required for the role you're targeting. You'll need both hard skills (learnt abilities like maths) and soft skills (personality traits like attention to detail).
Some general examples of skills that look good on a resume for any job include:
computer skills
data analytics
interpersonal skills
public speaking
financial skills
creative ability
foreign languages
3. Is a resume the same as a cover letter?
No, a resume is not the same as a cover letter. Here's how these two application documents are different:
A resume is a summary of your work history, education, and skills, mainly written in lists.
A cover letter is an introduction of you and your reasons for applying for your target job, written like a business letter with a formal greeting and several paragraphs.
4. How do I make my resume stand out?
You make your resume stand out by:
focusing on achievements, adding hard numbers and specific examples to show how you can contribute to your target employer
using a well-designed resume template that makes you appear professional (if you can't find a resume you like, try adapting a good CV template)
More resume example FAQs