Learning what a CV is and how to write a CV well are key first steps for finding a job and getting valuable experience outside of school.
Once you hit 16 years, you can leave school. And in Scotland, Wales, Northern Ireland, and Ireland, you can immediately start looking for full-time jobs at age 16.
However, in England, you have to continue training or education until you're 18, including:
remaining in full-time education, like sixth-form college
starting an apprenticeship or traineeship
taking a part-time job or volunteer role while studying part-time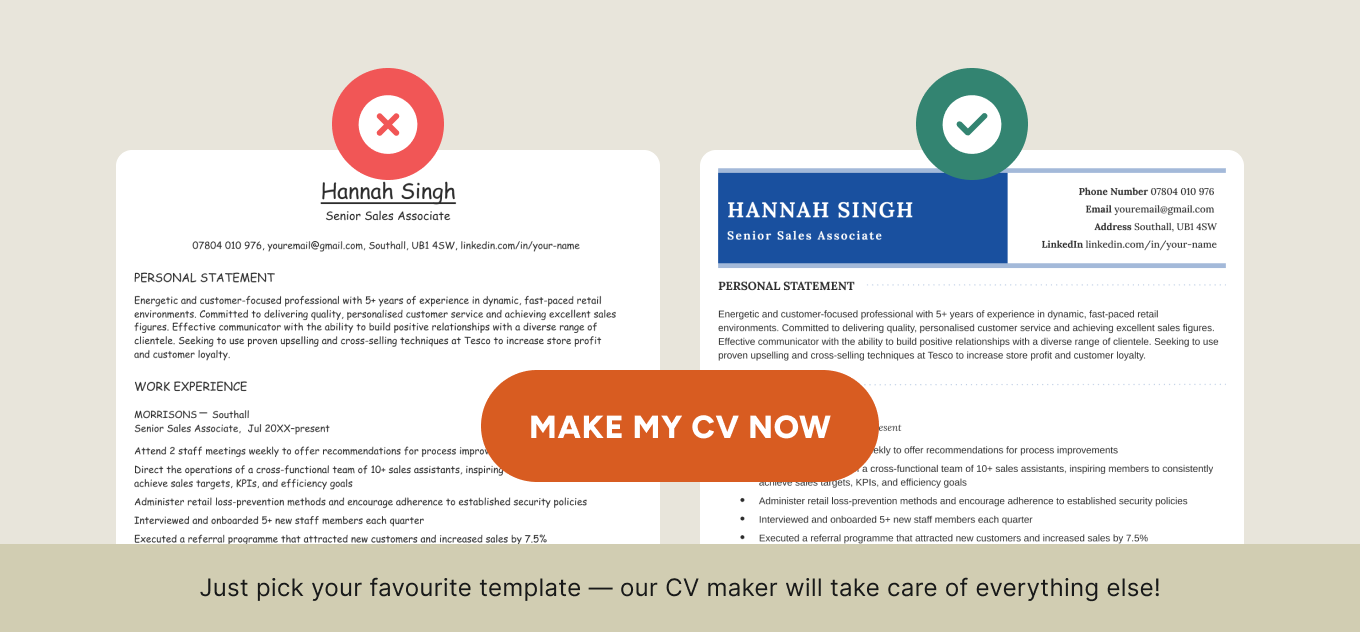 Below you'll find a CV template for a 16-year-old, CV examples, and expert tips to help you confidently apply for
apprenticeships
training programmes
What should a CV for a 16-year-old include?
Lay out your CV with these elements:
Here's what a CV structure for a teenager looks like: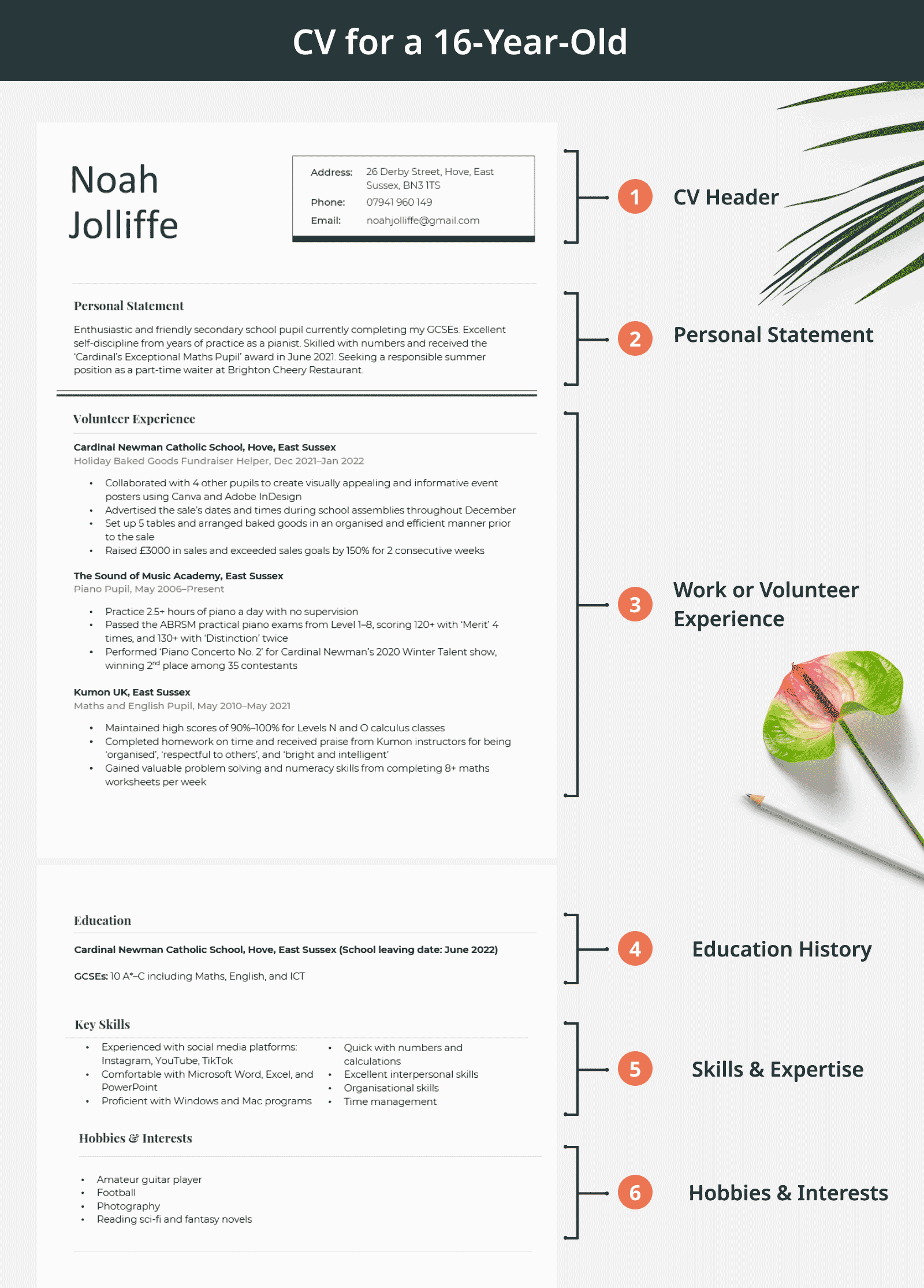 1.
CV Title
FIRST AND LAST NAME
Email: youremail@gmail.com | Phone: 07123 456 789 | Address: 694 Barton Road, Bristol, BS7 6JS
2.
CV Personal Statement
Helpful and friendly secondary school pupil with [number of years] years of volunteer experience. Aiming to use my [relevant skills] to fill your [position name] position and help achieve [Company's Name]'s goals.
3.
Work or Volunteer Activity
Most Recent Job Title | Company Name | Location
Start Date–End Date
Include a bulleted list of your best accomplishments related to the experience
Quantify your experience by adding hard numbers (like percentages, hours worked, and relevant data) to your bullet points (for example, Handed out 150+ booklets to children and parents in a respectful and professional manner at the 2021 UK Scholastic Book Fair)
If you don't have any work experience, name this section 'Volunteer Experience' and provide your volunteering details instead
Earlier Job Title | Company Name | Location
Start Date–End Date
Use past tense verbs to describe the experience if you're no longer working or volunteering in that role (for instance, Improved, created, assisted)
Provide more background details by being as specific as possible (for example, mentioning the actual names of software, equipment, or tools you used)
4.
Education
Secondary School Name | Location
School Leaving Date (or Expected Leaving Date)
If you're writing a school leaver CV or have no work or volunteer experience, put your education section first (under your CV personal statement)
Name your school and list your GCSE grades
If you took a vocational equivalent to GCSEs, such as an NVQ or BTEC, provide your results
5.
Key Skills
Use a bulleted list to mention several transferable skills you're proficient in
Read the job advert closely and list the skills they mention (but only if you actually have those skills)
Add hard skills which are learned from formal training or schooling (for instance, knowledge of social media platforms like YouTube, TikTok, and Instagram, or professional tools such as Microsoft Word, PowerPoint, and Excel)
Note soft skills that relate to your personality and work ethic (e.g., teamwork, time management, and communication skills)
6.
Additional Sections
Add other relevant sections for your hobbies and interests, or other languages you speak besides English
CV examples for a 16-year-old
Here are some CV outline examples that you can look at and download to reference when you write your CV:
1. CV example for a teenager with no experience
Even with no experience, you can write a job-winning CV.
CV for a 16-Year-Old With No Experience (Text Version)
PERSONAL STATEMENT
Enthusiastic and friendly secondary school pupil currently completing my GCSEs. Excellent self-discipline from years of practice as a pianist. Skilled with numbers and received the 'Cardinal's Exceptional Maths Pupil' award in June 2021. Seeking a responsible summer position as a part-time waiter at Brighton Cheery Restaurant.
VOLUNTEER EXPERIENCE
Cardinal Newman Catholic School, Hove, East Sussex
Holiday Baked Goods Fundraiser Helper, Dec 2021–Jan 2022
Collaborated with 4 other pupils to create visually appealing and informative event posters using Canva and Adobe InDesign
Advertised the sale's dates and times during school assemblies throughout December
Set up 5 tables and arranged baked goods in an organised and efficient manner prior to the sale
Raised £3000 in sales and exceeded sales goals by 150% for 2 consecutive weeks
The Sound of Music Academy, East Sussex
Piano Pupil, May 2006–Present
Practice 2.5+ hours of piano a day with no supervision
Passed the ABRSM practical piano exams from Level 1–8, scoring 120+ with 'Merit' 4 times, and 130+ with 'Distinction' twice
Performed 'Piano Concerto No. 2' for Cardinal Newman's 2020 Winter Talent show, winning 2nd place among 35 contestants
Kumon UK, East Sussex
Maths and English Pupil, May 2010–May 2021
Maintained high scores of 90%–100% for Levels N and O calculus classes
Completed homework on time and received praise from Kumon instructors for being 'organised', 'respectful to others', and 'bright and intelligent'
Gained valuable problem solving and numeracy skills from completing 8+ maths worksheets per week
EDUCATION
Cardinal Newman Catholic School, Hove, East Sussex (School leaving date: June 2022)
GCSEs: 10 A*–C including Maths, English, and ICT
KEY SKILLS
Experienced with social media platforms: Instagram, YouTube, TikTok
Comfortable with Microsoft Word, Excel, and PowerPoint
Proficient with Windows and Mac programs
Quick with numbers and calculations
Excellent interpersonal skills
Organisational skills
Time management
HOBBIES & INTERESTS
Amateur guitar player
Football
Photography
Reading sci-fi and fantasy novels
2. Example CV for a 16-year-old with some experience
Proofread your CV before sending it out so employers can see you're detail-oriented.
CV for a 16-Year-Old With Experience (Text Version)
PERSONAL STATEMENT
Dedicated individual with 2+ years of retail and restaurant experience. Recognised for my exceptional customer service skills, ability to upsell products, and passion for working with people of all ages and backgrounds. Currently a secondary school pupil completing my GCSEs. Seeking a part-time position to demonstrate my skills and knowledge as a retail sales associate at Top Shop.
KEY SKILLS
Efficient at folding clothing and displaying merchandise
Skilled with point of sale software and cash handling
Experienced with keeping inventory records
Trilingual in English, Hindu, and Punjabi
Excellent interpersonal skills
Multitasking and working under pressure
Adapting to new environments
Comfortable with public speaking
EDUCATION
SOUTHMOOR ACADEMY, Sunderland (School leaving date: June 2022)
GCSEs: 10 A*­–C including Maths, English, and ICT
WORK EXPERIENCE
MISSGUIDED, Cleadon, Sunderland
Part-Time Sales Associate and Cashier, August 2020–Present
Assist 40+ customers daily in finding merchandise and providing helpful recommendations in a kind and respectful manner
Record inventory for 40+ new clothing items, shoes, bags, and accessories every month
Exceeded sales goals by over 120% for three consecutive months
Organise and change 8+ merchandise displays adhering to the store's guidelines of seasonal colours and new trends
Maintain an 'A' rating in customer experience satisfaction surveys
Encourage 50+ new patrons a week to sign up for Missguided's online newsletter and Insider programme
BHADI's CURRY HOUSE, Cleadon, Sunderland
Part-Time Waitress, June 2020–August 2020
Greeted 200+ dining guests per week and seated them at their tables while making friendly conversation
Set tables, took orders, assisted other staff, and cleaned up after meals efficiently during restaurants' working hours
Memorised Bhadi's menu and recited recommendations and special discounts to new customers
Operated point of sale system with 100% accuracy and helped other staff members by taking payments for their table guests during busy hours
THE WILSON FAMILY, Cleadon, Sunderland
Part-Time Nanny, May 2018–June 2020
Prepared healthy snacks and drinks for 2 girls (aged 3 and 5) from Mondays to Wednesdays and supervised them while they ate
Played educational and fun games using flashcards, stuffed animals, and dancing to help children learn the alphabet, basic numbers, colours, and animals
Bathed and clothed children every night after dinner and read them a bedtime story
Helped parents with light cleaning tasks such as hoovering, washing the dishes, and cleaning up tables and playing areas while the girls were napping
HOBBIES & INTERESTS
Amateur photography
Knitting scarves and hats for my friends and family
Makeup and fashion
Sewing and embroidery
How to write a CV for a 16-year-old in the UK
Presenting yourself well to employers is an important life skill.
If you're 16 years old and allowed to leave full-time education, a good CV can help you make up for your lack of work experience by highlighting your skills and qualifications instead.
A good CV is also important because the UK minimum wage is lower for 16-year-olds than for adults. A high-quality CV can make employers consider starting you on a higher wage.
To help you learn what a CV should look like, this video provides a quick guide on all the necessary CV sections to include and ways to write it well:
To build on this video's advice, here are three CV writing hacks for creating a standout CV as a 16-year-old:
1. Format your CV correctly
Recruiters have many CVs to choose from. So send them a well-formatted CV to show that you're a top candidate.
Follow these simple steps to improve your CV formatting:
Choose one of 2023's top CV fonts — like Arial, Times New Roman, or Verdana — and keep your font size between 10.5 and 12 points to ensure employers can read your CV without straining their eyes.
Use UK standard 2.5 cm margins. But if you're trying to fit your details onto one page, try adjusting your margins to a minimum of 1.27 cm on all sides. White space helps with readability, and margins smaller than 1.27 cm will cause your CV to look too crowded.
Use single or 1.5 line spacing so your CV text looks evenly spread out on the page.
Save and submit your CV as a PDF or .docx file so your CV formatting stays the same no matter who views, downloads, or prints your application.
2. Tailor your CV to the job advert
Recruiters only spend 5–7 seconds scanning each CV. So determine the best achievements to put on your CV to customise it for every job you apply for and maximise your chances of catching the recruiting manager's attention.
Before you apply to a company, read its job advert carefully and note the requirements (also known as keywords) outlined in the job description. Then, include the keywords you find in your:
CV personal statement
work experience bullet points
For instance, if a company says it's looking for someone with 'excellent interpersonal skills', ensure you mention your people skills on your CV.
Adding the company's name and your desired role at the end of your CV personal statement is also an effective way to target your CV.
For instance, a sentence like 'Seeking a responsible position as a waiter's assistant at Earl's Cafe' shows employers you've personalised your application for them.
3. Provide your references on a separate page
Employers want to know that you're a hard worker who will succeed in the role, so prove you're the right person for the job by preparing a list of professional referees.
Your referees should be people who:
know you from an academic, volunteer, or professional setting
understand your personality and work ethic
can provide employers with reasons why you're a great candidate
If you don't have professional references, a trusted teacher, coach, or adult who you've assisted will work as a referee. Just don't forget to thank them for helping you!
Here's how to list references on your CV:
Referees's First and Last Name
Job Title
Email
Phone Number
when you list your referees, avoid including your family, friends, or people who don't know you well, as their opinions of you may be biased — which could hurt your chances of getting the job.
Finally, there's no need to include the expression 'References Available Upon Request' on your CV because it takes up valuable space, and employers will ask you for your references regardless.