A CV summary is a brief 4–5 sentence profile of your professional work history that details your career's most impressive accomplishments, key skills, and relevant licences and certifications.
Your summary sits at the top in your CV layout, where employers are most likely to see it. Because the first sentence of your CV summary needs to grab the reader's attention, it should contain your most sellable qualities.
A CV summary focuses on your achievements so it's almost exactly the same as a CV personal profile statement.
11+ personal CV summary examples
Here are 11 professional CV summary examples that you can use for inspiration, or even copy and paste and tinker with, if they're close to describing your own professional background.
Sales associate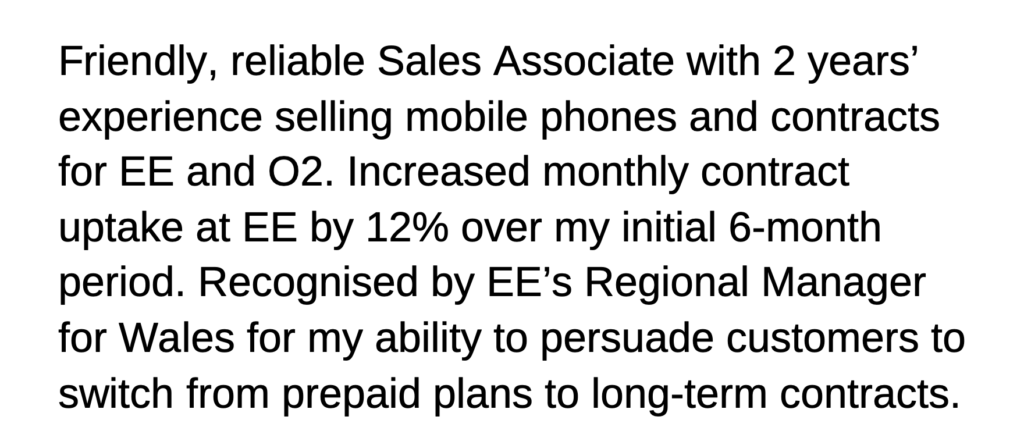 Related CVs: Sales manager CV, sales CV, sales assistant CV, sales executive CV.
Receptionist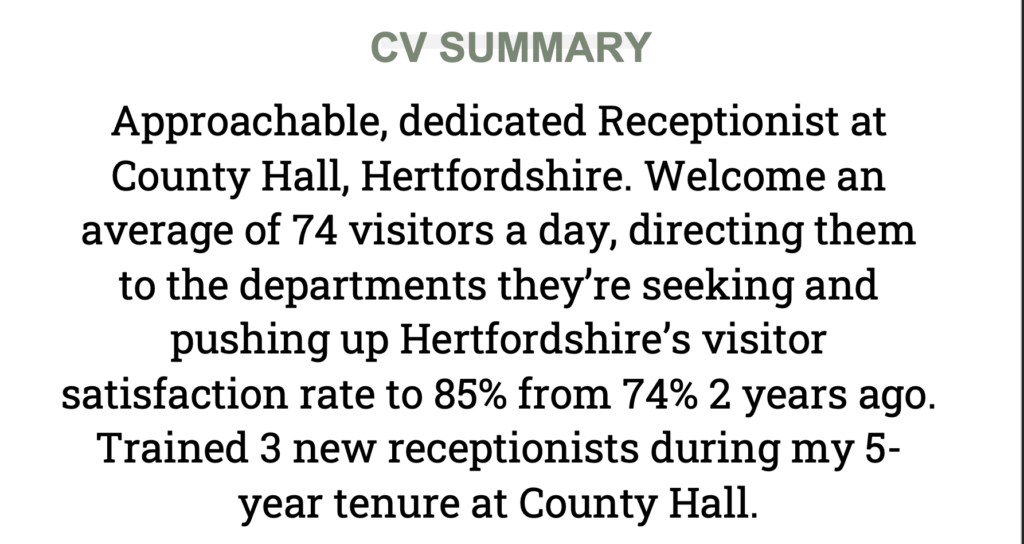 Related CVs: Receptionist CV.
Waitress or waiter (waiting staff)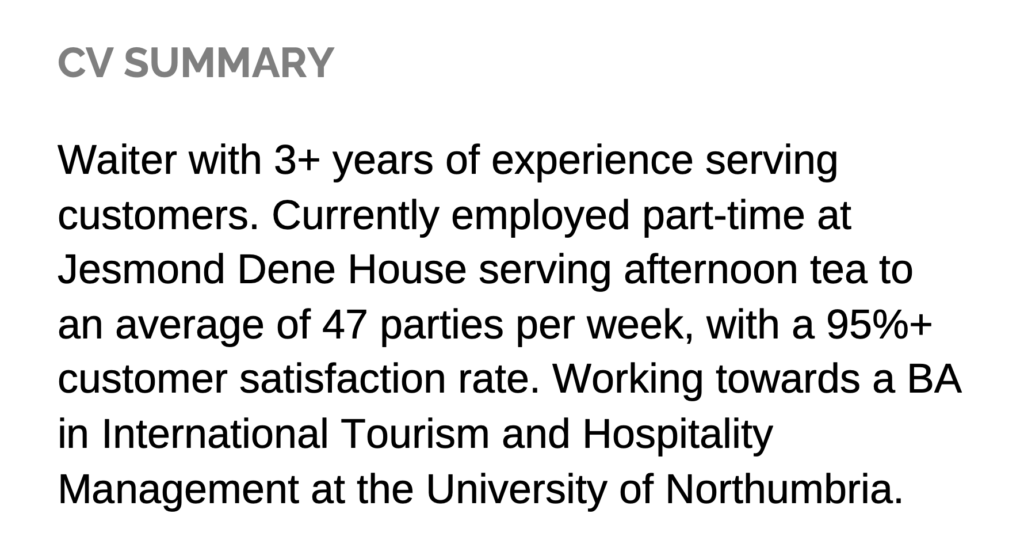 Related CVs: Waiting staff CV, hospitality CV, McDonalds CV.
Customer service representative
Here's an effective customer service CV summary that uses hard numbers to showcase the candidate's successes: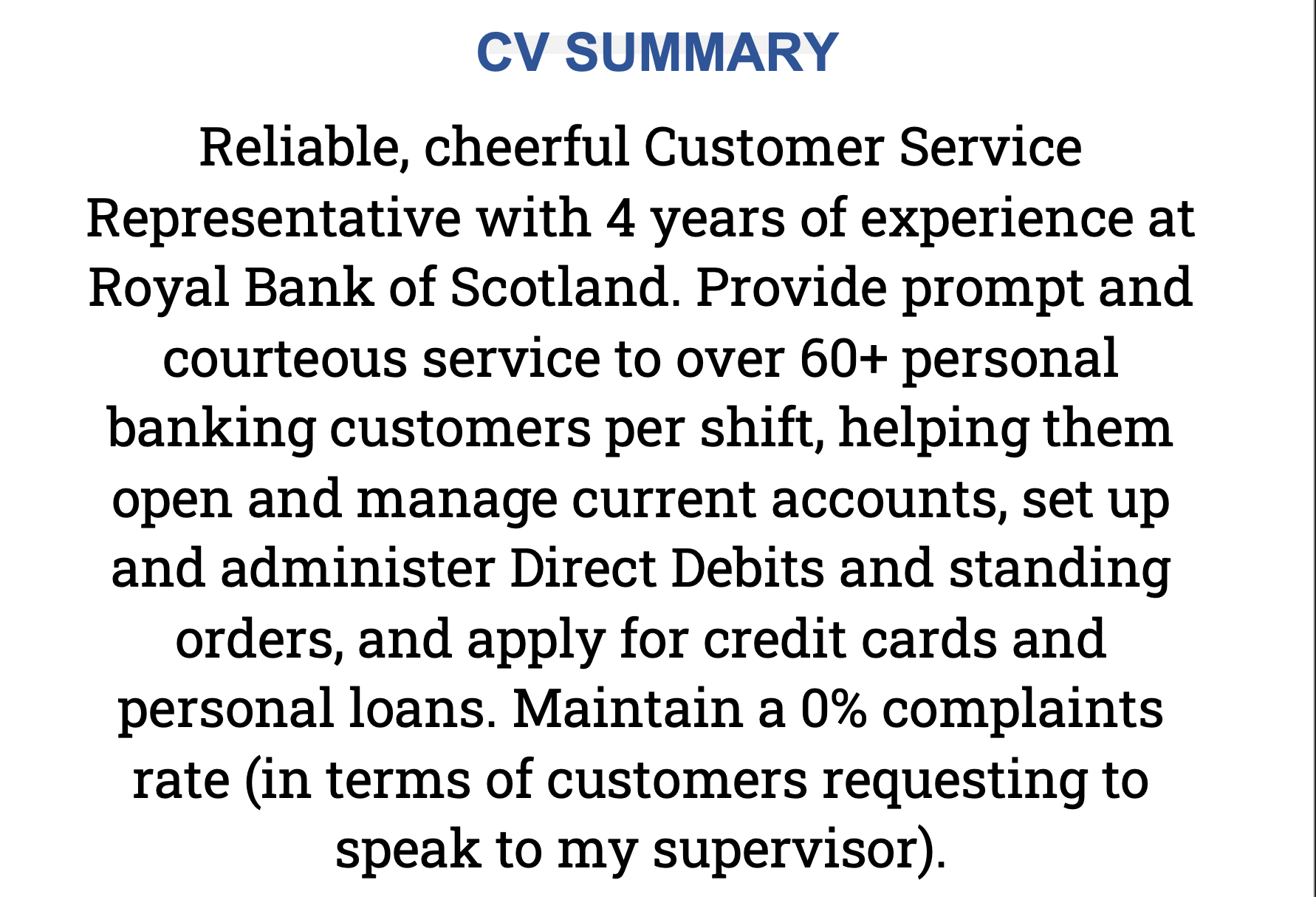 Related CVs: Customer service advisor CV, customer success manager CV.
Teacher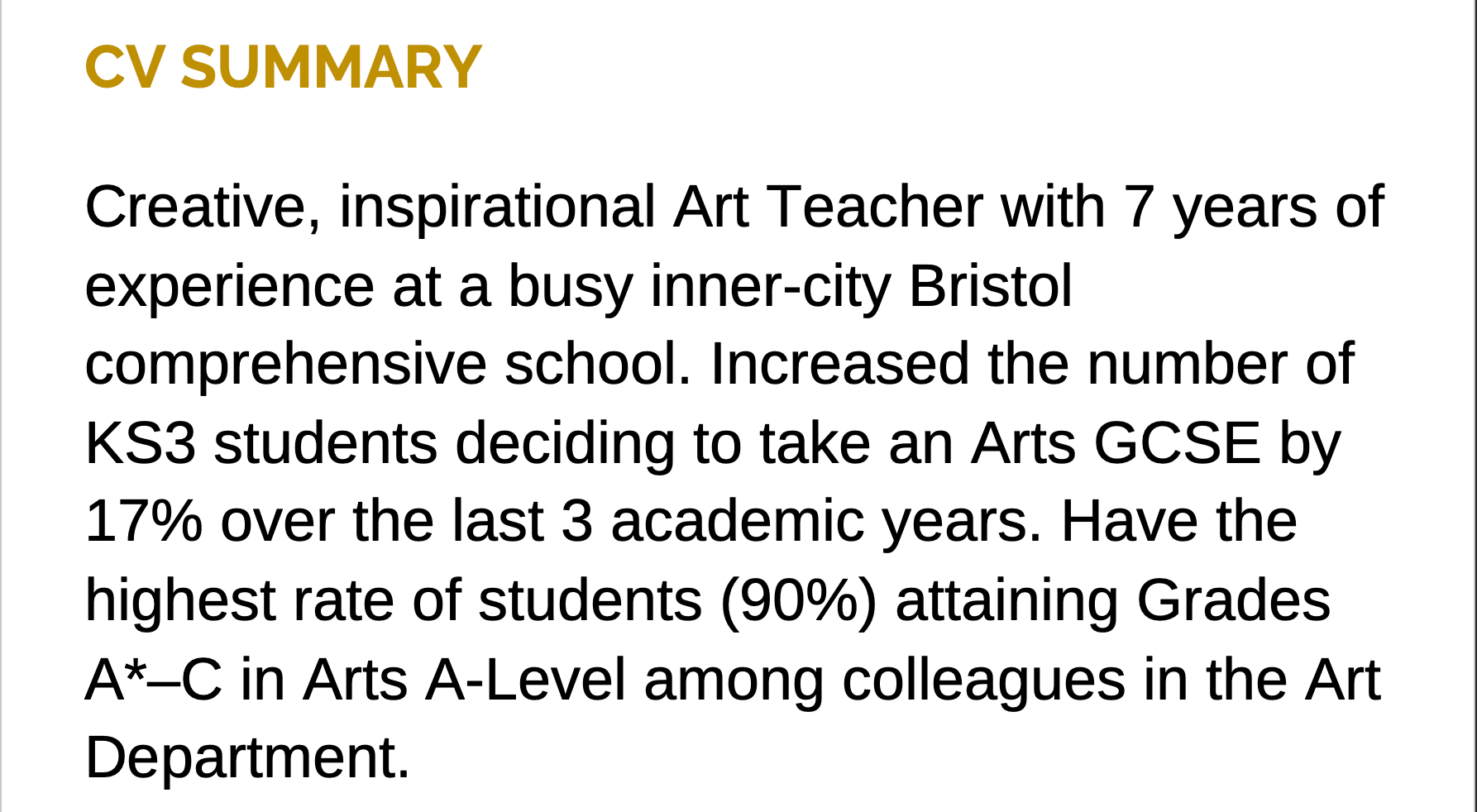 Related CV samples: Teaching assistant CV, tutor CV, librarian CV.
School leaver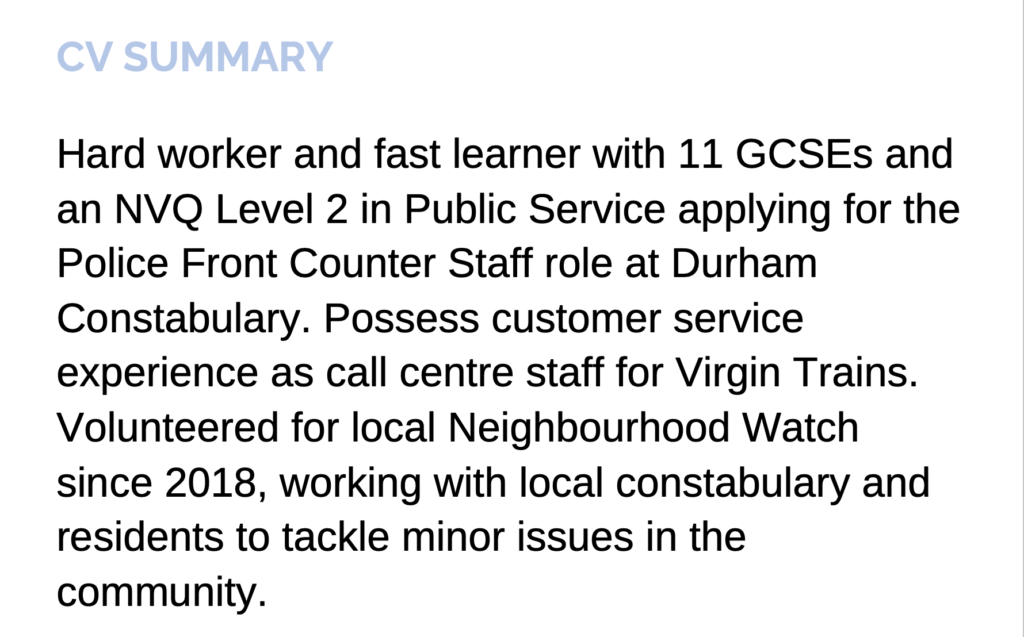 Accountant
Related CV examples: Account executive CV, account manager CV, finance CV.
Marketing
Related CVs: Marketing CV, PR CV, social media CV.
Engineering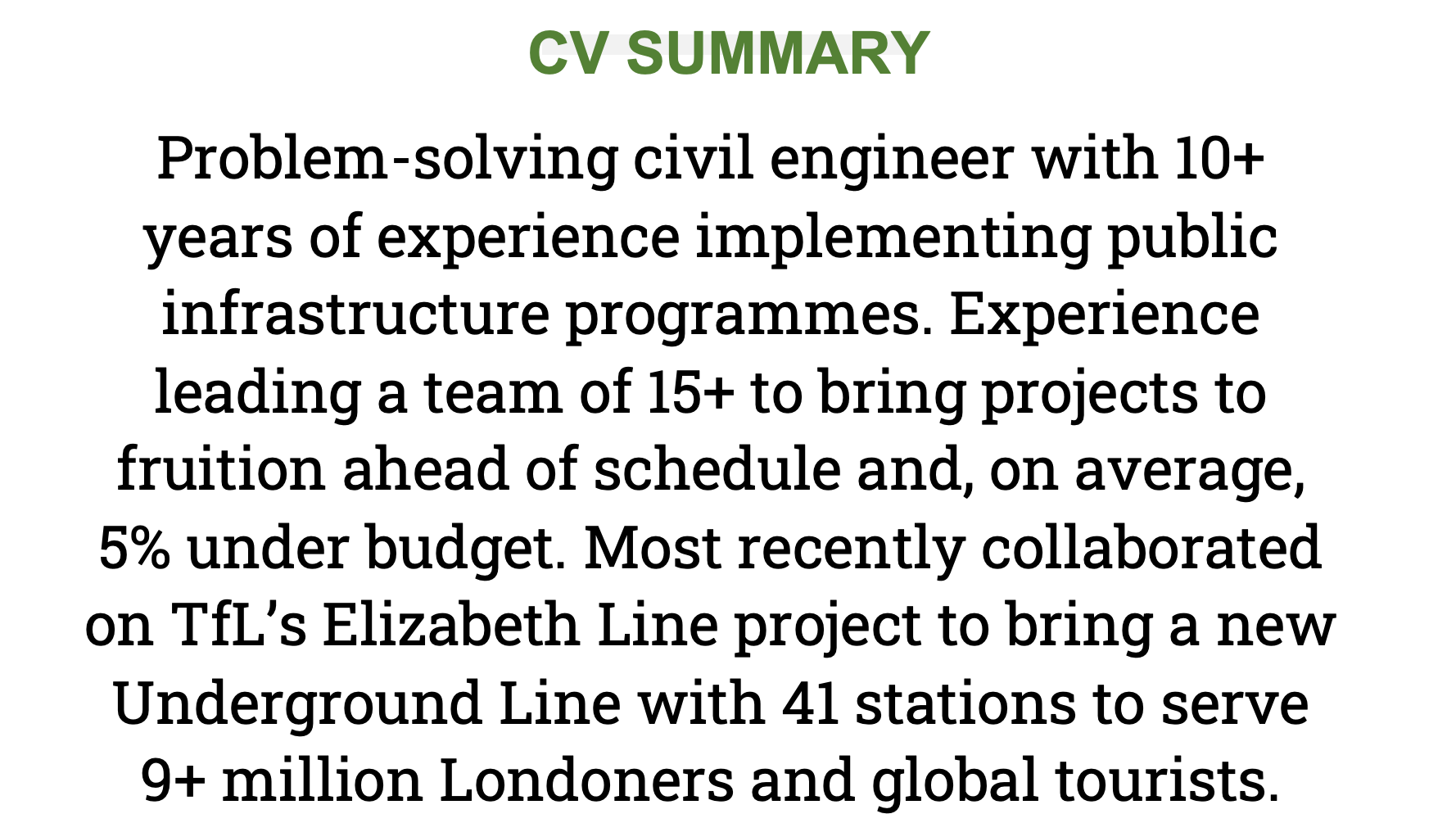 Related CVs: Engineer CV, civil engineer CV, mechanic CV.
Graduate
This professional summary from a graduate CV includes specific details of the role outlined in the job description. If you have little to no experience, you may not have accomplishments, so it's fine to connect the skills you do have with the job you're seeking — and you can always look at other graduate CV examples to get even more ideas for how to link your abilities to your target position.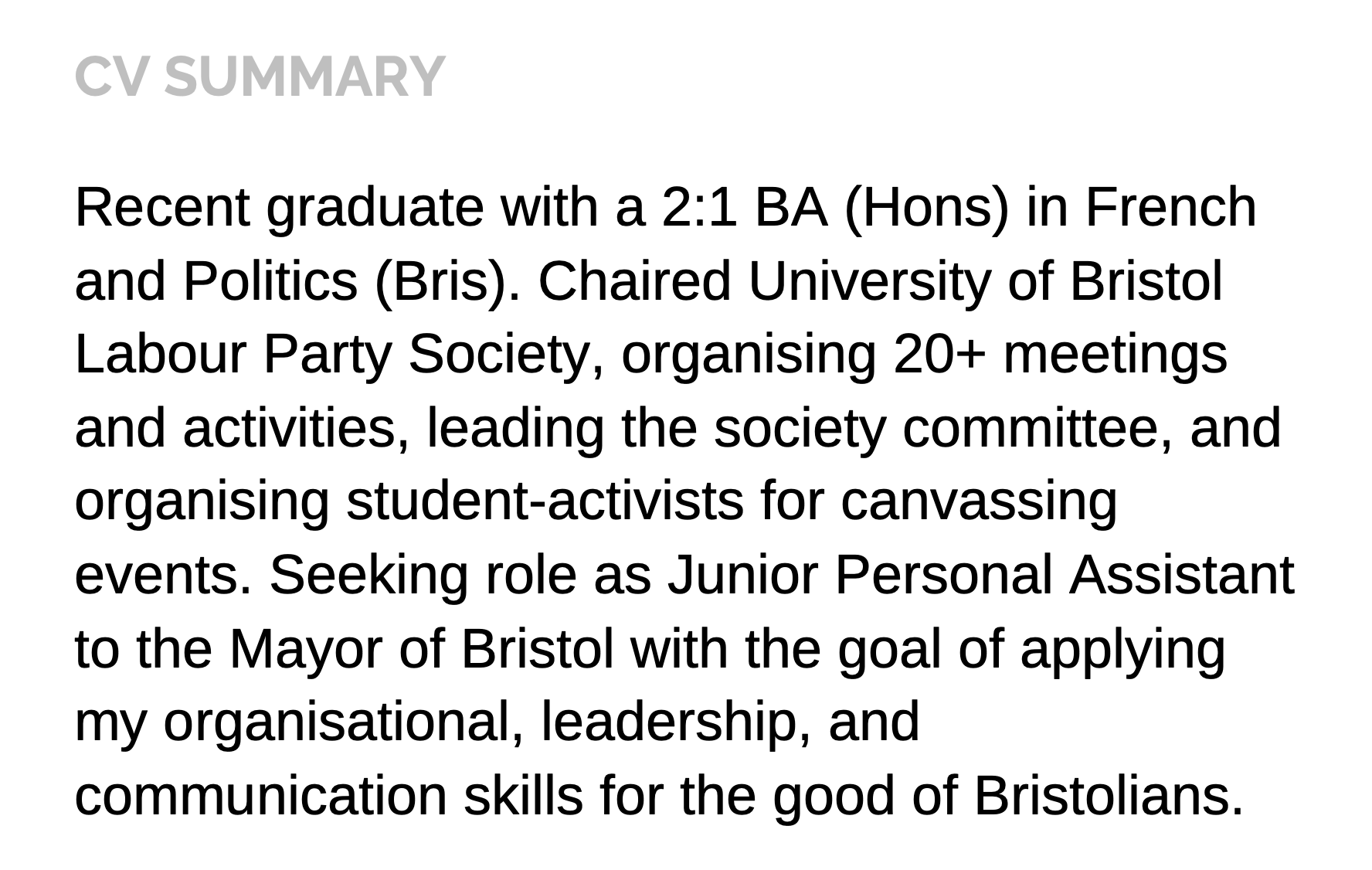 Retail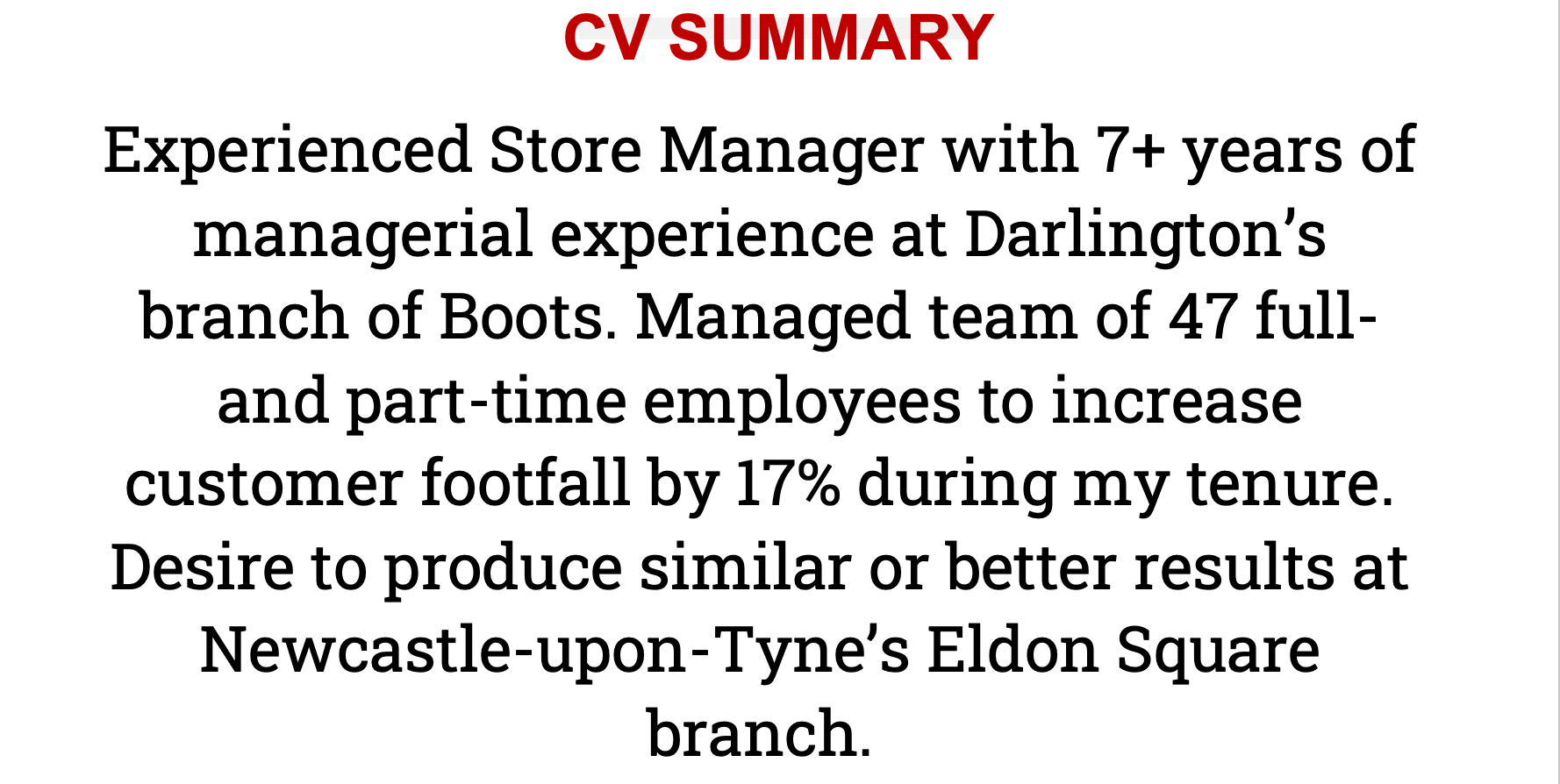 Related CV examples: Retail assistant CV, shop assistant CV, Tesco CV
How to write a good summary for a CV
Still unsure how to put together an effective CV summary? Here are the three steps you need to take to put together a professional summary for your CV that perfectly profiles your career.
1. Start with your years of experience, and main responsibilities
The first sentence of your CV summary provides your role or field, years of experience, and main duties in your role. For example, if you're writing a nursing CV, mention your speciality (e.g., paediatrics, gynaecology, mental health, orthopaedics, etc.), level (e.g., RN, matron, nurse practitioner, ward sister, etc.) and years of experience.
You can also quickly mention what you do on a daily basis. For example:
Ward Sister on the Paediatrics Ward at the King George Hospital, Redbridge with 7+ years of experience providing care to children.
This example briefly summarises the applicant's role, level of experience and responsibility, as well as their daily work.
2. Name your biggest achievement
Employers don't just want to know about your daily work. Use your second sentence to highlight the biggest achievement relevant to the job you're applying for.
Here's an example of an applicant's most noteworthy accomplishment on their CV summary:
Spearheaded new marketing strategy for the London Overground that led to a 7% increase in ticket sales during Q1 2021 despite the COVID-19 pandemic.
Note how this applicant uses hard numbers to provide context about the achievements and skills in their CV and summarises them for employers. They could alternatively have used an amount in pounds (e.g., a £50,000 increase).
Try to fit numbers into your CV summary no matter what job you're applying for.
Here are some more examples:
Served as Receptionist at a busy NHS A&E department that welcomed an average of 74 patients per shift.

Earned an average of £1,074 in commission per month from Virgin Mobile for being No. 1 salesperson on the team in its busy Piccadilly Circus branch.

Staffed the reception at a bustling secondary school with over 1,470 pupils.
3. Mention other skills and achievements that make you the perfect fit
Use the final sentence of your CV summary to mention any other skills, certifications, or licences that makes you ideal for the role.
For example, if you're applying to a technical role, mention some of the tools you know about. Take this plumber CV summary as an example:
You can also volunteer extra details about your achievements, as in these chemist and lorry driver CVs:
Maintained a 100% error-free rate in prescription dispensing.

Possess a category C driving licence, and have clocked up 500,000+ miles while maintaining a <5% lateness rate.
If you're a school leaver, graduate, or entry-level applicant, and don't have many accomplishments, skills, or licences to mention, use your third sentence to talk about your aspirations:
Hope to apply my interpersonal skills to provide visitors to Penzance with an excellent and informative experience as Town Tour Guide.
You can also work your hobbies and interests into your CV summary's last sentence if they're relevant to the role.

Frequently asked questions about CV summaries
Here are the answers to several frequently asked questions about CV summaries:
What are 4 thing to avoid in a CV summary?
Here are 4 things to avoid in a CV summary:
negative comments about your current or previous jobs
talking about what you want from the job without considerinig what kind of person the company needs
making up qualifications you don't have
making it obvious you don't know anything about the company or the position
How can I make my CV summary attractive?
You can use a splash of colour in the your header, as we've done in the example on this page. However, keep the rest of your font colours black.
How long should a CV summary be?
A CV summary summary should be 4 to 5 lines long, or 3 to 4 sentences.