When a recruiter reviews job applications, they're most likely to schedule interviews with applicants who describe relevant work experience on their CVs.
So if you have any work experience — including volunteer work and internships — put it in a well-written, professionally formatted CV work experience section to increase your chances of getting hired.
Work experience on a CV (example & template)
Here's what a CV work experience entry should look like, followed by a template that you can copy and paste into your writing program: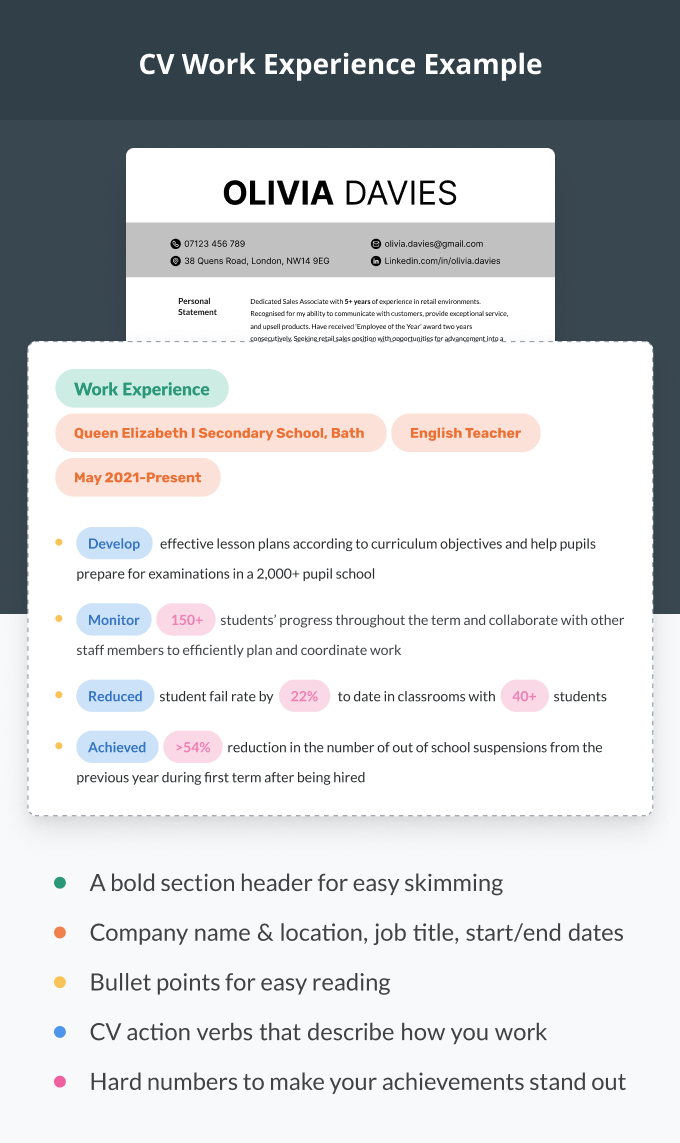 CV work experience example template (text version)
WORK EXPERIENCE
Queen Elizabeth I Secondary School, Bath
English Teacher, May 2021–Present
Develop effective lesson plans according to curriculum objectives and help pupils prepare for examinations in a 2,000+ pupil school
Monitor 150+ students' progress throughout the term and collaborate with other staff members to efficiently plan and coordinate work
Reduced student fail rate by 22% to date in classrooms with 40+ students
Achieved >65% reduction in the number of out of school suspensions from the previous school year during first term after being hired
6 tips for describing work experience on your CV
Including your work experience on a CV doesn't have to be difficult.
To help you confidently show your value to a company, we provide a video walkthrough on how you can write an excellent work history section.
You can also read below for 6 more tips on describing previous work experiences on your CV:
1. Apply proper formatting
Each position in your CV work experience section should have its own header to clearly differentiate it from the others. The first item in the header can either be:
the company's name
your job title
It's up to you which option you pick, but if you worked at a particularly prestigious organisation, consider using its name as your work entry header. Here's an example:

If your job title was more impressive, you can list that first:

Whether you use the company name or your job title as your entry's header, stick to that choice for all the jobs in your work experience section for consistency and to make reading your CV easier for the employer.
Your work entry header should also include the location of your workplace. Specifying the town is usually enough, but if a company has multiple locations in the same town, add a branch name for clarity.
You also need to add dates to your header to clarify the extent of your experience. It's fine to leave off months if you're concerned there's a long gap between two jobs.
Compare these two ways of formatting dates on a CV:
Customer Service Assistant
2020–present
Boots Opticians, Guildford
Customer Service Representative
2017–2020
Royal Bank of Scotland, Guildford
Customer Service Assistant
September 2020–present
Boots Opticians, Guildford
Customer Service Representative
January 2017–February 2020
Royal Bank of Scotland, Guildford
On the right-hand-side sample, there's a clear 7-month gap between jobs, which might raise a red flag for employers. Fix this potential problem by leaving the months off.
After you've formatted your entry headers, write your job descriptions underneath them in lists of 3–5 bullet points (less than 3 bullets will make recruiters think you didn't achieve much, but more than 5 is too much reading for them).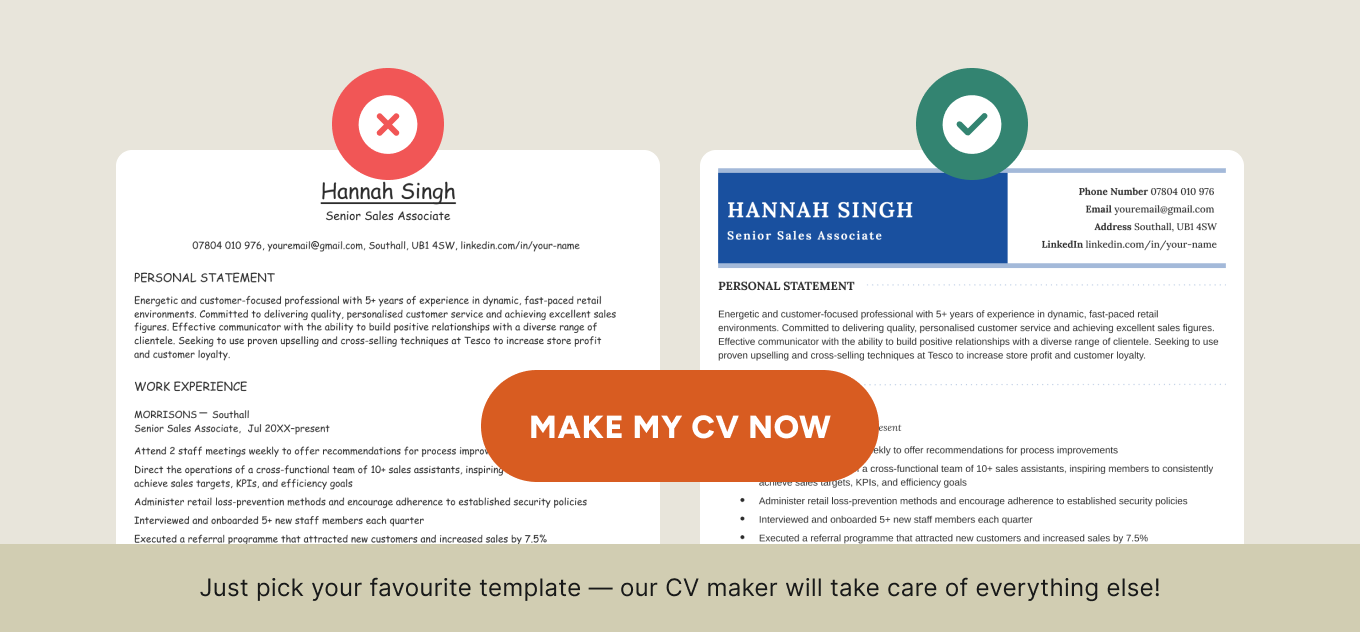 2. List your work experience in chronological order
It may sound obvious, but it's important to list your work experience in chronological order because employers can easily see how your career has progressed and how the listed skills on your CV have developed over time.
So start with your current (or most recent) job, and work backwards.
3. Include other relevant experience
Your CV's work experience section doesn't have to only include professional experience. If you're writing a CV as a recent graduate or a school leaver, you can include entries on many other life experiences such as:
volunteer work
student union/society roles
work placements/internships
For instance, if your school requires you to do a fortnight's work placement as part of Year 10 or 11, here's how you could display this experience on your CV:
British Telecom, Manchester (2020)
Office Assistant (work placement)

Photocopied 25+ documents and collated them in the correct order
Answered telephone calls from 10 customers and transferred them to the correct departments
Handled tea and biscuits requests for a team of 47, distributing tea break snacks with 100% accuracy
Learned how to use customer relationship management software
If you're writing a graduate CV, you can present any internships and student union or society roles in the same way. Remember to add numbers to each bullet point if possible to provide context to your achievements.
4. Rewrite the job descriptions on your CV for each role you target
To give yourself the best chance of landing a job you want, rewrite your CV's work experience section for every job you apply for. Your goal is to emphasise your skills that are relevant to that particular job by:
including keywords from the job advert
rearranging your bullet points so your most job-relevant achievements come first (this makes it easier for recruiters to see them)
removing information that's irrelevant to the role
5. Start your bullet points with action verbs
Action verbs (like 'educate' and 'inspire') are strong openings to your bullet points and replace clichéd sentence starters like:
Responsible for
Tasked with
Entrusted with
The problem with these (and similar sentence starters) is they naturally make you write about your work-related duties instead of your achievements. What you've accomplished at work is more impressive to employers than the routine tasks you completed.
Compare this strong bullet point with one that starts with a dull opening:
Strong Bullet Featuring an Action Verb
Upsold wine by informing customers about good wine–food pairings
Weak Bullet Without an Action Verb
Responsible for informing customers about good wine–food pairings
The second example is better because it starts with an action verb that conveys the applicant's achievements and shows they're a proactive, thoughtful, and dedicated waiter.
Here are more examples of strong action verbs for your CV:
More action verbs for your CV
Bolster
Enhance
Spearhead
Organise
Analyse
Boost
Increase
Trim
Slash
Present
Negotiate
Liaise
Coordinate
Direct
Endeavour
Mentor
Orchestrate
Compile
Collate
Cultivate
Exceed
Pioneer
6. Quantify your experience with examples and hard numbers
Put hard numbers in your bullets wherever possible to showcase your achievements to employers and recruiters.
Numbers provide context about the kind of output you're able to produce. Here's an example of hard numbers added to a CV bullet point:
Upsold wine by informing customers about good wine–food pairings, leading to an 11% increase in wine sales
The percentage in this bullet point highlights this employee's interpersonal skills, sales skills, and dedication to friendly customer service.
Here are more ideas of things you can quantify (make into numbers) in your CV's work experience section:
number of customers served
amount of money you saved
amount of money (or percentage increase) you secured for your employer
number of events you organised
CV work experience examples
Below are examples of CV work experience sections for various applicants, followed by a full CV example with work experience. Take a look at these examples to get ideas for how to describe your experience in a way that gets recruiters interested in interviewing (and then hiring) you:
Work experience section examples for different types of applicants
Click the dropdown below that best matches your situation to view a job-winning CV work experience entry example:
Student worker without professional experience
Legal Assistant Intern | May 2015 – March 2017
McLoughlin Law Firm, Belfast
Provided assistance to solicitors across all functions within the firm, including research, case preparation, and drafting legal documents
Researched significant legal documents to provide a legal precedent that led to the dismissal of 13 client charges over 2 years
Helped the senior counsel through 15 contract checks, validating express and implied terms between parties
Assisted in document research and drafting as well as court preparation for 15 civil rights and criminal trials
Entry-level applicant with some work experience
Rio Tinto, Portsmouth | 2016–2019
Administrative Assistant (Part-Time)
Managed office inventory monthly budget worth £1,500, restocked supplies, and placed purchase orders to maintain adequate stock levels
Saved the company £2,000 yearly by creating new filing and organisational practices
Handled various office tasks such as generating reports and presentations, setting up meetings, and ordering office supplies
Pharmacist
Corner Pharmacy, London – December 2020 – Present
Meet with clients, read medical histories, interpret prescriptions, and formulate medicines while maintaining accuracy and legal compliance
Decreased inventory costs by 20% by inspecting and identifying a major discrepancy in medication storage
Maintained 100% accuracy in transcription and order fulfilment by auditing all files and records related to medications
Management-level applicant
Restaurant Manager
Napoleon Restaurant, August 2018–Present, Derby
Manage a 45-person team in a high-end Italian restaurant, ensuring a continuous increase in customer satisfaction, reduced employee turnover rates, and a 35% increase in sales year-to-date
Coordinate all daily non-food operations, organising daily activities and guaranteeing positive customer service experiences
Manage all ordering and inventory supply chains to cut variable expenses by 7% through tightening controls over overtime costs and stock waste
Promote safe food handling procedures and provide intensive health and safety training to a staff of 40+ people
Launched an employee training project to resolve customer service issues, reducing complaints by 50% in 6 months
CV example with work experience
This is an example of work experience on a full CV to give you an idea of how your work history section should fit in with the rest of your sections: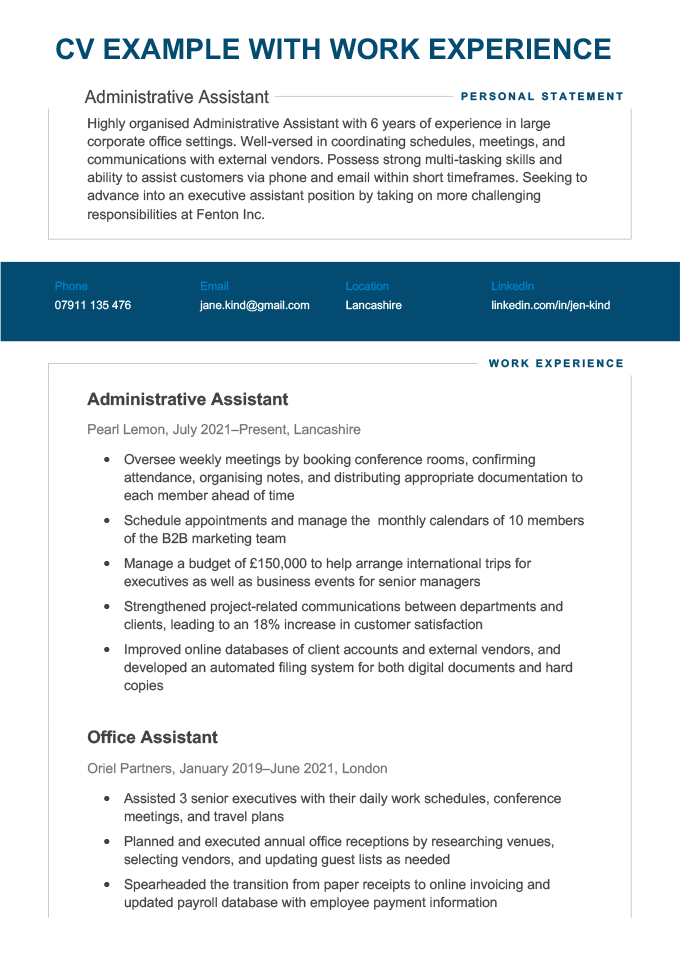 Download Work Experience CV Example
3 common questions about putting work experience on a CV
Still have questions about how to talk about your CV's work experience section? Our CV-writing experts have answered 3 of the most frequent queries about how to add work experience to your CV:

1. What work experience looks good on a CV?
Work experience that looks good on a CV includes experience that shows how you've:
worked in roles related to the one you're applying for
produced results
progressed from entry-level to taking on more responsibility
been proactive in the workplace
collaborated as part of a team

2. How can a 16 year old write a CV with no experience?
Need help writing a CV for a 16 year old with no work experience? Structure your CV to help you compete with older, more experienced applicants by emphasising other relevant information to make up for your lack of work history, such as:
secondary school coursework
volunteer or internship experience
hobbies and interests that show your job-specific skills
responsibilities at home (e.g., you care for your younger sibling or handle the grocery shopping)
3. How much work experience should be on a CV?
All of your relevant work experience should be on your CV. So even if you have 10 or more years of experience, summarise that information in your CV's work experience section.
More CV writing FAQs
Here are expert answers to more questions people often ask about writing a CV: