A CV personal statement (not to be confused with a personal statement for a university application) is a 2–4 sentence paragraph at the top of your CV just under your name and contact details. Here's a quick video with on-screen examples to help make the concept clearer:
Basically, your personal statement should say:
who you are (but without giving too many personal details on your CV)
how much relevant work experience you have
your key skills and qualifications
the job you're interested in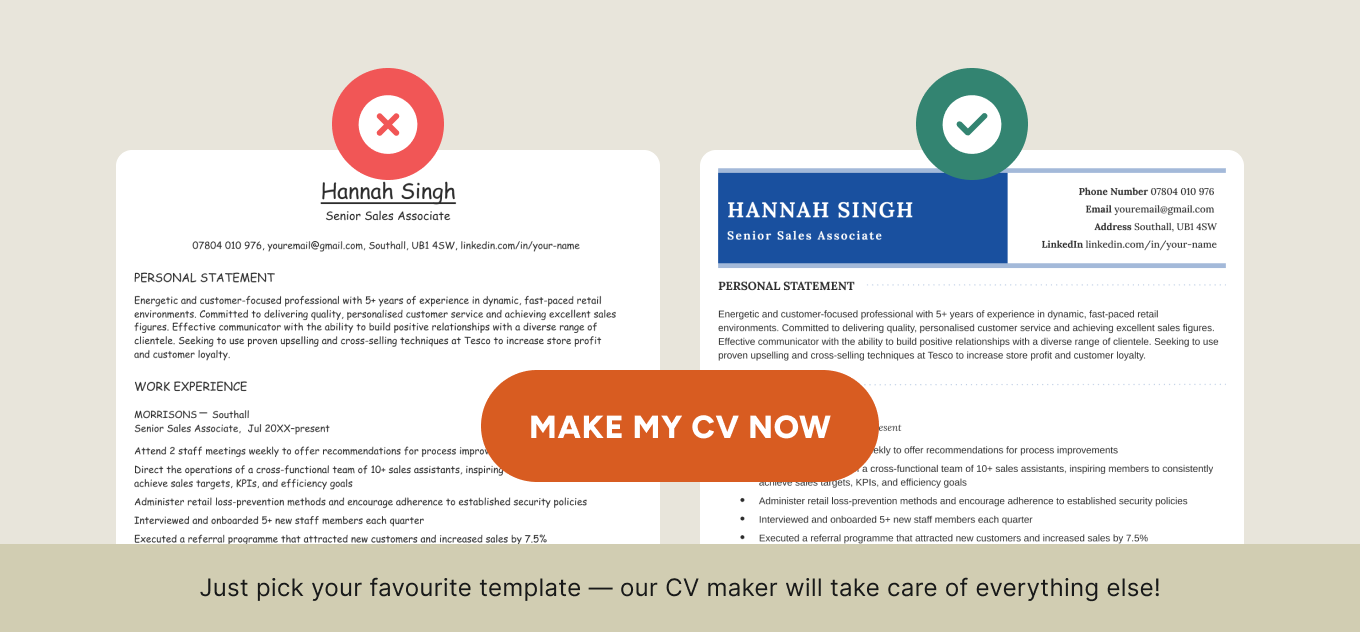 A well-written personal statement on your CV is key to getting recruiting managers interested in learning more about you by summarising your biggest professional strengths and selling points. So to help you out, below we have:
Or you can copy and paste this personal statement template onto your CV, changing the parts in brackets to reflect your own situation:
Copy-and-paste CV personal statement template
(1–2 adjectives) (Your job title or 'student') with (# months/years) of experience (your primary responsibility at work). Possess (a degree/A-Levels/GCSEs) in (subject or subjects). Excited to apply my abilities in (skill 1) and (skill 2) to the (job title) position at (company Name).
7 CV personal statement examples for various situations
Here are 7 personal statement examples for different stages of your career:
1. CV personal statement for a first-time job applicant
If you're writing a CV for a first job, focus on skills you've picked up during your education. In this example, the candidate focuses on their communication skills and organisational skills:
Reliable and friendly individual with first-rate communication and organisational skills. With three A-Levels graded A*–C, I've completed internships in customer service and administration, and I'm eager to apply my skills and contribute to British Gas' success.
2. CV opening statement for a student
Writing a CV for a part-time job to support your studies or seeking an internship to secure your future career? Write a personal statement for your student CV describing your positive qualities, like this:

3. CV personal statement for a school leaver
When you apply for jobs after your secondary education or write a school leaver CV, include your GCSEs and T-Levels (if applicable) in your CV's personal statement to give recruiters a clear picture of your level of training:
Innovative individual and self-taught Digital Artist with 8 GCSEs grades 9–4. Currently studying at Longhill High School. Passionate about 3D modelling and animation. Hoping to expand my knowledge of digital design by applying for a full-time internship with Flaneur Magazine after leaving school.
4. Personal statement for a career change CV
Transitioning to a new career path? Here's an example of how to write a personal statement for a career change CV. This applicant is currently a graphic designer.
Boast excellent interpersonal skills that allow me to create clients' desired graphics. Hope to transfer my creative talent, people skills, and experience giving friends makeovers to become a makeup artist at Clarins.
5. CV personal statement for returning to the workforce
Sometimes life happens and you get pulled out of the workforce for a while — perhaps because you've been taking care of your children or have been a carer for a family member.
So if you're writing a stay-at-home mum or carer CV, your personal statement should explain how your skills and experience are still relevant, like so: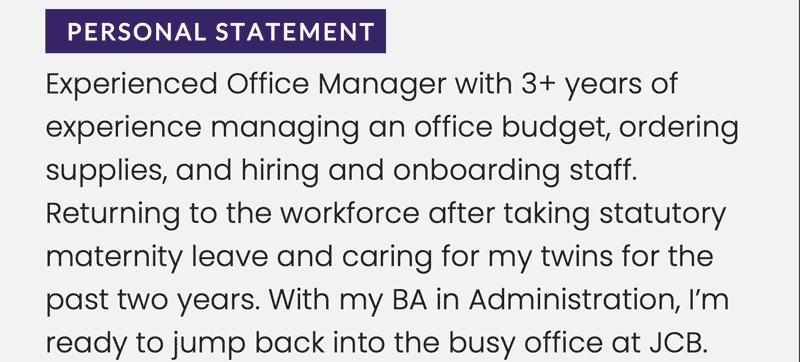 6. CV personal statement for a graduate
This is a good personal statement for a recent graduate's CV because it emphasises the applicant's relevant extracurricular activities, connecting them to the job they're targeting: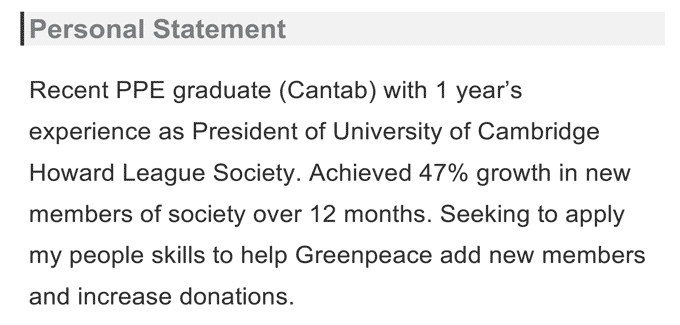 7. CV personal statement for an entry-level role
If you're applying for an entry-level position, highlight your relevant internship or volunteer work, and note any soft skills that'll help you quickly learn how to do your new job. Here's how you might word your personal statement for an entry-level job: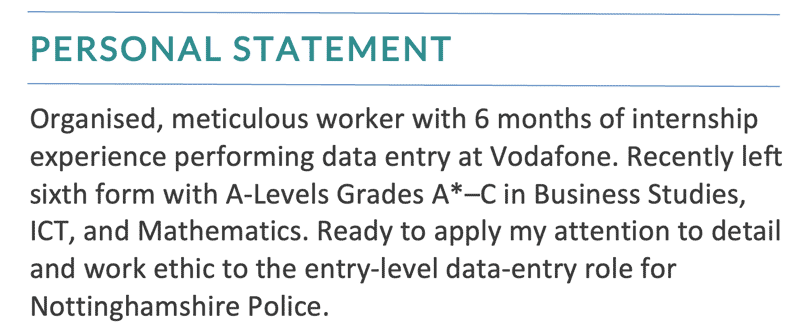 13 CV personal statement examples for specific jobs
Below are 13 CV personal statement examples from different industries.
Even if you don't see an example that exactly matches your job title, you can adapt the general writing style to target the role you want (and you can check CV examples from your field and look at their personal statements).
1. Administration CV personal statement
Applying for an administration or office management role? Here's a personal statement from an administrative assistant's CV that shows you how to write your own: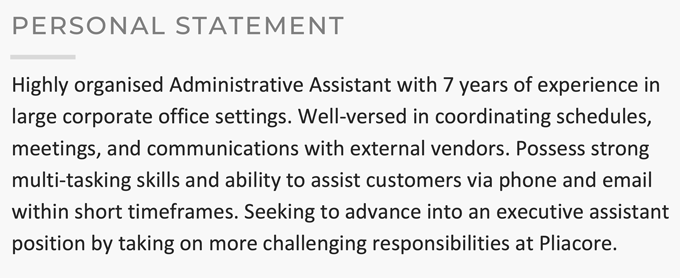 2. Customer service CV personal statement
This personal statement for a customer service CV underscores the applicant's years of experience with strategic bolding and showcases their customer service skills: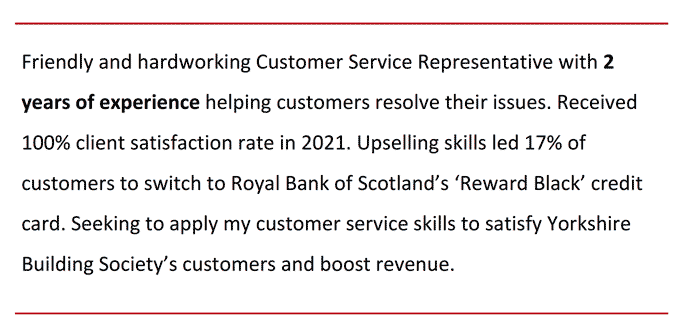 3. Waiting staff CV personal statement
Here's a good CV opening statement to imitate if you're writing a waiter or waitress CV: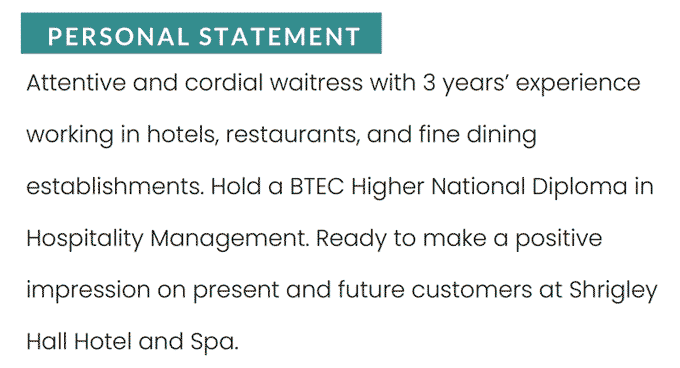 4. Retail assistant CV personal statement
Below is a personal statement example that you can adapt for your CV for a retail position:
Self-motivated and enthusiastic Sales Assistant with 1 year of experience working in busy retail environments. Currently completing my GCSEs at Fairfield Comprehensive School. Experienced with point-of-sale (POS) systems and interacting with customers of all ages and backgrounds. Hoping to apply my friendly demeanour and sales skills at Zara as a part-time sales assistant.
5. Engineering CV personal statement example
This engineering CV personal statement highlights an engineering applicant's educational background and technical skills: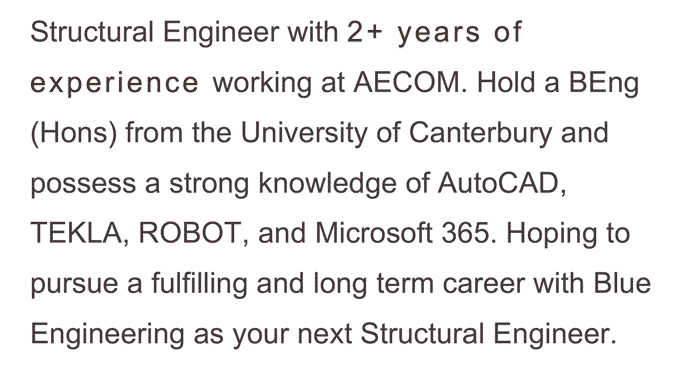 6. Project manager CV personal statement
Use this example project manager CV personal statement as inspiration for what to put in your CV when you apply for a similar role: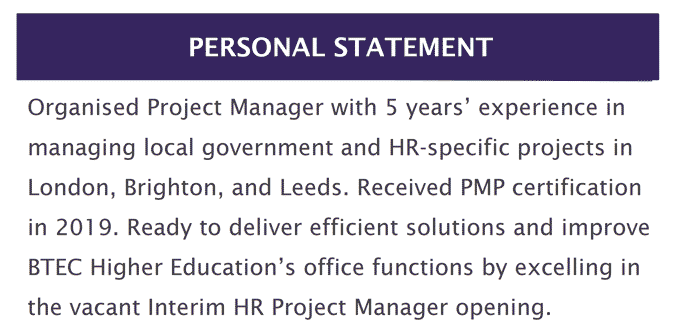 7. Marketing CV personal statement
Here's an example of how to write an effective marketing CV personal statement: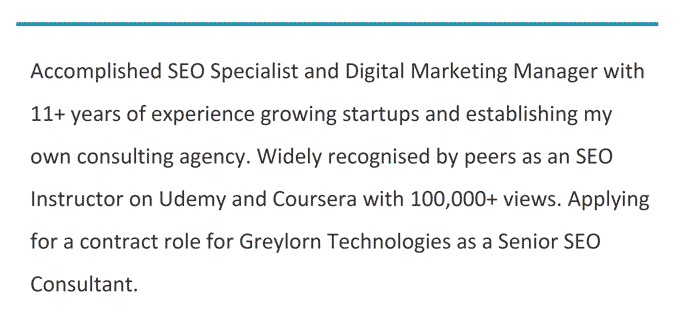 8. Teaching assistant CV personal statement
Write a CV for teaching assistant roles with a personal statement like this one:
Personable Teaching Assistant with 7+ years of experience in the classroom. Recognised for my ability to help pupils with special needs prepare for KS2 SATs, with all to date gaining 'AS' outcomes. Hoping to bring an exceptional standard of support to teachers at Green Lane Primary School.
9. Accountancy CV personal statement
Here's a great example of an accountant CV statement that showcases the applicant's accounting skills and years of experience:

10. Cleaner CV personal statement
Mention your professional demeanour and previous recommendations in your personal statement to make your cleaner CV stand out, like the example below does:
Punctual cleaner with a high standard of professionalism, recognised by colleagues for my steadfast attention to detail. Have 10+ years of experience in cleaning all types of surfaces and supervising junior cleaners. COSHH trained and ready to make a positive impact at Corus Consultancy in your School Cleaner opening.
11. Data analyst CV personal statement
This personal statement from a data analyst CV highlights the applicant's relevant analytical skills, including their SQL expertise and data modelling proficiency: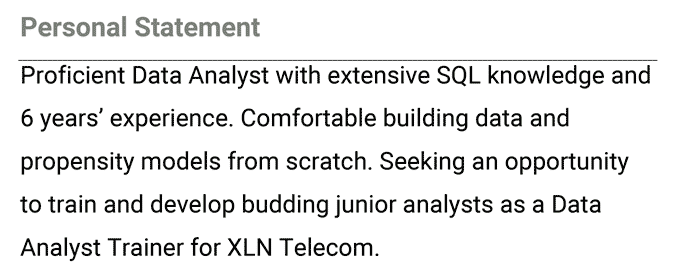 12. Primary teacher CV personal statement
Include your teaching qualifications and specialisations when writing your teaching CV personal statement so employers know you're qualified as soon as they start reading your application: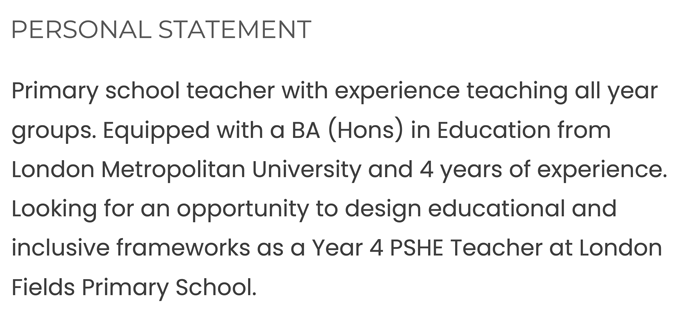 13. Delivery driver CV personal statement
Need to write a short CV personal statement? Take notes from this delivery driver CV personal statement that displays the applicant's time management skills and educational background in three short sentences:

How to write a good CV personal statement
Follow these three steps to write a CV personal statement when you're applying for jobs:
1. Start with your professional experience or education
The first sentence of your personal statement should outline your professional experience and include a unique adjective that describes a key trait, such as 'Dedicated'.
For instance, if you've got three years of experience as a barista, here's an example of how to start a personal statement for a job with similar requirements:
Hardworking barista with 3 years of experience in a customer-facing role.
If you haven't got any formal work experience, mention your highest level of education and any work placements you've had instead:
Motivated sixth form leaver with four A-Levels and a week's work experience at Barclays in Warwick.
2. Add key skills and accomplishments
In your second sentence, expand on the key skills you've listed on your CV that apply to the job. If possible, mention noteworthy achievements from previous roles that are relevant to the new job you're applying for.
For example, the second sentence of a call centre representative's personal statement might say:
Skilled at resolving customer complaints with a 100% client satisfaction rate.
Note that you should add hard numbers (like '100%'). Adding numbers to your CV personal statement lets employers see what kind of performance they can expect if they hire you.
Add an extra sentence if you'd like to give even more details about your achievements and capabilities or mention any special trade licences or qualifications you have.
3. End with your career objective
The final sentence of your CV should summarise your most job-relevant career goal and directly target the company you're applying for. Use the company's name and the job title here to tailor your CV to the role.
Tailoring your CV to the position shows you've considered the company's needs and aren't just sending your CV to every company with openings.
Here's an ideal final personal statement sentence for a retail position:
Seeking to apply my unrivalled interpersonal skills and provide customers with great service in the retail assistant role at River Island.
3 tips for making a job-winning personal statement
Below are three tips for how to perfect the structure and word choice of your CV's personal statement to give yourself the best chance of landing an interview:
1. Keep it short
Unsure how long your CV's personal statement should be? Aim for under 100 words so it's easy and quick for the recruiting manager to read. Make your personal statement as short as possible while still including all the key facts and job-specific CV buzzwords.
Here's what a short personal statement example looks like as part of the structure of a CV:
2. Get the font right
Your personal statement should use the same font and font size as the rest of your CV. Use one of the most effective CV fonts throughout your document, such as Times New Roman, Arial, or Helvetica.
3. Write your personal statement last
Even though your CV's personal statement goes at the top of the first page, you should write it after you've completed the rest of your CV sections. Here's why:
Adding only your most relevant information to your personal statement is essential, as it needs to get the reader excited about reading the rest of your CV.
Finishing your other sections first helps ensure you've thought of your career details most likely to impress the recruiting manager at the company you're applying for.
Frequently asked questions about CV personal statements
Here are answers to 3 common questions about putting a personal statement on a CV:
1. Do I need a personal statement on my CV?
Yes, you do need a personal statement on your CV.
A personal statement gives your CV a competitive advantage by:
summarising your CV so recruiting managers can quickly see if they should read the rest
showing employers you've personalised your CV to fit their requirements
A CV personal statement also emphasises your most hirable qualities in a place employers can easily see when they read your application.
2. What is the difference between a CV and a personal statement?
Here's the difference between a CV and a personal statement:
a CV is a job application document that lists your work experience (including voluntary and internship work), education, and skills to help employers decide whether to interview you
a personal statement is part of your CV that summarises your skills, qualifications, and work experience so companies can decide if you'd make a good hire at a glance
Here are resources to help you write a CV:
3. How do you write a personal statement for a CV when you're a teenager?
Even if you're a teenager with no work experience, you can write a CV personal statement that helps you get hired. Here's how:
describe the skills you've developed in school or through extracurricular activities that'll help you succeed in your target job
highlight any relevant voluntary, internship, or part-time work experience you have
note any awards you've received to show that you're able to exceed expectations
customise your statement to the job advert by including the company name, your desired job title, and an explanation of how you could help the company reach its goals
Here's an example of a well-written personal statement from a CV for a teenager:
Enthusiastic and friendly secondary school pupil currently completing my GCSEs. Excellent self-discipline from years of practice as a pianist. Skilled with numbers and received the 'Cardinal's Exceptional Maths Pupil' award in June 2023. Seeking a responsible summer position as a part-time waiter at Brighton Cheery Restaurant.