To find a new job, you'll need a well-written cover letter. But what is a cover letter, and how do you write one?
Below we explain the meaning of a cover letter, what you should include in one, and answer other FAQs so you can impress employers and start making money.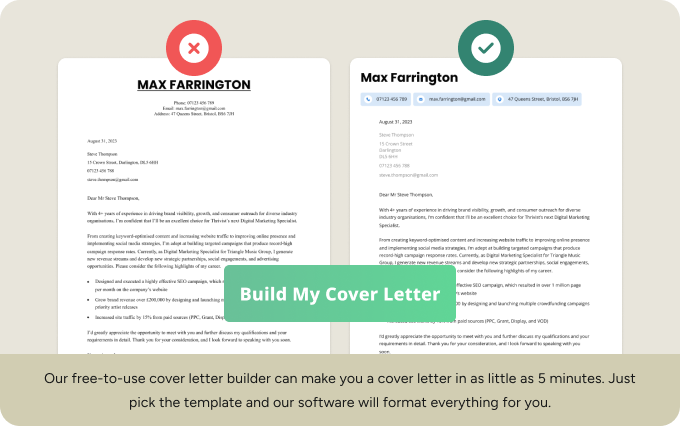 What is a cover letter?
A cover letter is a formal job document you send to a potential employer along with your CV, or summary of your skills and experience.
Typically, a cover letter is one page long and provides employers with relevant information about your qualifications, skills, and experience that'll convince them to ring you for an interview and even hire you.
Example cover letter
If you want to see what a cover letter is supposed to look like, here's a cover letter example that a retail manager applicant wrote: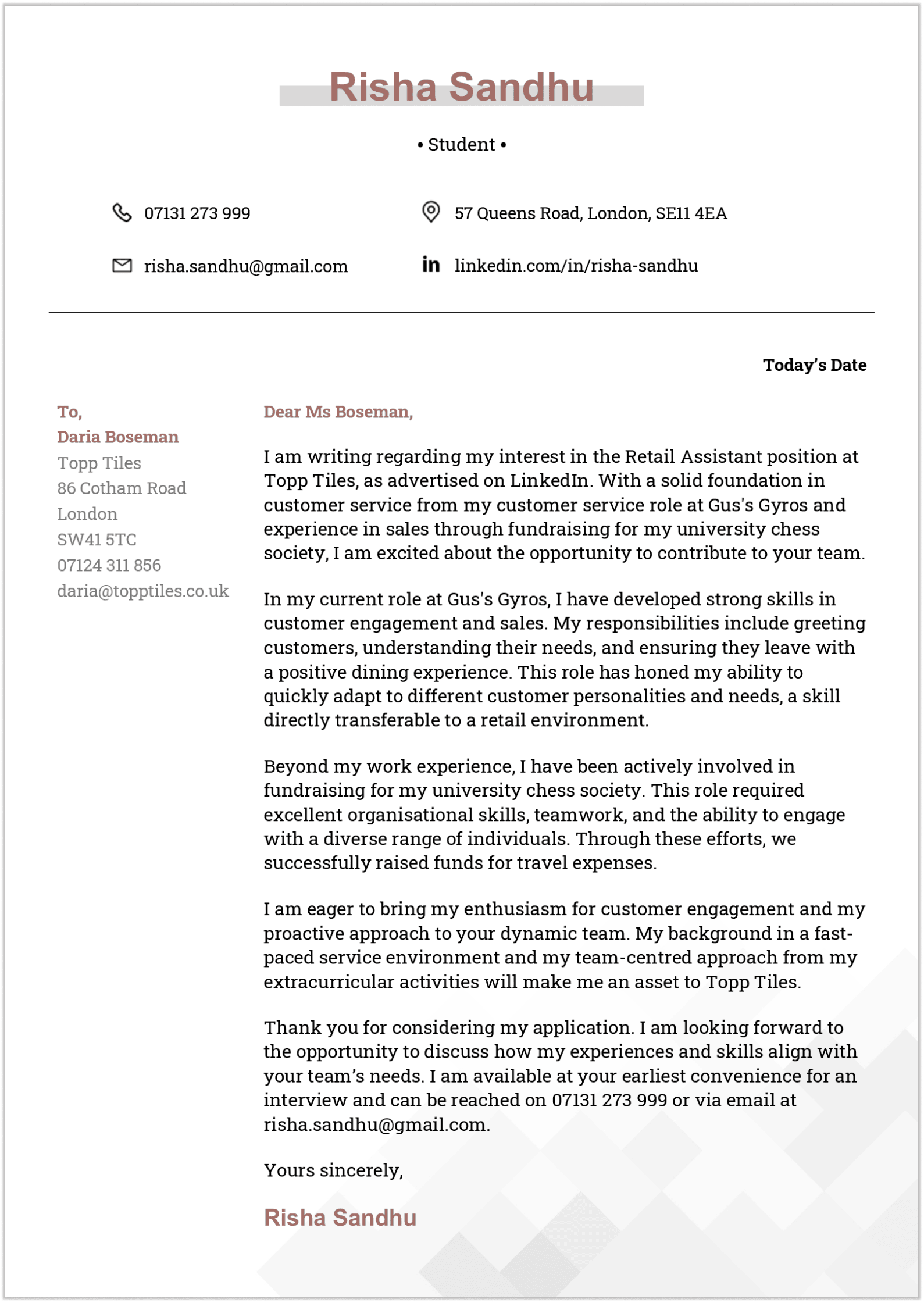 Download Free Cover Letter Example
What is the meaning of a cover letter?
A cover letter's purpose is to introduce yourself formally to a company and explain why you're a good fit for the job you want.
Your cover letter is a prime opportunity to:
showcase your personality, communication abilities, and enthusiasm for the job
provide more information about your qualifications and experience beyond what's on your CV
convince the employer that you're the best candidate for their job opening
get an interview
What should a cover letter include?
Not sure what to write in a cover letter? Here are six sections you should include:
1. Your contact details
The top section of your cover letter (also known as the cover letter header) is the first thing a potential employer will see. To write an effective cover letter header, list these contact details:
Name: Include your first and last name in a bigger or bolder font so employers can easily see who you are.
Phone number: Use your mobile number so employers can reach you wherever you are.
Email address: Make a professional email address that lists your name (e.g., tannerthomas@gmail.com) so employers can easily find your email in their inboxes.
Social media profiles: You can add optional links to your LinkedIn profile, online portfolio (for creative roles), or blog (for writers or editors) if they relate to the role you want.
2. The contact person's information and name
Personalising your cover letter with the name and title of the appropriate contact person demonstrates your interest in the company and helps you make a good first impression.
To find this information, you can:
look up the company's website
check LinkedIn
do a Google search
The standard way to address an employer in a cover letter is:
Dear [Mr/Ms] [Last Name],
If you're unsure of their gender, you can use the gender-neutral courtesy title 'Mx', like so:
Dear Mx Rey,
Also, you can use alternative options if you still can't find a specific person to address. Just ensure the title is professional and specific to the company you're applying to.
Here are some alternative ways to address a contact person without a name:
Dear Sephora Store Manager,
Dear Harrods Marketing Team,
Dear Hiring Department,
3. An attention-grabbing opening paragraph
Start with an informative and concise first paragraph to capture an employer's attention and convince them to read your entire cover letter.
Your cover letter's opening paragraph should include key details such as:
your professional background
your education details
the job title you're applying for
where you saw the job advert
whether someone recommended you for the role
Including these details accurately demonstrates your qualifications and passion for the job. For instance, this candidate's opening paragraph clearly mentions where they found the job advert and why they're applying for the role:
I'm writing to express my keen interest in the Sales Assistant position at Thorntons Chocolates that I found on Indeed. As a recent school leaver from Lawnswood School with a passion for confectionery and making my own unique pastries, I'm excited about the opportunity to work at a renowned chocolate shop and provide excellent customer experiences.
4. One or two compelling body paragraphs
After writing your opening paragraph, the next step is to convince the employer why you're their ideal applicant.
Use the second and third paragraphs (along with a bulleted list if necessary) to highlight your relevant experience, key skills, and education details that make you the most qualified person for the position.
Whenever possible, include the following information in your cover letter's body paragraphs:
Achievements: Highlight your accomplishments (such as receiving an excellent grade or completing a major project) to demonstrate your value.
Awards: Mention any awards you received at school, uni, or work to showcase your achievements.
Praise: If you received praise from employers for your work, use this opportunity to mention those moments.
Have a look at this body paragraph describing the applicant's academic achievements and customer service abilities:
Throughout my school years, I excelled in my studies and received several academic accolades for my hard work and dedication. For example, I consistently received an 'A' grade in my Business Studies course since December 2020. This course gave me a strong understanding of sales and marketing principles, and I credit it for kickstarting my passion for customer relations and business development.
Moreover, I've worked on various group projects and have experience working in a team environment. For instance, I was part of a 6-member team that created a successful class marketing campaign for the charity Doing Good Leeds, resulting in a £1000 increase in donations.
5. An effective closing paragraph
To successfully close your cover letter, include these final details:
a sincere thank you for the employer's time and consideration
a clear request for an interview so you can discuss your application further
your phone number and email address to make it easy for the employer to get in touch with you
These elements ensure that your cover letter ends on a positive and professional note.
Here's an example of a polite cover letter closing paragraph:
I appreciate you considering my application for the role of Sales Assistant at Thorton Chocolates. I know my passion for customer service and love for all things chocolate make me an excellent fit for your team. I welcome the opportunity to discuss my qualifications further and am available for an interview at your convenience.
Please feel free to contact me at tannerthomas@gmail.com or on 07113 433 487. Thank you for your time.
6. A professional sign-off
After ending your cover letter, add a polite sign-off followed by your name so employers know you followed appropriate business letter–writing guidelines.
Your sign-off should follow these rules:
If you addressed the reader by name, such as 'Dear Ms. Williams,' then use 'Yours sincerely,'
If you used a job title or a generic greeting like 'Dear Sir or Madam,' then use 'Yours faithfully,'
Here's an example of an appropriate cover letter sign-off:
Yours faithfully,

Tanner Thomas
Frequently asked questions about cover letters
Want some answers about cover letter writing best practices? Below are the answers to three commonly asked questions about cover letters:
1. How should you format a cover letter?
Here's how you should format a cover letter:
Cover letter font: Choose a widely used sans serif font for your cover letter like Arial or Tahoma. Set your font to 10.5 and 12 points so your cover letter is readable and looks professional.
Line spacing: Set your line spacing to '1.0' in your word processor to give your cover letter some white space and a visually appealing look.
Margins: Make your margins between 1.25 cm and 2.5 cm around your page so your cover letter doesn't look too crowded or spread out.
Length: Typically, a cover letter is one page long (250–400 words), so ensure that it's easy to read and accurately conveys your skills and experience.
Bullet points: Use bullet points instead of full sentences in your skills section or work history whenever possible to highlight your qualifications and make them easier to read.
2. Can I use the same cover letter for multiple job applications?
While it may be tempting to use the same cover letter for multiple job applications, we recommend writing a personalised cover letter for each job you apply for.
Tailoring your cover letter demonstrates why you're a good fit for that particular role and shows employers you put effort into researching their company and the position.
3. What tone and language should I use in a cover letter?
In the UK, the tone and language used in a cover letter should be professional and formal, but also engaging and personable to show you're genuinely interested in the role.
Use concise language that highlights your skills and work history rather than overly complex or technical language or abbreviations that might confuse the person reading your letter.
Finally, use correct grammar, spelling, and punctuation. You can catch mistakes by using Grammarly while you write and then proofreading after you finish.