What is a CV 'About Me' section?
A CV 'About Me' section is a 3–5 sentence summary of your job-relevant information (also known as a CV personal statement or CV summary). Similar to the purpose of a cover letter, its job is to introduce you and convince recruiters to read every part of your CV.
Here's a good CV 'About Me' example:

CV 'About Me' Template (Copy/Paste)
[Adjective that describes your best trait] [Job Title] with [# years of experience] [work that you do]. Knowledgeable in [most job-relevant skill] and [next most job-relevant skill]. Eager to benefit [Company Name] with my [job-specific ability] in your open [Job Title].
Find more CV 'About Me' examples, tips for how to describe yourself in this CV section, and answers to related FAQs about CV introductions below:
CV 'About Me' examples based on applicant type
We have examples of good CV 'About Me' sections for all types of applicants, including:
1. Student CV 'About Me' examples
If you're writing your student CV, create an 'About Me' section that connects your education, volunteer and internship positions, and any professional work experience on your CV to your target role. Here are two examples of how to do that:
Student CV 'About Me' (with work experience)

Student CV 'About Me' (with no work experience)

2. Early career CV 'About Me' examples
Just learning how to write a good CV early in your career? Write an 'About Me' section for your CV that emphasises the skills and experience you've picked up so far, like these two examples do:
Early career graphic designer CV 'About Me'

Early career social media specialist CV 'About Me'

3. Mid-level CV 'About Me' examples
Many applicants in the middle of their careers are ready to start making the leap to leadership roles. These mid-level career CV 'About Me' examples highlight skills and experience that indicate the applicants who wrote them have management potential:
Mid-level software engineer CV 'About Me'

Mid-level sales CV 'About Me'

4. Management CV 'About Me' examples
As a manager, your CV bio should exhibit your accomplishments as a decision-maker. To get an idea of how to make a CV with an engaging 'About Me' for your manager CV, look at these two professional 'About Me' examples:
Restaurant manager CV 'About Me'

Marketing manager CV 'About Me'

How to write your CV 'About Me' section
Let's dive into what makes a good CV 'About Me'. Here's how to write the best 'About Me' section in three steps:
1. Get the reader's attention in your first sentence
The first sentence of your CV 'About Me' section should get the recruiter immediately interested in you by starting with a descriptive adjective and listing your job title and years of relevant experience. Or you can showcase your degree title and job-specific skills if you're still a student.
Including these details lets employers know right away that you can handle their workflows. Here's a first sentence for a CV 'About Me' profile that shows the recruiter the applicant can make a positive impact from day one on the job:
Inquisitive journalist with 4+ years of experience breaking sports and entertainment news.
2. Explain why you should be hired
In the next 1–3 sentences, pitch yourself to the recruiter. This is where you describe your top skills and accomplishments, using hard numbers if possible to show employers what you're capable of, like so:
Skilled interviewer, comfortable shooting/editing video and taking pictures to supplement my articles. Motivated by tight deadlines, maintaining a 100% on-time project rate.
But don't try to squeeze every one of your accomplishments in and make your pitch too long, or you'll risk losing the recruiter's interest. You can go into more detail when you write your cover letter.
3. Customise your 'About Me' to your target role
You may think you've cleverly written a CV introduction that fits every role you're applying for — but don't be fooled: employers can always spot a generic CV. And they don't appreciate you not taking the time to make a CV that shows how you'll fit their needs specifically.
So in your final sentence, state the company name and the job title you're targeting to show employers that you've taken the time to make a CV just for them, letting them know you're genuinely interested in working for them.
Additionally, be sure you connect every skill and experience you describe in your CV 'About Me' to the specific job you want. To do that, use skills-based keywords from the job description (e.g., if the job requirements emphasise 'pivot table expertise', use that exact phrase).
Here's a customised CV bio that shows you how to write your own using all the information we've covered in the tips above: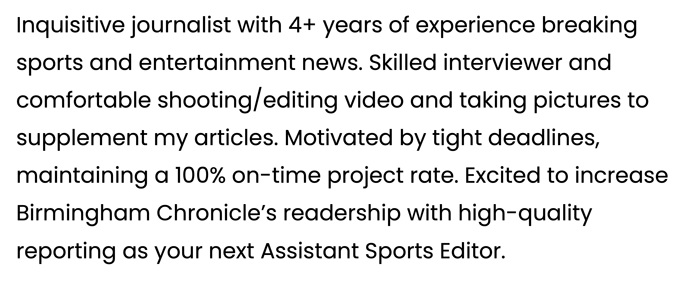 Frequently asked questions about writing a CV bio
We've covered everything you need to know about CV 'About Me' sections above. But here are answers to three common queries about how to start a CV in case you still need help:
1. Do you need an 'About Me' in a CV?
Yes, you need an 'About Me' in your CV. Employers quickly read CVs, so putting an introduction at the top ensures that fast-reading recruiters see your best selling points. Also, employers appreciate having a summary of your CV that helps them decide whether to read the rest of your application.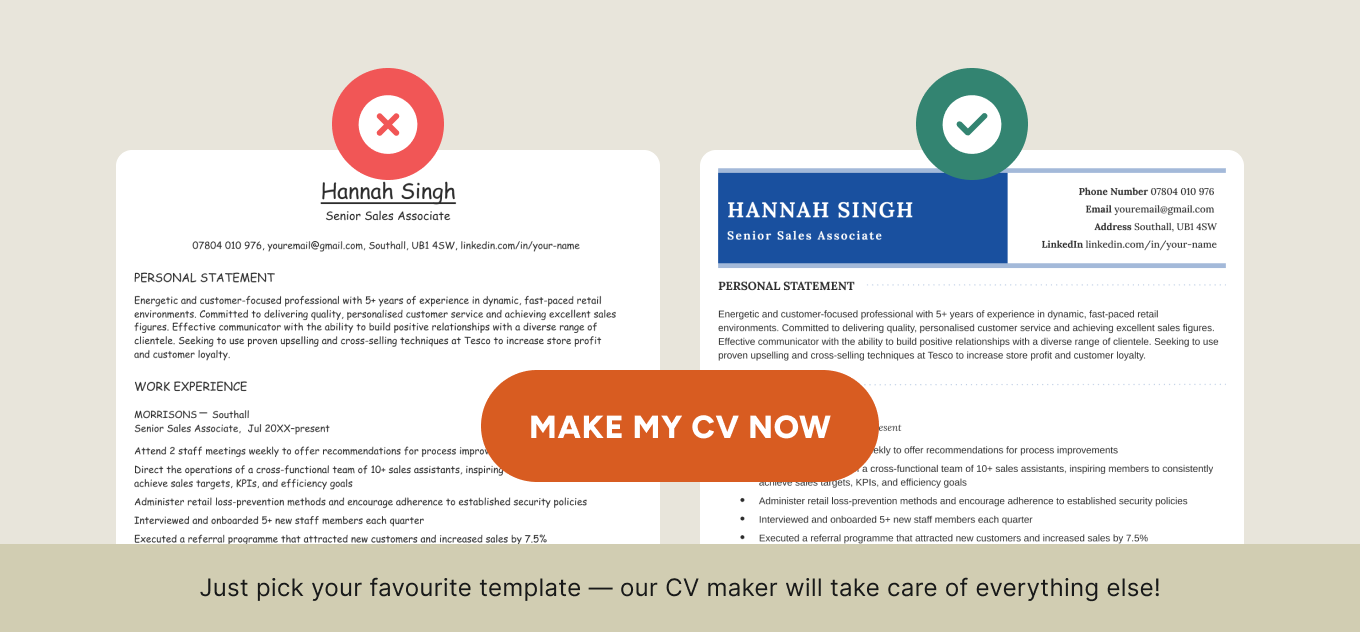 2. How do I write a resume 'About Me' section?
You write a resume 'About Me' section the same way you'd write one for your CV. There are various differences between a resume and CV, but both documents start off with an introduction. So write a resume 'About Me' section like this:
First sentence: Introduce yourself with your job or degree title and years of experience (if applicable).
Body (1–3 sentences): Explain how your skills and achievements make you the ideal fit for the role.
Last sentence: Tell the employer how you'd help them achieve their goals, and what role you're seeking.
This is a good example of a resume 'About Me' section:
Friendly and organised receptionist with 3 years of professional experience. Effortlessly manage multi-line phone systems while greeting visitors and scheduling appointments. Looking forward to providing exceptional service and creating a positive first impression for clients and visitors as the Front Desk Receptionist at Family Medical.
3. What are good words to describe yourself on a CV?
Good words to describe yourself on a CV are unique adjectives and action verbs that paint a clear picture of how you work. Below are examples of adjectives and verbs that'll make your CV stand out to employers:
Descriptive CV adjectives
Focused
Conscientious
Upbeat
Engaged
Knowledgable
Reliable
Engaging CV verbs
Lead
Analyse
Collaborate
Maximise
Coordinate
Motivate