A CV education section is the part of your CV that highlights your academic and vocational qualifications. Your education section should show employers you have the right educational background to suit their job.
Standard CV education sections include any degrees you have, your A-Levels and GCSEs, T-Levels, as well as vocational equivalents. You may also need to provide context for Scottish qualifications or your International Baccalaureate if you're applying at companies that aren't familiar with them.
Example of a CV education section
Here's a quick example of a CV education section that you can base yours on, or you can skip to our writing tips if you'd prefer more details:
How to list qualifications on a CV
Writing the education section of your CV should be straightforward, but here are some tips in case you run into difficulties.
1. List any degrees first
If you have a doctorate, master's degree, bachelor's degree, or level 6 National Vocational Qualification (NVQ), list these first (in that order, top to bottom) on your graduate CV.
Put higher education degrees like these qualifications first so that employers can immediately see that you've completed higher education.
Because undergraduate and postgraduate degrees show critical thinking, independence, and an ability to understand a topic in detail, list them whether or not they have a direct link to the job you applied to.
Always include the university name because universities have varying reputations for different subjects.
Everyone's heard of Oxford, Cambridge, UCL, LSE, and Bristol, but if you went to Kingston University and are applying for a design job, you should definitely highlight that fact because Kingston is rated the No. 1 university in the UK for design and crafts courses.
How to write degree classification on a CV in the UK
As well as your degree title, university name, and location (and optionally date), you can also add your degree classification.
In words
You can write out your degree classification in words if you've got plenty of space on your CV. For example, here's how to write first-class honours on a CV:
BSc (Hons) Electrical Engineering
First-class honours
Because second-class honours is divided into two divisions, there are a few options for presenting them:
BA (Hons) Philosophy
Upper second-class honours

LL.B. Law (Hons)
Second class-honours (upper division)
In numbers
If you're short on space on your CV, you can write your classification using numbers.
Acceptable ways to write your classification in numbers include:
1st
2.1, 2:1, II.i, 2.i
2.2, 2:1, II.ii, 2.ii
3rd
For example:
BA (Hons) German (2:1)
If you didn't receive an honours degree (in other words, you passed but without first-, second-, or third-class honours), simply leave out '(Hons)':
BA Marketing
2. Next, add details on your A-Levels
A-Levels should follow your degrees in your CV education section. If you don't have a degree, start your education section with your A-Levels (and/or AS-Levels) instead, or Level 3 NVQs.
If you studied your GCSEs and A-Levels at the same school, list them both under the same entry. Or if you went to a sixth-form college to study your A-Levels, add them to a separate education section entry.
You should list each A- (and AS-) level separately, along with your grades. Here's what that should look like:
Royal York Academy and Sixth Form, York, 2014–2021
A-Levels: Physics (B), Maths (C), Chemistry (B)
AS-Level: ICT (B)
If you're trying to fill space on an empty CV (for example, if you don't have much work experience), format your CV by listing your A-Levels in columns instead:
3. Include your GCSEs
GCSEs are professional qualifications, so you should refer to them even if you have an undergrad or postgrad degree.
If you have a degree, good GCSE and A-Level grades indicate a long history of consistent hard work and success, and even showcase your hobbies and interests.
Here's how to write GCSEs on a CV (or Level 1 and 2 NVQs):
If you have a degree
You only need to refer to the number of GCSEs you got in total. Employers only care about 'good' GCSEs, grades A*–C (or 9–4 since 2019). They also only care about your basic numeracy, literacy, and ICT skills so you only need to specify Maths, English, and ICT GCSEs by name.
Here's how that would look:
11 GCSEs grades 9–4, including Maths, English, and ICT
Firms use software called applicant tracking systems (ATS) that's programmed to find certain CV keywords. If an ATS is programmed to check you have GCSEs in Maths, English, and ICT, it'll search for those words in close proximity. If you don't include these details, your CV may be filtered out.
If you don't have a degree
If you don't have a degree or much relevant work experience, you can list your GCSEs in full, but this might take up space. So it's best to use columns if you want to fully list your GCSEs on your CV: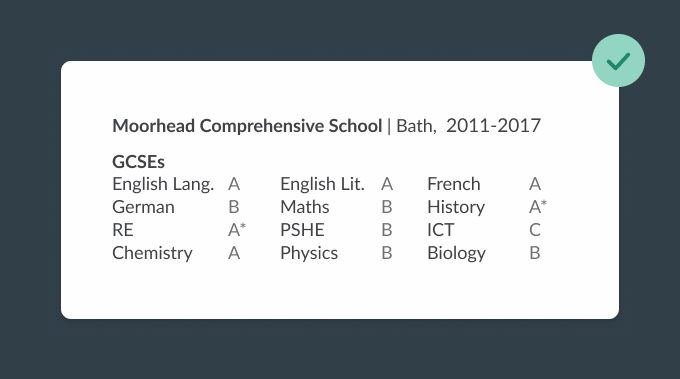 For Double Award Science, you can display your grades like this to show you have two GCSEs:
Double Award Science (9-8)
4. Present Scottish or other qualifications in an easy-to-read way
If you have similar qualifications to GCSEs or A-Level, their presentation on your CV is almost exactly the same, but there are some things to bear in mind.
Scottish qualifications
If you studied in Scotland, you're unlikely to have GCSEs or A-Levels. Instead, indicate your Nationals and Advanced Highers results instead.
Here's an example:
The Royal High School, Edinburgh, 2016–2021
Highers: Maths (A), Physics (B), Chemistry (A), Computing Science (A)
N5s: English (C), Maths (A), Geography (B), Physics (A), Chemistry (A), Computing Science (B)
If you were applying for jobs in the other countries of the UK, you don't need to provide equivalences if you're applying at larger, UK-wide companies. Their HR departments will be familiar with Scottish qualifications.
However, if you're applying to a small start-up or firm, consider providing approximate equivalences so that employers can immediately grasp your level of education:
The Royal High School, Edinburgh, 2016–2021
Scottish Highers: Maths (A), Physics (B), Chemistry (A), Computing Science (A) — equivalent level to A-Levels
Scottish N5s: English (C), Maths (A), Geography (B), Physics (A), Chemistry (A), Computing Science (B) — approximately equivalent to 10+ GCSEs
International Baccalaureate
Some schools in the UK use the International Baccalaureate (IB) instead of A-Levels. If you have an IB, simply provide your final score out of 45, and then add an equivalent to A-Level grades so employers can see at a glance how skilled you are:
CV education tips
Now you know how to present education on your CV, here are some more CV writing tips to help you make your CV education section as effective as possible:
1. Place your CV education section strategically
If you're writing a graduate CV, school leaver CV, or a CV for a 16-year-old, you should put your education section first.
For example, if you're applying for a graduate role in accounting and have an Accounting degree with some part-time work experience at Morrisons, place your CV's education section above your work experience section. Your degree and the units you studied are more relevant to the role than your supermarket position.
However, even though your education is more vital in this example, it'd still be important to list your supermarket role because it proves you have key transferable skills like good maths skills, communication skills, and organisational skills.
By contrast, if you have a few years of relevant work experience, place your education section after your work experience because employers are more interested in your work-related achievements and the skills on your CV.
2. Add details of sandwich year/year abroad placements
If you did a—
sandwich year
year abroad
year in industry
internship
—mark this in your education section. Here's how you can format it:
University of Warwick, 2013–2017
BA (Hons) German (with third year abroad) — upper second-class honours
Key modules: German Language, Germany & the EU, Modern History of Bavaria, Austrian Politics & Governance, Germany under the CDU 1949–1969, German Literature of the 19th Century, Environmental Policy of Germany, Translation for Business
Then you can add your sandwich year placement or year abroad placement to your work experience section. Here's how that might look:
XYZ Translations, Berlin, September 2015–July 2016
Translator's Assistant (Internship)
Translated 100+ simple legal documents, including birth and marriage certificates, educational transcripts, and passports and identity documents.
Oversaw legal certification, notarisation, and apostille process of 200+ translated documents by collaborating with certified translators and government agencies
Answered up to 20 phone calls a day from German- and English-speaking clients
If you did a short internship — for example, during the summer holidays — you don't need to be too specific with the dates. For example—
3. Also add student union or student society roles
Similar to internships and placements, student union or uni society roles look great on a CV. These experiences show you've developed skills and achieved things for the people who elected you to these roles.
You should:
note the role in your education section
write a separate work experience entry with more detail
Here's how a society role might look on your CV:
Education section
University of Northumbria, Newcastle-upon-Tyne, 2017–2020
BA (Hons) Graphic Design (2.1)
President, University of Northumbria Public Speaking Society (2018–19)
Work experience entry
University of Northumbria Public Speaking Society, 2018–19
President
Organised 12 monthly public speaking events
Collaborated with local MPs, councillors, and business leaders to arrange 3 'VIP' public speaking master classes
Implemented 'taster' sessions idea, for newcomers to practice public speaking in small groups of 5 before the whole group, increasing membership by 47%