A good resignation letter (or notice letter) helps you leave a job positively by giving your employer time to find a replacement and expressing your gratitude for the opportunity.
To help you with handing in your notice, we have a copy/paste resignation letter template below, followed by writing tips, situation-specific resignation letter examples, and answers to common notice-giving FAQs:
Simple resignation letter template
Below is a simple resignation letter template with formal formatting for you to copy, paste, and fill in with your unique experiences:
Your Name
123 Street Name
City
Postcode
xxxxx xxx xxx
your-name@email.com
[Today's Date]
Contact Person's Name
123 Company Address
City
Postcode
xxxxx xxx xxx
contact-person's-name@email.com
Dear [Mr/Ms/Mx] [Contact Person's Surname],
I'm writing to notify you that I'm resigning from my role as [Position Title] at [Company Name]. My last date of employment will be [DD/MM/YYYY].
I'm leaving because [reason] and after careful consideration, I've decided to move ahead on this new path.
I'll be here to assist with the transition and will provide any information or records you need going forward.
Thank you very much for the opportunity to work with you and for helping me develop as an employee on your team. I've enjoyed honing my [type of skill] skills and being a part of the team.
I'm happy to be of assistance, so if you have any questions, please feel free to reach out via phone on xxxxx xxx xxx or by email at [your-name@email.com].
Yours sincerely,
[Your signature if handing in a hard-copy notice]
[Your Name]
Download Notice Letter for Word
How to write a resignation letter
Writing a resignation letter for the first time or just need a refresher? Here are seven tips to help you write a notice of resignation that creates a smooth exit from your current job:
1. Use business letter formatting
Following business letter formatting when writing your notice letter is important because it shows your professionalism. Also, this formal formatting includes your contact information so your employer can reach you about urgent work matters if necessary.
Follow the correct employment resignation letter format by adding your details at the top right of the page, like so:
Your contact details on a resignation letter (right-aligned)
Britta Hart
10 Stanley Street
Liverpool
L1 6BF
07354 187 434
britta-hart@gmail.com
Next, hit Enter once to add a paragraph break, and right-align the current date (using the DD/MM/YYYY format).
Providing a date to your employer officially sets the time you're leaving and ensures you can arrange your work-related matters (such as receiving as your final pay) on time.
After writing the date, add another paragraph and include the recipient's contact information on the left (like in the orange box below):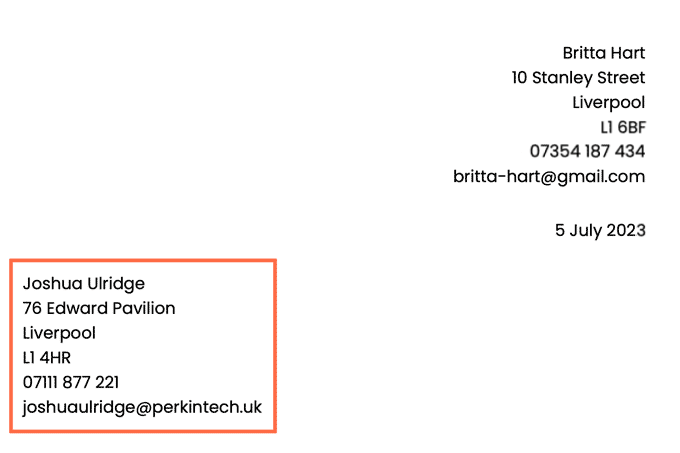 Then, add another paragraph break and address your contact person using a polite salutation such as 'Dear'. Add the title [Mr/Ms/Mx] followed by their surname and a comma. For example:
Dear Ms Lane,
And remember to use a professional font (like Times New Roman or Arial) and keep your font size at 10–12 points when writing your resignation notice letter so your employer can easily read the contents.
2. Open with your decision to resign
Start your letter of resignation by stating your decision to resign from the company (include your job title to avoid confusion).
Providing a reason for leaving is optional, but keep your resignation letter respectful and never badmouth your company or colleagues even if you really hate your job.
Also, if you're writing a CV for a future job and need a reference from your employer, maintaining a positive relationship is important — especially as you end your time working together.
3. State your last date of employment
State your last date of employment so your employer can plan for hiring a replacement and officially start your offboarding process.
Use the standard date format DD/MM/YYYY (for example, 30 September 2022 or 30/09/2022) to avoid any confusion about when you're leaving.
4. Offer to help with the transition
If you're comfortable doing so, inform your employer that you're happy to help with the transition as you leave your role.
You may be required to train someone taking your role or hand off your current projects and tasks to your colleagues. So if you're already familiar with your company's resignation process, add details about how you can specifically help. Otherwise, keep this section short.
5. Thank your employer
Leaving your company is often a bittersweet experience. Because your employer has spent time, money, and resources to help you grow, remember to thank them for their efforts and wish them well in the future.
6. Provide your contact information (again) and sign off
When closing your letter of resignation, include your phone number and email address again for your employer's convenience.
Next, sign off professionally by writing 'Yours sincerely,'. Then, if you're:
handing in a digital copy of your notice: add a paragraph break and type your first and last name
giving a hard copy of your resignation letter: make an extra space between your sign-off and name for your signature
7. Proofread your resignation notice letter
Finally, proofread your resignation letter before you submit it by ensuring:
the dates you provided are correct (don't accidentally set your end date a month later than you planned)
there are no grammatical or spelling errors (giving a typo-filled notice letter makes could make your manager think twice about giving you a good reference)
your contact information is up-to-date (you don't want to miss important messages — such as tax information)
Examples of resignation letters
Looking for a sample resignation letter that politely explains the specific reason you're quitting your job? Look no further. Here's every kind of resignation letter you might need (and you can download them to use as templates for free), including a:
1. Resignation letter email
Below is a simple resignation letter email example from a student leaving a part-time job: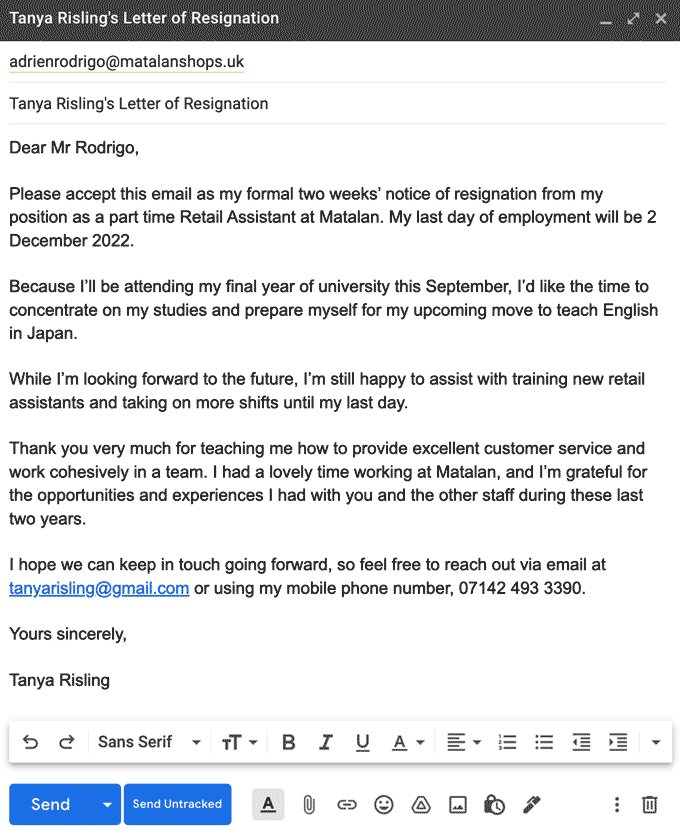 Resignation Email Example (Text Version)
Dear [Mr/Ms/Mx] [Contact Person's Surname],
Please accept this email as my formal [number of weeks] weeks' notice of resignation from my position as a [Position Title]. My last day of employment will be [DD/MM/YYYY].
Because I'll be [insert (optional) reason for leaving], I'd like the time to [give (optional) details of your next steps].
While I'm looking forward to the future, I'm still happy to assist with [mention details of transition] until my last day.
Thank you very much for teaching me how to [list name of skill] and work cohesively in a team. I had a lovely time working at [Company Name], and I'm grateful for the opportunities and experiences I had with you and the other staff during these last [number of years or months].
I hope we can keep in touch going forward, so feel free to reach out via email at [your.name@gmail.com] or using my mobile phone number, [07123 456 789].
Yours sincerely,
[Your Name]
2. Short resignation letter
Need to fire off a quick letter of resignation? Here's a short resignation letter example: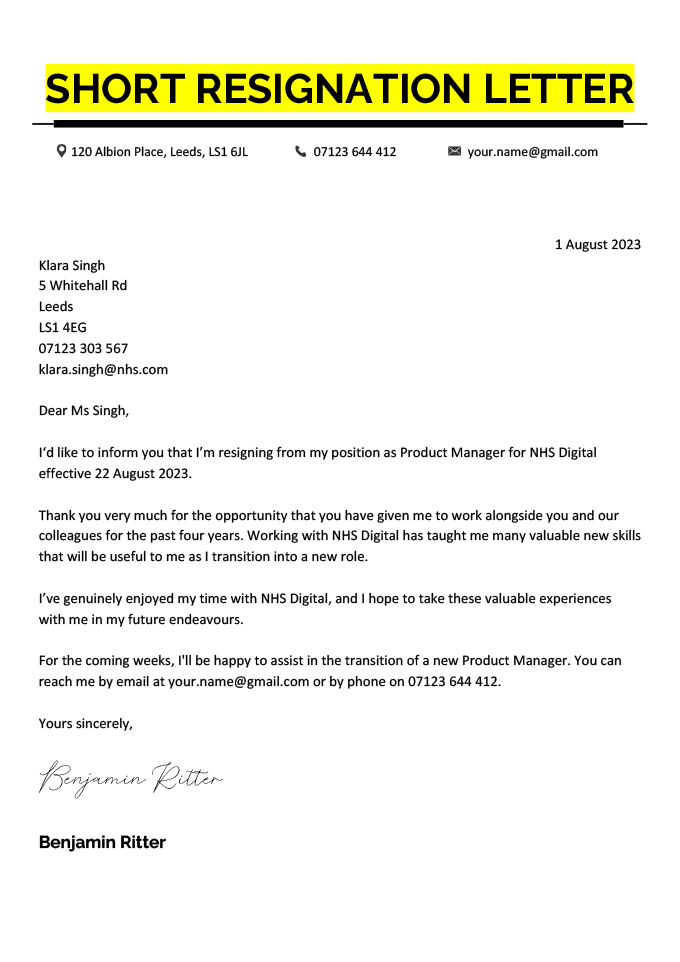 3. Constructive dismissal resignation letter
Below is a constructive dismissal resignation letter example to give you ideas for writing your own: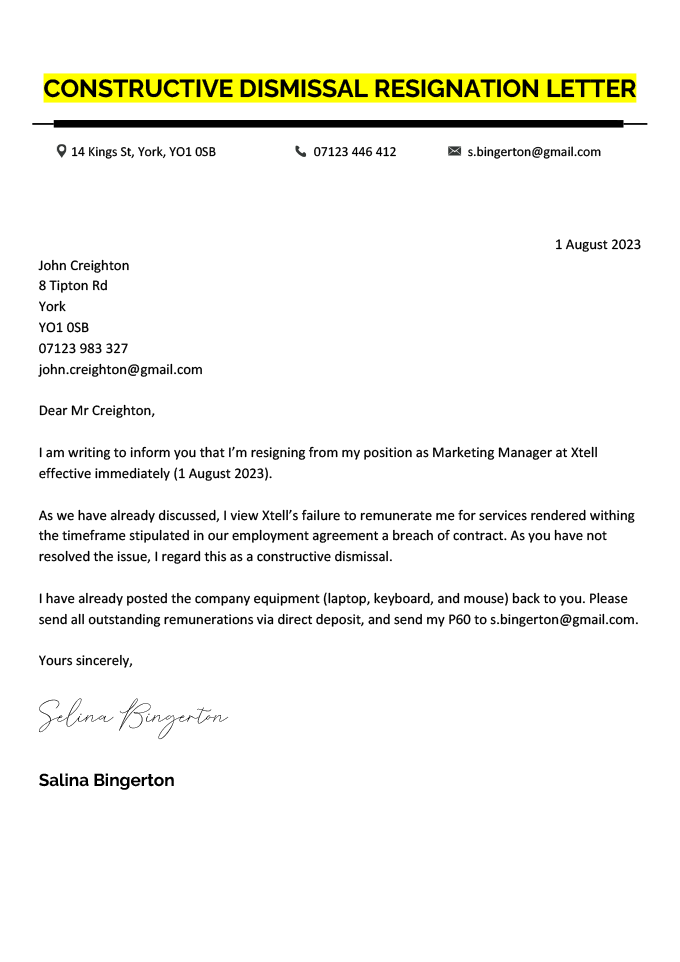 Download Constructive Dismissal Letter
Remember that CV Genius does not claim to have legal expertise, so you should consult with a qualified solicitor to ensure you have a notice letter that meets the needs of your situation. But here is a general outline to follow when writing the content of your constructive dismissal resignation letter:
start by informing your employer of your decision to resign, clearly listing the date you're leaving
state that you're leaving due to a breach of contract
according to Springhouse Solicitors, it's important to clearly explain any delay in resigning to increase the chances a court won't view that delay as you accepting the breach of contract
note any issues that need resolved (e.g., final payment)
4. Retirement letter of resignation
Looking for a retirement resignation letter sample? Here's a good example of how to write one: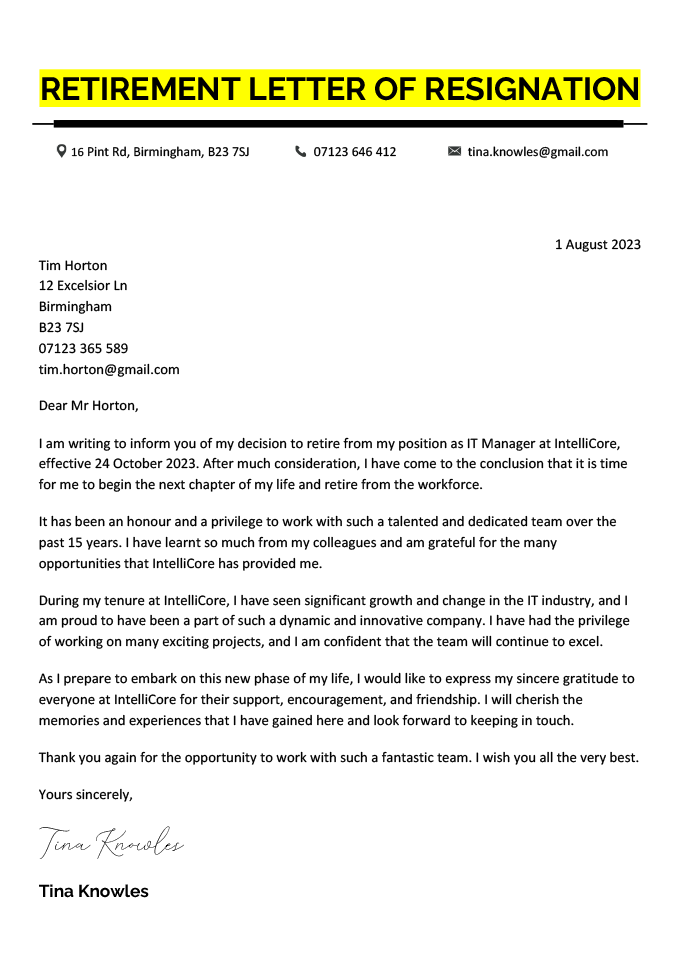 Download Retirement Resignation Letter
5. One week notice letter
This is an example of a formal resignation letter giving the employer one week's notice: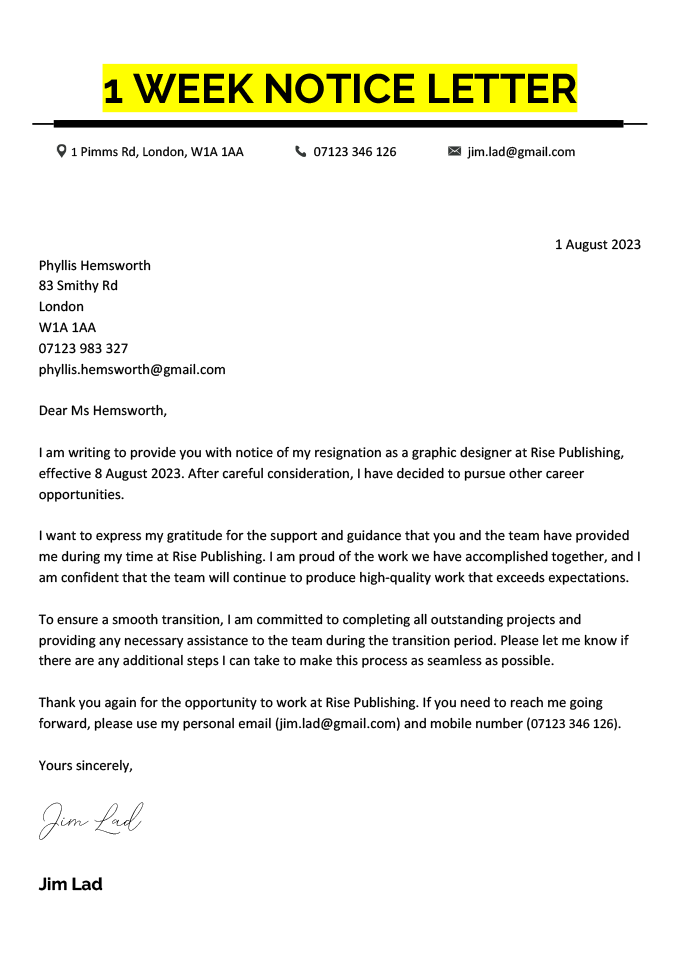 Download One Week Notice Letter
6. Two week (or more) notice letter
Here's an example of a two week notice letter, but the content also works for longer notice periods: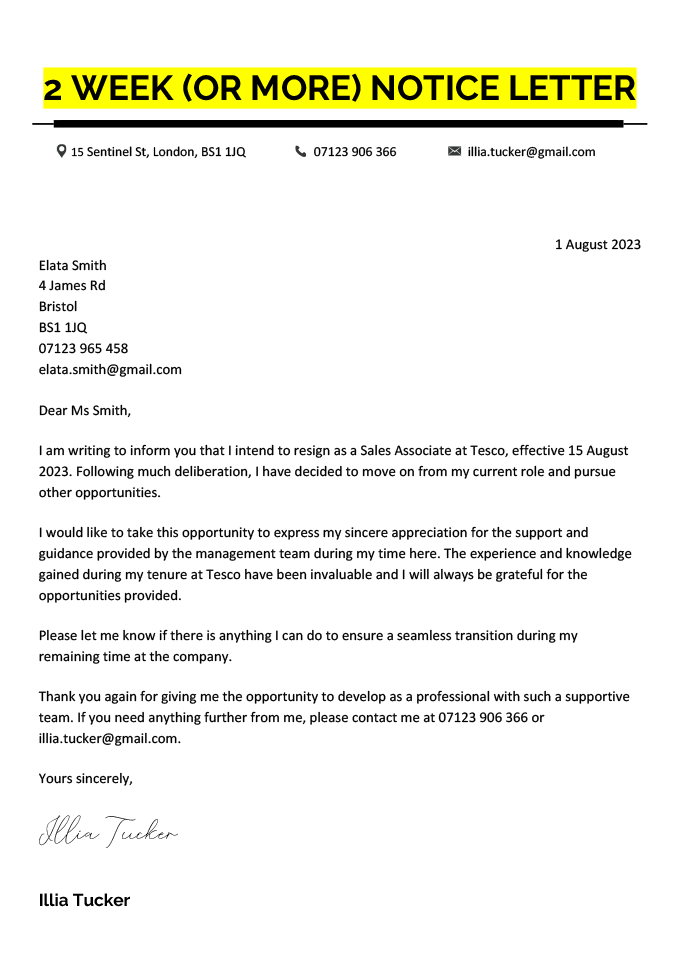 Download Two Week Notice Letter
Letter of resignation FAQs
Still wondering how to go about handing in your notice of resignation? Here are answers to three common questions about giving notice:
1. Why should I write a resignation letter?
You should always write a resignation letter because it's a:
polite custom (employers expect you to give them a resignation letter as a matter of courtesy)
record of your exit date
formal expression of gratitude for the opportunity to work for your employer
good way to establish a positive relationship going forward, which can help you get positive reviews from your managers if you need them
2. How long of a notice period should I give my employer?
Unless your work contract or verbal agreement between you and your employer says otherwise, the length of your notice depends on how long you've worked for your employer:
Less than one month: No notice legally required
One month to two years: One week's notice
Two years or more: One week's notice for each year you've worked for your employer, but only up to 12 weeks
3. How do I hand in a resignation letter?
The best way to hand in a resignation letter is via email so there's an electronic record established — but only after you've discussed your resignation with your manager.
Even if you work remotely, you should try to break the news of your resignation on a video or voice call if possible because it's the courteous, personable thing to do. Sending an email or Slack message to give notice is like breaking up with your romantic partner over text — doing so can make you seem cold, and text messages are easily misinterpreted.