Although moving on from your current position can be nerve-wracking, writing a letter of resignation and providing early notice demonstrates your professionalism and respect for a company.
A well-written resignation letter (also known as a notice letter) helps you leave a company on a positive note by:
giving your employer enough time to look for a replacement for you
expressing your gratitude to your colleagues and the company
setting the tone for the rest of your work relationship going forward
View our resignation letter template, writing tips, downloadable sample, and email example so you can provide notice and stay on good terms with your company.
Resignation letter template
Unsure what a resignation letter looks like or need some guidance for writing yours?
Below is a customisable letter of resignation template for you to copy, paste, and fill in with your unique experiences:
Your Name
123 Street Name
City
Postcode
xxxxx xxx xxx
your-name@email.com
[Today's Date]
Contact Person's Name
123 Company Address
City
Postcode
xxxxx xxx xxx
contact-person's-name@email.com
Dear [Mr/Ms/Mx] [Contact Person's Surname],
I'm writing to notify you that I'm resigning from my role as [Position Title] at [Company Name]. My last date of employment will be [DD/MM/YYYY].
I'm leaving because [reason] and after careful consideration, I've decided to move forward with a new path.
I'll be here to assist with the transition, and will provide any information or records you need going forward.
Thank you very much for the opportunity to work with you and for helping me develop as an employee on your team. I've enjoyed honing my [type of skill] skills and being a part of the team.
I'm happy to be of assistance, so if you have any questions, please feel free to reach out via my phone number on xxxxx xxx xxx or by email at [your-name@email.com].
Yours sincerely,
[Your signature on hard copy paper]
[Your Name]
How to write a resignation letter in 6 steps
If you're writing a resignation letter for the first time or need a refresher, here are six steps to help you write yours successfully:
1. Date your letter and address your employer politely
When writing your notice letter, always include your contact information in case your employer needs to reach you about urgent work matters. Follow the correct resignation letter format by adding your details at the top right of your letter, like so:
Your contact details on a resignation letter (right-aligned)
Britta Hart
10 Stanley Street
Liverpool
L1 6BF
07354 187 4343
britta-hart@gmail.com
Next, add a paragraph break and right-align the current date. Providing a date to your employer leaves a record of when you're leaving and ensures you can promptly arrange your work-related matters (such as receiving as your final pay) on time.
After writing the date (using the DD/MM/YYYY format), add another paragraph and include the recipient's contact information on the left (as shown in the orange box):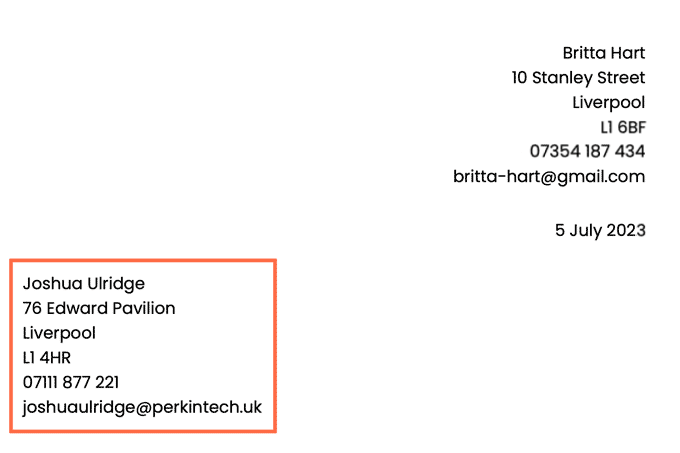 Then, add another paragraph break and address your employer politely using a polite salutation such as 'Dear'. Add the title [Mr/Ms/Mx] followed by their surname and a comma.
Here's an example of how to appropriately address the contact person in your notice letter:
Dear Ms Lane,
2. Open with your decision to resign
Establish why you're writing your resignation letter by stating your decision to resign from the company and listing your current position title.
After you've announced your decision, thank your employer for the opportunity to work with them. Also, consider mentioning some memorable experiences you've had or valuable lessons you've learnt while working with the company.
A typical notice letter is one page long, so keep your resignation letter short and straightforward.
Also, if you're writing a CV for a future job and need a reference from your employer, maintaining a positive relationship is important  — especially as you reach the end of your time working together. Providing a reason for leaving is optional, but keep your resignation letter respectful and never badmouth your company or colleagues.
3. Name your last date of employment
State your last date of employment in a separate sentence — that way, your employer can plan for hiring a replacement and officially start your offboarding process.
Use the standard date format DD/MM/YYYY (for example, for example, 30 September 2022 or 30/09/2022) to avoid any confusion about the leaving date.
4. Offer to help with the transition
In a separate sentence, inform your employer that you're happy to assist with the transition as you're leaving your role.
You may be required to train someone who's taking your role or hand off your current projects and tasks to your colleagues. So if you're already familiar with your company's resignation process, add details about how you can specifically help. Otherwise, keep this section short.
5. Say thanks to your employer
Leaving your company is often a bittersweet experience. Because your employer has spent time, money, and resources to help you grow as an employee, remember to thank them for their efforts and wish them well in the future.
6. Provide your contact information and sign off
When closing your letter of resignation, mention any work-related questions you have or final points you'd like to address. Include your phone number and email address so your employer can communicate with you in case you need to complete any necessary tasks before you leave your role, such as:
returning materials and equipment
filling out paperwork
meeting with other colleagues
attending an exit interview
collecting your final pay and other benefits
Next, sign off professionally by writing 'Yours sincerely'. Add a paragraph break and sign your name. Underneath the space for your signature, add a final paragraph break and type your first and last name.
Finally, proofread your resignation letter before you submit it by ensuring:
the dates you provided are correct
there are no grammatical or spelling errors
your contact information is up-to-date
Resignation letter sample
Looking for a downloadable resignation letter that politely explains why you're quitting your job? Look no further.
Here's a short resignation letter example to give you some writing inspiration as you're preparing to leave your company: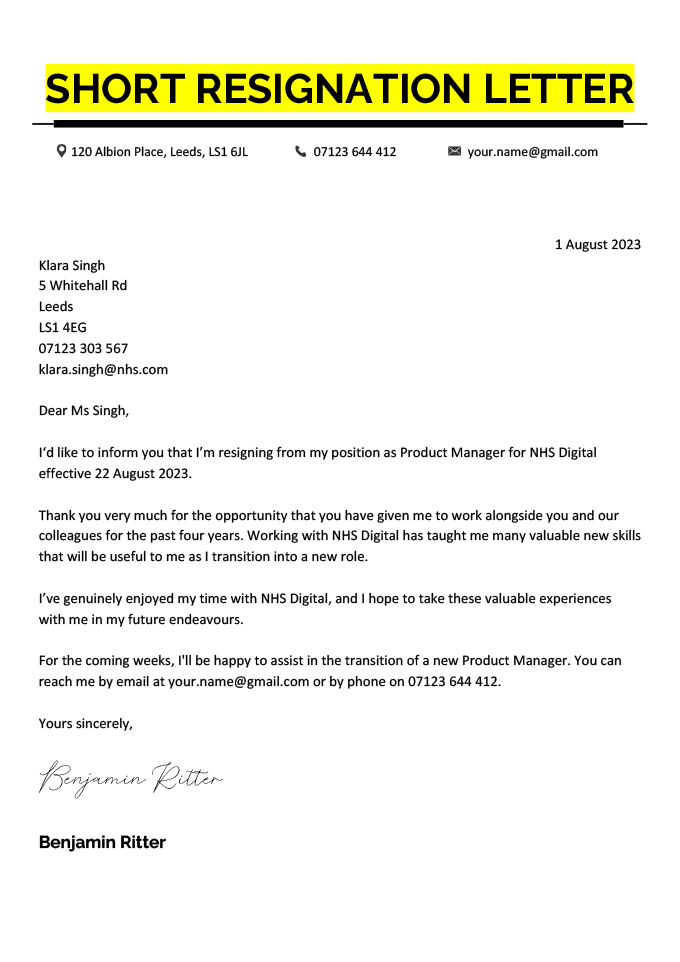 Download This Resignation Letter
Resignation letter email
Companies might prefer a resignation letter email rather than a hard copy. Because your email will be automatically timestamped, there's no need to include today's date.
However, ensure you still include your last date of employment along with your phone number and email address so your employer can easily contact you.
Below we've included a simple resignation letter email example from a part time student: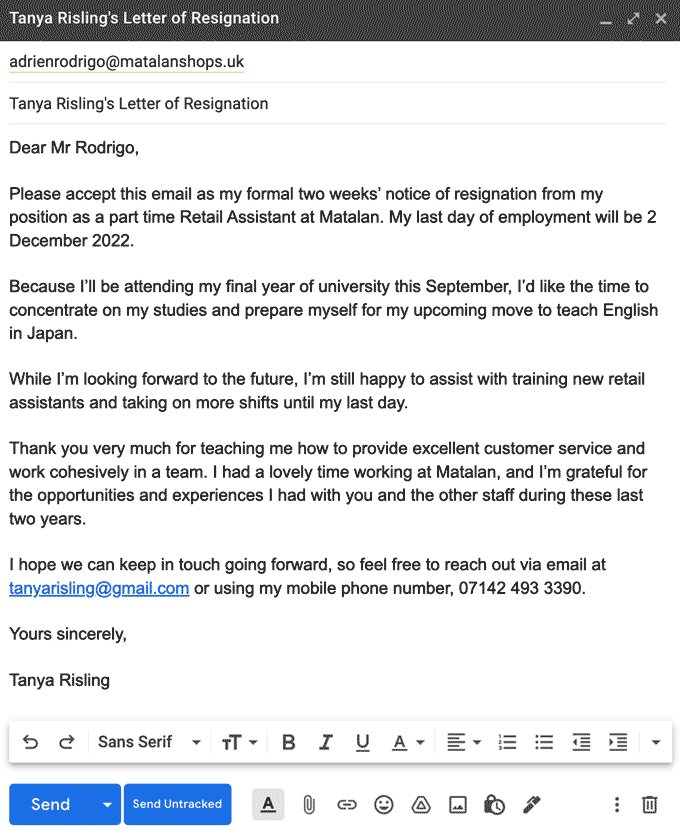 Resignation Email Example (Text Version)
Dear [Mr/Ms/Mx] [Contact Person's Surname],
Please accept this email as my formal [number of weeks] weeks' notice of resignation from my position as a [Position Title]. My last day of employment will be [DD/MM/YYYY].
Because I'll be [insert (optional) reason for leaving], I'd like the time to [give (optional) details of your next steps].
While I'm looking forward to the future, I'm still happy to assist with [mention details of transition] until my last day.
Thank you very much for teaching me how to gain excellent [list name of skill] and work cohesively in a team. I had a lovely time working at [Company Name], and I'm grateful for the opportunities and experiences I had with you and the other staff during these last [number of years].
I hope we can keep in touch going forward, so feel free to reach out via email at [your.name@gmail.com] or using my mobile phone number, [07123 456 789].
Yours sincerely,
[Your Name]