To get your career off to a good start, you need to write a fresher resume that gets your target employer's attention. So here's everything you need to know about writing a resume for freshers, including: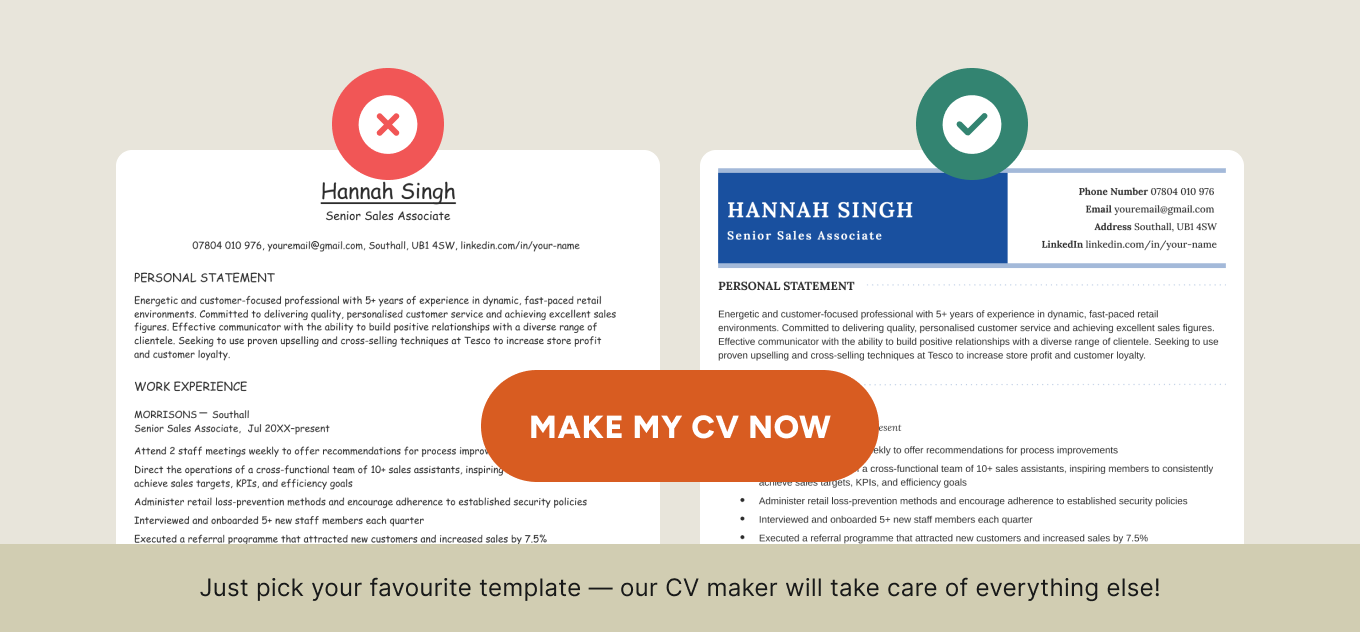 Fresher resume format tips
You may have heard about chronological versus skills-based or combination resumes, but don't let the different terms confuse you. This is the secret to creating the best resume format for freshers:
Put the information most likely to impress the recruiter at the top, followed by the second most relevant details, the third most important, and so on.
And if you're wondering about your fresher resume's formatting details, just keep these tips in mind:
Fill at least 1 A4 page: resumes in India can be multiple pages, but employers will understand if you submit a 1-page resume as a fresher with little or no experience — unless you're applying to a government or academic job that requires you to make a fresher CV
Make it skimmable: create clear section headers for a logical, easy-to-scan structure
Choose an easy-to-read font: use a professional font like Helvetica or Georgia, and set it between 10 and 12 points (the closer to 12 points the better, so employers don't need to strain their eyes to read your information)
Set your margins between 1.27 and 2.5 cm: adjust your margins within this range to find the perfect balance of text and white space
Use 1–1.5 line spacing: don't jam your lines of text too close together or excessively far apart, or your resume might be too difficult to read
If those tips are overwhelming, don't worry. The easiest way to get your fresher resume format right is to use a professionally designed template — and you can find many great resume templates online for free.
Below is a free fresher resume template our designers have crafted. You can download it for Microsoft Word or copy and paste into your writing software. And we have more fresher-job-specific resume templates a bit farther down: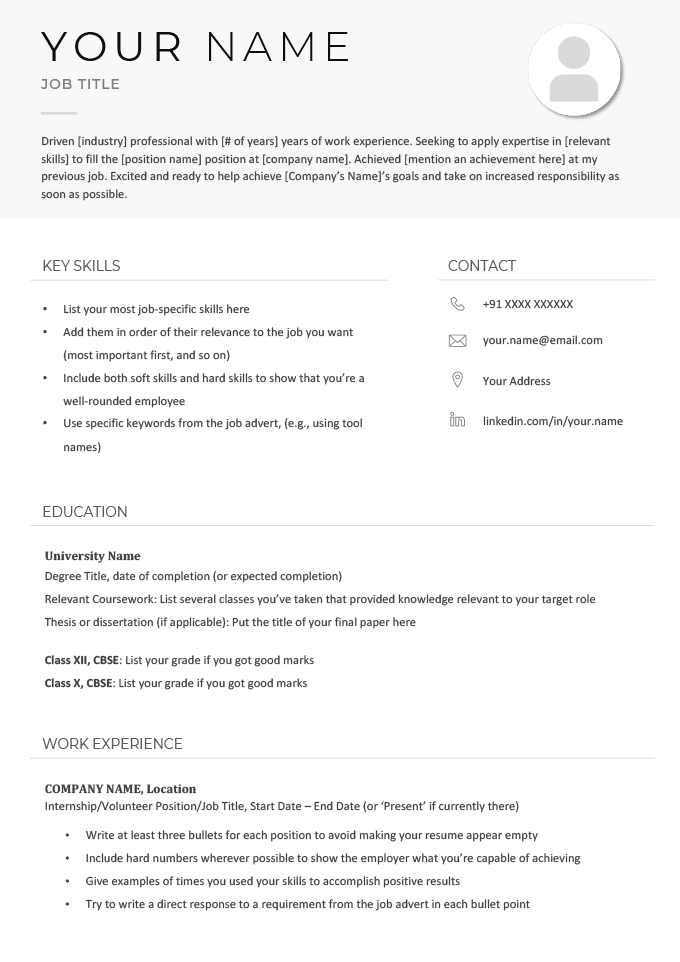 Fresher Resume Template (Text Version)
Your Name
Job Title
Phone: +91 xxxx xxxxxx   Email: your.name@gmail.com   Address: Your address   LinkedIn: linkedin.com/in/your-name
CAREER OBJECTIVE
Driven [industry] professional with [# of years] years of work experience. Seeking to apply expertise in [relevant skills] to fill the [position name] position at [company name]. Achieved [mention an achievement here] at my previous job. Excited and ready to help achieve [Company's Name]'s goals and take on increased responsibility as soon as possible.
EDUCATION
University Name, Location
Degree title, date of completion (or expected completion)
Relevant coursework: List several classes you've taken that provided knowledge relevant to your target role.
Thesis or dissertation (if applicable): Put the name of your final paper here.
SKILLS
List your most job-specific skills here
Add them in order of their relevance to the job you want (most important first, and so on)
Include both soft skills and hard skills to show that you're a well-rounded employee
Use specific keywords from the job advert, (e.g., using tool names)
EXPERIENCE
Internship/Volunteer Position/Job Title
Company Name, Location
Write at least three bullets for each position
Include hard numbers wherever possible to show the employer what you're capable of achieving
Give examples of times you used your skills to accomplish positive results
Try to write a direct response to a requirement from the job advert in each bullet point
PERSONAL PROFILE
Gender:
Date of birth: ##-##-####
Nationality:
Willingness to relocate: Yes/No
Languages:
Job-specific resume templates for freshers
Looking for templated resumes for freshers that match the job you're targeting? Below are a:
Fresher resume for a teaching job
Here's a good templated resume for a fresher teaching role: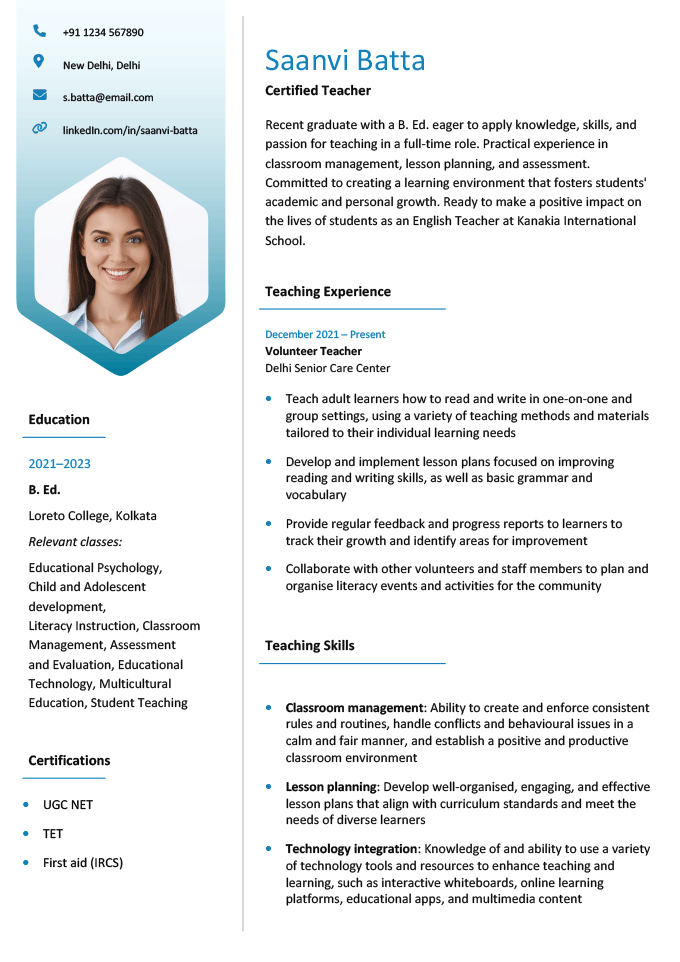 Download Fresher Resume Template
Resume for a mechanical engineer fresher
Looking for a fresher mechanical engineer resume template? Here you go: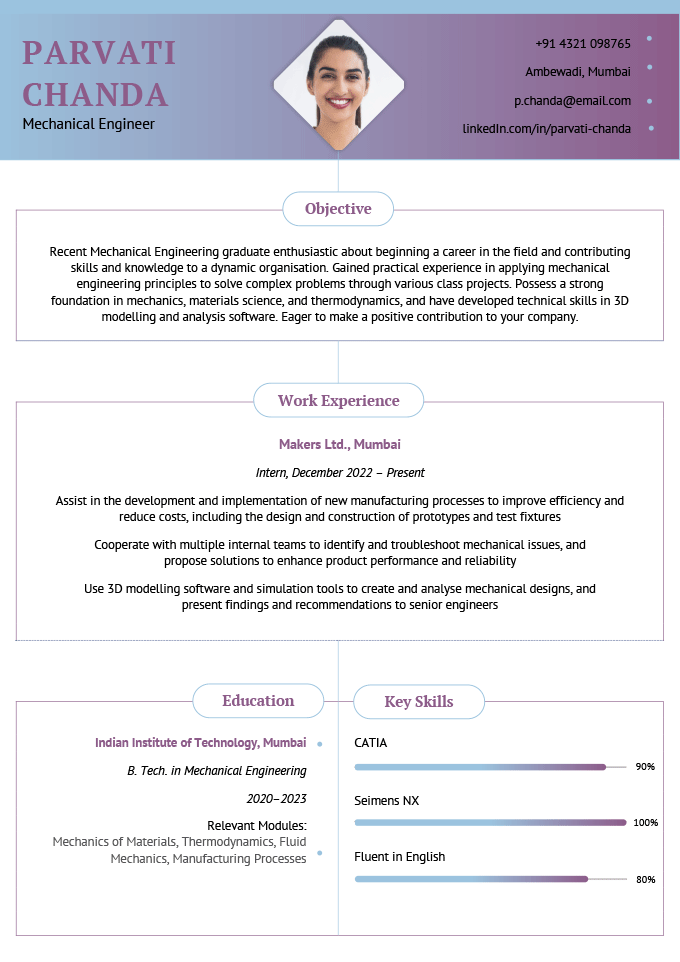 Download Fresher Resume Template
MBA fresher resume
If you've got your MBA, use this template to apply for fresher jobs: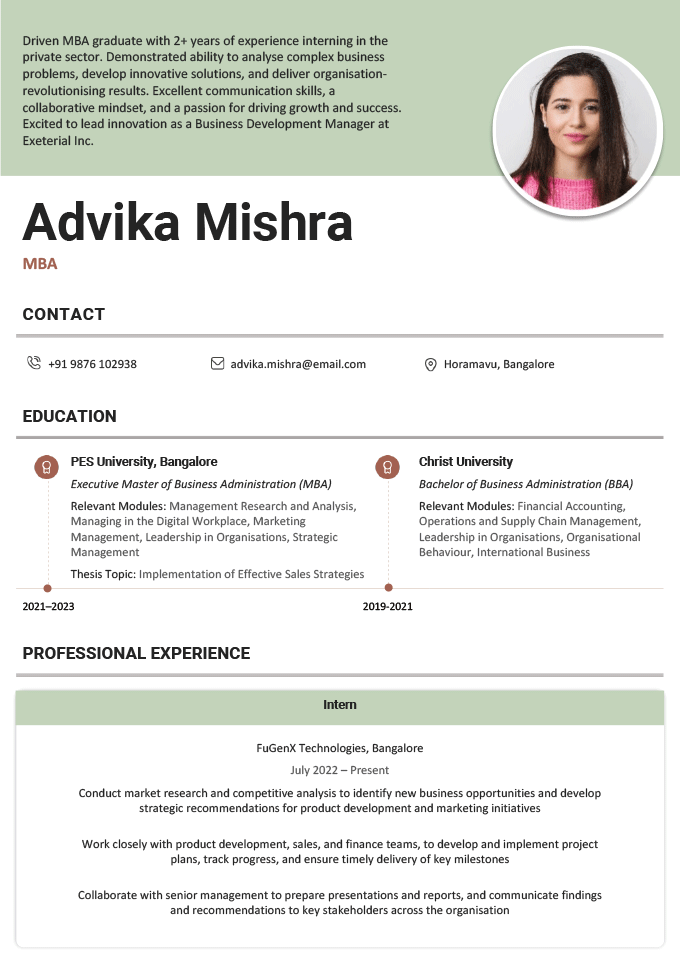 Download Fresher Resume Template
Software testing resume for a fresher
Here's a template for a fresher software tester: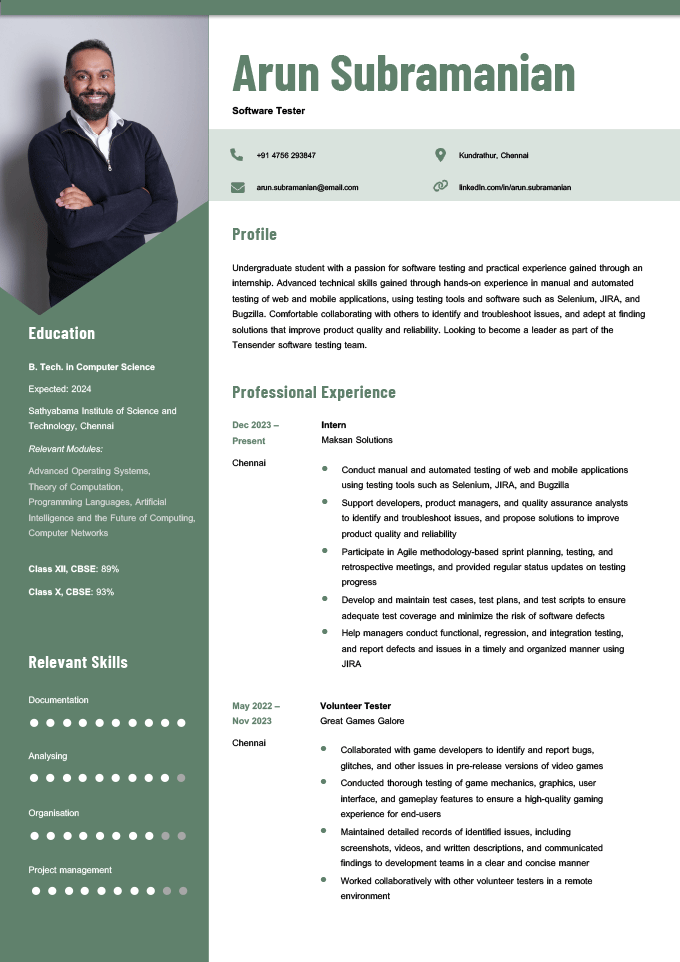 Download Fresher Resume Template
More job-specific resume samples for freshers
One of the best ways to get ideas for writing a resume for freshers is to look at resume examples for jobs in the industry you want to work in. So if the templates above don't match your career goals, here are more resume samples to look through:
How to make a resume for freshers
To make a job-winning fresher resume, you need to:
1. Create a contact information section
When you submit your resume, your goal is to hear back from the employer regarding scheduling a job interview. So make it easy for the recruiter to know how to reach you by making a resume header that highlights your:
name in bolded, extra-large text (30+ points is okay, depending on what font you use — just don't make it comically large)
phone number
email address (use a variation of your name and/or job title, rather than a personal address like 'crazycricketfan154334@gmail.com' that makes you look unprofessional)
And to give employers a clear picture of who you are, you can also add your:
job title
online profiles (e.g., LinkedIn, Twitter, or your portfolio)
mailing address
picture (a headshot of you wearing work-appropriate clothing)
This is an example of what your header should look like:

2. Pitch yourself in a resume career objective
After the employer glances at your resume header, the first section they should see is your resume introduction — a summary of the top points in your resume designed to get the employer interested in reading the rest of your information.
The best type of resume introduction to use for a fresher resume is a career objective that explains why you're a good fit for the role based on your training and aspirations.
Here's a good example of a career objective for a resume for a fresher in computer science: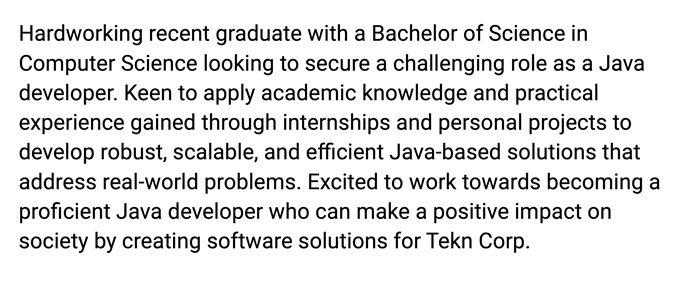 3. Highlight your internship, volunteer, and work experience
If you have any work experience related to the job you want — whether that experience is paid, from an internship, or volunteer work — emphasise it on your fresher resume to give yourself an advantage over applicants without any experience.
But don't just make a list of position titles and responsibilities. Employers will be more impressed by the positive results you achieved. So use hard numbers to show what you've done wherever possible.
Here are examples of how to highlight your work, volunteer, and internship experience on your fresher resume:
Internship experience on a Salesforce fresher resume
Supported the project manager by managing documentation, creating a new filing system that saved 14 labour hours per week
Volunteer experience on a fresher network engineer resume
Vetted network troubleshooting requests from non-technical departments, solving 80% of the basic-to-intermediate level issues to help senior engineers focus on responding to urgent requests
Work experience on a resume for a fresher full stack developer
Freelanced as a website designer, using HTML, CSS, and JavaScript to create branded websites that attract an average of 4 million visitors per month
4. Emphasise your educational background
Employers understand that freshers lack experience, so they'll look closely at your education section to ensure that you've got theoretical knowledge they can work with.
To make a resume education section that shows employers you'll be easy to train, include any of the following that apply to you:
University degrees
Relevant coursework
Dissertations or thesis
Awards and scholarships
CGPAs
Any other relevant highlights from your time in school
If you don't have a university degree yet, include your secondary school exam results (class 10 and 12) if you received impressive marks. Below are examples of two fresher resume education sections, one written by a recent graduate, and one from an applicant who's still working towards a bachelor's degree:
Fresher resume education section by a recent graduate
B.Sc. in Catering Science & Hotel Management
Alagappa University –  Karaikudi, Tamil Nadu
June 2023
Relevant courses: Advanced Food Production, Hotel Law, Hotel Accounts, Industrial Exposure Training
Extracurricular activities: President of the Hospitality Management Student Club, intramural cricket team skipper
Competitions: Placed 2nd in a national English essay writing competition, finished 3rd in the university's mock business plan competition
CGPA: 9.5
Fresher resume education section by a current student
B.Tech. in Civil Engineering
Indian Institute of Technology Delhi – New Delhi, Delhi
Expected: June 2024
Awards: Innovative Student Projects Award (INAE)
Scholarships: Siemens Scholarship Program
Relevant courses: Elements of Surveying, Structural Design, 28 Environmental Quality Modeling, Concrete Mechanics
CGPA: 9.2
Class 12, CBSE: 92%
Class 10, CBSE: 94%
5. List your top skills from the job advert
Your skills section is the perfect place to put any skills the employer is looking for that didn't fit in the rest of your resume. Also, if a skimming employer misses important information in your other sections, they might catch it in your bulleted list of skills.
So before you write this section for your fresher resume, take another look at the job description to make sure you're listing the most job-relevant skills possible.
Here's an example of a skills section from a resume for a fresher front end developer:
Programming languages: HTML, CSS, Javascript, jQuery
Graphic design: Adobe Photoshop, Figma, Balsamiq
SEO: Schema markup, WordPress development
6. Build optional additional sections for relevant information
Don't feel limited by a traditional resume outline. As a fresher, you need to do whatever it takes to overcome a lack of experience and stand out to employers.
So if you have relevant information — personal projects, published articles, languages, and technical skills, to name a few — you can make dedicated resume sections to make them jump off the page and differentiate you from other applicants.
Here's an example of a certifications section from a fresher resume:
Cisco Certified Network Associate (CCNA)
Google Certified Professional Cloud Architect
Certified Cloud Security Professional (CCSP, from ISC2)
7. End with your personal profile
Place your personal profile at the end of your fresher resume to give the employer a complete picture of what type of applicant you are. Your personal profile can include your:
gender
date of birth
marital status
nationality
whether or not you can relocate
8. Write a cover letter for your fresher resume
Your fresher resume isn't complete until you write a cover letter to explain it and introduce yourself to the employer. Even if the job advert doesn't specifically request it, you should send one to show your professionalism and increase the chances that they see your top qualifications.
A good cover letter for a fresher resume should:
be no more than one page (or 250–400 words) long
expand on (rather than repeat) the information on your resume
use a template that matches your resume
To get an idea of what to write in your letter, find good cover letter examples from your industry online.
Fresher resume FAQs
Still have questions about resumes for freshers? Here are answers to some of the most common questions freshers have about writing resumes:
1. What do I write in an email when sending a resume as a fresher?
When you email your resume as a fresher, write:
a polite greeting, using a contact person's name (Dear Ms Patel,) or the department name (Dear Fizzle Co. Marketing Department,)
the job title you're applying for
a note that your resume and cover letter are attached
a request for an interview
an expression of gratitude for the opportunity to apply
a professional sign-off ('Sincerely,' followed by your name)
Here's an example of a well-written email with a fresher resume attached:
Dear Ms Saavani,

I'm writing to apply for your open SEO Specialist position. Please find my resume and cover letter attached for your review.

Thank you for taking the time to review my application, and I'm looking forward to hearing from you regarding a time to discuss my qualifications further in a job interview.

Sincerely,

Devansh Sharma
2. What is a resume title for a fresher?
A resume title (also called a resume headline) for a fresher is a phrase that describes your most relevant qualifications. It goes under your name and above your career objective. Here's an example of a resume title for a fresher:
Recent computer science graduate with internship experience using Javascript to create apps with 3+ million downloads
But to avoid repeating information on your resume, we suggest that you make a concise career objective instead of a resume headline.
3. How do I prepare a PDF resume for a fresher job?
After you've finalised your resume for a fresher job, you can save it as a PDF. Here's how to save your resume as a PDF in Microsoft Word and Google Docs:
Microsoft Word
Go to File → Save As… and then choose PDF from the File Format dropdown menu.
Google Docs
Go to File → Download → PDF Document (.pdf).
4. What's the proper CV format for freshers?
The terms CV and resume are often used interchangeably in job adverts. To clear up the confusion, here's what a CV is and how to format a CV for freshers:
If you're applying for a private sector job: your fresher resume — with a header and career objective, work experience, skills, personal profile, and any additional sections necessary — will work as a CV
If you're applying for a government or academic job: add extra sections for information relevant to the job you're targeting (e.g., publications, conferences attended, languages, and IT skills) to your resume to write a CV for a fresher
Customising a CV for different job opportunities can involve a lot of tricky adjustments to formatting, especially if you're adjusting your CV sections to appeal to different employers in the public and private sector. To make things easier, use a simple CV template that you can readily adjust for different opportunities.
5. How do I make a resume in my phone for a fresher?
The best way to make a fresher resume in your phone is by using a resume builder. Creating a resume from scratch on your phone is difficult because you're limited by the screen size and touch screen mechanics.
But if you still need to make a resume on your phone, you can download the Google Docs or Microsoft Word mobile app to use a platform optimised for your device.
More common questions about resumes & CVs
These are expert answers to more resume and CV faqs: