Knowing how to start a cover letter is critical to your search for a job in the UK. If written well, your opening statement will make the reader want to keep reading to learn all about your qualifications.
Here's how to write cover letter opening lines that get the recruiter's attention and increase the chances that they'll interview you: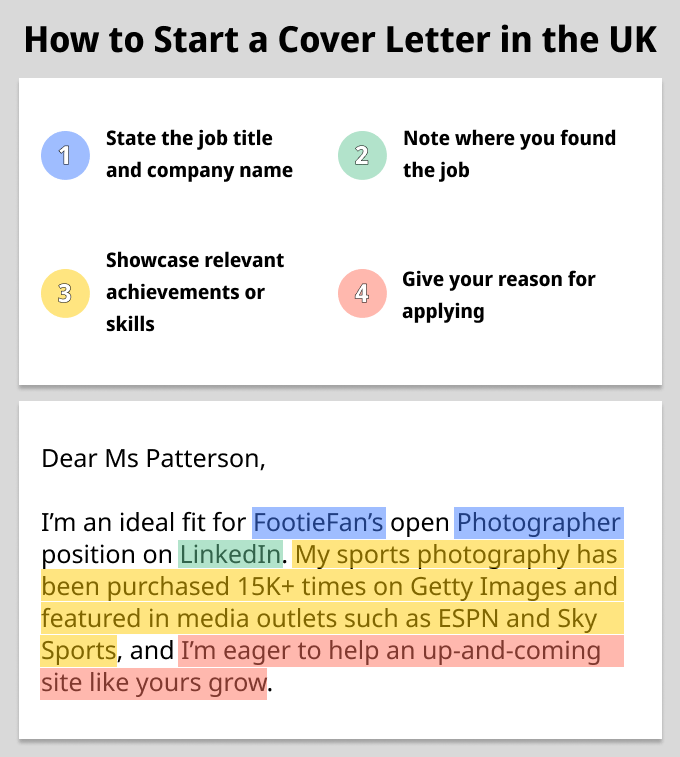 State your target job title and company name

so the employer knows immediately which of their open positions you want

Note where you found the job

to help the employer track their recruitment channels

Showcase relevant achievements or skills

to show the recruiter that you're qualified and convince them to read the rest of your application

Give your reason for applying

, focusing on how you can help the company
Here's a good example of how to start a cover letter if you don't have much work experience:
How to start a cover letter with no work experience
I stumbled upon Hey Coffee's Entry-Level Graphic Designer job opening on Monster, and simply had to apply. As a recent graduate with a Bachelor of Arts in Graphic Design, I'm well-trained in producing physical and digital adverts, and my portfolio even includes a series of Instagram images I created for my university's campus coffee shop as a class project.
And this is a well-written cover letter opening for an applicant with plenty of relevant work history:
How to start a cover letter with work experience
My name is Jenny Tolbert, an accomplished social media manager with experience growing corporate Twitter, Instagram, and YouTube accounts from 0 to 500K+ followers. I'm a huge fan of what LiveTech is doing in the live event hosting space, and I'm excited at the prospect of helping you smash your goals as you next Social Media Manager.
Now that you know what information to put in your cover letter's introduction, you need to determine the best way to present that information to the recruiter. Should you emphasise your passion for your work or showcase some research you did about the company?
The following cover letter opening tips teach you how to customise your cover letter introduction for your target company, and offer effective strategies to choose from.
11 tips to start a cover letter that lands interviews
Here are 11 tips for starting a cover letter in the UK (click on each idea to learn more about it and view example opening lines):
1. Show your familiarity with the company
Study the job advert and do some internet research to determine what hard skills and soft skills the company is looking for and get an idea of what working at the company is like.
For instance, look through a company's social media profiles and official website to learn about its work culture.
Here's what to do with the information you gather:
If the company seems formal
For a formal or corporate company, use a straightforward cover letter opening, like describing an impressive achievement or explaining how your skills can benefit the company.
Here's an example of how to start a cover letter for a formal engineering firm:
Cover letter opening for a formal company
I was thrilled to see that Westminster Engineering Ltd. is accepting applications for this year's cohort of entry-level electrical engineers. As a recent B.Eng. graduate from the University of Leeds, I'm perfectly positioned to leverage my academic knowledge and practical skills as your newest Electrical Engineer.
If the company appears laid-back
With a more casual company — such as a family-owned business, creative agency, or tech startup — let your personality and enthusiasm shine through.
Below is an example of how to begin a cover letter for a laid-back organisation:
Cover letter introduction for a laid-back company
Buzz Bots is a company I've always wanted to work for, not just because of your great products (I'm an avid user) but also because of your commitment to inclusion and diversity for women in the tech industry. And honestly, the opportunity to bring my dog to work and participate in weekly board game nights also drew me in.
2. Include keywords from the job advert
Employers tell you exactly what they're looking for by putting skills-based keywords in their job adverts. When you use those exact words and phrases in your cover letter opening, the recruiter will immediately see that you're qualified for the role.
Adding language directly from the job description also customises your cover letter to the specific position you're targeting, highlighting your genuine interest.
We've underlined the keywords in this company's job advert to help you know what to look for:
3. Avoid cover letter introduction clichés
Writing a new cover letter for each application you submit is time-consuming. You'll be tempted to use clichés for efficiency, but doing so makes your application generic.
Don't start your cover letter with these overused phrases:
Phrases to avoid when starting a cover letter
I'd like to express my interest
I'm writing to apply for
As you'll see on my attached CV
I'd love to be considered
4. Show passion for what you do
Employers love investing in passionate workers. Even if you're writing a career change cover letter and don't have certain skills on your CV required for your target job, showing passion in your cover letter's introduction tells employers you're worth the extra training and effort.
Here's an example of a cover letter opening line that showcases a candidate's passion:
Using passion to start your cover letter
I dream in Middle English and often catch myself using it in everyday conversation. That's how enthralled I am with Chaucer's works and why I'm an exact match for Oxford University's open Medieval Studies Teaching Assistant position.
5. Mention your connection to the company
If you know someone who works at the company you're applying to, start your cover letter by mentioning their name (with their permission, of course).
By mentioning someone the reader knows, you immediately create a personal connection, likely getting you a place on their shortlist of candidates.
Below is an example of how to name-drop a reference when starting a cover letter:
Opening your cover letter with a mutual connection
I'm Felicia Jones, an experienced social media marketer reaching out about the Social Media Marketing Specialist job opening at Bad Bunny Marketers LLC. Your Marketing Manager, Terrance Phillips, is a former colleague of mine, and when he heard I was looking for a job he encouraged me to apply.
6. Communicate your excitement for the role
Expressing your enthusiasm for a position presents you as a lively and personable candidate. Just remember to tailor your cover letter starter to the employer by providing specific examples of why you're so thrilled to apply for their open position.
For instance, take a look at this applicant's cover letter introduction:
Starting your cover letter with excitement
When I saw that FinFun was hiring, I couldn't wait to apply. FinFun's mission statement of providing youth with free resources to better understand their finances is one that resonates deeply with me. I've listened to FinFun's weekly podcasts zealously for the past 7 years, and credit it with igniting my passion for finance and cryptocurrency.
7. Discuss industry-related news
Bringing up recent news about the field you're applying to in your cover letter introduction will capture the recruiter's attention and show you're up-to-date with the latest industry trends.
Showing your industry knowledge in your cover letter introduction aligns your interests with the employer's, which will make them want to search the rest of your letter for other relevant connections.
This cover letter opening shows that the applicant who wrote it stays informed about their profession and the industry of company they're applying to:
Beginning your cover letter with relevant news
I've worked for 8+ years as a web developer and engineer, but I've long dabbled in game development on the side and wished that I could make it my day job. After reading about how gaming companies have started receiving government grants to train new talent, I finally decided to pursue my goal by applying for Team17's Game Developer position.
8. Highlight your research about the company
Impress the employer with information from their latest press release or a reference to one of their upcoming projects in your cover letter's introduction.
This is an example of how to open your cover letter by referencing the company you've got your eye on:
Mentioning research in your cover letter opening
With my 3+ years of sales experience and personal interest in your brand, I believe I'm ideally suited to fill the vacant Sales Assistant position at Parkvenchy. I noticed that your business recently acquired a mid-level extreme sports clothing retailer, and my prior experience as a semi-pro skateboarder will allow me to not just do the job but thrive in this role.
9. Use humour in your cover letter opening
If done right, humour can be a good way to start your cover letter. Employers spend hours reading applications filled with dull repetition. So if you can make them chuckle with your opening line, you'll increase the chances they keep reading.
Here's an example of how to begin a cover letter with a touch of appropriate humour:
Being funny in your cover letter opening line
I'm Benny Latsa, and my life goal is to be the first person to deliver a pizza on Mars. But until then, I'd love to hone my driving and customer service skills here on Earth as a Delivery Driver for Good Chaps Pizza.
10. Express admiration for the company
Everyone loves a compliment. Beginning your cover letter by praising the company not only flatters the employer but also indicates you'd be an effective brand ambassador.
This cover letter opening does a great job of buttering up the employer:
Using admiration to start a cover letter
My name is Sally Underwood, and I'm applying for Centrepoint's Supported Housing Officer position. The support you provide to the underprivileged in our community is amazing, and I'd be honoured to join your team.
11. Explain how you can help the company
One of the best ways to start your cover letter is by telling the employer how your skills perfectly align with their needs.
But don't just say you'll help the company. Instead, show how you'll be useful with specific reasons like this applicant does:
Describing how you can contribute in your cover letter opening
I'm a professional driver with 4+ years' experience delivering food in Birmingham. After 5 years on the job with not a single traffic violation and a deep familiarity with your delivery area (I grew up in Birmingham and know every shortcut in town), I'm certain I'd be able to work as a Delivery Driver for Lady Pi from day one.
How to address a cover letter
Another important part of starting a cover letter is the greeting. If you know the name of your letter's recipient, address them like this:
Dear [Mr/Mrs/Ms][Contact Person's Last Name],
But if you don't know the recipient's name, here's how to address a cover letter in such a situation:
Dear [Department or Company Name],
Frequently Asked Questions About Starting a Cover Letter
Still have questions about how to start a cover letter? Below are answers to 3 of the most common questions asked about cover letter opening lines:
1. How do you start a speculative cover letter?
Here's how to start a speculative cover letter:
Address a contact person (if you can find one on your target company's website) or the company/department name in your greeting
Tell the employer what role you're seeking to fill
Explain how you'd help the company meet its goals, emphasising any relevant achievements or experience you have
Here's an example of how to start a speculative cover letter:
Dear Queens Quilts Marketing Team,

My name is Ben Prince, and I'm an avid user of your website, but I noticed you only post blog articles a few times each year. As an experienced writer with digital content currently garnering 500K+ in organic traffic each month on blogs like Marie Claire and Love My Dress, I know I can help you build your brand and reach a much larger audience.
2. How do you start a cover letter for an internship?
Starting a cover letter off right when applying for an internship is especially crucial. If you're applying for internship opportunities then you likely have no professional experience, and must prove your ability to handle the job in a way that doesn't rely on your past work.
Here's how to start a cover letter for an internship:
Greet a contact person by name (or use a department name if you can't find a contact person)
State the internship title, company name, and where you found the internship
Describe how you meet the internship requirements listed in the job advert
This is an example of how to start a cover letter for an internship:
Dear Mrs Jones,

Your internship advert on LinkedIn stated that Lidl is seeking an enthusiastic university student to assist your sales manager. As a third-year student seeking a Bachelor of Science in Marketing with a genuine love for studying techniques for optimising sales processes, I believe I'm the intern for you.
3. How do you start a cover letter without using 'I'
Here are some examples of how to start a cover letter without using 'I':
My name is [Your Name]
As a recent graduate with a [Degree Name]
As a [Job Title] with [#] years' experience
Your advert seeking a [Job Title] on [Job Board] caught my eye
[Company Name] is looking for a [job title], and I'm a perfect fit because
You can also view more cover letter examples online to see how other applicants avoid using 'I' to start their opening lines.
More Cover Letter FAQs