Writing a cover letter can be a frustrating process — especially when you're composing those crucial opening lines. Your cover letter introduction needs to explain why you're applying for the job, highlight what makes you different, and convince the employer to keep reading.
And that can feel like a lot of pressure.
Today, we'll learn how to start a cover letter with 10 tips and examples to help get the employer interested and nudge you towards the job offer you want.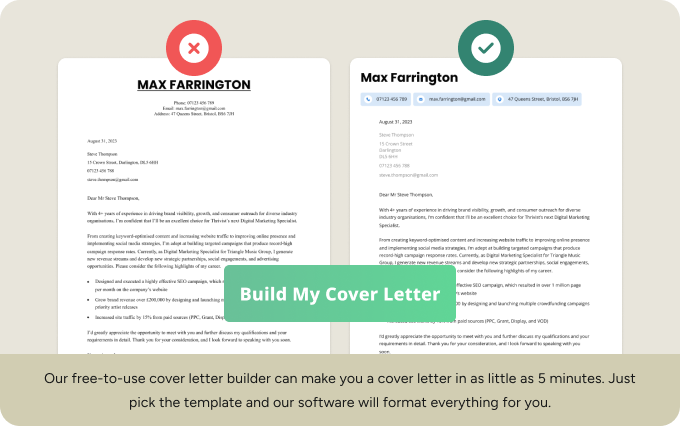 Tip 1: Understand what goes into a basic cover letter opening
No two cover letters should sound exactly the same — every job is different, and every applicant is different.
However, the opening lines of your cover letter should contain certain key details:
The job title and company name so the employer immediately knows which job you want
Your reason for applying, whether you're interested in the company, share its values, or have specific career goals
A unique selling point, such as a specific skill or personal trait that set you apart or an example of how you've exceeded expectations in a similar role
Here's a great cover letter introduction that has all those features. These opening lines are well thought out, and you don't notice that the applicant doesn't have any work experience!
Tip 2: Convey passion for what you do
Showing you're passionate about the job builds trust with the employer. If you genuinely care about what you do, you'll be more engaged and satisfied in the position — and by extension more productive and more likely to stay at the company for a long time if you're hired.
Think about what excites you about the specific job, whether it's the:
specific field you'll work in
service you'll provide
type of people or communities that you work with
Here's an example of a cover letter opening that emphasises passion:
Using passion to start your cover letter
I've been fascinated with Middle English ever since laying hands on my first copy of The Canterbury Tales over 15 years ago. Literature is a matchless resource for understanding medieaval culture, society, and values, and it's a desire to share this resource with future historians that draws me to the Associate Lecturer in Mediaeval Literature and Culture at Birbeck, University of London.
Tip 3: Mention a mutual connection
Whether someone at the company can confirm your strong work ethic or recommended you for the job, mentioning a (willing!) mutual connection adds credibility to your application.
Roughly 80% of jobs are filled through networking. When you name someone the reader knows, you immediately create a personal connection and multiply the chances you'll end up on their shortlist of candidates.
Below is an example of how to name-drop a reference into a cover letter introduction:
Opening your cover letter with a mutual connection
I'm Felicia Jones, an experienced social media marketer reaching out about the Social Media Marketing Specialist job opening at Reach. Your Marketing Manager, Terrance Phillips, is a former colleague of mine, and when he heard I was looking for a job, he encouraged me to apply.
Tip 4: Highlight your interest in the company
Explaining what made you want to work for this specific company is a compelling way to start your cover letter.
For one, your application will seem genuine because you've clearly written it with the employer in mind. If they feel like you're speaking to them (not openly reciting your qualifications), you're more likely to hold their attention and interest.
Signal to the employer that you've been following them for a long time by demonstrating familiarity with their mission, values, products, or services. Here's what that might look like in writing:
Mentioning research in your cover letter opening
With my 3+ years of sales experience and personal interest in your brand, I believe I'm ideally suited to fill the vacant Sales Assistant position at Parkvenchy. I noticed that your business recently acquired a mid-level extreme sports clothing retailer, and my prior experience as a semi-pro skateboarder will allow me to not just do the job but thrive in this role.
Tip 5: Discuss industry-related news
Regardless of your industry, you're not begging for a job; you're advertising your services as a trained expert.
Discussing industry trends and developments in your opening lines confirms your specialised knowledge and signals that you may provide value that isn't already available to the employer.
This cover letter opening shows that the applicant who wrote it stays informed about their profession and the industry of the company they're applying to:
Beginning your cover letter with relevant news
I've worked for 8+ years as a web developer and engineer but have always been keen to break into game development. With Creative England's launch of new grants for gaming companies to train talent, I felt that now is an excellent time to apply for Team17's Game Developer position.
Tip 6: Show personality with a creative opening
If composed thoughtfully, a unique or quirky opening line can give your cover letter an edge over the competition.
This approach is only suitable for more casual employers or creative industries (e.g., you're writing a cover letter for a PR job). In the right situations, it's a great way to underscore your strong communication skills.
Starting with a creative cover letter introduction
Dear Mr Vlaanderen,
Do you need:
Pitches that perform?
Content that creates chatter?
Digital strategy that actually works?
Balancing budget, creativity, and client expectations is a problem that puzzles every PR agency. Thankfully for you, it's what I do best. With 8 years of experience in non-profits and public affairs, I would be a perfect fit for the PR Manager position at Growth Media.
Tip 7: Highlight a recent qualification
If you're right at the start of your career, your recent education, internships, and certifications might be the most impressive achievements on your CV. If so, draw the employer's attention to those achievements.
Starting your cover letter by highlighting a key qualification shows the employer that you have the right background to get started in their business.
By spotlighting your qualifications in the first paragraph of your cover letter, you give yourself more opportunity to discuss how they prepared you for the role.
Here's how one applicant highlighted their education in their cover letter for an internship:
Starting your cover letter with a relevant qualification
As a curious and driven Computer Science student who recently graduated with first-class honours from Manchester University, I'm eager to apply my strong foundation in data research and algorithms to drive development at Candereal Tech.
Tip 8: Spotlight an accomplishment
Whatever you say first in your cover letter is what the employer is most likely to remember, so lead with proof of your hirability.
Beginning your cover letter with a measurable achievement that relates to the job gives the employer an immediate reason to consider you for the position.
You can use this approach in any industry, but it's especially effective in competitive, results-focused fields like sales or accounting:
Opening with a key accomplishment
Looking to grow your portfolio? Within the past 12 months in my previous role at FarReach, I secured 15 new high-profile clients, including 3 Fortune 500 companies. With my highly effective approach to market research and conversion, I'd be a perfect fit for the Client Success Manager position at Ombersley Recruitment.
Tip 9: Outline how you can help the company
One of the best ways to start your cover letter is by telling the employer how your skills perfectly align with their needs.
But don't just say you'll help the company. Instead, show how you'll be useful with specific reasons like this applicant does:
Describing how you can contribute in your cover letter opening
I'm a professional driver with 4+ years' experience delivering food in Birmingham. With not a single point or endorsement on my licence and a deep familiarity with your delivery area (I grew up in Birmingham and know every shortcut in town), I'm certain I'd be able to work as a Delivery Driver for Lady Pi from day one.
Tip 10: Share a powerful belief
If you're applying for a job in education, at a non-profit or social impact organisation, sharing your relevant values or passions will compel the employer to consider you for the role.
Open with a belief that aligns your expertise with the company's values, and explain how it will drive your contributions and commitment to the role.
Here's an example of a powerful opening belief statement for a care assistant cover letter:
Starting with a powerful belief
As an experienced care assistant, I wholeheartedly believe that maintaining seniors' independence and sense of self-worth is essential to residential care.
Frequently asked questions about starting a cover letter
Still have questions about how to start a cover letter? Below are answers to 4 of the most common questions asked about cover letter opening lines:
1. What should I avoid in my cover letter opening?
Avoid clichés in your cover letter introduction.
Clichés will make your writing boring and generic anywhere in your letter. But if you use them in your introduction, the employer will immediately lose interest in what you have to say.
Don't start your cover letter with these overused phrases:
Phrases to avoid when starting a cover letter
'I am a highly motivated and detail-oriented professional.'
'I am writing to express my strong desire to join your team.'
'I am confident that my skills and experience make me a perfect fit for your company.'
'I am applying for the [Job Title] position as advertised.'
'I have always been passionate about [Industry/Field].'
'I am writing to inquire about potential job opportunities at your company.'
2. How do you start a speculative cover letter?
Here's how to start a speculative cover letter:
Address it to a named contact person (if you can find one on your target company's website) or the company/department name in your greeting
Outline your interest in the company, its products, or its services
Highlight your relevant skills or experience and explain how you can help the company meet its goals
Here's an example of how to start a speculative cover letter:
Dear Queens Quilts Marketing Team,

My name is Ben Prince, and I'm an avid user of your website, but I noticed you only post blog articles a few times each year. As an experienced writer with digital content currently garnering 500K+ clicks in organic traffic each month on blogs like Marie Claire and Love My Dress, I can help you build your brand and reach a much larger audience.
3. How do you address a cover letter?
You should address your cover letter to a named contact person.
Addressing a cover letter to a contact person (instead of using a general greeting like 'To whom it may concern,') tells the employer that you're talking to them directly — which will make them more interested in what you have to say.
Example cover letter greetings
Dear [First and Last Name],
Dear Mr/Ms/Mx [Last Name],
Dear [Department Name] Manager,
4. How do you start a cover letter without using 'I'
Here are some examples of how to start a cover letter without using 'I':
My name is [Your Name]
As a recent graduate with a [Degree Name]
As a [Job Title] with [#] years' experience
Your advert seeking a [Job Title] on [Job Board] caught my eye
You can also view more cover letter examples online to see how other applicants avoid using 'I' to start their opening lines.
More cover letter FAQs