A CV is the document you use to apply for jobs in the UK, whereas a resume is the document you'd use to apply for jobs in the US.
It's as simple as that, but here's some more detail about CVs and resumes:
🇬🇧 Learn how to write a CV if you're:
applying for a job in the UK or Ireland
applying for work at a UK or Irish company based in the US
🇺🇸 Learn how to write a resume if you're:
applying for a job in the US
applying for work at a US company based in the UK or EU
What is the difference between a CV vs a resume?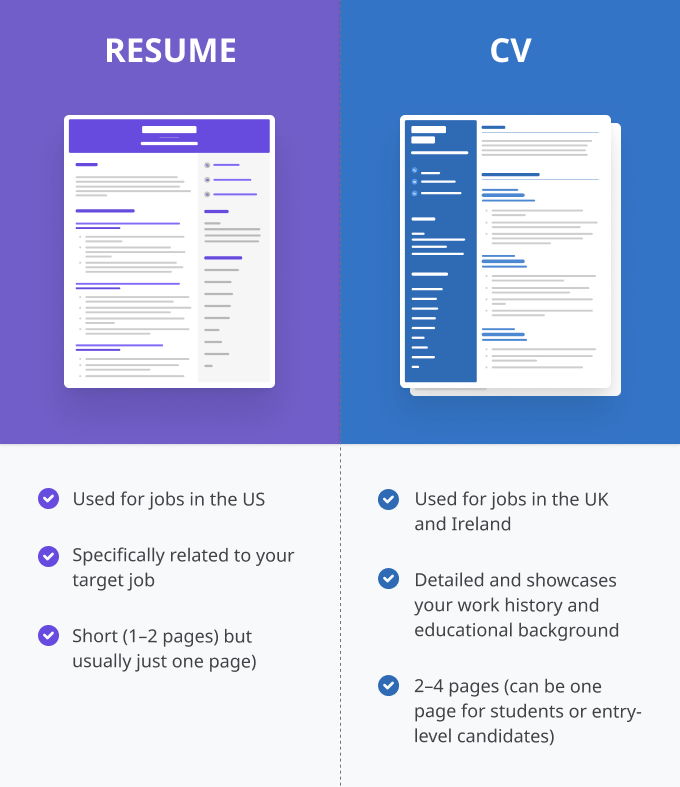 You might be asking yourself: 'Is a resume the same as a CV then in everything but name?'
No, CVs and resumes differ in some small ways even though they're both job documents.
Examples of similarities between CVs and resumes are that they both:
Here are the three main differences between resumes and CVs:
1. Length
Unless you're writing a one page CV, CVs are longer than resumes because employers in the UK expect to learn all about your professional and educational background — and even your personality through your hobbies and free-time pursuits — to decide whether they want to interview you.
In the UK, a CV can be anything from 2–4 pages — and even dozens of pages for an academic CV.
Most Americans, by contrast, must cram everything onto one page on their resumes, except for high-level roles like CEOs and university professors.
2. Level of detail
Another difference between a CV and a resume is how much detail their written sections go into.
Let's compare the work experience and education sections of a CV and a resume:
Work history
A UK employer expects to see your entire work history on your CV, whereas an American candidate can omit older job entries to fit the document onto one page.
Education
Another example is in the education section of your CV. A CV in the UK or Ireland should always include:
your university degrees
your A-Levels (or Irish/Scottish equivalents)
the number of GCSEs you were awarded (or Irish/Scottish equivalents) graded between 9 and 4 (or A* and C before 2017)
Also, provide your GCSE grades for English, Maths, and IT because you may not have studied these subjects at A-Level, so employers want to see you have the minimum literacy, numeracy, and IT skills to function well in the workplace.
By contrast, American resumes usually only contain the highest degree you've obtained. So if you've got a BSc in Chemistry, that's all you'd list on an American resume. Leave off your A-Levels and GCSEs.
3. Purpose
In the UK, CVs (along with a well-written cover letter) are used to apply for all jobs. Learning how to write a cover letter well and including it with your CV is also an important part of the job search process.
In the US, resumes are used for most jobs, but for jobs in universities, the longer UK-style layout for a CV is used so that aspiring professors can detail all of their publications, conferences, and professional affiliations.
Where should I use a CV or resume? (international differences)
We've focused on the US and UK in this article, but here's which document you should use if you're applying for jobs in Commonwealth countries or nations abroad:
Influenced by their neighbours to the south, Canadians use resumes to apply for most jobs, and CVs for jobs in the academic sector.
Australia 🇦🇺, India 🇮🇳, & South Africa 🇿🇦
In these countries, the terms 'resume' and 'CV' are interchangeable. In general, private companies ask for resumes, and government jobs require a CV.
Double check what the job advert asks for, and also confirm whether they mean a longer-style document or a shorter one regardless of what they call it. But if you're writing your fresher resume or CV, one page is always acceptable.
In India, you may also hear about a 'biodata', which is a document similar to a resume.
Kiwis tend to use CVs exclusively, like the UK.
European Union 🇪🇺 (including Ireland 🇮🇪)
The EU, including Ireland, exclusively uses CVs.
In fact, the EU has a standard format Europass CV to make it easier for European citizens to work across the EU by creating a multilingual application document.
One difference between CVs in the UK & Ireland, and the rest of the EU is that Irish and British CVs don't include a photo or headshot to prevent discrimination based on how you look. In all EU countries except Ireland, a headshot is a standard part of a CV.
So if you're applying for a job in the EU (apart from Ireland), add a headshot to the European CV template you use.
Outside of the European Union 🌍
CVs are also used in most other European nations outside of the EU, like Switzerland 🇨🇭, Iceland 🇮🇸, and Norway 🇳🇴.
CV vs resume-related frequently asked questions
Want more information? We prepared three answers to commonly asked questions to give you more tips on the differences between CVs and resumes:
1. What should you include on a resume and CV?
Here's what you should include on a resume and a CV:
What to add to your resume (for jobs in the US)
Contact information
Resume introduction
Work experience
Education
Top skills
Other relevant resume sections (e.g., awards, publications, volunteer work, projects, certifications)
What to put on your CV (for jobs in the UK and Ireland)
Contact information
Personal statement
Work experience
Education
Hobbies and interests
Additional CV sections (e.g., awards, volunteer work, projects, other qualifications)
2. What's the standard format for CVs and resumes?
The standard format for CVs and resumes is the chronological format.
This format is commonly used in the US and the UK because it:
puts your most recent job at the top of your CV or resume
gives you space to describe the rest of your career history (from newest to oldest roles)
lets employers easily read your information and decide if they want to interview you

3. What's an American CV?
An American CV is a completely different job document compared to a UK CV.
Also known as an academic CV, an American CV is a multi-page job document that outlines an applicant's entire career history and specific education details (e.g., publications, conferences, scholarships, research).
Candidates who apply for US-based jobs using an American CV typically target academic, medical, or legal positions.
FAQs about CV writing
Applying for UK-based roles? Below are answers to additional questions that'll help you make a great CV: