Your CV personal profile (also called a CV personal statement or an opening statement) is a brief paragraph or a list of bullet points that sits at the top of your CV and introduces you as a top candidate.
Your CV personal profile's purpose is to:
highlight your key skills, years of experience, and qualifications
show employers you're a good fit for the role you're applying for
encourage recruiters to continue reading the rest of your CV
And to help you create your own standout CV personal profile, we provide 10+ CV profile examples from a variety of candidates along with tips on how to write a CV profile and a template.
10 CV personal profile examples
Below are several CV profile examples to inspire you as you're writing a CV:
1. Retail CV profile
This is a personal profile statement for a retail CV highlighting the applicant's customer service expertise:
Friendly and customer-focused Sales Assistant with 2+ years of retail experience. Recognised by my supervisors for providing accurate product knowledge to new and repeat customers and exceeding monthly sales targets. Seeking a responsible sales position at House of Fraser to help maximise sales and enhance shopping experiences for customers.
2. Teacher CV profile
Try writing a teacher CV profile by emphasising your ability to connect with students, like so: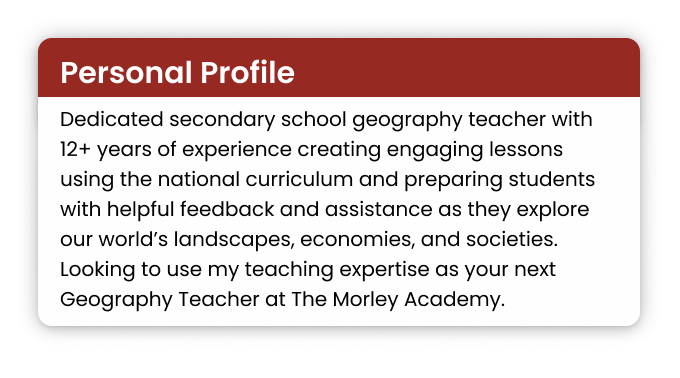 3. Customer service CV profile
Here's a customer CV personal profile that showcases the applicant's people skills and foreign language skills:
Customer Service Representative with 5 years of experience serving clients of all ages and backgrounds. Sustained a 100% customer satisfaction rating from 2019–2021. Fluent in English, French, and Italian. Experienced with using Microsoft Office Suite. Ready to establish positive client relationships and provide excellent communications for all queries and requests at Trescal Limited.
4. Accounting CV profile
Below is an example of an experienced applicant's profile statement for their accountant CV:

5. School leaver CV profile
This candidate's school leaver CV personal profile statement highlights their academic accomplishments:
Diligent and enthusiastic individual from Perse Comprehensive School with a 9 GSCEs A*–C, including Maths, English, and ICT. Recipient of the Duke of Edinburgh Award in 2022 for my academic achievement and volunteering efforts with Habitat for Humanity and Meals on Wheels. An active member of the Perse football team, chess club, and chamber music choir. Excited to develop professionally and aid your company as a full-time Office Assistant at Loblaws Ltd.
6. Marketing CV profile
Have a look at our candidate's CV profile for a digital marketing agency and how they presented one of their previous roles: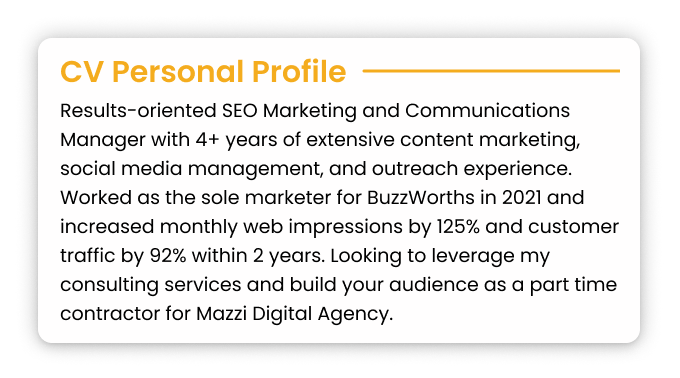 7. Graphic designer CV profile
Our graphic designer applicant lists relevant software and tools they use daily:
Innovative Graphic Designer with 8+ years of experience. Equipped with an MA from the University of Bristol and a UX Design Institute certificate. Possess an intuitive eye for art as well as a strong knowledge of design thinking, UI/UX principles, colour theory, and information architecture. Proficient in Adobe Creative Suite, Affinity, Figma, Sketch, and Zeplin.
8. Architecture CV profile
Here's a candidate's architecture CV that describes their previous freelance duties and full-time roles: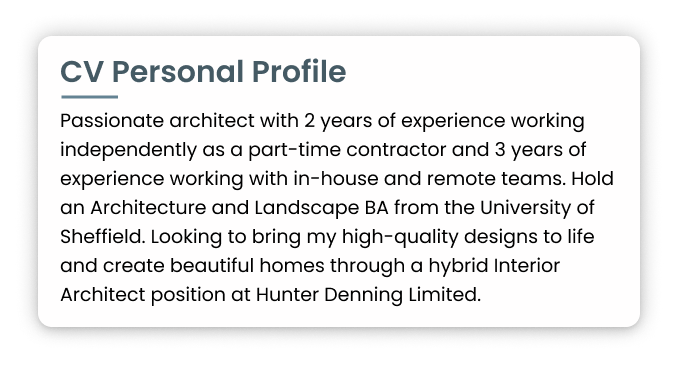 9. Project manager CV profile
This project manager CV profile statement lists our applicant's previous workplaces to make an impact on recruiters:
Communicative Project Manager with 12½ years of experience in fast-paced tech environments. Previously worked at Google, Facebook, and Discord. Specialise in resource and budget management. Recognised by team members for bringing forth actionable results, clear communication, and meeting key project deliverables by every deadline. Applying for the role of Senior Project Manager at Twitter.
10. Engineering CV profile
Even if you're looking for your first job, you can still write a great CV profile. Take a look at this recent graduate's engineering CV personal profile:
How to write a profile on a CV
Unsure how to begin writing your CV personal profile? Don't fret. Use these five tips to help you create an original CV profile statement: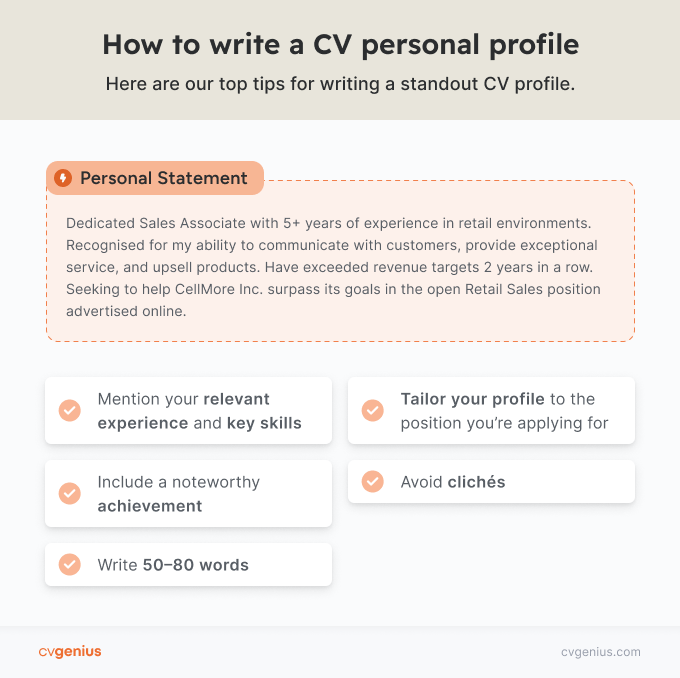 1. Begin with your years of experience and top skills
Employers want to know if you'd be a good fit for their team, so include essential information about your previous experience.
These details include your:
years of relevant experience
educational background and certifications
duties that relate back to the role you're applying for
Providing employers with context of your previous work duties or relevant education in your CV personal profile informs them you've got the qualifications they're looking for and helps them decide whether they should carry on with reading your CV.
Additionally, mentioning any relevant hard skills (e.g., using Adobe Photoshop) and soft skills (e.g., time management skills) gives employers a better understanding of your capabilities and personality.
2. Impress employers with an achievement
Because employers decide between several applications for each job opening, your CV personal profile needs to stand out. So include a noteworthy accomplishment such as:
identifying, optimising, or solving problems
increasing revenue or sales for the company
introducing innovative ideas
working on special projects
3. Tailor your CV profile to each job you're applying for
Modern companies use applicant tracking software (ATS) to select CVs that contain matching keywords from the job advert.
So optimise your CV personal profile by reading each job description carefully — then you'll know what specific keywords a company is using and can include them on your CV profile and the rest of your CV.
4. Keep your CV personal profile between 50 and 80 words
Try writing a concise but detailed CV profile statement because employers don't have time to read waffly CVs that are too long or unclear. So keep your CV personal profile statement at 50–80 words (or three to five sentences).
Remember to only include essential information about your skills and experience that relates directly back to the position so your CV profile is succinct and easy to read.
5. Avoid using clichés or buzzwords
Certain phrases, jargon, and business buzzwords such as 'team player', 'hard-working', or 'think outside the box' are vague and overused.
Instead, use the CV keywords from the job advert and include adjectives that describe who you are as an applicant and specific details that accurately demonstrate your work ethic and skills.
Here's an example of a CV profile with generic buzzwords as well as one without:
CV profile example using clichés and buzzwords
Hard-working Digital Marketing Manager and thought leader with 5+ years of experience thinking outside the box and working in agile environments. Dedicated to going the extra mile with technical SEO efforts and pushing all content forward to the fullest.
CV profile example using clear, descriptive language
Analytical and creative Digital Marketing Manager with 5+ years of experience working with remote and in-house teams to enhance SEO efforts, Google Ad campaigns, and customer traffic. Specialise in technical and on page SEO. Dedicated to researching the latest marketing trends and sharing detailed insights with my colleagues in a friendly and accessible manner.
CV personal profile template
Writing an excellent CV profile takes time and practice. Remember that your career history is different from others, so use your previous experiences and notable skills to your advantage when writing your CV profile.
If you're still uncertain how to start your CV personal profile, here's a CV profile template you can copy, paste, and customise to suit your needs:
Template for a CV profile
[Adjective] [job title] with [years of experience] working in the [name of industry] industry. Specialise in [top skill] and [top skill]. Possess a [name of degree or relevant education] from [name of institution]. Looking to leverage my knowledge and skills to aid [Company's name] in its [Company's mission] goals.
And finally, recruiters will verify your information by checking the rest of your application. So don't forget to read over your CV profile again before submitting your documents to ensure the information you wrote in your profile statement matches the rest of your CV.