Your CV personal profile (also called a CV opening statement or personal statement) is a brief paragraph or a list of bullet points that sits at the top of your CV structure and introduces you as a top candidate.
Your CV personal profile's purpose is to:
highlight your key skills, years of experience, and qualifications
show employers you're a good fit for the role you're applying for
encourage recruiters to continue reading the rest of your CV
And to help you create your own standout CV personal profile, we've provided 10+ CV profile examples from a variety of candidates along with tips on how to write a CV profile and a template.
10 CV personal profile examples
Unsure how to write a good CV that features a professional personal profile? Below are several CV profile examples to inspire you:
1. Retail CV profile
This personal profile statement from a retail worker's CV highlights the applicant's customer service expertise:
Friendly and customer-focused Sales Assistant with 2+ years of retail experience. Recognised by my supervisors for providing accurate product knowledge to new and repeat customers and exceeding monthly sales targets. Seeking a responsible sales position at House of Fraser to help maximise sales and enhance shopping experiences for customers.
Why this personal profile stands out:
Targeted adjectives ('friendly', 'customer focused') highlight desirable traits for a customer serving role
Demonstrates understanding of customer service by naming two relevant achievements ('providing accurate product knowledge,' 'exceeding monthly sales targets')
Tailors personal profile to the job by including the company name (House of Fraser)
2. Teacher CV profile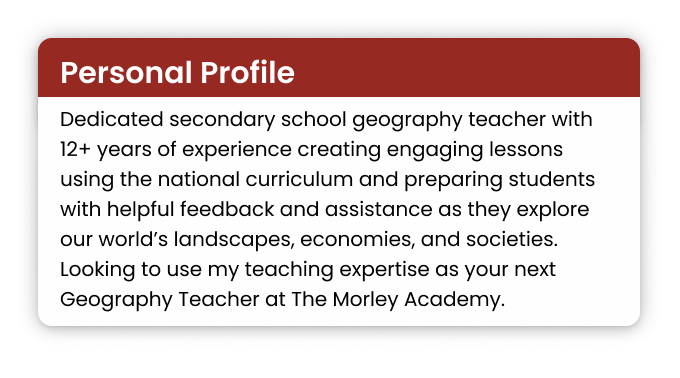 If you're writing a CV for a teaching job, try emphasising your ability to connect with students, like so:
What this personal profile does well:
Includes hard numbers to emphasise extensive teaching experience
Highlights valuable job-specific skills (familiarity with National Curriculum and GCSE exam preparation)
Demonstrates appropriate traits for a secondary school teacher by using student-centred language (e.g., 'creating engaging lessons,' 'preparing students with helpful feedback and assistance')
3. Customer service CV profile
Here's a customer service CV personal profile that showcases the applicant's people skills and foreign language skills:
Customer Service Representative with 5 years of experience serving clients of all ages and backgrounds. Sustained a 100% customer satisfaction rating from 2021–2023. Fluent in English, French, and Italian. Experienced with using Microsoft Office Suite. Ready to establish positive client relationships and provide excellent communications for all queries and requests at Trescal Limited.
Why this profile will convince a customer service employer:
Uses one sentence to emphasise a noteworthy relevant skill (fluency in four languages)
Includes a percentage to emphasise an impressive achievement (100% customer satisfaction)
Outlines two benefits that the applicant will bring to the hiring time ('Ready to establish positive client relationships and provide excellent communications')
4. Accounting CV profile
Below is an example of an experienced applicant's profile statement for their accountant CV: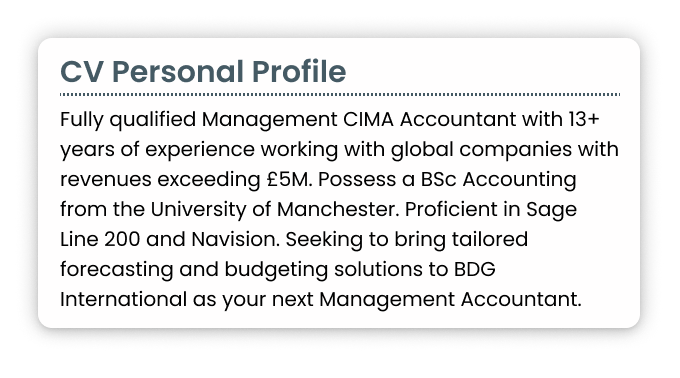 What stands out about this CV opening statement:
Includes CIMA qualification to confirm the applicant is fully certified to work as an accountant
Applicant uses numbers to illustrate experience working with large clients
Highlights noteworthy technical skills (proficiency in Sage Line 200 and Navision)
5. School leaver CV profile
This candidate's school leaver CV personal profile statement highlights their academic accomplishments:
Diligent and enthusiastic individual from Perse Comprehensive School with 9 GSCEs A*–C, including Maths, English, and ICT. Received the Duke of Edinburgh Award in 2022 for my academic achievement and volunteering efforts with Habitat for Humanity. An active member of the Perse football team, chess club, and chamber music choir. Excited to develop professionally and aid your company as a full-time Office Assistant at Loblaws Ltd.
What makes this school leaver personal profile effective:
Successfully compensates for lack of work experience by focusing on education and volunteering experience
Advertises strong work ethic by including relevant personal qualities (e.g., diligence and enthusiasm)
Includes relevant personal interests to present themselves as a well-rounded candidate
6. Marketing CV profile
Have a look at how our candidate started their CV for a digital marketing agency and how they presented one of their previous roles: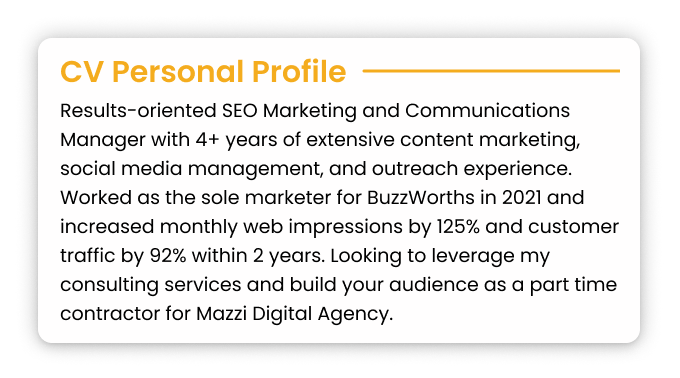 Why this is an engaging personal profile:
Specifies the candidate's areas of expertise (content marketing, social media management, outreach experience)
Includes hard numbers to emphasise success at core digital marketing tasks (increasing impressions and customer traffic)
Presents a clear career goal and aligns it with employers' interests
7. Graphic designer CV profile
Our graphic designer applicant lists relevant software and tools they use daily:
Innovative Graphic Designer with 8+ years of experience. Equipped with an MA from the University of Bristol and a UX Design Institute certificate. Possess an intuitive eye for art as well as a strong knowledge of design thinking, UI/UX principles, colour theory, and information architecture. Proficient in Adobe Creative Suite, Affinity, Figma, Sketch, and Zeplin.
Why this is an eye-catching personal profile for a graphic designer:
Includes two noteworthy qualifications (Design MA and UX Design Institute certificate)
Uses appropriate language to highlight creativity and analytical skills ('intuitive eye for art,' 'strong knowledge of design thinking')
Highlights knowledge of relevant software (Adobe Creative Suite, Affinity, Figma, Sketch, and Zeplin)
8. Architecture CV profile
Here's a candidate's architecture CV that describes their previous freelance duties and full-time roles: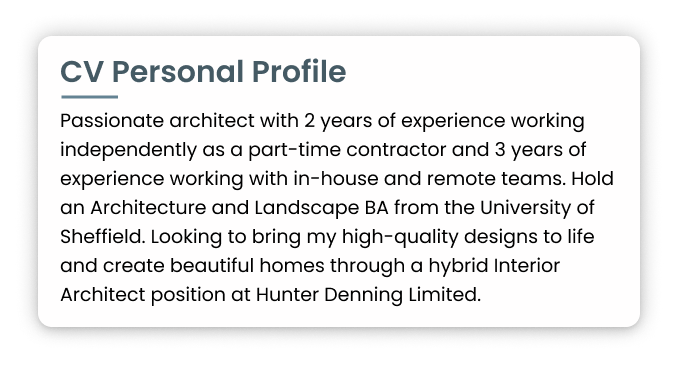 This personal profile lays the foundations for job-hunting success because:
the applicant mentions experience in a variety of industry roles
it includes an essential qualification (Architecture and Design BA)
it hints at the excellent quality of the applicant's work — a great approach to take if you're planning to submit a portfolio with your CV
9. Project manager CV profile
The personal profile on this CV for a project manager makes an impact on recruiters by listing the applicant's previous workplaces:
Communicative Project Manager with 12½ years of experience in fast-paced tech environments. Previously worked at Google, Facebook, and Discord. Specialise in resource and budget management. Recognised by team members for bringing forth actionable results, clear communication, and meeting key project deliverables by every deadline. Applying for the role of Senior Project Manager at Twitter.
What makes this an impressive CV personal statement?
The applicant has several years of specific industry experience
They've worked at several high-profile companies
The applicant highlights employer satisfaction in previous roles, inviting the hiring employer to ask for references or discuss the applicant's strengths in a job interview
10. Engineering CV profile
Even if you're looking for your first job, you can still write a great CV profile. Take a look at this recently graduated engineer's CV personal profile:
Why this personal profile contains the blueprints of a standout CV:
The applicant tailors language to highlight core soft skills (e.g., 'attentive civil engineer' suggests they are highly detail-oriented)
Includes full degree title and expected graduation date — which employers will be scanning for if hiring for a graduate position
Sets clear career goals that align with company values ('building sustainable design solutions as an Assistant Engineer at Marwick's Construction Inc.')
How to write a profile on a CV
Unsure how to begin writing your CV personal profile? Don't fret. Use these five tips to help you create an original CV profile statement:
1. Begin with your years of experience and top skills
Employers want to know if you'd be a good fit for their team, so include essential information about your previous experience.
These details include your:
years of relevant experience
educational background and certifications
duties that relate back to the role you're applying for
Including the context of your previous work duties or relevant education in your CV personal profile makes your opening statement more persuasive. Context helps inform employers you've got the qualifications they're looking for and helps them decide whether they should carry on reading your CV.
Additionally, mentioning any relevant hard skills (e.g., using Adobe Photoshop) and soft skills (e.g., time management skills) gives employers a better understanding of your capabilities and personality.
2. Impress employers with an achievement
Because employers need to decide between several applications for each job opening, your CV personal profile needs to stand out. So include a noteworthy accomplishment such as:
identifying, optimising, or solving problems
increasing revenue or sales for the company
introducing innovative ideas
working on special projects
3. Tailor your CV profile to each job you're applying for
Modern companies use applicant tracking software (ATS) to select CVs that contain matching keywords from the job advert.
So optimise your CV personal profile by reading each job description carefully — then you'll know what specific keywords a company is using and can include them on your CV profile and the rest of your CV.
4. Keep your CV personal profile between 50 and 80 words
Try to write a concise but detailed CV profile statement. Employers don't have time to read waffly CVs that are long or unclear. So keep your opening statement at 50–80 words (or three to five sentences).
Remember to only include essential information about your skills and experience that relates directly to the position so your CV profile is brief and easy to read.
5. Avoid using clichés or buzzwords
Certain phrases, jargon, and business buzzwords such as 'team player', 'hard-working', or 'think outside the box' are vague and overused.
Instead, use CV keywords from the job advert and include adjectives that describe who you are. Add specific details that accurately demonstrate your work ethic and skills.
Here's an example of a CV profile with generic buzzwords in red, and one written using clear, descriptive language in green.
CV profile example using clichés and buzzwords
Hard-working Digital Marketing Manager and thought leader with 5+ years of experience thinking outside the box and working in agile environments. Dedicated to going the extra mile with technical SEO efforts and pushing all content forward to the fullest.
CV profile example using clear, descriptive language
Analytical and creative Digital Marketing Manager with 5+ years of experience working with remote and in-house teams to enhance SEO efforts, Google Ad campaigns, and customer traffic. Specialise in technical and on page SEO. Dedicated to researching the latest marketing trends and sharing detailed insights with my colleagues in a friendly and accessible manner.
CV personal profile template
Writing an excellent CV profile takes time and practice. Remember that your career history is different from others, so use your previous experiences and notable skills to make your CV profile stand out.
If you're still uncertain how to start your CV personal profile, here's a CV profile template you can copy, paste, and customise to suit your needs:
Template for a CV profile
[Adjective] [job title] with [years of experience] working in the [name of industry] industry. Specialise in [top skill] and [top skill]. Possess a [name of degree or relevant education] from [name of institution]. Looking to leverage my knowledge and skills to aid [Company's name] in its [Company's mission] goals.
Finally, recruiters will verify your information by checking the rest of your application. So don't forget to read over your CV profile again before submitting your documents to ensure all the information you write is consistent throughout your CV.
Frequently asked questions about CV personal profiles
Still unsure of how to write the opening statement of your CV personal profile? Here are three common questions about creating an effective personal profile for your CV:
1. What's the difference between a personal profile and a personal statement?
A personal statement and a personal profile are the same thing. Both are brief summaries of your experience that highlight important qualities the employer should take note of when considering whether to hire you.
This being said, what employers expect from your personal statement (or profile) may vary between professions. In most cases, your opening statement should be 50–80 words long — about three to five sentences.
If you're applying for a senior position, a job in academia, or certain medical roles, your personal statement can be much longer.
However, think carefully about whether writing a long personal profile is necessary. Employers can easily take lengthy opening statements to mean that you don't know how to prioritise information or have weak communication skills.
2. Does my CV need a personal statement?
A well written personal statement will be extremely helpful to your job search, though including a personal statement isn't mandatory.
Personal statements help you stand out from other applicants. Because they briefly summarise your experience, skills, and goals, they make your application memorable. The employer is also more likely to read the rest of your CV carefully, if you've given them a few compelling reasons to consider your application at the top of the page.
When including a personal statement in your CV, make sure it is well-written and tailored to the job you are applying for. A personal statement that's poorly written or inaccurate, or includes irrelevant information can hurt your chances of getting hired, so think carefully about what qualities the employer is looking for and how you can cater to their needs.
3. Can I use the same personal statement for multiple applications?
It's not a good idea to use the same personal statement for multiple applications.
Personal statements tailor your application to one specific job by highlighting parts of your experience and education that are particularly relevant. If you use the same personal profile for different job applications, employers will be able to tell because parts of your statement won't be relevant to the vacancy they are trying to fill.
Worse still, sending an employer a generic personal profile suggests that you haven't put much thought or effort into your application.
To create a personalised opening statement for your CV, make it the last CV section you write. Look back over your qualifications and consider which ones are most valuable to the employer. Furthermore, review the job advert for CV keywords that you can pepper into your personal profile. Some good examples of CV keywords include various transferable skills, professional certifications, or personality traits. Highlighting these qualities in your personal profile shows you've paid close attention to the job posting and are sincere about applying to work for the employer.
More FAQs to help you start writing your CV
Still not sure how to start a CV? Here are the answers to a few more questions that might be holding you up: