Applying for a job is all about convincing employers that you can help them reach (and hopefully surpass) their goals. The best way to do this is by emphasising achievements on your CV.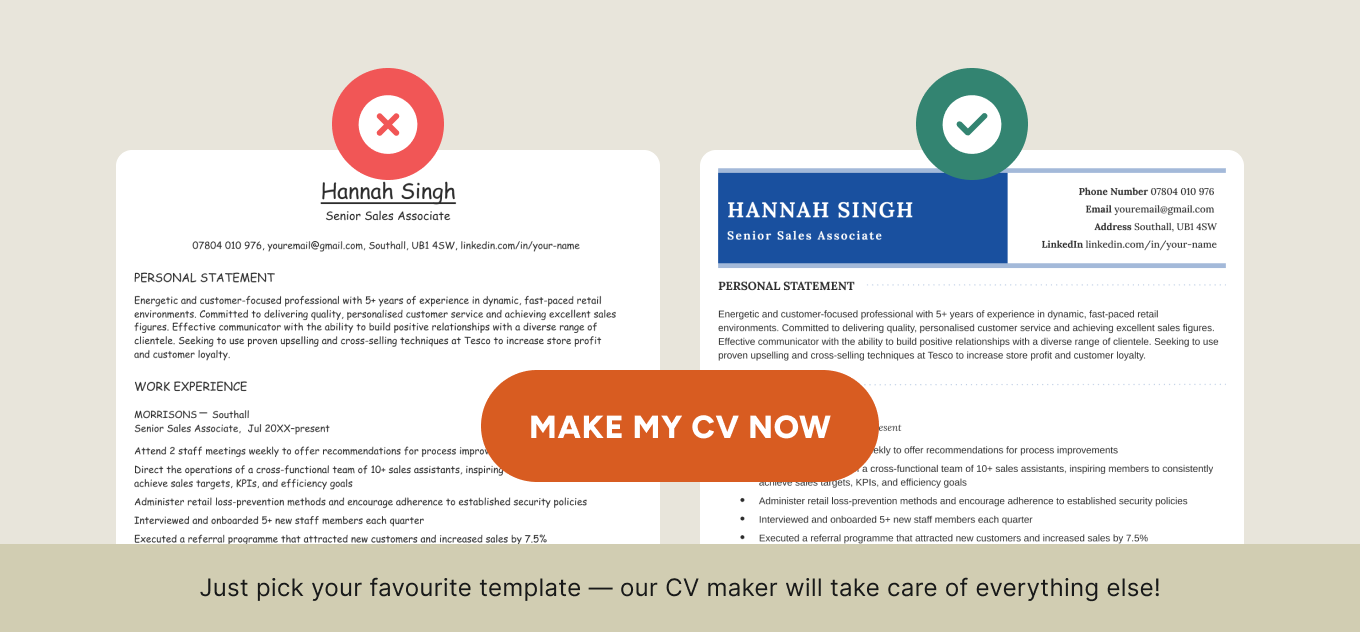 Achievements to put on CVs are descriptions of times you produced positive results at work (including volunteer and internship positions), university, or school. Here are the three main types of CV achievements, along with examples of how to list them:
1. Productivity achievements
The first accomplishments that come to mind when you're writing your CV are probably results-based, such as times you:
generated money
completed high volumes of work
attracted new clients
enhanced (or maintained) quality
increased brand recognition
Employers prefer to hire applicants who show they can produce the above results on their CVs, because they're more likely to help the company achieve its goals. So prioritise such accomplishments when you make your CV.
Here are examples of how to highlight your results-based achievements on your CV:
Productivity achievements to put on CVs
Led the team in number of sales made (45) and revenue generated (£100K) in March 2022
Broke company record by publishing 85 quick-hit news articles in one month (22 working days)
Signed 14 new accounts worth a combined total of £6 million annually in Q4 2021
Surpassed company standards by maintaining a 98% customer satisfaction rating on after-call surveys
Grew company social media accounts (Twitter, TikTok, Instagram) from 2.5K combined followers to 300K
2. Resource-saving accomplishments
Employers love savings. So any action you've taken or problem you've solved to save your organisation money, time, or physical resources is a great achievement to highlight on your CV, like so:
Resource-saving achievements to put on CVs
Negotiated supply prices with current and prospective vendors, resulting in £2,000 in monthly savings
Introduced a third-party app to replace time-consuming manual data entry, saving 14 labour hours per week
Mandated double-sided printing, reducing paper usage by 50%
Absorbed blogging duties, enabling management to afford aiming for a higher-impact recruiting target
Implemented a hybrid working model that saved electricity and reduced company overhead by 25%
3. Management achievements
If the achievements you put on your CV are related to overseeing people and projects, employers will view you as a candidate with management potential. Here are some management-related accomplishments you can list on your CV:
the number of people or projects you supervised
examples of interpersonal conflicts you resolved
times you completed projects ahead of schedule
And these are examples of the accomplishments above in CV work experience section bullets:
Management achievements to put on CVs
Managed a cross-functional project team of 10 members across different departments, fostering effective communication and collaboration
Adapted a performance management system that effectively identified and addressed skill gaps within the team, resulting in a 15% decrease in project errors
Successfully led a team of 15 employees through a complex project, ensuring timely completion while adhering to strict quality standards
Led a committee for implementing a company-wide training programme, resulting in a 30% increase in employee engagement and a 12% decrease in employee turnover
Directed a high-profile project with a budget of £1 million, effectively coordinating resources, delivering the project within the allocated budget and timeline
How to write about achievements on your CV
If you've looked at the examples above and still aren't sure how to present your accomplishments on your CV, don't lose hope. Follow these four CV writing tips to ensure your career highlights star in your CV:
1. Figure out what you've accomplished
Before you write your CV, make a list of all your achievements. Comb through your work history, education, and even your hobbies and interests, writing down anything you've accomplished.
Next, cross-reference your list with the requirements listed in the job advert to determine which of your achievements are most likely to get the employer interested in hiring you. These are the accomplishments to highlight on your CV.
2. Get specific with hard numbers
When you list your achievements on your CV, always include hard numbers so the employer understands the scale of the impact you'll make for them.
Clear achievement with numbers
Created content to post across the company's 3 social media channels (Instagram, TikTok, LinkedIn), earning 3.6 million impressions and attracting 400K new followers
Unclear achievement without numbers
Created successful posts for the company's social media channels
But if you're having trouble coming up with data for your accomplishments, try to get some from your manager, who should be tracking your performance. Also, start tracking your impact yourself right away so it'll be easier to make your next CV.
Examples of data you should track include:
money amounts
time saved or contributed
numbers of people and projects managed
amounts of resources you were responsible for
numbers of customers served
projects completed on time
3. Put them all over your CV
Your accomplishments belong in every CV section you can get them into. Achievements fit naturally into your work experience section (all the examples above are from this CV section) but you should also highlight them in your personal statement, education, skills, and hobbies & interests sections:
Personal statement
Put your most relevant achievements in a 3–5 sentence personal statement (also known as a CV personal profile) to get the employer interested in you as soon as they start reading your CV. Here's an example that shows you how to do that:
Education section
List educational accomplishments like honours, awards, and scholarships received in your education section. And if you completed a dissertation, you can mention that too.
This is how one applicant put achievements in their CV's education section:
Skills section
Put a job-related certification or a relevant coding language you've learned in a bulleted skills section, like this:

Hobbies & interests
Instead of just stating your leisure time activities in your hobbies & interests section, note how you've thrived. This is an example of a hobbies & interests section that squeezes in a few impressive achievements:

4. Move your most relevant accomplishments to the top
Always place your achievements most likely to impress the employer (you'll learn which achievements those are in the job advert and your company research) to the top of your CV.
So order your CV sections accordingly. For instance, if you have a lot of work-related achievements that show you meet the job requirements, pick the top one or two to note in your personal statement, and then go right into your work experience section.
But if your education or skills section has more job-specific achievements, move those higher in your CV's layout.
Job-specific examples of CV achievements
One way to find out what types of achievements employers in your field want to see on your job application is to look at CV examples from your industry and see what accomplishments your peers highlight. To make things easier for you, we've pulled some of the best examples of achievements on CVs for these industries:
Administration
When you apply for an administration or office support role, employers will look for achievements related to your organisational skills on your CV.
Digitised record filing system, creating enough extra office space for the company to rent it as a coworking area, bringing in £13,000 annually
Managed travel budget, decreasing annual expenditures by 18% while maintaining quality standards
Enhanced online databases for client accounts and outside vendors, decreasing the average time spent querying the database from 5 minutes to 30 seconds
Business and marketing
Here are some accomplishment-focused bullets from business and marketing CVs:
Organised 3 advertising campaigns per quarter, directly contributing to a market share jump from 13% to 26%
Raised CTR on pages I wrote or optimised by 6% on average, supporting the company's 19% profit growth
Overhauled management structure for a Fortune 500 client, increasing operational efficiency by 20%
Creative roles
Do you work in a creative role? Look at the examples below to get ideas for what achievements to put on your CV:
Designed product marketing images for social media posts, driving a 28% increase in impressions and clicks
Directed short films with subtle product placement, earning 13 million views on YouTube and 45K sales via links in the video descriptions
Wrote the 4 highest-viewed episodes of Casualty
Customer service
Have you kept a high customer service rating or earned your employer extra revenue by upselling? Put those achievements on your CV, like this:
Resolve 25+ customer issues daily while maintaining a 97% customer satisfaction rating
Memorised a 15-page menu in 2 days
Managed 40+ transactions daily and set up automated payment reminders, improving payments and collections success rate by 55%
Education
Writing your teacher CV? Show employers you're an excellent educator by highlighting CV achievements like these:
Delivered instructions to a class of more than 30 students using efficient teaching and class management strategies, raising exam outcomes by 40%
Oversaw 20% decrease in fail rate among classes of 35+ secondary school learners
Inspired 25% of my drama students to pursue acting at university, 10% of whom went on to earn roles in major television productions such as The Bill and The Crown
Engineering
The following bullets give employers clear pictures of the engineering feats the applicants who wrote them can accomplish:
Achieved a cost reduction of 20% by researching and selecting appropriate pozzolans to mix with ordinary Portland cement (OPC)
Designed 2 infrastructure projects worth £700K using AutoCAD and Solidworks
Led a team of engineers to execute a £100 million infrastructure project, completing the project 3 months ahead of schedule and 10% under budget
Healthcare
Unsure what achievements to put on your CV for a healthcare job? Here are some great examples to follow:
Demonstrated exceptional patient care, receiving positive feedback from 95% of patients and maintaining a perfect attendance record during the first year of practice
Implemented a patient management system that improved appointment scheduling efficiency by 20%, leading to better patient satisfaction and increased clinic productivity
Co-authored a research paper on innovative patient care techniques in the field of geriatric medicine, published in the prestigious 'Journal of Clinical Nursing'
IT
When employers open your CV for IT or computer science work, they want to see that you've produced results like these:
Designed and implemented a network security protocol for a mid-sized company as an internship project, which increased the system's security by 10%
Developed a mobile application during a university capstone project, resulting in over 10,000 downloads and a 4.5-star rating on the App Store within 6 months of release
Earned several key certifications, including CompTIA A+, Network+, and Security+, demonstrating commitment to professional growth
Journalism
Emphasise your ability to communicate with your target audience if you're writing a CV for a journalism role.
Consistently delivered high-quality, engaging articles under tight deadlines, leading to a 15% increase in online readership within the first year
Successfully pitched, researched, and wrote a three-part investigative series on local government corruption, resulting in notable public attention and sparking a city council audit
Coordinated and conducted an exclusive interview with a prominent figure in technology, which was picked up by 6 major news outlets
Law and politics
Look at these achievements from law and politics CVs to get ideas for your own:
Instrumental in preparing a high-profile corporate litigation case, leading to a favourable verdict for our client and saving the firm over £2 million in potential damages
Facilitated a cross-party initiative within the UK Parliament aimed at enhancing youth participation in local government, resulting in a 25% increase in youth voter registration in targeted local councils
Successfully organised and executed a survey in the MP's constituency, gathering vital data on public opinion that directly informed policy positions and led to a 15% increase in approval ratings for the MP
Security and public safety
When you apply to a security or law enforcement job, use hard numbers to show employers the scale of your safety achievements:
Maintained a zero-incident record during the first year of service, demonstrating exceptional vigilance and dedication to maintaining a safe environment
Successfully completed an advanced training course in risk assessment and crisis response, leading to a 20% improvement in my response times during potential security threats
Implemented a streamlined reporting system that improved communication between shifts and contributed to a 15% increase in overall team efficiency
Student
Emphasising achievements on your student CV can be tricky because you likely have limited or no professional experience. But you can still find noteworthy accomplishments in your coursework and any volunteer or internship work you've done.
These student CV achievements are sure to impress employers looking for teachable new hires:
Led an internship project that improved social media outreach, resulting in a 20% increase in followers across various platforms
Served as president of the University of Leeds Debate Society, initiating a university-wide debate competition that increased society membership by 30% and raised £2,000 for local charities
Successfully completed a comprehensive research project in advanced economics, forecasting economic trends based on historical data, which was recognised by my lecturer for its thoroughness and accuracy, and selected for presentation at the Department of Economics' annual student research showcase
FAQs about key achievements on a CV
To ensure we accomplished our goal of telling you everything you need to know about how to put achievements on your CV, here are answers to three more related questions:
1. What do you put on a CV if you have no achievements?
If you dig deeply into your past, you should be able to find achievements, including:
company or group achievements (even if you didn't break any records with your work, you contributed to the team's success)
personal accomplishments (e.g., you made a meme or video that went viral, showing your creative ability — and even finishing a university degree counts as an achievement)
However, if you truly have no job-relevant achievements, learn how to write a skills-based CV that focuses on your skills rather than your experience.
2. What are CV achievements for students?
CV achievements for students include:
group projects that earned top marks
extracurricular activities like raising funds for university societies or being elected to student union leadership
winning a student competition (e.g., an essay writing contest)
landing a competitive internship
building your personal brand through social media
3. How do you answer 'what have been your notable achievements in work?'
If you're asked 'what have been your notable achievements in work?' during a job interview or on a job application, your answer should include:
accomplishments related to the job you're targeting
data that gives the employer context
specific examples that expand on the information you put on your CV
Here's an example of a good answer to common interview questions about your work achievements:
'My notable achievements in work include setting a sales record while I was working as a waiter at Bart's Beans & Mash. When the restaurant updated its menu to include breakfast cocktails like bloody marys and tequila sunrises, the waiting staff were incentivised to upsell the new items to diners. I started off slowly, finishing in the middle of the pack in the first two months. But then I took an online sales course and started applying the tips I learned to upselling cocktails. The next month I sold 100 cocktails, which doubled the previous record, resulting in £1,000 in revenue for my employer and some extra happy breakfasts for my customers.'