What is a job title?
A job title describes your role at a company. In only 2–3 words, a job title gives recruiting managers a better understanding of your:
years of experience
level of responsibility
daily tasks and general responsibilities
skill set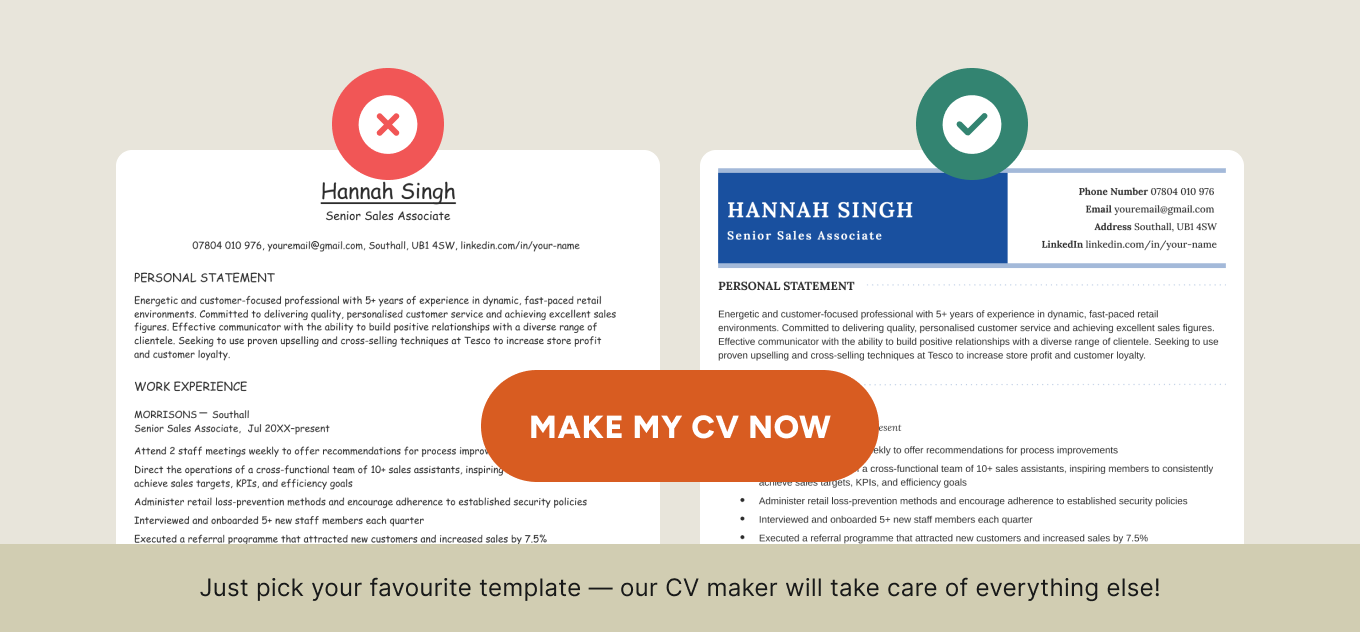 When you apply for a job, the first place an employer or hiring manager will see your current job title is in your CV header or cover letter header.
By including a professional job title at the top of your CV or cover letter (underneath your name), you help employers instantly see if you're qualified for a position.
Here's an example of a job title in a CV heading:

Is capitalising job titles necessary on a CV header?
Yes, capitalising job titles is necessary on a CV header.
Capitalising job titles on your CV or cover letter header makes your job titles easier to read.
Here's how a capitalised 'Public Relations Manager' job title looks like on a CV header:
170+ job title examples
Unsure how to write a good CV that uses an appropriate job title?
We've listed the most common job title examples from different industries so you can see what a good job title looks like.
C suite level job title examples
Here are several C suite level job titles if you're applying for these types of roles:
C suite level job titles for your CV
Chief Customer Officer (CCO)
Chief Data Officer (CDO)
Chief Executive Officer (CEO)
Chief Financial Officer (CFO)
Chief Human Resources Officer (CHRO)
Chief Information Officer (CIO)
Chief Marketing Officer (CMO)
Chief Operating Officer (COO)
Chief Product Officer (CPO)
Chief Technology Officer (CTO)
Job title examples for leaders
Highlighting your leadership skills is essential if you want to lead a project, a team, or even a company.
Let employers know you have the experience and knowledge they want in a top candidate by using leadership-oriented job titles, like these:
Leadership job titles for your CV
Assistant Manager
Chairperson
Chief
Controller
Director
Executive
Head of [Industry]
Lead
Manager
Officer
President
Senior [Industry Job Title]
Superintendent
Supervisor
Team Leader
Vice [Industry Job Title]
Just remember to be honest when writing your CV and never exaggerate your job title. Employers vet you during background checks and will likely reject you if they find out your role in the company was different from what your job title suggests.
Example job titles in marketing
Marketing is a collaborative field with a wide range of positions. By using your correct job title, you explain your level of expertise as a marketer and let employers know if you're the right fit for their open role.
For instance, some employers hire generalists who have completed several tasks (e.g., Digital Marketer) while others seek specialists (e.g., SEO Manager) who focus on a specific aspect of marketing.
Have a look at some entry-level job titles for your marketing CV:
Entry-level marketing job titles for your CV
Brand Strategy Consultant
Communications Coordinator
Copywriter
Digital Marketer
Digital Marketing Specialist
Junior Marketing Assistant
Marketing Analyst
Marketing Assistant
Marketing Consultant
Marketing Coordinator
SEM Coordinator
SEO Coordinator
And these are marketing job titles for senior-level positions:
Senior-level job titles for marketers
Chief Marketing Officer
Community Manager
Content Manager
Digital Marketing Executive
Head of Marketing
Marketing Director
Marketing Executive
Marketing Manager
Public Relations Manager
SEO Manager
HR job title examples
Human resources (HR) departments have an organised hierarchy of employees who perform specialised duties (like employee relations, finance, or recruiting), so ensure your CV clearly outlines your job title.
Listing your HR job title lets employers accurately assess your CV and determine whether your skill set is suited for their specific HR vacancy.
Check out these entry-level HR roles below:
Entry level HR job title examples
HR Administrator
HR Advisor
HR Assistant
HR Associate
HR Compliance Analyst
HR Consultant
HR Coordinator
Recruiter
Recruitment Consultant
People Business Partner
And here are several job titles for senior HR professionals:
Senior-level HR job titles
Benefits Manager
Chief HR Officer
Director of People
Head of HR
Head of Learning and Development
Head of People
Head of Resourcing
Head of Talent Acquisition
HR Director
HR Manager
HR Supervisor
Senior HR Generalist
Senior HR Advisor
Senior People Partner
Examples of finance job titles
Include your job title so employers can visualise the level of seniority you've gained in the finance industry and understand what specific sector you're in.
These are examples of job titles for entry-level finance workers:
Entry-level finance CV job titles
Accountant
Accounts Assistant
Accounting Technician
Auditor
Bank Cashier
Budget Analyst
Credit Analyst
Financial Planner
Payroll Specialist
Tax Associate
Here are some job titles for senior finance professionals to give you an idea of what to put in a CV for a finance role:
Job title examples for senior-level finance roles
Account Manager
Chief Financial Officer
Controller
Finance Director
Finance Manager
Finance Senior Associate
Payroll Manager
Portfolio Manager
Senior Accountant
Senior Finance Analyst
Sales job title examples
There are several sales positions ranging from cashiers all the way to sales directors. To help employers see your career progression, list your job titles on your sales CV.
Here are several entry-level sales job titles for your CV:
Sales job titles for entry-level workers
Cashier
Collections Agent
Retail Sales Assistant
Sales Advisor
Sales Associate
Visual Merchandiser
And take a look at some job titles for senior sales professionals:
Sales job titles for senior-level positions
Assistant Store Manager
Store Manager
Business Development Manager
Sales Director
Sales Executive
Store Manager
McDonald's job titles
Most people who enjoy fast food will recognise McDonalds. But because McDonalds' job titles are specific to their brand, provide more details about the position you hold if you're applying for roles outside of McDonalds.
If you have experience working at McDonalds, use these McDonalds job titles on your CV:
McDonalds–related job titles
Assistant Manager
Cashier
Cook
Crew Member
Crew Trainer
Customer Care Assistant
Customer Experience Leader
Family Ambassador
Maintenance
McCafé Barista
McDelivery Rider
Restaurant Management Trainee
Shift Manager
Swing Manager
Social media title examples
Social media is a rapidly growing industry with new job titles emerging every year. Show recruiters you're up-to-date with technology and can drive traffic for specific social media platforms by including a relevant job title for your social media CV.
Here are some social media job titles to include on your CV:
Job title examples for a social media CV
Digital Communications Specialist
Content Creator
Director of Social Media
Pinterest Manager
Social Media Assistant
Social Media Coordinator
Social Media Intern
Social Media Manager
TikTok Influencer
YouTuber
Examples of IT job titles
Recruiters want to know you have the technical skills and highly specialised knowledge they seek, so ensure you list an appropriate IT job title that reflects these standards.
Below are several job title examples that cover popular IT–related positions:
Examples of IT job titles
Cloud Engineer
Customer Support
Database Administrator
Data Scientist
Fullstack Developer
Head of IT Support
IT Technician
Quality Assurance Engineer
Software Developer
Systems Programmer
Job titles for cleaners
Writing a professional job title on your CV increases the chances of an employer noticing your application and knowing which areas you're experienced at cleaning.
For instance, some employers are seeking cleaners for domestic households, while others need commercial cleaning services.
Cleaning job titles include the following:
Cleaning job title examples
Caretaker
Commercial Cleaner
Custodian
Domestic Cleaner
Facilities Manager
Floor Care Technician
Head Custodian
Housekeeper
Industrial Cleaner
Janitor
Maintenance Worker
Office Cleaner
Insurance job title examples
Pursuing a career in insurance? Use a specific job title so employers can immediately recognise your area of insurance expertise and determine how you'll fit in their company.
For instance, instead of 'Writer', list 'Underwriter' as your insurance job title. And instead of 'Auditor', use 'Actuary'.
Below are examples of job titles from the insurance industry:
Insurance job title examples for your CV
Actuary
Claims Adjustor
Claims Handler
Compliance Analyst
Insurance Advisor
Insurance Broker
Insurance Consultant
Risk Consultant
Underwriter
Senior Underwriter
Creatively funny job title examples
Applying for a role where creativity is appreciated or encouraged? Consider using a funny job title on your CV.
Just be mindful that not all employers will appreciate funny job titles, so research the company's culture first by reviewing its LinkedIn profile, official website, and social media platforms. 
Here are some of our favorite funny job titles:
Examples of creative job titles on a CV
Chief Beverage Officer (Bartender)
Chief of Chatting (Call Centre Manager)

Collector of Business Cards (Business Development Representative)

Comic Sans Destroyer (Graphic Designer)
Hairapist (Hair Stylist)
King of the Nerds (Tech Support)
Master of First Impressions (Receptionist)
Sandwich Artist (Subway Worker)
Talent and Vibe Manager (HR Manager)
Wizard of Light Bulb Moments (Marketing Director)
Frequently asked questions about job titles
Here are the answers to some frequently asked questions about job titles.
What is my job title?
Your job title can be found by looking at your:
company's online HR profile
contract
payslip
If you're in doubt, you can ask your HR department or boss (but be aware, you may be revealing you're looking for a new job if you do).
What's the difference between job titles and occupations?
The difference between a job title and an occupation is that a job title describes someone's specific role (e.g., radiologist), whereas an occupation is more general (e.g., doctor).
For instance, many people share the same occupation (like "Teacher") but have different job titles (e.g., Supply Teacher, Special Needs Teacher, ESL Teacher).
What is a title on a job application?
'Title' on a job application might refer to the name of the role (like 'Cleaner' or 'Nursery Teacher', but it could also mean a name prefix like 'Mr', 'Ms' or 'Dr'. If you're filling in an online application and it asks for your title next to your name, it probably means Mr, Ms, or Dr.