Are you a visual learner? Our in-house career advisor Seb provides 8 steps to help you make an impressive CV — even with no experience:
To expand on Seb's advice, view our CV examples and writing guide below to help you get started.
We've been there before—
You've found your perfect first job, and you're eager to land the role. All you need to do is write a solid CV outlining your skills, education, and… your experience.
But that's the thing — this is your first job, and so you don't have experience.
It's easy to feel discouraged when you're writing a CV with no experience. After all, how do you show an employer you're qualified to do a job that you've never done before.
But listen, everyone has to start somewhere, and employers know that's the case.
And if you're unsure how to write a good CV with no experience, this article will help you write a job-winning CV with:
3 CV Examples with No Work Experience
Here are three great CV examples for different situations and industries, none of which have previous work experience.
CV example for students with no experience
If you're a university student with no formal work experience, utilise your key skills and education sections to impress employers.
This student CV for a retail job includes no work formal experience, but the applicant makes a memorable first impression on employers by relating their core knowledge and university training to the sales associate position they're applying for: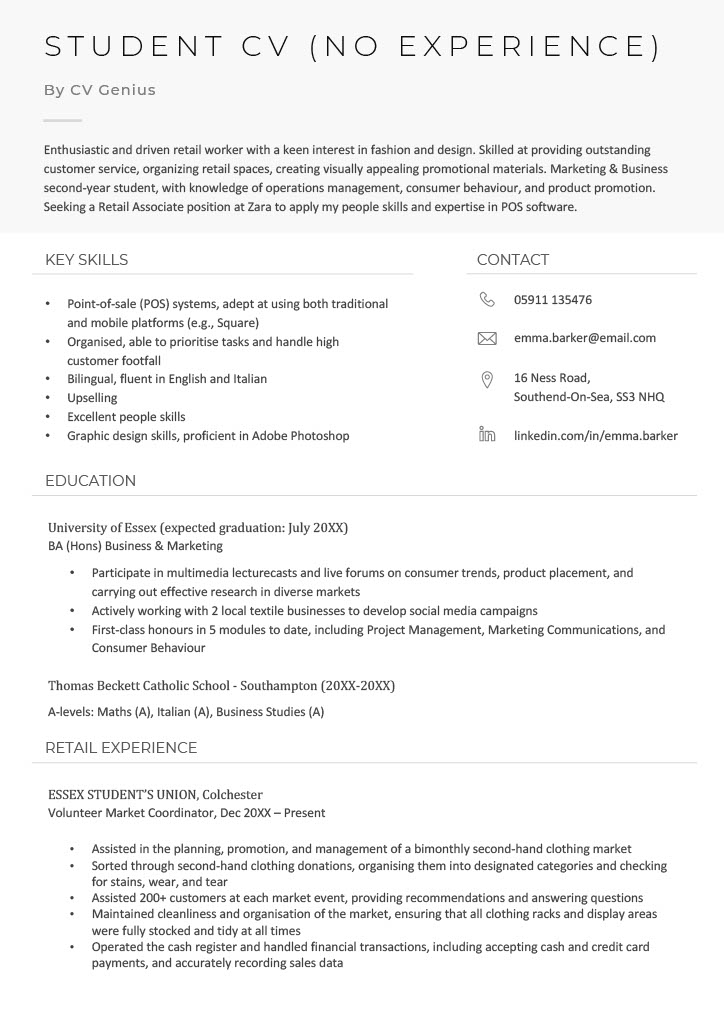 Download This Example CV for Students with No Experience
The CV format this applicant has chosen is perfect for a first-time job applicant with some formal qualifications.
Featuring a prominent key skills section and expanded education section, it directs the employer's attention to what the applicant knows, rather than where they've worked in the past.
To further align their qualifications with the position, the applicant has added three bullet points to their university degree entry, highlighting experiences and achievements from the course that have prepared them for this specific role.
If you're a university student or recent graduate, your degree is likely one of your most impressive qualifications, so don't downplay it. Add bulleted subsections like 'Relevant Modules', 'Awards', or 'Course Achievements' to show how your degree has prepared you for the role you're applying for.
CV for a teenager with no experience
Finishing school and ready to write a CV for your first job? Here's a CV for a teenager that effectively markets your interests, skills, and relevant experience: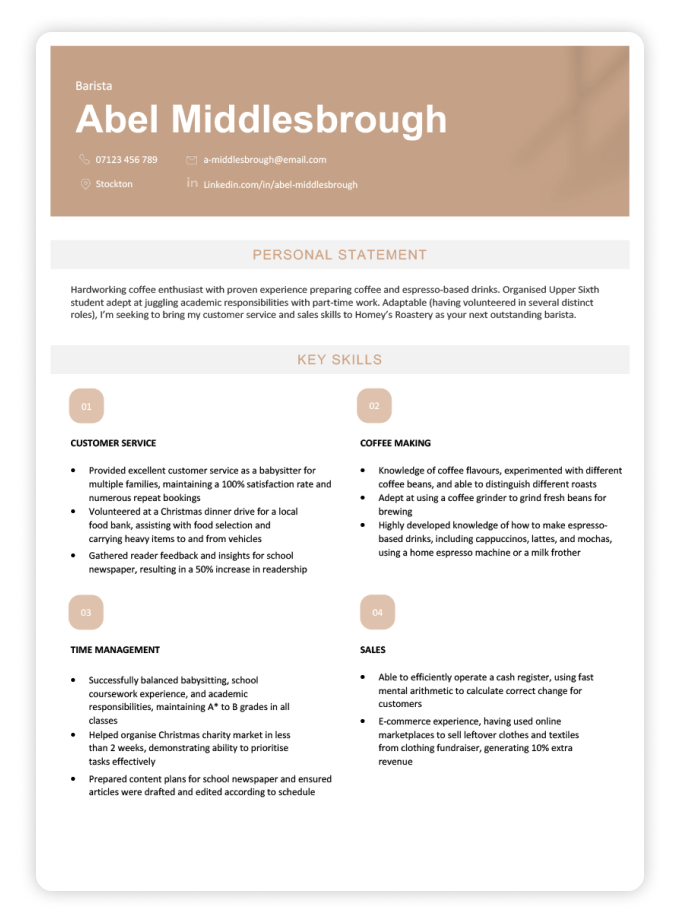 Download This CV Sample for a Teenager with No Experience
This CV idea uses a skills-based format instead of a traditional CV layout, with a lengthy key skills section that lists the applicant's abilities as if they were work experience entries.
Graduate CV with no experience
Got your degree and eager to venture out into the job market? Don't let worries about work experience hold you back. Employers will be understanding of your lack of experience if you show them how your education and skills have prepared you for their open position.
This graduate student CV does an excellent job of marketing their knowledge and skills for a teaching assistant position: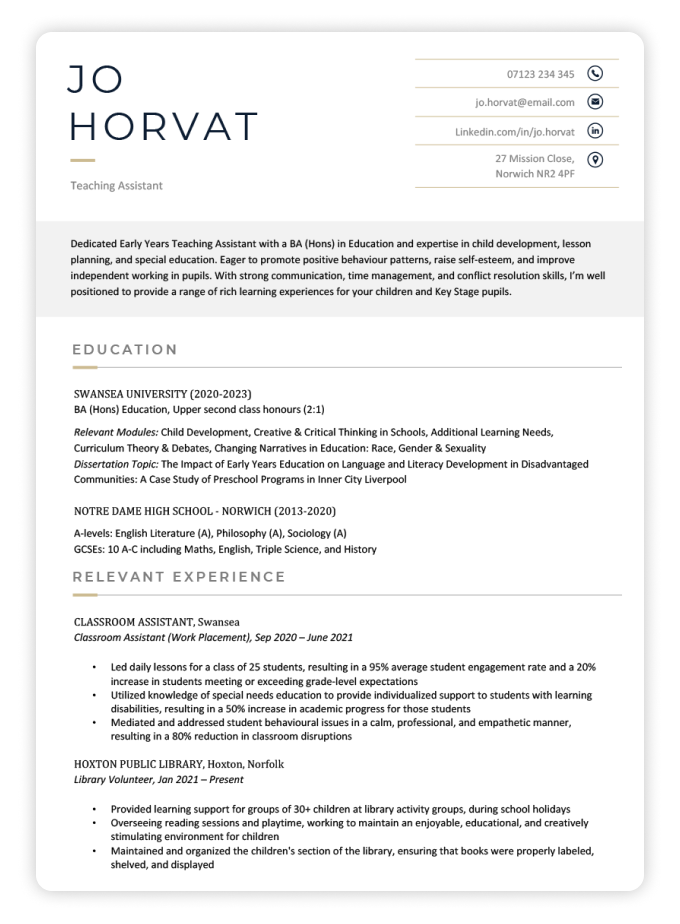 Download This CV Sample for a Graduate with No Experience
This graduate's degree is highly relevant to the position they're applying for, so they've emphasised it on their CV by listing the relevant modules they took. They've also specified their dissertation title.
Including relevant modules and dissertation titles isn't essential, but it'll demonstrate your industry expertise, if your degree is relevant to the job you're applying for.
CV template no experience
Need help organising your experience using a professional CV format? Copy and paste this free CV outline template for applicants with no experience into your word processor and personalise it with your information.
YOUR NAME
Your Desired Job Title
No. Street
City
Postcode
your.email@email.com
07XXX XXX XXX
PERSONAL STATEMENT
Start your CV by highlighting your relevant experience, skills, and qualifications in 3–5 sentences. In the last sentence, specify the job you're looking for and outline your career goals.
EDUCATION
University, City (Start Date – End Date)
Degree Type and Title, Degree Classification (Only include if you received a 2.2 or higher)
Key Modules:
List any modules you completed that are relevant to the job you're applying for
Or list experiences and skills you acquired on your degree program in 2–3 bullet points
RELEVANT EXPERIENCE
Relevant Experience #1, City
Start Month and Year – End Month and Year
In 3-5 bullet points, describe what you did and achieved
Start each point with an action verb (coordinated, volunteered, delivered)
Skip the first person pronoun 'I' (It's clear you're talking about yourself)
Include hard numbers (percentages, amounts of money etc.) to highlight your experience where possible
Relevant Experience #2, City
Start Month and Year – End Month and Year
Repeat the previous points
Avoid repeating information that you put in your first entry, unless it shows growth
You can add additional experience entries if they're relevant to the job
HARD SKILLS
List 3–5 skills that you've learnt (e.g., coding, German, using POS systems)
SOFT SKILLS
List 3–5 professional traits that will help you in the job you're applying for (e.g., communication skills, people skills, critical thinking)
HOBBIES & INTERESTS
List a total of 3–5 hobbies and interests that use relevant soft skills and knowledge for the job you're applying for
How to write a CV with no experience (in 6 steps)
Ready to get writing? Here's how you can create a professional CV from scratch and land your first job.
1. Choose the right CV format and layout for your needs
Before you write down your job title, determine what kind of CV format is best suited to your background and the industry you're applying for: a chronological CV or a skills-based CV.
Chronological CVs
The most common type of CV is the chronological CV, which features relevant experience, education, and key skills sections, and orders your experience and education entries chronologically, starting with the most recent experience.
Skills-based CVs
Skills-based CVs are structured around your skills and achievements, with each section highlighting a relevant ability for the job you're applying for.
Skills-based CVs are a useful tool if you don't have many formal qualifications, but do have knowledge or traits that are useful in the job you're applying for (e.g., customer service or sales skills from a volunteer position or Saturday job).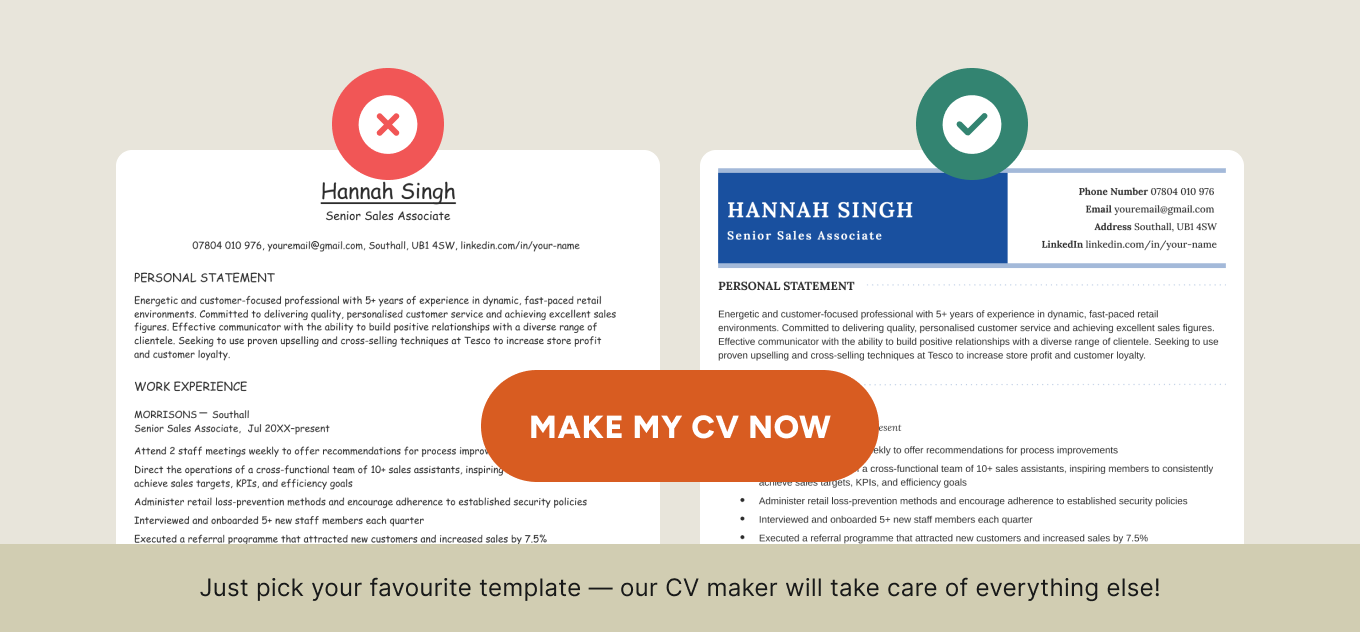 2. Emphasise your skills and enthusiasm in your personal statement
Your personal statement is one of the most important parts of your CV, outlining your expertise, skills, and career direction. For first-time job applicants, it's a crucial opportunity to persuade the employer that you have the all right qualities to make a great addition to their team.
If you don't have any work experience, your personal statement should:
mention your relevant formal qualifications or vocational training
specify any skills that will help you learn quickly on the job
outline a career goal or motivation for applying for the job
Personal statement example for a CV with no experience
Compassionate individual with a Level 2 certificate in Caring for the Elderly and strong desire to improve people's wellbeing, seeking a care assistant position at Elder. With volunteering experience work at a local nursing home, I'm equipped with the empathy, social skills, and motivation to provide friendship and medical assistance to the residents at your facility. Looking for a direct-patient-care role with support for CPD training.
3. Write a detailed education section
If you're just starting out in your career, your education section is likely one of the most impressive sections on your CV.
Emphasise what you've learnt and how it's prepared you for the open position by expanding your education section to include additional information that relates your qualifications to the job:
Relevant modules you completed at university
Your dissertation title
Academic awards and prizes
University projects and societies
Here's how an education section might look on a CV for a university student who doesn't have any work experience:
University of Worcester, 2020 – 2022
FDSC Health and Social Care (Distinction)
Relevant Modules:
Intersectionality in Social Care, Understanding Health Conditions in Person-centred Practice, Communication Skills for Practice, Promoting Health and Wellbeing
Society Experience:
Worcester Healthcare Society
Fundraising Officer, Sep 2021 – July 2022
Coordinated fundraising initiatives for the society, including charity events and sponsored activities
Assisted in planning and organising society events, and recruiting suitable volunteers to help with events
4. Build an impressive relevant experience section
Yes, in case you're wondering — you can absolutely build an impressive experience section without any formal work experience.
Why?
For most entry-level jobs, employers don't actually need to see on-the-job experience. They're interested in whether you have the practical skills to perform well in the role — and there are many ways of developing that knowledge.
Here are a few examples of experiences you can add to your relevant experience section:
University projects
Competitions
Volunteer work
Saturday jobs
The formatting rules for informal experience entries is the same as it would be on a regular CV work experience section. This example uses a university project to demonstrate relevant skills:
Mental Health Awareness Campaign, Spring 2022
Worcester Healthcare Society, University of Worcester
Organised a successful mental health awareness campaign aimed at reducing stigma surrounding mental health in the local community
Coordinated 2 workshops with mental health experts, providing valuable information and resources to members of the community
Created promotional materials, including posters and social media content, to raise the profile of the event
Collaborated with a local counselling centre (St Martin's Counselling) to provide additional resources and support for the community
5. Highlight your relevant skills
Having a strong key skills section is crucial at the start of your career.
Your key skills section should include a variety of hard skills (learnt abilities you need for specific industries) and soft skills (personal traits that help you excel at your job).
If you have other noteworthy attributes, such as a relevant university degree or volunteering experience, format your key skills section as a short bulleted list.
Health and Safety
Completed NEBOSH National General Certificate (January 2023)
Volunteered at local playgroup, maintaining a safe and orderly environment for play while supervising activities
Helped prepare and distribute snacks for children, ensuring food safety guidelines were met
Strong understanding of occupational health and safety, having completed two relevant modules as part of my FDSC programme (Occupational Health Psychology, Environmental Health)
6. Include an intriguing hobbies and interests section
Hobbies and interests is an optional CV section that helps the employer get to know you outside of your career and area of expertise. As a candidate with no work experience, you should have a hobbies and interests section on your CV.
List 3–5 specific personal interests and pursuits that relate to the job you're applying for — or that use relevant transferable skills:
Piano: Passed Grade 5 exam with distinction and frequently perform in recitals
Yoga: Practise hatha and vinyasa flow and assist at beginner workshops
Watercolour painting: Self taught and enjoy painting landscapes and still life when I travel
When you write your hobbies and interests section think about the skills your personal pursuits require.
In the example above, the applicant practises yoga and assists at workshops, which suggests they have strong communication skills, some classroom experience, and are physically fit. These qualities might be appealing to an employer hiring for a healthcare, service, or teaching role.
7. Write an accompanying cover letter
Cover letters help you explain why you're a good fit for the job as well as why the employer should hire you over other candidates. So write a cover letter to accompany your job application, and you'll significantly increase your chances of getting called in for an interview.
Here are a few reasons you should send in a cover letter with your CV:
Shows the employer you're a serious and enthusiastic candidate
Focuses attention on the skills and experiences you highlight
Allows you to explain why you're prepared for the role even though you haven't held a similar job before
Frequently asked questions about applying for your first job
Need a little more help with your application? Not to worry. Here are answers to three questions first-time job seekers often ask when putting together their CV:
How do I write a strong personal statement for a CV with no experience?
Here are some tips to help you write a personal statement for a CV with no experience.
1. Write your personal statement last
Though it's the first section on your CV, your personal statement should be the last one you write. A well-written personal statement should summarise the most marketable skills and experiences on your CV. It'll be easier to identify what these are once you've written out the other sections of your CV.
2. Get to the point
Personal statements are more effective when the employer can scan them in a few seconds. Write 2-4 sentences and only include information that is highly relevant to the specific job you're applying for.
3. Personalise your statement
Tell the employer why you want to work for them or what your career goals are within their industry. Tailoring your personal statement to the job and aligning your values and interests with those of the employer will make you seem like an excellent fit for the company culture — someone worth investing in, even if this is your first job.
How do I showcase my transferable skills on a CV with no experience?
Showcasing your transferable skills on a CV is important for explaining why you're a qualified candidate for the open position. However, you don't need a work experience section to show the employer what you can do. Here are a couple of tips to help you demonstrate your transferable skills with no work experience:
1. Use action verbs
Strong action verbs (e.g., coordinated, oversaw, tutored) describe your transferable skills and show how you've applied them in the past. Use them in your bullet points and personal statement to make your CV more descriptive and compelling.
2. Expand your education, skills, and hobbies and interests sections
You develop transferable skills when you apply yourself to any task, not just through work experience. Add a short bulleted list to relevant education, skills, and hobbies entries outlining what you achieved in those areas.
For example, you could say you developed strong data skills while researching a school project or customer service skills by helping out at a local market.
What are some common mistakes to avoid when writing a CV with no experience?
Here are two common mistakes to avoid when you're writing your first CV:
1. Writing generic content
It might be tempting to write one general CV and send it to multiple employers. However, a generic CV is likely to be unsuccessful.
Employers can tell when you haven't tailored your CV for their job opportunity because it'll contain information that isn't relevant or noteworthy for the position. Generic CVs tell the employer that you haven't put much thought into your application. If that's the case, they are unlikely to consider you for the job.
2. Neglecting to proofread
By the time you finish drafting the last section of your CV, you might be eager to submit it immediately and be done with your application.
Resist that temptation.
Even if you're a talented writer, there may be typos and grammatical errors on your CV, and these can make a terrible impression on employers. Make sure to proofread your CV carefully and use a free copy editing tool like Hemingway App to catch mistakes and clunky writing. Have a friend or relative read through your CV before you send it off to employers.
More CV FAQs
Need a little more help with writing your CV? Here are more common questions about CV writing: