Many people associate customer service skills with support centres, telemarketing, and retail — but customer service skills are valuable in every industry.
Wherever there is an interaction between a customer and a product, service, or a company employee, customer service comes into play. So it's not just useful for customer-facing professions.
If the company you want to work at offers any kind of product or service, the employer will almost certainly be looking to hire someone with customer service skills.
In this article, we'll break down what customer service skills are, how to highlight them when you make a CV, and how to demonstrate them throughout the hiring process.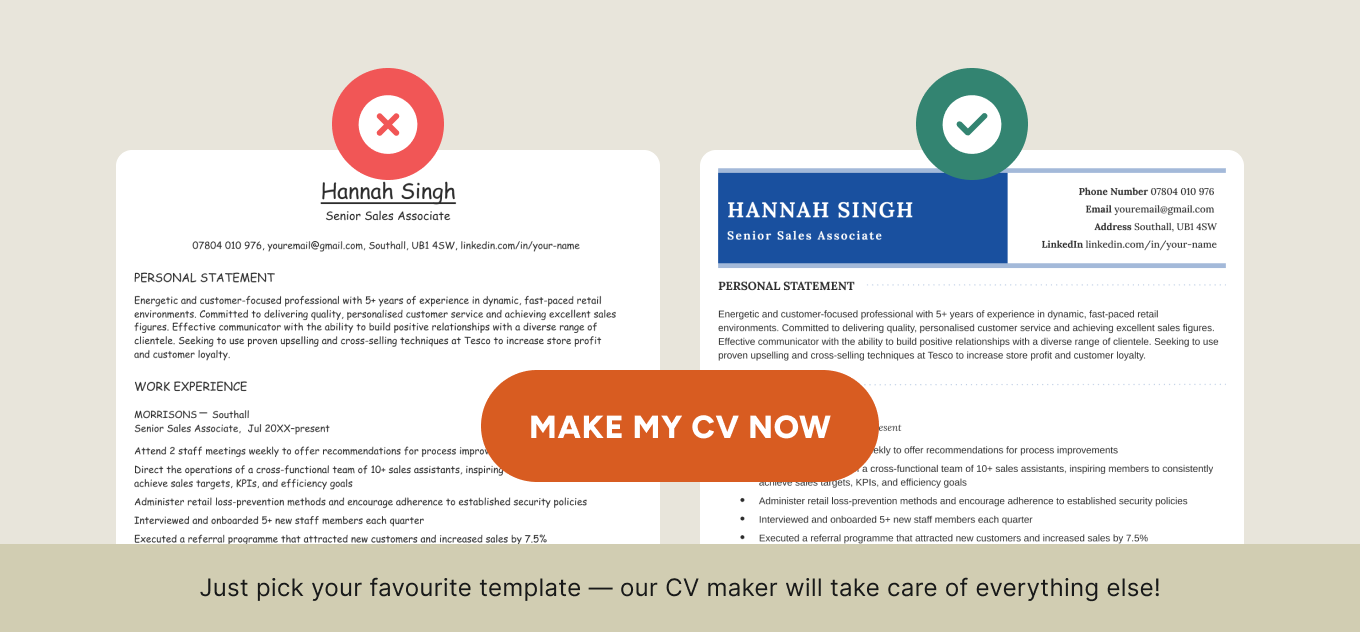 What are customer service skills?
Customer service skills are abilities and traits that enable you to offer efficient services and satisfy the wants and needs of both existing and potential customers.
Customer service skills example
You're a call centre agent working in customer support. Whenever you receive an inquiry or complaint, you listen carefully to the customer's problem, ask questions, and are calm and patient when callers are confused or upset.
Your active listening skills, empathy, and critical thinking skills all contribute to excellent customer service that makes callers feel reassured and respected.
In many ways, customer service skills are similar to interpersonal skills, in that an ability to communicate and interact well with people is important.
However, there is more to good customer service than just being a good communicator.
A company that hires great customer support representatives doesn't necessarily have great customer service. The reps might be polite, empathetic, and helpful, but they can only respond to the problems that the customers ask them to address.
The company could still have a confusing website, inefficient delivery processes, or not know how to adapt its product to customer needs.
In other words, employers need to hire team members with great customer service skills — who can see the customer at every step of operations.
Good customer service skills to show an employer
Here are some examples of customer service skills that are valuable across industries:
Ability to establish rapport
Active listening
Attention to detail
Cultural sensitivity
Curiosity
Creativity
Cross-selling / up-selling
Decision making
Empathy
Foreign language skills
Interpersonal skills
Logical reasoning
Negotiating skills
Persistence
Problem solving skills
Reliability
Time management
Highlighting customer service on CVs
Customer service is a broad skill set that may include different traits and abilities depending on factors like the job you do and the industry you work in.
Therefore, listing 'customer service' as a key skill on your CV might briefly get an employer's attention, but it's not particularly persuasive. It doesn't tell them much about what you can do or the value you offer their team.
Unsure how to write a great CV that makes your customer service skills shine? There are a few things you can do:
1. Show the right customer service skills for the job
It's wonderful if you're a strong negotiator and have an excellent telephone manner, but those aren't necessarily valuable skills to someone who's recruiting for a design position.
Review the job description closely to get a sense of the role's responsibilities and what skills you'll need to fulfil them: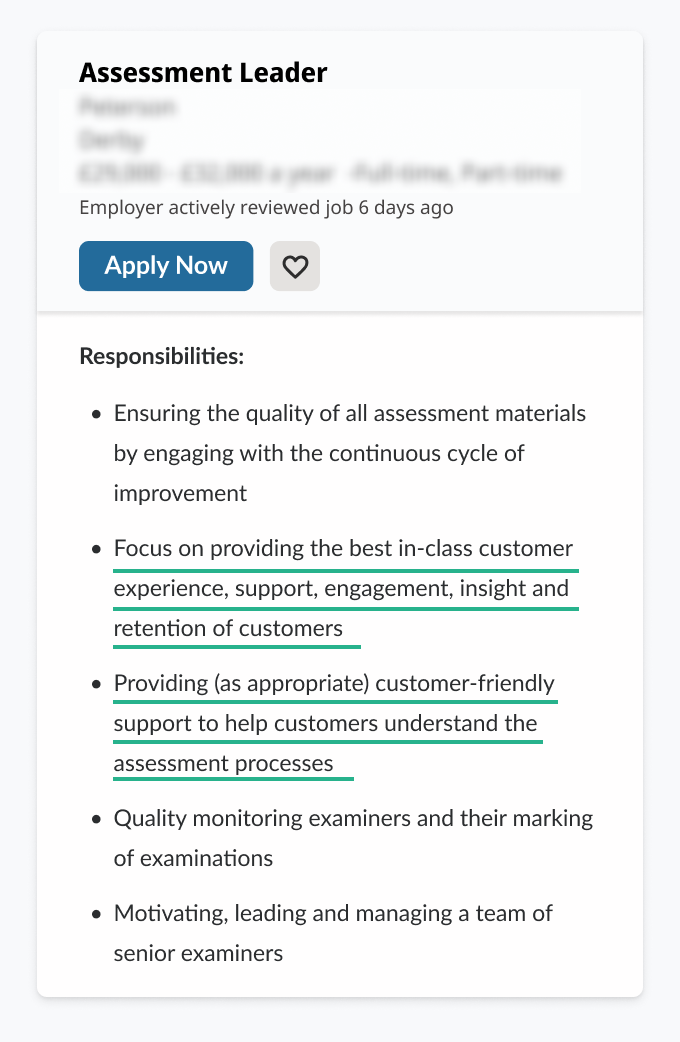 List your hard skills (abilities acquired through training) and soft skills (personality-based traits) that will enable you to do the job well.
Demonstrate these skills on your CV by listing achievements and responsibilities that have used your customer service skills. To make your skills extra compelling, outline how they can benefit the employer in your cover letter. As the purpose of a cover letter is explain why you're the best candidate for the job, it's the best place to make your point.
2. Make your writing reflect your customer service skills
What you put for your personal statement, work history, and key skills isn't the only factor that influences the employer's perception of you — how you write these sections also matters.
Take a look at this work experience entry from a hotel receptionist CV:
The applicant gives us a clear picture of their job and responsibilities, but they show little enthusiasm about their guests. That's off-putting for the hotel manager who's looking for a front-desk employee who can represent their brand.
But by writing the work experience entry differently, our front-desk receptionist can show off some impressive customer service skills: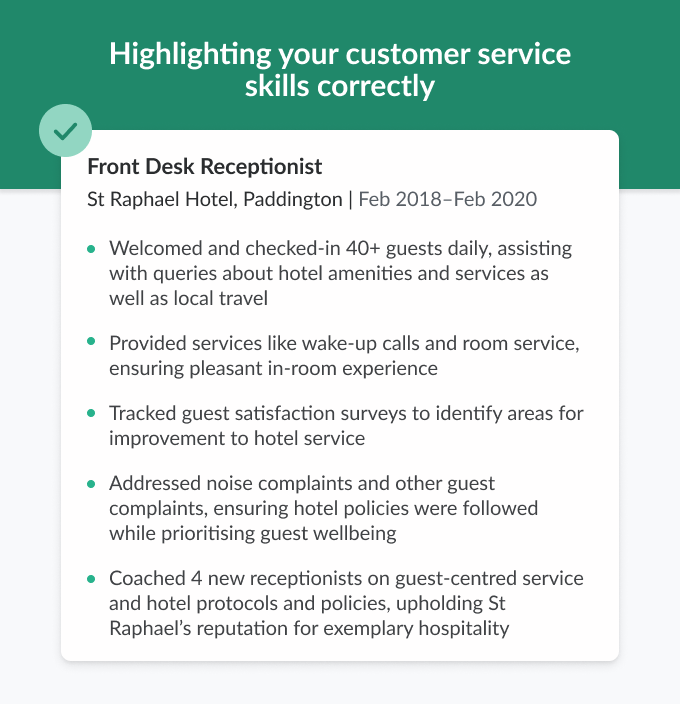 3. Be creative with your professional titles
There are often multiple job titles for the work you've done previously. For example, 'communications specialist,' 'community relations manager,' and 'community outreach' could describe similar — if not identical — jobs.
However, these different titles imply different levels of customer service experience, regardless of your job responsibilities.
An employer who sees 'community relations manager' on your CV will instantly assume that your job was customer-facing to some degree. They might not get the same impression from 'communications specialist'.
If customer service skills are essential to the job you're applying for, consider what professional title best highlights your customer service skills.
Needless to say, only use professional titles that are still truthful and accurately reflect the work you did. Lying on your CV could cost you the job and seriously damage your reputation.
5. Make relevant certifications stand out
Depending on the industry you work in, you may have obtained certifications that demonstrate customer service skills — an NVQ Certificate/Diploma in Customer Service is one great example.
Include these certifications in your key skills section or a separate certifications section to make them stand out to the employer.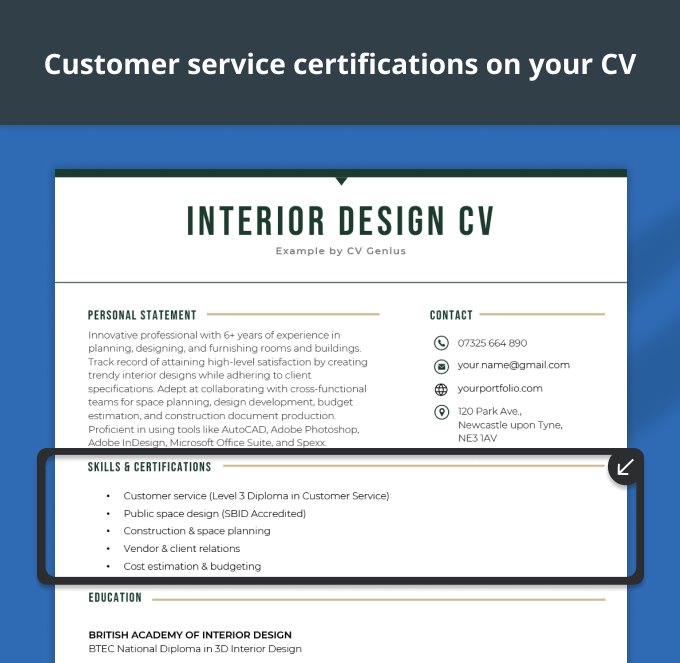 Customer service interview questions
If you're interviewing for a job in retail, customer support, hospitality, or any other position where you'll spend a lot of time directly interacting with customers, the employer will likely ask about your customer service skills.
Many customer service interview questions aim to test whether you have the following qualities that make good customer service:
1. Product knowledge
You need to be knowledgeable about the product or service your company offers if you're going to provide customers with useful information. Interviewers might not need you to be an expert on their brand, but they'll want to know if you share company values and have a base knowledge of what they sell or offer.
Example interview questions:
How do you think our company can improve?
Sell me this pen.
2. Empathy
Great customer service skills begin with the ability to understand customer problems and see the customer at every stage of company processes. Interviewers may try to find out how empathetic you are by asking you how you've dealt with negative situations or handled upset customers.
Example interview questions:
Have you ever received negative feedback from a customer? What did you do with that feedback?
Have you ever dealt with an unreasonable customer? How did you handle it, and how would you handle it today?
3. Problem solving
Particularly in customer support or hospitality roles, you'll need the ability to quickly and efficiently resolve customer problems to their satisfaction. Talk about problems that you've solved in previous positions and the steps you took to address them.
Example interview questions:
How do you navigate difficult situations?
Have you ever had to say no to an important customer? How did you handle that situation?