To impress your potential employer with a well-written CV, follow our top 25 CV writing tips, including:
CV layout tips
A good CV layout highlights your most relevant skills, achievements, and experience. Here are five tips for structuring your CV to grab the employer's attention by showing them your value:
1. Order your sections according to your experience level
Break your CV into sections for better comprehension and readability. Important sections to put in your CV include:
work experience
education
Most recruiters only read the top half of your CV. So present your most relevant information first, based on your level of experience:
Professionals with a lot of experience: highlight work experience first
Entry-level applicants: emphasise relevant skills
School leavers and recent graduates: lead with education
2. Fit everything on 1–2 pages
How many pages your CV should be depends on your work history and the role you're applying for.
Ideally, your CV should have only 1-2 pages — any longer and it becomes tedious to read. You also run the risk of the employer losing a page if they print or forward your CV.
However, if you have a decade or more of relevant work experience, you can use 3 or more pages.
Also, academic CVs have no page limit. If you're applying for a teaching or academic research position, employers expect your CV to include all your relevant academic achievements, special projects, and publications.
3. Use standard spacing and margins to fill every page
Maximise the space on your CV by setting your line spacing and margins within the standard UK sizes:
Line spacing: 1–1.5
Margins: 1.27–2.5 cm
If you need to stretch your information out to fill the page, reduce your margins and increase your line spacing. Increase your margins and reduce your line spacing if you're trying to fit excess text onto your CV.
Your goal should be to spread your information evenly across each page. Too little white space makes your CV appear packed and chaotic, while too much white space gives the employer the impression that you don't have much to offer.
4. Choose an easy-to-read font
The best font for your CV is one that's clear, professional, and easy to read. Your font should also be industry appropriate.
For example, traditional serif fonts like Times New Roman, Garamond, Didot, Cambria, and Georgia are perfect for formal CVs.
If you're writing a creative CV, use a sans serif font that expresses your creativity without sacrificing readability. Sans Serif fonts like Calibri, Arial, Helvetica, Tahoma, and Trebuchet MS are simple and stylish.
The standard font size for CV headings and body text in the UK is between 10.5 and 12 points. However, you can use a larger font size for your headers to make them stand out.
Just maintain consistent font types and sizes throughout your CV.
5. Create structure with bold and italic headers
Use bold and italic text for your CV's headers to make your CV visually appealing and skimmable, and to guide the reviewer to important sections.
Here's an example of a CV work experience section that properly applies bold and italic headers:
Writing advice: CV title
Structure your CV title so the recruiter can easily identify you. Here are some tips for writing a standout CV title:
6. Don't use 'Curriculum Vitae' as your title
Using 'Curriculum Vitae' as a title wastes space. Instead, put 'Curriculum Vitae' or 'CV' in the file name, and use your name as your title to differentiate your application from those of your competition.
7. Add a splash of colour
A good CV header can have a splash of colour to draw the recruiter's attention. But don't choose colours that distract the reader from your information or make no sense for your industry.
Professional colours like blue and green are good choices for any CV. Neon pink or yellow are too garish, although you can use bolder colour choices if you're applying to a creative position.
For instance, this graphic design CV header shows the creativity of the graphic designer with its black background and orange highlights:
8. Remove your postal address
Don't add your postal address to your CV. Most employers will either call you or send an email to schedule an interview. Also, if your address is far from your target company's location, the employer may not consider you.
9. Use a professional email address
A professional email address should be a variation of your name (for example, [email protected]). Avoid using a silly email address like [email protected] that puts your professionalism and credibility in question.
10. Include relevant online profiles
Place your relevant online profiles in your CV header. Examples of profiles that showcase your skills and accomplishments are your LinkedIn, blog, or portfolio.
If you're sending your CV by email, hyperlink your profiles so recruiters can quickly view them.
Writing advice: personal statement
Your CV's personal statement shows the employer:
who you are
the value you bring to the company
your suitability for the position
your career goals
Here are some CV personal statement writing tips:
11. Be brief
Your personal statement should concisely summarise your top selling points in 50-200 words written in 3-4 sentences or bullet points. If you make your statement too long, the reviewer may lose patience and move on to the next application.
12. Target the job you want
Tailor your personal statement to each job you apply for by highlighting your skills that are suitable for that position.
Tell the employer who you are and how much professional experience you have in the first sentence. In the second sentence, show your skills and prove your suitability for the position. Finally, state your relevant career goals in the third sentence.
Here's an example of a personal statement targeting a customer service position:
Enthusiastic and driven professional with 7+ years of experience providing exceptional customer service and exceeding sales goals. Skilled communicator and problem solver with a proven ability to interact with multicultural populations, demonstrating patience and professionalism to resolve difficult situations.
13. Write based on your experience level
Are you a fresh graduate or an entry-level applicant without notable work accomplishments? That's okay. Employers expect to read about your career objectives and skills in your personal statement.
Here's an example of a strong entry-level CV personal statement:
A recent mathematics graduate with 1-year internship experience in data science and engineering. Recognised for consistently solving critical problems, reaching project goals, and meeting deadlines. Seeking to apply problem-solving skills in a position at TAR Solutions.
If you're an experienced applicant, feature your top accomplishments in your statement. Use hard numbers to give your capabilities context. For example:
Digital marketing specialist with 8 years' eCommerce experience. Increased sales by 17% with implemented customer trend reports and competitive analysis. Hoping to bring an exceptional standard of digital marketing to House Media.
Writing advice: work experience
The work experience section of your CV summarises your relevant employment and work achievements. Here are CV writing tips for making an impressive work history section:
14. Write accomplishments, not responsibilities
Many applicants make the mistake of simply listing their responsibilities under each job title in their work experience section. Employers won't be impressed by your daily tasks, so focus on the results you achieved instead.
Here's an example of how to improve a poorly written work experience entry by adding an accomplishment:
Answered 90+ phone calls daily
Answered 90+ phone calls daily, earning a company-best 97.6% customer satisfaction score
15. Quantify your experience
Use hard numbers to quantify your accomplishments and give the employer a clear picture of how you can help them.
These examples show how adding hard numbers to your CV provides context to your accomplishments:
Increased sales every quarter
Increased sales by 15%+ in 6 consecutive quarters
16. Be honest
When you write your work experience section, remember that your prospective employer may call your former workplace to verify your CV's content.
If you get caught in a CV lie, you won't land your target job, and your former employer may refuse to give you a reference going forward. You could even be jailed for lying on your CV.
Writing advice: education
Here's how to write your CV's education section:
17. List your highest level of education first
Outline your education section in reverse-chronological order to give the recruiter a sense of what your specialities are, including your: :
university degrees
vocational credentials
A-Levels (or Highers/Advanced Highers in Scotland)
GCSEs (or N5s in Scotland)
18. Include relevant modules
Some companies prefer to hire candidates who have completed special modules or certifications. Tailor your education to match the requirements of the job description and include any relevant modules and certifications you have.
Here's an example of a strong CV education section with a list of relevant modules: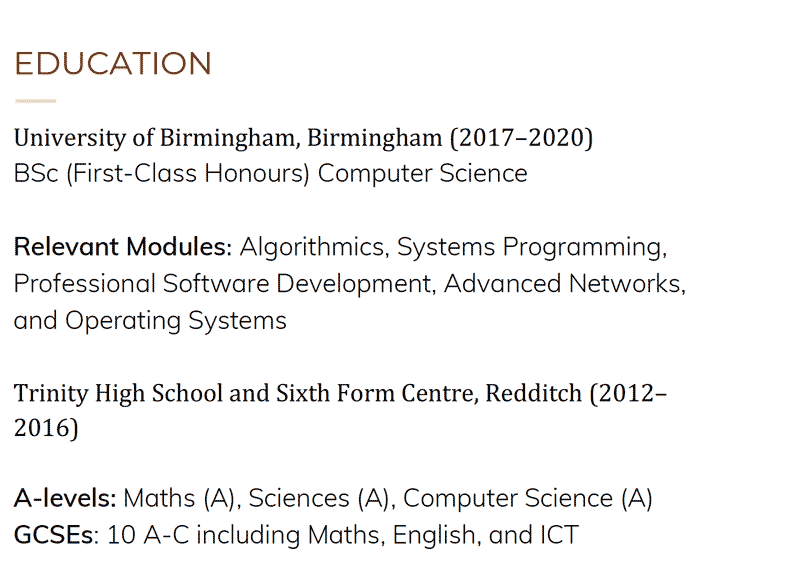 Writing advice: skills
When employers read your CV, they're looking for job-specific skills that prove you can do the job you're applying for.
Here are some tips for including the right skills on your CV:
19. Show both technical and transferable skills
Employers seek well-rounded employees who possess the technical skills necessary to perform their tasks, as well as the transferable skills needed to fit into the company culture.
Here's a list of technical skills to highlight on your resume, depending on what industry you work in:
Computer skills
Coding languages
Exercise or sports techniques
Industry-specific software
Analytics
Legal knowledge
Equipment operation
These are transferable skills that employers value:
Communication
Teamwork
Organisation
Adaptability
Decision making
Patience
Versatility
20. Give examples for context
When you write your CV's skills section, include examples of how you've applied your skills. For instance, here's how a sales manager can show their organisational and leadership skills:
Organisational skills: Helped implement a new inventory tracking system, improving organisational efficiency by 25%
Leadership: Successful mentoring of new hires led to promotion to manager of a 5-salesperson team
21. Only use relevant skills
Maximise your chances of getting an interview by only highlighting skills relevant to your target position on your CV. To determine which skills to showcase, read the job description and include skills listed by the recruiter (if you have them).
Additionally, you can research other similar job descriptions to find valuable skills for the job you want.
Tips & tricks for improving your CV
The best way to write a CV is to improve it throughout your career until you have a document that highlights all your best qualifications and achievements. The top CV improvement tips include the following:
22. Add extra sections
If you've got space at the bottom of your CV, add a hobbies and interests section to highlight your relevant personality traits.
Also, you can create sections to emphasise your awards, professional certifications, and publications.
23. Insert keywords from the job advert
The job advert you're responding to includes skills-based keywords that you must include on your CV.
Many companies program applicant tracking systems (ATS) to scan for the keywords in their job descriptions. If your CV doesn't include those keywords, it may never even make it to the employer.
24. Pick strong adjectives and verbs
Choosing powerful verbs and adjectives to describe your skills and achievements helps your application stand out. Here are overused CV words and phrases that won't impress employers, followed by strong alternatives:
Suggested → Inspired
Hardworking → Diligent
Worked on → Developed
Driven → Determined
Supervised → Inspired
Experienced → Accomplished
25. Use proofreading aids
Grammar, spelling, punctuation, and formatting errors in your CV make you appear unprofessional. Avoid submitting a CV with embarrassing mistakes by:
using online programs like Grammarly, ProWritingAid, and Hemingway App to catch errors and improve grammar as you write
reading your CV out loud to find mistakes your eyes missed
asking someone else to proofread for you
editing again to ensure your proofreader's changes are error-free