Good cover letters come in many forms — and take skill and originality to write.
And although writing a cover letter isn't an easy feat, writing a standout cover letter is worth it when you receive an interview or job offer for the role you want.
Below is our team's list of the five best cover letters UK from a variety of industries and levels of experience.
We also explore the different reasons why each of these cover letter examples is unique so you'll understand what employers are looking for in an excellent job application.
The 5 best cover letter examples of 2023
These five cover letter examples are effective for a number of reasons — and hopefully, they'll inspire you with your own cover letter writing process.
1. The chummy candidate
Here's a modern cover letter with a touch of playful humour:
Why this is a good cover letter
By including an attention-grabbing headline underneath their name, this experienced candidate from the US makes it clear that one of their top strengths is analysing data — a useful skill for the account manager role they're applying for.
And in each body paragraph, the candidate concisely explains why they'd be the perfect account manager using hard numbers, specific examples, and strategic bolding to supplement their previous achievements in marketing.
Finally, the candidate instantly sets a personalised tone for their cover letter introduction by addressing the contact person using a first-name basis and including a few tasteful jokes.
Just remember that while this friendly method works for newer industries like tech startups, corporate companies might require a more traditional cover letter.
2. The concise contender
The next candidate gets directly to the point with their short cover letter example:
Why this is a good cover letter
First, this cover letter is short and succinct — which meets standard cover letter length requirements (by not exceeding 400 words).
And in only four sentences, the applicant confidently explains their years of experience, registration status, and specialisations to convey they know exactly what's important for the role of a hospice nurse.
Preparing a brief but comprehensive cover letter also shows they respect the recruiter's time.
Because recruiters have several applications to read at a time, this cover letter immediately stands out for its direct approach and ability to showcase the candidate as an experienced nursing professional.
3. The artistic applicant
This creative cover letter breaks all tradition by standing out visually with centred text and a friendly greeting: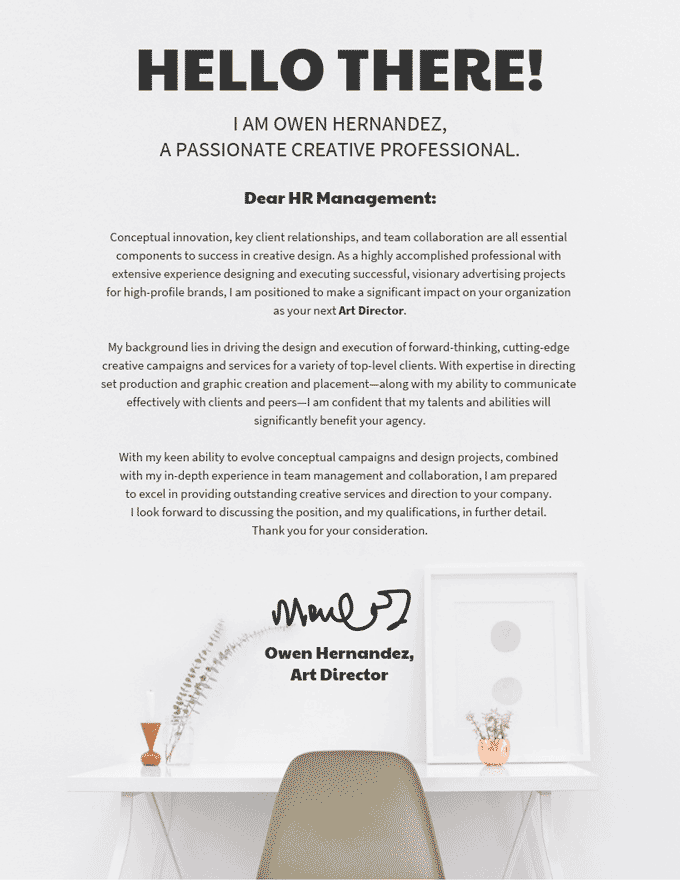 Why this is a good cover letter
To start, this cover letter contains powerful CV adjectives that portray the candidate as a leader and visionary in their field.
And because employers use applicant tracking software (ATS) to select applications with matching keywords from their job advert, this candidate made sure to include relevant keywords and phrases strategically in each paragraph.
Additionally, while using a high-quality graphic and a casual salutation in a cover letter is unconventional for traditional fields, the candidate shows their innovation and talent for the art and advertising industry by adding these unique cover letter elements.
4. The practical professional
This applicant's cover letter for a civil engineer position is simple yet effective: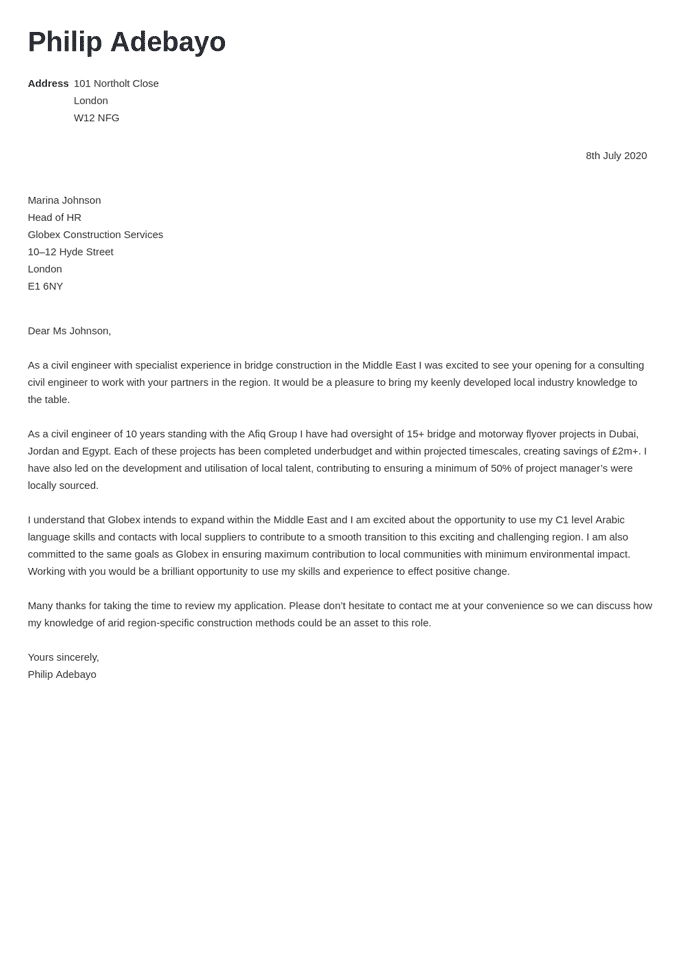 Why this is a good cover letter
This simple cover letter uses an uncomplicated and easy-to-read cover letter format to outline the candidate's experiences. And instead of focusing on the cover letter's design, the cover letter focuses on the applicant's region-specific bridge construction expertise and 10 years of experience as a civil engineer.
The candidate does a fine job of presenting his previous accomplishments using hard numbers and relating them back to the company.
They also highlight their relevant foreign language skills as being a future asset to the team — making it easy for the employer to envision how the candidate would fit into the role if they were to hire him in the Middle East.
5. The ambitious aspirant
Here's an excellent cover letter example from a student from the US who applied for a Sales Management Trainee position:
Why this is a good cover letter
Even though younger applicants have less formal work experience than experienced candidates, our candidate uses their impressive soft skills to their advantage by creating a bulleted list dedicated to draw attention to them.
They also provide detailed examples for each soft skill to give context to the recruiter and reveal the positive comments that their classmates, professors, and customers have said about them.
Additionally, the candidate does an excellent job of researching the company thoroughly and sharing with the employer how their work values and career goals align.
Finally, each paragraph's contents are error-free and correctly formatted, proving that this candidate knows how to write a professional cover letter.