What is an email cover letter?
An email cover letter (also known as a job application letter) is a brief statement explaining why you're sending your CV and how your experience qualifies you for the position.
An email cover letter is similar to a traditional cover letter, but the main difference is that there are two ways to send a cover letter via email:
Add the cover letter to the email as an attachment (alongside your attached CV as a PDF file).
Write your entire cover letter in the body of your email.
Let's go over the two different ways of sending an email cover letter below.
How to send an email cover letter as a cover letter attachment
If you're sending your cover letter as an email attachment, write a brief message in the body of the email to tell the potential employer you've attached your cover letter.
Keep your email message short and professional by introducing yourself and specifying the position you're applying for.
You can also mention your professional work history but keep it to 1–3 sentences because you can provide more information in your attached CV and cover letter.
Email cover letter — example
Here's an example of a short cover letter email with CV and cover letter attachments: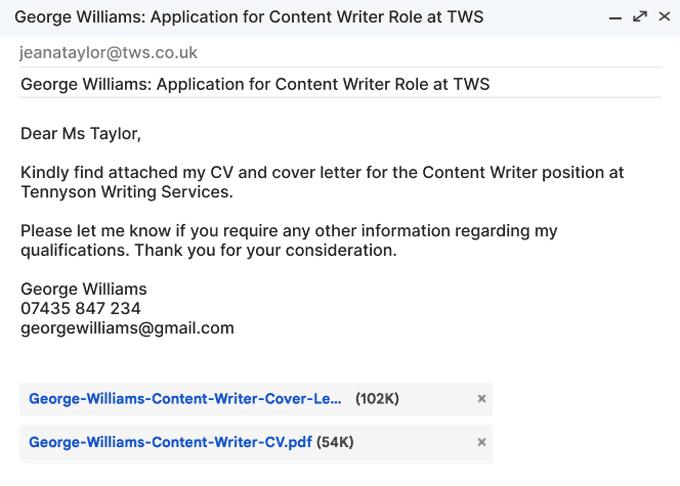 Email Cover Letter with File Attachment (Text Version)
Dear Ms Taylor,
Kindly find attached my CV and cover letter for the Content Writer position at Tennyson Writing Services.
Please let me know if you require any other information regarding my qualifications.
Thank you for your consideration.
George Williams
07435 847 234
[email protected]
How to send an email cover letter in the email body text
If you're writing a cover letter email without an attachment, simply copy and paste your cover letter into the email.
Also, you can remove the employer's contact information and the company address and start directly with your cover letter salutation by addressing your employer using 'Dear Ms/Mr'.
Finally, include your phone number and email address at the bottom of your email cover letter so the recruiter can reach you easily.
Email cover letter — example
Here's an example of an email cover letter from a candidate applying to a production engineering position: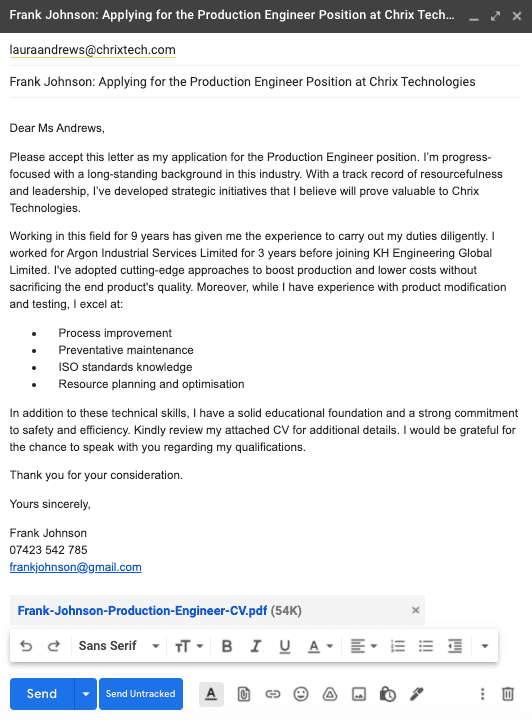 Email Cover Letter (Text Version)
Dear Ms Andrews,
Please accept this letter as my application for the Production Engineer position. I'm progress-focused with a long-standing background in this industry. With a track record of resourcefulness and leadership, I've developed strategic initiatives that I believe will prove valuable to Chrix Technologies.
Working in this field for 9 years has given me the experience to carry out my duties diligently. I worked for Argon Industrial Services Limited for 3 years before joining KH Engineering Global Limited. I've adopted cutting-edge approaches to boost production and lower costs without sacrificing the end product's quality. Moreover, while I have experience with product modification and testing, I excel at:
    Process improvement
    Preventative maintenance
    ISO standards knowledge
    Resource planning and optimisation
In addition to these technical skills, I have a solid educational foundation and a strong commitment to safety and efficiency. Kindly review my attached CV for additional details. I would be grateful for the chance to speak with you regarding my qualifications.
Thank you for your consideration.
Yours sincerely,
Frank Johnson
07423 542 785
[email protected]
How to write an email cover letter as an attachment
There are several elements to consider when writing a cover letter and attaching it to an email as a PDF.
Here's what to include in your cover letter when you're sending it as an attachment:
1.
Letter header
First, write your name at the top of the page in a large bold font.
Include your contact information such as your email address and phone number under your name so employers know how to reach you.
2.
Date
Write the date underneath your cover letter header. This should be the date you wrote the letter and it should also be right-aligned.
If you're copying and pasting your cover letter into the email, there's no need to write the date.
3.
Employer's name and contact details
Underneath the date, add the company's address and contact information in your cover letter.
If you know the name of the person in charge of the department you're applying to, address your employer directly in your cover letter by writing their first and last name.
If you don't know their name, include the name of the department instead.
If you're sending a cover letter without an attachment, simply start the email by politely addressing the employer with an appropriate salutation like 'Dear Mr Smith'.
4.
Greeting
After the company's information, open with a formal greeting such as 'Dear Mr/Ms/Mx [Contact Person's Surname]' or simply the name of the department.
Adding the recipient's surname to your email cover letter greeting shows you've put effort into personalising the application.
5.
Opening paragraph
Start your cover letter by explaining how you learned about the job opportunity, giving a brief introduction of your work history, and stating why you believe you're the perfect fit for the job.
6.
Body paragraphs
Next, provide 1–2 paragraphs that expand on the points from the opening.
Emphasise your experience and skills in the context of the position to highlight why you're the right candidate for this role.
7.
Closing paragraph
Thank the person reading the letter for taking the time to do so. Include a call to action (CTA) that invites them to contact you for the next step of the application process.
8.
Professional sign-off
Finally, use a professional sign-off when closing your email cover letter such as 'Yours sincerely' or 'Best Regards'. Type or sign your name below the sign-off.
5 steps before sending your email cover letter
Here are some tips to remember before you send your email cover letter:
1. Use a professional email address
Providing the right email address is important when sending a cover letter.
Use an email address that combines your first and last name, such as [email protected] Such an address looks more professional.
2. Use a clear subject line
A clear, informative subject line improves the chances that an employer will open your email.
Make sure you include your full name and job title for clarity and that your subject line doesn't exceed 60 characters.
3. Follow the company's instructions
Email cover letters can be sent in one of two ways: as part of the email body or as an attachment.
Some organisations prefer the former, while others opt for the latter.
When sending your letter, follow the instructions outlined by the company or recruiters might reject your application.
4. Save your file correctly
To maintain the original appearance of your cover letter, save it as a .pdf or .docx file.
Change the file name to First Name-Last Name-Cover-Letter (for example, Frank-Johnson-Cover-Letter.pdf) to make it easier for the recruiter or employer to view your cover letter after they've downloaded it.
5. Send a test email to yourself
Send yourself a test email to ensure that your attachments are working properly.
Take this opportunity to check if you're sending the correct file and to double-check your spelling, grammar, and cover letter formatting.