If you're ready to move on from your current job and pursue a different career path, you're not the only one. Productivity platform ClickUp recently reported that 26% of UK citizens are planning to change careers due to cost-of-living issues alone.
In addition to making a career change CV that shows you're ready to enter a new field, you should make a cover letter that successfully:
highlights your passion and interest for your target role
showcases relevant skills you've gained from your previous positions
explains why you're making a career switch
convinces employers you're a good fit for the role (even if you don't have much experience in it yet)
Does that sound like a lot? Don't fret, because our experts have you covered. Below you'll find our career change cover letter examples, a template, and advice on how to write a cover letter for a smooth career transition.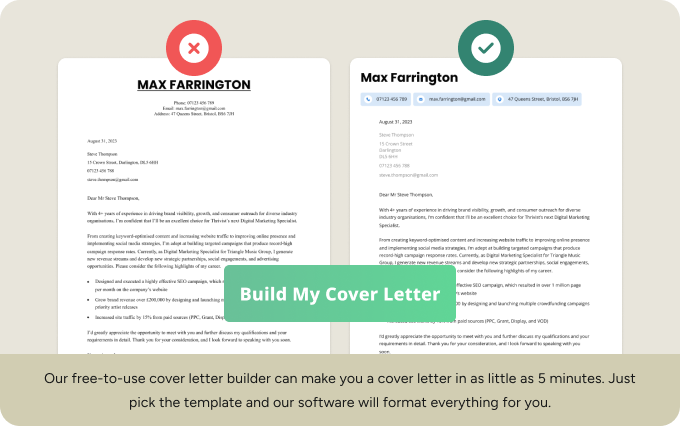 Career change cover letter example
Looking for a visual example of a cover letter as you're building your job application?
Below is a downloadable sample cover letter specifically for career changers:
Covering Letter for Career Change (Text Version)
 3 January 2023
Kerri Coletta
Eureka Insights Agency
607 Prince Street
Bristol
BS4 8ED
07145 411 008
kerricoletta@eurekainsights.com
Dear Ms Coletta,
My name is Gina Bautista and I'm applying for the Junior UI/UX Designer role at Eureka Insights. Ever since I took a beginner's Udemy UI/UX course during the pandemic, I became fascinated and began devoting my spare time to learning about product development and design. Equipped with my MA Education and a certificate from Thinkful's UI/UX remote bootcamp, I believe I'd be a great addition to your design team.
My Thinkful bootcamp was a full-time 5-month course that taught me how to embrace design thinking and work on 4 different projects — all of which received a 90%+ score. These projects involved sketching out wireframes and mock-ups on Figma, creating landing pages, and designing my own app. If hired, I'd immediately put these lessons to practical use at your organisation.
Also, I cultivated abilities as a teacher at Hillcrest Primary School that'll help me exceed your team's requirements. For instance, leveraging my presentation and communication skills daily while instructing groups of 30+ fourth-grade students will transition well when I pitch new ideas to stakeholders and developers. Also, my experience organising 8+ full curriculums and understanding the importance of a structured planning process will help me make solid task flows and prototypes for your agency.
Overall, I value Eureka Insights' goals to create positive user experiences using collaboration and creativity. If you'd like further information about my qualifications, you can find me at ginnybautista@gmail.com or on 07639 952 4552. Thank you for reading my cover letter.
Yours sincerely,
Ginny Bautista
Download Career Change Cover Letter Example
How to write a change of career cover letter in 4 steps
As you prepare your job documents, ensure you know what to include in your cover letter to show you meet the employer's qualifications despite being new to the field.
Here's how to tell companies you're a good match for their job opening in four steps:
1. Introduce yourself in a compelling opening paragraph
Your cover letter introduction is essential to capturing your target employer's attention and convincing them to read the rest of your application.
Even if you don't have the exact background, qualifications, or experience that an employer is looking for, you can still make up for it by writing a standout opening paragraph:
Here's how to start a cover letter for changing careers:
Mention the company name and role you want so it shows you've personalised your cover letter.
Emphasise your passion for your target role or industry. Employers usually have loads of cover letters to choose from, so ensure yours is positive and states why you're excited about the new job opportunity.
Explain your career change by mentioning when and why you became interested in the job (or industry) so employers can understand why you're leaving your previous career path.
Take a look at this career changer's cover letter opening paragraph that addresses the above points: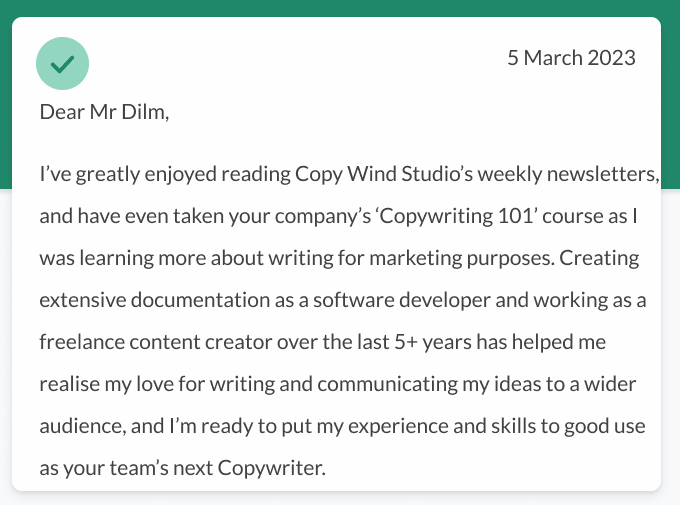 2. Showcase your transferable skills
As you write your cover letter's body paragraphs, include some transferable skills that'll help you match your target role's requirements.
Transferable skills are abilities that you take from one job to another, and emphasising such skills in your cover letter is an effective way to show you'd successfully transition into a new role.
For instance, some examples of transferable hard skills (technical abilities) are using software like Microsoft Office, email writing, or speaking a foreign language.
And, you likely have several soft skills (abilities showing how you relate to others) that are a good fit for any job you're switching to. For example, a growth mindset, openness to feedback, and time management are all good transferable soft skills to include in your cover letter.
Here's a body paragraph from our career changer's cover letter describing some of their transferable soft skills: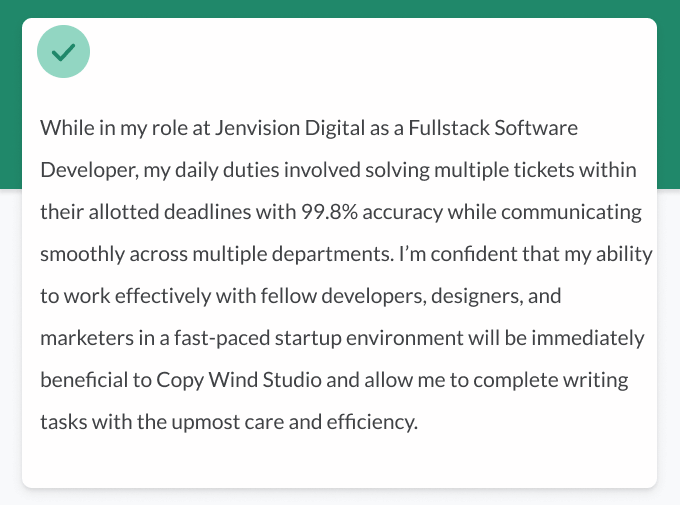 3. Highlight your achievements
Listing your professional accomplishments in your career change cover letter is a great way to show employers you:
were successful in your previous roles
have a solid work ethic that you'll bring to your new position
will fully meet the employer's expectations for the role (even if you're new to the field)
To help make your accomplishments stand out, try using specific details and numbers. For instance, percentages, exact numbers, and dates or times make your contributions clear to employers who are reading about them for the first time.
And even if you don't have much professional work experience, don't worry. Your previous accomplishments can also include your volunteer experience, internships, or personal projects.
For instance, take a look at our career changer's statement below: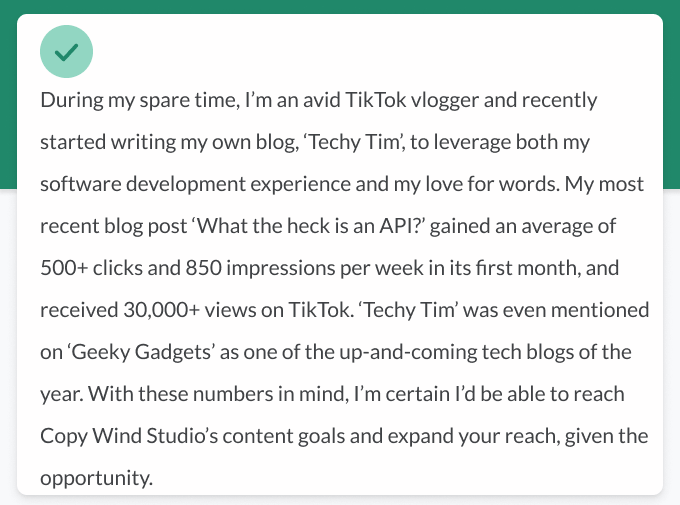 4. Focus on how you'll help the company
Every employer wants to know what you can do for them, not what they can do for you by teaching you new skills.
So as you close your cover letter, reiterate how you'll benefit the company by joining their team.
Here's an example of how to end a cover letter for a target role on your new career path:
Cover letter for change of career template
If you'd like to get a headstart on your writing process, here's a career change cover letter template for you to copy, paste, and customise:
Today's Date
Contact Person's Name
Company Name
123 Street Name
Town
Postcode
xxxxx xxx xxx
contactperson@email.com
Dear [Mr/Ms/Mx] [Contact Person's Surname],
I'm writing to apply for the [Position Title] job opening at [Company Name]. I was excited to discover your company and see how much our values align. After doing research on [Company Name] and learning more about your commitment to [mention a specific fact about the company], I believe I'm not only a great cultural fit for the position but also someone who's passionate about growing alongside such a reputable organisation.
I've always been interested in [detail about target role or industry] because I enjoy [reason] and [reason]. While I was working at [Name of Previous Position], I had the opportunity to [describe a fact or trait about your previous work related to your target role]. The [name of transferable skill] I gained from this role would benefit [Company Name] and help me successfully complete [name a responsibility or task you'd do for your target company].
During my time in the [previous industry name] industry, I've also consistently demonstrated high performance without compromising my work quality. For example, one of my key achievements in my role as a [Name of Previous Position] was to [describe your accomplishment using details and specific numbers], and it resulted in [note the result of what you did]. I'd love to be able to transfer my knowledge to [Company Name] and join your team in reaching its goals.
You can reach me anytime at [xxxxx xxx xxxx] or by email at [youremail@gmail.com]. I look forward to discussing my background and your requirements in greater detail with you in an interview. Thank you for your consideration.
Sincerely,
[
Your Name
]
Frequently asked questions about career change cover letters
Still wondering about certain details when it comes to writing a CV and cover letter for your career switch?
Below you'll find three of the most commonly asked questions about career change cover letters:
1. How can I explain a career gap in a cover letter?
You can explain a career gap in a cover letter by addressing it briefly and directly at the beginning of your cover letter or in your body paragraphs. For example, you could say you took time off to look after a family member, focus on upskilling, or attend more formal schooling.
Just remember to keep your tone positive and ensure your answer doesn't remove points from your professionalism and work ethic.
2. What should I not say in a career change cover letter?
You should not say anything bad about your previous roles in a career change cover letter.
Even if you've had negative experiences in your previous jobs or career, openly discussing how negative they were in your cover letter might make employers rethink whether you'll be a good cultural fit for their company.
Instead, try reframing your previous career path as a learning experience by telling employers what you've gained from it and how you'll use what you've learnt to help your target company grow.
3. What cover letter format should I use for my career change cover letter?
You should use a professional cover letter structure for your career change cover letter.
Ensure your career change cover letter contains all the necessary components, such as:
a professional cover letter header with your name and contact details
the contact person's information
the current date
an opening paragraph
2–3 body paragraphs
a closing paragraph
a professional cover letter sign-off
your name (and an optional signature)

More career change cover letter FAQs
Below are three more cover letter FAQs to help you with your writing process: