Watch this video to find out everything you need to know about soft skills:
If you're looking for a job in 2024, you'll notice every employer is looking for two things in their next hire:
Technical skills and knowledge for doing specific tasks
Professional traits for performing well in the role
These professional traits, qualities like good communication and empathy, are commonly known as soft skills — and knowing how to talk about them on your CV is essential for standing out when you apply for a job.
In this article, we'll give you a definition for soft skills, list 13 key soft skills for your CV, and explain where to highlight them on your CV. If you're curious to read more, we also have the answers to three frequently asked questions people often have about soft skills.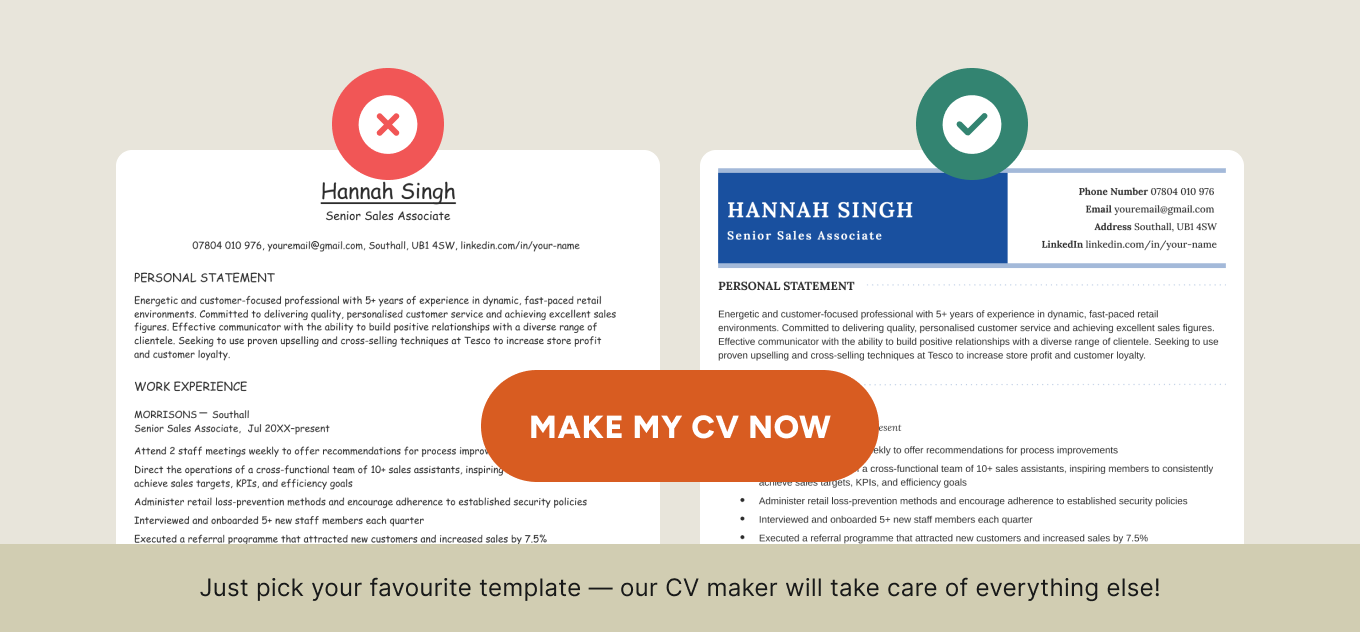 What are soft skills?
Soft skills (also known as personal skills) are core abilities that you develop through life experiences, rather than learn in a traditional manner. Good communication is a good example.
Depending on the position they're hiring for, employers value different soft skills. This is because possessing the right soft skill set will help you thrive in a specific role, whether you need to work well independently, collaborate with various stakeholders, or provide excellent customer service.
To help you figure out what soft skills to list on your CV, we've created a list of 13 of the most in-demand soft skills employers look for.
13 soft skills examples for your CV
Here's a list of the 13 top soft skills you can use in 2024 to boost your CV and impress employers:
1. Communication skills
Good communication skills help you explain your ideas clearly and professionally. Being an excellent communicator is a valuable soft skill in any work environment because it allows you to:
exchange information quickly and accurately with others
avoid misunderstandings or potential conflicts with coworkers
maintain positive relationships with your customers or colleagues
Here are some specific abilities you can put on your CV to highlight your communication skills:
Top CV communication skills
Presentation skills
Negotiation skills
Writing skills
Active listening
Oral communication skills
Foreign language skills
Effective body language
Friendliness
Ability to give constructive feedback
Good telephone manner
2. People skills
People skills, also known as interpersonal skills, enable you to get on well with others, whether they're colleagues, clients, or professionals in the same field as you.
Employers in every field seek applicants with outstanding people skills.
Let's say you're a freelancer who works from home. You'll still need to interact well with project stakeholders and handle frustrated or demanding clients. Having great people skills will allow you to better represent yourself and the services you offer, helping ensure that you keep receiving work.
Here are some other personal attributes related to people skills:
People skills to put on your CV
Social skills
Empathy
Friendliness
Compassion
Conflict resolution
Charisma
Sales skills
Persuasiveness
Mediation
Honesty
Patience
Providing constructive feedback
3. Adaptability
Adaptability is the ability to adjust to new situations and succeed in them. Employers seek applicants who are willing to adapt to different scenarios and adjust well to unexpected changes, so don't forget to include this skill on your CV.
Skills relating to flexibility include:
CV soft skills related to adaptability
Improvisational skills
Can-do attitude
Flexibility
Multitasking
Teamwork
Cross-training
Crisis management
Respect for others
Openness to feedback
Being able to work flexible hours or shifts
Patience
Tenacity
4. Leadership skills
Leadership means setting a vision and guiding your employees towards it. This soft skill also involves being a good role model at your workplace and setting high expectations regarding output and workplace behaviour.
Here are some key leadership skills to list as strengths on your CV:
Leadership-related soft skills for your CV
Self-confidence
Awareness of others' abilities
Management skills
Goal setting
Appraisal skills
Coaching skills
Reliability
Selflessness
Trust
Strategic thinking
Delegation skills
Mentorship
Disciplinary skills
5. Empathy
Empathy refers to your ability to understand and relate to other people.
In addition to contributing to positive, productive relationships, empathy brings several benefits to professional spaces, including:
enhancing teamwork
improving leadership
increasing employee engagement
enhancing customer service
contributing to supportive, sustainable company cultures
better approaches to task delegation and work distribution
These are some examples of interpersonal skills to add to your CV:
Empathy-related skills for your CV
Counselling skills
Active listening
Emotional intelligence
De-escalation
Reliability
Conflict resolution
Open-mindedness
Reliability
Rapport building
6. Administration skills
If you have a child who's really careful with their pocket money or a friend who's excellent at planning big social gatherings, you'll know that certain personality types just have great administration skills (everyone else has to cultivate them over time).
Administration skills are essential for proper planning, resource allocation, and problem solving, making them a valuable trait for any professional. Demonstrate strong administration skills to your employer, and you'll be more likely to receive promotions and greater responsibility.
Here are some uses for administration skills that employers love to see on a CV:
Examples of administration skills for your CV
Project management
Mentorship
Delegating
Supervision
Budgeting
Forecasting
Workflow improvement
Constructive feedback
Report writing
Management skills
7. Customer service
No, they're not just necessary in customer support and sales. You'll need customer service skills in any client-facing job — which in the UK is most of them.
Employers want to know you're someone who can see the customer at every stage of company processes and will leave them feeling happy with your services whenever you interact with them directly.
These specific skills help you deliver better customer service:
Top soft skills related to customer service
Conflict resolution
Stress management
Initiative
Patience
Upselling
Sales skills
Diplomacy
Cultural awareness
Helpfulness
Grasp of customer's needs
8. Creativity
Finding creative solutions to problems is essential in most jobs because it shows you can handle whatever problems arise. Creativity also refers to the ability to create unique work, which is essential for jobs such as teaching, journalism, copywriting, and graphic design.
Here are more skills related to creativity:
Soft skills that show your creativity
Originality
Out-of-the-box thinking
Design skills
Imagination
Observation skills
Inspiration
Experimenting
Creative writing
Brainstorming
Curiosity
9. Problem solving skills
Employers value employees who independently anticipate and address problems rather than idly waiting for them to disappear.
The ability to identify problem areas, develop solutions, and implement those solutions is highly sought after, so ensure employers know you can handle challenges in your target role.
Below are some traits you can highlight on your CV to showcase your problem solving skills:
Problem solving skills to add to a CV
Perseverance
Big picture thinking
Research skills
Self-confidence
Logic
Resilience
Forecasting
10. Teamwork
Teamwork skills allow you to collaborate effectively and build strong relationships with your peers.
A good team player is someone who knows how to be respectful, motivate others, and contribute to making meaningful decisions that help everyone reach their goals.
Show that teamwork skills are a part of your character by highlighting these abilities on your CV:
Soft skills that show you're a team player
Charisma
Morale boosting
Collaboration skills
Cross-training
Active listening
Teambuilding
Sympathy
Mediation
Motivational skills
Tact
11. Organisational skills
Organisational skills help you effectively manage your tasks, resources, and information wisely within an organisation.
For example, knowing how to break down and plan larger projects can help you reduce stress and stay on track with deadlines.
Show employers you're able to structure your work effectively with these skills:
Organisation-related soft skills for your CV
Filing
Record keeping
Cleanliness
Coordination
Memorisation
Attention to detail
Accuracy
Business etiquette
Logical reasoning
Lateral thinking
Workflow improvement
Scheduling
12. Patient care skills
If you're writing a nursing CV or carer CV, you should highlight your skills for care. These soft skills should show you can build rapport with patients, understand their needs, and make them feel cared for.
Here are some examples:
Soft skills that support care work
Empathy
Good bedside manner
Setting people at ease
Sensitivity
Communicating with patients' next-of-kin, friends, and family
Interpreting care needs
Firmness
Hygiene
13. Time management skills
Time management skills help you complete tasks on time and maintain a high standard.
Companies look for candidates who have good work habits, so showing you're a productive person on your CV is a great idea.
For good time management, you'll need these skills:
Soft skills to showcase your time management abilities
Prioritisation
Planning skills
Budgeting
Goal setting
Multitasking
Task triage
Discipline
Self-management skills
Perseverance
Agility
What's the difference between soft skills vs. hard skills?
The difference between soft skills and hard skills is that:
soft skills are learnt naturally over the course of your life
hard skills are learnt through training, schooling, or on-the-job experience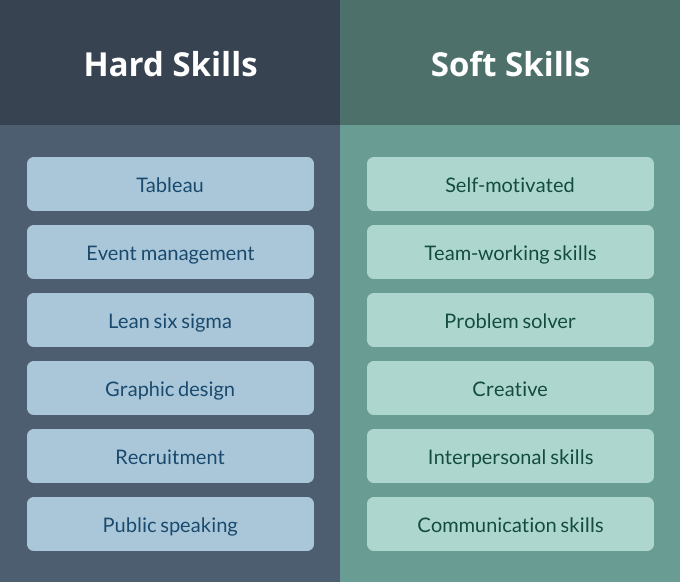 If hard skills tell employers what you can do, then soft skills tell them how you do that work. For instance, driving is a hard skill gained through driving lessons, taking an exam, and then earning a driving licence.
By contrast, being able to accept your driving instructor's feedback and apply it quickly to the way you drive the car requires soft skills, like adaptability and a growth mindset. Also, being patient while driving on the road with others is another example of a soft skill.
Where to add soft skills to your CV
Unsure of how to write a CV that includes your most relevant soft skills? Below are four CV sections that are great places for you to add your soft skills:
1. Your skills section
The skills section of your CV is an ideal place for you to list your top hard and soft skills for your target role. Because employers have limited time to look at each application, ensure you list skills on your CV that directly relate back to the job advert.
For instance, this job posting is seeking someone with good caregiver skills:
And here's how you could present the relevant skills for your CV:
2. Your work experience section
The work experience section of your CV is one of the best places for listing skills on your CV. If you're listing soft skills in your CV skills section, provide examples of how you've used these skills in your work experience section.
Explaining when and how you've used these soft skills at work provides employers with proof of what you've accomplished and gives them an idea of how you'll assist them if they hire you.
Here's an example of a bullet point describing an applicant's organisational skills in the work experience section of their CV:

3. Your hobbies and interests section
Listing your hobbies and interests on a CV is a good way to showcase positive parts of your personality that'll make you an ideal candidate for companies.
By including hobbies and interests that highlight your soft skills and match the target company's culture, you'll have a higher chance of making it to the interview stage.
Here are some examples of hobbies and interests that are related to specific soft skills:
Self-discipline and motivation (e.g., playing a musical instrument, gardening, programming)
Creativity (e.g., painting, graphic design, singing)
Teamwork and collaboration (e.g., playing a sport, joining a club, volunteering)
Leadership (e.g., taking public speaking courses, joining a debate team)
4. Your CV education section
Your CV education section is another place for you to highlight your soft skills.
Not only does your schooling showcase what you learnt in the past, you can also use your education section to include:
your degree (to demonstrate a commitment to your education)
other qualifications (to demonstrate your growth mindset and openness to learning)
relevant units (to showcase your favourite subjects or courses)
school-related activities (to highlight your interpersonal skills with other students)
high grades (to highlight your solid work ethic and ability)
Below is an example of a candidate's CV education section that reflects their academic achievements and extracurricular activities:
Frequently asked questions about soft skills
Here are answers to some of the most commonly asked questions about soft skills:
1. What are some good soft skills for managers?
Some good soft skills for managers are leadership, communication, making decisions, empathy, and solving problems in the workplace.
These skills are essential for anyone in management because they allow managers to:
motivate their employees
give workers clearly defined directions
understand each employee's point of view
delegate tasks efficiently
prevent issues among staff
2. Why are soft skills important?
Soft skills are important because they help you have successful relationships with your colleagues and customers.
These abilities have always been valued by employers but are becoming even more important in recent years as teamwork and flexibility have become increasingly necessary for companies to succeed long-term.
Besides encouraging a healthy work culture and helping you interact effectively with others, soft skills allow you to gain more confidence and feel comfortable with your ability to handle challenging situations throughout your life.
3. How can I improve my soft skills?
You can improve your soft skills by learning to understand yourself, selecting specific soft skills to work on, and setting achievable goals.
First, understanding yourself is key so you can get a better idea of who you are and what you need to work on. Try asking yourself questions such as:
'What soft skills do I already have?'
'What soft skills are relevant for the job I want?'
'What soft skills should I work on improving?'
After you've identified one or two soft skills you want to improve, try setting SMART goals (which stands for Specific, Measurable, Achievable, Realistic, and Time-bound) goals to help you:
take actionable steps towards improving your abilities
stay accountable with your goals
feel a sense of achievement once you've successfully handled an interaction involving your soft skills
More FAQs related to soft skills on your CV
Below are more questions to assist you with the CV writing process.