The first step on your new career path is writing a career change CV. Unlike the CV you wrote for your current career, which emphasises work experience, this specialised CV focuses on your transferable skills.
Here's a career change CV example that shows you how to make your own in 4 steps, followed by in-depth explanations of each step (and we have more examples and a free template after that):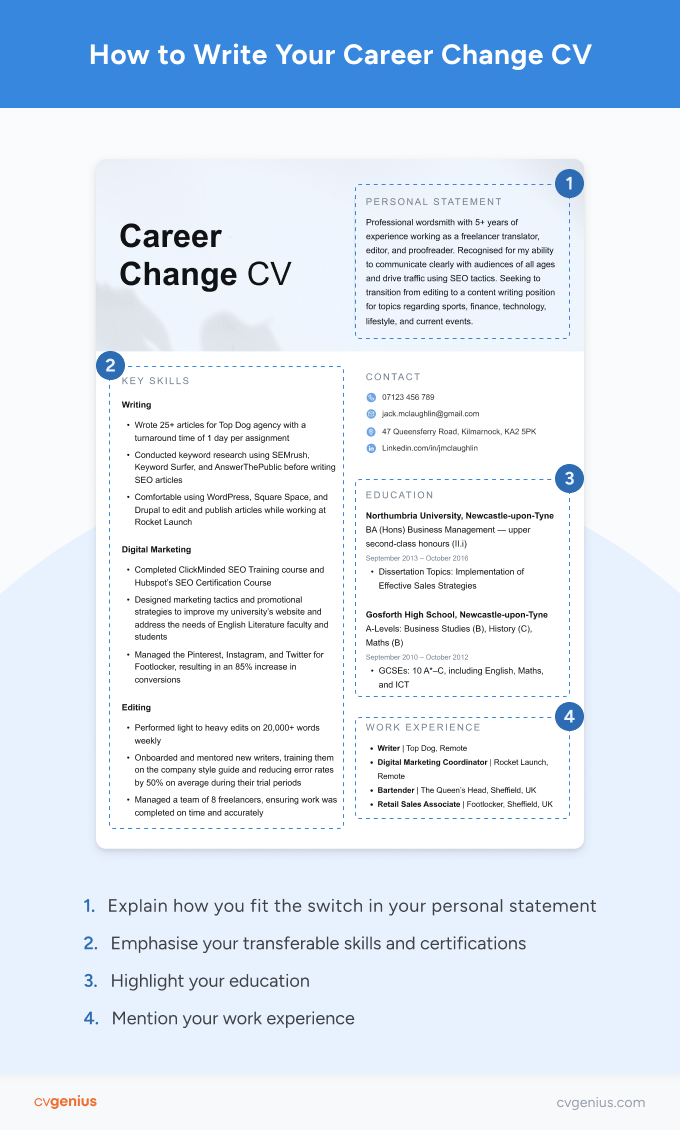 Download Free Career Change CV Example
Click each step below to learn more about how to make a job-winning career change CV:
1. Explain how you fit the switch in your personal statement
A well-written CV always starts with a personal statement that summarises your job-relevant information in a few sentences to let employers know you're a good candidate and they should read the rest of your application closely. A career change CV is no different.
But instead of summarising your CV achievements, your personal statement on a CV for changing careers should:
explain why you're targeting a new line of work
emphasise skills and training that make you capable of quickly making an impact in your new role
Basically, tell employers in 3–5 sentences that you have the talent and drive to overcome a lack of related experience to thrive in their open jobs.
But don't make your personal statement too long or recruiters won't read it. This section is meant to be a TLDR (too long; didn't read) for employers who have stacks of CVs to get through.
Here are two career change CV personal statement examples to give you ideas for writing yours:
CV personal statement for career change (with a certification)
As a customer service professional seeking to transition into a sales role, I am driven by my passion for building meaningful relationships and helping customers find solutions to their needs. With a strong track record of providing exceptional service and a keen understanding of customer preferences, I am eager to leverage my skills to drive sales growth and exceed targets. Backed by my recent achievement of the Certified Sales Professional (CSP) certification, I am equipped with the knowledge and expertise to effectively engage clients and deliver results in the sales arena.
Career change CV profile example (no certification)
With a compassionate heart and a deep understanding of individual needs, I am embarking on a career transition from nursing to education. Drawing on my experience in healthcare, I am driven to make a positive impact on students' lives by fostering a supportive and inclusive learning environment. Equipped with my strong communication skills, adaptability, and a genuine passion for nurturing growth, I am committed to empowering the next generation and shaping their futures through education.
Writing not your thing? Try using a CV maker that automatically creates a well-written personal statement for you based on the information you provide.
2. Emphasise your transferable skills and certifications
Normally, your work history, with its relevant accomplishments and responsibilities, would go under your personal statement. However, unless you've been freelancing and have built up some relevant experience in your new field of work, you should highlight the skills that will help you succeed in your new role here.
But don't just delete your work experience section. Instead, repurpose it as a robust skills section, like so:
List your most relevant skills as headers
Give examples of how you've used those skills to make an impact at work, in university and school or training, or in your personal life in a few bullets under each header, including hard numbers wherever possible to show what kind of results you can produce
And if you've completed any certifications or training programmes as part of your journey to a new career, put them in this section.
This is a perfect example of a skills section for a career change CV: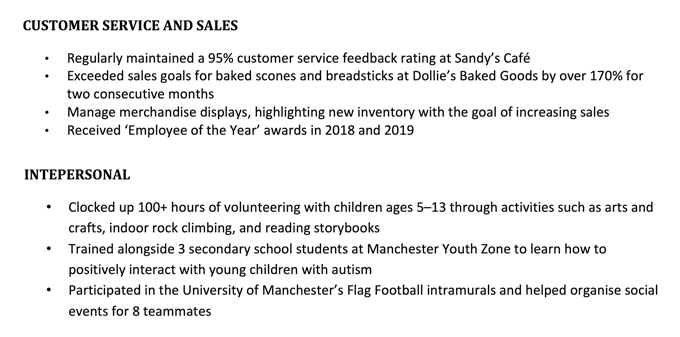 Putting your key skills above your work experience section isn't the only way to emphasise your transferable knowledge. Depending on the type of company you're applying at, you may benefit from using a different CV format (e.g., a skills-based CV).
3. Highlight your education
Showing your education is key on a career change CV. If you've completed a university degree or finished secondary school, that lets employers know that you have a proven track record of learning new information — experience you'll have to rely on to make it in your new career.
So if you've already got a well-written CV education section, just make a few small tweaks to alter it for your CV for a career change, including:
Adapting your relevant modules section to ensure you've listed any job-specific units
Highlighting any A-levels or GCSEs that are most closely related to your target role
This is how your education section should look:
University of Birmingham (2016–2019)
BA (Hons) English Literature
Upper second class honours (2:1)

Relevant modules: Literary Theory, Mediaeval Writings, Poetry in the West, Communicating through Prose

Ark Boulton Academy (2009–2016)
A-levels: Maths (A), French (A), English Literature (A)
GCSEs: 10 A-C including Maths, English, Combined Science, and Geography
4. Mention your work experience
Finally, we get around to your work experience. As you're changing careers, your work experience to this point likely isn't super relevant to your target job.
Don't take up CV space with irrelevant information. After all, your examples of transferable skills from your work experience should be in your skills section, as we explained above.
So write a work experience section that includes your:
company names
job titles
start and end dates
This is an example of a work experience section on a career change CV:
WORK EXPERIENCE

Head Waiter, Bottom of the Barrel, Jan 2020 – Present
Waiter, Rocket Pita, Oct 2019 – Jan 2020
Busser, Rocket Pita, Mar 2019 – Oct 2019
Career Change CV Examples
Below are two examples of CVs for career changes. The first is for a career changer moving from a non-technical to a technical role, and the second is for someone moving from customer service to sales — but you can easily adapt them to fit your specific situation by downloading them and replacing the information with your own:
1. Example CV for a career change from non-technical to technical roles
The applicant below has adapted their product manager CV to help them switch to a career in software engineering by highlighting their relevant certifications and skills. If you're also going from a a non-technical role to a technical one, you can download this career change CV example and replace the information with your details: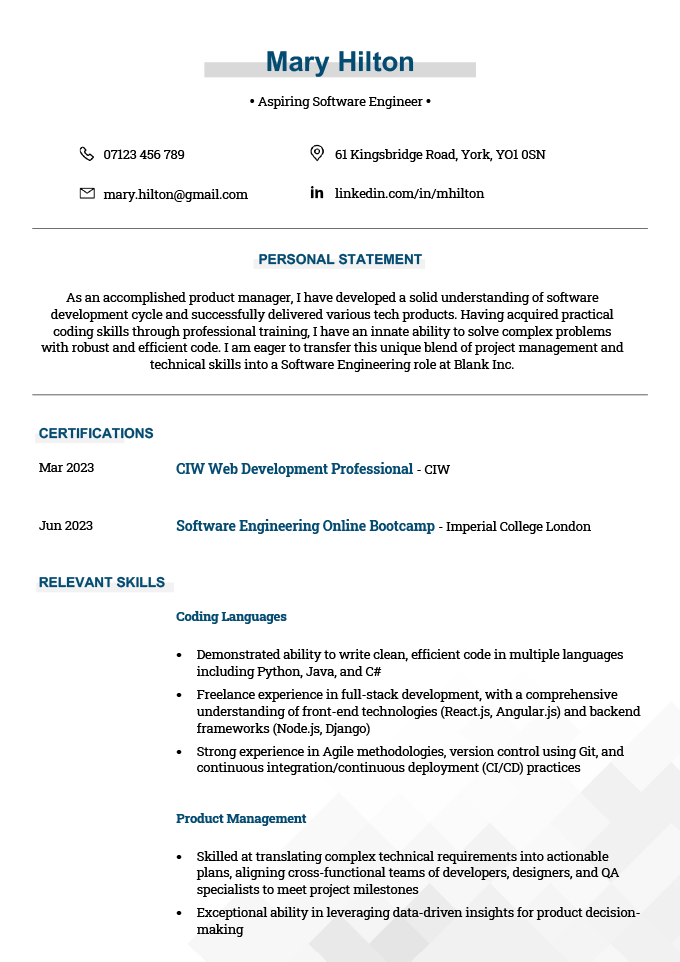 Download Free Career Change CV Example
2. Example CV for a career change from customer service to sales
Here's an example career change CV by someone transitioning from customer service to sales. Because there's a lot of crossover between the two roles, they placed a traditional work experience section under their skills section: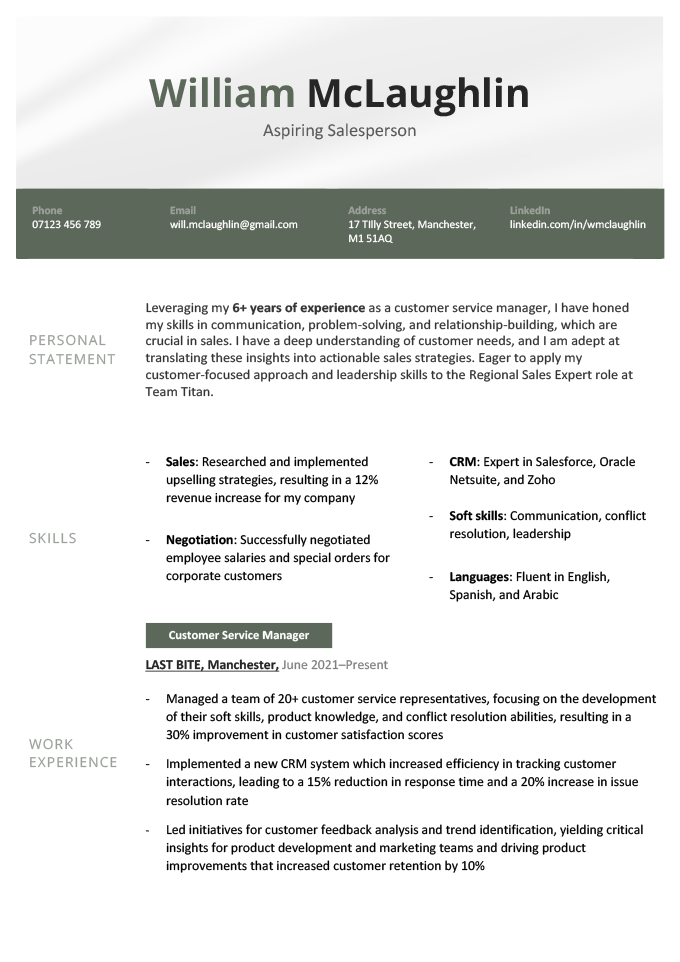 Download Free Career Change CV Example
Career Change CV Template
Don't want to use one of the change of career CV examples for Microsoft Word above? No problem!
Here's a career change CV template you can copy and paste into whatever writing program you use:
YOUR NAME
Job Title
07123 456 789 | 38 Your Road, Town, Postcode | your.email@gmail.com
PERSONAL STATEMENT
Dedicated [industry] professional with [# of years] years of work experience. [Your reason for changing careers, including your most transferable skills]. Ready to adapt my experience to help accomplish [Company's Name]'s goals and take on more responsibility as your next [Target Job Title].
KEY SKILLS
Most Job-Relevant Skill
Give specific examples of how you've used your skills
These examples could come from unrelated work experience, your schooling, or your hobbies and interests
Next Most Relevant Skill
Use hard numbers (if possible) to give employers context
Include keywords from the job advert (also known as buzzwords on a CV) to customise your application to the role you want
EDUCATION
University of Leeds (Start Date–End Date)
Degree Name (including any honours)
Relevant modules: If you completed any modules that are relevant to your new career path, list them here
Secondary School Name, Location (Start Date–End Date)
A-levels: List your most job-relevant A-levels and the grades you received in them here
GCSEs: List GCSEs you achieved A*–C (or 9–4) in
WORK EXPERIENCE
Most Recent Job Title, Company Name, (Start Date–End Date)
Previous Job Title, Company Name, (Start Date–End Date)
Etc.
HOBBIES & INTERESTS
Think about how your interests align with your target company's work culture, process, and goals
For instance, if you're targeting a computer science job, you write about how you coded an app for fun
Common questions related to writing a change of career CV
To ensure you're ready to start a new career, we've answered three of the most frequently asked questions related to career change CVs:
1. What is a career change skills-based CV?
A career change skills-based CV is one that emphasises skills over work experience. Above, we explain how to make a skills section with your abilities listed as headers, and bullet points under the headers with descriptions of your skills in action.
If you want to write a skills-based CV for changing careers, take a look at CV examples from your target industry to determine which skills you should highlight in your application.
2. How do you say you're changing careers professionally?
To say you're changing careers in a professional way, you just need a professional reason. For example, you can tell potential employers you're changing careers because you:
want to diversify your experience by learning a new line of work
are confident, based on your research, that your current skills transfer well to your target industry
are seeking a challenge
As long as you have a reason that doesn't make you appear unmotivated, you're okay.
3. How do you write a resume for a career change?
To write a career change resume, all you need to do is:
condense your career change CV into one page
update your English to the version used in the country you're applying to work in (typically, you'll use a resume to apply to jobs in North America)
However, if you're asked to submit a resume when you're switching careers within the UK, just use your CV. When an employer in the UK uses the term 'resume', they're referring to a CV.