What's in a word?
A lot actually — especially when it comes to writing your CV.
CV wording isn't just about flexing your communication skills or showing off your vocabulary. Before an employer even starts reading full sentences, most skim your application for certain CV words to determine whether you meet the job requirements.
Or they get an applicant tracking system (ATS) to do it for them.
In other words, the CV words you include on your CV directly impact your CV's visibility to employers.
The right wording shows you understand your employer's industry, specific needs, and company culture. The wrong wording makes your skills and experience unmemorable — your CV destined to fade into the application stack.
Here's an example of what a CV looks when optimised with CV words: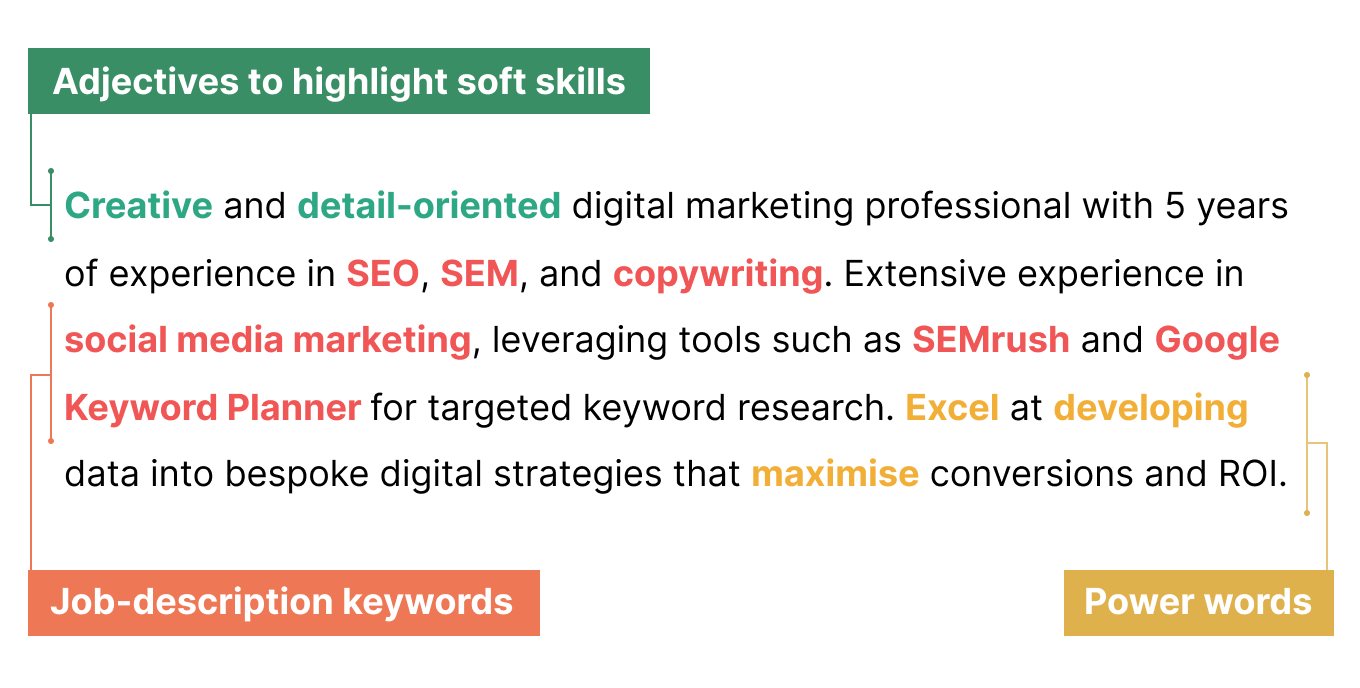 The 3 types of CV words
A well-written CV should:
emphasise your relevant experience
demonstrate your industry knowledge
market your best personal traits
Accordingly, your CV should include three types of CV words:
Action verbs (to emphasise your relevant experience)
Industry-specific keywords (to demonstrate industry knowledge)
Power words (to market your personal traits)
1. Action verbs
Action verbs (or action words) are powerful verbs used to describe your accomplishments and experiences. They replace generic phrases like 'responsible for' or 'in charge of' and make your CV more engaging.
To get a clearer idea of how to use these words on your CV, this video provide some helpful examples to inspire you during the writing process:
Here's a few examples of action verbs you might include on your CV:
Achieved
Implemented
Coordinated
Improved
Analysed
And here's what action verbs look like on a CV:
AFFINITY, Stafford
Project Manager, Jan 2019 – Dec 2022
Coordinated with team leads to ensure objectives and timelines were clearly defined and met
Achieved a 20% increase in customer satisfaction by working with a cross-functional team of 10 members to streamline customer support services
Identified and implemented process improvements in internal communication strategies, resulting in a 25% reduction in project delivery time
Analysed project data to create risk analysis and mitigation strategy reports, providing project status updates to senior management
2. Industry-specific keywords
Industry-specific keywords show the employer what you know. These words for your CV represent highly desirable skills or knowledge in a specific industry or field.
For example, 'WordPress' and 'content management systems (CMS)' are popular keywords in the Content Marketing and Communications industries.
Why? Content writers frequently work with these systems and employers would prefer (or need) to hire a worker that doesn't need to be taught how to use them from scratch.
Including the right industry-specific keywords is also necessary for your CV to pass an ATS scan. Most ATS systems use keywords to measure your compatibility with the job. For your CV to be read by human eyes, you'll have to include enough relevant keywords.
Here's a work experience entry from a graphic designer CV, with industry-specific keywords highlighted in red:
Industry-specific keywords on a graphic designer CV
EVERGREEN, Manchester
Graphic Designer, March 2021 – Present
Develop creative concepts and ideation for visual branding materials, including logos, brochures, and social media graphics
Create and execute designs that align with brand guidelines and effectively communicate the brand message to the target audience
Utilise Adobe Illustrator to create high-quality designs, ensuring all design assets are optimised for web and print
Collaborate with marketing and communications teams to ensure that all design work is on brand, on time, and meets project objectives
Incorporate typography principles into all designs to ensure clear and effective communication of messages
3. Power words
Usually adjectives, power words are used throughout your CV to highlight your valuable soft skills, like attention to detail. As a result, they're useful for showing the employer why you're a good fit for their company.
Example of power words in a personal statement
Strategic content marketing professional with 4 years of expertise in SEO and content marketing. Deadline-driven and creative, I'm adept at developing marketing strategies into compelling copy that boosts website traffic and generates high-quality leads. Excited to join Ever.ly as your next Content Specialist.
25 powerful CV words for describing yourself (with examples)
Choosing the right power words for your CV will give the employer a clear picture understanding of your soft skills.
Unsure how to write a great CV that uses powerful words? Below we've listed 25 excellent power words for emphasising your most marketable traits to employers.
As an added bonus we've organised them into the following soft skill groups so you can find the right CV words for your personality:
Communication skills
Teamwork skills
Problem solving skills
Time management skills
Customer service skills
Words to emphasise your communication skills
Employers who value communication skills, like active listening and negotiation, are always looking for hires who can reach, convince, and inspire diverse audiences. Each of these skills  can be emphasised with power words:
1. Persuasive
Used persuasive communication skills to negotiate a 15% discount on vendor services, significantly reducing overheads for the company.
2. Articulate
Articulate public speaker with the ability to communicate complicated concepts to diverse audiences.
3. Concise
Crafted concise and effective emails that increased outreach response rates by 25%.
4. Confident
Communicated with management in a confident and professional manner to secure a 10% increase in budget allocation.
5. Engaging
Engaging lecturer with a dynamic and thoughtful teaching style that captures and maintains the attention of students.
CV words to highlight your teamwork skills
Reliability, rapport building, and similar teamwork skills are valuable to any company where collaboration is key (aka basically all of them).
Demonstrate your abilities with this team-oriented vocabulary:
6. Collaborative
Collaborative project manager who works effectively with cross-functional teams to ensure satisfactory completion of projects within company deadlines.
7. Adaptable
Adaptable office manager who helped oversee transition from in-office to hybrid work model.
8. Dependable
Dependable team member who consistently meets deadlines and fulfils commitments.
9. Supportive
Supportive university administrator who fosters a positive work environment and provides guidance and onboarding assistance to staff.
10. Proactive
Proactive campaign assistant who anticipates challenges and adapts strategy accordingly.
CV words for demonstrating your problem-solving skills
Use these descriptive cues to demonstrate your ability to analyse situations, identify problems, and apply your critical thinking skills in the workplace.
11. Analytical
Utilised analytical skills to evaluate complex data sets and derive actionable insights.
12. Resourceful
Repeatedly demonstrated resourceful problem-solving abilities by developing innovative marketing strategies to increase brand awareness.
13. Strategic
Developed and executed strategic plans to optimise business outcomes and achieve long-term success.
14. Systematic
Troubleshooted code in a systematic manner, identifying inconsistencies and appropriate solutions.
15. Methodical
Approached work in a methodical and systematic manner, resulting in consistent and high-quality output.
CV words for time management skills
Time management skills are difficult to prove on a single job application, but you can reassure employers of your ability to prioritise tasks and juggle deadlines by peppering terms such as the following into your CV.
16. Punctual
Consistently demonstrated punctual behaviour by arriving on time for meetings and completing tasks by their deadline.
17. Disciplined
Maintained a disciplined approach to time management, prioritising tasks and meeting deadlines consistently.
18. Time-conscious
Maintained a time-conscious mindset, ensuring that all activities were aligned with broader goals and objectives.
19. Deadline-driven
Thrived in deadline-driven environments, consistently delivering high-quality output under pressure.
20. Structured
Managed time and resources in a structured manner, breaking down complex tasks into manageable steps and executing them systematically.
Words to showcase your customer service skills
Whether you're seeking a job in retail, customer support, sales, or marketing, it's important to show employers that you can support, satisfy, and appease customers at every stage of their journey. Use these CV power verbs to upsell your customer service skills:
21. Attentive
Provided attentive and personalised service to each client, ensuring their needs were met and exceeded.
22. Personable
Interacted with clients in a friendly and personable manner, building rapport and establishing long-term relationships.
23. Empathetic
Approach work with an empathetic attitude, striving to provide emotional support and build strong relationships with clients from diverse backgrounds.
24. Patient
Maintained a patient and understanding demeanour when working with clients, taking the time to address their questions and concerns.
25. Solution-oriented
Approached client issues in a solution-oriented manner, developing creative and effective solutions to their problems.
CV words to avoid: cliches, buzzwords, and more
First, you should avoid using clichés on your CV. Clichés like 'team player' or 'multi-tasker' weaken your CV because they're tedious and vague. Simply stating that you're a 'team player' doesn't tell the employer anything about your skills or experience.
Depending on the industry and position you're applying for, clichés will make you appear anything from boring to unqualified.
The worst CV buzzwords sound poetic or exciting, but on closer inspection say nothing about what you can do. It's almost never a good idea to have one of these words on your CV:
Buzzwords and clichés to avoid
Self-starter
Dynamic
Out-of-the-box thinker
Trailblazer
Visionary
Problem solver
Ninja
Wizard
All-star
Legendary
Epic
Awesome
If you're not sure if a word is clichéd, put into a simple sentence and ask yourself what that tells a potential employer.
'I have strong leadership skills' highlights a valuable soft skill.
'I'm a trailblazer' does not.
Additionally, don't use any self-deprecating language or swear words in your CV or cover letter, because such language is unprofessional and gives off the wrong impression.
Frequently asked questions about CV wording
Still unsure of how to word your CV effectively? Here are the answers to three common CV wording questions to help you write an attention-grabbing job application:
1. Should I include technical jargon in my CV?
Whether you should include technical jargon in your CV depends on the specific job you're applying for, as well as the employer and the industry they operate in.
If you're applying for a position that requires highly developed technical skills then including relevant jargon can serve to demonstrate your qualifications and familiarity with the field.
Let's say you're pursuing a software developer position at a company that develops fintech apps. The employer will likely be excited to read about your familiarity with Spring or Hibernate frameworks or your skill at integrating APIs.
However, if this knowledge isn't directly related to the open position or employer, it'll confuse the employer and may dissuade them from reading further.
When writing about skills or achievements that the employer might not be familiar with, focus on using language that is clear and easy to understand.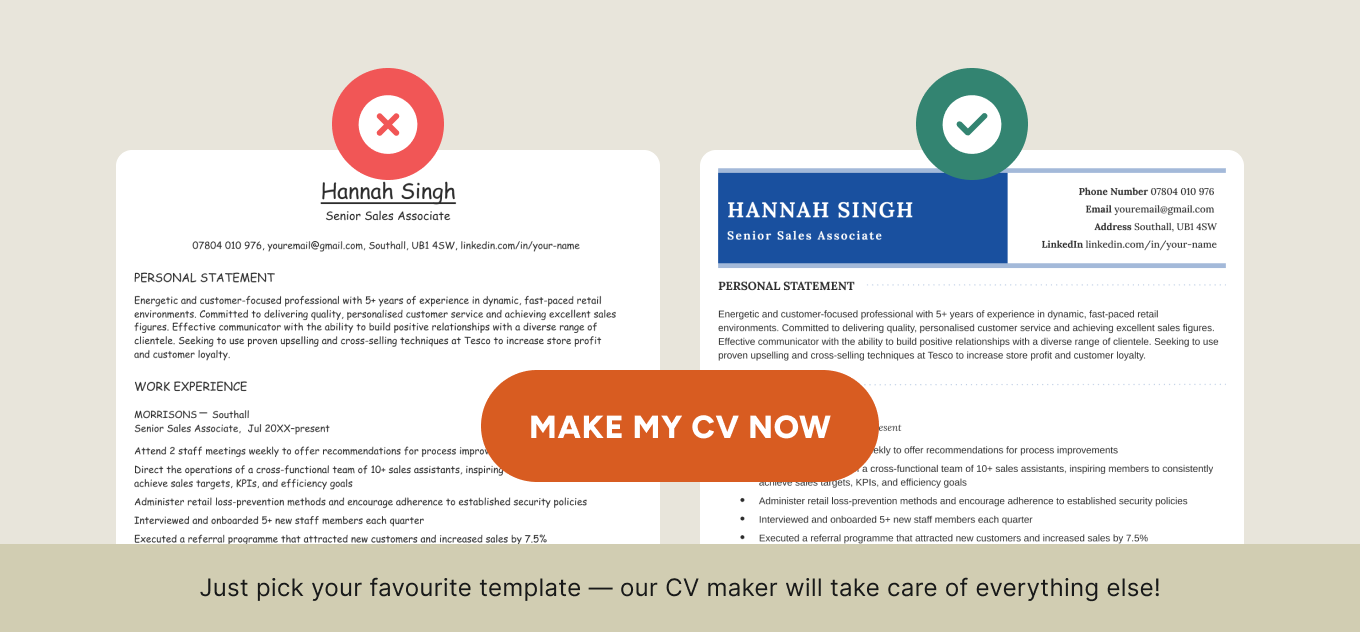 2. How long should my CV be?
Standard CVs in the UK are no more than two pages, but the best length for your CV will depend on your experience and the kind of job you're applying for.
For example, if you're a recent graduate or school leaver and applying for your first job, a one-page CV is perfectly acceptable. This length is sufficient for you to outline your relevant skills and experience, and demonstrate why you'd be a good fit for the job.
If you think your CV is too long or short, there are several approaches you can take to fix your CV length, including adjusting your CV margins or font size within an appropriate range.
3. Is it okay to use personal pronouns in my CV?
If you want to specify your pronouns on your CV, do so in the header:
Though it's perfectly fine to specify your pronouns in your CV header, you should avoid using the first-person pronoun 'I' throughout your CV. There are two reasons why:
It's implied that you're talking about yourself (because this is your CV)
Starting sentences with 'I' can make your writing repetitive and weaken its impact on the employer.
More common CV questions
Still have doubts about how to make a CV? Here are three more common CV queries to help you get going: