Your CV's main purpose is to advertise your skills and experience to potential employers.
'Responsible for cutting sales.'

'Tasked with designing social media campaigns.'
Yeah, that's not much of a hard sell.
Even if you have remarkable professional experience, it's easy to accidentally water down your achievements by using bland or passive language.
Employers constantly receive CVs that are undermined by overused phrases like 'took part in' or 'in charge of'. Avoiding these clichés and using unique action verbs is a key part of how to write a great CV that stands out to employers.
Responsible for Conducted 15+ interviews per week
Took part in Collaborated with 3 cross-functional teams to create content
Using action verbs gives your CV clarity and detail. Use these words when you make your CV to highlight how you've: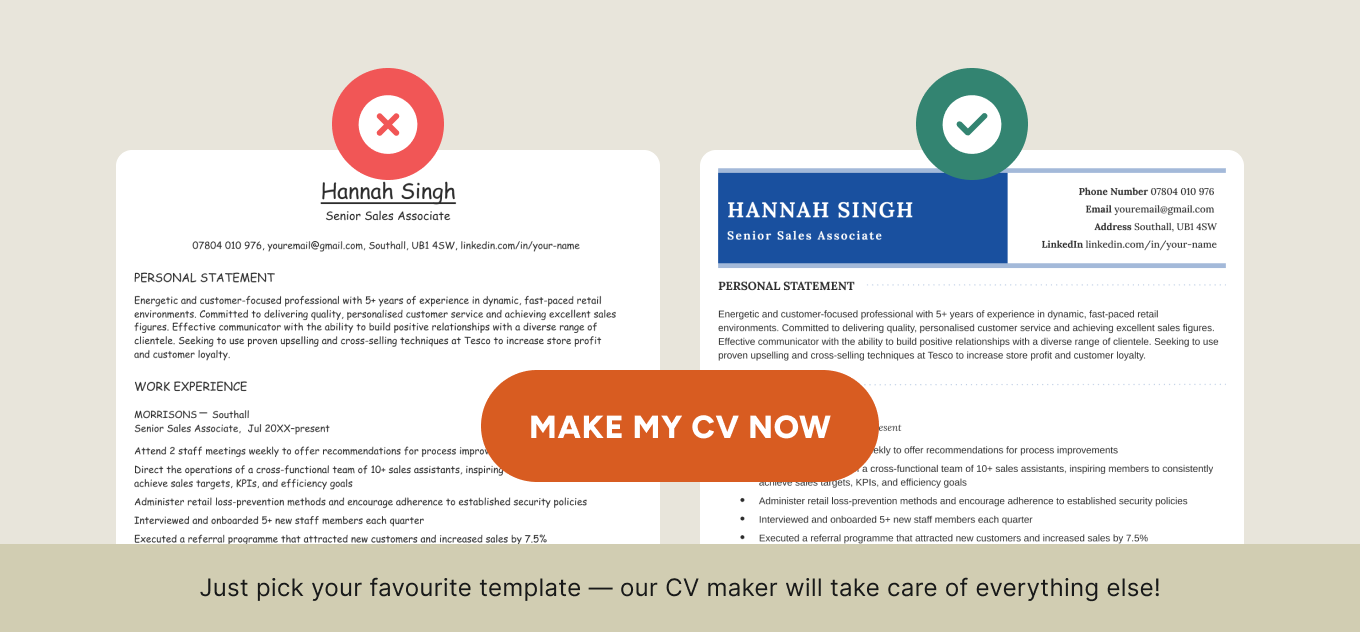 Interested in watching a quick video? Our Careers Expert Seb provides some helpful examples of you can add action verbs to your CV:
Action verbs for when you accomplished something
Employers want to know that you're an achiever. To spotlight your accomplishments, replace CV no-gos like 'responsible for' and 'managed to' with these action verbs:
Mastered
Prevailed
Achieved
Reached
Attained
Realised
Delivered
Succeeded
Executed
Surpassed
Fulfilled
Topped
Here's an example of how to use these action verbs in a bullet point on your CV:
Attained a 4.8 star rating from customers and surpassed sales targets by 170%
Action verbs for when you produced results
Are you results-driven? Show that you can deliver by using these action verbs for your CV:
Advanced
Outperformed
Dominated
Scored
Earned
Thrived
Engaged
Won
Impacted
Garnered
This example bullet point from a CV work experience section includes action verbs that show how the candidate produced results:
Raised £3000 by organising 2022 fundraiser that outperformed all previous years' events
Action verbs that show how you've worked well with others
Teamwork is a key skill for your CV no matter what profession you're in. But leave 'worked with' off your CV and consider one of these action verbs to demonstrate that you work well with others:
Aided
Liaised
Coordinated
Merged
Collaborated
Networked
Connected
Synchronised
Enlisted
Synergised
Harmonised
Trained
Add teamwork-related action verbs to your CV like this:
Enlisted and trained 12 recent graduates for local internship programme
Action verbs for helping customers
If you're in the service industry, pleasing customers is crucial. Showcase your customer service skills with these action verbs for your CV:
Appeased
Resolved
Attended
Satisfied
Nurtured
Served
Rectified
Steered
Relieved
Supervised
Here's a sample of how to put customer service action verbs in your CV:
Attended to 50+ product returns per day, resolving issues in less than 24 hours
Action verbs for demonstrating communication skills
Workplaces don't work without strong communication skills. Place these action verbs in your CV to show that you're a clear communicator:
Advised
Deliberated
Articulated
Engaged
Brainstormed
Expressed
Briefed
Presented
Consulted
Verbalised
Here's how to highlight your communication skills with strong CV action words:
Engaged with 7 stakeholders throughout the project, articulating new solutions to emerging problems
Action verbs for showing research experience
Many careers in 2023 require research skills. Prove you've got research experience with these CV action words:
Discovered
Explored
Assessed
Investigated
Collected
Measured
Conducted
Monitored
Examined
Scrutinised
Experimented
Tested
Here's an example of how to work research action verbs into your CV:
Collected data to conduct desktop studies, publishing up to 3 peer-reviewed meta-analyses per month
Action verbs for when you analysed data
Employers value people who can make sense of data. Add these action verbs to your CV to demonstrate your analytical skills:
Hypothesised
Evaluated
Demystified
Examined
Clarified
Interpreted
Delved
Itemised
Dissected
Probed
Distilled
Reviewed
Inquired
Studied
Here are two of these powerful verbs in action in an analytics CV:
Interpreted monthly market analyses and itemised sales targets, boosting overall sales by 35%
Action verbs for when you created something
Have you written a new fitness plan or designed an app to speed up your workflow? Use these action verbs to show employers that you've created something worthwhile:
Actualised
Engineered
Built
Established
Cultivated
Initiated
Designed
Invented
Devised
Launched
Effected
Pioneered
Enacted
Spearheaded
Here's an example of using action verbs in your CV to highlight what you've created:
Devised a new e-filing system that boosted efficiency by 15%
Action verbs for settling deals
Negotiating deals is a valuable skill. Show that you can close business deals with these CV action words:
Bargained
Brokered
Clinched
Mediated
Closed
Arbitrated
Conferred
Secured
Finalised
Confirmed
Here's an example of using good action verbs related to making deals in your CV:
Mediated and closed deals with service providers, cutting company expenses in 5 consecutive years
Action verbs for managing people people or projects
Employers look for employees who can handle extra responsibility. Highlight any management roles you've had by using these power words for your CV:
Captained
Mentored
Delegated
Monitored
Directed
Oversaw
Facilitated
Ran
Guided
Steered
Headed
Inspired
Here's how to your highlight your management skills with strong action verbs:
Monitored and directed new stock intake to keep under shop budget by 10%
Action verbs for when you increased positive metrics
Most companies have a clear goal — growth. Use these action verbs in your CV to emphasise how you've produced positive increases at work:
Amplified
Inflated
Augmented
Magnified
Boosted
Maximised
Broadened
Raised
Enlarged
Scaled
And this is an example of what to include in a CV to show how you increased positive metrics:
Broadened web content to boost site visitors and increase leads by 40%
Action verbs for decreasing negative metrics
If you've slashed costs or reduced time spent working on a process, use these action verbs in your CV:
Alleviated
Diminished
Axed
Minimised
Curbed
Saved
Curtailed
Shed
Cut
Streamlined
Here's an example of how to fit these action verbs into your CV:
Streamlined app registration process, cutting bounce rate by 18%
Action verbs for when you improved something
Here are action verbs for your CV that show that you've made improvements at your current or previous companies:
Enhanced
Propelled
Enriched
Reinvigorated
Tuned
Revitalised
Optimised
Upgraded
Polished
Uplifted
Add these action verbs to your CV like this:
Upgraded product service protocols to optimise response time and customer satisfaction
Action verbs for solving problems
Can an employer rely on you if an issue arises? Showcase your problem-solving abilities using these CV action verbs:
Fixed
Remedied
Patched
Resolved
Reconciled
Sorted
Rectified
Straightened
Redressed
Refocused
If you work in technical support, you might describe your problem-solving skills like this:
Patched up to 50 reported bugs per day, resolving customer issues before they reached supervisors
More power words for your CV
Action verbs aren't the only CV words that help draw the employer to your application. Power words describe your experience and achievements in more detail — and emphasise valuable soft skills.
Here are some examples of powerful adjectives you can use to make your CV stand out:
Adept
Industrious
Ardent
Prompt
Teachable
Specialised
Decisive
Spirited
Dedicated
Tactful
Inspirational
Thorough
Dynamic
Tireless
Energetic
Versatile
Exuberant
Visionary
Frequently asked questions about action verbs for CVs
Want more help choosing the right words for your CV? Here are answers to three more questions related to proper CV writing:
Should you write in the active voice on your CV?
You should write in the active voice on your CV.
When you write in the active voice, you are both the subject of the sentence and the one performing the action.
Writing about yourself in the passive voice, you are the one performing the action, but you're not the subject of the sentence:
Isaac won an award for customer service.
An award for customer service was won by Isaac.
Writing in the passive voice isn't bad grammar, so why should you use the active voice on your CV?
When you write about an achievement in the active voice, you emphasise your role in making the achievement happen because you are the subject of the sentence:
'Isaac won an award,' sounds like Isaac received an award because of his hard work.
'Isaac was given an award,' makes it sound like the award was a gift — and all Isaac's hard work comes across as less impressive.
Use the active voice when you write your CV personal statement and relevant experience sections by making yourself the subject of the sentence and choosing action verbs to highlight your achievements:
Maintained a consistent customer satisfaction rating of over 95% for 2 years
Published 15+ articles posts monthly for Pick Up! Magazine's Health and Wellness section
Increased engagement with on brand Instagram handle by 65% by implementing two innovative campaigns
Should I use present or past tense when using action verbs in my CV?
You should use both the present and past tense when using action verbs on your CV:
Use the present tense in your personal statement and when describing the responsibilities of your current job
Use the simple past tense to describe your achievements
Here's an personal statement using the present tense:
Social Media Specialist with a BA in Marketing from Nottingham Trent University. Possess 2+ years of freelance experience leveraging social listening software, keyword research, and campaign planning to boost social media presence for consumer-oriented SMEs. Seeking a Social Media position with an active role in content creation and developing social media strategies.
The simple past tense (e.g., 'I received praise') is normally the appropriate tense to use when describing achievements or past jobs because it describes completed past actions.
Here's how the simple past tense looks on a CV work experience entry:
Use the past tense for achievements and past jobs
ACTIVEL | Derby
Customer Service Representative, Dec 2020 – Jan 2023
Handled 100+ inbound calls per day, maintaining a 97% customer satisfaction rating
Boosted customer retention rate by 15% by identifying customer needs and providing personalised product recommendations
Upsold new products and promoted exclusive officers, contributing to a 10% increase in quarterly sales
Consistently exceeded performance targets, achieving and maintaining a first-call resolution rate of 95%
Can I use action verbs in my cover letter as well?
Yes, you can (and should!) use action verbs in your cover letter.
Using action verbs in your cover letter makes your writing more engaging and impactful. Aside from making your vocabulary more varied and interesting, action verbs tell the reader how you achieved something.
Because action verbs are more descriptive, they're ideal for highlighting your expertise on your cover letter:
PolySpeak needs interpreters who are able to think quickly and adapt to different contexts and registers. As a freelance interpreter for Face-to-Face, I accompanied clients from various backgrounds to medical appointments, adapting my communication style to reflect specific needs and cultural taboos.
The action verbs 'accompanied' and 'adapting' tells us what kind of professional relationship the applicant had with their clients, and highlights valuable soft skills like empathy and customer service.
More FAQs about writing a CV
Need a little more help writing your CV? Here are a few more frequently asked CV writing questions to help you out: