What are CV buzzwords?
CV buzzwords are action words and powerful adjectives that paint a clear picture of how you can help your target employer (for example, good CV action verbs like spearheaded and analysed).
Using the right buzzwords in your CV is important because they make recruiting managers confident in shortlisting you for a job interview.
For example, here are 10 top CV buzzwords that will make any applicant stand out as a potential hire:
| | |
| --- | --- |
| Adaptable | Topped |
| Executed | Methodical |
| Timely | Rectified |
| Collaborated | Discovered |
| Strategic | Organised |
While you should include any of the buzzwords above that apply to you in your application, they're not the most important words for your CV. The CV buzzwords that'll make the greatest impact are specific to the industry, role, and company you're targeting.
So here's how to find the highest-impact buzzwords to use when you write a CV: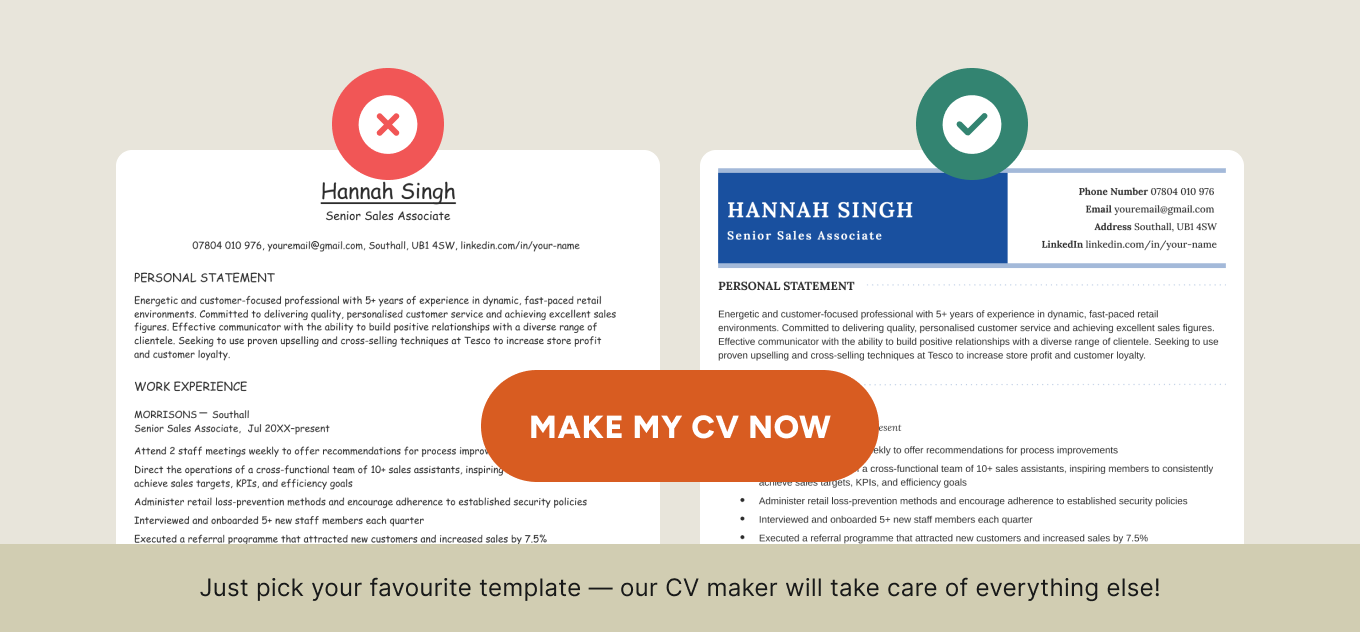 How to find good buzzwords for your CV
Finding the best buzzwords for your CV is simple. Just look for them in the job adverts you're responding to — or if you're writing a generic CV to post on a job board, find buzzwords in job adverts for positions similar to the one you're applying to.
You're looking for words that describe the type of person they're seeking and the work they'll expect you to do.
Here's an example of a job advert with key phrases highlighted: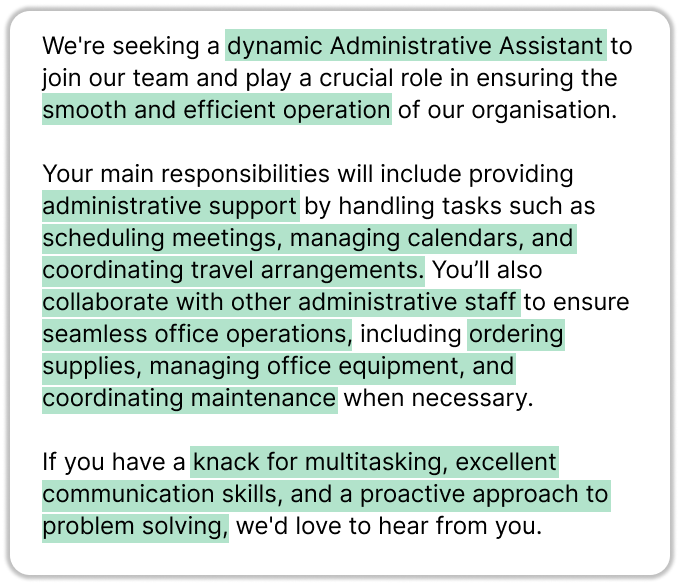 After finding the most important phrases in the job description, we identified these as the most important buzzwords for a CV targeting this job advert:
| | | | |
| --- | --- | --- | --- |
| Dynamic | Support | Collaborate | Multitasking |
| Administrative | Scheduling | Seamless | Communication |
| Smooth | Managing | Operations | Proactive |
| Efficient | Coordinating | Ordering | Problem solving |
Another place to find good buzzwords is in CV examples from your industry. To get you started, we've pulled relevant buzzwords from job ads and CVs for various industries below:
Industry-specific CV buzzword examples
Here are lists of CV buzzwords for specific jobs, including:
1. IT CV buzzwords
If you're writing a CV for an IT role, such as a cyber security CV or software engineering CV, these are great buzzwords to include in your CV:
| | |
| --- | --- |
| Troubleshoot | Hardware |
| AI | Workflow |
| Coding | Problem-solving |
| Cybersecurity | UX/UI |
| Software | Automate |
2. CV buzzwords for customer service roles
Looking for a job in customer service? Use these buzzwords on your customer service CV to show employers you'll represent them well to their customers:
| | |
| --- | --- |
| Communicate | Point of sale (POS) |
| Promptly | De-escalate |
| Proactive | Dependable |
| Friendly | Calm |
| Attentive | Patient |
3. Buzzwords for business and marketing CVs
These buzzwords will help you sell your experience, skills, and qualifications on your CV for a marketing or business job:
| | |
| --- | --- |
| Analytical | Project management |
| Social media | Market research |
| Generated | Collaborative |
| Minimised | Branding |
| Design | Customer retention |
4. CV buzzwords for engineering
Here are buzzwords that'll make your CV stand out to employers in the engineering field:
| | |
| --- | --- |
| Quality control | Testing |
| Safety | Teamwork |
| Analysis | Environmental |
| Process improvement | Mechanical |
| Budget | Computer-aided design (CAD) |
5. Education CV buzzwords
Writing your teacher CV? Education-industry employers will want to see buzzwords like these on your CV:
| | |
| --- | --- |
| Exuberant | Energetic |
| Inclusive | Discipline |
| Empower | Curriculum |
| Cultural awareness | Learning strategies |
| Presentation | Engagement |
6. Buzzwords for healthcare CVs
Below are buzzwords that emphasise your healthcare abilities on your CV:
| | |
| --- | --- |
| Acute | Diagnose |
| Comprehensive | Precise |
| Telemedicine | Empathetic |
| Accurate | Compassionate |
| Care | Prescribe |
How to put buzzwords on your CV
Knowing which buzzwords to use on your CV is essential. But you also need to know how to put them on your CV:
1. Put the most relevant buzzwords at the top
The buzzwords most likely to get the recruiting manager's attention belong at the top of your CV. So start your CV by placing buzzwords in your personal statement where they're most likely to be seen.
Here's a personal statement from an administrative assistant CV with buzzwords bolded:
Dynamic Administrative Assistant with 4 years of experience supporting smooth and efficient office operations. Adept at multitasking, scheduling, and coordinating events. Excited to apply my knowledge and abilities to the Administrator position at Sherwood Co.
As soon as the employer starts reading this CV, the well-placed buzzwords will give them the impression that the applicant has the necessary experience, skills, and drive for the role.
2. Give your buzzwords context with examples and numbers
Don't just put buzzwords at the top of your CV. Instead, place them in every section, using them to set up the examples and hard numbers that illustrate your accomplishments.
The best place to use examples and numbers with your buzzwords is in your CV's experience section — whether it's focused on your work history or on your extracurricular and voluntary activities. Putting CV buzzwords in your experience section shows employers that you have a track record of helping accomplish goals similar to their own.
Here's how one applicant used buzzwords with examples and numbers in their work experience section:
Conducted exploratory data analysis on diverse datasets using Python and SQL, uncovering key insights that influenced strategic business decisions
Developed predictive models using machine learning techniques, contributing to a 15% improvement in customer churn prediction accuracy
3. Don't overuse CV buzzwords
As important as buzzwords are, you don't want to use so many that you distract from the achievements on your CV.
Instead, use these keywords naturally throughout the information you include in your CV to describe your experience. There's no hard rule for how many words to use in a given sentence or bullet point, but here are examples of natural and unnatural buzzword usage to give you an idea of what you're going for:
Natural CV buzzword usage
Implemented new sales strategies, increasing revenue by 80% within 6 months
Buzzwords used unnaturally in a CV
Brainstormed, developed, implemented, and evaluated sales strategies that increased and maximised revenue
CV buzzwords to avoid
We've covered words that look great on your CV, but there are also buzzwords you shouldn't use — cliched terms that make you seem generic and unappealing to employers.
For instance, buzzwords like 'hard-working' and 'passionate' are played out. Employers have seen them so much, they won't make an impact. Instead, use unique alternatives like 'diligent', and 'ardent'.
Here are some more CV cliches and buzzwords to avoid, along with good replacement words:
Motivated → Ambitious
Skilled → Adept
Detail-oriented → Meticulous
Innovated → Pioneered
Delivered → Furnished
Commonly asked questions related to buzzwords on CVs
Still have questions about CV buzzwords? Here are answers to three of the most common questions about CV word choices:
1. Is it OK to highlight words in a CV?
Yes, it is OK to highlight words in a CV by bolding them. But don't bold too much text, or it won't stand out and your CV will be hard to read. Only bold the most important words to pull the reader's attention to the details in the surrounding text.
Don't highlight words with coloured highlighting, italicising, or underlining, because these elements will make your CV appear unprofessional and difficult to scan.
2. How do you sound interesting on a CV?
You sound interesting on a CV by using descriptive language, specific examples, and data to show how you fit the role you're applying for.
Also, you should write a cover letter for your CV that shows your personality to get the employer interested in hiring you.
3. What is a powerful sentence for a CV?
A powerful sentence for a CV highlights your role-relevant experience, skills, or accomplishments and convinces the reader to interview you for the job.
This powerful sentence should go in your CV summary, at the top of the first page. And you should write more powerful sentences in your work experience bullets.
Here's an example of a powerful sentence for a CV:
Set a company record by bringing in £2.3 million in one month.