Don't know what a CV is or unclear about what to put on yours? You're in the right place.
The most important things to include on your CV are your experience, skills, and qualifications that are relevant to the job you want.
Here's a modern CV template to give you a quick visual breakdown of what to include on your CV to impress your target employer: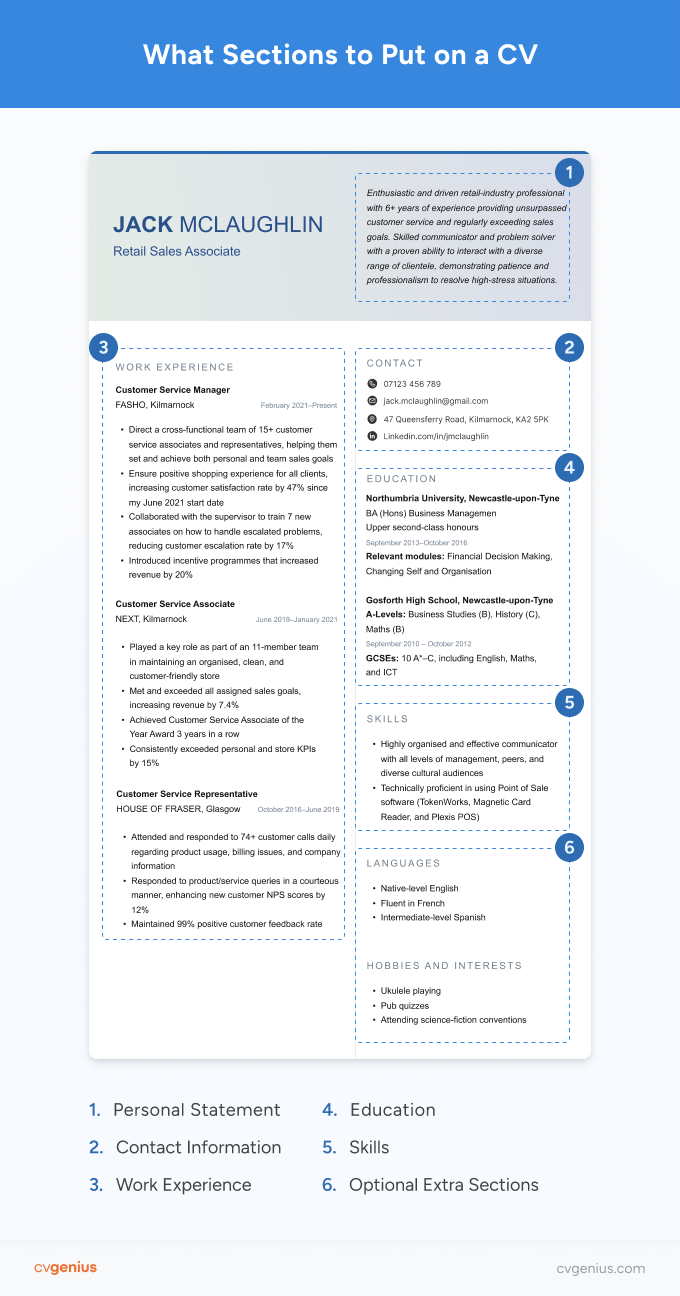 Copy + Paste Template (Standard CV Sections)
YOUR FIRST NAME AND SURNAME
Email | Phone | Address | Social Media (LinkedIn, etc.)
Personal Statement
Enthusiastic and driven retail-industry professional with 6+ years of experience providing unsurpassed customer service and regularly exceeding sales goals. Skilled communicator and problem solver with a proven ability to interact with a diverse range of clientele, demonstrating patience and professionalism to resolve high-stress situations.
Work Experience
Customer Service Manager | FASHO, Kilmarnock
February 2021–Present
Direct a cross-functional team of 15+ customer service associates and representatives, helping them set and achieve both personal and team sales goals
Ensure positive shopping experience for all clients, increasing customer satisfaction rate by 47% since my June 2021 start date
Collaborated with the supervisor to train 7 new associates on how to handle escalated problems, reducing customer escalation rate by 17%
Introduced incentive programmes that increased revenue by 20%
Customer Service Associate | NEXT, Kilmarnock
June 2019–January 2021
Played a key role as part of an 11-member team in maintaining an organised, clean, and customer-friendly store
Met and exceeded all assigned sales goals, increasing revenue by 7.4%
Achieved Customer Service Associate of the Year Award 3 years in a row
Consistently exceeded personal and store KPIs by 15%
Customer Service Representative | HOUSE OF FRASER, Glasgow
October 2016–June 2019
Attended and responded to 74+ customer calls daily regarding product usage, billing issues, and company information
Responded to product/service queries in a courteous manner, enhancing new customer NPS scores by 12%
Maintained 99% positive customer feedback rate
Customer Service Intern | HOUSE OF FRASER, Glasgow
October 2015–June 2016
Attended and responded to 74+ customer calls daily regarding product usage, billing issues and company information
Responded to product/service queries in a courteous manner, enhancing new customer NPS scores by 12%
Maintained 99% positive customer feedback rate
Education
Northumbria University, Newcastle-upon-Tyne
BA (Hons) Business Management
Upper second-class honours
September 2013–October 2016
Relevant modules: Financial Decision Making, Changing Self and Organisation
Gosforth High School, Newcastle-upon-Tyne
A-Levels: Business Studies (B), History (C), Maths (B)
September 2010–October 2012
GSCEs: 10 A*–C, including English, Maths, and ICT
Skills
Highly organised and effective communicator with all levels of management, peers, and diverse cultural audiences
Technically proficient in using Point of Sale software (TokenWorks, Magnetic Card Reader, and Plexis POS)
Languages
Native-level English
Fluent in French
Intermediate-level Spanish
Hobbies and Interests
Ukulele playing
Pub quizzes
Attending science-fiction conventions
The example above provides a basic outline of a CV, demonstrating everything you need to include.
Additionally, here's a list of CV sections to include in your CV, followed by tips for what to put in each section:
If you add extra CV sections, include only relevant details, such as your:
Hobbies and interests
Extracurricular activities
Voluntary work
Languages
Coursework
Publications
Technical abilities
Certifications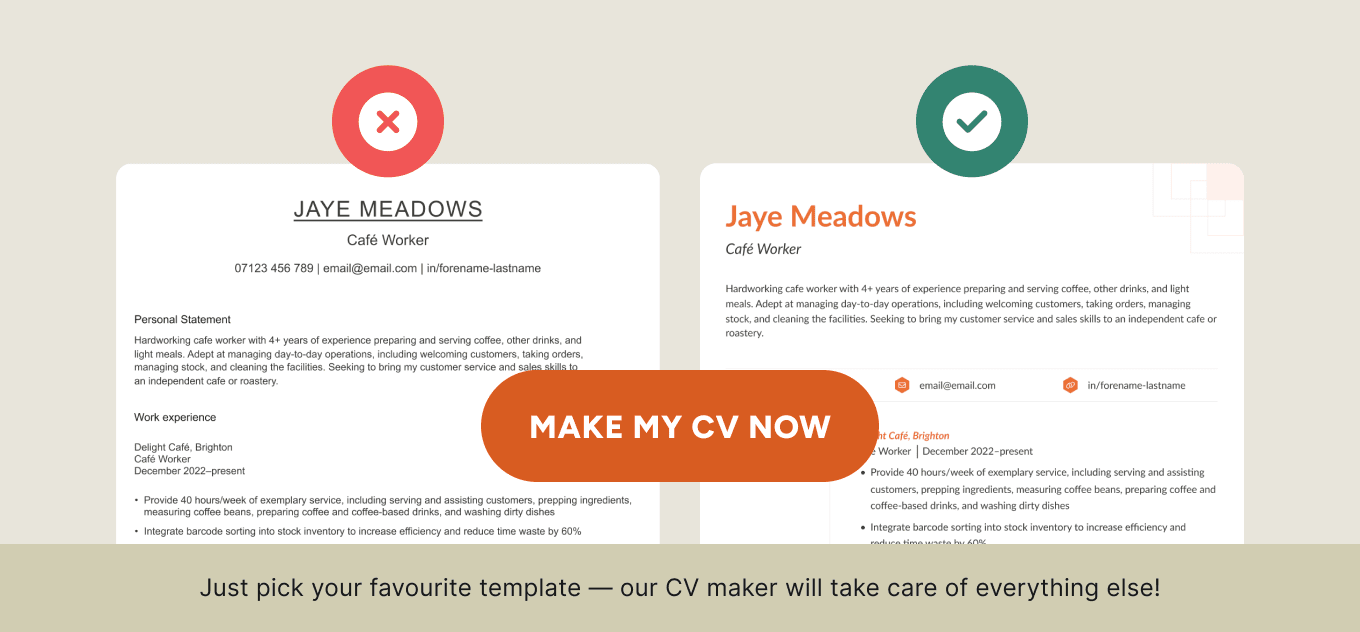 1. Your contact information
The purpose of your CV is to convince employers to interview you for the role you want. So make it easy for employers to reach you to schedule an interview by putting your contact details at the top of your CV.
Here's the contact information your CV should always include:
your name
a professional email address (your name and/or job title rather than an address that makes you look silly, like 'boofsgoofs473@yahoo.com')
your mobile phone number
Optionally, also put these contact details on your CV:
your postal address (if you don't want to put your whole address on a CV, you can just add your general area)
your LinkedIn
2. A job-specific personal statement
When you're learning how to write a good CV, figuring out how to get your personal statement right is key. Positioned at the top of your CV, this section (also called a CV profile) should get the employer's attention with your most job-specific experience, achievements, and skills.
So study the job advert and research the company to learn what details to highlight in this 3–4 sentence summary.
Here's an example of a CV personal statement customised for a company seeking a 'creative social media manager' capable of 'enhancing audience engagement':
3. Relevant experience
If you have some, relevant work experience is the most important information to include on your CV. Employers prefer to bring on experienced new team members who've done the job before. So fill your CV's work experience section with proof that you've mastered your craft by:
giving examples of your skills in action
adding hard numbers to show what you can accomplish
This work experience bullet point uses examples and hard numbers to show the recruiter that the applicant is qualified for the role they're applying to fill:
Optimised TikTok campaign performance by creating social media feedback surveys and research on market trends to boost platform engagement by 57%
4. Your education history
Employers want to know what level of education you've received. So put these details (if applicable) in your CV's education section:
university names, locations, and dates attended
degree titles (including honours)
relevant modules studied
secondary school names, locations, and dates attended
A-Levels & T-Levels
GCSEs
5. A list of job-specific skills
Putting a bulleted list of skills on your CV shouldn't be an afterthought. Make this section matter by:
researching the company to determine which of your skills will be most impressive to the recruiting manager
providing specific examples of your relevant expertise (names of software programs, for instance)
only listing skills directly related to the role you want
This is a well-written CV skills section:
Graphic design: Figma, Adobe Suite (Illustrator, InDesign, Photoshop), Canva, Procreate
Platforms, tools, and analytics: Google Analytics, Hootsuite, BuzzSumo, Live Writing, KISS Metrics, WordPress, Bit.ly
PR tools: Help A Reporter Out (HARO), PRWeb, PitchEngine
6. Optional extra sections
You can create extra sections for any other relevant information you want your target employer to notice on your CV, such as:
The additional information you should put on your CV depends on your situation and industry. For example, if you're writing an academic CV, you might include sections for your publications, classes taught, and conferences attended.
Other good things to put in your CV
In addition to placing the right sections on your CV, ensure you put some thought into your CV's layout and language, including the following:
Keywords from the job advert – Include exact terms and phrases from the job description to emphasise your suitability for the specific role.
Unique action verbs – Describe your work experience with powerful action verbs like 'established' and 'initiated'.
Proper spacing – Use 1.27–2.5 cm margins and 1–1.5 line spacing to ensure your CV is easy to read.
Professional fonts – Your CV's font should be easy to read too (Arial or Georgia are good options).
What not to include in a CV
We've discussed everything that goes on a CV, but is there anything you shouldn't put on your CV? Absolutely.
Below are five things to leave off your CV:
Cliches: Overused words make your application seem generic, so change phrases like 'responsible for' and 'detail oriented' to attention-grabbing CV words like 'trusted with' and 'meticulous'.
Irrelevant information: Even if you're proud of an achievement or skill, if it's not relevant to your target role, it won't connect with the person who reads your CV.
References: Adding references to your CV takes up space where you should put details that relate your background to the job (the employer will ask for references later in the hiring process).
Your picture: Putting your picture on your CV opens you up to possible discrimination based on your appearance. (However, you can use a CV template with a photo if you're applying for a job that requires you to send a professional headshot as part of your application — an acting role, for instance.)
Overly personal details: Your relationship status, age, race, and gender are examples of personal details to leave off your CV to avoid hiring bias.
Frequently asked questions about what goes on a CV
Still unsure what you should include in your CV for a job in the UK? We've answered these three common questions about CV content:
1. What do you include in a CV for a 16-year-old?
If you're writing a CV as a teenager, you probably don't have much experience to highlight. But that doesn't mean you should only look for jobs that don't require work experience. You can still write a job-winning CV by connecting the following information to the role you want:
Put your information in the following CV sections:
CV header (for your name and contact information)
An 'About Me' section
Key skills
Education
Experience
Hobbies and interests
2. What do you include in a resume?
A resume is what people in the US and Canada call a CV. So if you're writing a resume, include the same sections you'd put on your CV, with some slight differences:
A header with your name and contact information
A resume summary (typically called a personal statement on a CV)
Work experience
Education
Skills
Another difference between a resume and a CV is their length. Your resume should be just one page, instead of the customary two pages required for a CV. So there's typically not space for your CV's hobbies and interests section.
3. What do you include in a video CV?
Here's what you should include in a video CV:
an introduction with your name and job title
the reason you're applying (mentioning the specific company and role, if possible)
your relevant job history and education details
examples of your work (either visuals or stated in your script)
a request for an interview
a thank you to the employer for taking time to watch your video
More answers to your CV-related questions
Below are expert answers to 8 more common questions about what to include in a CV: