Video CVs add a creative twist to your job application by revealing aspects of your personality and qualifications that a traditional CV won't show.
But knowing how and when to make a professional CV video is important because not all companies will appreciate them. Keep reading to discover:
What is a video CV?
A video CV is a short recording that introduces your job-specific qualifications to employers, like this:
Filming a video CV with your phone, webcam, or camera provides employers with a few minutes of valuable information about the relevant experience and skills you'd bring to their company.
Whether you're using professional equipment or making a simple TikTok CV with your phone, an effective video CV can help you:
speak directly to a recruiter and explain why you're a top candidate
show your technical know-how (such as using animations or video editing to enhance your video CV)
demonstrate your soft skill set (for example, your presentation and communication abilities are valuable skills to emphasise on your CV)
reveal more of your character and show employers you'd be a good cultural fit
Remember that your traditional CV and cover letter are still the most important parts of your application, so consider your video CV an enhancement to your job application, not a replacement.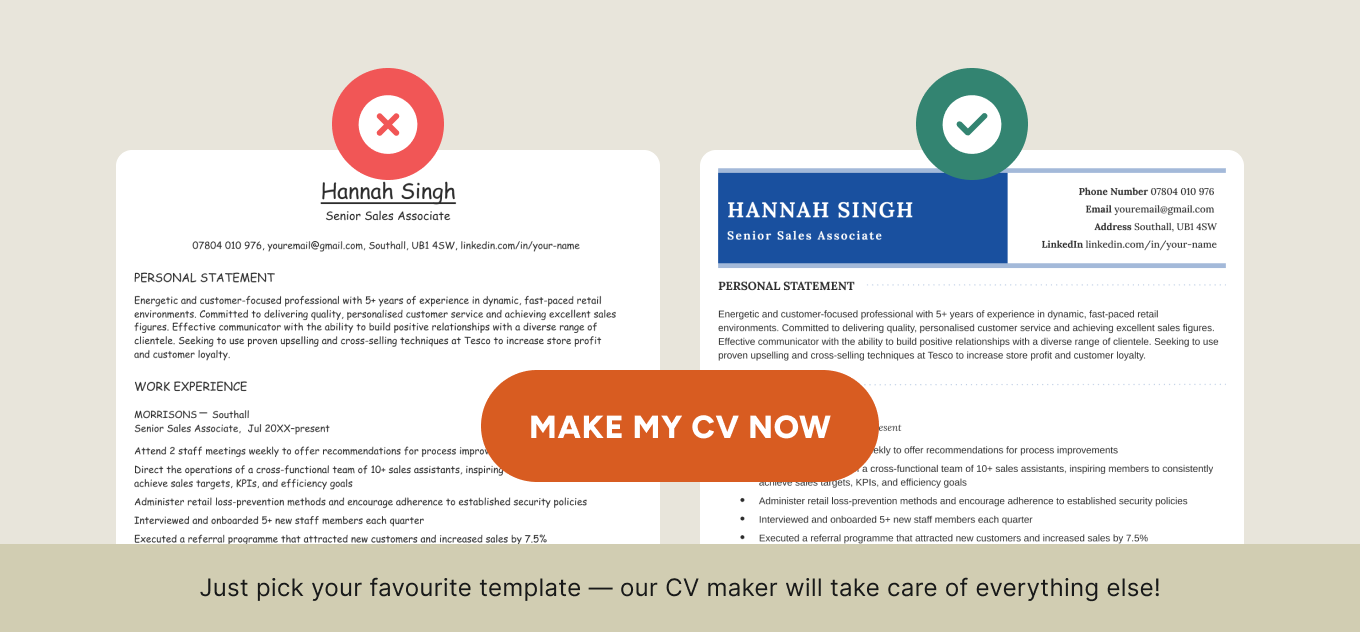 When should you make a video CV?
You should make a video CV when a company specifically asks for one. Additionally, this CV format is ideal if you want to highlight your creativity, filming and editing skills, or ability to present information to others.
Including a video CV with your application is also a good option if you:
don't have much work experience and want to highlight other skills and accomplishments instead
are applying for jobs in a different country (so employers abroad have a better sense of what you'd be like to work with and your modern foreign language skills if that country uses a different language)
want to stand out in a job opening with many applicants
However, a video CV isn't suitable for every position. For instance, traditional companies with a formal hiring process might find a video CV inappropriate or unprofessional, so you should write a traditional CV — or make one quickly with an online CV creator.
Also, some companies actively avoid discriminating against an applicant's age, gender, or race. In some cases, an employer might discard your job application if it contains a video CV that reveals your demographic information.
So ensure the company you're applying to accepts video CVs by closely reviewing the job advert requirements or by asking the recruiter or HR manager directly.
Additionally, research your target company's website, values, and social media platforms beforehand to see how open they are to nontraditional job applications.
How to make a video CV in 5 steps
Ready to produce an impressive video CV showcasing your personality and top skills in action?
Below are 5 steps for creating a video CV that leaves a lasting impression on employers:
1. Decide what your message will be
Creating a video CV can seem challenging at first, but taking some time to define your key message will simplify the process.
Understanding why you're creating a video CV gives you a clear direction to follow as you're brainstorming ideas.
So try answering these questions to identify your video CV's message:
What are the job requirements?
What tone (e.g., casual and conversational, or professional and formal) do you want to portray in your video CV?
What strengths or qualifications do you want to emphasise?
Do you want to include additional elements (e.g., a portfolio, projects, testimonials from previous managers, a mock interview) in your video?
Making a list of ideas will help you determine the message that'll boost your video job application.
2. Choose the best format
Using a format that successfully delivers the message of your video CV is important.
Here are some video CV format ideas that can highlight your strengths:
Narration (speaking directly to the camera)
Interview (playing both the role of an interviewer and interviewee or asking someone else to interview you)
Project showcase (emphasising your previous work)
Combination (mixing different formats can be effective, but be careful not to make the video too cluttered)
3. Write a brief and informative video script
Preparing a script is a great way to keep your video CV structured and concise. Because employers have limited time and other applications to look through, we recommend keeping your video between 60 and 120 seconds.
Planning what you'll say keeps you on track and ensures your video CV contains a clear introduction, an explanation of your top qualifications, and a conclusion.
Let's dive into each section:
Produce a compelling video CV script introduction
Your video CV's introduction should be concise while clearly stating your full name, area of expertise, and work goals. You can also quickly explain where you're from, where you went to uni, and what your interests are.
If you're tailoring your video CV to a specific company, explain why you want to work for them here. And if you're applying to several jobs at once, summarise your reasons behind applying for a role in your target industry and why you'd be a great fit.
Include your top qualifications in your video CV script
The qualifications section of your video CV is your biggest selling point because it's where you tell employers what makes you a star candidate and why they should hire you.
Here are some key elements to include in this part of your script:
relevant work experience
key achievements
awards
education
technical skills
selected work from your portfolio
infographics
CV references from managers/tutors
links to your portfolio, LinkedIn profile, or other social media accounts
Remember to treat your video CV like a real interview and ensure you're presenting your most professional self. So avoid adding these aspects to your video CV:
personal information that isn't relevant to the job
negative information about yourself or your work
false information
swearing or inappropriate language
End your video CV script with a smooth conclusion
Close out your video CV by reiterating why a company should hire you and how you can help them.
Add contact information such as your email and phone number, and thank the viewer for their time.
3. Record your video in a professional environment
Before filming a video CV, set up a professional environment so that your recording looks and sounds its best.
Follow these tips to help you record a great video CV:
Video CV recording guidelines
Rehearse your video CV script. Practise before recording your CV video so you look and sound confident.
Dress professionally. Ensure you look neat and professional as you're recording. Even if your target company's culture is laid-back, you should err on the side of caution and wear professional, neutral-coloured clothing (e.g., a collared shirt or blazer) to show employers you're a professional candidate.
Find appropriate lighting. Film in a well-lit area with a neutral background so employers can focus on you and what you're saying. Natural lighting works best but you can also use an affordable ring light to brighten up your environment.
Use a quality camera. Investing in an expensive camera isn't necessary as long as your smartphone or laptop camera isn't grainy or out of focus. If you don't have a decent camera on hand, try asking a friend if you can use theirs.
Eliminate distractions and noise. Employers will notice if your audio quality is poor or if there are background noises in your video CV. So find a quiet place, speak clearly to the camera, and ensure any music you use is at a level that doesn't drown out your voice.
Reshoot your video CV a few times. Shooting good video CVs takes practice. Don't be afraid to do multiple takes while filming until you're happy with it and have enough footage to work with.
4. Edit your video CV
After recording your video CV, it's time to edit it to perfection by removing any:
mistakes you made
pauses
filler words
You should also ensure the video is the correct length and flows smoothly. Also, take this time to include visual elements such as infographics, text and overlays, and cutaways to make your video CV stand out.
If you're unsure how to edit a video CV, there are many free online resources (e.g., InVideo) that can help you.
5. Get someone to review your video CV before submitting it
Ask someone you trust to watch your video and give you some feedback before you submit it to employers.
Getting another opinion can help you adjust your video CV so your final product is concise and engaging.
7 excellent video CV examples
Just as checking out CV examples can inspire when writing a text-based CV, watching video CVs on YouTube and TikTok is a great way to get ideas for creating a high-quality video CV of your own.
We've compiled our favourite video CVs below, with explanations of why they're so effective:
1. The modern and digitally savvy video CV
Our recent graduate Kirsten proves she's a true digital native by providing her target employers with a high-quality TikTok CV that concisely describes her best education, accomplishments, and job-specific skills in just 46 seconds.
Kirsten uses the free tool Canva and a built-in green screen on TikTok to add a dynamic background and eye-catching icons, so whoever watches her video CV stays engaged throughout.
Overall, she does a great job sharing her story of how she got started coding and where she's at now as a work-ready software developer.
2. The crisp and straightforward CV video
In 58 seconds, Ramona Valiukaitė's self-introduction provides employers with a solid understanding of her education and previous work history.
Ramona wears formal clothing for her video CV and uses a straight camera angle to look directly at the viewer. She also uses text on the side of her video CV to highlight job-specific personality traits that make her a top candidate.
And although Ramona lists several of her abilities (e.g., information technology (IT) skills, basic bookkeeping, managerial skills), we'd recommend expanding on these skills by providing examples using hard numbers or achievements to provide specific evidence of how she's benefited her previous companies.
3. The detailed and accomplishment-oriented video CV
Arthur Coppens's video CV uses sound effects and visuals to stand out among other applicants and keep employers engaged.
As a recent graduate, he begins by describing his education and internships which tell employers he's learnt many technical skills in the last few years. Then, Arthur lists his top skills and how he mastered the software he uses to create new products, logos, and magazines.
Additionally, he presents his most impressive visual design work by quantifying his accomplishments using hard numbers and placing these words and figures strategically throughout his shots.
4. The visually creative and personable CV video
Even though we don't hear Cristina Castro's voice, her video CV speaks loudly through effective stop motion, subtle background music, and colourful graphics she strategically places in each scene.
Cristina begins by introducing her language skills and experience as a translator. Then, she uses handmade signs and photographs to give her video CV a cheerful tone while describing her education details, skills, and previous work experience.
In two minutes and 16 seconds, Cristina shows employers she's highly qualified, artistic, and ready to succeed in the travel industry.
5. The fast-paced and impactful video CV
This applicant's video CV is a good example of how recording your face and voice isn't always necessary. Kristiyan Despodov uses exciting music and concise language, and his message is clear from the start: he wants to make employers feel impressed.
Kristiyan switches between a black and white background to keep his viewers' attention. He also provides several examples of his design work and mentions the software he's experienced with.
Finally, Kristiyan ends his video clip with a clear call to action by inviting viewers to look at more of his portfolio work on Behance.
6. The text-rich and informative CV video
Josep Arroyo uses stop motion and text to create his video CV. He immediately lists his personality traits so employers will understand what type of applicant he is and how his key technical skills (e.g., music production, web design, and e-commerce) make him a versatile candidate.
Josep also directly answers valuable questions employers have, including why they should hire him and exactly what he can offer their company.
Best of all, Josep provides two specific examples of his key achievements for each role and uses powerful action verbs to begin each statement.
7. The basic video CV
When companies request a brief video CV in their job adverts, they aren't expecting a full-blown production with fancy graphics and artsy edits. So usually you can simply open your webcam, make sure the picture is clear, and hit Record after practising what you want to say.
Rose's video is a good example of how to make a basic video CV. Her video is simple but effective because it includes:
a brief introduction
the exact job she wants
a list of her relevant experiences
the reason she's applying (she enjoys customer service)
an explanation of how she can contribute (she's a dedicated worker and a fast learner)
a polite sign-off that thanks the watcher and requests an interview
Our main critique is that Rose could've reshot her video to correct a slight stumble over her words near the end.
Video CV script writing tips and example
Rehearse your video script to appear confident and professional.
Unsure how to start your video script? Don't worry. Use these 3 steps as a quick guide to writing a compelling video CV script:
Introduce yourself and your education details
Talk about your skills and qualifications using accomplishments and hard numbers
Invite the employer to contact you or view your additional profiles
Look at our recent graduate's concise video CV script that follows the above criteria:
120-second long video CV script from a recent graduate
Hello, I'm Max Bridgers and I'm a recent graduate from Newcastle University with a first-class honours degree in English. I also received the School of English Language prize.
My degree taught me the importance of communicating with different audiences, time management, and creativity. I'm interested in a role with Beesknees Media because of its focus on current lifestyle trends and inclusivity for all.
I spent two years working as a football commentator for Alan March Sport (AMS), including presenting at 7 pre-season and 3 cup games. Thats where I honed my ability to speak with conviction and learnt how to think on the spot.
I also spent three months as a Media Relations intern for Pumbly Health and provided 100+ pieces of static and video content for four social media platforms, including Instagram, TikTok, Pinterest, and YouTube. Even though it was a short time, I grew our following to over 2K subscribers for each platform.
I'd love to contribute positively to [Company Name] and speak more through an interview. You can reach me by email or phone.
I look forward to hearing from you soon, thank you.
Frequently asked questions about CV videos
Still have questions about how to make a video CV? Here are answers to 3 of the most common questions applicants have:
1. Why is a CV video important?
A CV video is important because it gives employers a taste of your personality to help them decide whether to interview you.
So if you send a video CV, present yourself as personable and qualified to make the best impression possible.
2. How do you make a creative video CV?
To make a creative video CV, you can add visual elements like:
graphics
images
video clips
animated text
sound effects
music
Just be careful when adding creative elements to your CV video. If graphics and sound effects aren't mixed in naturally, they can highlight your lack of technical expertise and distract from the main point of your CV — explaining why you're the best candidate for the job.