'Must have strong time management skills.'
You've seen it in a hundred job ads. You know that employers love to see time management skills on a CV.
But what do employers mean when they say time management skills? What specifically are they looking for?
More importantly, how can you convince them that you've got great time management skills?
In this article, we'll cover:
Clock's tickin'. Let's get started.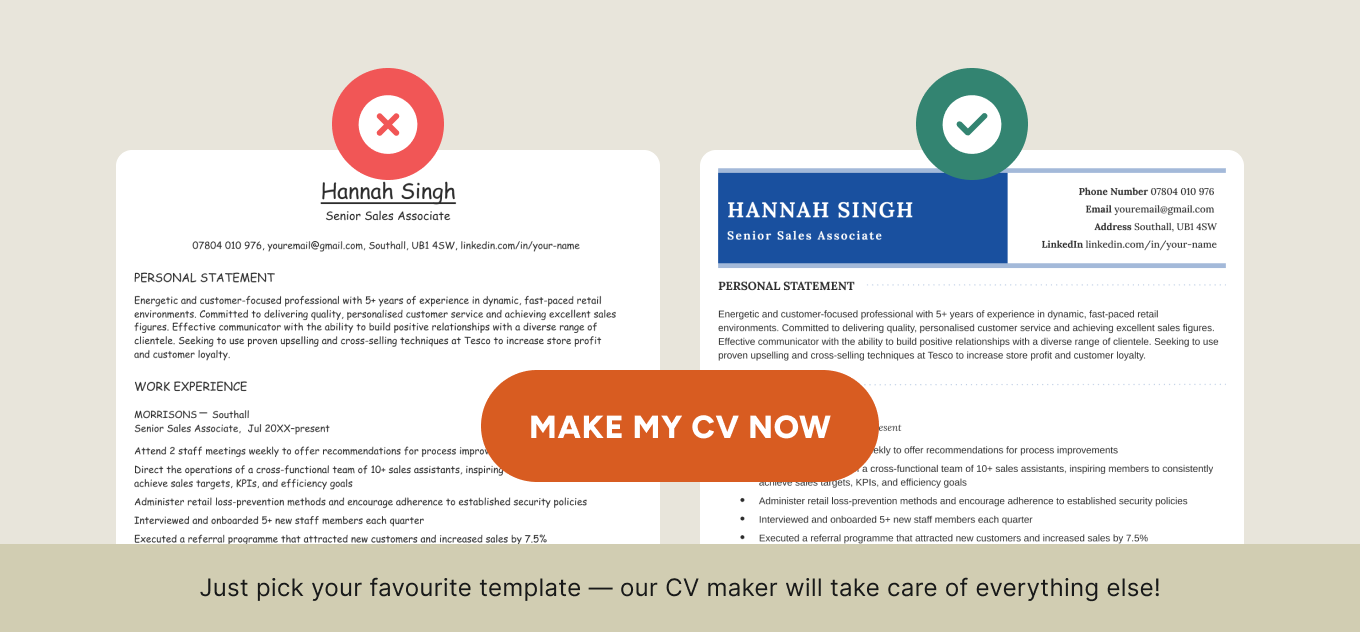 What is time management, and why is it important?
Time management is the ability to use your time wisely, keep deadlines, and ensure that your effort and energy go towards the projects that need them most.
Time management is an important part of every job, and so it's a transferable skill that every employer appreciates. Having good time management means you can be trusted to work independently and complete tasks on time and to a high standard.
But because the applications of time management are so broad, good time management can look very different in different industries. A journalist and an environmental scientist need very different time management skills to manage their time well.
12 time management skills examples
Effective time management starts with having the right skills for handling workflows, dealing with stress, and remaining focused.
Here are 12 examples of skills that support great time management, regardless of your profession:
1. Scheduling
Scheduling is as much an organisational skill as it is a time management skill. Proficient schedulers are adept at finding a time and a place for each task they need to tackle, whether it's a routine responsibility or a cross-functional project.
To convince an employer of your scheduling skills, show them how you've organised previous task flows or juggled multiple responsibilities.
This answer to a job interview question for a copywriting job is a great example:
2. Prioritisation
Time management is about spending your time wisely, and prioritisation is key to that effort. By tackling the 'must-haves' first and leaving the 'nice-to-haves' until later, you can achieve better productivity, goal achievement, and workplace wellbeing, even during crunch periods.
Being a great prioritiser makes you more reliable and is a sign of a strong work ethic. Employers love to see proof of prioritisation skills on a CV, regardless of the profession they're hiring for.
Demonstrating prioritisation skills on your CV
Managed magazine's food and drink and shopping sections, ensuring the upload of 2-4 time-relevant daily articles while producing 2 monthly special features
Oversaw print cover shoots, ensuring every issue had unique photo content while working within tight time and budget constraints
3. Delegation
No one can handle it all. Whether you're in a management position or work in a high-pressure role, there will inevitably be times that you have to pass over responsibility to someone else to make sure work is completed on time and to a satisfactory standard.
Delegation is the ability to strategically assign tasks to other people while remaining responsible for the work they put out.
Strong delegators don't just offload tasks on the nearest available employee, though. Delegation involves identifying the right individuals, communicating expectations clearly, and trusting them to make the right decisions — that's why most delegators also happen to possess strong leadership skills.
Here's how to demonstrate delegation skills in your work experience section:
Managed a team of 18 customer service reps, monitoring performance, providing regular one-on-one feedback, and dividing tasks to ensure goals were met
4. Chunking
'Chunking' might receive a raised eyebrow from the employer if you simply throw it in under your CV key skills section. However, this productivity hack is highly effective at speeding up your processes and boosting your output.
Chunking is an approach to work where you group your work by type and do similar tasks together.
For example, if you're a sales representative, you might dedicate a time slot to carrying out market research for several different accounts while setting aside time elsewhere in the week to focus on updating customer records.
By focusing on similar tasks at the same time, you save yourself the mental energy of switching between different types of work, allowing you to accomplish more in a shorter time span.
Here's how you might talk about chunking in a job interview:
5. Stress management
Stress is a huge obstacle to time management and productivity — one that many of us encounter.
According to Gallup, 39% of workers in the UK and Europe say that they experience daily stress at work, and that's in on-site and remote jobs. An employee who knows how to manage stress in the workplace is able to lessen its impact and improve their day-to-day well-being, making them more engaged and more likely to remain with their employer long-term.
6. Accountability
Your ability to keep and respect deadlines is essential to your time management skills, and that's why accountability is so important. An employee who takes ownership of their actions is an employee who can be trusted, so hiring managers will see it as a big plus if you're able to demonstrate your accountability in your job application.
That said, you prove accountability through experience. So highlight this quality by outlining examples of perseverance in your CV or cover letter:
Showing accountability in a cover letter
As store manager of QG Devices' Leicester store, I was praised for the accountable approach I took toward inventory and shift management. I ensured that goods were delivered, offloaded, and stocked before store opening every morning, and thorough and consistent records of orders and sales. I also made sure that employee shifts were managed fairly and equitably so the store's sales representatives were better equipped to deliver excellent customer experiences.
7. Procrastination management
'Procrastination' is not really a word you want to put anywhere on your CV or cover letter. But convey that you're ready to take on daunting or high-stakes projects and hiring employers will place more trust in you as a candidate.
To demonstrate your procrastination management skills in a job application, outline your approach to high-demand projects and responsibilities in your cover letter or work experience section. Here's an example:
Showing accountability in a work experience section
Managed high-stakes workflow for a multimillion-pound client project, ensuring seamless coordination and timely delivery of critical milestones
8. Task management software
Although time management is associated primarily with soft skills, knowledge of certain hard skills (skills that you learn to do specific work) supports better time management and productivity. Particularly for roles like administrative assistant or project manager, task management software on your CV conveys strong organisational and teamwork skills to the employer.
Some examples of task management software for your CV include:
9. Time auditing
Time auditing is the practice of logging and reviewing how you spend your time at the office so you work more efficiently. It often involves documenting your working habits over a set period of time and noting down how long each activity takes you. This process allows you to identify where the bulk of your time is being spent and where you could work more efficiently.
You can highlight your time auditing skills during your job interview. Here's an example of how to do so while talking about your strengths and weaknesses:
The job interview is a great time to mention time auditing skills.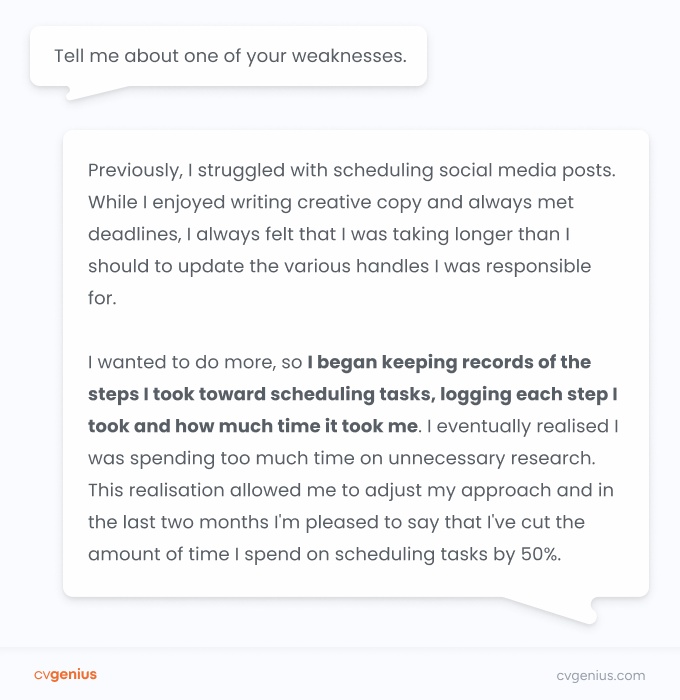 10. Self-motivation
Being good at time management isn't just about having strong organisation skills and creating a robust plan of action. It's also about sticking to that plan, even when your attention starts to drift.
While self-motivation might be a tricky skill to express on a CV, it's essential for consistently tackling your taskload and meeting deadlines.
One way to show self-motivation on your CV is emphasise your enthusiasm for the role you're applying for and present a clear career arc that shows you're serious about the work you do:
Example of emphasising self-motivation in a personal statement
Results-driven UI designer with 7 years of experience creating beautiful and intuitive pages for a variety of B2C companies. Since graduating with a first-class honours in Product Design from Loughborough University, I've worked freelance and in-house for clients in diverse industries across the UK and abroad and am sought after for my success in transforming requirements into gorgeous digital experiences that resonate with target audiences.
11. Opportunity management
Most of us find ourselves juggling multiple roles, responsibilities, and deadlines at work, and when this happens, you often can't dedicate a whole working day to completing a single task.
Opportunity management (aka 'taking the path of least resistance') is about finding the simplest route to a solution, and it's immensely useful for managing both routine tasks and larger more poorly defined work (for example, initial research into a new project).
Example of opportunity management in the workplace
Results-driven UI designer with 7 years of experience creating beautiful and intuitive pages for a variety of B2C companies. Since graduating with a first-class honours in Product Design from Loughborough University, I've worked freelance and in-house for clients in diverse industries across the UK and abroad and am sought after for my success in transforming requirements into gorgeous digital experiences that resonate with target audiences.
12. Project realism
You might also know it as 'not burning yourself out.'
Project realism is about understanding what you can realistically achieve within a given time-span. Because while every employer loves enthusiasm, few of them appreciate a worker who overextends themself and frequently misses deadlines.
Here's what project realism looks like in a work experience bullet point:
Recognised for my ability to report on 5+ stories daily, consistently being among the first to report on breaking news topics
How to develop good time management skills
You shouldn't only think of your time management skills when you write your CV. Consistently working on your time management skills can put you on the pathway to better workplace well-being, improved performance, and leadership opportunities.
Here are a few ways you can improve your time management skills and reap those benefits:
Tip 1: Start setting SMART Goals
You're more likely to achieve your objectives when you have a clear idea of what you want to achieve. SMART goals are:
Specific: clear and well-defined
Measurable: easily tracked using numbers or key performance indicators
Achievable: not so far out of reach that they're unattainable
Relevant: they serve your overall objectives and values
Time-bound: you have a timeline or deadline for the goal
Planning SMARTly will help you set goals that are clear, reasonable, and support your priorities — and help you avoid the 'some-day syndrome' (because if you're going to do something 'some day' you'll never get round to it.
Tip 2: Tap into your power hour
Maybe you work better first thing in the morning, maybe you're great at pulling an all-nighter.
Identify when you tend to be more focused and save that slot in your day for periods of deep focus where you work on more difficult tasks that require greater amounts of drive and determination.
Tip 3: Stop multitasking
Multitasking might seem like a clever way to quickly knock several items off your task list, but it's widely reported to up stress, squash creativity, and ruin time management. A few years ago one Psychology Today study found that multitasking can cut productivity by 40%.
Part of the problem is you're not actually doing multiple tasks at the same time — you're actually just switching quickly between jobs. When we switch tasks, our brains experience a tiny delay as they refocus on new information, and when you focus and refocus, these delays start to snowball.
This said, sustaining focus for an entire day is also difficult to achieve. Rather than try to railroad through a task, dedicate blocks of time in your day to focusing on one priority task. Doubling down on one job for a bit can help you achieve better concentration, productivity, and time management.
Frequently asked questions about time management skills
Still struggling with time management skills? Here are the answers to three common questions you may still be asking yourself:
1. What are the four skills needed for effective time management?
Four of the core skills for effective time management are planning, prioritisation, communication, and accountability:
Planning enables you to establish how you're going to complete a project, the steps you're going to take, and how you'll approach them
Prioritisation helps you view your goals in terms of their urgency and how closely they align with your overall goals and values
Communication keeps all project stakeholders informed and allows you to adjust your processes in response to changes or problems
Accountability encourages you to stick to your deadlines, making you a more trustworthy team member
2. How do you say I am good at time management?
There are many ways you can say that you're good at time management. Here are a couple of CV examples:
Showing time management in your personal statement:
Product Manager with 5 years of experience in AI solutions and optimisation tools. Experience working in high-intensity startup environments developing competitive design concepts and testing them with stakeholders within tight deadlines. Seeking to develop bespoke data-driven solutions as the next Senior Product Manager at Ammo Tech.
Highlighting time management skills in your work experience section:
Managed overall flow of 20+ customer projects from start to completion, completing all within time and on budget
Monitored overall progress, following up with teams across the company and reporting back
Sent weekly status reports to customers, ensuring detailed status reports were released every Monday afternoon
3. Is good time management a strength?
Good time management is definitely a strength — and one that will impress the employer if you can demonstrate it effectively when you write your cover letter and CV.
Why do employers love to see strong time management skills in a job application? Time management signals that you'd be a reliable and productive hire with a strong work ethic.