Personal details on a CV
Adding personal details on CVs is important as it lets employers know who you are and how to reach you to schedule an interview. So put your personal information — name, phone, email, address, and LinkedIn — at the top of your CV.
Here's an example of personal details on a CV:
You can download the CV example above and add your details, or keep scrolling to learn everything you need to know about what personal information to include on your CV, as well as what private details to leave off your CV.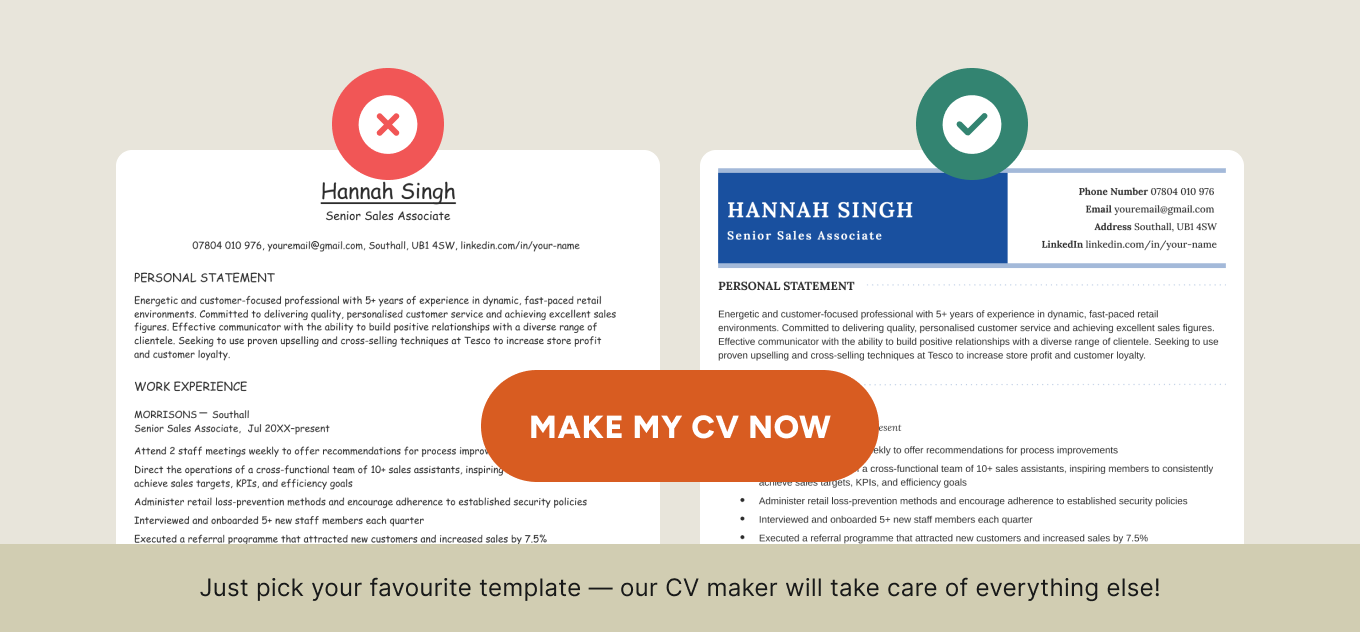 Put these personal details on CVs
The only personal details on your CV should be your:
1. Name
There's a chance that another applicant for your target job will use the same CV template you do. But adding your name to the top ensures that your application is still unique. Also, adding your name lets employers know how to address you when they reach out to schedule an interview.
So use your name to start your CV, using extra large, bold text to make it stand out, like this:
2. Phone number
Putting your phone number on your CV is simple. Just keep these tips in mind:
Don't list your work number (if you do, your employer may find out you're planning to leave)
Don't add multiple numbers (keep it simple for the recruiting manager)
Use the standard format (07123-456-789)
Add your country code if you're applying to work abroad (for a UK number, +44 7123-456-789)
3. Email
The email address you list on your CV should be:
your personal address (your current employer may have access to your work emails)
professional (a silly handle like 'scouserroyalty123@gmail.com' will make you appear unprofessional)
4. Address
You don't have to put your full address on your CV, but letting employers know that you're in their region by at least listing your town is a good idea — especially if you're applying for in-office work.
If you do list your full address, save space by writing it on one line. For example:
42 Blue Road, Colchester, CO1 1AP
5. Optional extra information
Depending on your target job's requirements, there are extra personal details you can put on your CV. For example, if you're a driver, you should include your driving licence information.
Other optional information to put on your CV includes personal details like your:
social media profiles (LinkedIn, X, etc.)
website
portfolio
GitHub
Don't add this personal information on CVs
If you add too many personal details on your CV, you could open yourself up to discrimination by employers. In fact, some employers immediately bin applications that include too much personal information to avoid biased hiring.
So when you write your CV, don't include your:
date of birth
nationality
gender
sexual orientation
photograph
relationship status
family details (for example, whether you have children or not)
political affiliation
Whenever possible, avoid revealing the above details in any section of your CV.
For example, if you worked in politics, instead of listing what party you were affiliated with, use general descriptions. For example, rather than stating the name of the Member of Parliament you worked for, just say 'worked for an MP'.
However, if you're applying for a role that requires you to be connected to a certain political party, emphasise your relevant political activites on your CV.
There are other special situations when you can put some of the above information on your CV, which we cover in the first FAQ answer below.
Frequently asked questions about CV personal information
Still unclear about what personal details belong on your CV? Here are answers to three of the most common questions about this topic:
1. Is it ever okay to include extra personal information on my CV?
There are certain lines of work or types of CVs that do require additional personal details. For instance, if you're writing a:
resume for work in India, you'll include a personal profile with your date of birth, gender, nationality, and photo
marriage CV (also called a marriage biodata), you'll fill it with personal details, from your eye colour to your expectations for a potential partner
CV for acting or modelling work, you should include a photo and physical attributes (height, weight, etc.)
2. What's the difference between a personal statement and personal details on my CV?
A CV personal statement is a short paragraph that summarises your CV. It should be focused on your experience (work, voluntary, or internship), education, and skills. This section is sometimes called a CV summary to avoid confusion.
Personal details on CVs are your name and contact information.
3. Is it safe to answer equal opportunities questions?
Many employers include optional equal opportunities questionnaires as part of their job applications. Whether or not you choose to answer the questions shouldn't affect your chances of landing a job interview.
Keep in mind that employers are legally prohibited from discriminating against applicants based on their race, religion, gender, sexual orientation, and other identifying characteristics. However, employers are allowed to view applicants with protected characteristics more favourably than those with similar qualifications but no protected status.
So if you feel uncomfortable answering demographic questions, skip that part of the application. Or research the company to get a better read on their hiring practices.