Curious about what different hobbies and interests say about you? In this video, Career Expert Seb breaks down the types of leisure activities you should put on a CV:
Hobbies and interests is an optional section that appears last on a properly structured CV.
Its purpose is to give employers an understanding of who you are beyond your work experience, skills, and education.
If it's well written, your hobbies and interests section can be the deciding factor in helping you land a job interview. If it's poorly written, it's dead space.
Take a look at this hobbies and interests example from a graphic designer CV.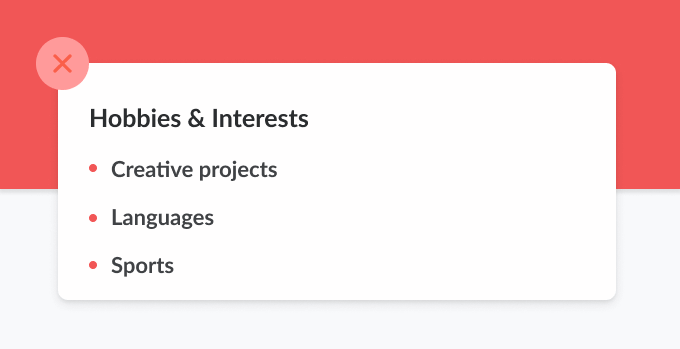 Creative projects, languages, and sports can be interesting. But listed out like this, they don't tell us much about the applicant.
Meanwhile, this hobbies and interests section gives us a vivid picture of the person behind the CV: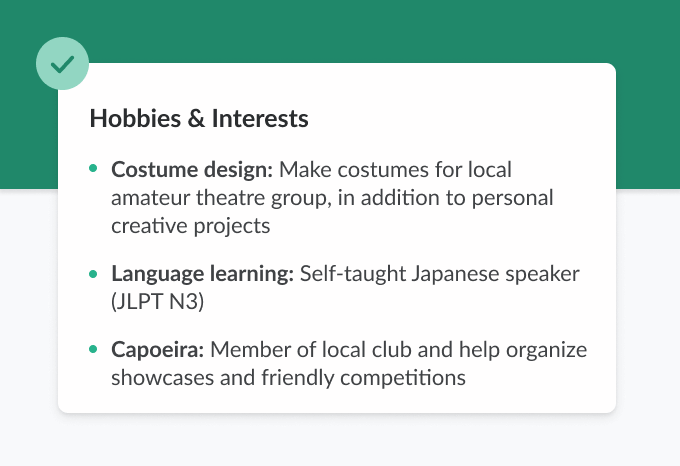 Employers look at your hobbies and interests section to get a better idea of who you are and whether you'll be a good fit for the company culture.
As a result, your hobbies and interests might sometimes even determine the success of your application, especially if you're applying for a competitive role or are similarly qualified to another applicant.
In this article, we'll show you how to write a hobbies and interest section that gets the employer's attention and gives your CV a more competitive edge.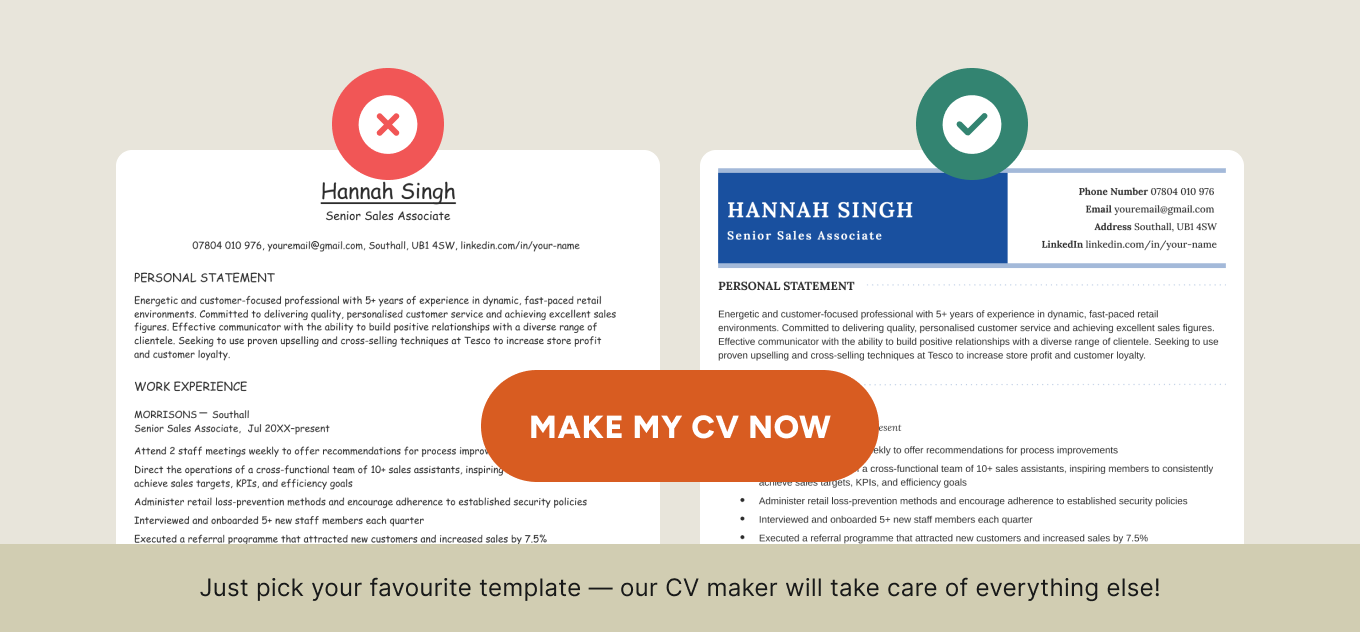 What are the best hobbies and interests to put on your CV?
The best (and only) hobbies and interests to put on your CV should be relevant to your target job and highlight your key skills.
Which hobbies and interests you choose for your CV tells the employee much more than what you like to do in your free time. Often, they indicate important soft skills (personality-related traits) that you could bring to the company.
Here are some ways you can showcase your soft skills through your list of hobbies and interests: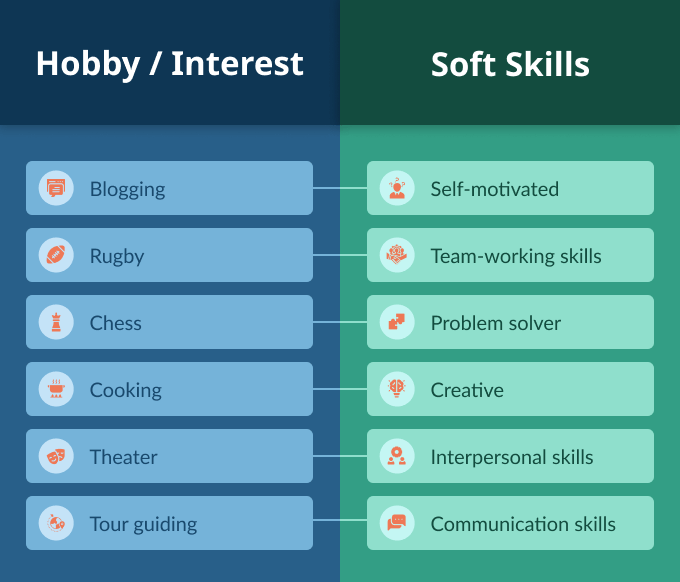 Examples of hobbies and interests for any CV
Here are some more hobbies and interests that impress employers in any industry:
Gardening: Responsibility, patience
Playing music: Spatial intelligence, memory
Crossword puzzles/word games: Problem solving, verbal skills
Sudoku/number games: Analytics, data management
Blogging: Written communication, initiative
Cooking/baking: Ability to follow instructions
Hiking/biking: Physical fitness
Art: Creativity, innovation
Attractive hobbies and interests by industry
The best hobbies and interests for your CV will differ depending on the kind of work you want to do.
Here are the best hobbies and interests to show employers in seven specific industries.
Strategy/puzzle video games
Fantasy sports leagues
Geocaching
Golfing
These hobbies and interests work because they highlight your analytical, networking, and presentation skills, which are highly valuable in the business and finance fields.
Robotics and AI
Attending tech exhibitions
Keeping up with tech news
Website design
3D printing
Listing the above hobbies and interests on your CV shows the employer that your interest in tech extends beyond your day job.
Creating memes
Social media
Standup comedy
Participating in arts and craft fairs
SEO
These hobbies and interests indicate that you're the creative, industrious, and personable employee that sales and marketing employers need to promote their products.
Arts and crafts
Reading
Travelling
Learning about various cultures
Child psychology
Listing these hobbies and interests shows employers that you have the public speaking skills and thirst for knowledge that make you a great teacher.
Exercise
Volunteering
Caring for children
Reading medical journals
Raising pets
Foreign languages
Health care jobs require physical fitness, up-to-date medical knowledge, and the ability to clearly and empathetically communicate with patients. The above hobbies and interests show such necessary skills.
Playing a musical instrument
Visiting art museums/galleries
Art history
Architecture
Animation
The above skills indicate that you have a natural interest in art and design that will make you a successful creative.
Entertainment & broadcasting
YouTube video creation
Podcasting
Improv
Community theatre
Dancing
Performing magic tricks
If you're applying for a job in the entertainment or broadcasting industries, list the above hobbies and interests to show your versatility.
Examples of hobbies and interests for specific skills
Employers list the skills they're seeking in their job postings. To get an interview, you must show that you have those skills on your CV — including in your hobbies and interests section.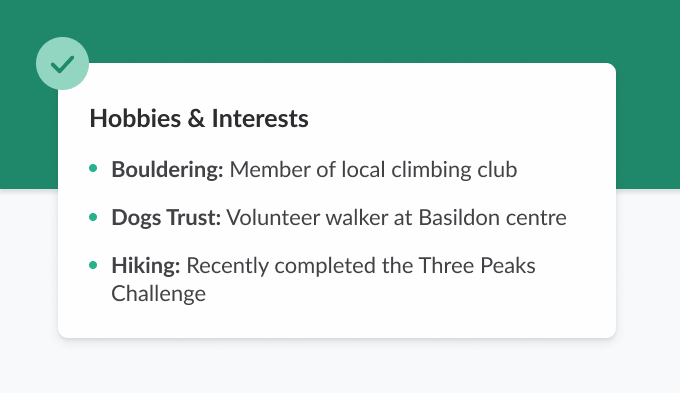 Here are good examples of hobbies and interests to list if your target employer is seeking:
Organising parties/events with friends
Keeping up with current affairs
Participating in industry conferences/exhibitions
Playing in sports leagues
Volunteering at a nursing home
Tour-guiding
Computer building/repairing
Recording and mastering music
Working on vehicles
Brewing beer
Game development
Oil painting
Photography
Composing music
Makeup art
Interior design
Flower arranging
Coaching an ECB Junior Cricket team
Organising volunteer activities
Leading World of Warcraft campaigns
Student council membership
Babysitting
Do you need to put hobbies and interests on your CV?
You should almost always include your relevant hobbies and interests in the information you put on your CV. Here's why:
Your skills and hobbies give employers an idea of what kind of person you are and how well you'll fit into their company culture
If you lack the professional experience necessary for your target job, listing your non-work activities that show you do have the required skills could help you get the job anyway
The only time you shouldn't list your hobbies and interests when writing a CV is when your other relevant details already fill the standard two-page CV (or your one-page CV if you're applying without much relevant experience).
If your CV is too long to include hobbies and interests, you can still let the employer know what you do in your spare time when you create your cover letter.
How to write your CV hobbies and interests section
Here's how to write a great CV hobbies and interests section.
1. Take a closer look at the job and company
First, research the company by checking its About Us page as well as press releases and company news. You should also consider what skills the employer is looking for.
Develop a profile of the company. Ask yourself the following questions:
If this job/company was a person, how would I describe them? (e.g. Creative, detail-oriented)
What kind of soft skills (personality traits) does this company value?
What traits might someone senior at this company need?
Developing a profile of the company will help you understand what kind of traits and skills will be a good fit for the company culture. You can then use these traits and skills as a guide for deciding which hobbies and interests to put on your CV.
2. List your hobbies and interests
Describe each hobby and interest in a sentence or two, including any relevant data and achievements.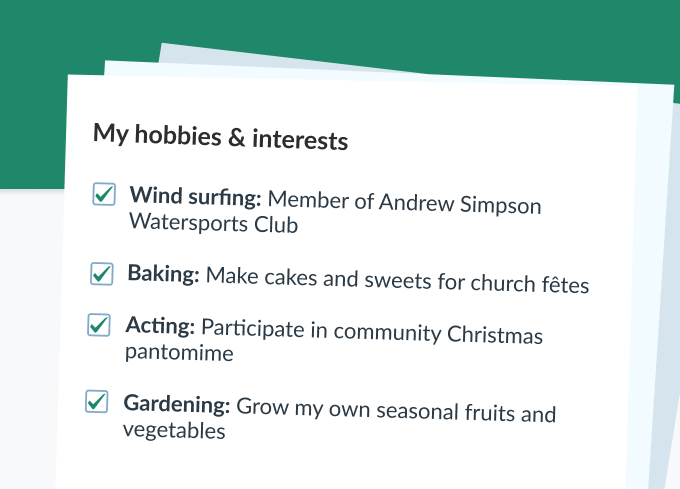 3. Choose two to four suitable hobbies and interests to highlight
Compare your list of hobbies and interests with the company's profile and choose two to four listed items that suit the culture of your potential employers.
4. Put your hobbies and interests on your CV
When you lay out your CV, your hobbies and interests section should look like this: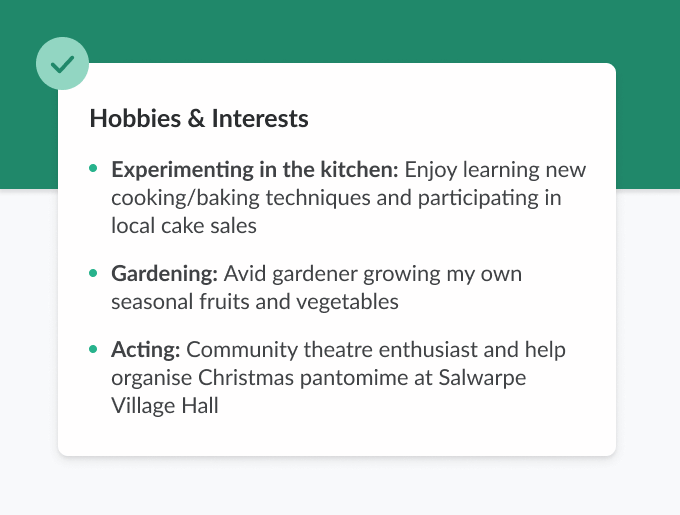 Hobbies and interests to leave off your CV
Some hobbies and interests are best kept off your CV to avoid offending an employer. Unless you're applying for a job that specifically requires them, don't list interests and activities that are related to the following controversial areas:
Politics
Religion
Hunting
Weapons and firearms