Can you get jobs with no CV?
No, typically you can't get jobs without sending a CV. Even if you're a teenager with no work history, employers still need to see a CV that tells them a bit about what type of worker you are.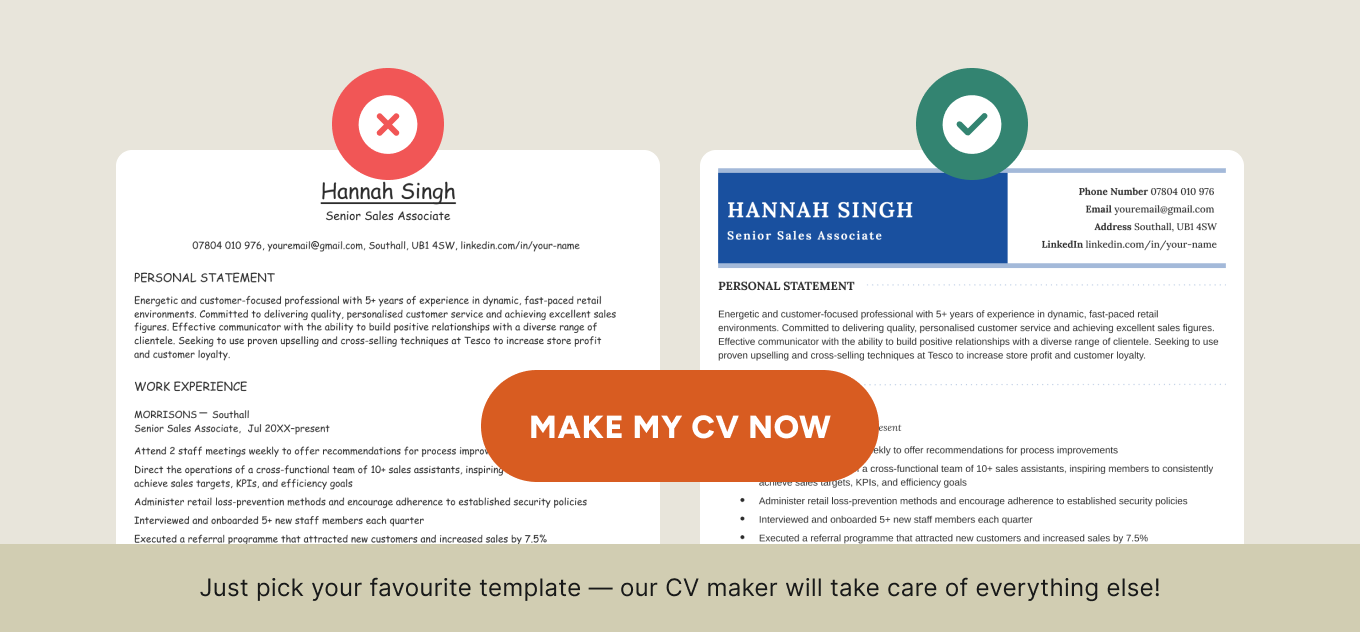 You may see rare rare exceptions when companies are desperate to find workers — but you might want to steer clear of a place that people don't want to work at.
So instead of looking for a job with no CV requirements, try searching for entry-level work that doesn't require a work history, and write a CV with no experience on it.
To help you find a great role, here's a list of good jobs that don't require CV work experience, followed by our advice on applying for jobs without CV work experience.
5 great jobs without CV experience needed in the UK
Most industries have entry-level positions for recent graduates or applicants they can train. But if you're still in secondary school or just starting at university, you'll need to find a job with no degree requirements.
Below are jobs you can get without having previous experience on your CV. They're perfect for building work history that you can put on your CV when you take the next step in your career:
1. Customer service jobs
If you want to get some work history on your CV, getting a customer service job is a good idea. You don't need to have experience on your CV to get entry-level customer service jobs, such as:
waiting staff roles
retail positions
delivery driving
cafe jobs
fast food kitchen work
Additionally, customer service skills — like communication skills, negotiation, and conflict resolution — transfer well to other types of work.
You'll find open customer service roles on your favourite online job board. And you can hand your CV out at local businesses you'd like to work at to find jobs that haven't been advertised yet.
2. Manual labour jobs
If you don't mind getting your hands dirty, you can get a manual labour job without a CV that features professional experience. For instance, you could work in:
construction
a factory or warehouse
retail stocking
landscaping
3. Care assistant jobs
Whether you're a teenager looking for a nanny job or a school leaver passionate about caring for the elderly, you can land a good care assistant job with no CV work experience. Here are four good places to start looking for a care assistant job:
4. Internships & placements
If you're a student or recent graduate, an internship or placement can be a good opportunity to build work experience for your CV. Recruiters for these types of roles don't expect you to have relevant work experience on your CV (but if you do, it's a plus), so you can focus your CV on training and theoretical knowledge.
Here are some resources to help you find an internship in the UK:
5. Apprenticeships
Another type of job that doesn't require a CV with work experience is an apprenticeship. Apprenticeships combine education with on-the-job experience to help you learn a trade.
To make things easy for you, the UK government has an online portal you can use to find an apprenticeship in your target industry.
How to apply for jobs with no CV experience
To apply for work when you haven't held a job, you need to write a CV that shows employers you'll quickly learn the skills you need to be a high-impact employee. Here are some CV writing tips to help you do that in four easy steps (or you can skip the instructions and be ready to apply in minutes with a CV maker):
1. Emphasise your skills
You may not have time on the job, but if you have skills that an employer can put to good use, you can still land a job by making a skills-based CV.
A skills-based CV uses a skills section that's formatted like a work experience section by:
listing your skills as headers
explaining how you've used your skills in your education, voluntary or internship roles, and personal interests in bulleted lists under the headers
Here's an example of what we're talking about, written by a writer applying for a job without CV work history:
2. Highlight your education
If you don't have work experience, get employers' attention with your education. Putting a secondary school qualification or university degree on your CV — whether you've finished or are still in progress — shows that you can follow instructions and learn new concepts.
And if you can really make the most of your CV's education section by listing any of the following that apply to your situation:
Relevant modules studied
A-levels and GCSEs
Dissertation topics
Extracurricular activities
This is a good example of how to make an education section if you're applying for a job without CV work experience:
University of Warwick, Coventry
Sep 2020–Oct 2023
BSc (Hons) Computer Science — Upper second-class honours (II.i)
Relevant Modules: Computer Organisation and Architecture, Operating Systems and Computer Networks, Logic and Verification
Dissertation Topic: Computation and Blockchain Ethics
Eden Girls' School, Coventry
Sep 2017–Sep 2020
A-Levels: Statistics (A), Psychology (B), Maths (B)
GCSEs: 10 Grades 9–4 (equivalent A*–C), including English, Maths, and Business Studies
3. Describe voluntary or internship experience
Have you had a placement or internship? Or have you done voluntary work? Those roles, whether paid or unpaid, may have examples of how you've used skills needed in your target job.
So make a relevant experience section for your CV that highlights your responsibilities and achievements in such roles, like so:
4. Connect your interests to the role
Another way to fill out your applicaton when you don't have work experience is by relating your interests on your CV to the job you want.
For example, if you're applying for a manual labour role, listing your exercise habits or weekend football exploits helps you show employers that you're physically able to do the work they need done.
This is an example of how to highlight hobbies and interests when you apply to jobs with no CV work experience:
Hobbies & Interests
Runner: Have completed 2 marathons and 3 half marathons
Musician: Compete in rap battles
Baker: Enjoy experimenting with biscuit and cake recipes