Information technology (IT) skills are abilities you use to work with technology like computer hardware and software, automation, and the Internet.
Almost every job requires at least basic IT skills. So even if you're not writing a CV for an IT job, ensure you know what IT skills employers seek when you apply for jobs. Keep reading to see more examples of IT skills, how to put IT skills on your CV, and answers to common questions about IT skills.
IT skills examples for your CV in 2023
The UK is currently facing a shortage of skilled IT workers, so IT skills are in high demand, especially the following: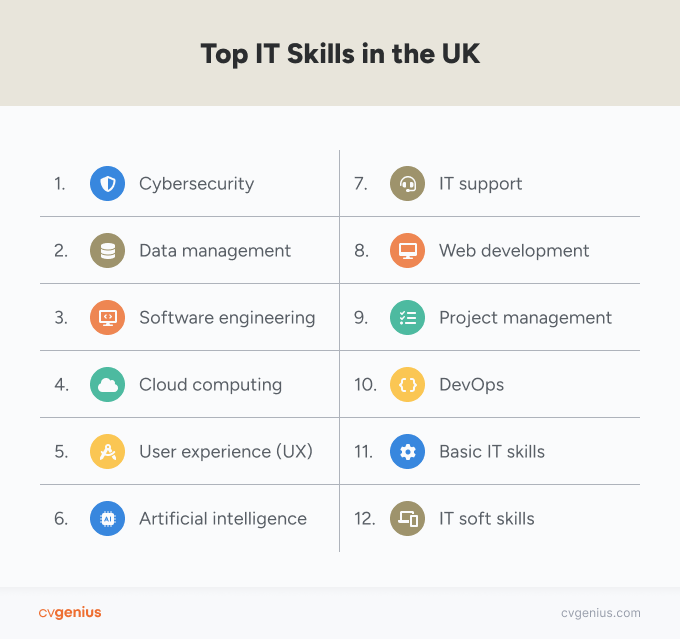 1. Cybersecurity
Almost all businesses rely on the Internet and other digital methods to store information. Showing employers that you understand cybersecurity is essential (and especially so if you're writing a cybersecurity CV) because doing so lets them know you'll protect their data and help prevent breaches of the Data Protection Act or cyberattacks.
Here are IT skills related to cybersecurity:
Scripting
Risk analysis
Controls and framework
Intrusion detection
Network security control
Operating systems
Incident response
Security auditing
Examples of cybersecurity skills on a CV
Developed and implemented comprehensive data security protocols, leading to a 45% improvement in system integrity and a 30% reduction in data breaches
Conducted regular security audits, vulnerability assessments, and penetration testing, identifying and addressing potential risks and implementing corrective actions, which resulted in a 25% decrease in security incidents
2. Data management
Companies are increasingly expanding efforts to capture, store, and analyse large volumes of structured or unstructured data. Mastering this IT skill and including it on your CV demonstrates your ability to be highly organised, save on business costs, and improve efficiency at your target workplace.
Try including these skills if you're applying for data management-related work:
Data modelling, analysis, and visualisation
Data storage and management (using databases and data warehouses)
ETL (extract, transform, load) processes
Data processing and computation (using programming languages such as Python or SQL)
Data visualisation tools (Tableau, Excel, D3.js)
Examples of data management skills on a CV
Facilitated data-driven responses to business needs and challenges by implementing advanced data categorisation and analytics techniques, resulting in enhanced data accuracy and a 20% reduction in data retrieval times
Spearheaded the design and maintenance of a robust data management infrastructure, optimising data quality, reliability, and accessibility, producing a 35% increase in operational efficiency
3. Software engineering
Your software engineering skills are highly valuable in the UK in 2023. So ensure you list them if you're applying for an IT role or writing a software engineering CV.
These are some software engineering–related IT skills:
Programming and coding
Object-oriented design (OOD)
Understanding mathematical concepts
Workflow development
Debugging
Examples of software engineering skills on a CV
Led the design and implementation of a scalable microservices architecture, improving system resilience by 40%
Collaborated cross-functionally to optimise and refactor legacy code, achieving a 25% increase in application performance and reducing bug occurrence by 50%
4. Cloud computing
Cloud computing allows users to store, back up, and even run programs from a remote location rather than from a local computer or server — making businesses more resilient and dynamic.
Here are good cloud-computing skills to have on your CV:
Cloud architecture and infrastructure design
Knowledge of relevant security and privacy regulations
Managing cloud networking components (virtual private clouds, load balancers, and firewalls)
Cloud cost optimisation and allocation
Examples of cloud computing skills on a CV
Engineered and deployed scalable, highly available, and fault-tolerant systems on AWS, reducing infrastructure costs by 30% and enhancing system performance
Leveraged cloud computing technologies to automate scalable and secure infrastructure deployments, leading to a 25% reduction in release times and a 40% increase in system stability
5. User experience (UX)
IT professionals understand the importance of providing an excellent user experience (UX) for anyone using their company's products or services. Adding examples on your CV of times you've worked with users on a product or collaborated with design teams will show employers you have a solid understanding of this concept.
Some UX-related skills include:
Product design
Knowledge of information architecture and interaction design
Wireframing and prototyping
Using visual design software
Examples of UX skills on a CV
Conducted comprehensive user research, developed personas, mapped user journeys, and iteratively tested prototypes, resulting in a 30% increase in user engagement.
Facilitated workshops and design thinking sessions to bring about the successful launch of three customer-centric applications, garnering positive user feedback and achieving a Net Promoter Score (NPS) increase of 20 points
6. Artificial intelligence (AI)
Employers often seek applicants who have a strong understanding of artificial intelligence (AI) and can prepare IT systems for future changes. So if you can, include examples of what you've learnt about AI services or when you used AI software in a work setting.
These are other AI-related skills to put on your CV:
Predictive analytics
Robotics and automation
Natural language processing techniques
Signal processing techniques
Examples of AI skills on a CV
Self-studied and attended a conference on AI, acquiring a solid understanding of basic AI concepts and principles, including machine learning and natural language processing
Successfully implemented machine learning, natural language processing, and computer vision solutions, leading to a 35% improvement in organisational productivity and a 25% increase in customer satisfaction
7. IT support
Having a team of skilled IT support professionals on hand is important to employers, so show you have a solid understanding of technology by providing examples of when you've resolved technical issues for other teams or clients.
Here are some IT support-related skills:
Experience with troubleshooting and resolving technical issues
Knowledge of computer systems and networks
Customer service and communication skills
Ability to explain technical concepts to non-technical users
Examples of IT support skills on a CV
Leveraged comprehensive knowledge of IT systems, software, and hardware to provide prompt and efficient support to end-users, achieving a 95% customer satisfaction rating
Developed and facilitated user training sessions on software applications and IT best practices, empowering users to use technology effectively and reduce the frequency of helpdesk inquiries
8. Web development
The demand for digital services is higher than ever, so having web development skills gives you a lot of options for work. These CV skills show you can help companies successfully interact with customers and clients:
HTML and CSS
React
Kotlin
Ruby on Rails
Node JS
Javascript
PHP
C#
Examples of web development skills on a CV
Expertly developed and deployed responsive and scalable web applications using a diverse tech stack including HTML, CSS, JavaScript, React, and Node.js
Implemented performance optimisations and SEO best practices, resulting in a 50% increase in page load speed and a 30% boost in organic web traffic for client websites
Curious what coding languages are in demand this year? Check out the most useful programming languages for 2023 in our TikTok below:
9. Project management
Project management involves organising and coordinating the development and delivery of IT projects within a company. IT projects can be complex and involve multiple stakeholders, budgets, timelines, and resources, so effective project management is crucial for ensuring successful completion.
Here are some skills to help you improve your project management skills or write an IT-specific project manager CV:
Using project management methodologies and frameworks (like Agile, Lean, Prince2, and Waterfall)
Proficiency in project management software (Microsoft Project, Trello, Notion, Asana, and Salesforce)
Scrum management
Performance tracking
Project life cycle management
Examples of project management skills on a CV
Successfully led and executed multiple high-impact projects from conception to completion, using a balanced approach of Agile and Waterfall methodologies and generating £4 million in revenue
Fostered a collaborative and transparent working environment by organising regular team meetings, workshops, and one-on-one sessions
10. DevOps
DevOps is a top skill for companies in 2023 and is crucial in a competitive business environment because it allows organisations to continuously improve and deliver software. Skills needed for DevOps include:
Automation tools (Jenkins, Puppet)
Configuration management tools (such as Ansible and Terraform)
Programming frameworks and languages (Bash, Go)
Containerisation technology knowledge (Docker, Kubernetes)
Monitoring and logging tools (like Grafana and Splunk)
Agile software development methodology
Examples of DevOps skills on a CV
Led the integration and optimisation of Continuous Integration/Continuous Deployment (CI/CD) pipelines, using tools such as Jenkins, Docker, and Kubernetes
Automated build, test, and deployment processes, reducing release times by 40% and minimising manual errors
11. Basic IT skills
Not all jobs require a degree in information technology, but you do need to have these basic IT knowledge and skills to get by in most professions:
Internet privacy and safety (awareness of scamming techniques)
Computer skills (such as the ability to operate and connect devices, as well as manage files)
Word processing (Google Docs and Microsoft Word)
Data management (like Google Sheets and Oracle)
Internet communication (such as email, instant messaging, and video conferencing)
Examples of basic IT skills on a CV
Assisted team members with diagnosing and resolving common hardware and software issues, assisting in password resets, software installations, and system configurations
Used Microsoft Office applications, including Word, Excel, PowerPoint, and Outlook, to support daily organisational activities
12. IT soft skills
No matter how technical your job is, you'll need good IT soft skills to have a successful career in information technology. For instance, even if you work remotely as an IT consultant or contract developer, you'll need to communicate well with project managers and negotiate fair payment.
Below are more soft skills to highlight when you write your CV to improve your chances of getting hired in the IT industry:
Focus
Customer service skills
Curiosity
Leadership skills
Management skills
Reliability
Conflict management
Time management
Communication skills
Logical thinking
Problem-solving
Examples of IT soft skills on a CV
Demonstrated ability to convey complex technical information in a clear and understandable manner to non-technical users, enhancing user experience and satisfaction
Exhibited strong problem-solving skills, proactively identifying and addressing challenges, and implementing practical solutions to ensure seamless IT operations and support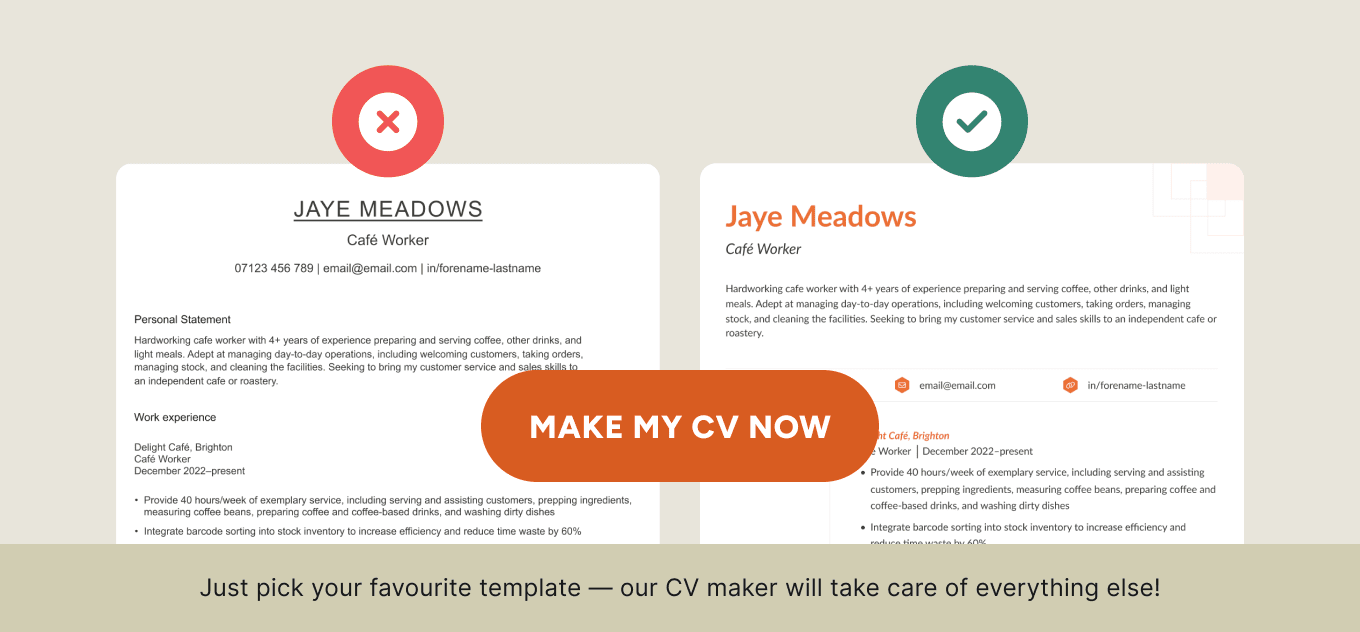 How to list IT skills on your CV
Here's how to list IT strengths on your CV in three quick steps:
1. Determine which of your IT skills the employer values most
The best way to get your target employer's attention with your IT skills is by listing the ones they noted in their job advert. These are the IT skills that the company needs the most, so if you can show that you've got them on your CV, you're more likely to get an interview.
You can also give yourself an advantage over other applicants by researching the company's website, social media, and other internet presence to find other ways your IT skills can help them solve problems or achieve goals.
2. Give examples of your IT skills with hard numbers
Just listing IT skills from the job advert and your research on the company isn't enough. You also need to show how you've used those skills to produce results by providing examples and data.
Describing your IT skills with examples and data helps the employer picture what you can do if they hire you.
Here's a well-written work experience bullet point with a clear example and hard numbers that provide context:
Implemented a cloud-based storage solution, leading to a 50% reduction in data retrieval times and enhancing the productivity of 200+ end-users
3. Spread your IT skills throughout your CV
Put the most job-relevant examples of your IT skills and accomplishments in your CV personal statement, a brief summary of your CV that goes under your name and contact details. This is the first part of your CV that employers will read, so placing your most job-relevant information there is critical to your application's success.
But don't stop there. Continue describing your IT skills in the rest of your CV sections (use an online CV builder to speed up this process), including your:
To see what adding IT skills to every section of your CV looks like, take a look at the IT CV example below.
IT skills CV example
Here's an IT skills CV example. You can download the CV for Microsoft Word and use it as a guide for your own CV, or copy the text version below and paste it into Google Docs or whatever writing program you prefer:
Download Free IT CV Skills Example
IT Skills CV Example (Text Version)
YOUR NAME
Phone: 07123 456 789  Email: your.name@email.com  Address: Your Town, Postcode  LinkedIn: www.linkedin.com/in/your.name
PERSONAL STATEMENT
Tech-savvy and analytical professional with 3 years of experience as an IT manager and 4 years of experience as an IT support technician. Demonstrated success spearheading IT projects and completing all tasks on time and according to specifications. Solid expertise in system/software installation, upgrade, maintenance, and support. Adept at administering networks and facilitating end users.
WORK EXPERIENCE
IT Manager
Leicester City Council Trading Standards
Feb 2020–Present | Leicester
Led IT department and a team of 15 personnel, driving key IT initiatives and projects
Replaced old LAN system with wireless communication system, boosting office productivity by 12%
Decreased breakdowns by 65% through twice-daily preventative system maintenance
Protected data and resources at each workstation by installing Kaspersky antivirus in each system
Recognised for inspiring my team to consistently exceed KPIs
IT Technician
Infonote Datasystems Limited
Jan 2018–Jan 2020 | Leicester
Implemented Amazon AWS for GDPR compliance and cost control
Trained 50+ staff members on in-house CSM and database management software
Provided friendly, efficient IT support to 15+ internal and external customers per day via phone, email, and instant message
Installed, serviced, and upgraded 150+ in-house Windows computers
IT Support Technician
Landmark Offices
May 2016–Jan 2018 | Leicester
Delivered quality IT support and system troubleshooting services to 5,000+ end users
Performed 15+ on-site visits in a week to develop partner solutions
Identified and resolved customer issues daily with a success rate of 98%
Reduced solution delivery time by 45% by implementing a help desk ticket system
Helped network team with monitoring of four Linux-based network servers
EDUCATION
Bachelor of Science (Hons.) in Information Technology
University of Strathclyde
2012–2016, Glasgow
Relevant Modules
Networking & Internet Environment, Programming, Computer Fundamentals, C Programming, Data Structure, Web Programming, Computer Graphics, Computer Networks, Object-Oriented Programming, Software Testing, Internet Security
KEY SKILLS
Enterprise IT infrastructure
Database management
Software development
Computer hardware
Excellent interpersonal skills
Conflict resolution
HOBBIES & INTERESTS
Vlogging about the tech industry
Salsa Dancing
Marathon Running
Frequently asked questions about IT skills
Still unsure how to write a CV that showcases the right IT skills? We've answered four of the most common questions about IT skills, covering:
1. How can I improve my IT skills?
You can improve your IT skills by:
getting an IT-related degree at your uni
taking an IT internship
enroling in online IT courses (the National Careers Services website has a big list of great IT self-study sites)
reading books and articles about technology
2. Why are IT skills important?
IT skills are important in 2023 and beyond because the world is increasingly run by technology.
As 1.4 million UK jobs are at risk of automation in the next year and virtual reality is opening up new opportunities for interaction, you can adapt by improving your IT skills.
3. What IT skills would improve my chances of getting a job?
These IT skills will improve your chances of getting a job, depending on the field you work in:
Online communication skills
Ability to learn technical information quickly
Advanced spreadsheet skills
Google Analytics skills
Troubleshooting
Device setup
Giving examples of these IT skills on your CV will help you get hired because they show you have a strong foundation of technical skills that employers can build on.
Other FAQs related to putting IT skills on your CV
Here are some answers to additional FAQs to help you write about IT skills on your CV: