Interpersonal skills are abilities that you use to interact positively with other people. In the context of work, that means your colleagues and clients or customers.
Having well-developed interpersonal skills has a positive effect on your relationships — professional and personal — and can help you find a new job.
Below are 12 interpersonal skills examples that are useful in the job search. We explain why these soft skills are important, how you can demonstrate them on your CV and cover letter, and how to develop them further.
12 interpersonal skills examples
Here are the top examples of good interpersonal skills to add to a well-written CV that'll show employers you can navigate any social interaction: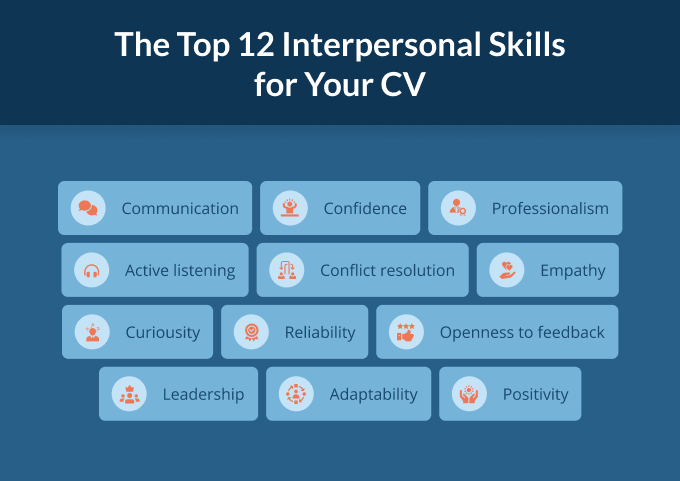 1. Communication
Communication is a two-way street. If you're a good communicator, you'll be able to provide information to people in a way they understand, while receiving information (like feedback) in return.
Here are some examples of how to highlight your communication skills on your CV:
Enhanced cross-functional collaboration by promoting open and effective communication, increasing project efficiency by 15%
Delivered clear, concise presentations to diverse audiences on a weekly basis
Strengthened customer relationships through consistent, clear communication, resulting in a 40% increase in customer retention
2. Confidence
Being confident helps you succeed by giving you the courage to handle difficult conversations, keep motivated on tough days, and persevere through challenges. Confidence is also evidence of leadership skills, which can help you gain more respect and be considered for promotion.
Prove you have confidence in your work experience bullet points like so:
Effectively communicated with key stakeholders, confidently presenting strategies that led to a 17% increase in partnerships
Demonstrated confident negotiation skills, resulting in favourable terms in 80% of contracts
Efficiently performed crisis management, reducing downtime by 20% and maintaining team morale
3. Professionalism
Professionalism involves taking your job seriously, dressing appropriately for the position you have, being punctual, and treating your customers and coworkers with respect.
The level of professionalism you'll need to exhibit depends on how traditional or casual your company or team is, but here are some general CV bullet points to inspire you:
Consistently adhered to high standards of conduct, maintaining reliable and ethical relationships with clients and colleagues
Prioritised timely completion of projects, ensuring a high standard of quality while meeting strict deadlines
Demonstrated respect and courtesy in all interactions, fostering a positive and inclusive work environment
4. Active listening
Active listening means focusing on what someone is trying to say while paying attention to nonverbal cues like body language. Active listening makes you a better worker because you fully understand what a colleague or a customer wants from you.
Here are three CV personal statement or work experience bullet points you could adapt to show you've got good active listening skills:
Improved customer satisfaction scores by 30% by using active listening skills in a busy call centre
Boosted team productivity by 20% by promoting active listening in daily interactions
Enhanced cross-departmental collaboration by organising active listening workshops
5. Conflict resolution
Conflict resolution refers to peacefully finding a solution to a dispute. Such disputes may be between coworkers or between you and a customer.
Here are three examples of how you could showcase your conflict resolution skills in the information you put on your CV:
Increased customer retention by 47% by resolving customer conflicts in a timely and efficient manner
Resolved 80% of interdepartmental conflicts within a week through effective negotiation and mediation techniques
Improved team cohesion by implementing a conflict resolution framework that led to quicker and smoother dispute settlements
6. Empathy
Empathy allows you to understand and share another person's feelings and perspectives. It's an excellent skill to put on your CV because it allows you to:
see everyone's point of view
develop a clear understanding of the people around you
build stronger relationships with others
Here's how you can showcase your empathy when you make a CV:
Improved team morale and reduced staff turnover by 20% by promoting understanding and respect in the workplace through quarterly HR workshops
Boosted customer satisfaction by 35% by personalising customer service based on individual needs
Streamlined customer complaints process by prioritising understanding and consideration of differing viewpoints
7. Curiosity
Curiosity is the desire to always learn more.
Why is curiosity listed as an interpersonal skill? It's because:
you'll want to share newfound knowledge with other members of your team
curiosity is infectious — if you're curious about the newest research in your field, that'll rub off on your colleagues
your curiosity ensures you'll always have something to talk about, making it easier to connect with others
Wondering how to add evidence of curiosity to your CV? Here are some ideas:
Continually pursued professional development opportunities, enhancing skill set and value to the team
Led an initiative to explore emerging market trends, resulting in innovative strategies that drove a 15% revenue increase
Implemented 'Upskilling Fridays', where the last 4 hours each Friday are dedicated to self-study, leading to the development of new skills by members of the team
8. Reliability
Being reliable means others can count on you to do what you've promised. This type of commitment is essential in a work setting because it tells employers you'll:
complete tasks on time and meet your deadlines
show up to work on time
remain in the job long term
Here's how to highlight that you're a reliable worker on your CV:
Maintained a 100% on-time record
Successfully completed 98% of assigned tasks on or before deadlines, ensuring smooth project execution
Managed a portfolio of over 50 clients, maintaining punctual and consistent communications, which led to a 30% increase in customer retention
9. Openness to feedback
Being open to feedback shows employers that you're ready to learn new things, don't take yourself too seriously, and want to meet their expectations.
Here are some examples that show you how to signal your willingness to receive constructive criticism on your CV:
Actively sought feedback, leading to a 25% improvement in personal performance metrics over a year
Implemented team suggestions for process improvements, resulting in a 15% increase in project efficiency
Leveraged constructive criticism to refine customer service approach, boosting customer satisfaction scores by 33%
10. Leadership
Leadership skills allow you to guide, inspire, and motivate others to work effectively. You'll need them if you're supervising other people or if you have to guide the public (for example, you're a police constable or PCSO).
Although leadership skills are associated with managers and executives, they're beneficial for anyone who wants to get ahead.
Here's how to showcase your leadership skills on your CV:
Led a team of 5+ members, producing an increase in overall team productivity within 2 months
Implemented strategic leadership initiatives that drove a 47% growth in company revenue
Cultivated a positive work environment, leading to a 25% decrease in staff turnover
11. Adaptability
Being adaptable means you can quickly deal with unfamiliar situations and learn new skills.
Adaptability is sought after by employers because it means you'll be good at reacting to crises while also being good at taking on new challenges in the workplace.
Highlight adaptability on your CV by using bullet points like these:
Thrived in a rapidly changing environment, successfully managing multiple projects with shifting priorities
Proactively learnt and implemented new technologies, driving efficiency and innovation in operations
Navigated diverse team dynamics, effectively leading teams with varying work styles and cultural backgrounds
12. Positivity
Positivity means being optimistic while also making your coworkers and customers feel at ease by always finding the silver lining in any cloud.
Here's how to showcase positivity on your CV:
Fostered a constructive and encouraging work atmosphere, boosting team morale and productivity
Embraced challenges as opportunities for growth, resulting in a 25% increase in project completion rate
Consistently motivated team members through constructive feedback and recognition, leading to improved performance and job satisfaction
Frequently asked questions about interpersonal skills
Need more information about interpersonal skills? Here are the answers to three of the most common interpersonal skills questions:
1. Why are interpersonal skills important?
Interpersonal skills are important because being able to interact with people helps you succeed in every part of your life.
At school and in university, you need your interpersonal skills to participate in the classroom, work on group projects, and start building your professional network.
In the workplace, your interpersonal skills let you collaborate with coworkers, managers, and clients.
If you have a hard time fitting in at the office, you probably won't be considered for leadership roles, which require smooth communication with upper management and the people you supervise.
In your personal life, interpersonal skills are important for building meaningful relationships with your family and friends.
Don't think personal relationships are important? Studies show that a lack of interpersonal skills may lead to both mental and physical problems.
2. How can you improve your interpersonal skills?
You can improve your interpersonal skills by studying how to deal with other people, and then practising what you learn. Here are some ways you can study interpersonal skills:
You can improve your interpersonal skills by studying how to communicate with other people, and then practising what you learn.
Here are some more ways you can study interpersonal skills:
And these are some ideas for practising the interpersonal skills you learn:
Go to parties and other social events
Set goals (such as starting one conversation at work each day)
Keep a motivational journal to build on your successes and learn from your setbacks
3. What's the difference between intrapersonal and interpersonal skills?
The difference between intrapersonal and interpersonal skills is:
intrapersonal skills are internal abilities you use to manage yourself, such as focus and self-awareness
interpersonal skills are both internal and external abilities you use to interact with others, like conversation and observation skills
There's some crossover between intrapersonal and interpersonal skills because your self-management abilities affect the way you deal with other people. For example, your level of self-confidence determines how well you can take a joke.