Our professional CV templates provide the perfect framework to make it clear to employers why you're qualified:
Whether you're an early-career candidate or have years of experience to showcase, our professional CVs will help you create a great first impression.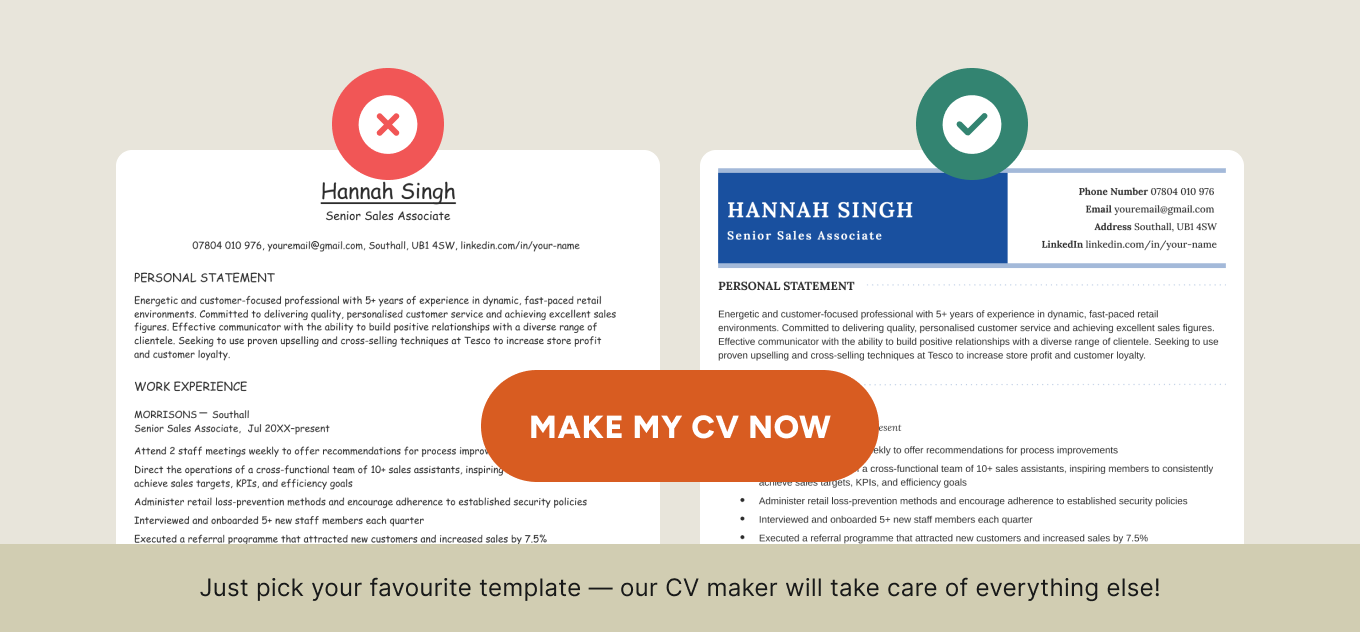 6 professional CV templates (free to download)
Here are six expertly designed CV templates you can use to highlight your strengths and experiences.
1. The "Berkshire" professional CV template
Elegance meets modernity in the Berkshire CV template. Inspired by the iconic Windsor Castle, this template's clean, uncomplicated design and subtle pop of colour will make a lasting impression on any employer.
Who should choose this professional template
This professional CV template is particularly suited for job hunters looking for roles in a corporate setting because of its prominent header and well-formatted content.
You might choose the Berkshire template for CVs like these:
Template features
Clear, bold heading that neatly displays your name
Subtle lines divide your content to add a refined aesthetic
Text details:
Heading font: Playfair Display
Content font: Muli
Name font size: 48pt
Content font size: 11pt
2. The "Refined" professional CV template
Featuring clean dividing lines and a unique contact information box, our Refined CV Template is a modern reimagining of the traditional CV design. Its bold header and uncomplicated format is sure to impress any employer.
Who should choose this professional template
The Refined CV Template is perfect for professionals who want to give their application a modish appearance without coming across as showy. It's a great option for any job seeker looking to highlight their experience and make a professional impression.
You might choose the Refined template if you're writing CVs like the following:
Template features
Unique contact information box
Distinguished headers and dividing lines
Text details:
Heading font: Playfair Display
Content font: Montserrat
Name font size: 48pt
Content font size: 11pt
3. The "Bold" professional CV template
With its confident, unique design, the Bold template is the CV equivalent of a firm handshake. The band along the top margin helps your header stand out, while the integrated section dividers save space so you can say more on each page.
Who should choose this professional template
The Bold template is great for anyone. However, it's especially well suited for professionals in industries where confidence is important, like business, sales, or marketing.
You might choose the Bold template if you're writing CVs like these:
Template features
Confident header with a focus on the name
Extra space for skills at the beginning of the CV
Text details:
Heading font: Bebas Neue
Content font: Montserrat
Name font size: 42pt
Content font size: 10pt
4. The "Austere" professional CV template
Minimal and clean, the Austere CV template's stripped-down design is bound to garner appreciation from even the most discerning of employers. It features tasteful, unintrusive elements to improve readability and emphasise your well-rounded skillset.
When to choose this professional template
The Austere template is one of our most formal designs, and is best used by candidates in more buttoned-up industries, such as law or finance.
You might choose the Austere template if you're writing CVs like these:
Template features
Simple, easy-to-read layout
Space-efficient header
Text details:
Heading font: Montserrat
Content font: Muli
Name font size: 38pt
Content font size: 11pt
5. The "Corporate" professional CV template
From start to finish, our experts designed the Corporate CV Template to fit the needs of any business heavyweight. With a bold header and specialised CV icons for your contact information, this highly professional template is sure to make a splash at networking events.
When to choose this professional template
The formal appearance of this modern CV template makes it perfect for candidates in business or advertising. It's also well-suited for anyone with noteworthy qualifications to emphasise, such as an MBA or a Russell Group university degree.
You might choose the Corporate template if you're writing CVs like these:
Template features
Formal design
Eye-catching contact information icons
Text details:
Heading font: Montserrat
Content font: Muli
Name font size: 36pt
Content font size: 11pt
6. The "Dynamic" professional CV template
Finding a job in 2023 isn't easy. To help aspiring professionals get noticed this year, our experts created a memorable CV template for Word that strikes the perfect balance between originality and professionalism.
When to choose this professional template
The Dynamic CV Template is a great choice for any job applicant who wants to communicate confidence and resourcefulness. Choose the grey or dark blue to impress even the most formal employers, or make a CV with a bold red header if you want to attract more attention.
You might choose the Dynamic template if you're writing CVs like these:
Template features
Eye-catching header with space for a personal statement
Text details:
Heading font: Montserrat
Content font: Muli
Name font size: 36pt
Content font size: 11pt
Professional CV format
When you're creating your professional CV format, include the following sections:
A CV opening that highlights your experience, achievements, and top qualifications for the specific role
A professional experience section that outlines your relevant work experience, including your position title, company name, dates of employment, and 3–5 bullet points that illustrate what you accomplished
An education section where you list your university degree and secondary education, including your A-Levels, and GCSEs
A skills section that showcases your relevant skills, mostly focusing on the hard skills needed for your target position
A hobbies or interests section where you can show a bit of personality by including some of your job-relevant interests
Any other additional sections that help demonstrate how you're qualified for the position, such as qualifications, awards, professional associations, etc.
In terms of style and formatting, here are some guidelines to follow to ensure your CV looks professional:
Use a clear and easy-to-read font between point sizes 10 and 12
Keep your margins between 1.27–2.5 cm
Give your CV a professional file name, like 'firstname-lastname-position-title-cv.pdf'
Blank professional CV template
Here's a copy-and-paste CV template you can use to easily format each section of your professional CV:
FIRST AND LAST NAME
Email: youremail@gmail.com | Phone: 07123 456 789 | Address: Street, Town/City, Post Code | Linkedin: linkedin.com/in/your-name
PERSONAL STATEMENT
Experienced [industry] professional with [# of years] years of experience. Seeking to apply my expertise in [relevant skills] to fill the [role name] role at [Company Name]. Skilled [collaborator/leader/etc.] hoping to contribute to [Company Name]'s growth and quickly take on more responsibility.
RELEVANT EXPERIENCE
Current Job Title
Company Name / Town or City / Start Date – Present
Include a bulleted list of your accomplishments
Add numbers to some of these bullet points to demonstrate your accomplishments
Use four or fewer bullet points for each position you include on your CV
Earlier Job Title
Company Name / Town or City / Start Date – End Date
List relevant accomplishments from a previously held position
If you no longer perform this job, make sure you use past tense verbs to describe the experience
Unless you lack work experience, all the positions you list on your CV should be relevant to the job you're applying for
EDUCATION
Degree Name (Hons) & Classification
University, Town/City | Start Date – End Date
Key Modules: List any modules that are relevant to the role you're applying for here, separated by commas
SKILLS & QUALIFICATIONS
List your relevant skills and qualifications
Include technical skills, or soft skills if you're applying to an entry-level job
Be as specific as possible with your technical skills (i.e., mention the names of software or tools you can use)
HOBBIES & INTERESTS
List some of your notable hobbies, especially if they have skills in common with the job you want
Employers like to get to know the person they're hiring, and hobbies are a great way to show you have a life outside of work
Add any organisations or sport clubs you're involved in
Professional CV examples for jobs
If you're looking for professional CVs for specific industries, here are six CV examples to get you started:
Writing tips for professional CV templates
Here are four tips to help you get started on crafting a standout CV:
1. Use a professional CV layout that highlights your strongest qualities as a candidate
To get employers interested, your CV needs to quickly demonstrate how your professional experience and accomplishments make you the best candidate. So use your CV layout to highlight your most impressive qualifications first.
Start with a compelling personal statement that summarises your experience, skills, and achievements. Then, move on to the other sections that show your most important skills and experiences.
For example, if you're applying for a highly technical role, it may be helpful to include your skills section at the top of your CV, so you can show the employer that you're proficient in the tools required for the job.
If your greatest qualification is your work experience, then list that first. Or, if you've recently graduated from university, your education section might be your biggest asset.
Thoughtfully structure your CV so that what you want to stand out sits at the top.
2. Tailor your CV to your target job
The best way to make sure your CV impresses employers is to tailor it to each specific job you're applying for. Doing so will show hiring managers precisely how your experience translates to the position and make it easier for them to understand how you're qualified.
Take some time to go over the job advert and pull out all the required skills and experience. As best as you can, tailor your CV to directly highlight how you've used each particular skill and what relevant experience you have.
For example, if the role requires budgeting, include a bullet point in your work experience section that describes how you successfully performed budgeting duties in another role, and with what (positive) results.
3. Emphasise your accomplishments with hard numbers and action verbs
A professional CV design can only do so much without the professional content to back it up. Make sure your experience shines through both by including metrics to quantify your achievements where possible and by using descriptive action verbs that highlight how you performed in a role.
Here's an example of a professional experience bullet point that effectively uses both (with metrics in bold and action verbs in italics):
Achieved a 30% increase in sales revenue over one year by developing and implementing a targeted marketing strategy that expanded the customer base and optimised product positioning, leading to successful market penetration
If you're finding it difficult to write your CV this way, try using an AI CV builder that offers tailored suggestions for you to use.
4. Pair your CV with a professional cover letter
Finally, to make the best impression possible, send your CV off with an accompanying cover letter. Our CVs have matching cover letter templates you can easily use to persuade employers that you're the right candidate for the job.
Here are 3 tips for writing a professional cover letter:
Address it to the right person: Whenever possible, address your cover letter to the recruiting manager or a specific contact within the company, and try to avoid generic greetings like 'To Whom It May Concern'.
Showcase your enthusiasm: Express genuine excitement for the position and the company. Explain why you're excited about the opportunity and how your skills align with the company's needs. Then, explain what benefit you can bring to the business.
Keep it concise and focused: A professional cover letter should be brief and focused on the role. Highlight your key qualifications and experiences, and avoid unrelated details. Aim for a clear and compelling letter that's no more than one page.
If you need some inspiration, take a look at our short cover letter examples.
Frequently asked questions about professional CV templates
Still have questions about professional CV templates? Check out our answers to some of the most common questions below.
What is the best format for a professional CV?
The best format for a professional CV is chronological, starting with your most recent (or current) position, followed by the roles that preceded it.
Whatever format you choose, ensure that your CV uses a clean and well-organised layout with clearly defined sections for contact information, work experience, education, skills, and additional information.
Should I put a photo on my CV in the UK?
You shouldn't put a photo on your CV in the UK as it has the potential to lead to discrimination in the hiring process. Including a photo on your CV is more appropriate if you're working in a creative field, like tech, design, or marketing as well as if you're applying for jobs in Europe, where photos are standard.
Should a CV be one page?
A CV can be one to two pages in length, depending on your level of experience. If you're a student, recent graduate, or early career professional, you should be able to fit everything you need onto a one-page CV.
If you have more than five years of experience, you may need two pages to do your experience justice.
How do I make my CV visually appealing?
You can make a visually appealing CV by using a professionally designed CV template. There are many styles available to choose from online, but try to avoid anything that's too flashy and incorporates design elements (like infographics or images) that might not transfer well across file types or ATS systems.
Beyond your choice of template, make your CV visually appealing by:
choosing just one or two easily readable fonts
making your font size and spacing consistent
including appropriate margins
leaving enough white space so that your CV doesn't appear cluttered
Customise the perfect professional CV template by using a builder
A professional CV builder makes it easy to write a new CV from scratch or take your old CV to the next level. Simply choose your favourite template and start building the professional CV that'll land your next interview.