A CV is a job application document that outlines your experience and skills for potential employers.
So should you only update your CV when you're looking for a new job?
Short answer: nope!
This article will explain how often you should update your CV, as well as offer some helpful tips for doing so effectively.
How often should you update your CV?
Ideally, you should update your CV every 6 months because regularly refreshing your CV means your CV will be ready to go when you see a new job opportunity you like.
Most people only update their CV when they see a job they want or when they've decided to leave their company. This strategy is a mistake. If you're only updating your CV when you need it, you'll have to spend a lot more time working on it. You might even forget some past accomplishments that'd help boost your application.
What's more, if you're rushing to refresh your CV to meet the deadline for an application, you're likely to introduce typos and other errors because you have less time for proofreading.
How do you update your CV?
Updating your CV is straightforward. Here's how:
1. Ensure your job title and contact details are up to date
Your CV header contains basic yet important information about who you are and your professional background. Make sure you keep it updated.
Start by checking that the job title on your CV is your current job title. It's also acceptable to choose a job title that's similar to the job you're targeting to catch the attention of the recruiting manager — but only if the title you choose reflects your current responsibilities.
Additionally, check your contact information is up to date. If you've signed a new mobile phone contract, you should update your mobile number. Similarly, check your email address is correct as well as any social media accounts you've listed. Updating your contact details means recruiting managers can get in touch with you.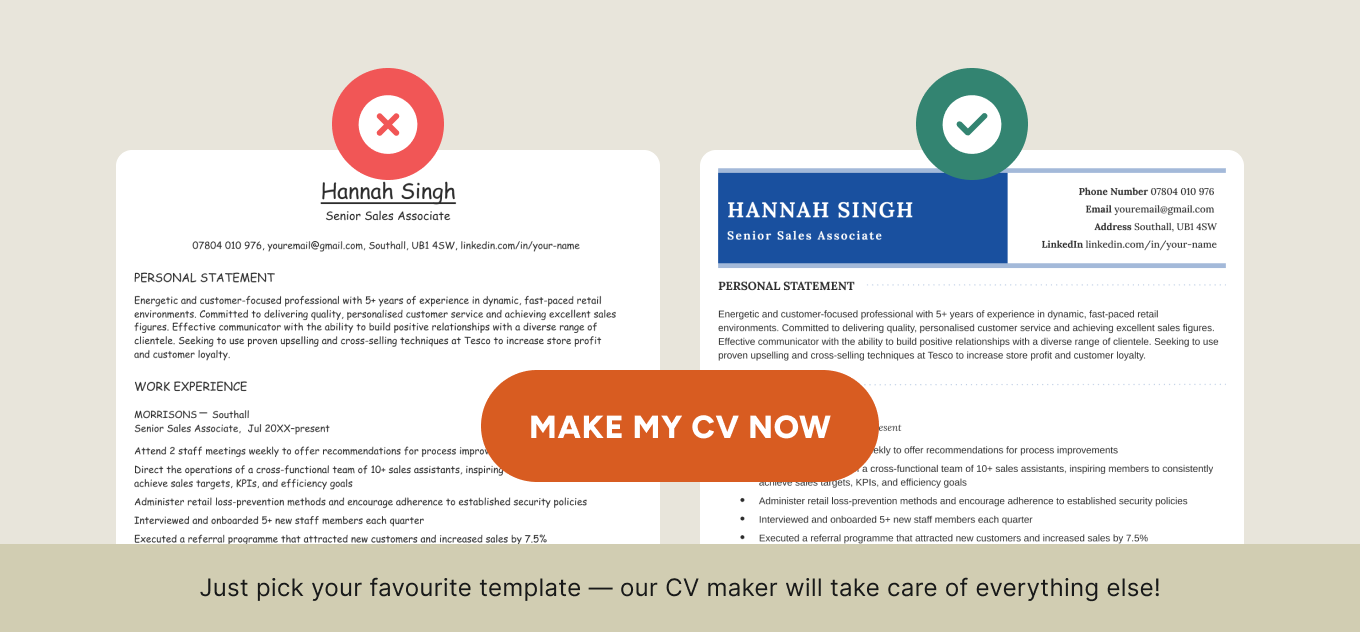 2. Refresh your CV personal statement
Your CV's personal statement is the first thing recruiting managers will see, so it should accurately summarise where you're at in your career.
The typical personal statement highlights your years of experience, work-related achievements, and key skills, so it's a prime spot to update.
If you update your CV every six months, you can quickly update your years of experience. For example, you can change '2 years of experience' to '2½ years of experience' and '3 years of experience', and so on.
You can also decide whether any of your recent achievements at work are worth placing in your personal statement. Say your personal statement says you 'boosted profits by 10% over a year' but you recently managed to boost profits by a whopping 27%. Update your personal statement with that success.
Finally, include any new skills or qualifications you've picked up that relate to work.
3. Add new skills and qualifications
If you've learnt any new skills or earned relevant qualifications that you don't list in your personal statement, add them to other sections of your CV.
For example, if you work at Morrisons and recently earned a Royal Society for the Protection of Health (RSPH) health and safety qualification, add it to the qualifications section of your CV so that future employers can see you've already gained it.
Or if you've picked up public speaking skills in your role as a PCSO talking to children in school assemblies, add that skill to your skills summary. Public speaking transfers well between different industries, so it's worth including on your CV.
4. Remove outdated job titles and skills
Refreshing your CV is the perfect time to remove outdated information. Although you may be tempted to keep old information on your CV because it makes you seem experienced, it can actually hurt your application.
Firstly, keeping older information on your CV makes it harder to keep your CV on two pages. Recruiting managers don't have much time to review applications, so a 1–2 page CV is more likely to get read.
Secondly, some information on your CV might not be true anymore. For example, suppose you added Adobe Photoshop to your CV 10 years ago. If you haven't used Photoshop in 10 years, you might not know how to use it anymore.
As you're going through your CV:
| Remove... | From... |
| --- | --- |
| work entries from 10+ years ago | your work history |
| expired licences and qualifications | your education section |
| skills you've forgotten or are no longer used in your industry | your skills section |
| GCSEs and A-Levels if you've got enough (5+ years) work experience now | your education section |
| dates for degrees and qualifications if they're 10+ years old | your education section |
5. Tailor your CV to the job you want
If you're updating your CV because you've seen a job you like, target your CV to the job. A targeted CV is better than a generic CV because it proves you're ambitious enough to put in some extra work, and employers want to hire ambitious people who are ready to work hard.
Here's how to target your CV toward a particular job in each section:
Personal statement: Include some of the key skills or qualifications mentioned in the job advert if you have them. Consider adding the company's name here to quickly highlight that you want to work there specifically. For example: 'Excited to use my research skills at GlaxoSmithKline to expand the knowledge of cancer metastasis'.
Skills section: List any skills you have that you saw in the job advert.
Education section: If any of your university modules or your dissertation are related to an aspect of the job, add them to your education section.
Hobbies and interests: If one of your hobbies highlights something the company is looking for, add it to your hobbies and interests section. For example, if the company is looking for someone with leadership skills, and you're the captain of your village football team, you can mention it to prove you have good leadership skills.
6. Proofread your updated CV
Once you've refreshed your CV, don't send it out straight away. You'd be surprised how easy it is to accidentally add errors like typos.
Use a spell-checker to check your spelling and grammar, then ensure your formatting is consistent. Questions to ask yourself are:
Have I spelt out dates or abbreviated them (February or Feb)? Have I kept my choice consistent throughout my CV?
Have I used all caps or a mix of uppercase and lowercase for company names? Is capitalisation consistent throughout my CV?
Is the font and font size the same throughout my CV (except for headers)?
Have I used present tense for my current job and past tense for past jobs?
You can also use free online tools like Grammarly, which does a more sophisticated grammar and spelling check, and ChatGPT, which you can ask for feedback about your CV — this AI tool provides useful suggestions.
Finally, give your CV to a friend or family member for a final look.
Frequently asked questions about updating a CV
Here are the answers to some common questions about updating a CV:
Why should you update your CV?
You should update your CV so that you're always ready to apply for a new job no matter what happens. For example, if you see your dream job, you can apply straight away if you regularly keep your CV up to date. If you're let go from your current job, having an updated CV means you can start applying for work immediately.
How do you update your CV on LinkedIn?
You can't update your CV directly on LinkedIn. Instead, you'll need to download your CV, edit it on your computer or mobile, and then re-upload it back to LinkedIn. Here's how:
Open the 'Jobs' tab on the top menu and select 'Application Settings'
Download your selected CV. Edit it in your chosen word processor.
Upload your CV to LinkedIn by using the 'Upload resume' button in 'Application Settings'
How should an updated CV look?
Here's how a
high-quality CV
looks after it's been updated: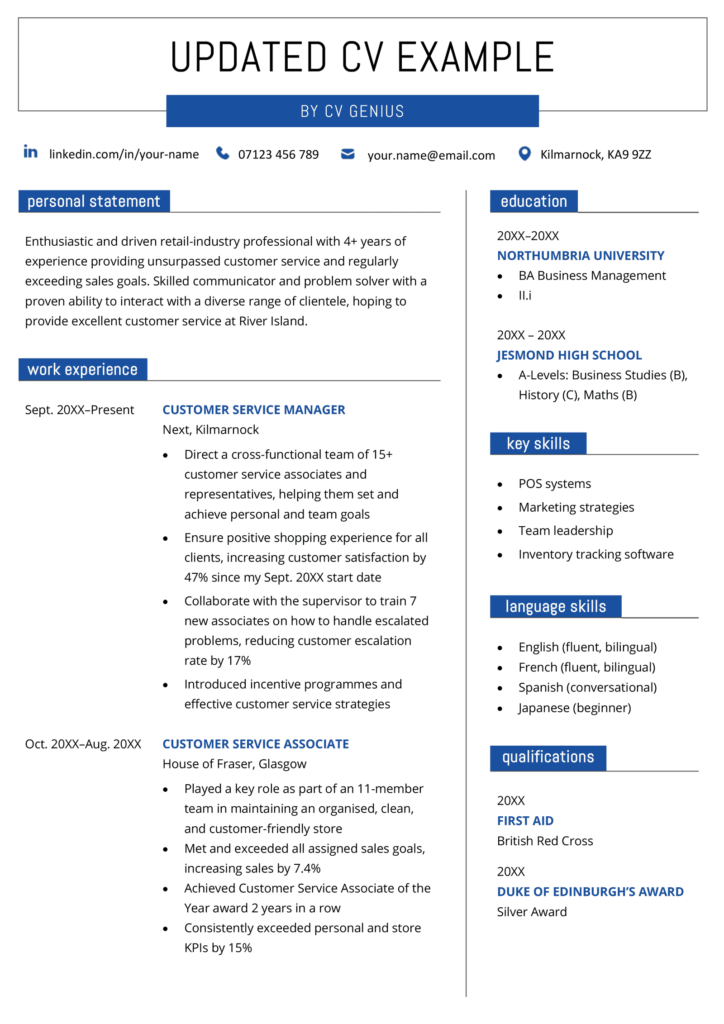 This applicant removed work experience that isn't related to customer service, updated their personal statement, added their new mobile phone number, and refreshed their CV design by transferring their information onto a professional CV template.
How do I prevent age discrimination on a CV?
You prevent age discrimination on a CV by regularly updating it to remove work experience entries older than 10–15 years. By removing these older entries, employers won't directly know how old you are.
You should also consider removing dates from your CV education section to mask your age. For example, if you got your BA in 1989, consider removing the date.
You may also have older qualifications on your CV. For example, you may have O-Levels on your CV because you were in school before they were replaced by GCSEs. In that case, consider removing your O-Levels from your CV.