When you have enough information relevant to your target job, you should write a two-page CV. But if you have little to no job-specific experience, learning how writing a one-page CV can help you compete with more seasoned job seekers.
Below are 3 one-page CV templates you can use for your job applications, followed by: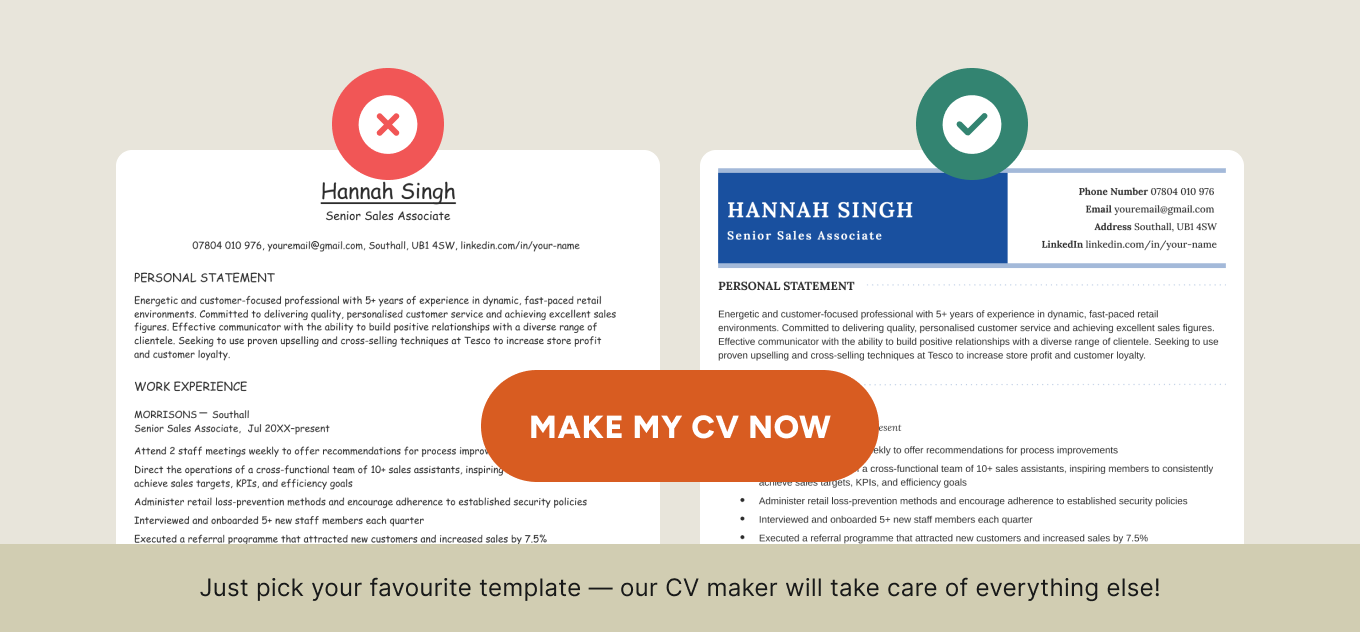 3 one-page CV templates & examples
Here's a one-page CV you can copy and paste into your word processor, followed by a couple of one-page CV examples you can download for Microsoft Word and tailor to your situation:
1. Copy & paste one-page CV template for any situation
Just select all the text below, right click, and choose "Copy" from the menu to grab this one-page CV template to paste into Microsoft Word, Google Docs, or any other writing program:
Your Name
Phone: 07123 456 789  Email: your.name@email.com  Address: Your Town  LinkedIn: linkedin.com/in/your-name
Personal Statement
Write 2–3 sentences summarising your most job-relevant skills, education, and experience (including internship and voluntary experience). State the company name and the job you want, and use keywords from the job advert to tailor your one-page CV to your target employer.
Key Skills
List your most relevant skills in several bullet points
If possible, add keywords from the job advert that you aren't able to fit into the rest of your CV
Work Experience
Most Recent Job Title
Employer Name / Location / Start Date – End Date
Describe your accomplishments that relate to the job you're applying for
Start each bullet with a unique action verb (present tense for ongoing jobs and projects, past tense for past positions and finished work)
Education
University, Location | Start Date – End Date
Degree / Degree Name (include your degree classification for an honours degree)
Relevant modules: List your key or job-relevant modules here
(If you haven't attended university, list your secondary school name, location, and dates attended, along with any A-levels and GCSEs you've achieved.)
Hobbies & Interests
Add personal interests and activities that are related to the job you want to show you're a well-rounded candidate
Don't add this section if you have enough of the more valuable information above to fill one page
2. One-page CV example for students
This one-page CV for students features an applicant's most essential background information in a clearly defined order recruiters will easily understand:
Download Free One-Page CV Example
3. Example one-page CV for experienced professionals
When you have work experience, write your CV to emphasise your achievements to attract a hiring manager's eye. This one-page CV for professionals does just that, using data to emphasise accomplishments throughout a work experience section that dominates the page: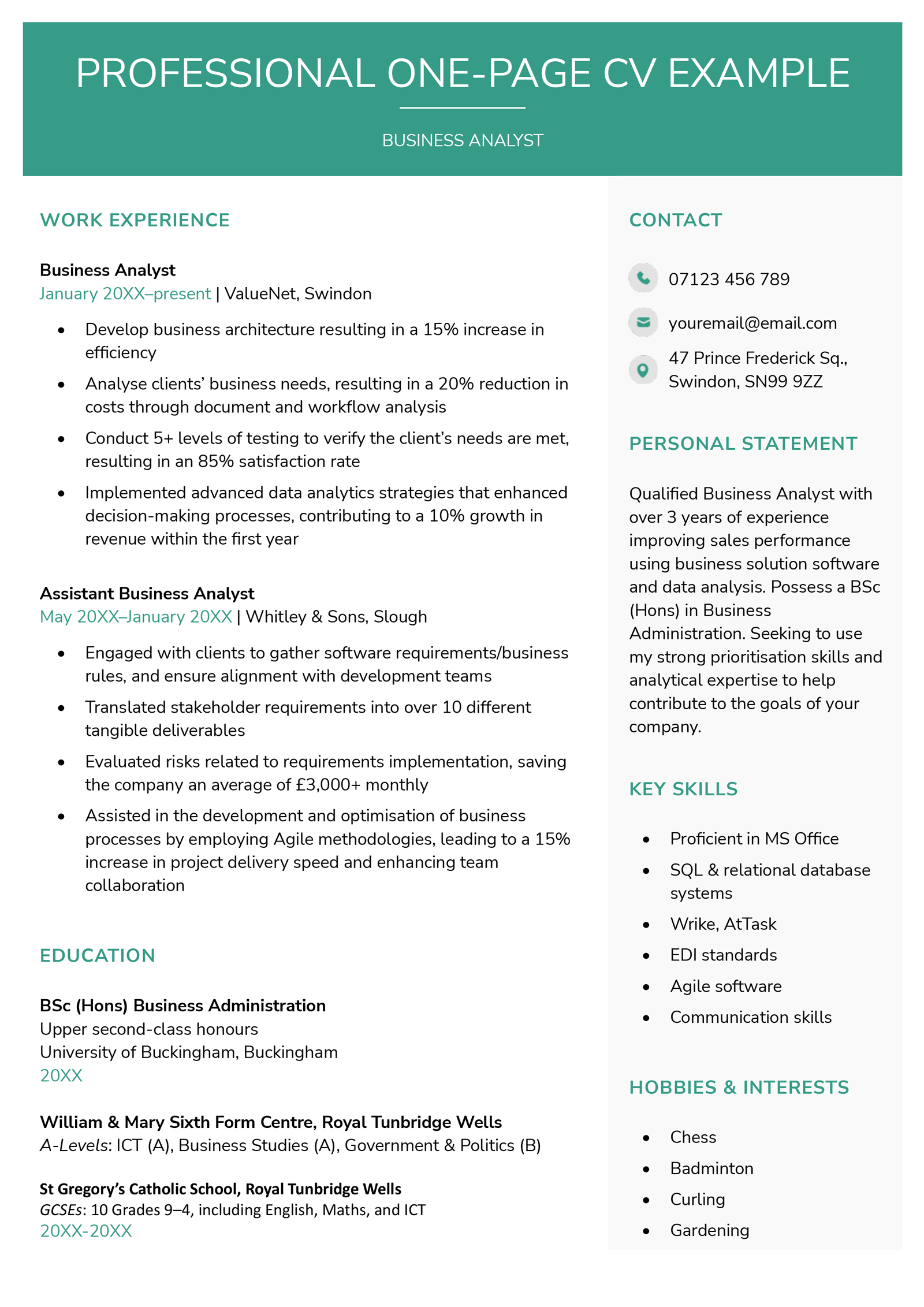 Download Free One-Page CV Example
When should a CV be one page?
Making a CV that fits on one page is useful for certain types of job applicants, including:
school leavers
students
new graduates applying for entry-level roles
career changers
Additionally, this CV format can also work if you have less than 5 years of experience. But if you have more than 5 years of experience, this type of CV might not provide enough detail to effectively showcase your skills and experience.
If you're writing a school leaver CV or a career change CV, keeping your information to one page helps you present an application filled with relevant details, rather than one with irrelevant information added just to fill two pages.
But whenever you have enough job-specific information to highlight, always write a two-page CV to emphasise that you're qualified for your target role.
How to write a one-page CV
Here are four tips to help you write a succinct yet impressive one-page CV:
1. Pick a professional CV layout
When writing a CV with one page, choose a simple CV template without graphics or overly elaborate designs that distract from the content or take up valuable space.
To make the layout easy to read and look polished, ensure you use:
an easy-to-read font (such as Helvetica or Georgia)
an appropriate font size (between 10 and 12 points)
clear titles for your headings
professional spacing (1.27–2.5cm margins and 1–1.5 line spacing)
2. Stick to job-essential information only
With only one page to work with, it's critical to include only job-relevant details.
So customise your CV to the company by focusing on your most relevant experience and skills. Cut anything that isn't directly connected to the job you're applying for to frame yourself as an ideal candidate.
Consider the following elements to tailor your CV in a way that positions you as qualified:
The job requirements and qualifications
Your ability to perform the role's tasks
The organisation's culture, mission, and values
In addition to the job advert, you can find this information on the company's website and social media accounts. Identify which aspects of your skills, experience, values, and working style overlap with theirs, and emphasise them throughout your one-page CV.
3. Give context with examples and hard numbers
When you include information about your experience and skills in your one-page CV, help employers understand your abilities with examples and data.
Here's how one applicant used hard numbers and an example to highlight their work-related accomplishments:
Consistently received positive feedback from customers and helped develop a new customer experience strategy that led to an increase in customer satisfaction by 20% and a decrease in customer churn rate by 40%.
The specific example and impressive numbers make a solid case for why they should be hired.
4. Order your CV sections to highlight your strengths
In addition to writing engaging content in your CV sections, you need to order those sections on your page strategically.
This step is crucial to draw the hiring manager's attention to your most job-relevant information and make a powerful impression.
For example, if you're a student with limited or no work experience, most of your strengths will lie in your coursework and soft skills. Here's a smart CV section order to follow that will highlight your strengths and draw attention away from your lack of experience:
But if you have a few years or more of professional experience, starting your CV off with your work experience section directly after your personal statement is best, as doing so highlights your most relevant roles and accomplishments.
By being strategic with the order of your CV sections, you can highlight your job-related skills and achievements, increasing your chances of getting the job you want.
Frequently asked questions about 1 page CVs
To ensure you don't leave this page without learning everything you need to know about making your job application, here are answers to three common questions about CVs that fit on one page:
1. Is a 1.5 page CV okay?
No, it's not okay to use a 1.5 page CV. You should always be able to either:
remove irrelevant details and adjust your CV's layout (try a smaller font like Times Newer Roman and/or reduce your margins to a minimum of 1.27 cm) to make it fit on one page
add relevant information from your life (including personal interests and responsibilities and extracurricular activities) to completely fill two pages
Worried about leaving indirectly related information off your CV? Remember, you can always write a cover letter that covers such details.
2. How many words should a 1 page CV be?
There's no set wordcount, but a good 1 page CV is usually 450–600 words.
If your one-page CV has fewer than 450 words, it may look empty and make you seem unqualified. But when you use more than 600 words, you'll push your CV onto a second page or crowd too much text onto a single page, making your application hard to read.
3. Which page size is best for a CV?
A4 (21 x 29.7 cm) is the best page size, whether you're writing a one-page CV or two-page CV, as it's the standard size used for documents in the UK.