Regardless of whether you're pursuing a job in graphic design, marketing, or the arts, creative CV templates can help you demonstrate your uniqueness and versatility.
With eye-catching layouts, clever graphic elements, and a spectrum of colour schemes, these creative designs from our CV templates library are the top choice for any professional who wants their application to stand out.
On this page, you'll find:
6+ creative CV templates to download
Colour and personality set these creative CVs apart from more traditional templates. Scroll down to find the right design for your unique experience and skill set.
1. The Guernsey CV template
Demonstrating balance and simplicity, the Guernsey CV template is a great choice for designers: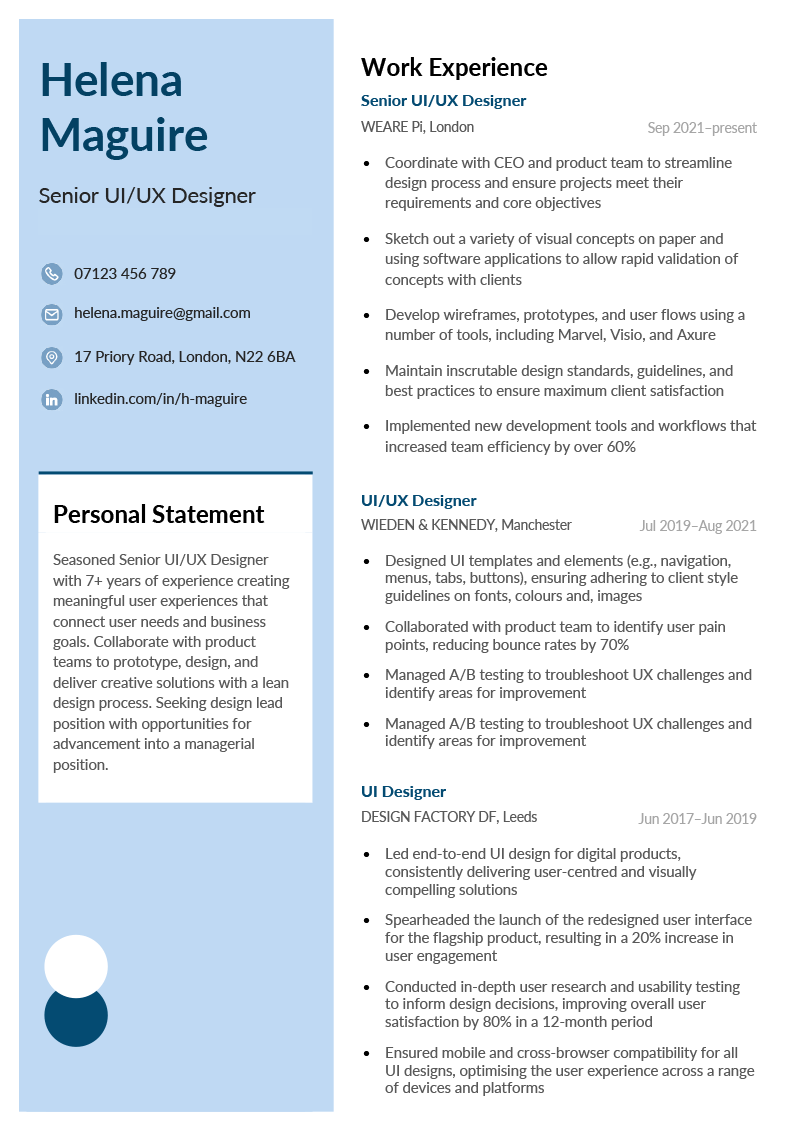 Why choose the Guernsey CV template?
Perfect for design professionals, the Guernsey CV template demonstrates a strong understanding of white space, simplicity, and balance. The spacious left-hand column highlights the contact information and personal statement sections, allowing the employer to quickly scan your key information before reviewing your work experience.
Format and style highlights
Two-sphere design element that makes your CV easy for employers to find later
Lato font for a clean, minimal look
Name font size: 34
Content font size: 11
Highly compatible CVs
2. The Scilly CV template
The Scilly CV template's unique header can masterfully capture the attention of any creative professional: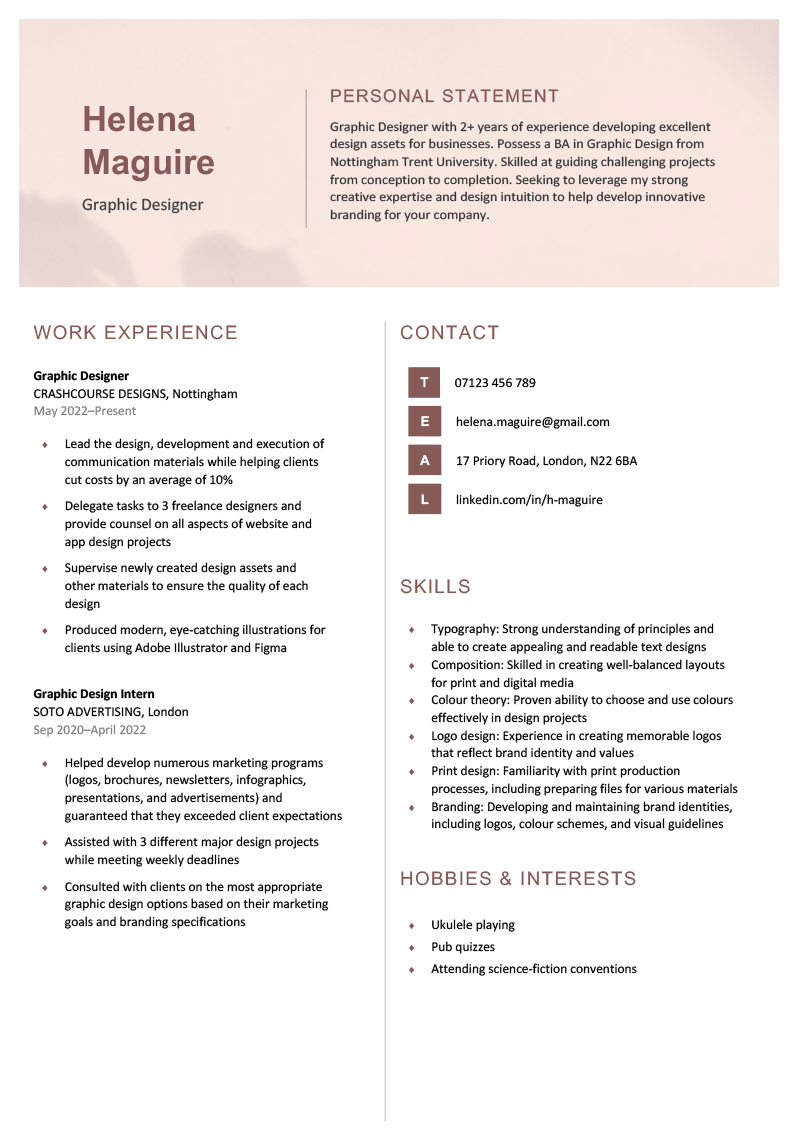 Why choose the Scilly CV template?
With its eye-catching header and soft pastel hues, the Scilly CV template makes a memorable first impression. This arty CV design showcases personality while quickly pulling the reader's attention to your personal statement and contact information.
Format and style highlights
Spacious CV header draws attention to your personal statement
Rubik header font for an eye-catching contemporary look
Mulish content font for added simplicity and clarity
Name font size: 26
Content font size: 10
Highly compatible CVs
3. The Mercia CV template
This flexible CV is perfect for job hunters with a few years of relevant experience:
Why choose the Mercia CV template?
Summary
Ideal for mid-level professionals, this forthcoming template emphasises work experience with a prominent section that immediately catches the employer's eye. The Mercia template also stands out for its versatility, boasting easily customisable sections that can be tailored to a specific job with minimal effort.
Format and style highlights
Clean framing to emphasise personal statement and work experience sections
Generous white space for an uncluttered appearance
Uses Arial for ATS compatibility and easy reading
Name font size: 30
Content font size: 10
Highly compatible CVs
4. The Windermere CV template
Boasting an infographic layout and eye-catching CV icons, the Windermere template is a great way to quickly showcase a diverse skill set on your CV — especially if you're early on in your career.
Why choose the Windermere CV template?
Windermere's highly visual layout is ideal if you want to emphasise a range of skills. The eye-catching bubble graph is a memorable tool for highlighting proficiency in foreign languages, coding, or other technical skills — and the timeline-structured education section is perfect for emphasising your professional qualifications.
Format and style highlight
Two-column format gives a quick overview of key information
Work experience icons push job titles to the foreground
Lora and Inter fonts for a design-forward yet reader-friendly look
Name font size: 35 pt
Content font size: 10 pt
Highly compatible CVs
5. The Zetland CV template
Oriented toward tech roles, the Zetland CV template stands out for its well-spaced and structured design: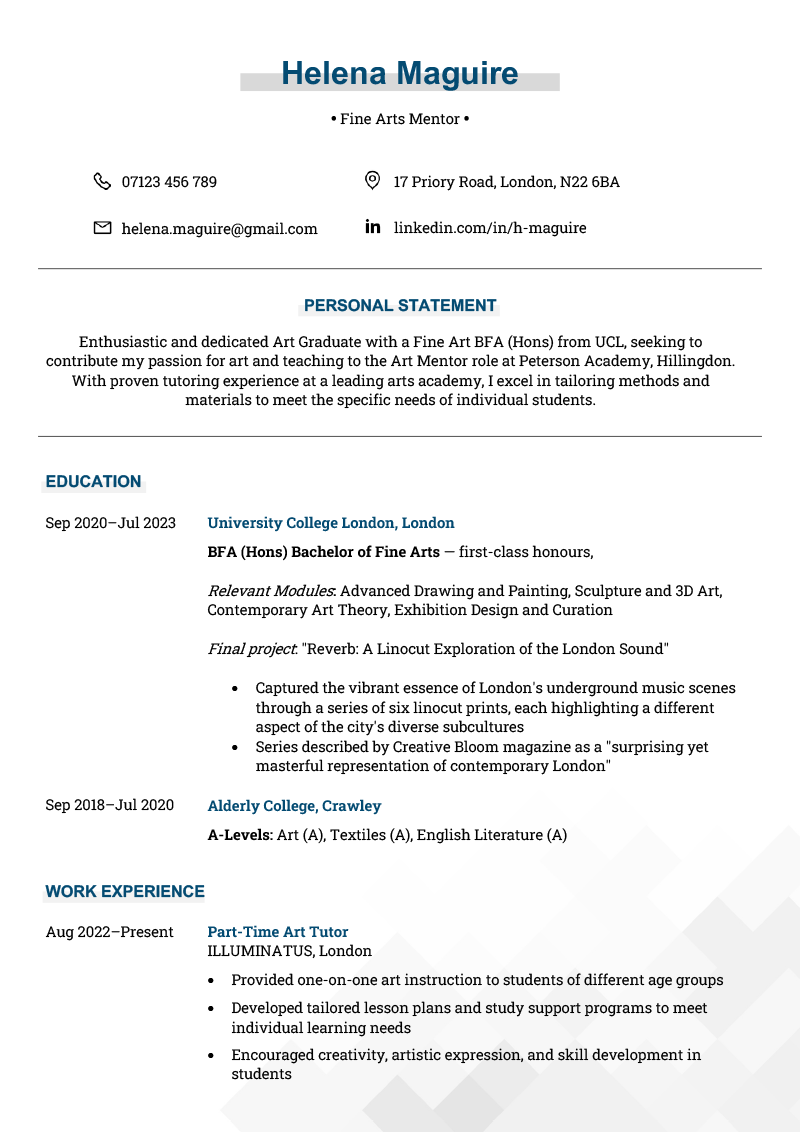 Why choose the Zetland CV template?
A geometric design and contemporary font contribute to the Zetland's pleasingly modern look. With a prominent education section, this forward-thinking template is great for anyone writing their graduate CV, but especially those pursuing careers in marketing or design.
Format and style highlights
Hanging work experience entries to show clear career progression
Clean, legible header font to make your name stand out
Roboto Slab, a modern, serifed font, perfect for startups
Name font size: 24
Content font size: 11
Highly compatible CVs
6. The Seacole CV template
Ideal for well-rounded professionals in marketing and tech, the Seacole is organised to help the employer rapidly scan your career summary, skills section, and work experience:
Why choose the Seacole CV template?
Showcase your range of technical ability with a CV template that puts what you know upfront. The Seacole presents your knowledge and experience in an attractive, readable format with the right balance of white space and bold section headers.
Format and style highlights
Bold, professional header that immediately grabs attention
Prominent skills section that emphasises your hard skills
Header uses Open Sans, a clean and accessible font
Name font size: 34
Content font size: 11
Highly compatible CVs
7. Other creative CV templates for every situation
Our online CV maker has even more eye-catching CV templates to choose from. Browse over 15 exclusive templates in 7 distinct colour schemes, and rapidly build out your application with AI-guided content suggestions.
Explore More Creative CV Templates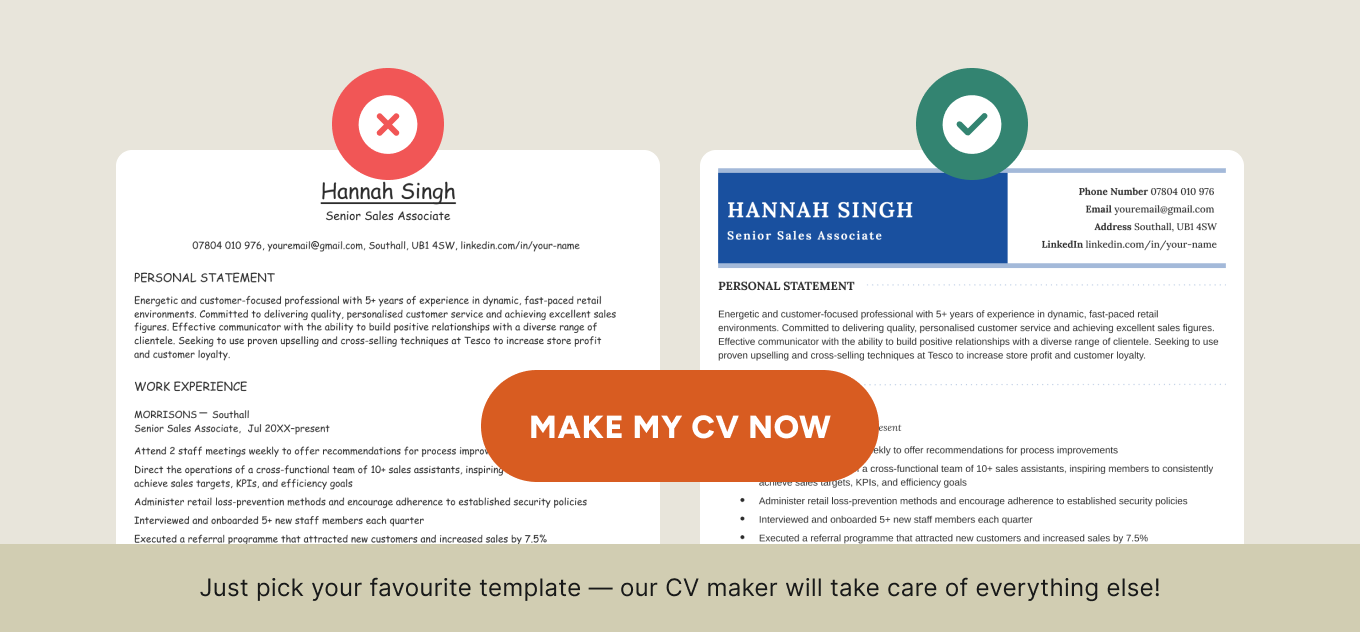 Creative CV template format
Already have some CV design ideas of your own but need help with content and formatting? Here's a templated CV format that shows you exactly how to write a CV that grabs the employer's interest. Just paste and edit the text in your chosen word processor.
Or explore our other blank CV templates to see how your experience looks with a different layout.
YOUR NAME
Phone: 07123 456 789   Email: your.name@gmail.com   LinkedIn: linkedin.com/in/yourname/   Address: 17 Priory Road, London, N7 8BW
PERSONAL STATEMENT
Graphic Design Specialist with 2+ years of experience developing excellent design assets for businesses. Possess a BA in Graphic Design from Nottingham Trent University. Skilled at guiding challenging projects from conception to completion. Seeking to leverage my strong creative expertise and design intuition to help develop innovative branding for your company.
WORK EXPERIENCE
Crashcourse Designs, Nottingham
Graphic Design Specialist, May 2022–Present
Lead the design, development and execution of communication materials while helping clients cut costs by an average of 10%
Delegate tasks to 3 freelance designers and provide counsel on all aspects of website and app design projects
Supervise newly created design assets and other materials to ensure the quality of each design
Produced modern, eye-catching illustrations for clients using Adobe Illustrator and Figma
Soto Advertising, Islington, London
Graphic Design Intern, September 2020–April 2022
Helped develop numerous marketing programmes (logos, brochures, newsletters, infographics, presentations, and advertisements) and guaranteed that they exceeded client expectations
Assisted with 3 different major design projects while meeting weekly deadlines
Consulted with clients on the most appropriate graphic design options based on their marketing goals and branding specifications
EDUCATION
Nottingham Trent University (2017–2020)
BA in Graphic Design (lower second class honours)
Relevant Modules: The Theories and Practice of Visual Communication, Articulation of Graphic Design, Advertising Design
The City of Leicester College, Leicester (2011–2017)
A-levels: Arts (A), English Literature (A), French (A), Geography (A)
GCSEs: 8 A*–C including English Literature, French, and ICT
KEY SKILLS
Proficient in Adobe Creative Suite (InDesign, Illustrator, Photoshop)
Knowledge of Figma
Working knowledge of HTML and CSS
Bilingual in English and French
Website design
Printed materials design
4 tips for using a creative CV template
Formatting your CV on a creative template can help you showcase your personality and make a memorable first impression on the employer.
But to get interviews, you need to make sure the application you submit is suitable for the specific job.
Here are four things to remember when using a creative CV template:
1. Decide what your creative CV should emphasise
Even when you opt for a creative design, your CV's main goal should still be to emphasise what makes you the most hirable.
How you use creative CV elements, like multi-column formats, icons, and infographics will influence how the employer looks at your CV and whether the right CV sections get their attention.
For example, this sales CV uses a bold left-hand column and strategically placed text boxes to make the applicant's personal statement leap off the page:
So consider what makes you stand out to the employer and follow a CV design that emphasises those qualities.
2. Choose the right colour scheme for your situation
Your CV's colour scheme might feel like a secondary consideration, but it can significantly alter the visual appeal of your CV.
Whether that change impresses the employer will depend on the appropriateness of your design choices for their business and industry.
Take a look at these two CVs, both are which are formatted using the Mercia template:
Using blue as the primary colour on your CV template can convey trust, reliability, and stability, while black has a more classic and authoritative appeal.
However, more traditional employers often prefer black-and-white CVs because they believe that vibrant colours distract from your qualifications.
Before choosing a CV template, take a look a the company's website and social media accounts. Ask yourself what kind of image they present to customers.
If the company appears young and dynamic, a splash of colour might do your application good.
3. Consider fonts carefully
Readability should be your priority. An ATS-compatible font in a recognisable serif or sans-serif design is enough for most applications.
And, as luck would have it, that's exactly what we've used on each of our creative CV templates.
If you're applying for a design role, you should be even more careful in your font selection.
Typography is crucial to most design work. So you'll impress creative employers if you choose a font that fits their brand identity.
For example, Mailchimp uses clean, modern-looking fonts like Graphik Web, Helvetica, Arial, and Verdana. Selecting a similarly modern style will align your CV with the employer's brand and present you as a better fit for their company culture.
4. Ask yourself if you need a photo
For most jobs, particularly those in design fields, you shouldn't put a photo on your CV.
However, if you're using your creative CV to apply for a job where physical appearance is important (e.g., you're writing your CV for an acting job), then you should include a photo so the employer can assess whether you're right for the role.
If the opening you're applying for has requested a photo (check the job description to confirm), then you should take a well-lit professional portrait in front of a clean neutral background (such as a white wall).
With most photo CVs, you should put your picture in a corner of the first page. Make sure the photo is small, about passport size, to ensure it doesn't distract from your experience.
FAQs about creative CV templates and designs
Still weighing up how best to make your creative CV work for you? Here are the answers to four common questions to help you get the most out of your CV template.
1. How can I ensure my creative CV is still professional?
The best way to ensure that your creative CV is still professional is to remember what every hiring manager wants to see — your skills and experience displayed in a concise, logical format.
Any creative decisions you make while laying out your CV should highlight your key information, not distract from it.
Ensure clarity and readability by choosing clean, familiar fonts, well-organised sections, and appropriate font sizes (around 30 pt for your header, 12 pt for your content).
Additionally, keep your margins between 2.5 cm and 1.25 cm to ensure you have the right amount of white space on your CV.
2. How do I make an infographic CV?
Here's how to create an infographic CV, or visual CV:
Outline your key sections as you would for a traditional CV.
Select a colour scheme. Greyscale is always a safe choice, though companies with a more casual culture may appreciate a more vibrant application. At any rate, limit yourself to three colours (one main colour and two secondary colours to accent your design).
Use a grid layout to maintain balance while you're organising your sections and design elements.
Choose appropriate design elements that highlight your skill diversity and career progression (e.g., timelines for education or work experience sections).
Keep text concise, using bullet points and short phrases.
Prioritise the most relevant information for the job you're applying for.
3. How do I make a video CV?
Here's how to make a video CV that makes the right first impression on employers:
Define your key message by identifying the job requirements, company culture, and the strengths that you want to emphasise.
Choose a video CV format that successfully delivers your message (e.g., narration, interview, or project showcase).
Plan for about 60–120 seconds of video because employers have limited time.
Write a script so you can get your key points across clearly and efficiently.
Record your video in a professional environment with plenty of natural light and an undistracting neutral background.
Edit your video by removing any mistakes, pauses, and filler words that could make your CV longwinded.
Have someone review your finished video, such as a friend or family member.
4. What's the best creative CV for an actor?
The best creative actor CV should prioritise your key information while standing out for its creativity.
Fill out your information on a photo CV that features a professional, passport-sized picture of you in the top left-hand or right-hand corner of the first page.
Structure your CV logically, starting with your contact information, personal statement, and a brief bio clarifying key details like your eye and hair colour, age range, and height.
Follow with additional sections, covering acting experience, training, and skills.
Want an easier alternative to these creative CV templates?
Fiddling with formatting, design elements, and margins is time you could always spend finding more great job opportunities, so get your application job-ready in minutes by using an online CV maker.